Greetings comic fans! Here's a sample of what's new in store for you this week:
Crossovers galore in the New 52 with Gothtopia, Forever Evil, and a special mini event featured in BATMAN SUPERMAN and WORLD'S FINEST, everyone's favourite Browncoats face new dangers in SERENITY: LEAVES ON THE WIND, Lois finally gets a chance to shine in SUPERMAN LOIS LANE, new series begin for CONAN, LARA CROFT: TOMB RAIDER, and the FANTASTIC FOUR, last month's surprise hit DEADLY CLASS returns, MIRACLEMAN rushes to save London (and himself), and the highly anticipated second part of cult favourite THE WAKE!
BOOM
BRAVEST WARRIORS #17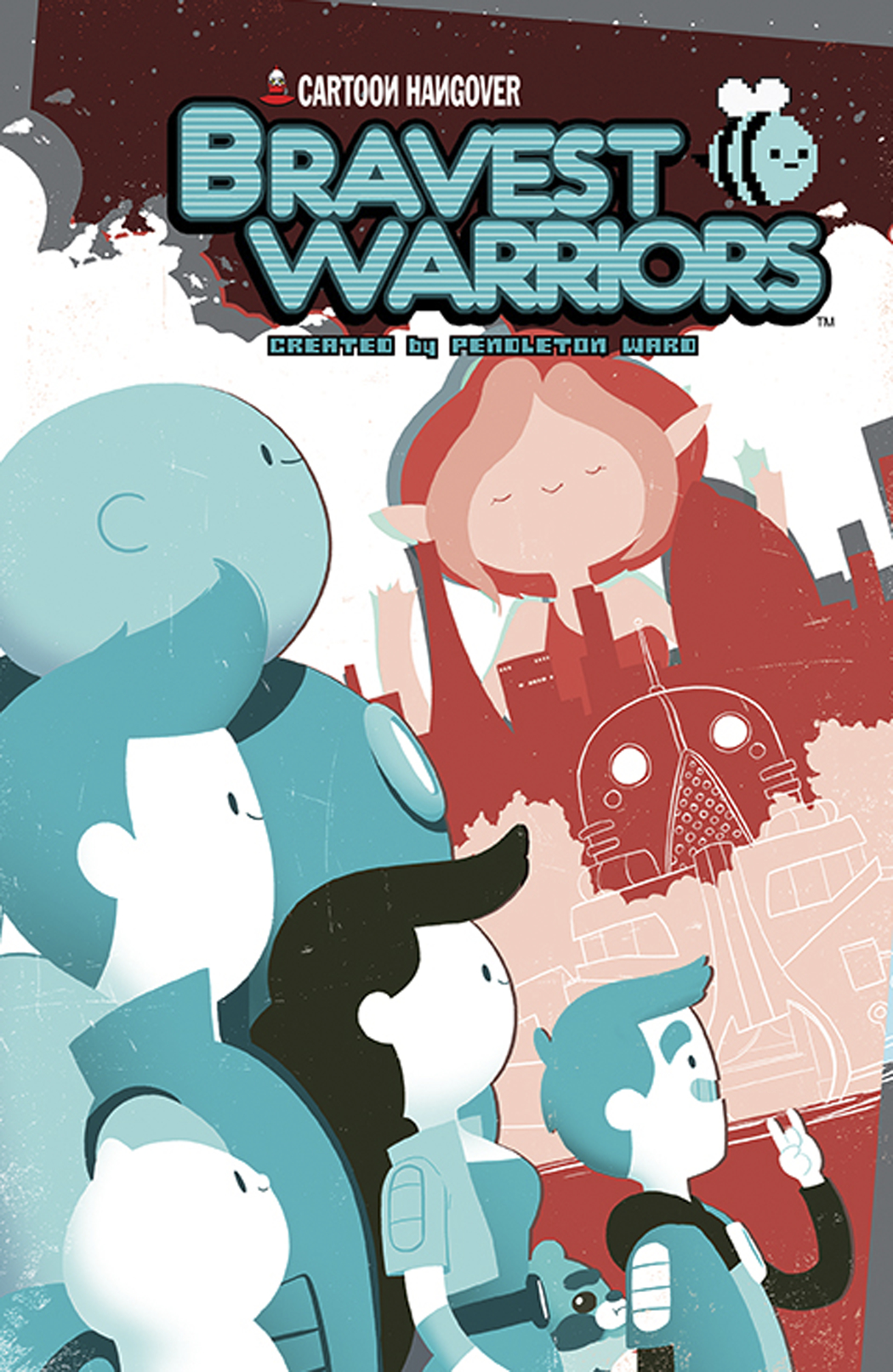 The Bravest Warriors must once again save the galaxy! Join Chris, Beth, Danny, and Wallow as they-well...save space! It seems there is a pattern developing in the life of a warrior, surely nothing can surprise our heroes now...or is there something out there? Something hidden in the shadows, something so big that not even
the bravest of warriors will ever be ready?
DARK HORSE
KING CONAN CONQUEROR #1 (OF 6)
In the port city of Messantia, the deposed, fugitive Conan could uncover the key to regaining his throne-or he could get a knife in the back! Conan follows a lead to a lost relic, revisits an old friend, and finds that he's not alone in his risky hunt for a missing, magical gem.
MASS EFFECT FOUNDATION #8
PARIAH #1 (OF 8)
Trapped in space, the genetically engineered geniuses known as "vitros" must band together and create a plan to get back to Earth before their failing satellite turns into a deathtrap!
Created by Academy Award winning producer Aron Warner (Shrek).
Art by Eisner-nominated painter Brett Weldele (The Surrogates).
Written by Philip Gelatt (Petrograd).
SERENITY LEAVES ON THE WIND #2 (OF 6)
Forced out of hiding, Serenity's crew gets separated, and it becomes clear that everyone looking for the outlaws is on the verge of finding them. River offers to uncover the secrets that are hidden within her in the hope that the crew might have something to bargain with.
TOMB RAIDER #1
Superstar writer Gail Simone picks up Lara Croft's story where the smash hit Tomb Raider game left off-in a new ongoing comics series!
Following the game acclaimed for its bold and sophisticated new vision, this series launches Lara Croft on the formative adventures that will change her life forever!
The official continuation of Lara Croft's story!
DC
100 BULLETS BROTHER LONO #8 (OF 8)
The series that IGN calls 'brutal comic-book magic' wraps up with this final jaw-dropping issue. Will Lono's fate finally be decided? Whatever happens, you won't want to miss the way this unmatched team executes the mind-blowing conclusion.
ADVENTURES OF SUPERMAN #10
BATMAN SUPERMAN #8
The Worlds' Finest teams of two worlds meet at last in chapter 1 of 'First Contact'! With Power Girl's abilities on the fritz, see what happens when her long-lost cousin Superman approaches her! And a major threat returns in a way you won't believe!
Continues in this month's WORLDS' FINEST #20.
BATMAN THE DARK KNIGHT #28
DC UNIVERSE VS MASTERS OF THE UNIVERSE #5 (OF 6)
DEAD BOY DETECTIVES #3
Dead British schoolboys Charles and Edwin finally locate their old bones, but what secrets do they hold? New detective Crystal is the only one who can find out by way of her major tech skills. But it might involve a trip inside a computer game called Yonda,
where all is not as bright and colourful as it seems.
FOREVER EVIL ARGUS #5 (OF 6)
JUSTICE LEAGUE DARK #28 (EVIL)
What has The Crime Syndicate done to the world's most powerful mystics - and what is Project Thaumaton? The world continues to grow darker before the dawn and Constantine will be forced to do the unthinkable! Continues in Phantom Stranger #17.
SUPERMAN LOIS LANE #1
Lois Lane is known for chasing down stories--but what happens when the story is her family? As her father gains more power in the government, Lois's sister Lucy has become involved with a deadly drug scene! Meanwhile, Lois thought she was rid of the influence of Brainiac, but now she finds that the the computer tyrant of Colu is calling out to her again!
WAKE #6 (OF 10)
'My name is Leeward, and this is where my story begins...' Our story jumps two hundred years into a flooded future where nothing is the same.
The second half of THE WAKE starts here!
WORLDS FINEST #20
Power Girl and Huntress come face to face with the Superman and Batman of the DC Universe for the first time in chapter 2 of "First Contact"!
Continues in next month's BATMAN/SUPERMAN #9
DYNAMITE
ARMY OF DARKNESS VS HACK SLASH #6 (OF 6)
DEJAH THORIS & GREEN MEN OF MARS #11 (OF 12) (MR)
DOC SAVAGE #3
It is 1961, and Doc Savage's team of aides includes old veterans who have been with him from the beginning, and young newcomers who are experts in the frontiers of science and invention. Doc is about to unveil his greatest discovery, one which could change the course of history and improve the lives of everyone on Earth. But a madman with an
atomic bomb has other plans...
LEGENDS OF RED SONJA #4 (OF 5)
THE LONE RANGER #22 (OF 25)
IDW
STAR TREK KHAN #5 (OF 5)
It's the climactic chapter of the origin of Star Trek's greatest villain! But how did he come to be called 'John Harrison'? How did his vendetta against Admiral Marcus and Section 31 begin? All is revealed in this all-new story overseen by Star Trek Into Darkness writer/producer Roberto Orci!
TMNT UTROM EMPIRE #2 (OF 3)
TRANSFORMERS REGENERATION ONE #99
WRAITH WELCOME TO CHRISTMASLAND #4 (OF 7)
X-FILES CONSPIRACY TRANSFORMERS #1
The Lone Gunmen's trail of secrets leads them to evidence of extraterrestrial life - mechanical extraterrestrial life! Will OPTIMUS PRIME and his allies trust these human interlopers - and what secret conspiracy could involve CYBERTRON, anyway?!

IMAGE
BLACK SCIENCE #4
Grant McKay and his team of Dimensionauts are given a short reprieve when the Pillar drops them not into a hellish warzone or an alien swampland but a...hotel? Just don't trust the room service; there's more to this place than meets the eye.
DEADLY CLASS #2
It's Marcus' first day at the Kings Dominion High School for the Deadly Arts. A locker full of death threats, a schedule full of brutality, and whispers in the hallway about his mysterious past...which is fast catching up to cut out his freshly broken heart.
ONE HIT WONDER #1 (OF 5)
If there was a thin line between reality and fiction, Richie Reese tore it down. Better, he crushed it. Smashed it. Destroyed it. From child star to hitman in Hollywood, this is the story of a glorious bastard. Written by FABRICE SAPOLSKY (Spider-Man Noir) and drawn by superstar artist ARIEL OLIVETTI (Cable, Punisher War Journal, Conan), this is the crime comedy series you don't want to miss this year.
REVENGE #1
Griffin Franks was a joke in Hollywood. A washed up action-hero. Over the hill. Past it. A has-been. A barely-was. But now he IS The Revenger. He's a star. His movie's a hit. His latest wife is hot. He finally has everything he wants. Just in time for someone to take it all away. Forever. Starting with his face.
SATELLITE SAM #6
VOLUME TWO of SATELLITE SAM starts HERE: The son of the slain star of SATELLITE SAM steps into his father's shoes in more ways than one while falling into bed with any woman that'll have him. One of the stars of the show with a dubious past finds herself in the media spotlight-and trouble with the law. All while a sex and blackmail scandal threatens to envelop the show and the nascent LeMonde Television Network-unless someone stands up and saves the day. SEX! DEATH! LIVE TV! Brought to you by MATT FRACTION (SEX CRIMINALS, Hawkeye) and HOWARD CHAYKIN (BLACK KISS, CENTURY WEST).
UMBRAL #4
'AND BLACK WATERS REMAIN'
Rascal is trapped in the Umbral, Dalone is down and out, and a certain pirate ghost has vengeance on his mind! THE PARANOID DARK FANTASY CONTINUES!

INDIE
BLOODSHOT & HARD CORPS #0.2014
CRYPTOZOIC MAN #4 (OF 4)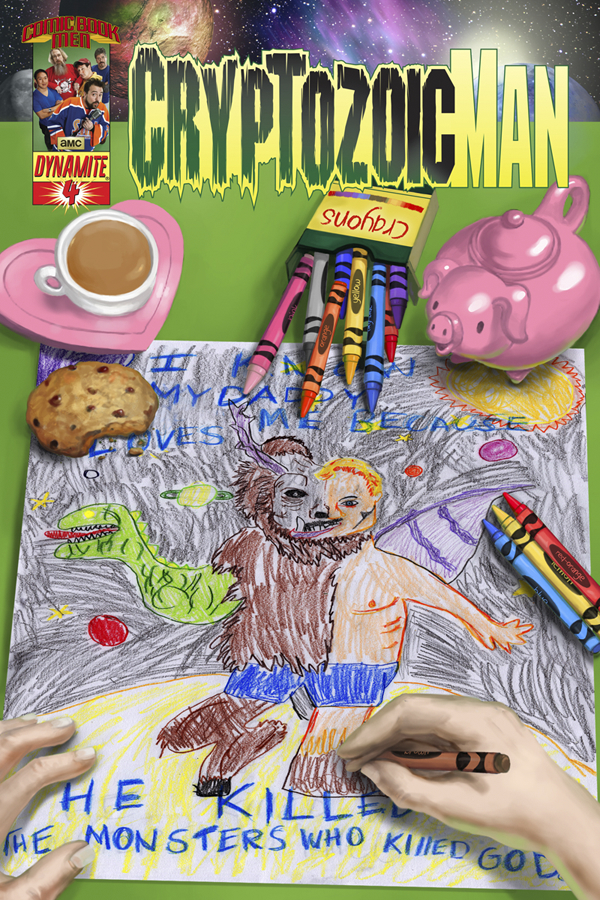 FINAL ISSUE!!! The piglets have come home to root! Any and all questions you may have had about Gray aliens, legendary cryptids, forty-story tall demon swine, and insane, sadomasochistic industrialists are answered in this bang-up conclusion to Cryptozoic Man!
LEGEND OF OZ THE WICKED WEST ONGOING #15
LEGEND OF OZ THE WICKED WEST ONGOING #16
SERGIO ARAGONES FUNNIES #12
MARVEL
CATACLYSM ULTIMATES LAST STAND #5 (OF 5)
THE BIGGEST ULTIMATE EVENT YET! MARVEL'S GALACTUS VS. THE ULTIMATES The stunning conclusion of the biggest Ultimate event ever!!!
FANTASTIC FOUR #1 ANMN
"THE FALL OF THE FANTASTIC FOUR" PART 1
The world's greatest comics magazine begins anew with Marvel's First Family, the Fantastic Four! But as the brilliant MR. FANTASTIC, the compassionate INVISIBLE WOMAN, the ever lovin' THING & the hot-headed HUMAN TORCH embark on a strange mission, they aren't met with new beginnings, but an untimely end! As the family of cosmic explorers head towards their darkest hour, who could possibly be behind their downfall? And how is one of their oldest enemies, the sadistic dragon known as Fing-Fang-Foom involved?
Prepare for the fantastic!
GEORGE ROMERO'S EMPIRE OF DEAD ACT ONE

#2 (OF 5)
GUARDIANS OF GALAXY #12 ANMN
HAWKEYE #15
The brothers Barton double down against the bad guys as the Clown lays siege to their building. Can Hawkguy keep everyone safe against a killer nobody's even seen yet?
What happens when you're locked up with your loser big brother for like a week straight?
You go nuts, right? Clint goes a little nuts.
MARVEL UNIVERSE ULTIMATE SPIDER-MAN #23
MIRACLEMAN #3
Face-to-face with a shocking enemy - can Miracleman survive, or will London burn?
A mysterious man with a sapphire grin stalks Michael Moran. Meet the sinister Mr. Cream. Try not to scream. A glimpse into the future introduced the Warpsmiths. Now, see these strange warriors battle on their world in 'Cold War, Cold Warrior.' Includes the Miracleman stories from WARRIOR #6-8 and the Warpsmith stories from WARRIOR #9-10,
plus bonus content.
REVOLUTIONARY WAR SUPERSOLDIERS #1
Part 5 of 'Revolutionary War'
Some of the most popular heroes of Marvel UK return for SUPERSOLDIERS -
and where the Supersoldiers go, trouble isn't far behind! It's the Supersoldiers versus Mys-Tech in all-out war! When a vast army of Mys-Tech Psycho Wraiths come calling on a small Scottish town, it's up to the Supersoldiers to put them down for good!
SUPERIOR SPIDER-MAN #28 ANMN
WOLVERINE #2 ANMN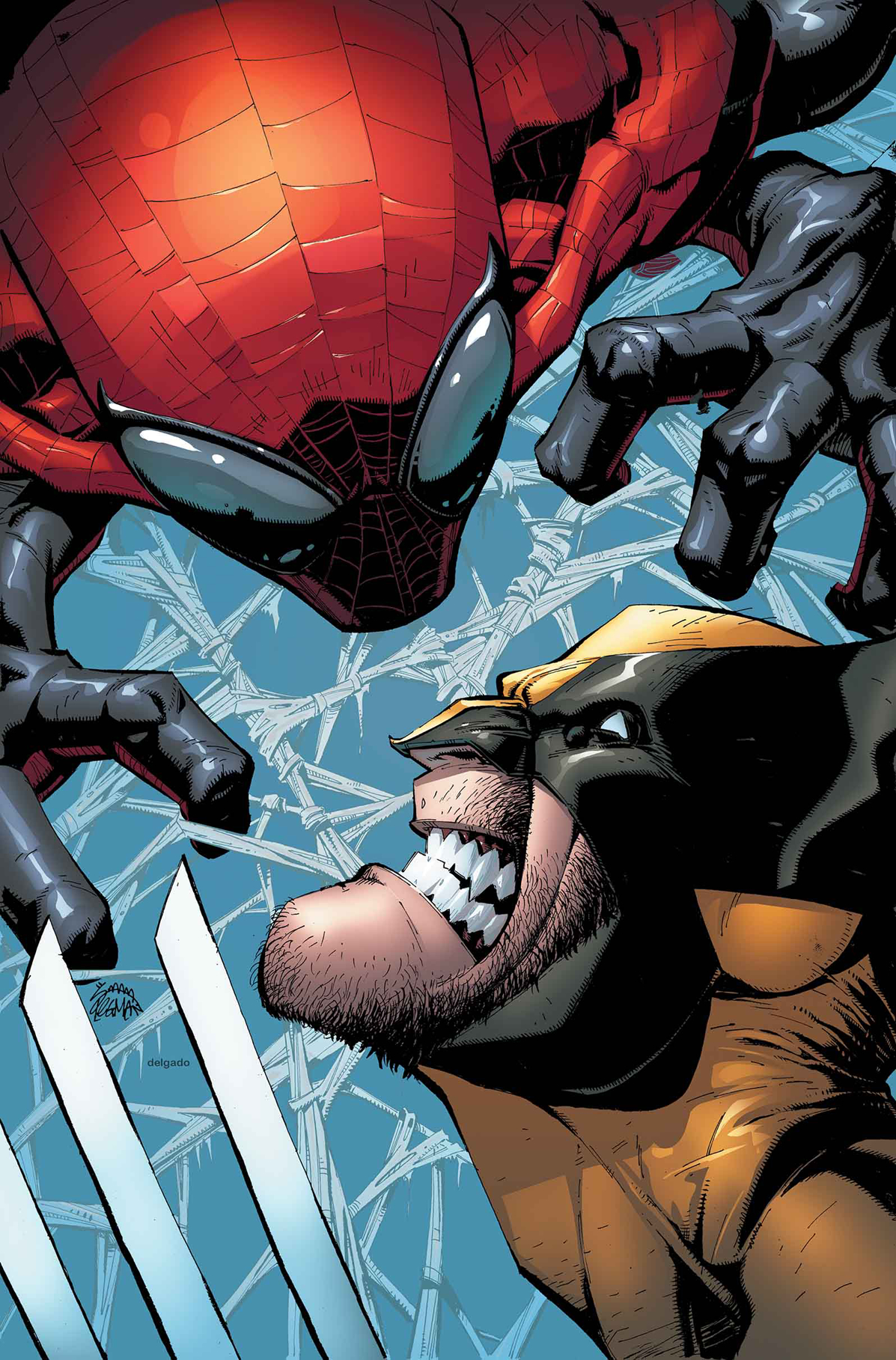 WOLVERINE NO MORE?
After the events of KILLABLE, Wolverine has something to prove. Before he can take on Sabretooth again, he'll need to build himself back up, get better and stronger than he's ever been...but it's not as easy as he thought, and he'll soon find himself turning to other means of revenge when the normal channels don't seem to be working fast enough. Can he fight back his demons, or is this the beginning of a Wolverine who's gone to the dark side?
WOLVERINE AND X-MEN #42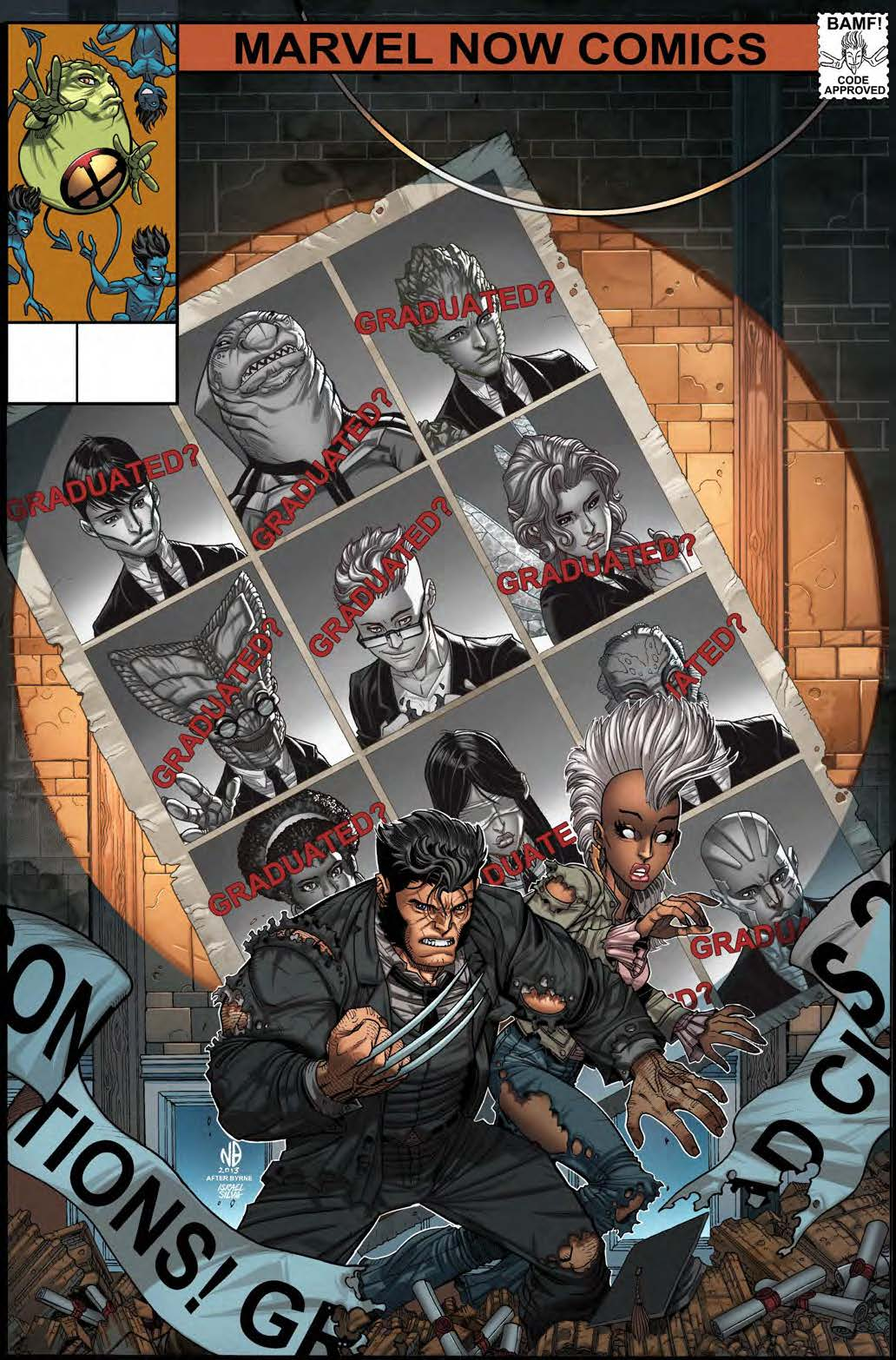 SCHOOL'S OUT FOREVER! FINAL ISSUES!
It's the end of the year for the Jean Grey school - but where do our graduates go from here? And who will have survived the experience?! Jason Aaron, Pepe Larraz & Nick Bradshaw bring the story of the Jean Grey school to a close!