Welcome back Buffy!
Everyone's favourite Vampire Slayer

returns with 'New Rules' for Season 10, and I'm sure she's just as excited to be back in action as we are. Speaking of vamps, the next series of Batman scribe Scott Snyder's critically acclaimed AMERICAN VAMPIRE begins in 'Second Cycle', and wow does it look good.
Also starting this week: steampunk adventure in CLOCKWORK ANGELS, video game tie-in THE WITCHER, dark epic fantasy SOVEREIGN, and oh yeah, some guy named DAREDEVIL. So much good stuff, right? I know.
But wait, there's more! Finn and Jake get separated in ADVENTURE TIME #26 (I sent a tweet to writer Ryan North asking about it and he sent me back a photo of 'No More Tears' shampoo, should we be worried? Eeep), Harley deals with obnoxious neighbours in HARLEY QUINN #4, we say goodbye to Buddy in the final issue of ANIMAL MAN (don't worry, he'll still be around in Justice League United!),
Jon and Susie's future together seems undecided in SEX CRIMINALS #5,

the unlikely duo tackling crime on the world's most dilapidated space station get to work in THE FUSE #2, and Kamala Khan is returns from her triumphant sell out debut in MS MARVEL #2! I can't wait to read it. :)
BOOM
ADVENTURE TIME #26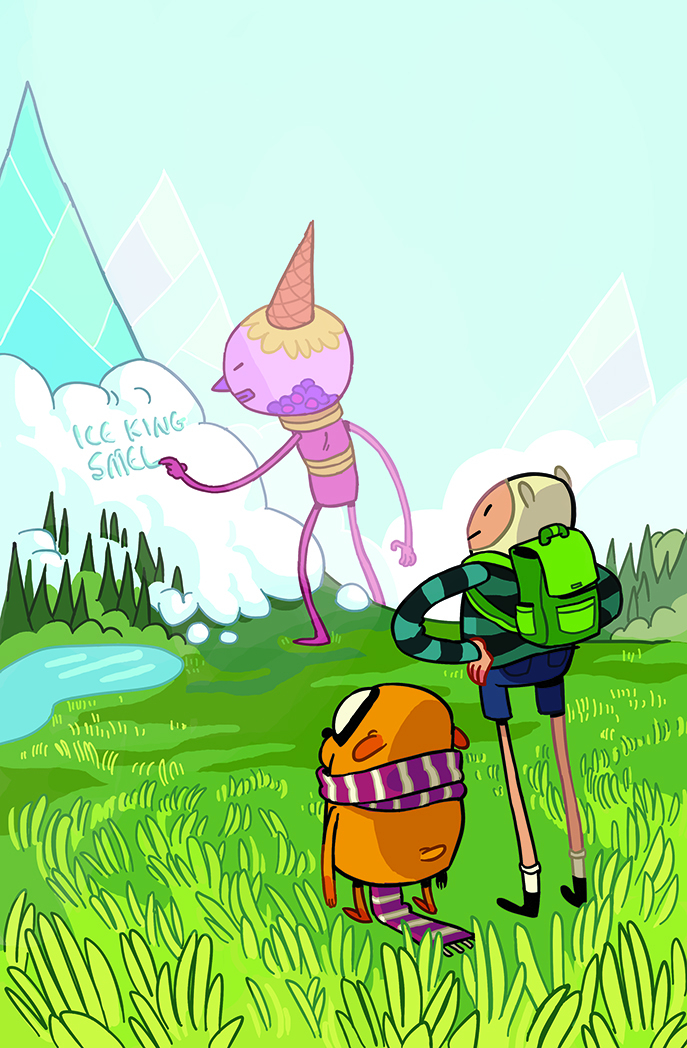 Finn and Jake have always been best buds; they are always together, it's just
something best buds do. But what happens when these two friends get separated
on a crazy adventure with twists and turns? Will our pals be able to find each other
again or is this just all part of growing up?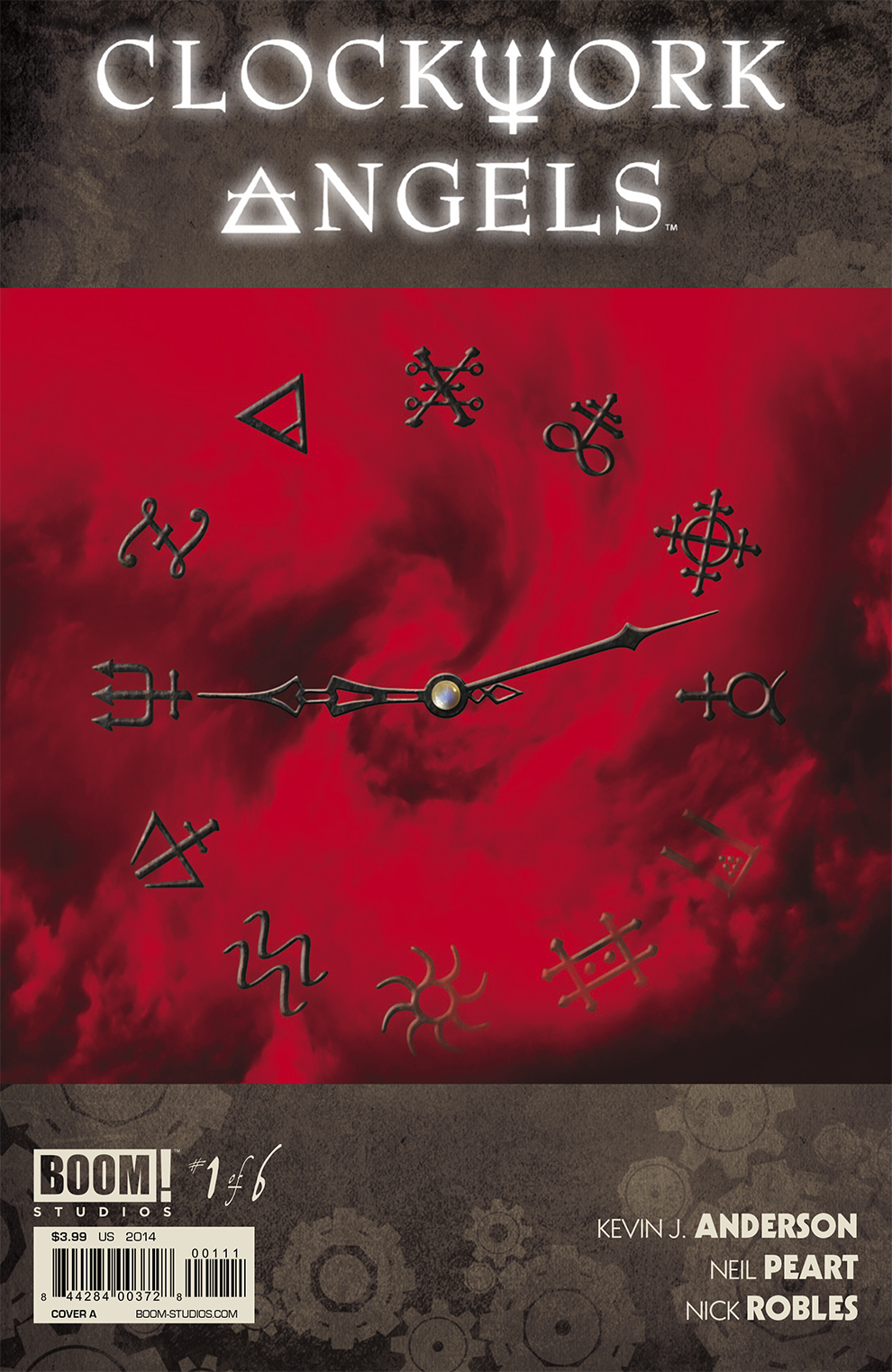 WHY WE LOVE IT
Rush's Clockwork Angels is a testament to the band's creative
versatility, successful as a concept album, novel and international
tour. Now Rush drummer and lyricist Neil Peart and New York Times
bestselling author Kevin J. Anderson are bringing the story of
Clockwork Angels to comics, where newcomer artist Nick Robles
will bring the journey of Owen Hardy to visual life!
WHY YOU'LL LOVE IT
Die-hard Rush fans have longed for Peart's narrative songwriting to
be adapted into comic book form for decades, but fans of steampunk
fantasy will enjoy journeying into the world Albion thanks to
Anderson's skilled storytelling.
WHAT IT'S ABOUT
Owen Hardy, like all the people of Albion, has lived his whole life under
the rule of The Watchmaker. His entire life has been planned down to
the exact second. But what happens when a young boy decides that
things should not always goes as planned?

DARK HORSE
BPRD HELL ON EARTH #117
BTVS SEASON 10 #1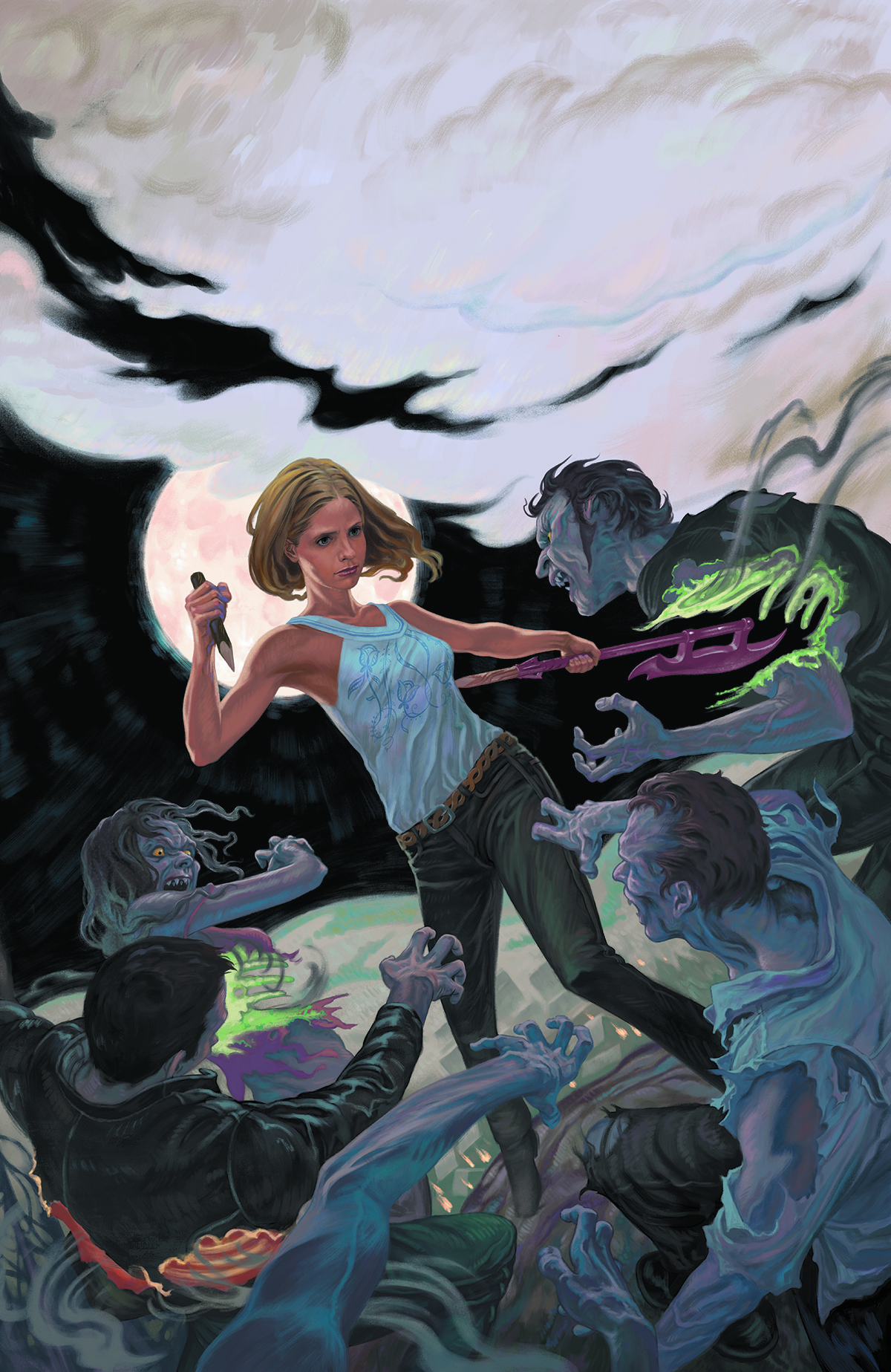 New season. New rules. The age-old battle of Slayer vs. vampire is the focus of Buffy's
life once again-it's downright nostalgic! But with all the toying with magic she's done
lately, this girl should know it's time for another game change . . . Shouldn't she?
CURSE #3 (OF 4)
DARK HORSE PRESENTS #34
SKYMAN #3 (OF 4)
STAR WARS DARTH VADER & CRY OF SHADOWS #4 (OF 5)
STAR WARS DAWN OF THE JEDI FORCE WAR #5 (OF 5)
The alien Rakata are on the brink of opening the Infinity Gate, ready to unleash their
Empire on an unsuspecting galaxy! The Je'daii must win this battle - even if it means the
end of their order. But how can they attain victory when their greatest hero
STRAIN THE FALL #9
TERMINATOR ENEMY OF MY ENEMY #2 (OF 6)
WHITE SUITS #2 (OF 4)
WITCHER #1 (OF 5)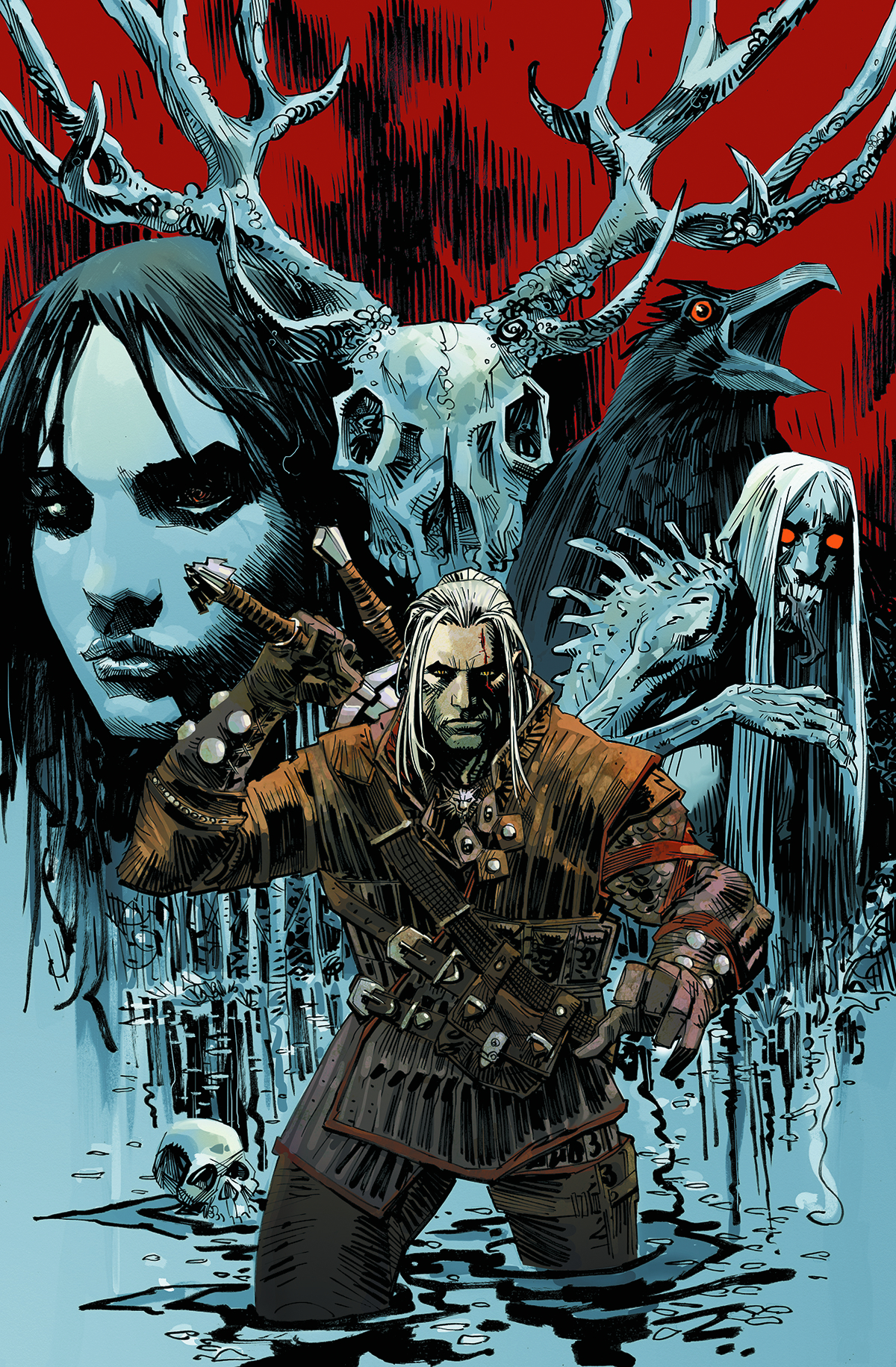 Travelling near the edge of the Black Forest, monster hunter Geralt meets a widowed
fisherman whose dead and murderous wife resides in an eerie mansion known as the
House of Glass-which seems to have endless rooms, nothing to fill them with, and
horror around every corner. Written by Eisner winner Paul Tobin!

DC
AMERICAN VAMPIRE SECOND CYCLE #1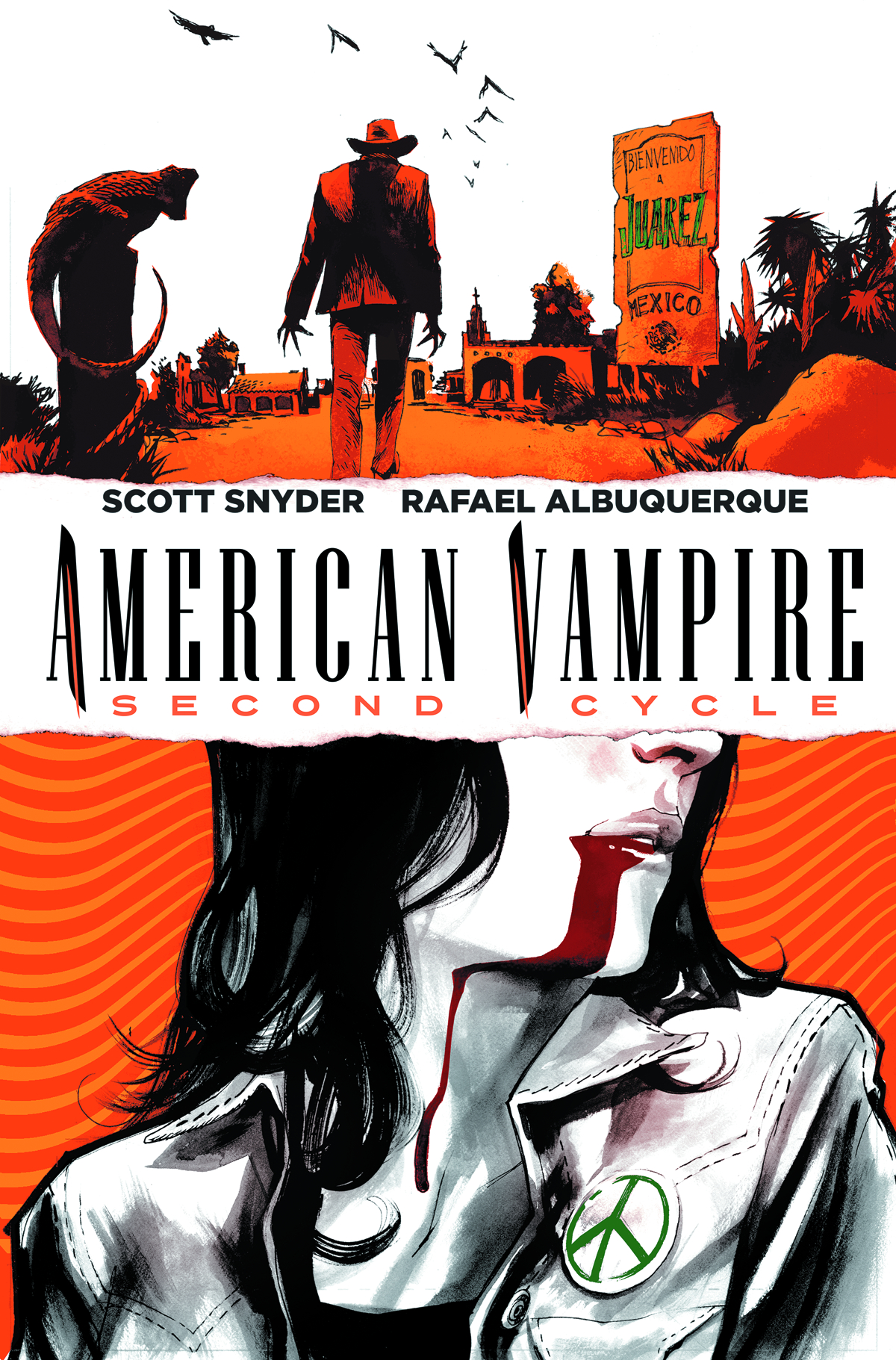 The Eisner Award-winning, critically acclaimed series is back! #1 New York Times best-selling writer Scott Snyder (BATMAN, SUPERMAN UNCHAINED, THE WAKE) and acclaimed artist Rafael Albuquerque (ANIMAL MAN) bring their bloodsoaked opus into the 1960s! The story so far... Pearl Jones is a new kind of vampire, one of an American breed that can walk in the sun and has rattlesnake fangs. She's beautiful and powerful - and she's hiding from a tragic past...
Skinner Sweet is an American vamp too - the kind you love to hate. He's good when he wants to be, but most of the time he's downright bad. He's Pearl's maker, but he's off in Mexico with an agenda of his own... Will their two stories collide, or are they separated forever? And who is this new villain on the horizon, someone bloodier and more evil than anything seen in AMERICAN VAMPIRE before? Who is THE GRAY TRADER and what does his arrival mean for Skinner and Pearl? Whether you're already a fan or interested in checking out this series, the extra-sized AMERICAN VAMPIRE: SECOND CYCLE #1 is the perfect jumping-on point!
ANIMAL MAN #29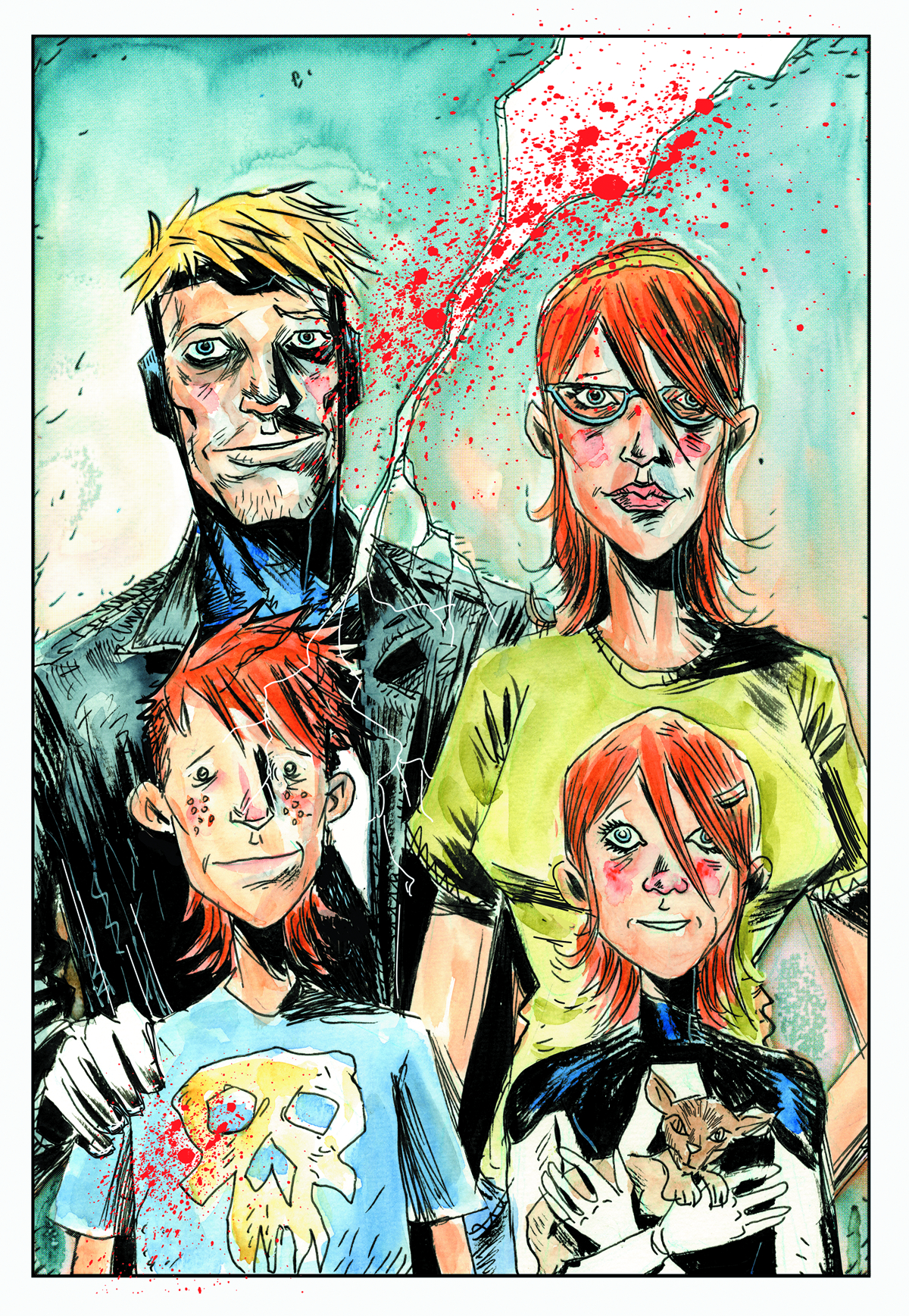 FINAL ISSUE
A special finale to Jeff Lemire's run on the series by the creative team that launched Animal Man in The New 52! What is left of Buddy in the wake of "Evolve or Die"?
BATMAN 66 #9
BATMAN AND AQUAMAN #29
BATMAN BEYOND UNIVERSE #8
BATWOMAN #29
BIRDS OF PREY #29
GREEN LANTERN NEW GUARDIANS #29
HARLEY QUINN #4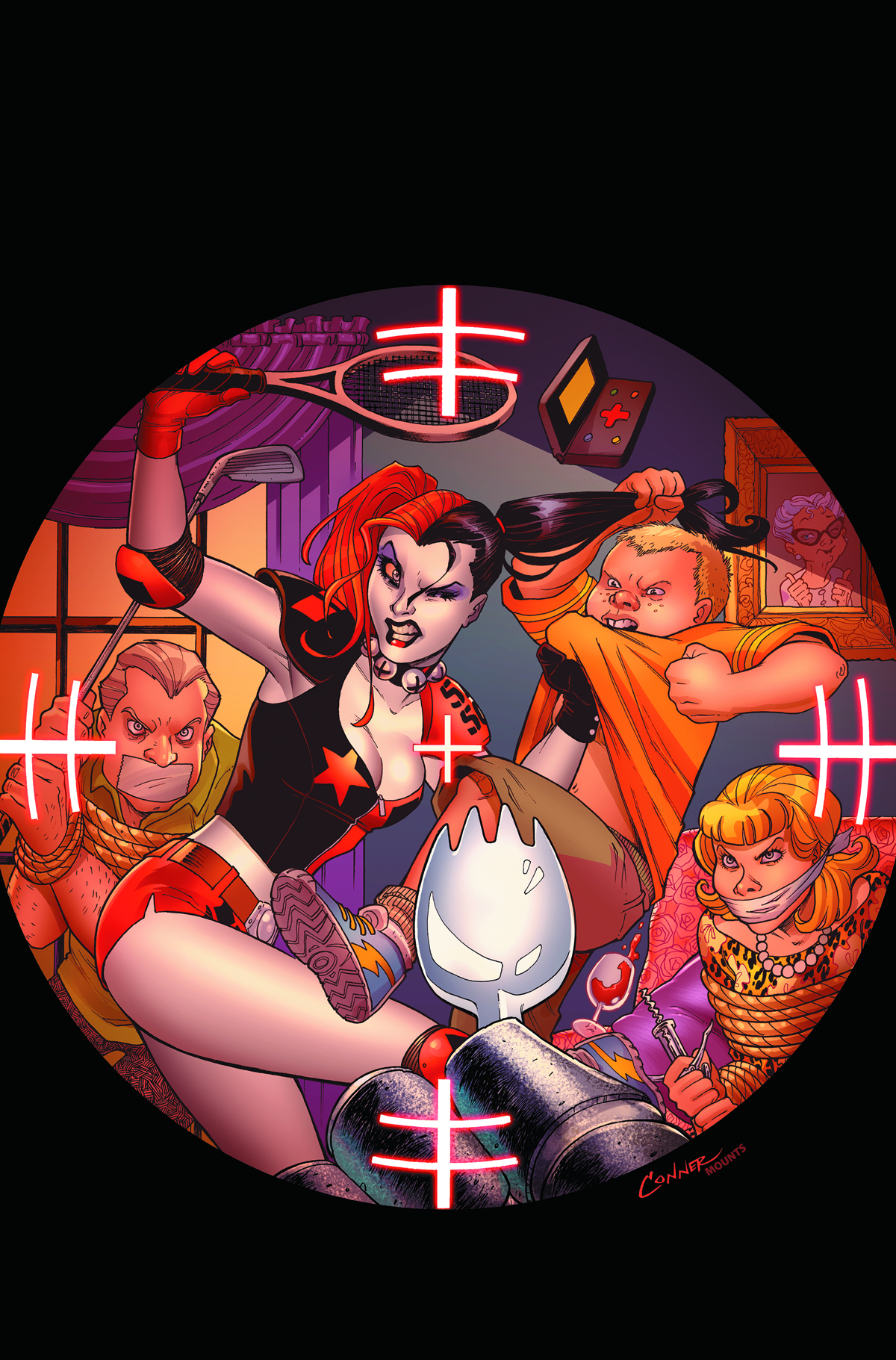 Meet Harley's new neighbours, and shudder at the horrifying realization that they are so twisted they make her seem like the normal one on the block!
RED HOOD AND THE OUTLAWS #29
SCRIBBLENAUTS UNMASKED CRISIS OF IMAGINATION #3
SUICIDE SQUAD #29 (EVIL)
SUPERGIRL #29
SUPERMAN UNCHAINED #6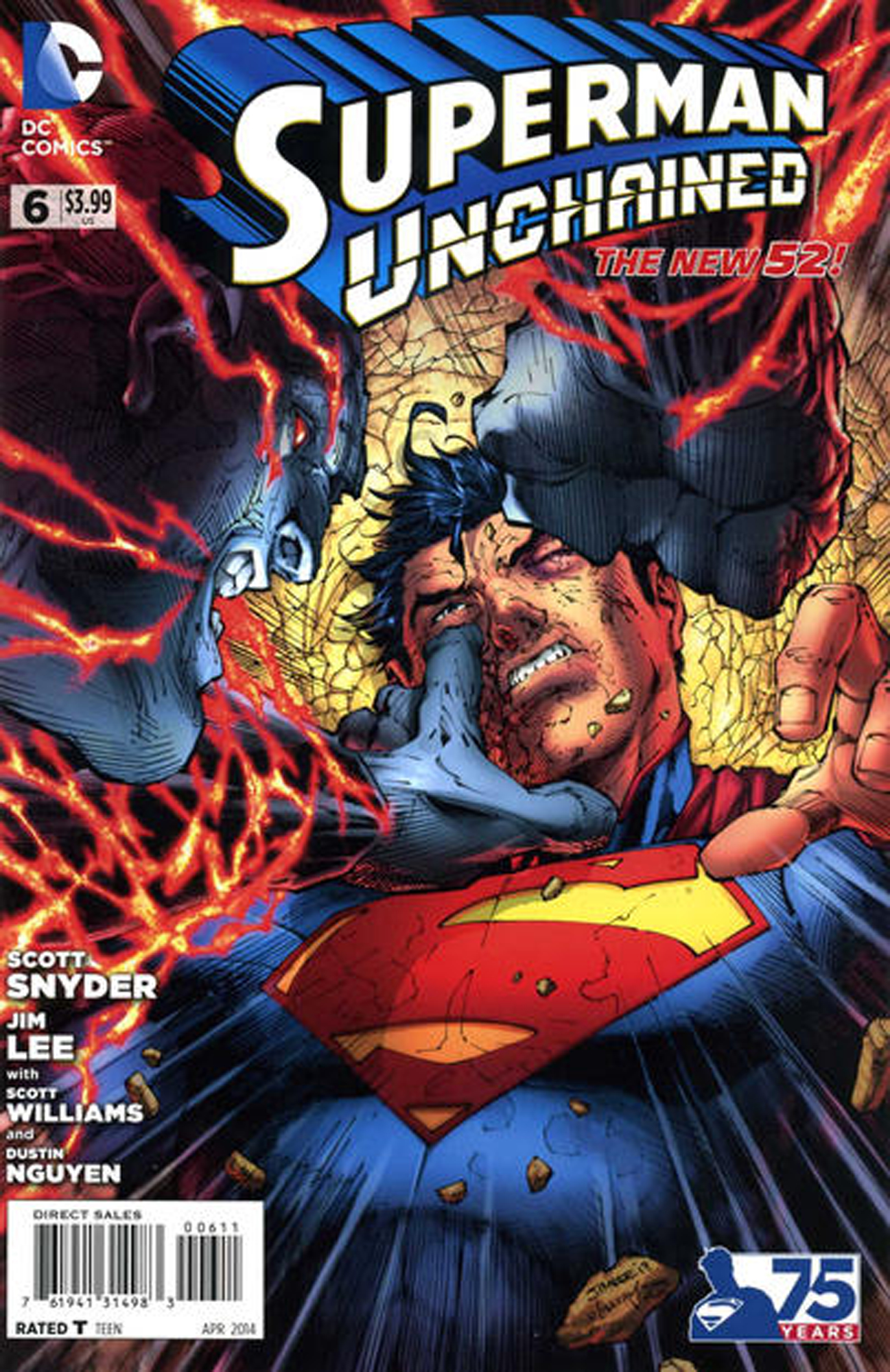 The Man of Tomorrow and the Superman of yesterday go at it - no holds barred! Supes goes full throttle after his would-be ally, Wraith, in a seismic battle ranging from deep space to the ocean's floor and ultimately the core of the earth! Meanwhile, Lois Lane holds the key to defeating Ascension, but she needs to reach the Fortress of Solitude to ensure its safekeeping - not to mention hers! She's being pursued by a heavily armed force, and it isn't Ascension!
TRINITY OF SIN PANDORA #9 (EVIL)
UNWRITTEN VOL 2 APOCALYPSE #3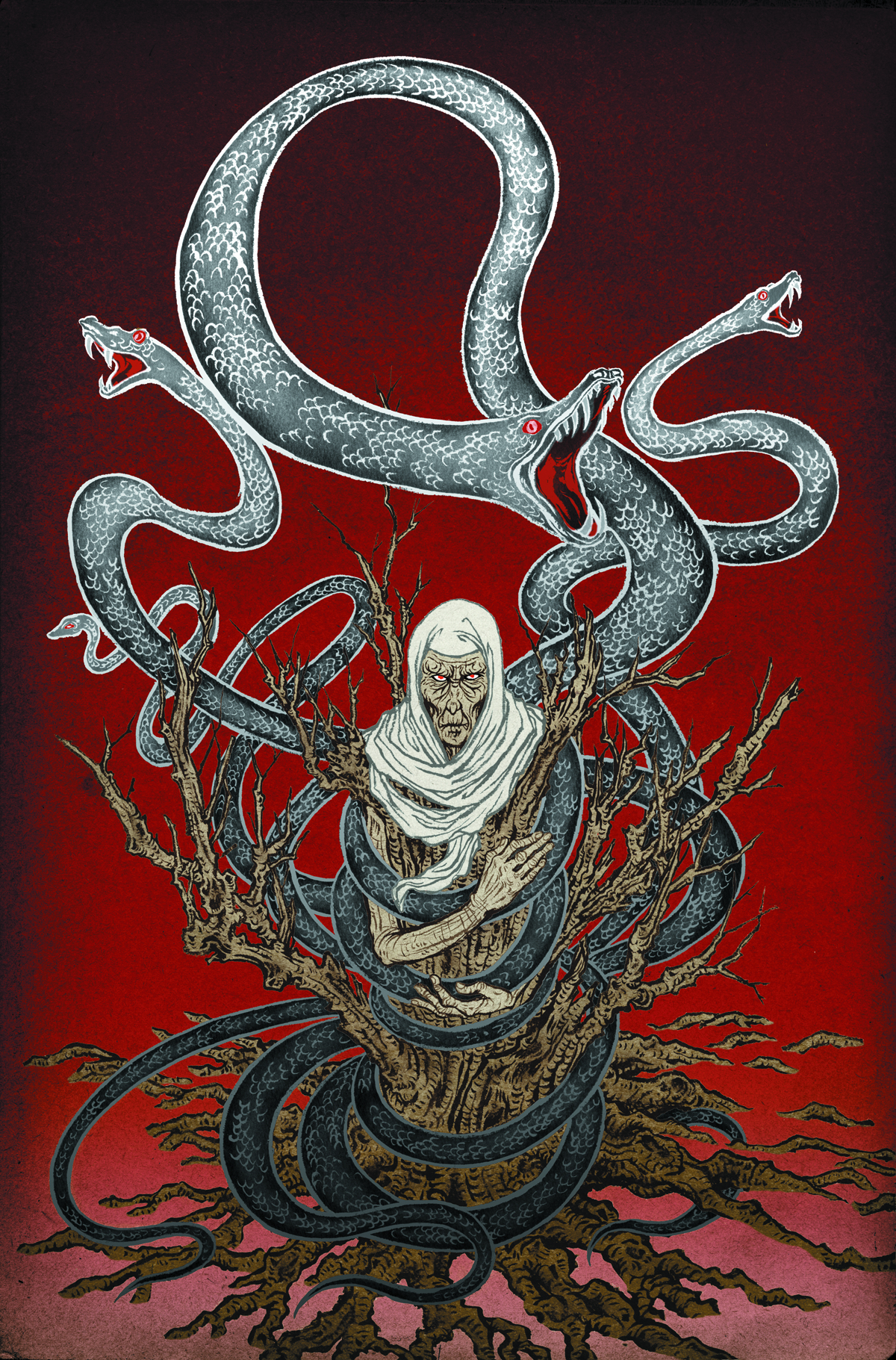 Tom discovers just how quickly the world is dissolving into chaos - and why. But where in all this fractured, insane landscape will he find an ally, and what price will he have to pay? The answer lies in the Divadlo Trinka puppet theatre of Prague, and in the old cliché:
"My enemy's enemy is my friend."


WONDER WOMAN #29

IDW
GI JOE #14
MAGIC THE GATHERING THEROS #5 (OF 5)
MY LITTLE PONY FRIENDSHIP IS MAGIC #17
The start of this epic four-part story will see the ponies travel to a new world in desperate need of aid... that is, if they can discover the secret spells of Starswirl the Bearded! Secret traps and magical danger are only the first steps on the ponies greatest adventure yet!
POPEYE CLASSICS ONGOING #20
TMNT UTROM EMPIRE #3 (OF 3)
TRANSFORMERS REGENERATION ONE #100
THE GREATEST ENEMY... the greatest challenge... shall come from within. And there will be an ending. This is it, the battle the TRANSFORMERS must win, and yet dare not. The original and founding TRANSFORMERS comic comes to an epic and giant-sized conclusion, with all-out battle on CYBERTRON. Or should that be "Cybertrons"? Shocks, surprises, guest stars and more. It may be a cliché, but this one really does have it all.

TRANSFORMERS ROBOTS IN DISGUISE #27 DARK CYBERTRON

IMAGE
APHRODITE IX #9
FIVE GHOSTS #10
FUSE #2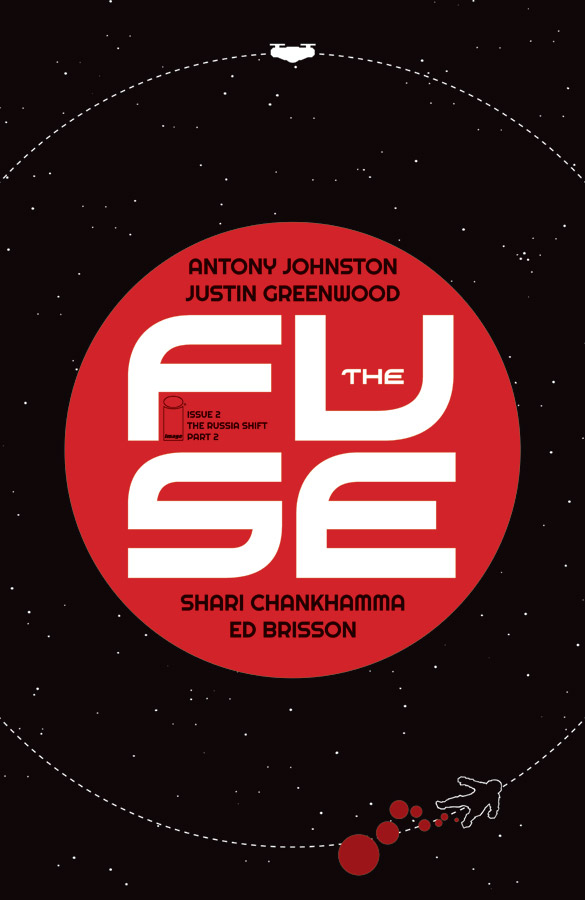 "THE RUSSIA SHIFT" Part Two
Two dead cablers. Two MCPD murder police. One of them is an FGU. One vic leads to Midway City Hall. The other leads into the cables of SOLAR 1. The LT is furious. I-SEEC won't help them. But the ME can.
"Someone want to run all that by me again? In English?"


GHOSTED #8
ILLEGITIMATES #4 (OF 6)
LAZARUS #7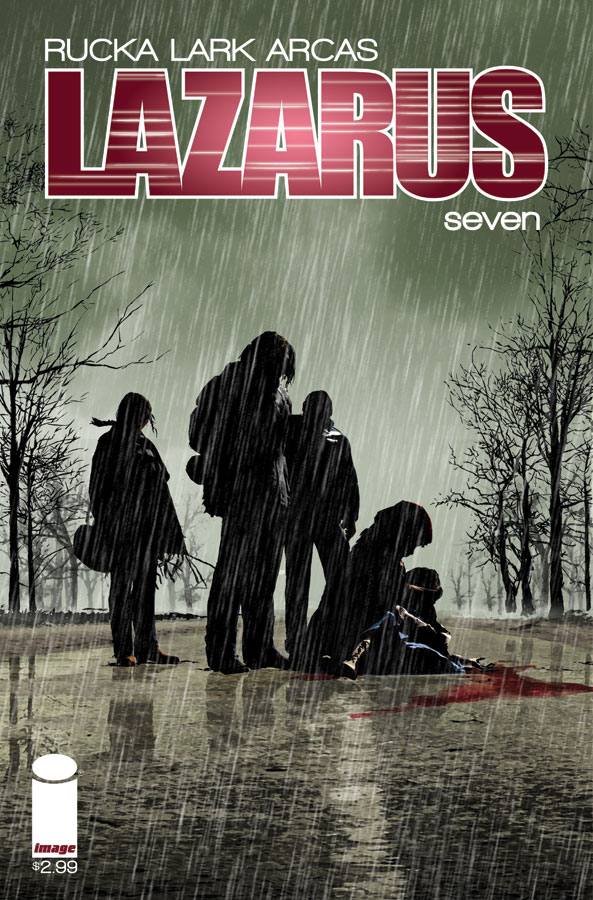 "LIFT," Part Three
Forever's investigation into the thefts of Carlyle materiel lead to an alarming discovery and a new insight into the Freemen Resistance. The Barrets continue making their way to Denver, and pay a terrible toll.
PROPHET #43
ROCKET GIRL #4
SEX CRIMINALS #5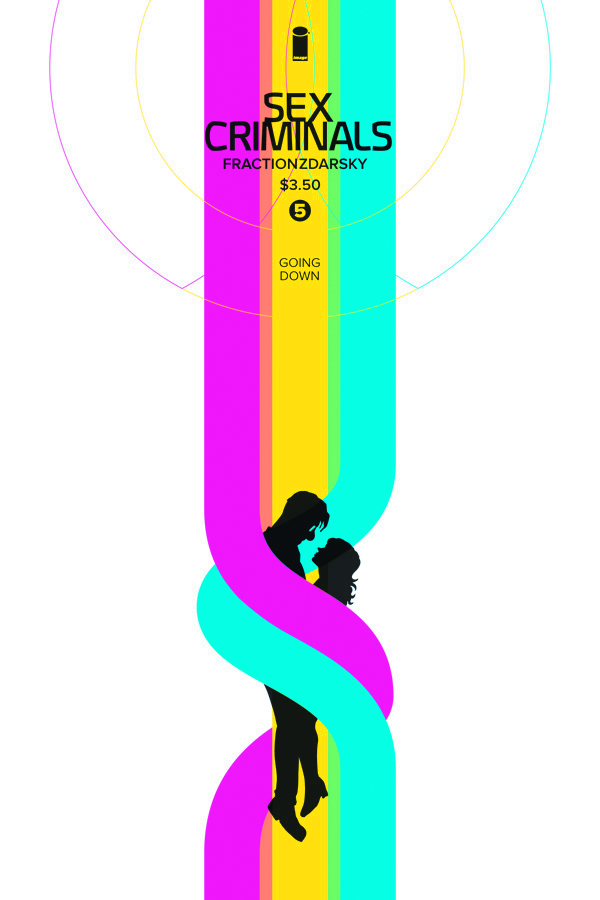 The best part of a new relationship is the first three weeks, right? The rush of the new, the gravitational pull of the sudden other-ness in your life, the almost-illicit charge of nothing else mattering...and then it's time to pay the bills. Well, the honeymoon is over for the SEX CRIMINALS. Can Jon and Suzie survive Jon and Suzie?
SOVEREIGN #1
An epic fantasy in the tradition of Game of Thrones, SOVEREIGN is set in a world which once knew gods, demons, and magic, and to which all three are returning. New York Times bestselling author CHRIS ROBERSON joins artist PAUL MAYBURY to tell the story of masked undertakers facing the undead with swords, of civil wars and cultures in collision, of ancient threats emerging from the ashes of history to menace the future...
TEN GRAND #8
UNDERTOW #2
ZERO #6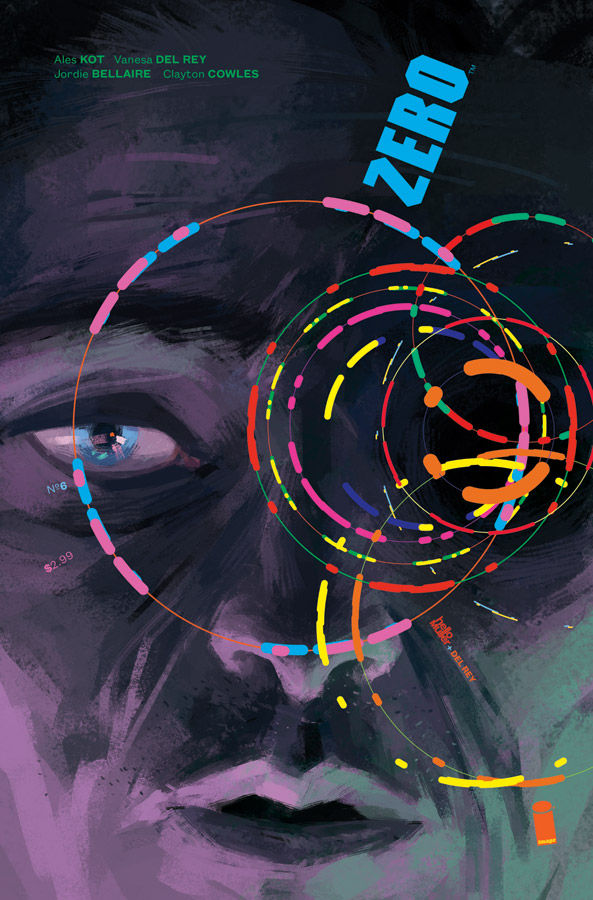 The Large Hadron Collider. Edward Zero's newly gained knowledge. A man with a plan to end the universe so a better one can be born.
They all connect here.
INDIE
ARCHIE FUNHOUSE DOUBLE DIGEST #3
BAD ASS #3 (OF 4)
BART SIMPSON COMICS #89
CROSSED BADLANDS #49
GOD IS DEAD #9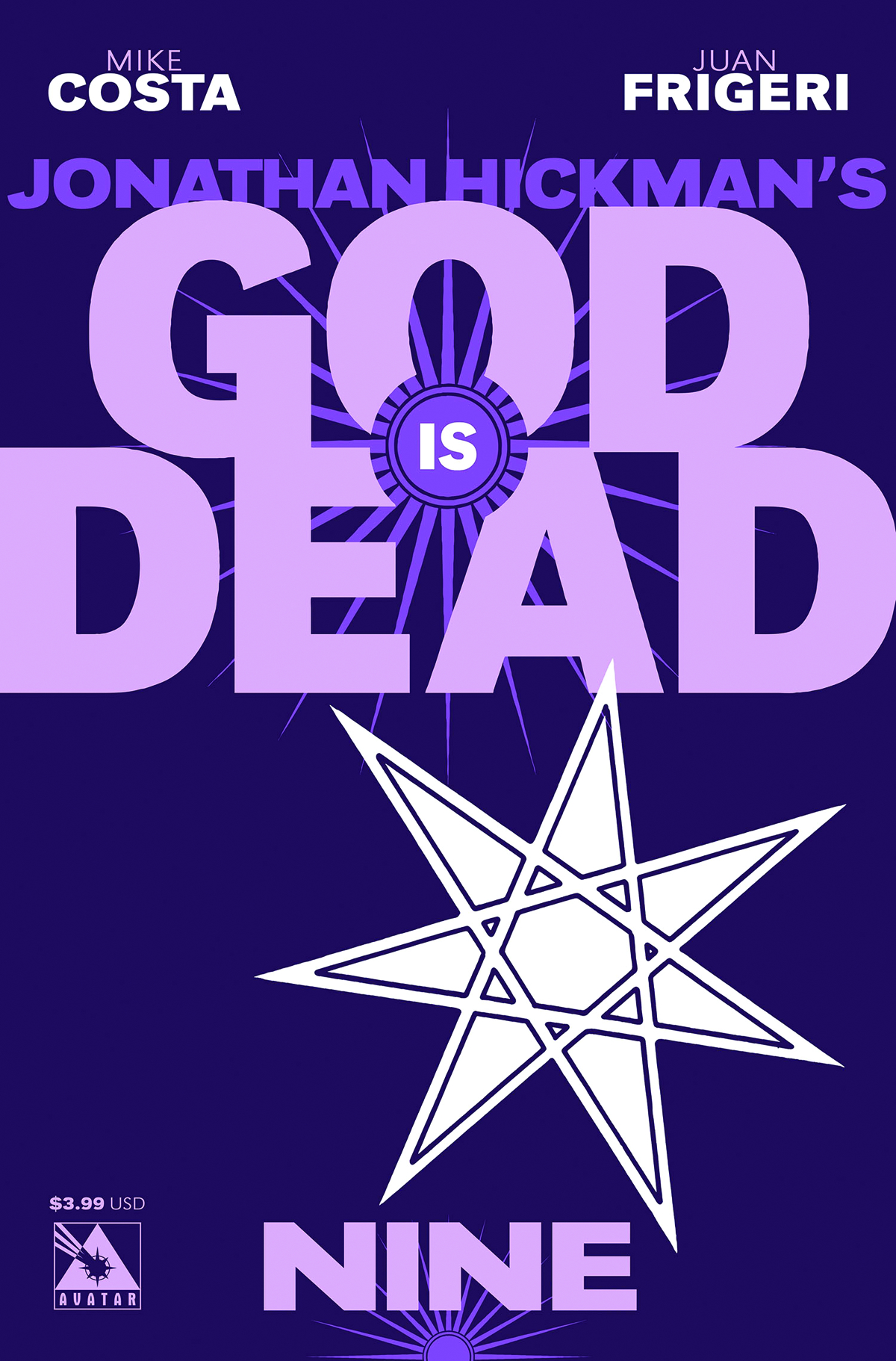 Man's hubris truly does know no bounds. Albert has negotiated a coalition of gods to turn their wrath upon Gaia in an attempt at breaking her hold on the world. But can his sight be truly that finite to not recognize the tsunami of misery his actions may bring down upon the world? And as the titans prepare to battle for dominance, Ivy finds the shocking secret that turned a group of scientists into the gods that would inherit the earth.
GRAVEL COMBAT MAGICIAN #2
GRIMM #11
HARBINGER BLEEDING MONK #0.2014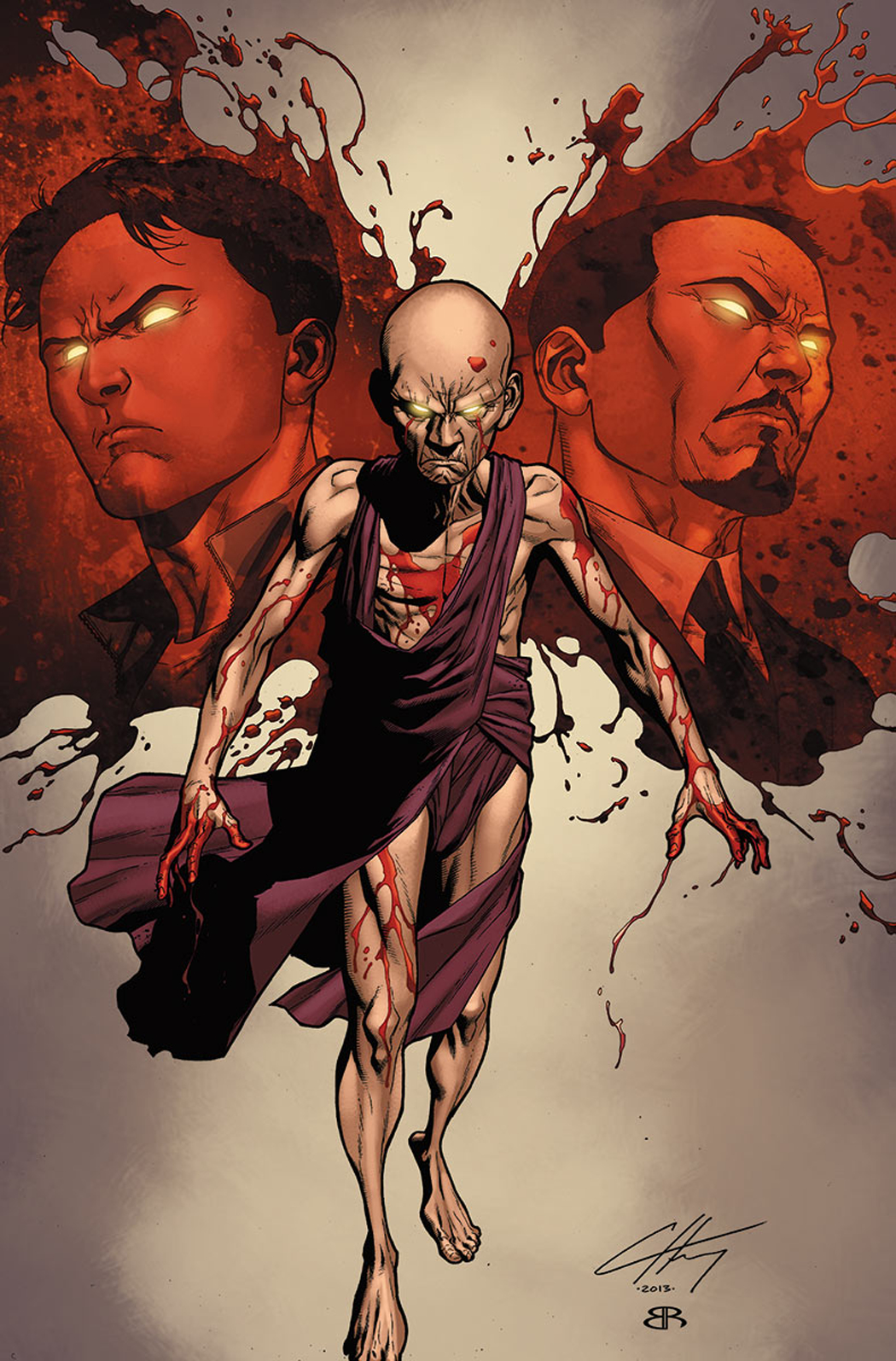 What has become of the Bleeding Monk? The Bleeding Monk, formerly Toyo Harada's right hand, has been missing for over a year. Now, the original creative team of Joshua Dysart and Khari Evans are journeying into the darkest corners of the Harbinger Foundation to reveal the true whereabouts of Harada's cryptic advisor - and uncover the first of many secret revelations to come...
LEGENDERRY A STEAMPUNK ADV #3 (OF 7)
LETTER 44 #5
An expedition to explore an alien artifact turns into a desperate fight for survival; and President Blades orders a special forces team to take down
the most unlikely target imaginable.
SHADOW #23
SHADOWMAN #16
SIMPSONS COMICS #210
SIXTH GUN #39
THE SPIDER #18
SONIC THE HEDGEHOG #258
WORLD OF ARCHIE DOUBLE DIGEST #38
X-O MANOWAR #23

MARVEL
ALL NEW INVADERS #3 ANMN
AVENGERS WORLD #4 ANMN
DAREDEVIL #1 ANMN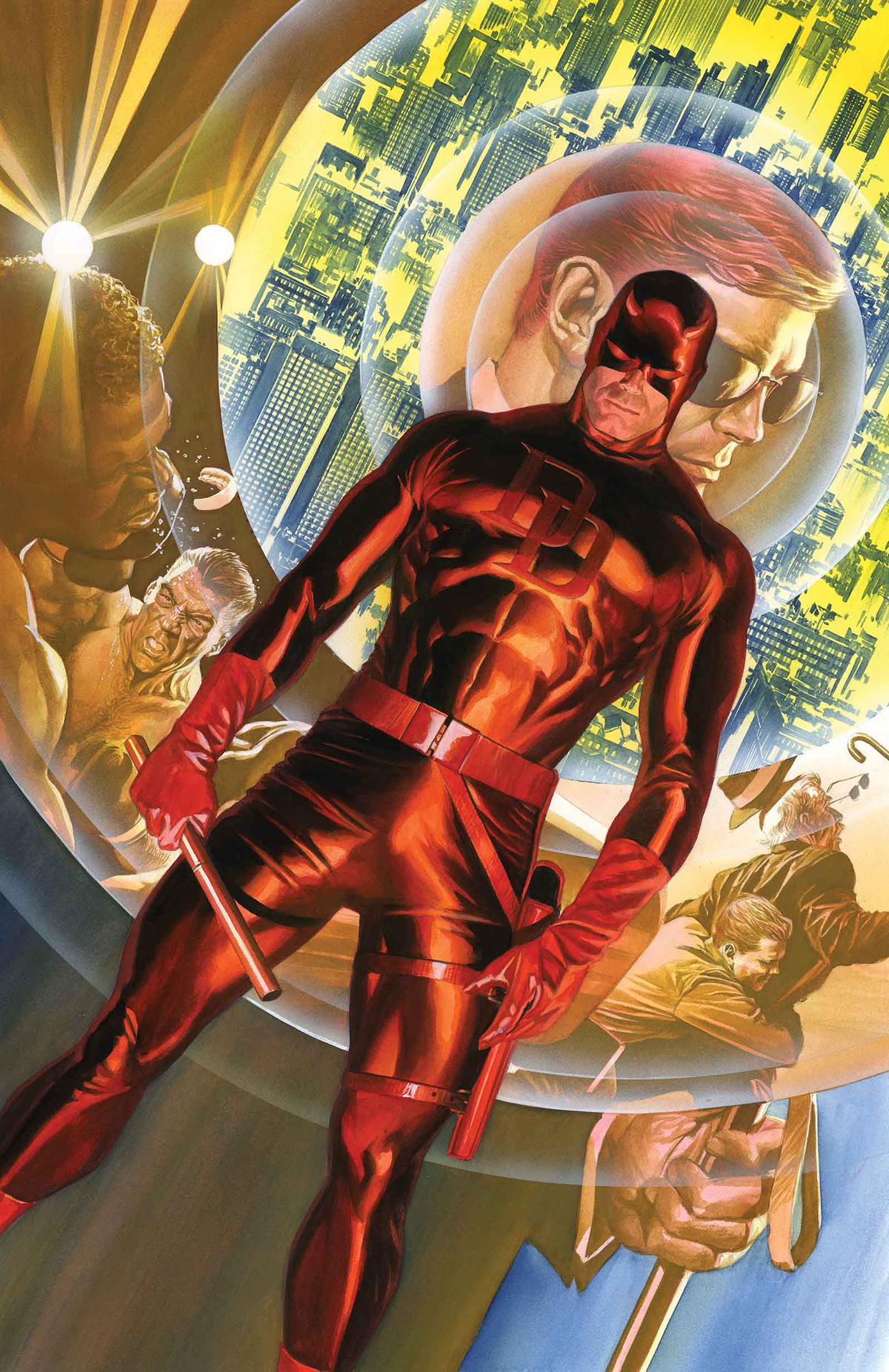 BECAUSE YOU DEMANDED IT!
Join Marvel's fearless hero as he begins his most awe-inspiring adventure yet in the sunny city of San Francisco! Gifted with an imperceptible radar sense and a passion for justice, blind lawyer Matt Murdock- a.k.a. DAREDEVIL- protects the Golden City's streets from all manner of evil. But big changes are in store for Matt Murdock as old haunts and familiar faces rise to give the devil his due. Hold on tight, because here comes Daredevil...the Man Without Fear!
DEXTER DOWN UNDER #2 (OF 5)
DISNEY KINGDOMS SEEKERS OF WEIRD #3 (OF 5)
IRON MAN #23.NOW ANMN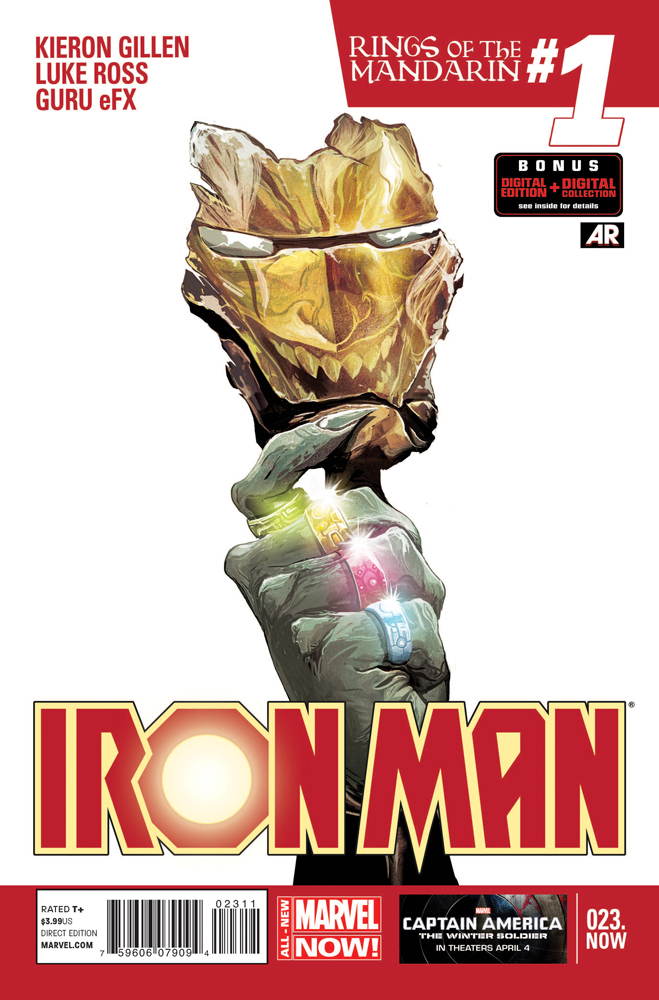 AN ALL-NEW EPIC BEGINS, "RINGS OF THE MANDARINS"
MALEKITH THE ACCURSED has a problem with IRON MAN. Malekith the Accursed has a problem with pretty much everyone. Cutting edge science versus the most arcane science imaginable, all in a bath of blood. Which classic MARVEL UK character returns in a reinvented form after the REVOLUTIONARY WAR?
MARVEL KNIGHTS HULK #4 (OF 4)
MS MARVEL #2 ANMN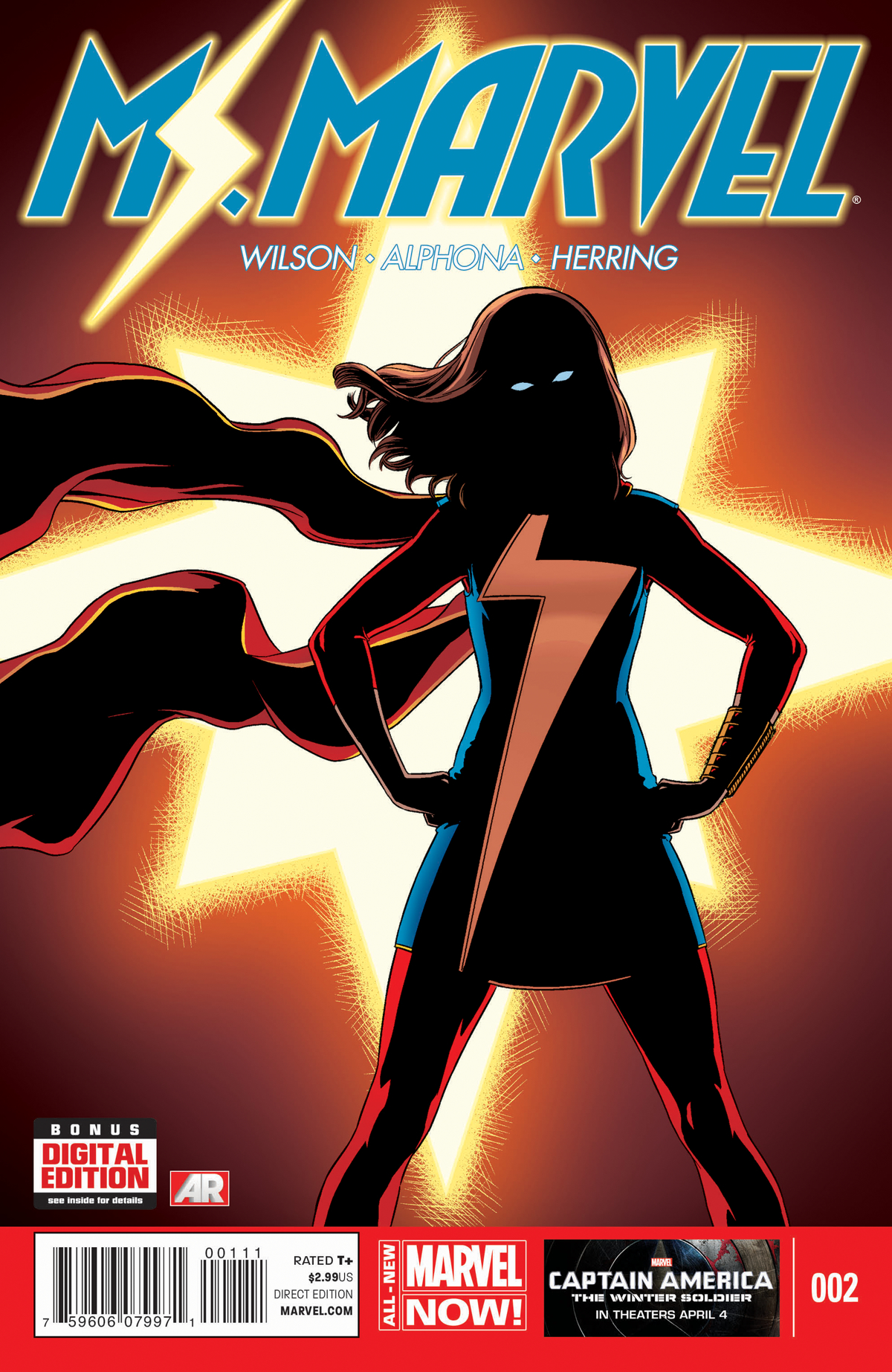 As seen in the New York Times, CNN and other media outlets the world-over, the all-new Ms. Marvel has made her thunderous debut!
Kamala Khan's very ordinary life has suddenly become extraordinary. Is she ready to wield these strange and immense new gifts? Or will the weight of the legacy before her be too much to handle? Critically acclaimed writer G. Willow Wilson (Air, Cairo) and fan-beloved artist Adrian Alphona (Runaways, Uncanny X-Force) bring you the groundbreaking Marvel series that has set the world abuzz. Don't miss history in the making.
NEW AVENGERS #15
NOVA #15 ANMN
REVOLUTIONARY WAR WARHEADS #1
SUPERIOR FOES OF SPIDER-MAN #10
SUPERIOR SPIDER-MAN ANNUAL #2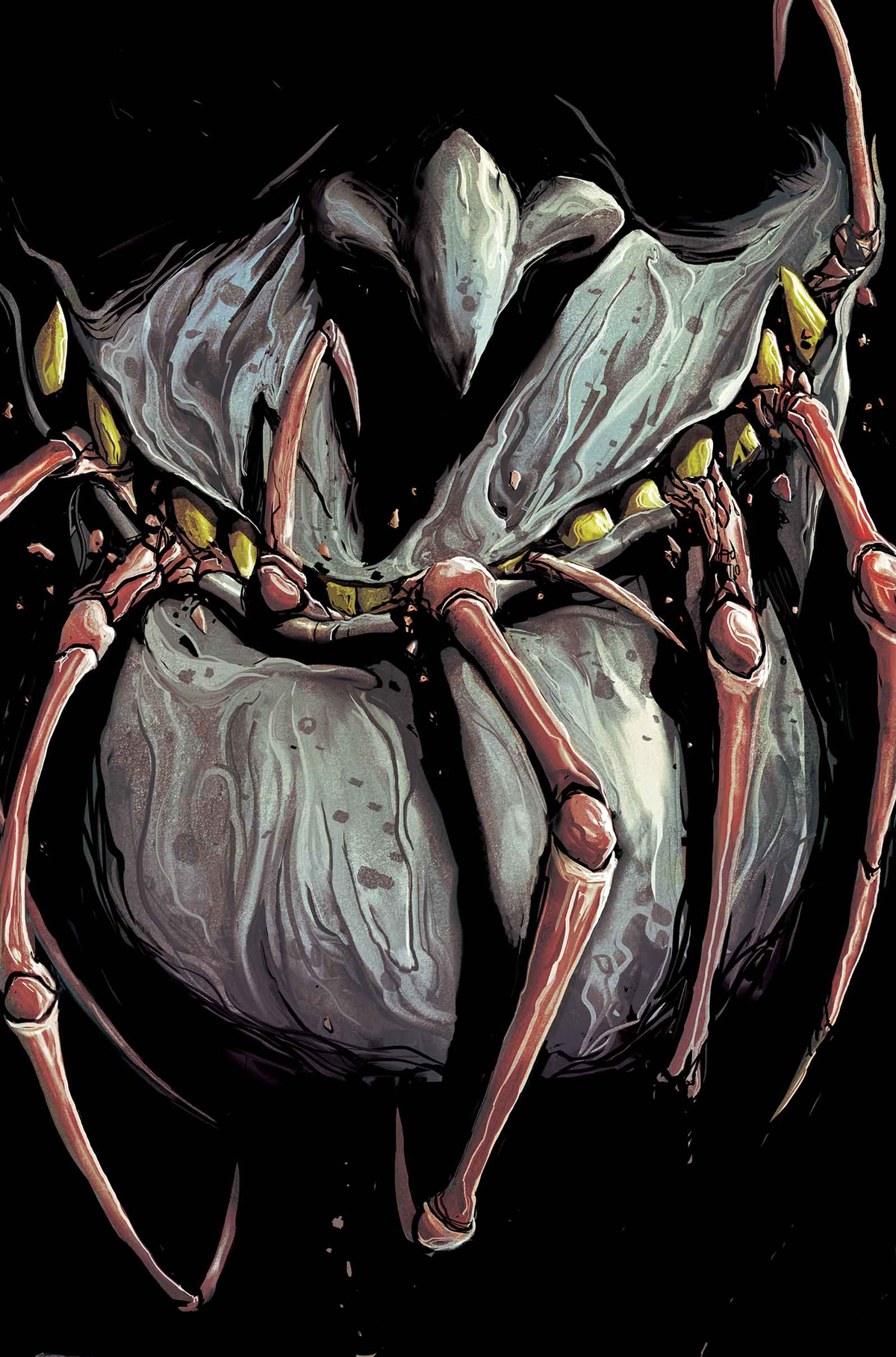 The last temptation of Green Goblin... Phil Urich!
As Goblin Nation consumes New York, the Superior Spider-Man's world is in flames!
Who will rise? Who will fall? NO ONE will be the same after this!
THOR GOD OF THUNDER #20 ANMN
THUNDERBOLTS #23
UNCANNY X-MEN #19.NOW ANMN
WINTER SOLDIER BITTER MARCH #2 (OF 5) ANMN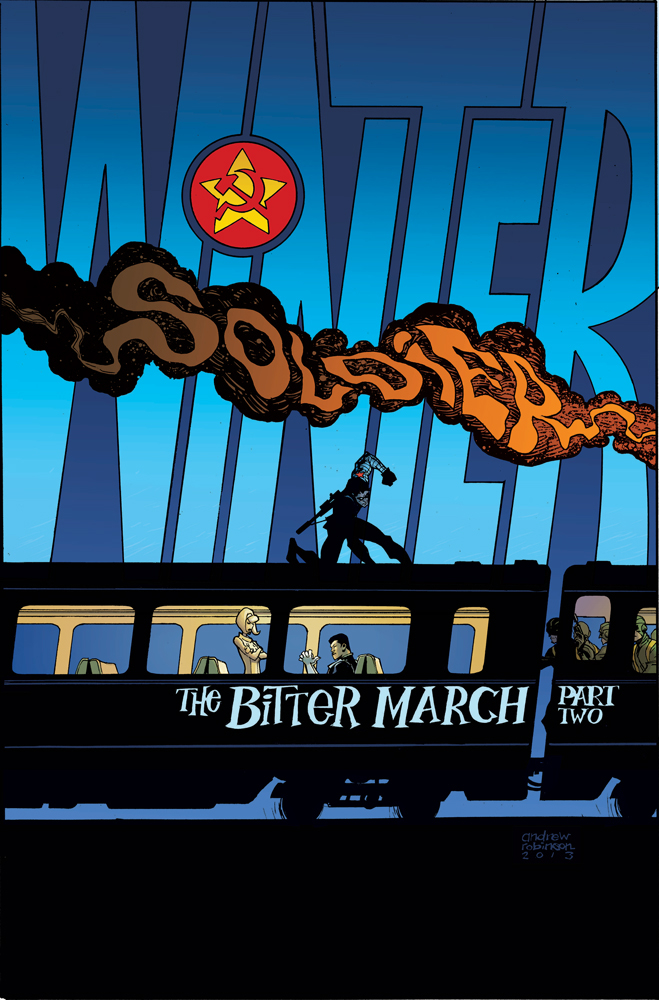 Shield agent Ran Shen is responsible for escorting the two most important humans on the planet to the United States. The only thing in his way is Winter Soldier. And the only thing in the Winter Soldier's way is an elite Hydra squad run by Chancellor Cassandra and Madam Worm. Rate pace, high adventure, sex, murder, intrigue, in this 1960's spy action story that will have ramification echoing to the modern Marvel Universe!


WOLVERINE AND X-MEN #2 ANMN
X-MEN #12 ANMN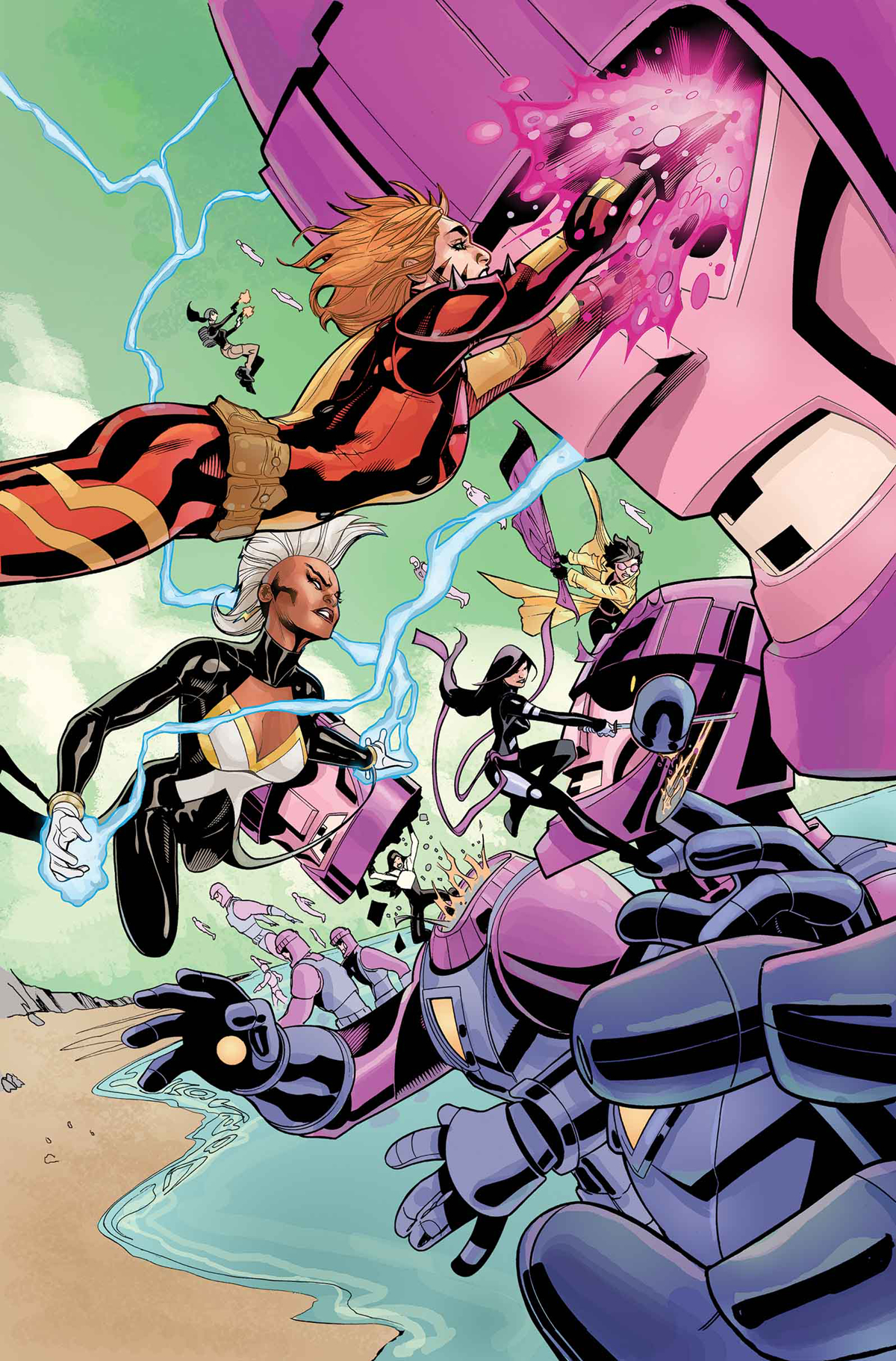 Conclusion to GHOSTS
The Sisterhood is fully formed, and the battle for leadership begins!
The X-Men must choose...take down the Arkea Sentinels or go after the Sisterhood.