So who else was shocked by last week's ending to ORIGINAL SIN #3? I'm all kinds of conflicted about it, but certainly looking forward to finding out what happens next. So, y'know. Well done Marvel. ;-) Original Sin #4 is not out on Weds - instead we have the new 5-part ORIGINAL SINS, the first of several tie-in miniseries for this giant event. This is a mini anthology with three different ongoing storylines in each issue, including the return of fan favourites Young Avengers, wooo!
In other event news, Superman Doomed continues in SUPERMAN WONDER WOMAN, Uprising nears it's conclusion in GREEN LANTERN CORPS, and DEADPOOL, ALL NEW INVADERS, and MIGHTY AVENGERS are all part of Original Sin. Also out this week: LUMBERJANES (which has now been upgraded from a mini to an ongoing series), BRAVEST WARRIORS ANNUAL, DETECTIVE COMICS, LEGENDS OF THE DARK KNIGHT SPECIAL, UNCANNY X-MEN CROSSOVER SPECIAL, UBER, NIGHTCRAWLER, AMAZING SPIDER-MAN LEARNING TO CRAWL and the premiere of INFINITY MAN AND THE FOREVER PEOPLE.
What are you excited to read this week? Talk to us @DavesComics!
BOOM
BEE AND PUPPYCAT #2
BRAVEST WARRIORS 2014 IMPOSSIBEAR SPECIAL #1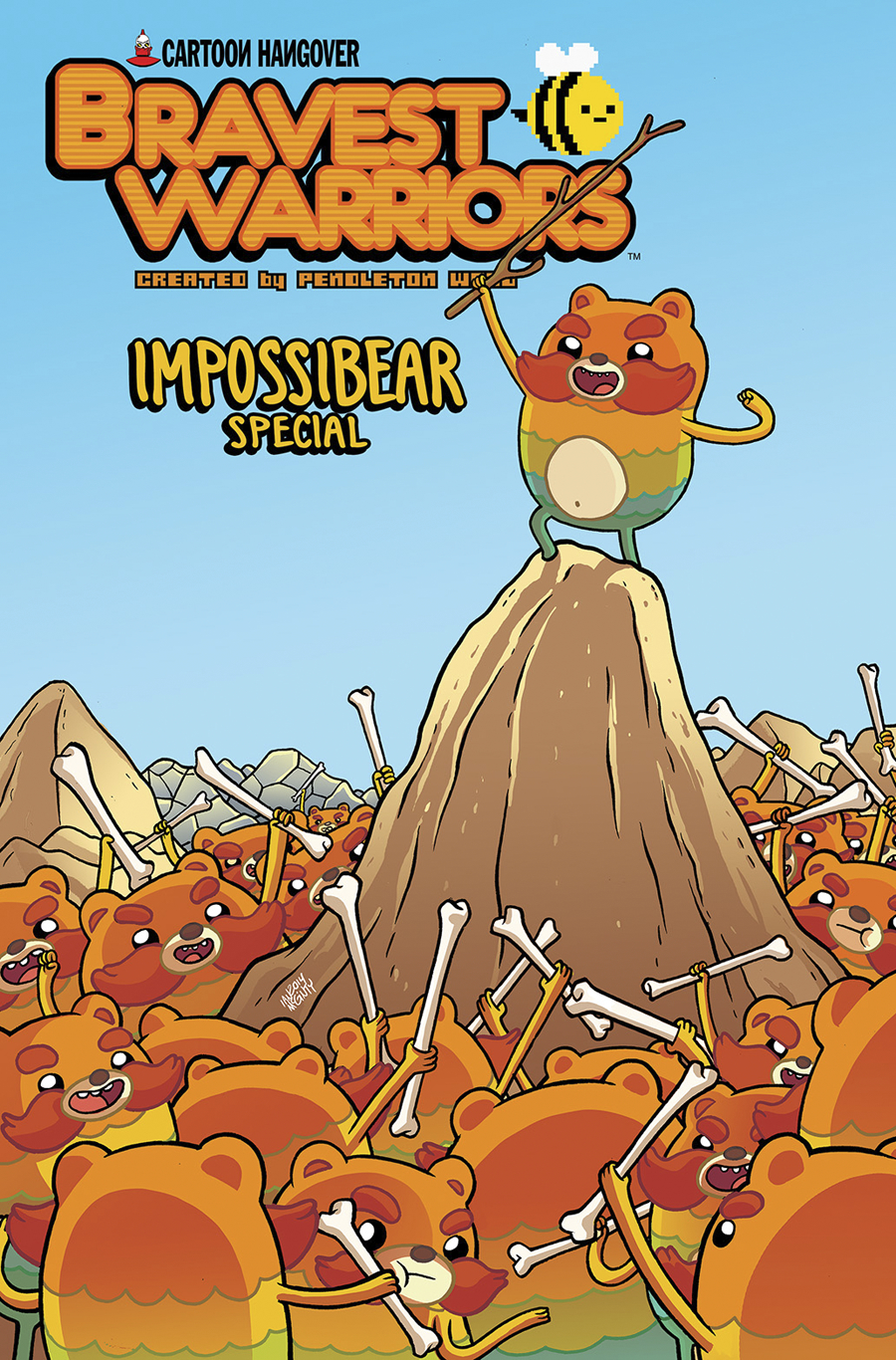 If there is one sassy fur ball in BRAVEST WARRIORS that deserves a comic dedicated to how awesome he is, it's Impossibear! Impossibear and Catbug are up to no good with the Bravest Warriors off on a mission! Between music appreciation, karate-chopping space chickens, and trying to eat a baglewich in peace, there are plenty of shenanigans to be had.
DEAD LETTERS #3
EMPTY MAN #1 (OF 6)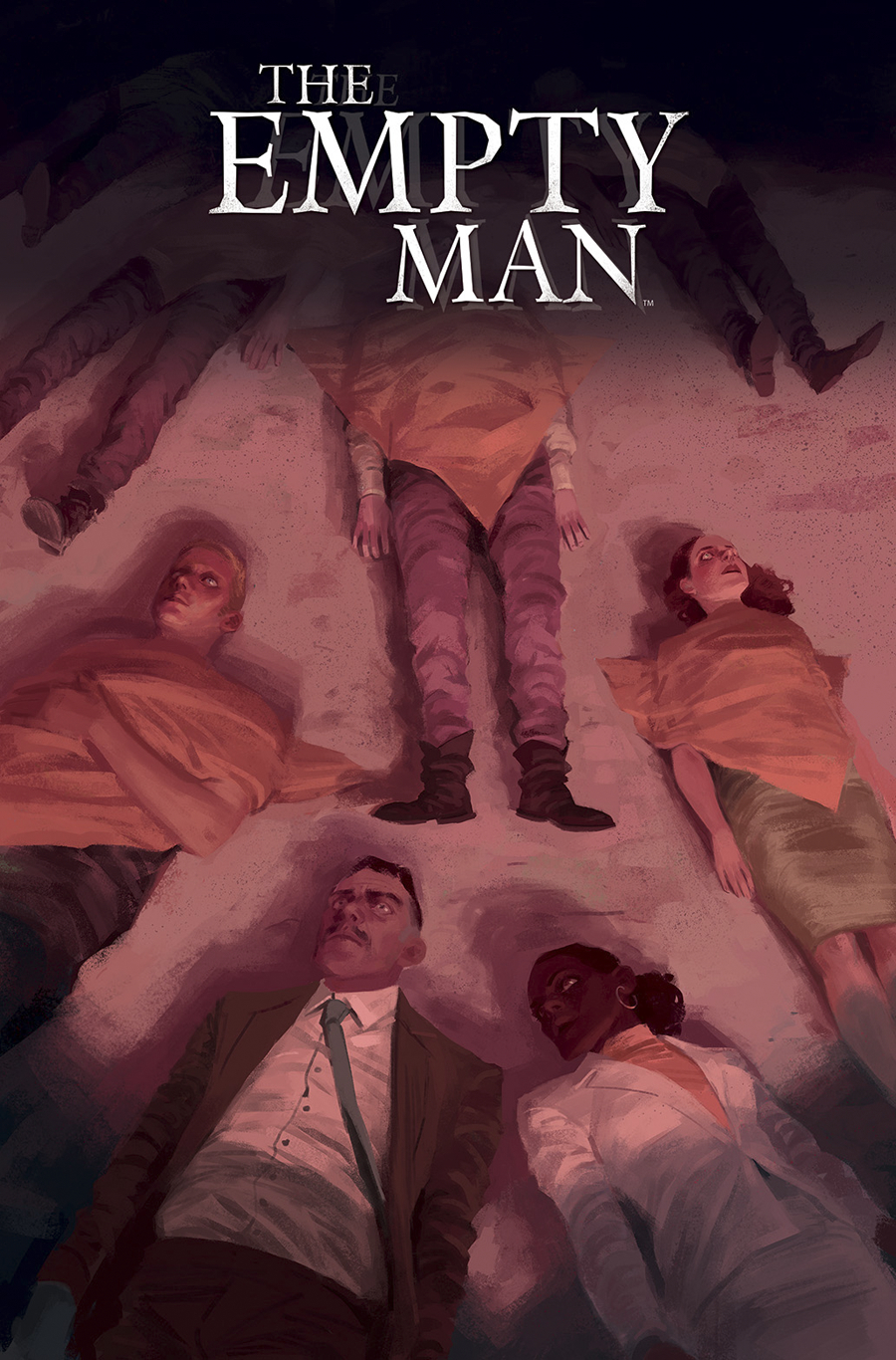 WHY WE LOVE IT: There's nothing scarier than horror that hits home-a tale of terror only one or two steps removed from our reality. THE EMPTY MAN is a dystopic version of the world we know, where a terrifying disease has taken on almost deific connotations.
WHY YOU'LL LOVE IT: Cullen Bunn (THE SIXTH GUN, VENOM) and Vanesa R. Del Rey (HIT) are two of the most exciting talents in the industry, and perfectly in sync on this haunting new crime procedural.
WHAT IT'S ABOUT: It's been one year since the first reported case of the Empty Man disease, and no drug has been able to slow its progress. The cause is unknown, and the symptoms include fits of rage, hideous hallucinations, suicidal dementia, followed by death, or a near lifeless, "empty" state of catatonia. As murder cults rise nationwide, the FBI and CDC enter a joint investigation of the Empty Man, hoping to piece together clues to stop the cult and uncover a cure.
LUMBERJANES #3 (OF 8)

DARK HORSE
ABE SAPIEN #13
BLACKOUT #3 (OF 4)
EDGAR ALLEN POE MORELLA MURDERS RUE MORGUE ONE SHOT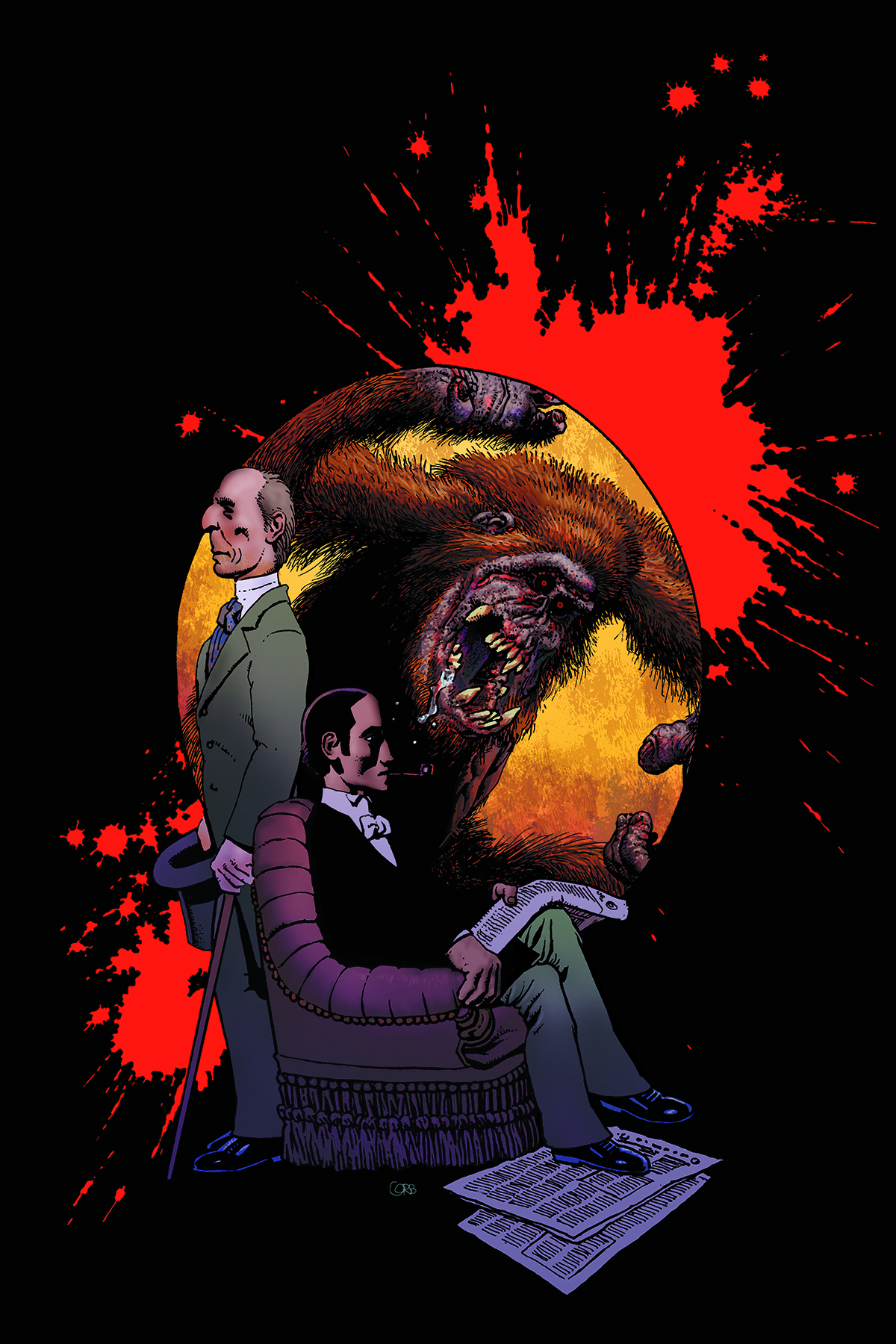 Killer apes and the return of the dead are presented in these two gothic horror Poe adaptations by Eisner Hall of Fame inductee Richard Corben.


STAR WARS #18 2013 ONGOING
X #14

DC
ASTRO CITY #13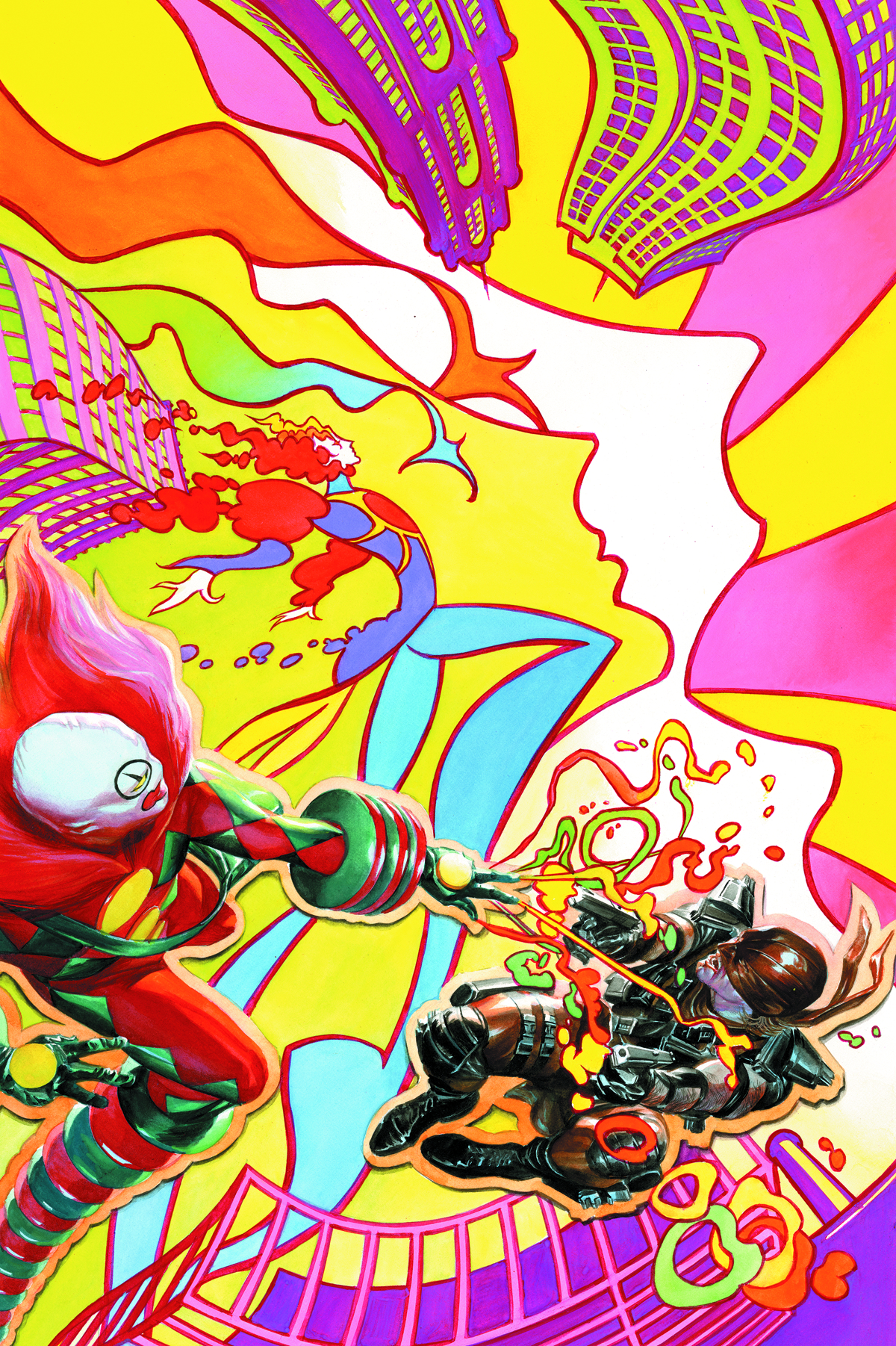 24 hours. 24 pages. A robot. A bank robber named Gundog. The Hanged Man. Jack-In-The-Box. The eternal, mysterious Dancing Master. And a whole lot of romance. One of ASTRO CITY's most unusual stories, of city-wide turmoil and changing lives, all in a single day.
BATGIRL #32
BATMAN ETERNAL #10
BIRDS OF PREY #32
COFFIN HILL #8
Arrested for the murder of a fellow Boston cop, Eve takes a journey into her past and delves into the terrible truth about the night she caught up with the notorious Ice Fisher. Meanwhile, in Coffin Hill, Nate struggles to protect the town's remaining witches from an outside menace, while in Boston, Eve confronts an evil that never left, and realizes that even though she caught the Ice Fisher, the case is far from closed... The second story arc of COFFIN HILL begins here!
CONSTANTINE #15
DETECTIVE COMICS #32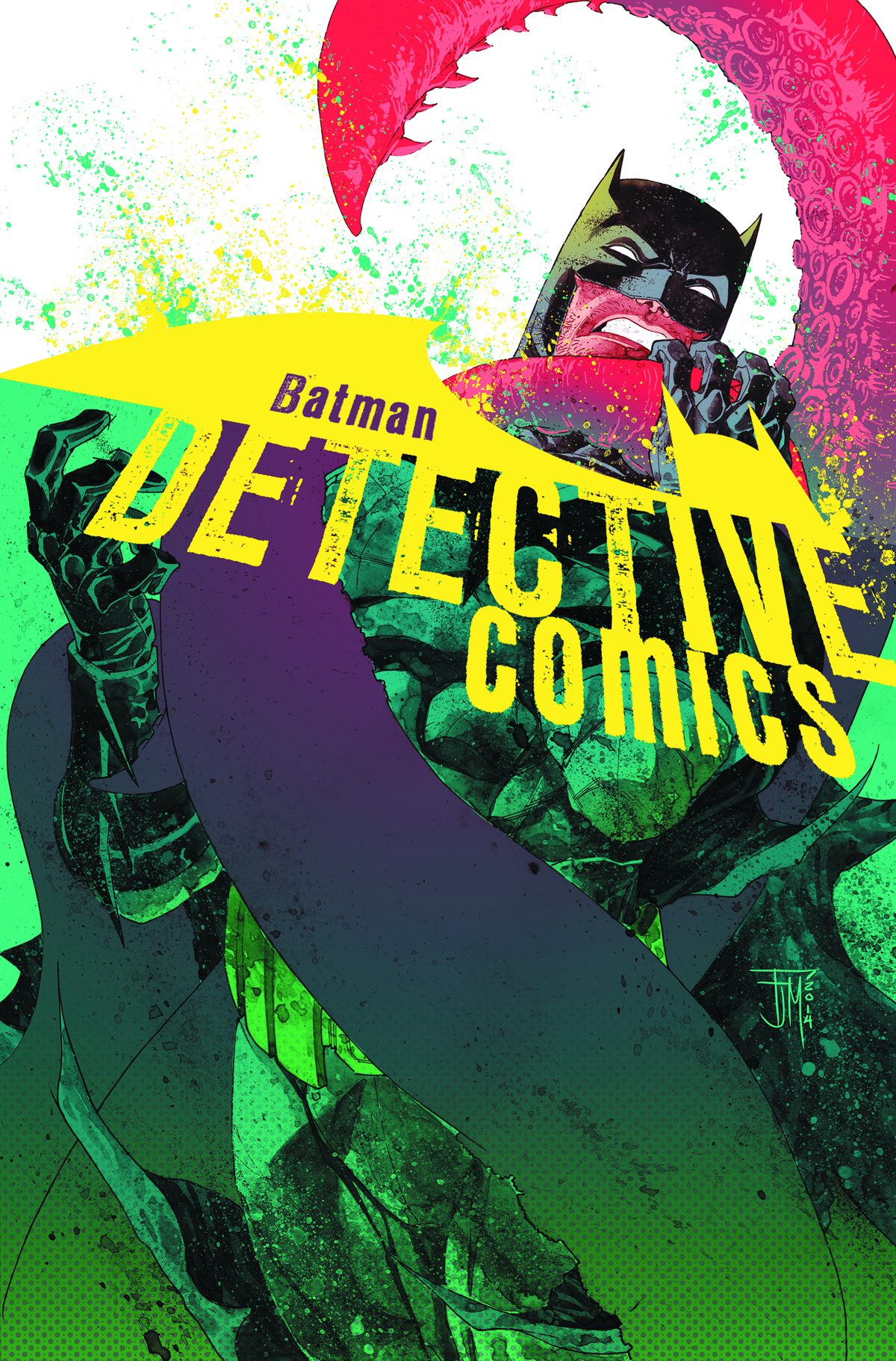 The next great Batman murder-mystery continues to unfold in "Icarus" part three, brought to you by the acclaimed creative team of THE FLASH! Batman is caught in the clutches of the crime boss known as "The Squid" as he digs deeper into a whodunit for the ages!
FBP FEDERAL BUREAU OF PHYSICS #11
GREEN LANTERN CORPS #32 (UPRISING)
INFINITY MAN AND THE FOREVER PEOPLE #1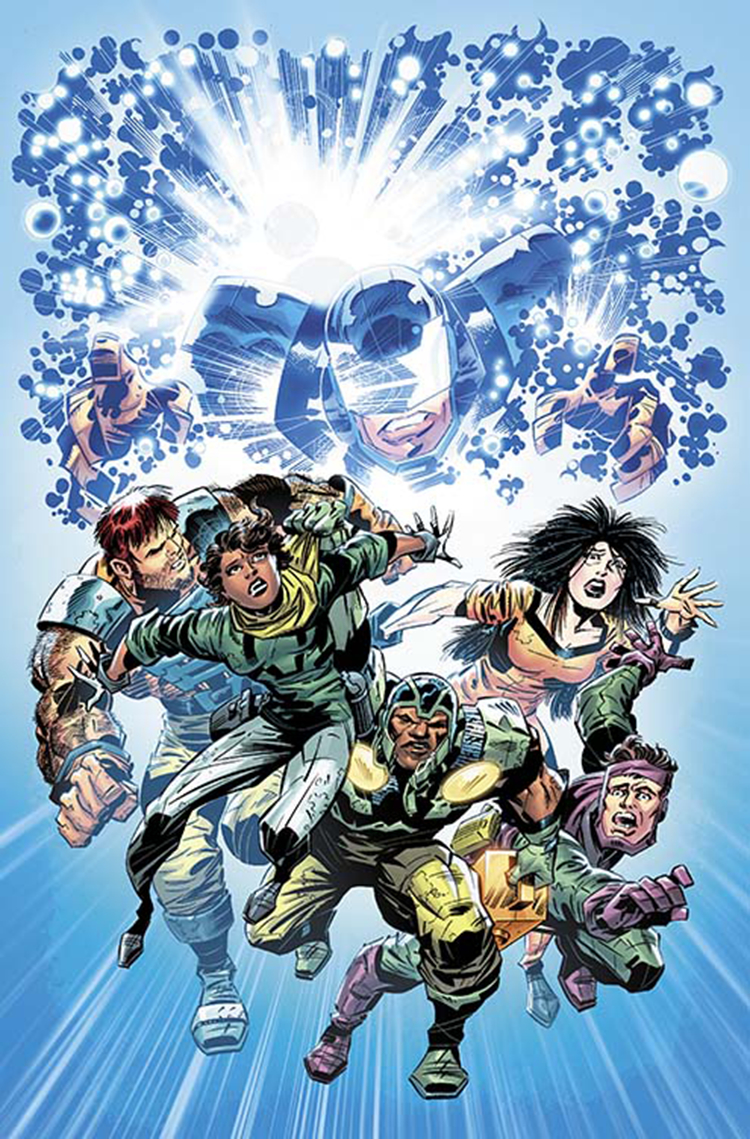 Four of the best students from New Genesis arrive on Earth to study and aid in the advancement of humanity - but they soon discover a darker purpose to their mission: a threat so great that it may bring the multiverse itself to its knees! The only thing that stands between them and total destruction is the mysterious entity known as the Infinity Man!
Don't miss the start of this new series by Dan DiDio and Keith Giffen, the team that brought you the over-the-top adventures of O.M.A.C.!
JUSTICE LEAGUE UNITED #2
LARFLEEZE #11
LEGENDS DARK KNIGHT 100 PAGE SUPER SPECTACULAR #3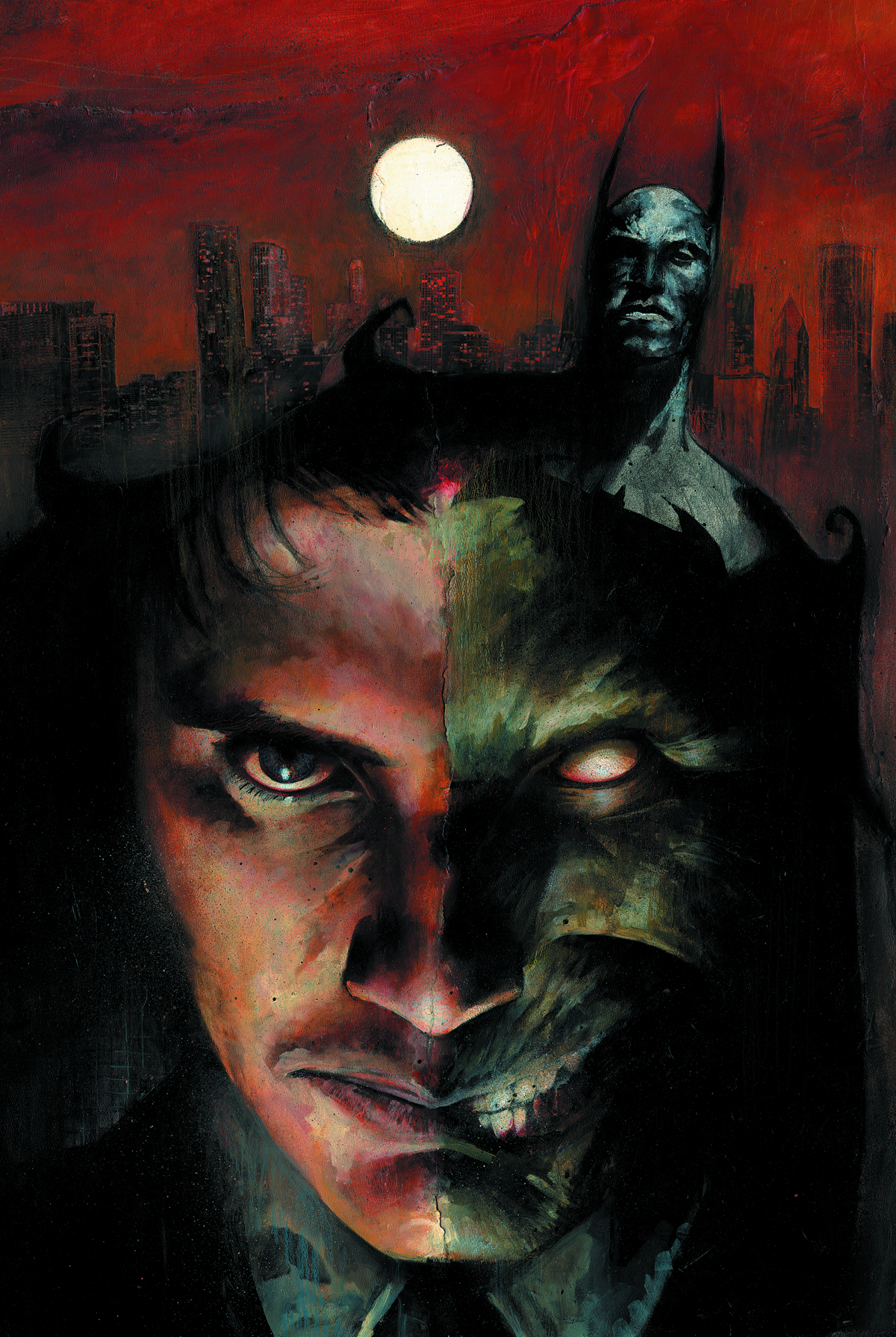 In "The Beautiful Ugly," when Batman arrives on the scene to discover the final verdict in the case Two-Face argued against local gangs, will anyone go home happy? Then, when Clayface gives Batman the slip in "Break the Mold," the Dark Knight Detective is hot on his trail. And Batman and Robin face an old foe at the Gotham Science Museum and ponder "Elements of Crime." Plus, in "The Echo of Pearls," young Bruce Wayne discovers a cave that sets echoes reverberating throughout his life.
NEW 52 FUTURES END #6
ROYALS MASTERS OF WAR #5 (OF 6)
SCOOBY DOO WHERE ARE YOU #46
SMALLVILLE SEASON 11 LANTERN #3 (OF 4)
SUPERBOY #32
SUPERMAN WONDER WOMAN #9 (DOOMED)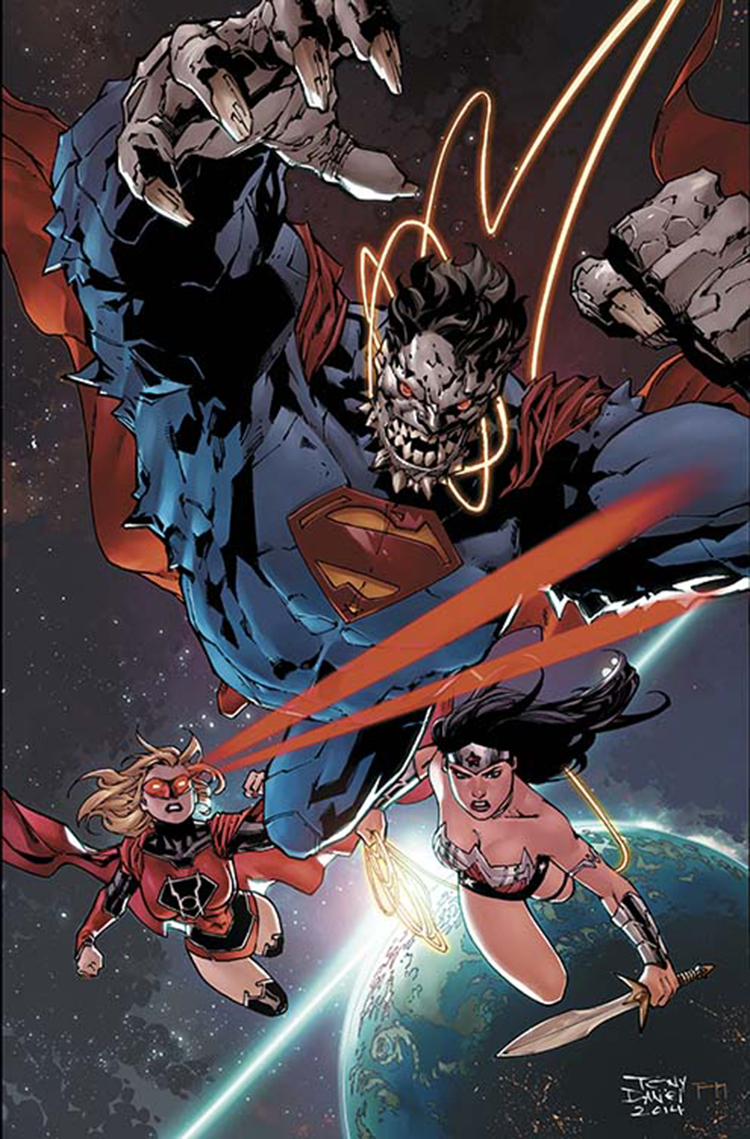 "SUPERMAN: DOOMED" continues with "ENEMY OF THE STATE"! As things get more dire on Earth for him, the Man of Steel may have to go into exile in space, but the self-proclaimed protectors of Sector 2814, the Red Lanterns, don't want him there either! Don't miss this deadly face-off between Kal and Kara!
WORLDS FINEST #24

DYNAMITE
ASH & THE ARMY OF DARKNESS #8
BLOOD QUEEN #1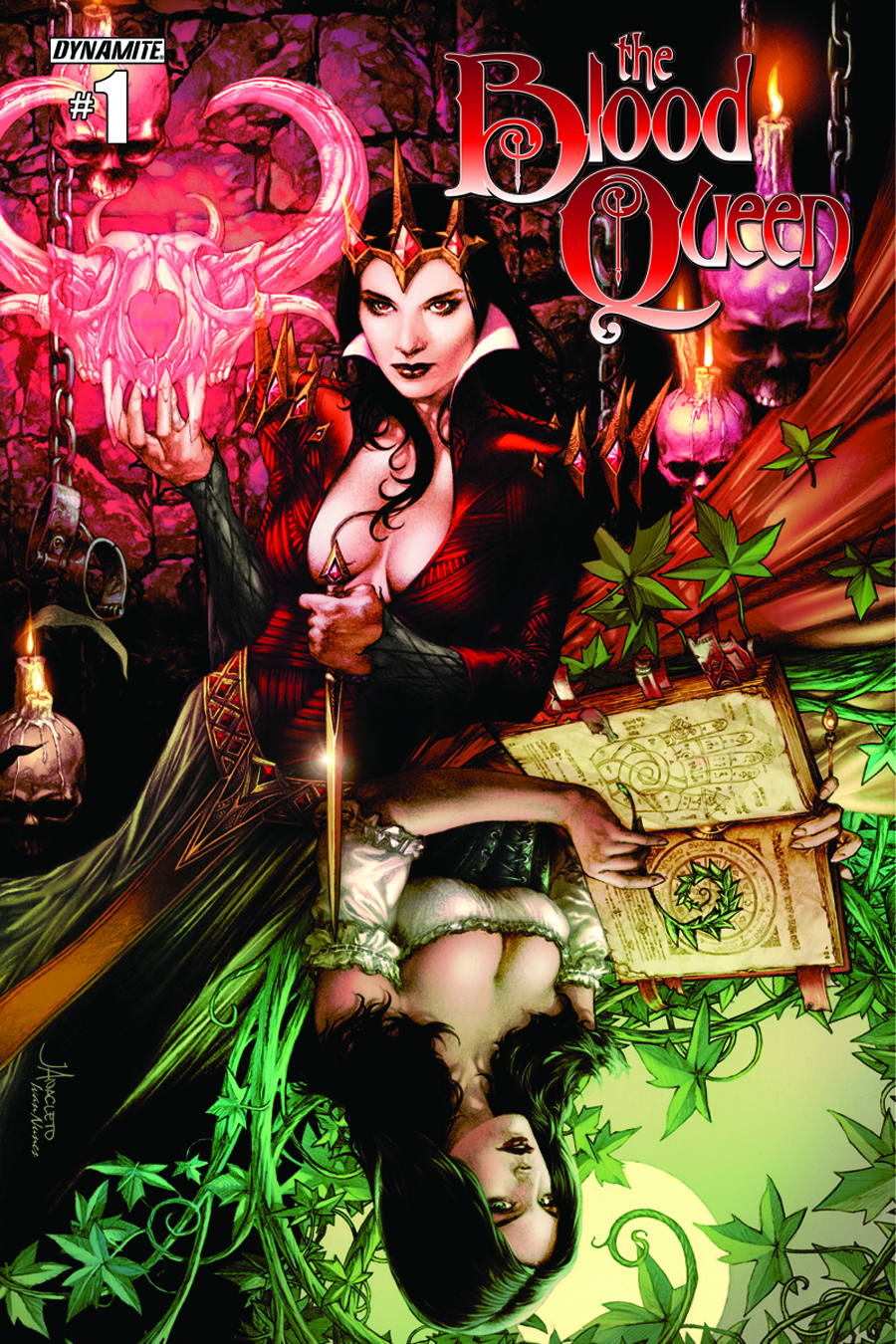 A new dark fantasy epic begins here! In a fairy tale land of knights and magic, a royal child's life hangs in the balance. Summoned to save the princess, a young woman of untold power begins a journey that will uncover secrets, reveal forbidden desires and stoke the fires of war! The reign in blood is about to be born! Inspired by the nightmares of your youth and the notorious Countess Bathory, BLOOD QUEEN comes from writer Troy Brownfield!
LEGENDERRY A STEAMPUNK ADV #4 (OF 7)
SHERLOCK HOLMES MORIARTY LIVES #4 (OF 5)

IDW
CROW PESTILENCE #4
GODZILLA IDW ERA
HAUNTED HORROR #11
Reprinting the best of golden age horror fare, unseen since the code shut these comics down! Rare comic stories showcasing the grisliest artists and the most shocking tales captured in full lurid color. The Horror Comics Review screeches, "The coolest pre-Code comics from the annals of horror comics history!"
ROGUE TROOPER CLASSICS #2 (OF 12)
SONS OF ANARCHY #10
STAR TREK ONGOING #34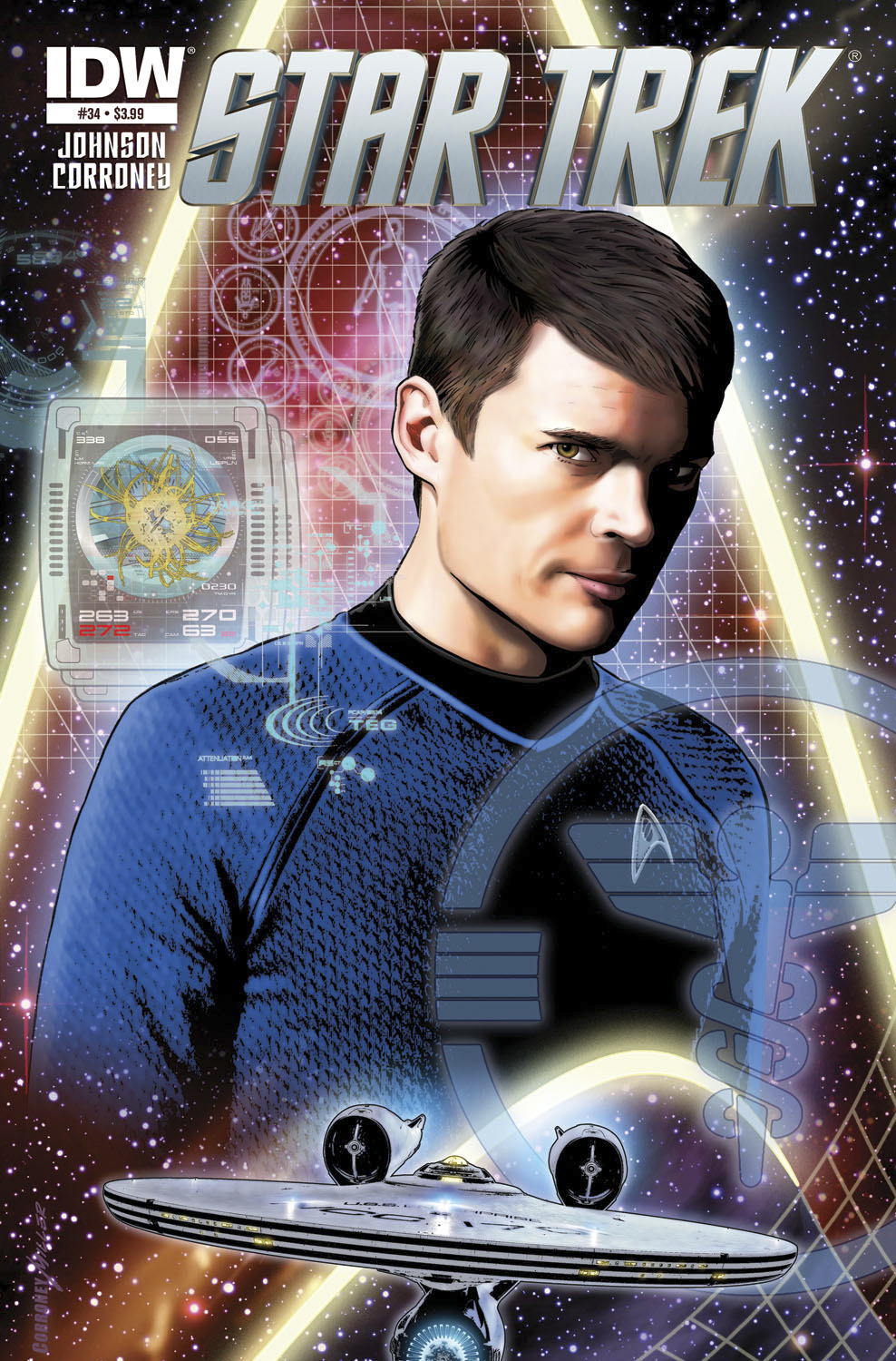 "Lost Apollo" concludes here!
Stranded on an alien world and cut off from the Enterprise, Spock and Bones must work together to save Captain Kirk from a fate worse than death... a fate tied to the earliest days of humanity's journey to the stars! Overseen by STAR TREK writer/producer Roberto Orci, this all-new adventure continues the Five Year Mission between the new movies!
TRANSFORMERS ROBOTS IN DISGUISE #30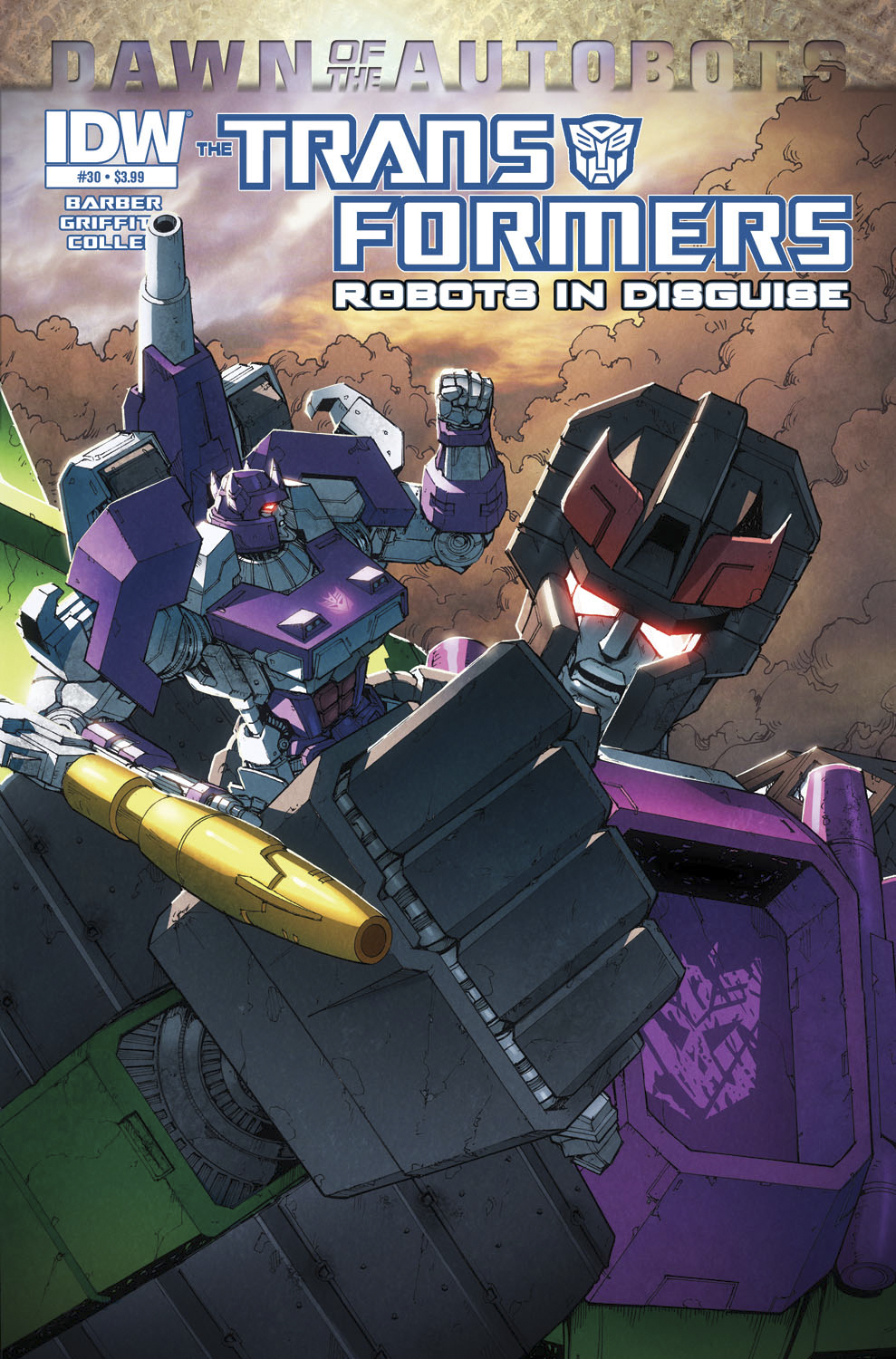 GALVATRON THE BARBARIAN! From Cybertron's ancient past came the warrior-king, GALVATRON. Once, he united CYBERTRON and ushered in a Golden Age. Now, he wants to do the same to Earth... but OPTIMUS PRIME has a problem with that plan.
WRAITH WELCOME TO CHRISTMASLAND #7 (OF 7)

IMAGE
MANIFEST DESTINY #7
REAL HEROES #3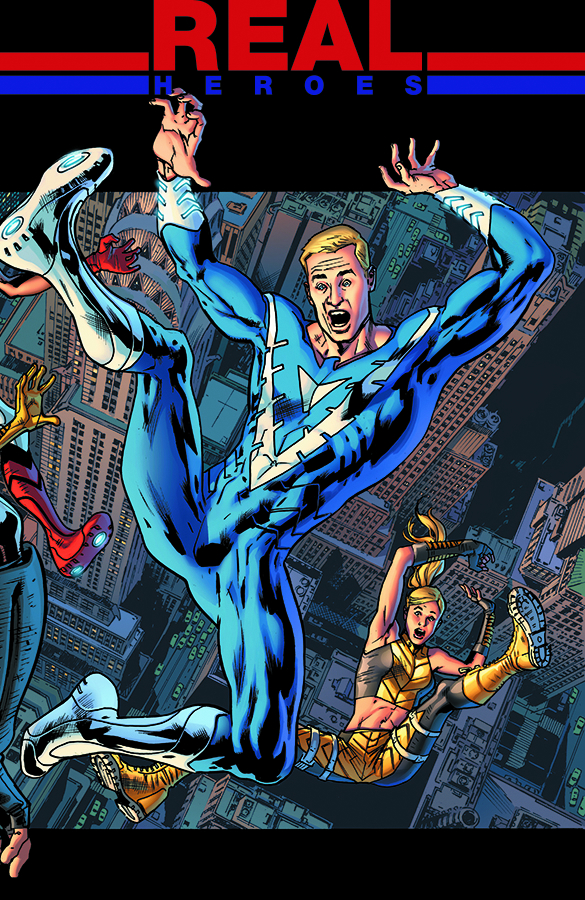 Lost and alone in a world they only knew as fiction, the cast of The Olympians movies are beginning to realize things aren't easy when fantasy is made reality. The dangers are all too real and it might mean their deaths when Brainchild and Brute come to defeat the world's greatest heroes.
REVENGE #4
SHUTTER #3
STARLIGHT #4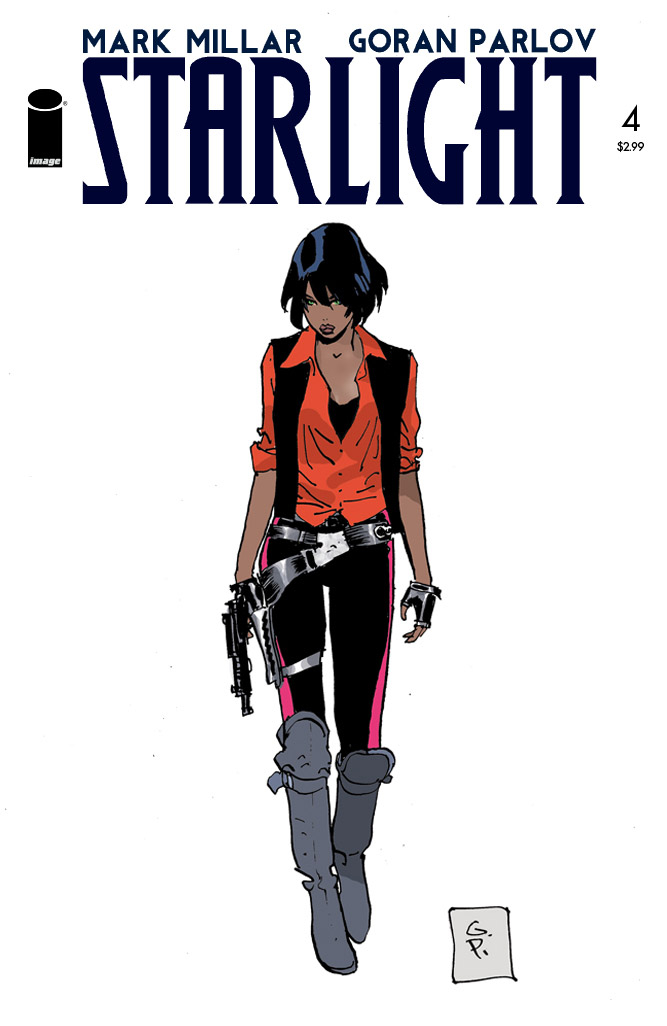 Duke and his young companion are getting deeper into Tantalus' underground movement, doing everything they can to infiltrate the invaders and meeting some unlikely allies. It's been 40 years since Duke last held a gun. Does he still have what it takes to drive out alien invaders and save Tantalus for a second time?
TALES OF HONOR #3
THAT'S BECAUSE YOU'RE A ROBOT ONE SHOT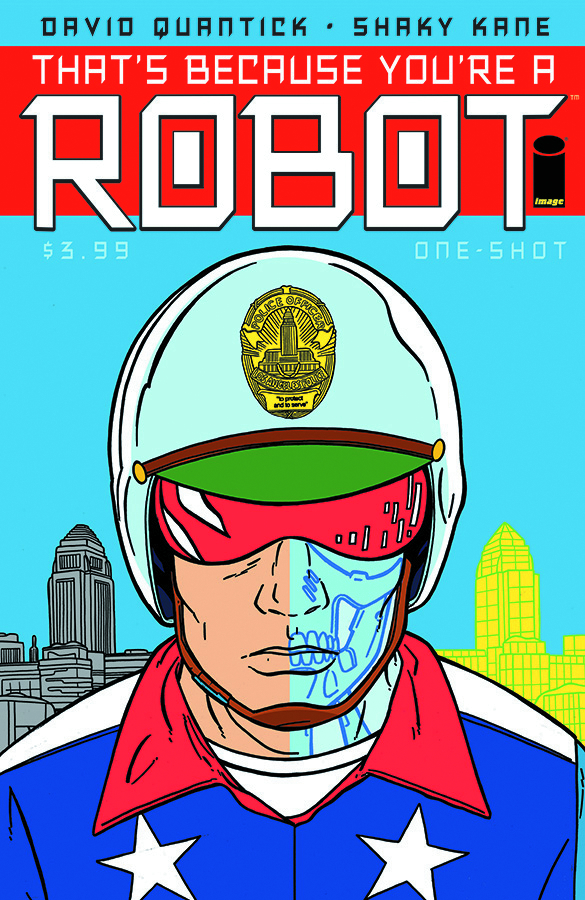 TWO COPS, ONE'S A ROBOT, ONLY THEY DON'T KNOW WHICH!
BAFTA winner and writer on HBO's award winning Veep, DAVID QUANTICK teams up with THE BULLETPROOF COFFIN's SHAKY KANE on this migraine inducing Pop Art Cop-Buddy one-shot set in a near future Los Angeles.
WARNING: Contains oversized patrol cars and perilous situations.
WALKING DEAD #128
WILDFIRE #1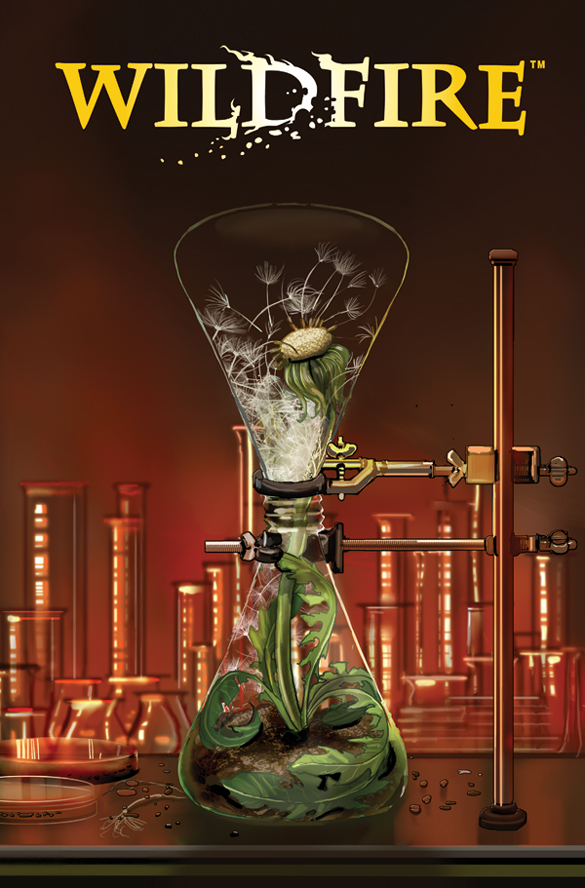 Is genetically modified food an end to world hunger or a first class ticket to the apocalypse? Dan Miller is a plant biologist working with a small team perfecting an accelerated plant growth process. When things go wrong, Los Angeles pays the price in a disaster story unlike any before.

INDIE
AFTERLIFE WITH ARCHIE #5
ARCHER & ARMSTRONG #21
ARCHIE DOUBLE DIGEST #251
ARMOR HUNTERS #1 (OF 4)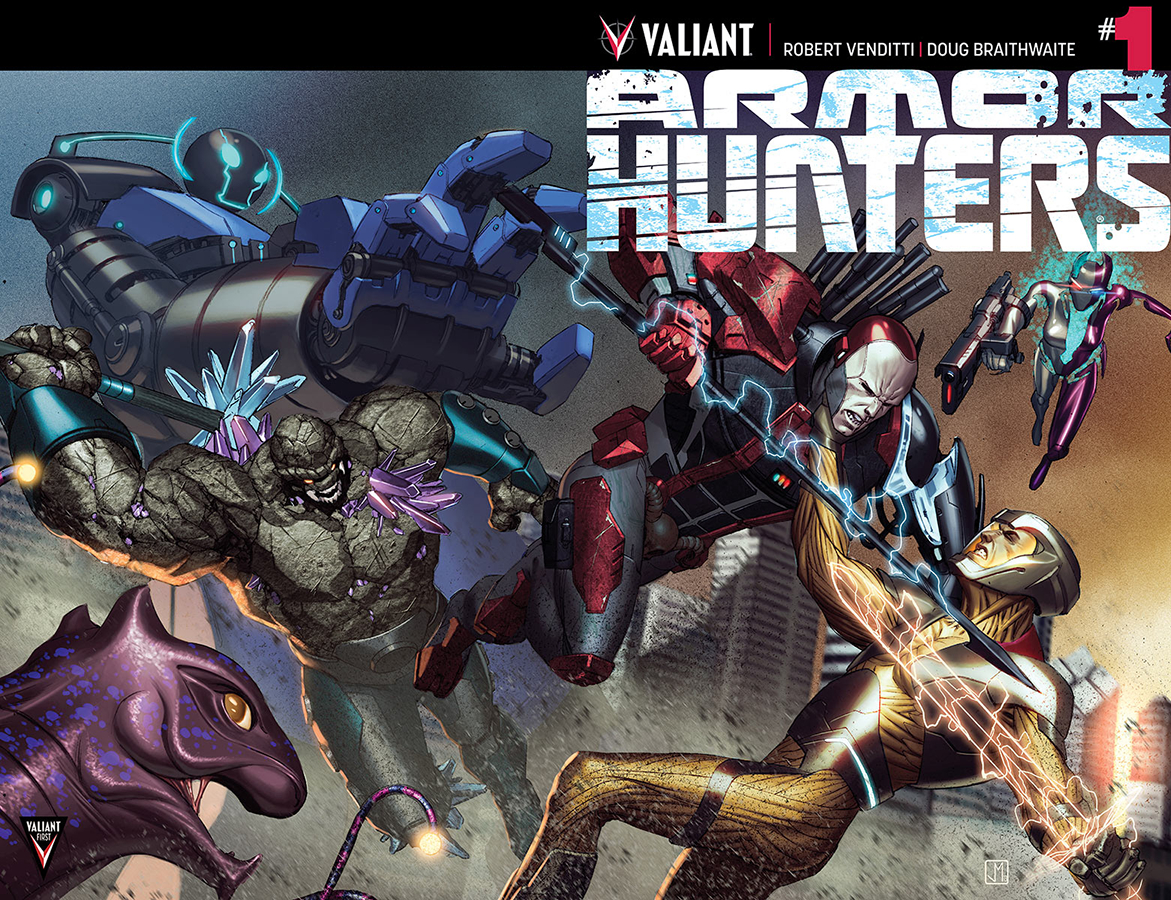 This summer, Earth will be the greatest hunt of all when VALIANT FIRST unleashes the first issue of 2014's must-read crossover event - ARMOR HUNTERS - from superstar creators Robert Venditti (Green Lantern, The Flash) and Doug Braithwaite (Unity)!
A relentless and surgical strike team from the farthest reaches of space - sworn to exterminate the X-O Manowar armor and all like it - have found finally their final target. They will hunt. They will trap. They will kill. And they will rid the universe of the X-O Manowar's incalculable destructive power...even if it means taking the Earth with it.
In the tradition of HARBINGER WARS, Valiant's biggest heroes launch into the summer's blockbuster 18-issue crossover event right here in ARMOR HUNTERS #1 - and then take the fight to the world's first full-scale cosmic threat with UNITY #8 and X-O MANOWAR #26 in June, and ARMOR HUNTERS: BLOODSHOT and ARMOR HUNTERS: HARBINGER in July!
BLOODSHOT & HARD CORPS #23
CROSSED BADLANDS #55
DICKS END OF TIME #1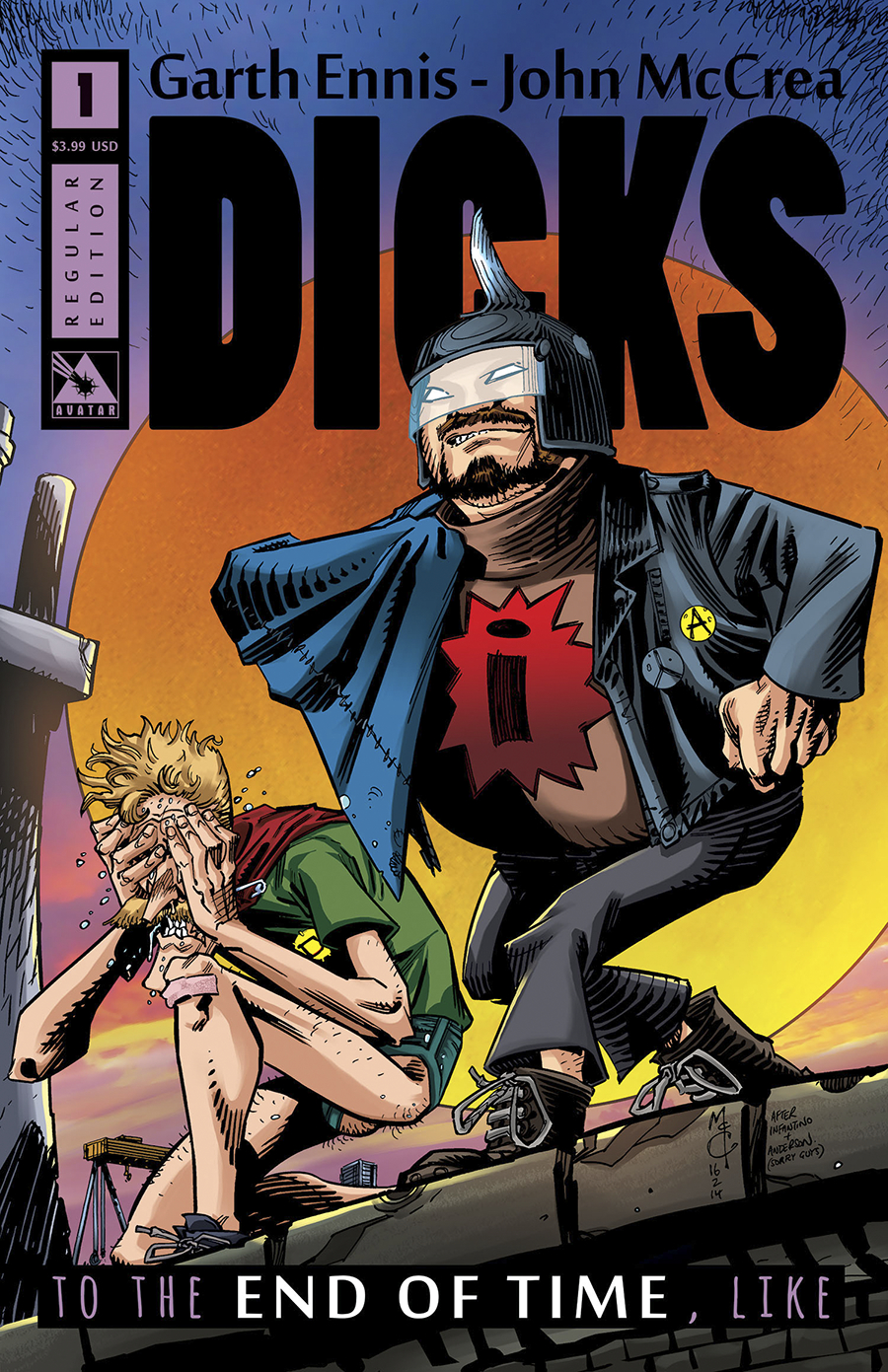 The Dicks are back, now as perhaps the worst masked heroes the World has ever seen! Fondly miss The Boys? Well, this won't help much as GARTH ENNIS and JOHN MCCREA have even less respect for heroes with Super Dicks! Join the boys as they return to their riotous roots with the new misadventures of Dougie and Ivor! Just when you thought it was safe to go back into the comic shop, the Dicks are back for a new round of the most offensive misadventures imaginable.
GOD IS DEAD #14
SCHOOL BITES NIGHT CLASSES PT 1 JUST DESSERTS
SHEENA #2
SIXTH GUN #41
SONIC THE HEDGEHOG #261
SPONGEBOB COMICS #33
UBER #14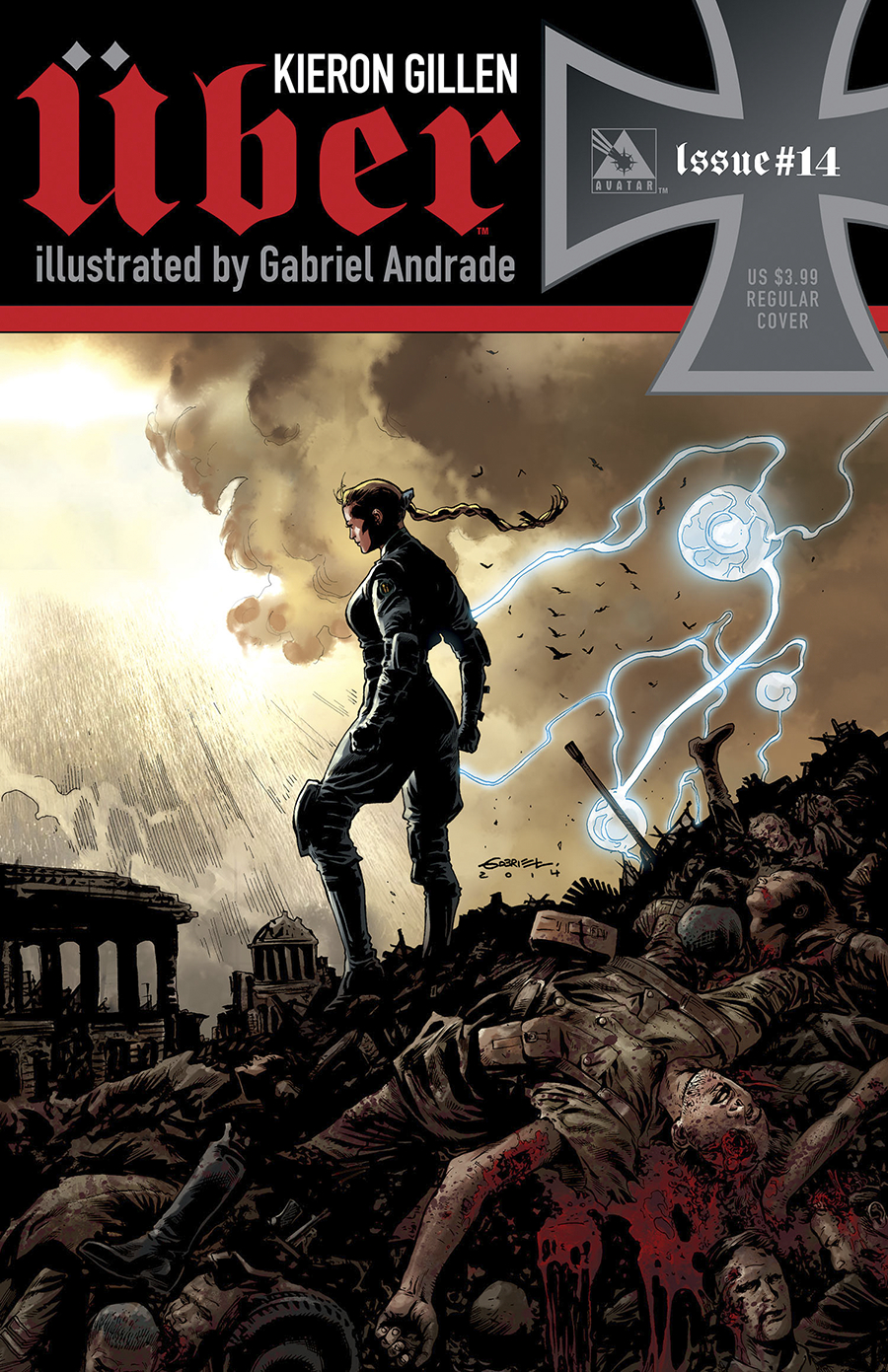 KIERON GILLEN and GABRIEL ANDRADE have brought an incredible visceral bloody misery to the pages of "Uber Year II." The Russians have a monster. Katyusha has activated and appears to be Battleship class. But she was already a wild card, uncontrollable and unstable. How can they hope to base their military survival upon the shoulders of a psychotic soldier? The German Ubers continue to push their advantage in the world theatre and the ground quakes from their titanic powers. Casualties continue to mount in a conflict that is quickly sending the world to the brink of utter destruction.
WORLD OF ARCHIE DOUBLE DIGEST #40

MARVEL
ALL NEW INVADERS #6 SIN
ALL NEW ULTIMATES #3
ALL NEW X-MEN #28
AMAZING SPIDER-MAN #1.2 ANMN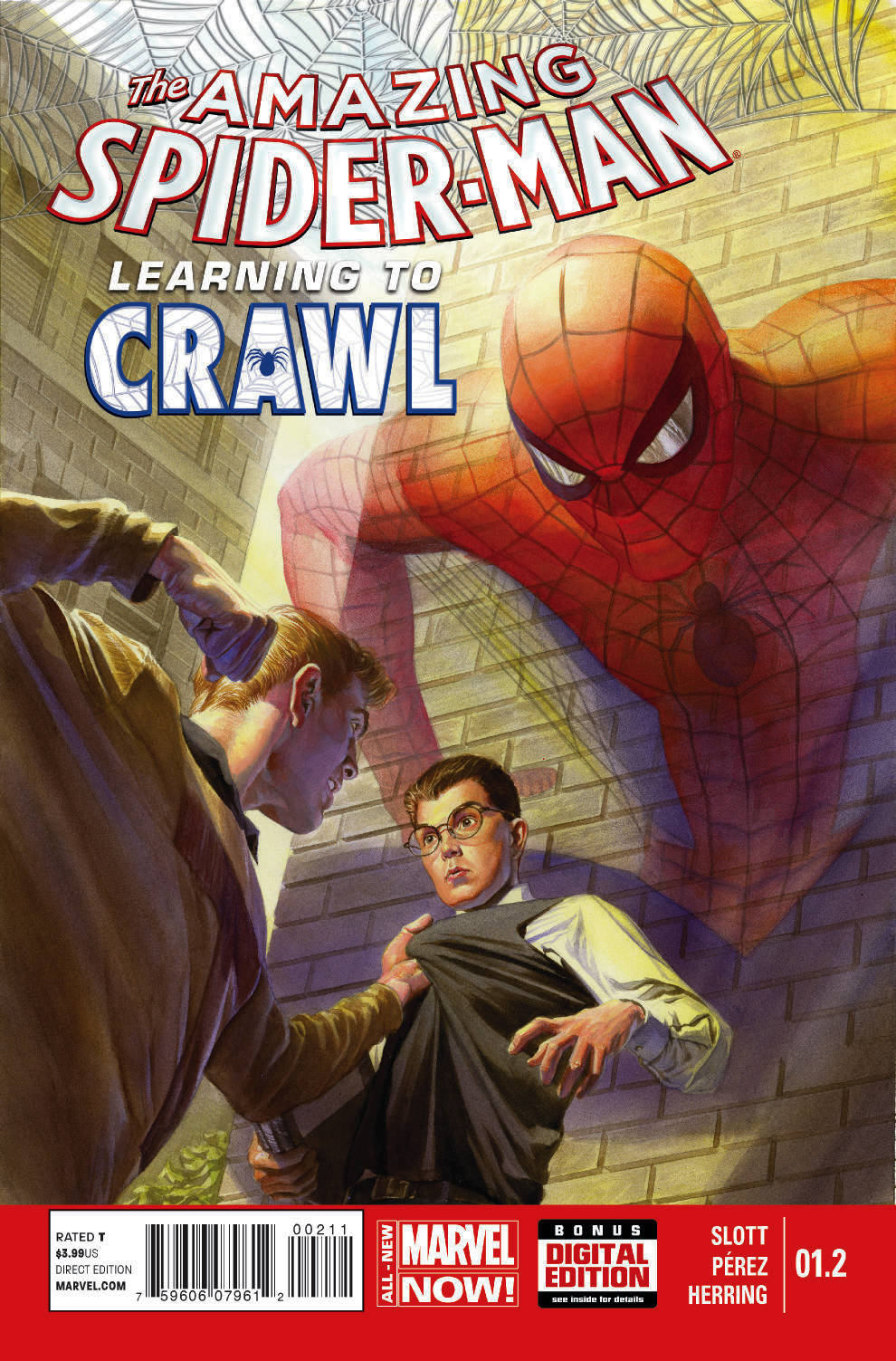 J. Jonah's Jameson's crusade against Spider-Man kicks into overdrive! He warned us! He told us that kids might try to emulate Spider-Man! And he was RIGHT!
Meet CLASH, New York's newest menace. He may be Spidey's biggest fan, but he's about to become one of his worst enemies. Wanted by the cops, turned away by the Fantastic Four, his grades are slipping, and he still hasn't figured out this whole crime-fighting-thing. Pete's not a hero... not yet... but he'll get there. Somehow.
AVENGERS UNDERCOVER #5 ANMN
CAPTAIN MARVEL #4
DEADLY HANDS OF KUNG FU #2 (OF 4)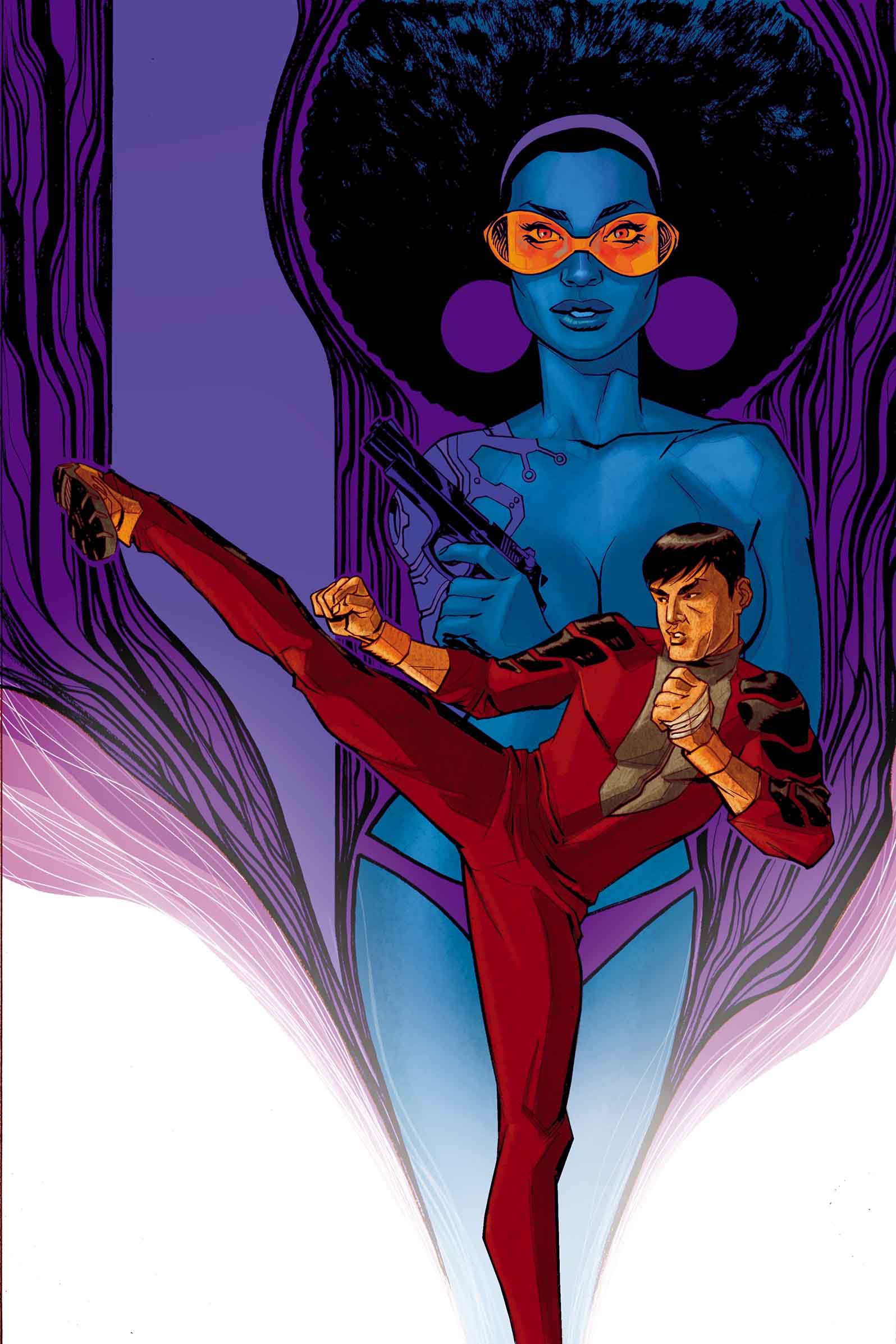 Shang-Chi versus mystical kung-fu masters in the streets of London!
With a little help from THE DAUGHTERS OF THE DRAGON!
Terrible truths about Shang's fallen comrade revealed!
DEADPOOL #30 SIN
FIGMENT #1 (OF 5)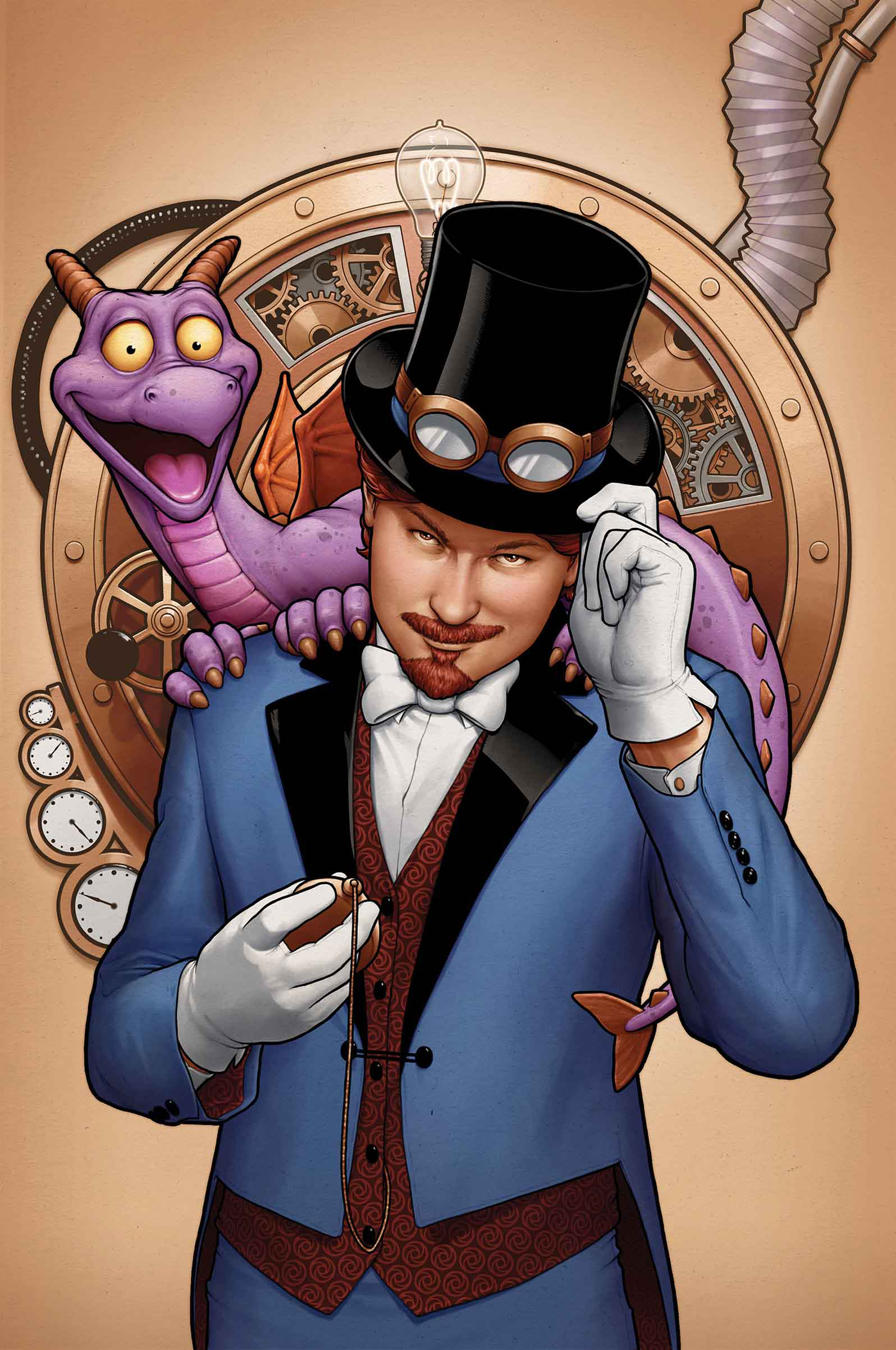 THE NEXT DISNEY ADVENTURE IS HERE
Dive into a steampunk fantasy story exploring the never-before-revealed origin of the inventor known as Dreamfinder, and how one little spark of inspiration created a dragon called Figment.
What is the Academy Scientifica-Lucidus? Who is Blarion Mercurial? What is the Integrated Mesmonic Spark Convertor? Find out as we give a Marvel spin to Epcot's mind-bending attraction, Journey Into Imagination!
Brought to you by the acclaimed and uniquely talented team of Jim Zub (Skullkickers) and Filipe Andrade (CAPTAIN MARVEL)!
HULK #4
MARVEL UNIVERSE AVENGERS ASSEMBLE #9
MIGHTY AVENGERS #11 SIN
NEW AVENGERS #19 ANMN
NIGHTCRAWLER #3
ORIGINAL SINS #1 (OF 5)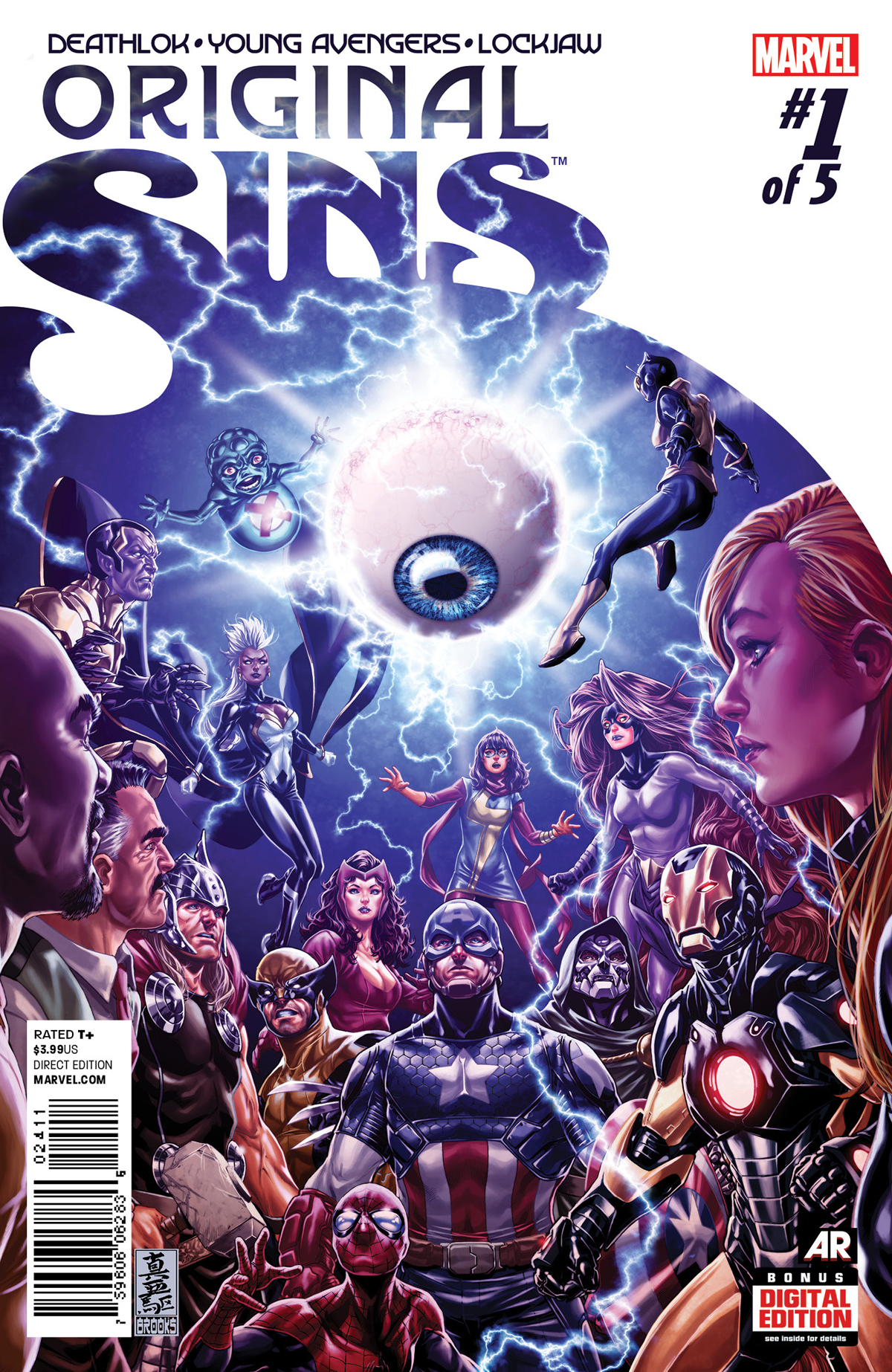 EVERYBODY HAS ONE...
This June – the sins of the Marvel Universe extend much further than you can possibly imagine. Today, Marvel is proud to present your first look at ORIGINAL SINS #1 – the first in a 5-issue companion series exposing even more secrets than could be contained in Original Sin! Each issue of ORIGINAL SINS contains three all-new stories spotlighting fan-favorite characters throughout the Marvel Universe.
SAVAGE WOLVERINE #20
SECRET AVENGERS #4 ANMN
SHE-HULK #5
UNCANNY X-MEN SPECIAL #1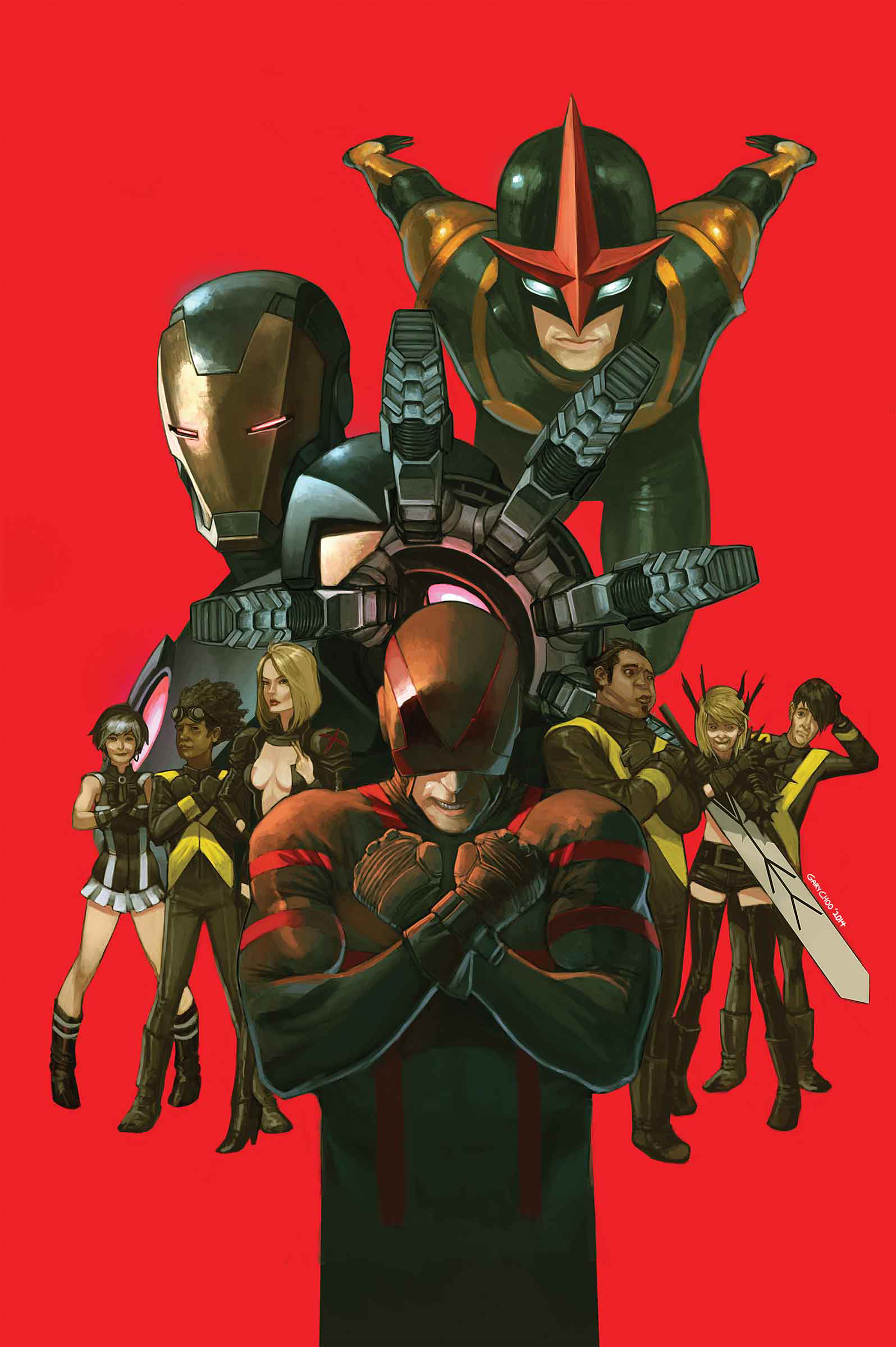 UNCANNY X-MEN, IRON MAN & NOVA CROSS OVER!
Cyclops is kidnapped, but by who?! What force could bring the Children of the Atom, the Armored Avenger and the Human Rocket together!
UNITED STATES OF MURDER INC #2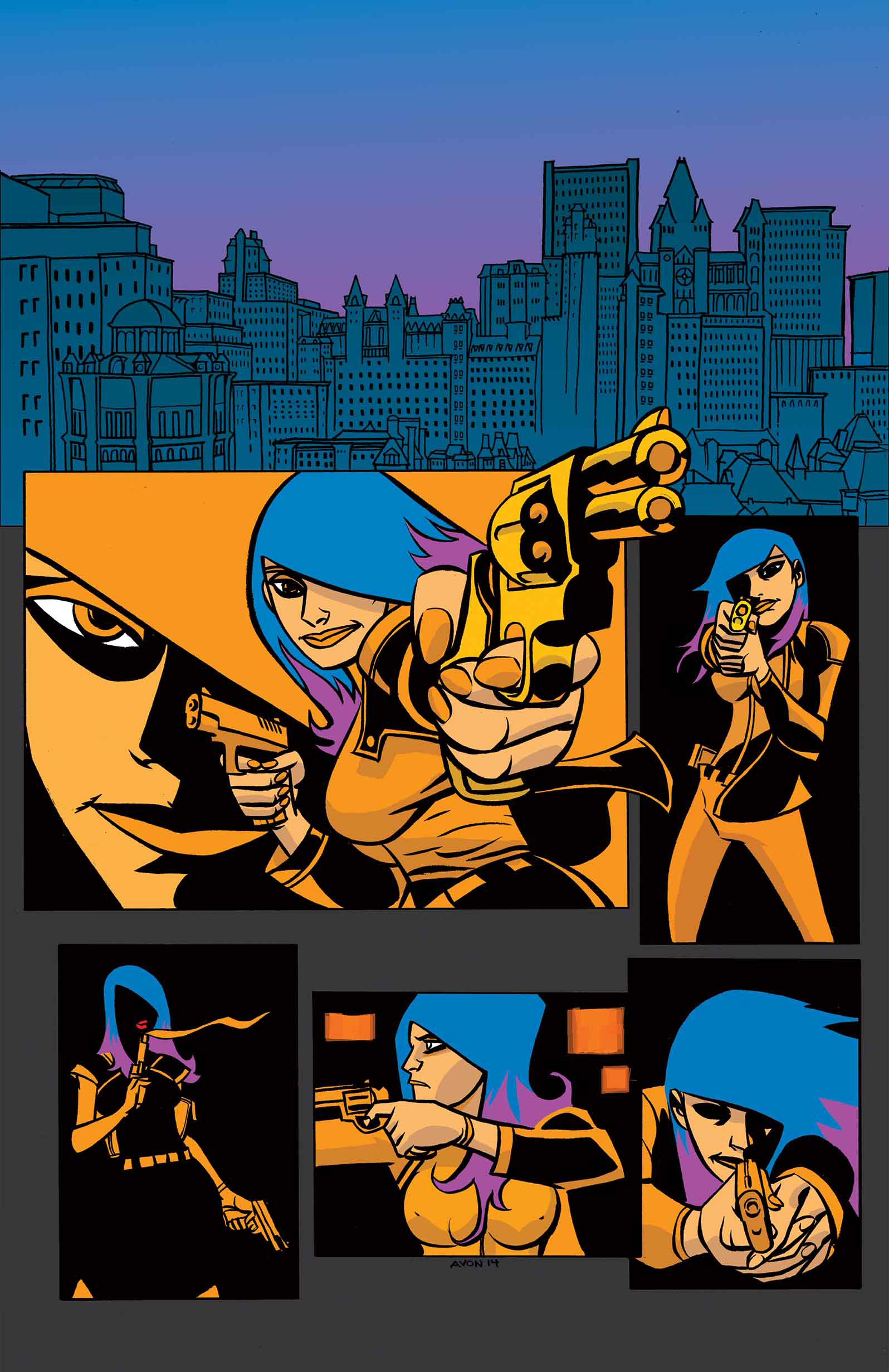 This new crime epic saga from the creators of POWERS continues! Welcome to a world where the influence of organized crime has risen to a place where parts of the United States are actually fully controlled by the five families. At the end of last issue, the biggest secret in history of the five families was revealed! The newest made man, Valentine, now must figure out how he and his associate, Jagger Rose, are supposed to continue on knowing what they now know. Every issue delivers powerful visuals by Eisner Award winner Michael Avon Oeming and a story by the writer of some of your favorite Marvel comics including ALL-NEW X-MEN!
WOLVERINE #8