We have a fantastic selection of new graphic novels arriving this Wednesday, from WALKING DEAD Vol 21 and the art book/biography ART OF NEIL GAIMAN, to the beautiful new artist's editions of HELLBOY and WATCHMEN, there's definitely something for everyone this week. Dan Abnett and Andy Lanning's GUARDIANS OF THE GALAXY get two reprinted editions of their fan favourite storylines, DEADPOOL gets married (?!), some of the industry's best creators team up for a special fundraising collection of USAGI YOJIMBO, and the final story arc of THE UNWRITTEN (and FABLES crossover) is finally here, hurray! What I'm most excited for however is the release of THROUGH THE WOODS, the first print collection of popular webcomic artist Emily Carroll. This collection of original horror tales is masterfully creepy, beautifully illustrated and guaranteed to send shivers down your spine. I've been a fan of Emily's work for years and I'm thrilled to have this gorgeous book in store. Just don't read it alone in the dark! ;-)

BATMAN BLACK AND WHITE HC VOL 04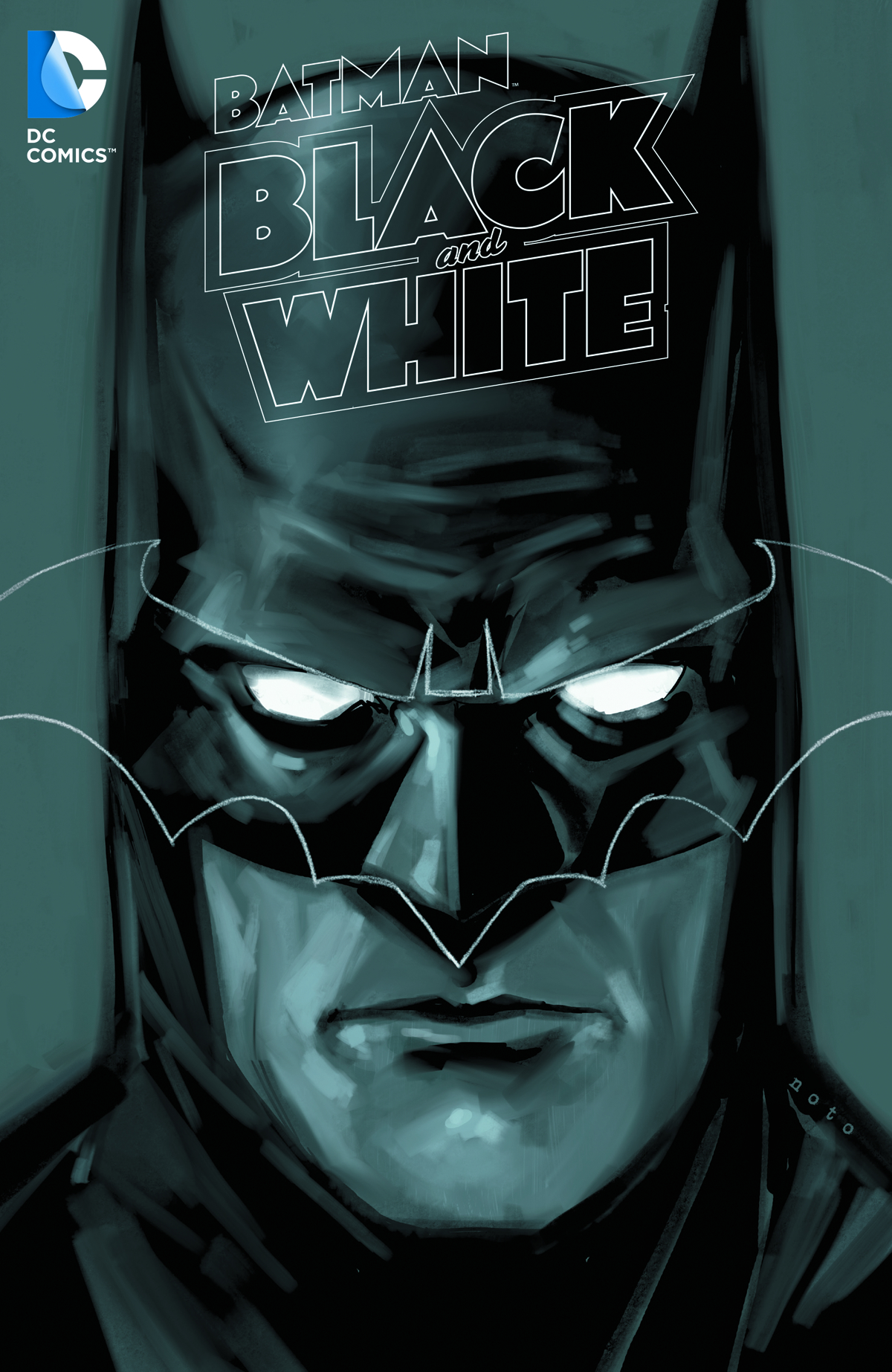 The legendary, Eisner Award-winning series BATMAN BLACK AND WHITE returns in a brand-new volume featuring tales of The Dark Knight by some of comics' greatest writers and artists!
CAPTAIN AMERICA TP VOL 02 CASTAWAY DIMENSION Z BOOK 2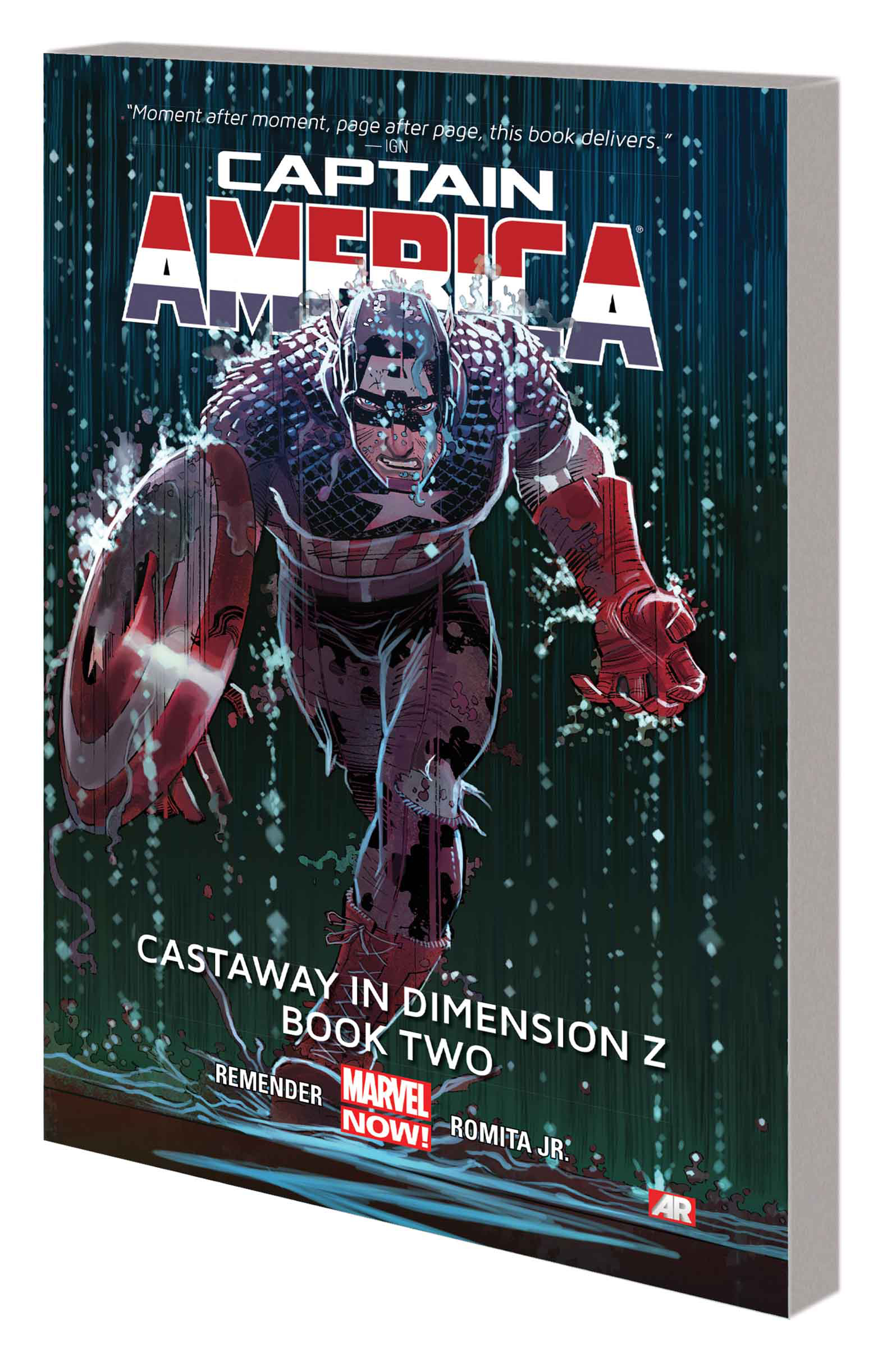 Captain America has spent twelve years as a fugitive wandering the wasteland of Dimension Z, battling the Zola virus within him and traveling with a boy he has raised as his own. Now, the Sentinel of Liberty brings the fight back to Dimension Z's god-like oppressor Arnim Zola when Cap becomes the last remaining hope for the native species, the Phrox! A lone soldier waging a one-man crusade to stop the spread of Zola's consciousness in this world and his own, can Captain America turn the tide in the odd war of this backward realm? Battling savage mutates, Zola's twisted Captain Zolandia, and even his own adopted son, Steve Rogers stares death in the face and makes the hardest decision of his life when he pays the deadly price...to escape from Dimension Z! Collecting CAPTAIN AMERICA (2012) #6-10.
DAVE GIBBONS WATCHMEN ARTIFACT ED HC Watchmen has been called the greatest graphic novel of all time. Alan Moore and Dave Gibbons created a story and graphic narrative unlike anything that preceded it, and revitalized the entire art form that followed. It is the one book that nearly all comics readers know inside and out...or so you thought! Now, with the full assistance and cooperation of Dave Gibbons, comes Dave Gibbons' Watchmen: Artifact Edition, crammed full of high resolution scans shot directly from Gibbons' original art. Covers, interiors, advertisements, portfolio pieces, colour guides-this is the ultimate collection of the ultimate graphic novel!
DEADPOOL TP VOL 05 WEDDING OF DEADPOOL
The day you never dreamed would come has finally arrived: Deadpool is getting married! But to whom?! Tune in to find out as Deadpool and his mysterious bride tie the knot! And to celebrate this magical occasion, we've rounded up every single writer who ever penned Wade's series to contribute new stories! But when Deadpool and his bride honeymoon in Japan, will married life agree with our mouthy merc? Or will he start doing the 'take my wife, please' joke all the time? Plus: another Deadpool flashback tale, as Wade travels to the 1950s to save Nick Fury from the menace of - time-traveling Hitler! And Madcap teams up (sort of) with Deadpool to answer the burning question. 'Whatever happened to the white caption boxes?' Featuring Thor, Daredevil, Luke Cage and more! Collecting DEADPOOL (2012) #26-28 and DEADPOOL ANNUAL (2013) #1.
DIARY OF A GIRL NEXT DOOR BETTY HC
We are very excited to present Archie Comics' debut title in the cartoon diary genre!
Betty Cooper is embarking on her first year of high school. It's sure to be filled with ups and downs, but with her trusty diary by her side, she'll be able to get through it all. She's a smart girl with a kind heart, so her freshman year should be easy-peasy, right? Well, throw in some major BFF drama with her longtime pal Veronica Lodge and things get off to a rocky start. Veronica's rich, ruthless and snobby—the total opposite of Betty. And in high school where social status means EVERYTHING, Betty and Veronica can't be the same besties they once were. Everyone's favorite girl-next-door is diving head first into her high school career and extracurricular activities — from dog training to peer mediation to BMX competitions, Betty Cooper can do it all — but can she get by WITHOUT a little help from her friend? Find out in this heartwarming tale of the scariness that is starting high school in Archie's first-ever venture into the hugely popular journal series, with DIARY OF A GIRL NEXT DOOR: BETTY.
DRAGON GIRL MONKEY KING ART OF KATSUYA TERADA HC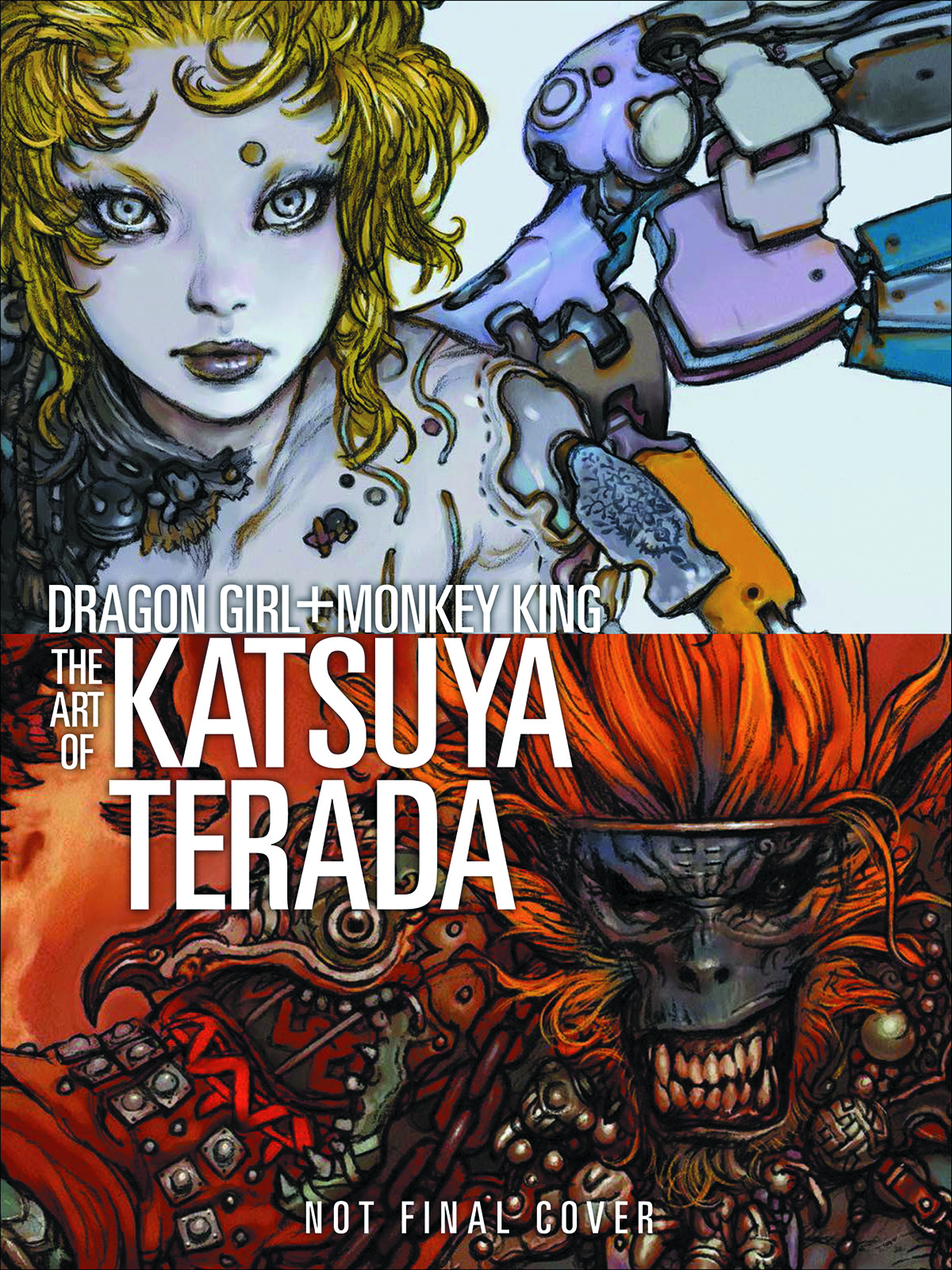 Dark Horse proudly presents the first English language art book showcasing one of Japan's
most sought-after painters and illustrators, Katsuya Terada! Dragon Girl and Monkey King
collects Terada's art in every mood: sexy, brutal, bizarre, and humorous, including his distinctive Hellboy figurine work, commentary, and an exclusive interview with the artist!
FANTASTIC FOUR EPIC COLLECTION TP INTO THE TIMESTREAM It's sensational Simonson storytelling for Marvel's First Family! When the FF's Congressional hearing is disrupted by dozens of vengeance-seeking villains, the famous foursome must deal with Capitol chaos! And when a time anomaly sends them into the future, will the universe fall to Galactus while the FF are clashing with Kang and Nebula? As Sharon Ventura and the Human Torch face personal crises, the Fantastic Four find themselves on a parallel Earth battling cyborg dictators and displaced dinosaurs! And the temporal madness only gets worse when the adult Franklin Richards flees to the present from the "Days of Future Past" timeline - with Hound-master Ahab in hot pursuit! Guest-starring the Avengers, the X-Men, Spider-Man and Death's Head! Collecting FANTASTIC FOUR (1961) #334-346 and ANNUAL #23; and material from NEW MUTANTS ANNUAL #6, X-FACTOR ANNUAL #5 and X-MEN ANNUAL (1970) #14.
GEORGE ROMERO'S EMPIRE OF DEAD TP ACT ONE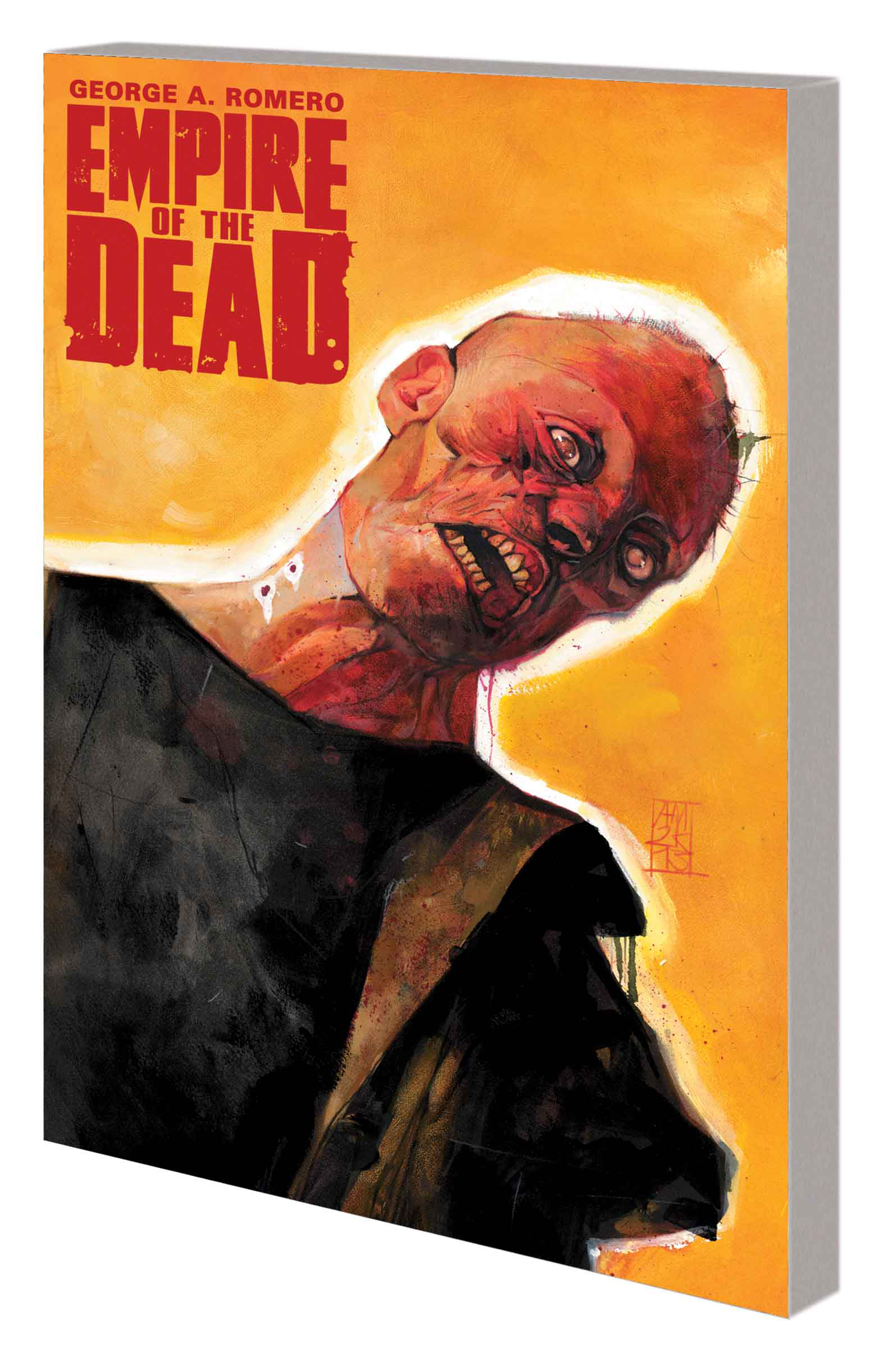 Zombie godfather George Romero unleashes his next undead epic - as an all-new Marvel comic! Welcome to New York City years after the undead plague has erupted - but just because Manhattan has been quarantined, don't think that everyone inside is safe! Not only do flesh-eaters roam the city, but another ancient predator has taken a bloody bite out of the Big Apple: Vampires rule! But which strange bedfellows are plotting against Mayor Chandrake? Who is the firecracker known as Dixie Peach? Are New York's zombies evolving, and how does undead former cop Xavier fit in? And in the pit of the bloody Circus Maximus, can anything stop the unchained fury of the zombie gladiator known as Zanzibar? It's zombies vs. vampires - with humans caught in the crossfire! Collecting GEORGE ROMERO'S EMPIRE OF THE DEAD: ACT ONE #1-5.
GRIMM FAIRY TALES PRESENTS AGE OF DARKNESS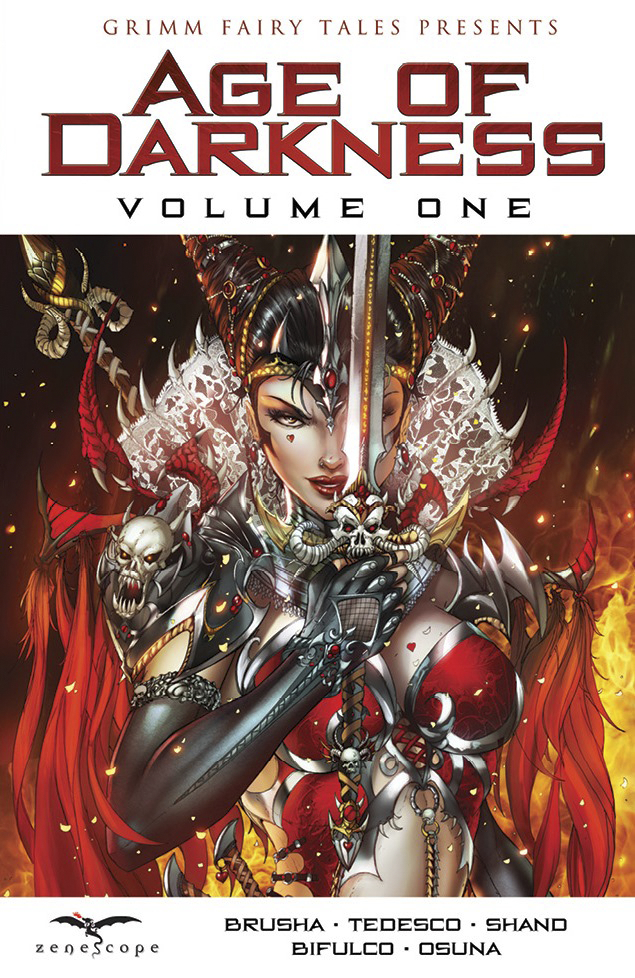 The Age of Darkness has descended upon the Grimm Universe! All hell is about to break loose as the Dark Horde prepares to wage war on Earth. The evil Dark Queen has risen again and now the table is set as she will set in motion a plan that will have terrifying and lasting ramifications on the Grimm Universe. This 160-page Trade Paperback collects The Dark Queen: Age of Darkness and Grimm Fairy Tales issues 94 through 98.
GOTG BY ABNETT AND LANNING COMPLETE COLL TP VOL 01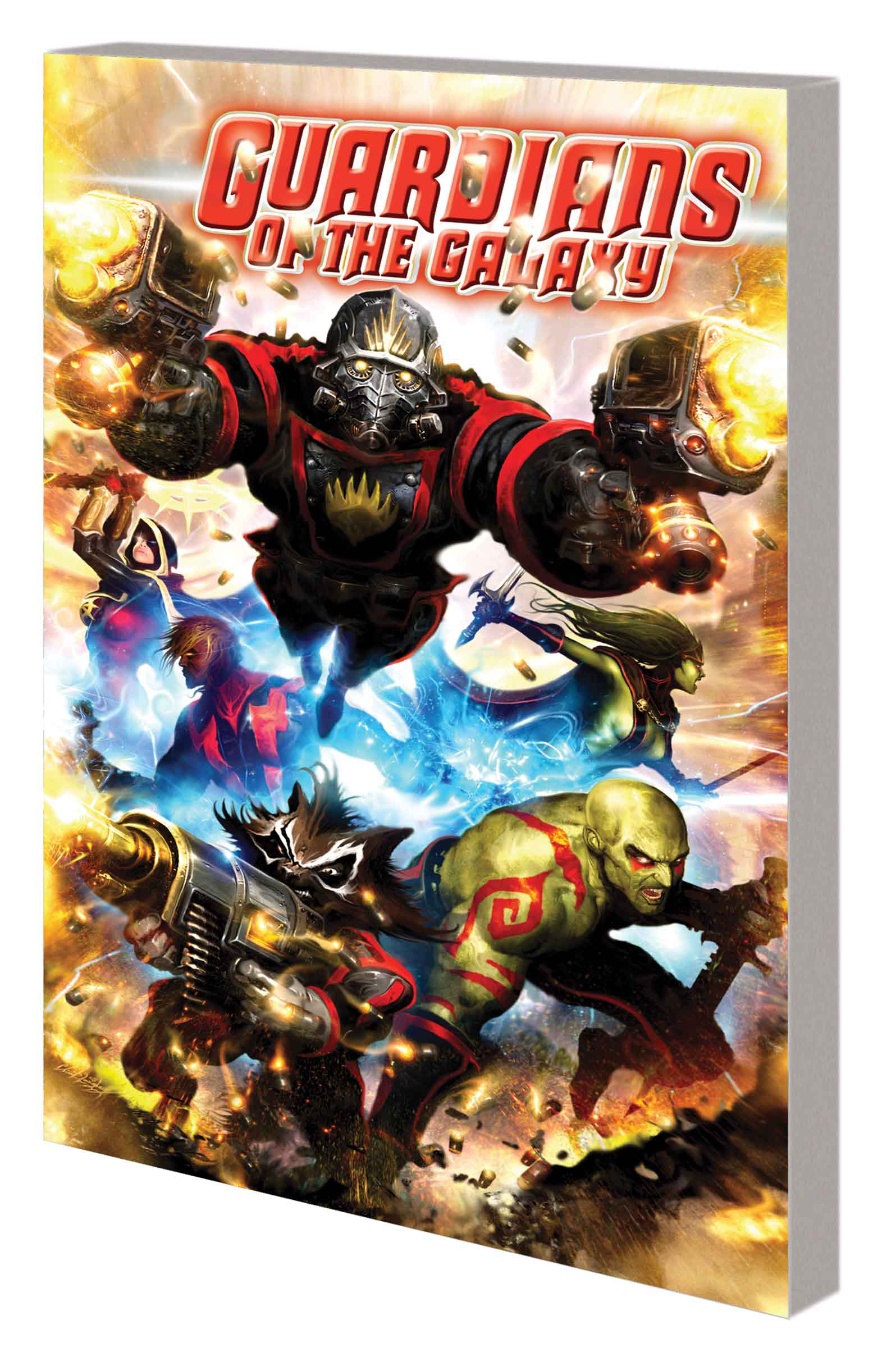 With the fabric of the universe torn, all that stands between us and invading horrors is a team of cosmic misfits. Led by Star-Lord, the newly minted Guardians of the Galaxy include a who's who of the mightiest - and most bizarre - protectors the stars have ever seen! Rocket Raccoon, Drax the Destroyer, Groot, Gamora, Adam Warlock, Mantis, the all-new Quasar, Cosmo the telepathic space dog and more take on the universe's most dangerous menaces - and have fun while doing it! But when Major Victory and Starhawk, two members of the Guardians of the future, make their explosive returns, is there more going on than meets the eye? And as the Skrulls' secret invasion tears the new team apart, who will guard the galaxy from the Church of Universal Truth, the Badoon and King Blastaar? Collecting GUARDIANS OF THE GALAXY (2008) #1-12.
MIKE MIGNOLA HELLBOY ARTIST ED
Mike Mignola is one of the preeminent comics creators of the past 25 years. His career was already firmly established for his outstanding work on characters like Batman, Wolverine, a myriad of beautiful covers and more. And then came Hellboy. Mike's iconic creation struck a meteoric chord with fans from the very start and has not abated in the 20 years since his debut. This Artist's Edition features the first five issues of Hellboy in Hell as well as a wealth of historic supplementary material: the first three Hellboy stories-the two initial four-pagers, produced for promotional purposes, and the 10-page story from John Byrne's Nextmen #21- plus The Corpse, and two other tales selected by Mignola for inclusion. Each page of Mike Mignola's Hellboy Artist's edition is shot from the original art and showcases Mignola's gorgeous work as closely as possible to the physical page-this is a book for fans of great storytelling and students of the craft.
MMW AVENGERS HC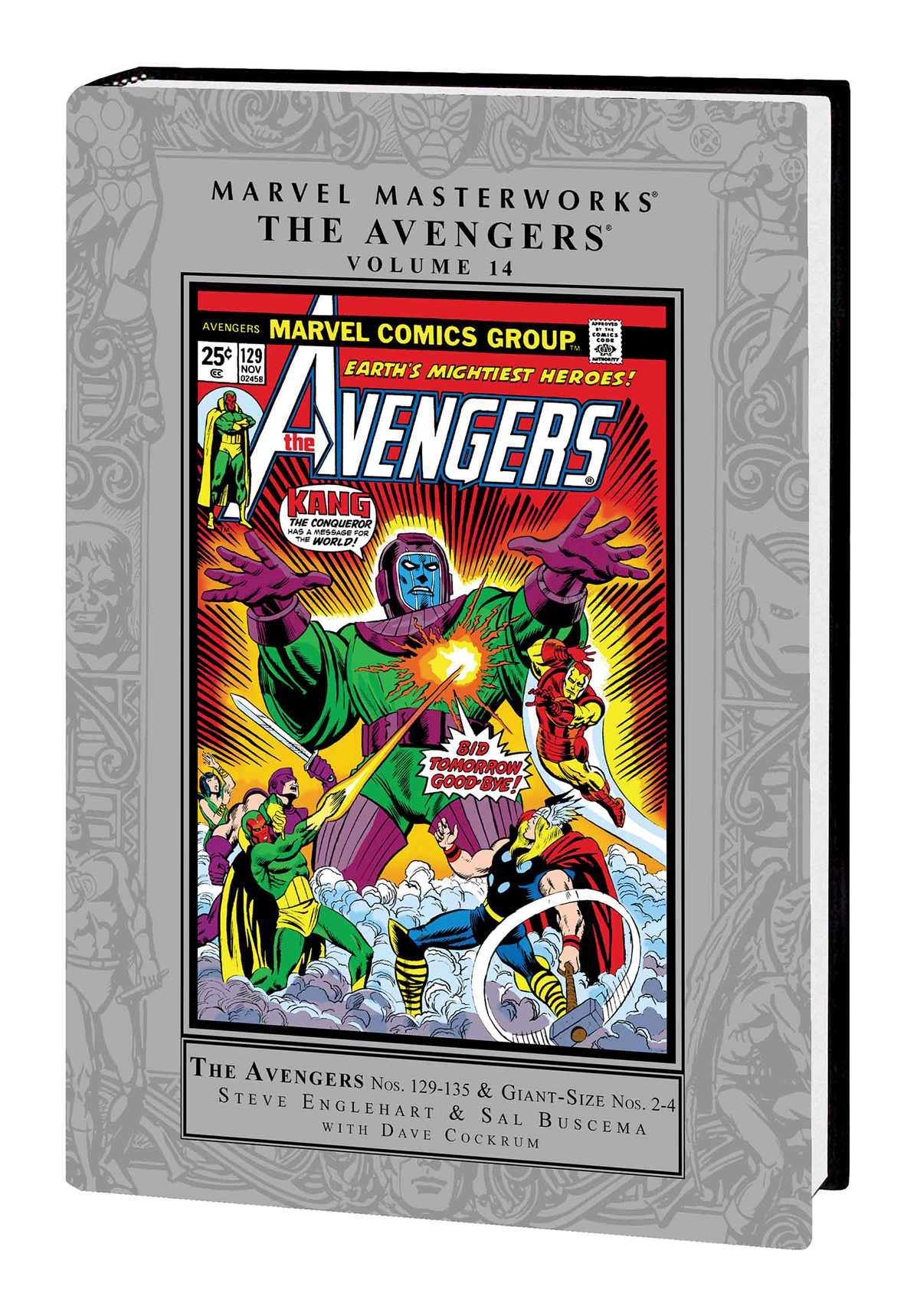 Prepare yourself for one of the greatest sagas in Avengers history: the Celestial Madonna! Throughout his AVENGERS run, writer Steve Englehart slowly built the mysterious Mantis into one of the '70s most intriguing characters. Here, her tale reaches its cosmic climax in a series of adventures spanning space and time! The action begins when Kang the Conqueror arrives on the scene - and before it's over Hawkeye will return; an Avenger will die; the Legion of the Unliving shall rise; and Kang, Rama-Tut and Immortus will have time-twisted you in two! And that's just for starters, as this volume presents the origin of the Vision and the android Avenger's wedding to the Scarlet Witch! They're Marvel Masterworks, one and all! Collecting AVENGERS (1963) #129-135, GIANT-SIZE AVENGERS #2-4 and FOOM #12.
MPD-PSYCHO TP VOL 11
"Dead Man's Galaxy Days" skips back in time to events that
take place before MPD-Psycho Volume 1. Yosuke Kobayashi
seems like a smart, driven Tokyo police officer, but he'll soon be
transformed into a tragic "multiple personality detective." The ongoing
mystery of the Gakuso gang and their murderous "barcode
clones" unravels further, and MPD-Psycho's strange supporting
cast is seen in a totally new light as a serial killer-the Tokyo Mirror
Man-terrorizes the city with his chainsaw!

MURDER ME DEAD TP After a decade out-of-print, another great El Capitán graphic novel returns!
David Lapham's love letter to classic noir takes you down the long, dark road of obsession, sex, betrayal, and murder. Peeling back the carefully constructed facades of each character, he exposes the true nature of their humanity and propels you toward a final, horrifying revelation. Collects MURDER ME DEAD #1-9.
NEIL GAIMAN ART OF NEIL GAIMAN VISUAL BIO HC
Neil Gaiman is one of the best-loved authors in the world today, a creative force in comics, fiction, and the movies and TV, a serial award-winner, and a social media phenomenon whose every work is a guaranteed number-one bestseller. Told in Neil's own words and enriched with visuals from his own archive, Hayley Campbell brilliantly evokes the literary and comics scene of 1980s London and places pop culture milestones in the context of a busy, multistranded creative life, making sense of Gaiman's diverse career, relating it to his storytelling gifts, his talent for being in the right place at the right time, and his passionate drive to, as he himself has put it, "Make Good Art."
OVERSTREET COMIC BK PG SC VOL 44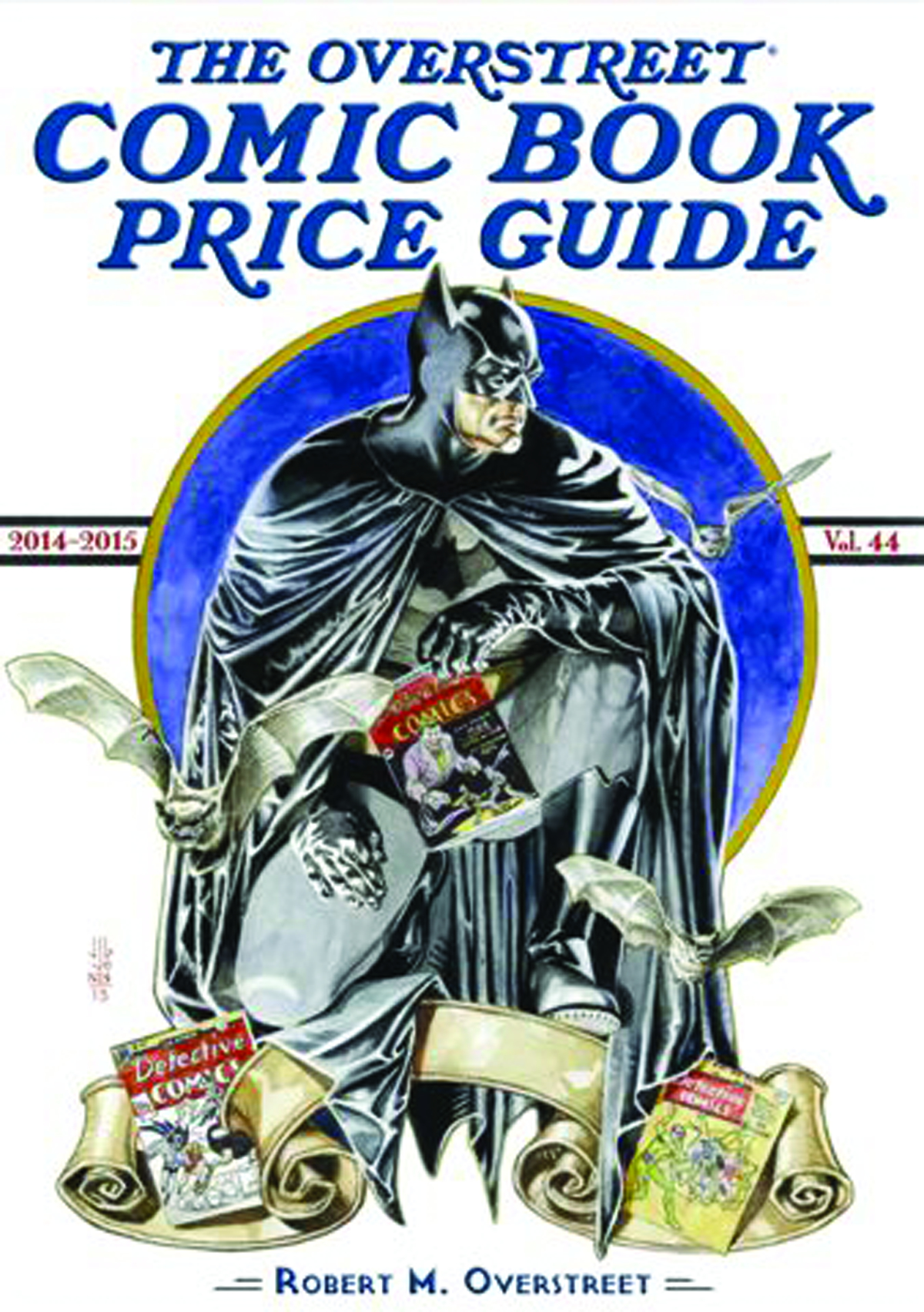 With back issues comics selling for prices ranging from pocket change up to seven-figure prices, understanding the marketplace has never been more important for buyers, sellers and collectors. Since 1970, The Overstreet Comic Book Price Guide been the Bible for those looking to fully comprehend the back issue marketplace. In addition to the latest market reports, analysis, and prices, this year's edition celebrates the 75th anniversary of Batman, takes a detailed look at rare Canadian comics, and inducts a new line-up of industry professionals into The Overstreet Hall of Fame.
SAKAI PROJECT HC 30 YEARS USAGI YOJIMBO The most amazing artists in the world have come together to celebrate thirty years of
Stan Sakai's marvelous samurai rabbit saga, Usagi Yojimbo. The participating artists bring
their own interpretations and their own styles to the subject, making this book a one-of-a-kind treasure. Produced in association with the Comic Art Professional Society (CAPS). All proceeds from this book will go to Stan and Sharon Sakai. IT'S THE SECOND ROUND OF SEX IN BOOK FORM, BABY!
Now that the full-blown ten-year superhero orgy is over, life in Saturn City is getting even more complicated. And not only for the newly-"normalized" Simon Cooke; everyone seems to have their own kink to deal with. Just remember: morality may be subjective, but SEX is still great! Collects SEX #9-14.
STERANKO NICK FURY AGENT OF SHIELD ARTIST ED HC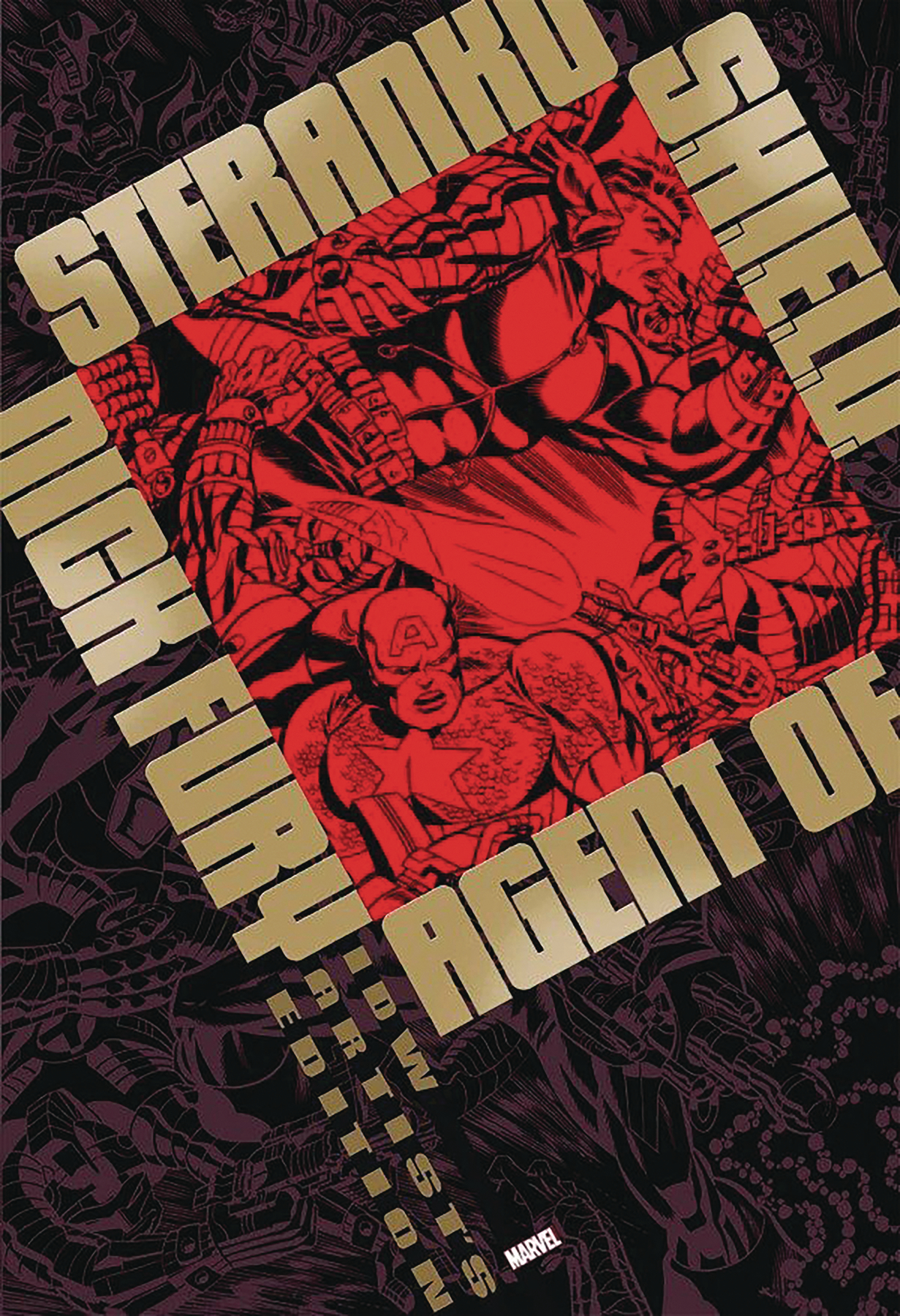 In the mid-1960s, Jim Steranko burst into the Marvel Age of comics in a BIG way, and the innovative, cinematic techniques he introduced in his brief tenure at The House of Ideas stand to this day as a high-water mark in the history of graphic storytelling.
More than any other series, Steranko is most associated with Nick Fury: Agent of S.H.I.E.L.D. This Artist's Edition collects the first 12 stories of Steranko's run, from Strange Tales #151 - #162, as well as all his covers from these issues. Additionally, there will be a select number of extras presented. And, as usual, nearly all the pages have been scanned from the original art, from Steranko's private archives.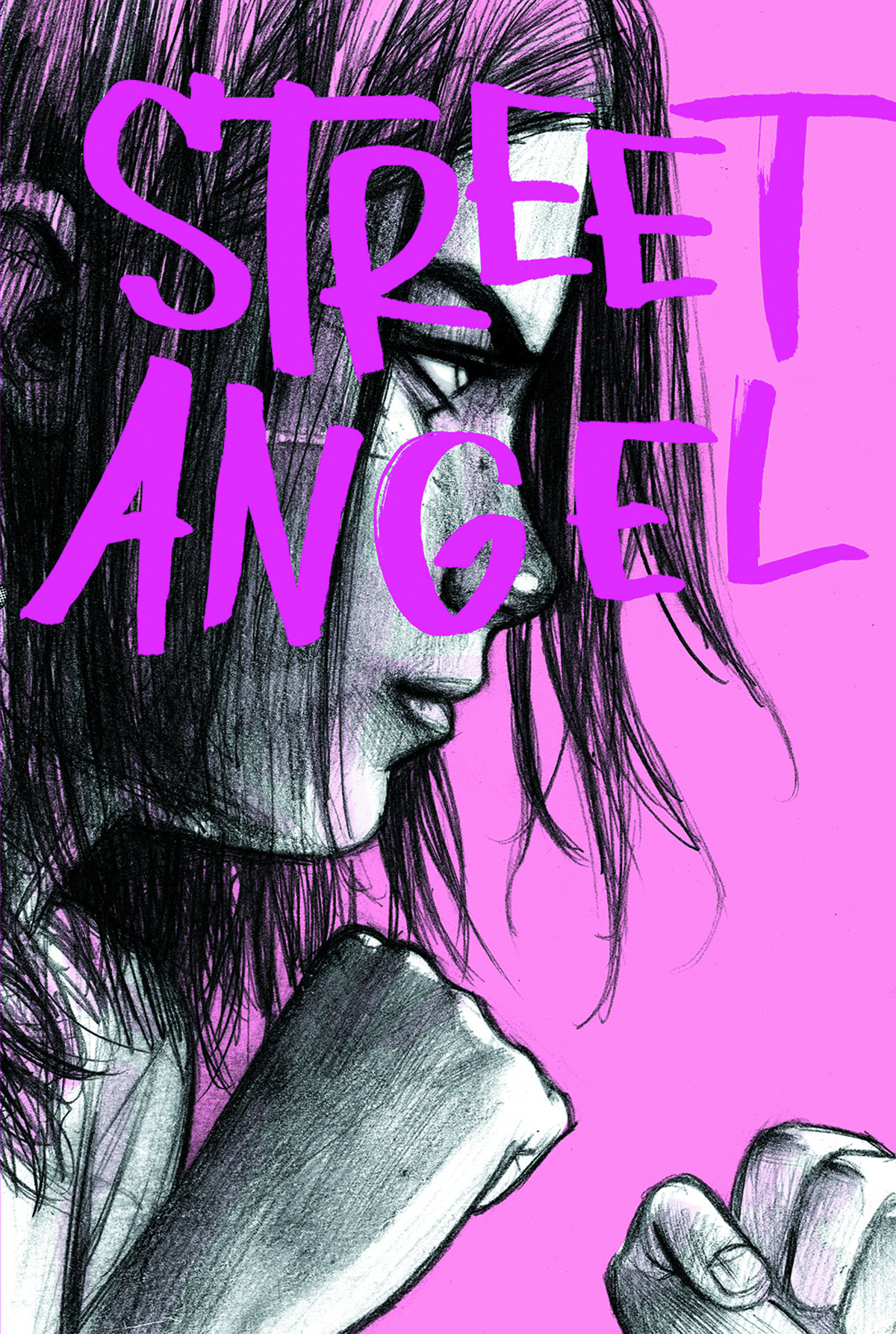 There's a new orphan in town. Homeless teenager Jesse "Street Angel" Sanchez cuts school and uses her skateboard and kung-fu action to fight ninja gangbangers, mad scientists, cops, time-traveling pirates, J-horror clichés, an evil version of her future self, ancient gods, rednecks, hunger, and much more. ... Funny, violent, irreverent - everything you love in comic books (except sex). The creators of Afrodisiac present the Princess of Poverty - Street Angel!
SUPERMAN ACTION COMICS HC VOL 04 HYBRID (N52)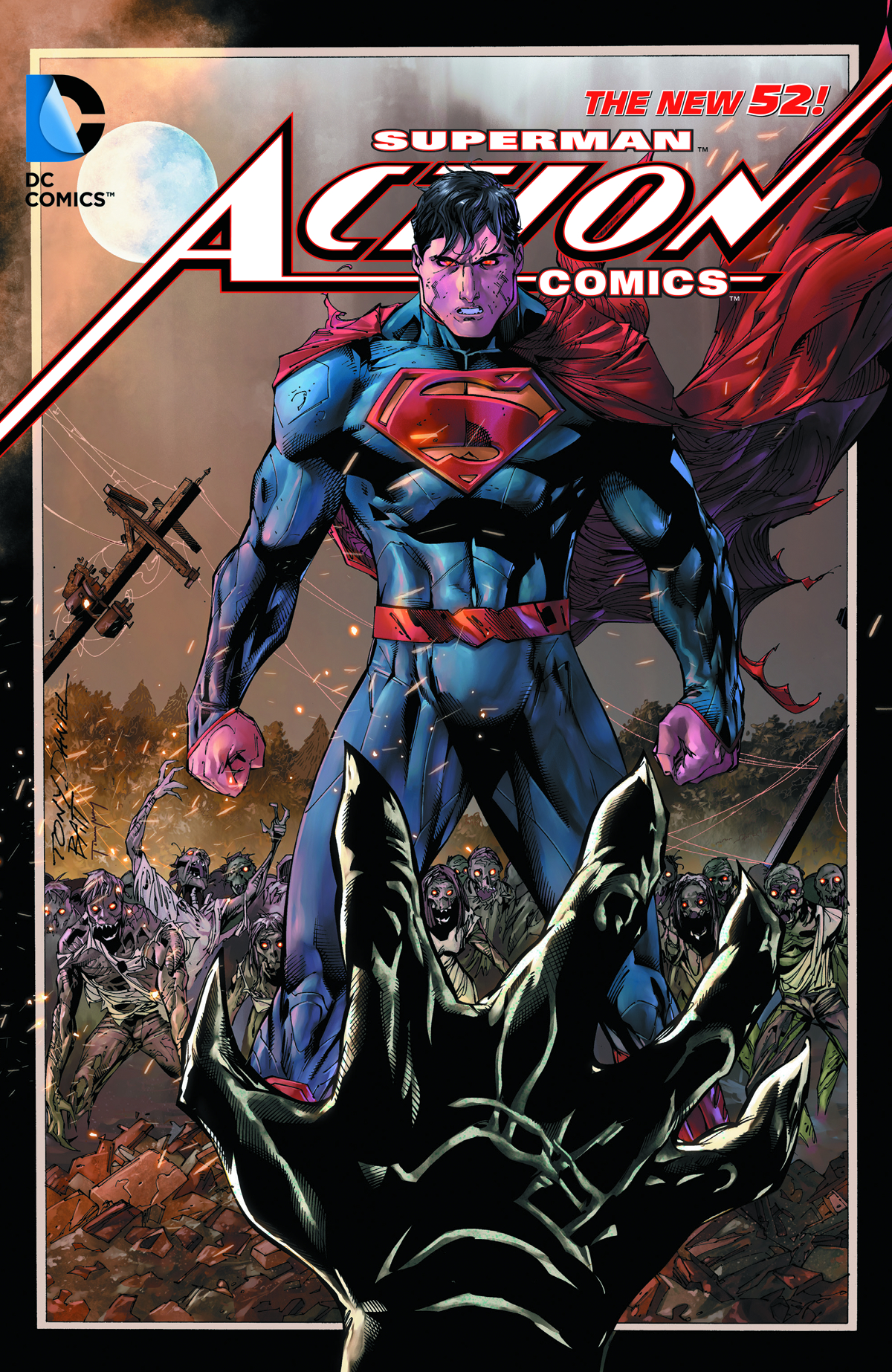 Determined to turn the people of Metropolis against the Man of Steel, Lex Luthor unleashes a virus on Metropolis capable of rewriting the DNA of those infected, including Superman. Superman's immune system eventually fights off the infection, but not before a hybrid Superman is created through the virus's ability to rewrite DNA. This new hybrid Superman is the only being capable of defeating the true Superman, and Lex will stop at nothing to see it accomplish its mission. Don't miss these stories from ACTION COMICS #19-24, plus a tale featuring Wonder Woman from YOUNG ROMANCE #1 and the backup story from SUPERMAN ANNUAL #2.
SUPERMAN ACTION COMICS TP VOL 03 AT THE END OF DAYS (N52)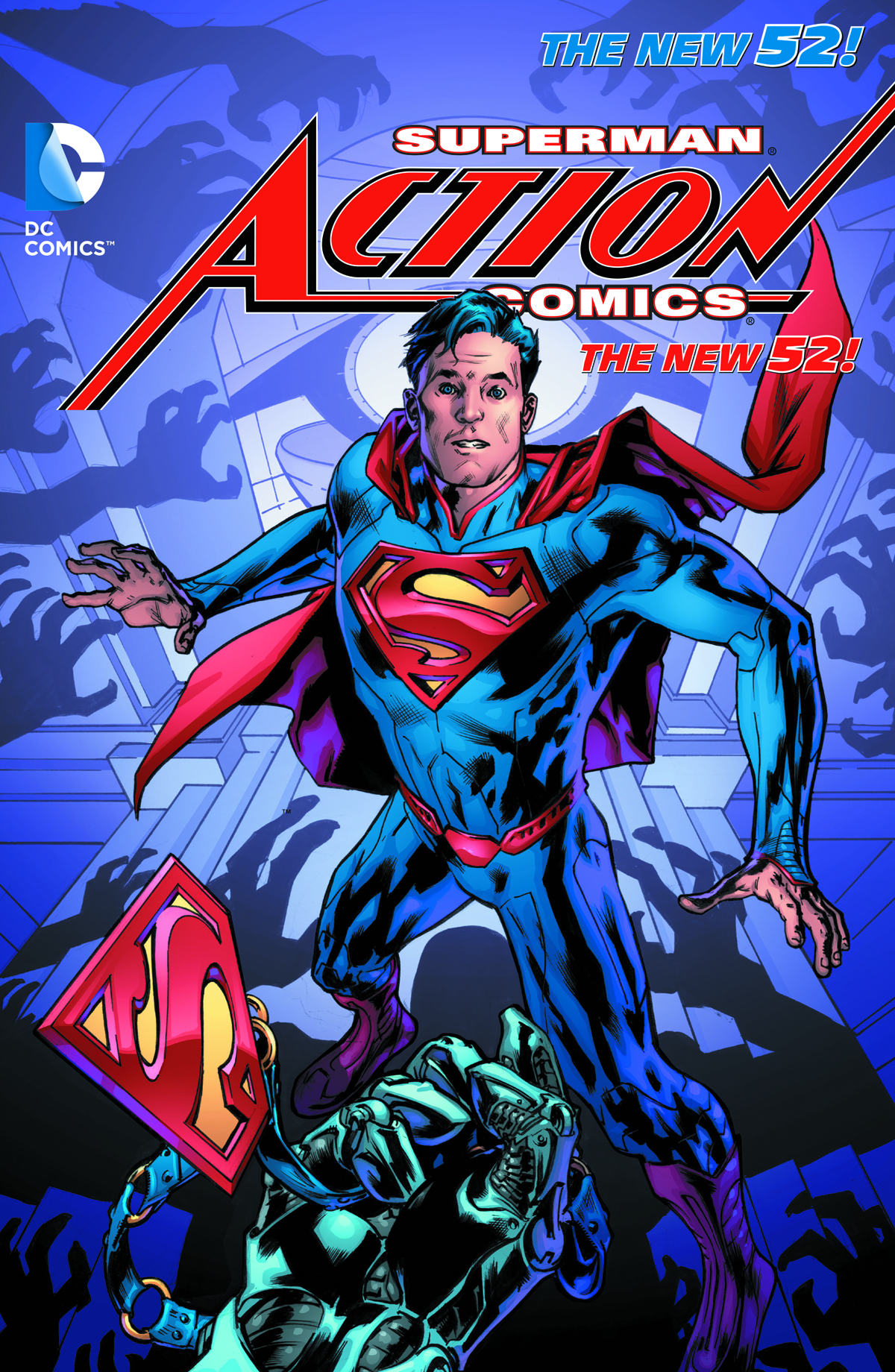 In these stories from ACTION COMICS #13-18, the Multitude returns, and Superman must face them on Mars! Then, the Man of Steel is on trial - and the jury is the Anti-Superman Army!
SWAMP THING BY BRIAN K VAUGHAN TP VOL 02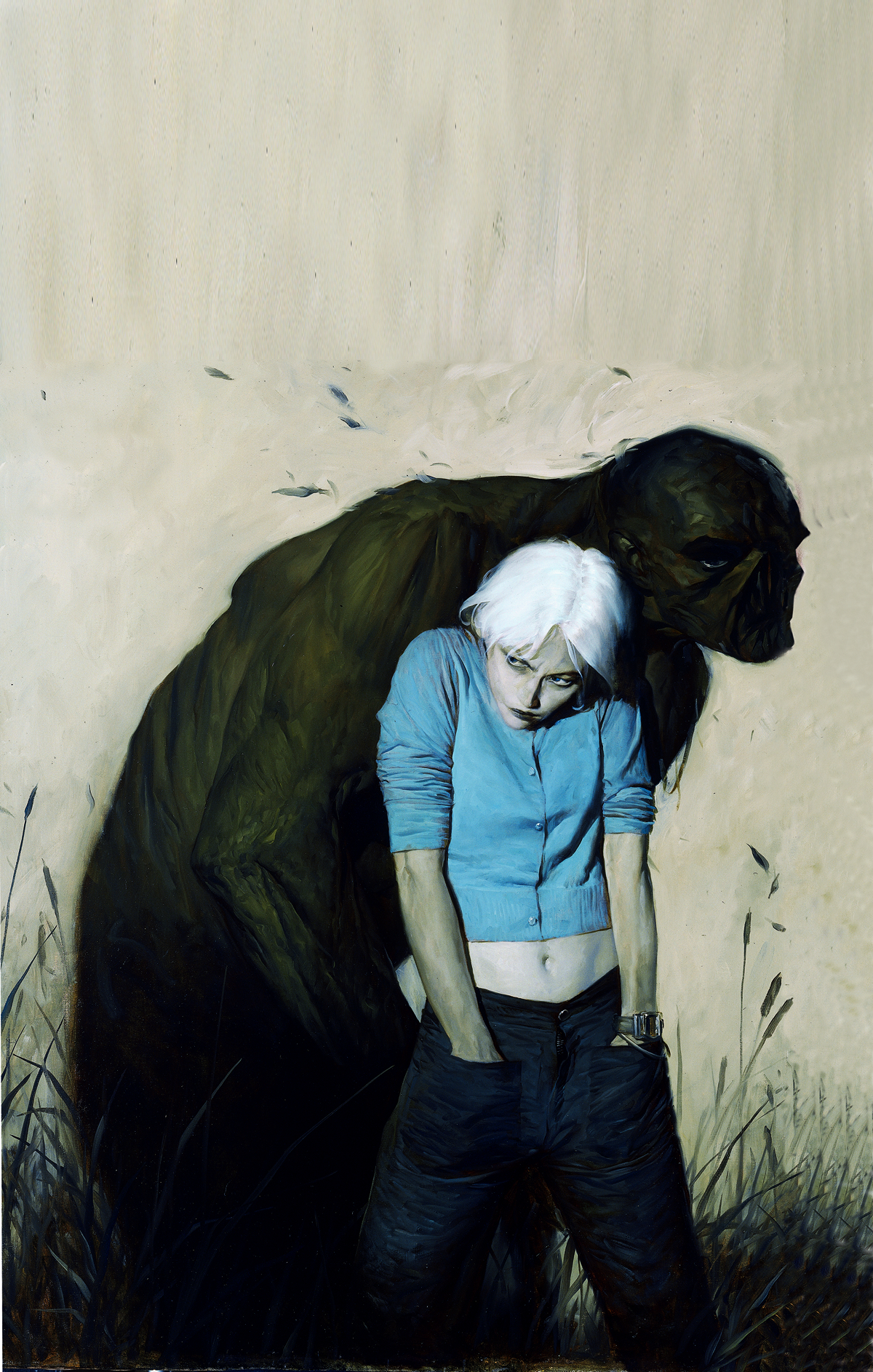 In these stories from SWAMP THING #11-20, Tefé helps a friend escape her father, a ruthless congressman, then runs headlong into radical environmentalists whose own plans are every bit as dangerous as the politician's. Plus: The real Swamp Thing returns at last!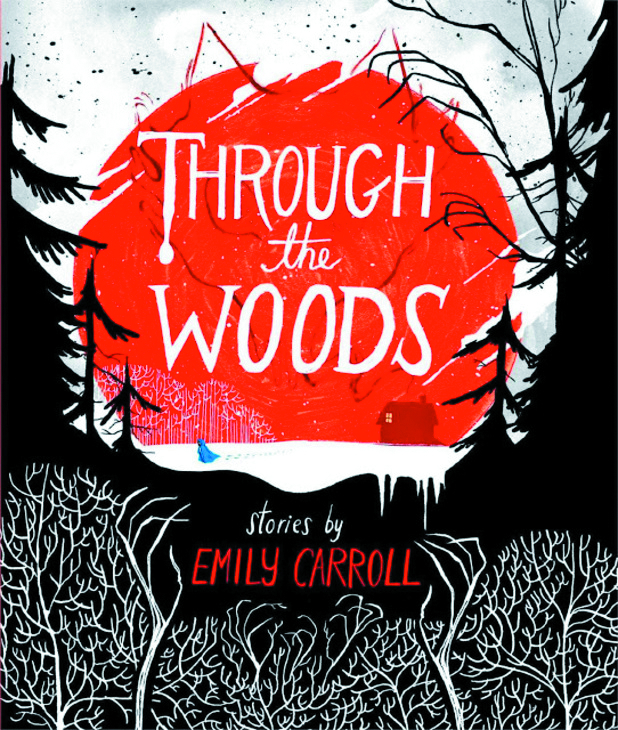 Journey through the woods in this sinister, compellingly spooky collection that features four brand-new stories and one phenomenally popular tale in print for the first time. These are fairy tales gone seriously wrong, where you can travel to "Our Neighbor's House" - though coming back might be a problem. Or find yourself a young bride in a house that holds a terrible secret in "A Lady's Hands Are Cold." You might try to figure out what is haunting "My Friend Janna," or discover that your brother's fiancée may not be what she seems in "The Nesting Place." And of course you must revisit the horror of "His Face All Red," the breakout webcomic hit that has been gorgeously translated to the printed page.
THUNDERBOLTS TP VOL 04 NO MERCY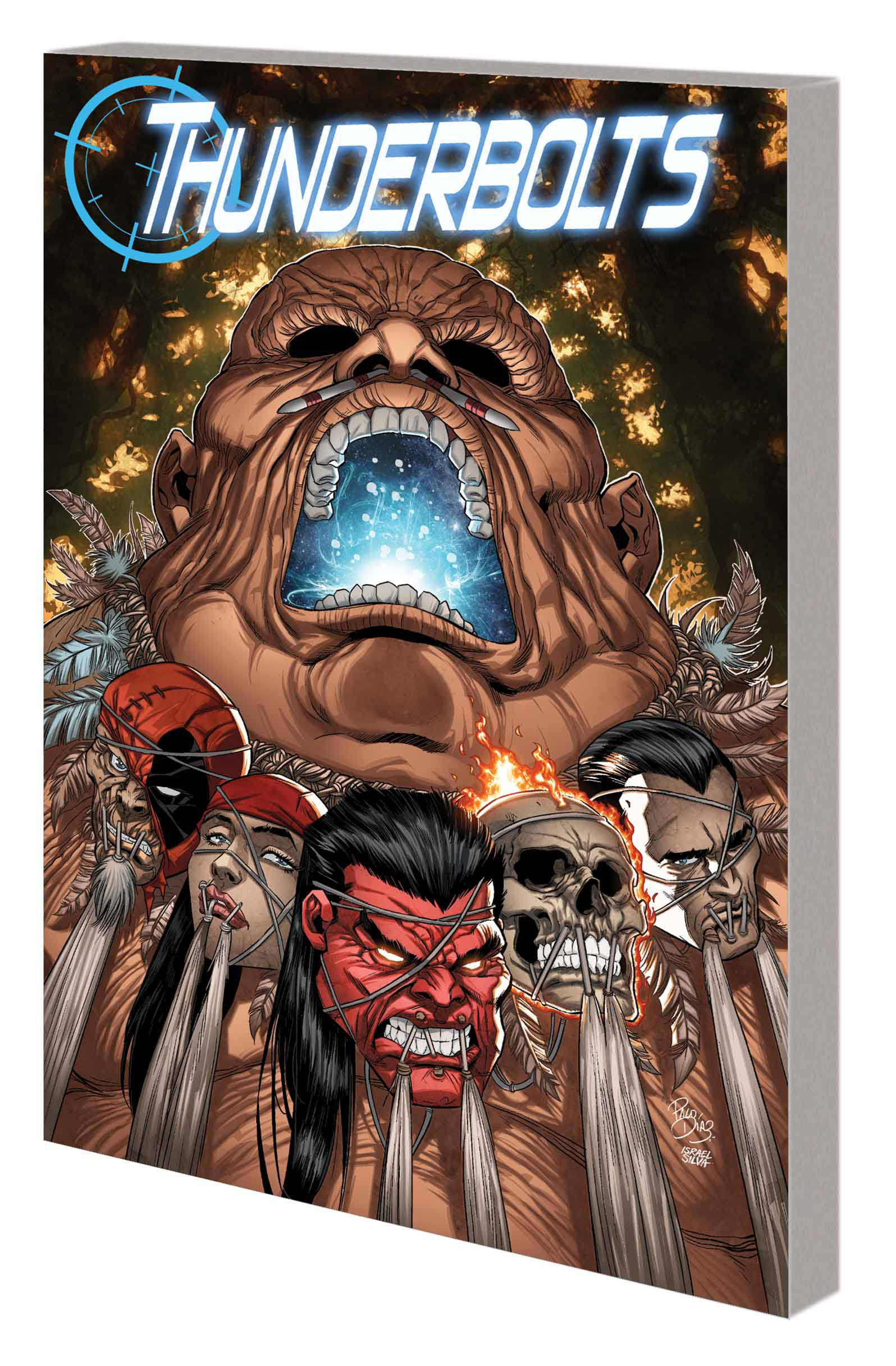 Ghost Rider joins the Thunderbolts! General Ross's T-Bolts were brought together to clean up the problems that no one else could, but what happens when the problem is on the team? The seemingly all-powerful madwoman called Mercy has gone too far, slaughtering innocent people to fulfill her twisted mission of mercy. Who can the team turn to for help taking down this powerhouse? How about Johnny Blaze, the original Ghost Rider? Can he save the team before it all goes, quite literally, to hell? And if not, will the team be willing to make a deal to put Mephisto back on his throne?! Then, the Thunderbolts battle Venom! When an ancient cosmic power corrupts a former ally, the T-Bolts must travel deep into a Central American jungle. But can they take him down before time runs out?
Collecting THUNDERBOLTS (2012) #20-26.
TMNT HEROES COLLECTION HC Eight of the popular Micro-Series presented in a gorgeous oversized format! One-shots featuring Raphael, Donatello, Michelangelo, and Leonardo are presented along with tales of Master Splinter, Casey Jones, April O'Neil, and Fugitoid that connect to - and affect - the Turtles' lives and futures.
UNWRITTEN TP VOL 09 THE UNWRITTEN FABLES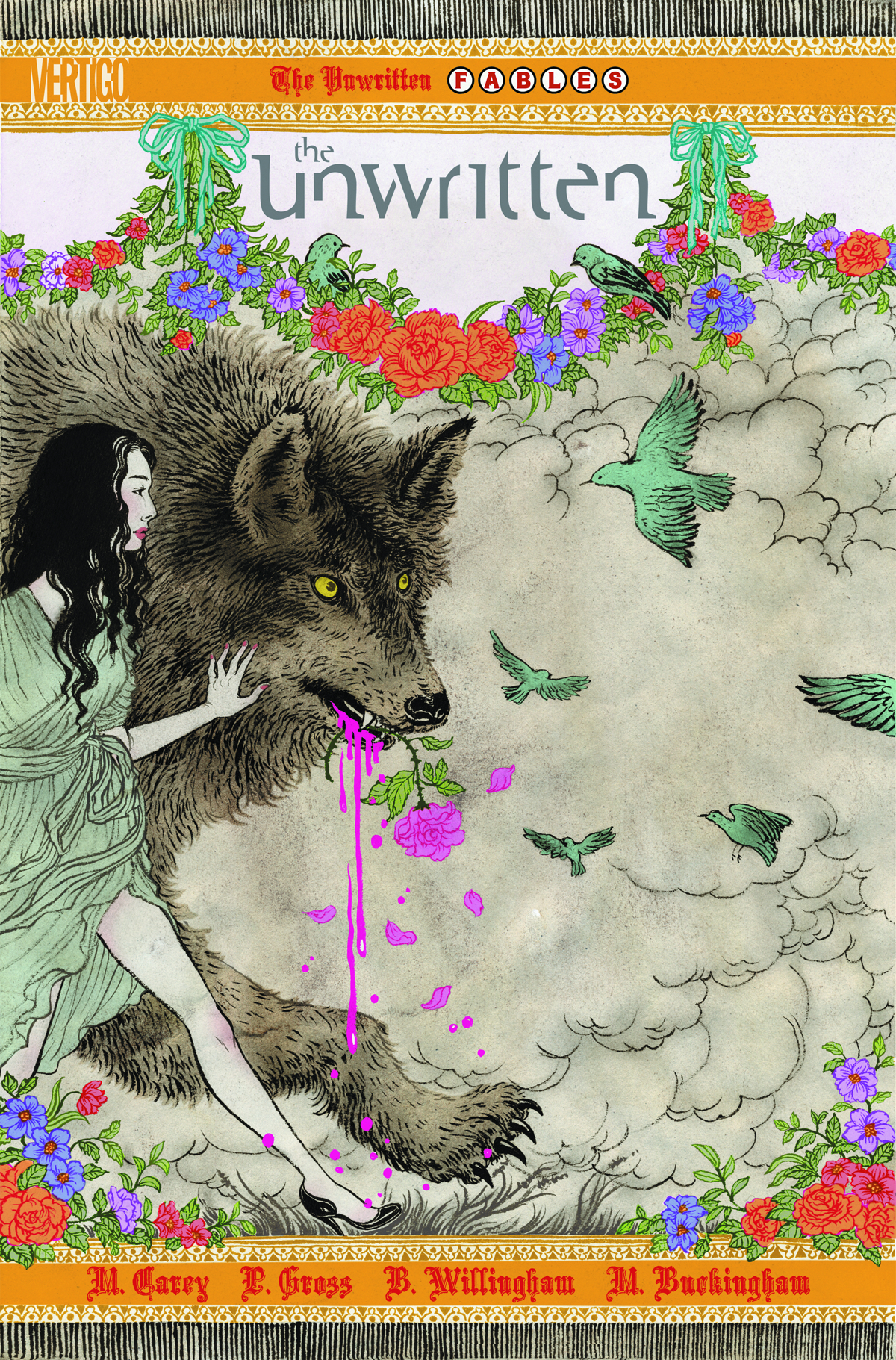 The worlds of FABLES and THE UNWRITTEN collide in the epic comic event from THE UNWRITTEN #50-54 as a terrible foe has seized the fairytale homelands and our world. In desperation, the witches of Fabletown must summon the greatest mage the worlds have ever seen.
WALKING DEAD TP VOL 21 ALL OUT WAR PT 2 Alexandria has been destroyed. Can Rick rally the other communities against Negan's army?
Collects THE WALKING DEAD #121-126 The Inhumans have taken flight to outer space! Their destiny as rulers written in the ancient fates, Black Bolt and the royal family have taken command of the Kree Empire! Meanwhile, Vulcan, power-mad brother of the X-Men's Cyclops and Havok, has become the newest emperor of the Shi'ar, the most advanced military civilization in the galaxy! What happens when these mighty powers turn their rage upon one another? And what happens to those caught in the crossfire? When two mighty powers wage war, who will rule? Featuring the Guardians of the Galaxy, Darkhawk, the Starjammers and more cosmic favorites, the War of Kings is a battle that may rip the universe asunder! Collecting SECRET INVASION: WAR OF KINGS, WAR OF KINGS #1-6, WAR OF KINGS: WHO WILL RULE, ROAD TO WAR OF KINGS and MARVEL SPOTLIGHT: WAR OF KINGS.
WOLVERINE BY AARON COMPLETE COLLECTION TP VOL 03 He's the best there is at what he does —and Wolverine's not so bad, either. Writer Jason Aaron's (PunisherMax, Scalped) acclaimed and character-defining Wolverine run continues in this third volume! Joined by some of comics' top artists, Aaron tests Wolverine to his limits as the feral hero takes a lengthy trip through time with the ever-annoying Spider-Man! Then, a mysterious organization conspires to send Wolverine to Hell, where he encounters the souls of unexpected family and friends — and battles the Devil! And the X-Men must help Wolverine regain control of his body from a horde of possessing demons!
Plus: Wolverine's girlfriend throws him a birthday party, but where is he? Guest-starring Mystique, Daimon Hellstrom, two Ghost Riders and a host of Marvel heroes! Collecting Astonishing Spider-Man & Wolverine issues #1 to 6, Wolverine (2010) #1 to 9 and #5.1, and material from Wolverine: Road To Hell #1, written by Jason Aaron, pencilled by Adam Kubert, Renato Guedes, Jefte Palo & Daniel Acuna, with cover artwork by Jae Lee.
WOLVERINE ORIGIN II HC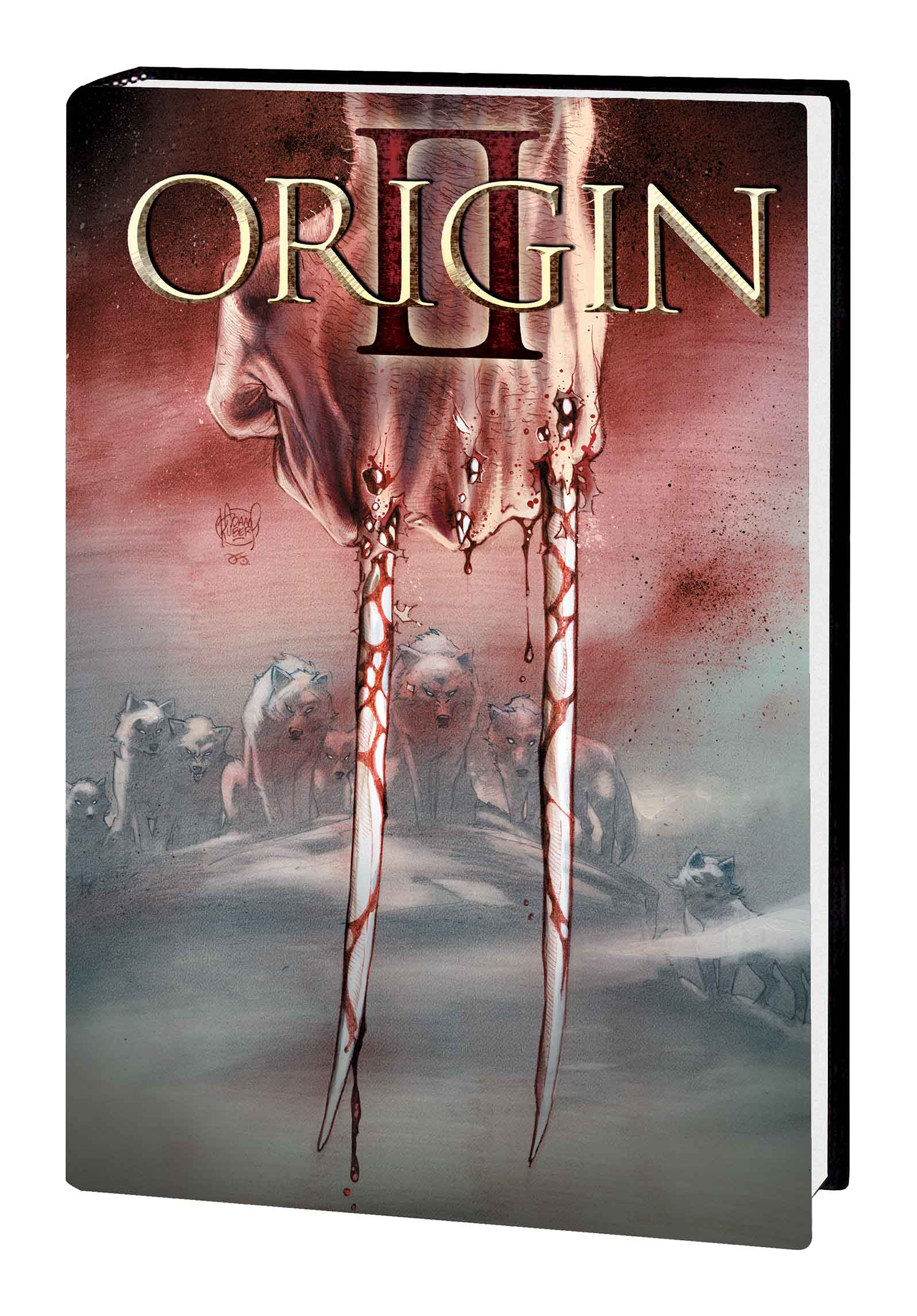 A new chapter in the secret origin of one of Marvel's most mysterious characters is revealed, by superstars Kieron Gillen (THOR) and Adam Kubert (AVX)! A few years after the events of ORIGIN finds James "Logan" Howlett running with the wolves, until something unexpected brings him back into the world of men! And when word of a clawed wild man reaches civilization, the hunt to capture him begins! James soon falls afoul of someone Sinister, who's just discovering mutantkind - and the horrors he can visit on them. Escaping his captors and rediscovering his humanity, James and Clara are on the run - but can Sinister offer James something he can't refuse? The mutant who will someday become Wolverine must choose: Is he man or is he beast? Plus: Discover the secret behind James' greatest enemy, the man called Creed! Collecting ORIGIN II #1-5.
WONDER WOMAN UNBOUND HIST WORLD'S MOST FAMOUS HEROINE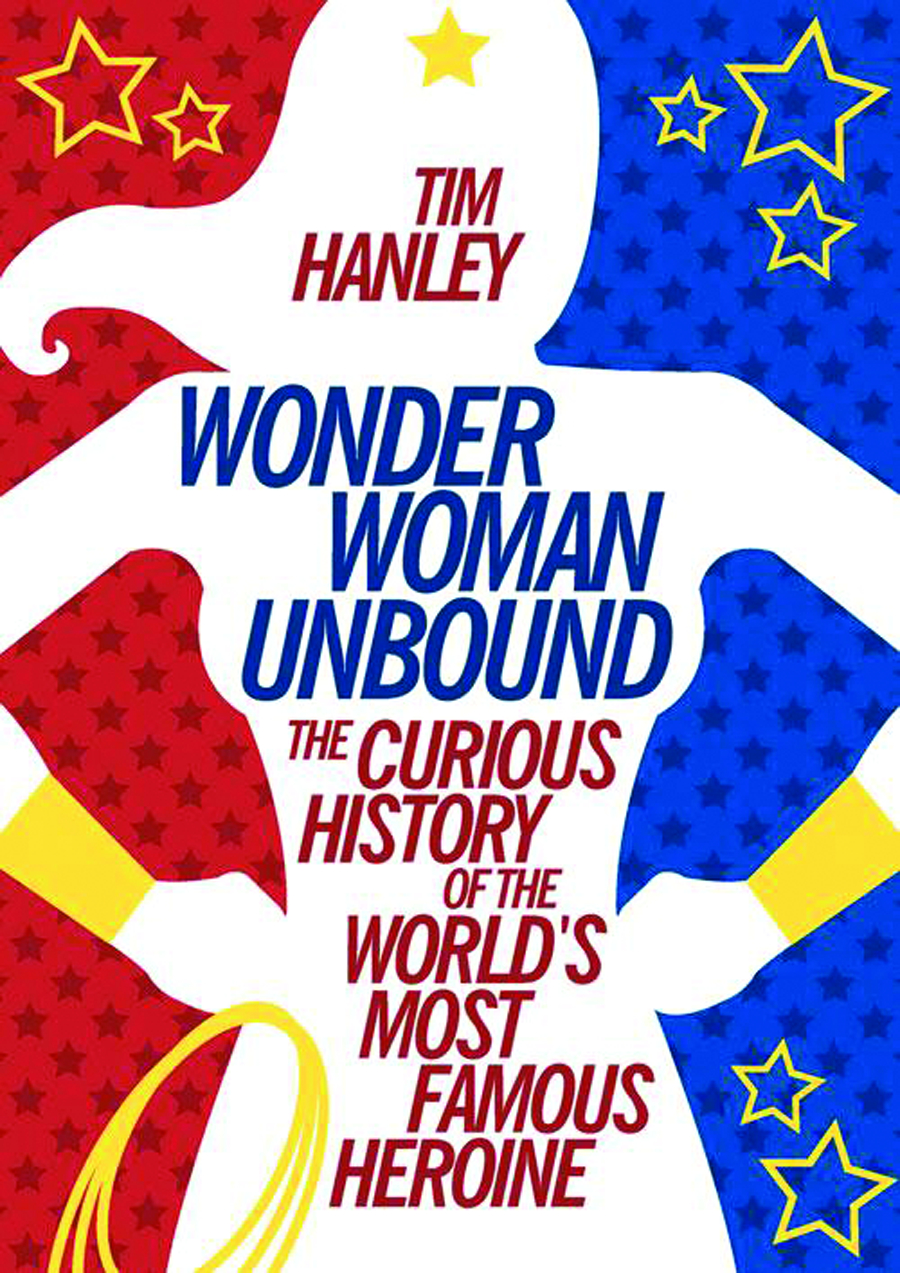 With her golden lasso and her bullet-deflecting bracelets, Wonder Woman is a beloved icon of female strength in a world of male superheroes. But this close look at her history portrays a complicated heroine who is more than just a female Superman. The original Wonder Woman was ahead of her time, advocating female superiority and the benefits of matriarchy in the 1940s. At the same time, her creator filled the comics with titillating bondage imagery, and Wonder Woman was tied up as often as she saved the world. In the 1950s, Wonder Woman begrudgingly continued her superheroic mission, wishing she could settle down with her boyfriend instead, all while continually hinting at hidden lesbian leanings. While other female characters stepped forward as women's lib took off in the late 1960s, Wonder Woman fell backwards, losing her superpowers and flitting from man to man. Ms. Magazine and Lynda Carter restored Wonder Woman's feminist strength in the 1970s, turning her into a powerful symbol as her checkered past was quickly forgotten. Exploring this lost history as well as her modern incarnations adds new dimensions to the world's most beloved female character, and Wonder Woman Unbound delves into her comic book and its spin-offs as well as the myriad motivations of her creators to showcase the peculiar journey that led to Wonder Woman's iconic status.