Your eyes do not deceive you, SANDMAN OVERTURE #3 is here! Overture isn't the only comic returning to our shelves after a prolonged absence - HAWKEYE returns (hurray!) with an issue guaranteed to highlight David Aja's artistic prowess as Clint deals with his severe hearing loss, Vertigo anthology CMYK is back, and after a four month hiatus we finally have TEN GRAND #10. Premiering this week is Rick Remender's new SF series LOW, time travelling murder mystery miniseries BODIES, indie horror AND THEN EMILY WAS GONE, and dystopian miniseries WOOL, based on the best selling novels. We also bid farewell to two of the most popular series of recent years, with the conclusion of FATALE and THE WAKE. Other exciting titles in store this week: HARLEY QUINN, OUTCAST, GUARDIANS OF THE GALAXY, JUSTICE LEAGUE, BRASS SUN, ORIGINAL SIN: HULK VS IRON MAN, and RED SONJA.
What are you looking forward to reading this week? Talk to us @DavesComics!
DARK HORSE
BALTIMORE WITCH OF HARJU #1 (OF 3)
Baltimore shelters a woman on the run from a possessed dead man and the witch playing his puppet master. Written by Hellboy creator Mike Mignola!
CAPTAIN MIDNIGHT #13
DEEP GRAVITY #1 (OF 4)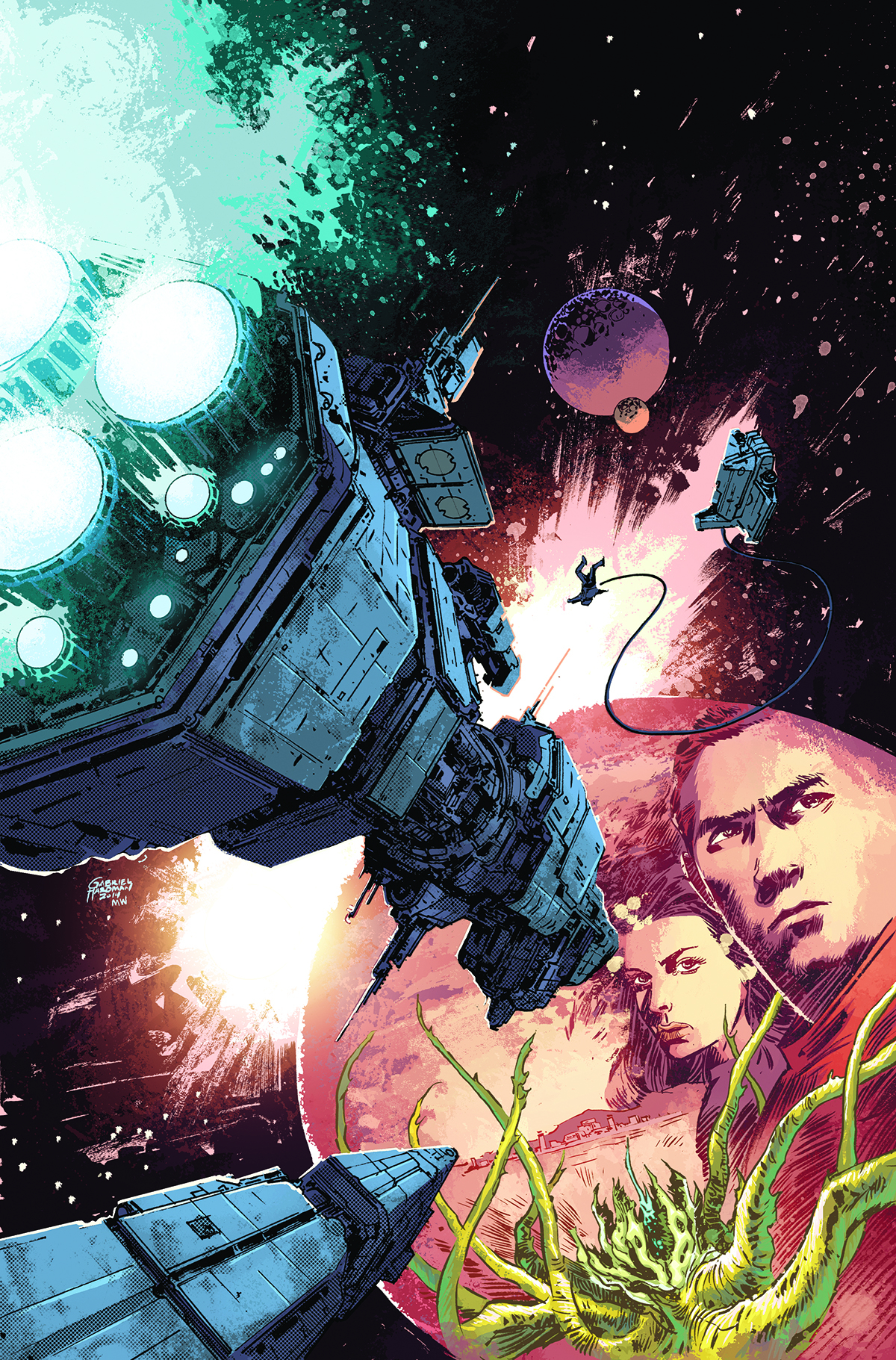 He didn't get onto the most lucrative interstellar mission for the money-Paxon wants to be reunited with the woman he loves. But his high-stakes journey takes him to a savage world full of the galaxy's most dangerous game, where the gravity can turn your bones to powder.
EMILY & THE STRANGERS BREAKING RECORD #2
KING CONAN CONQUEROR #6 (OF 6)
MASSIVE #25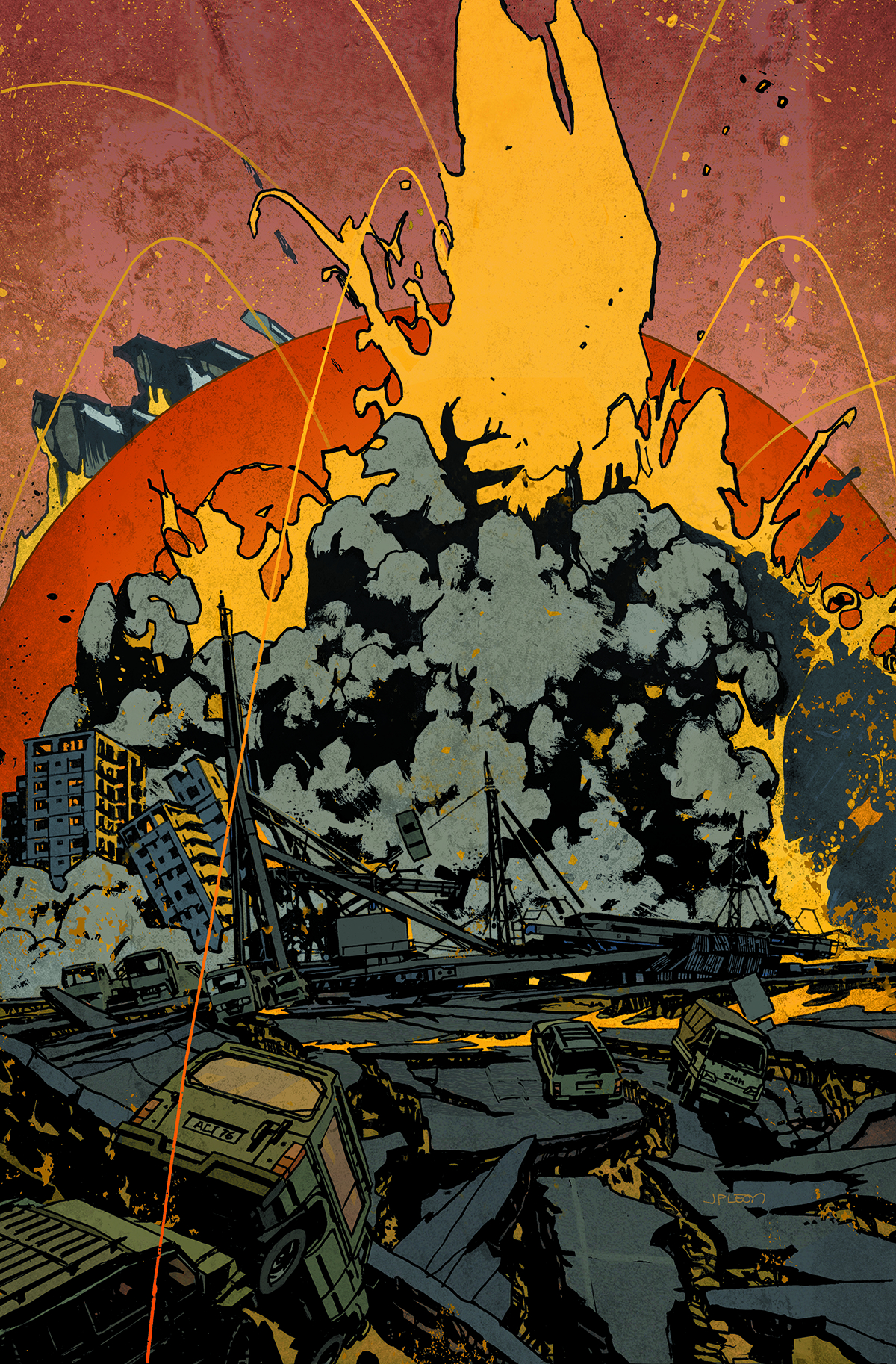 The Crash was only the beginning. The earth has begun to tear itself apart. And the truth of Mary's identity, which began as a faint signal, grows louder and is seemingly connected to it all. The secret of the Crash and the location of the missing ship The Massive get answered here, in the final arc, Ragnarok!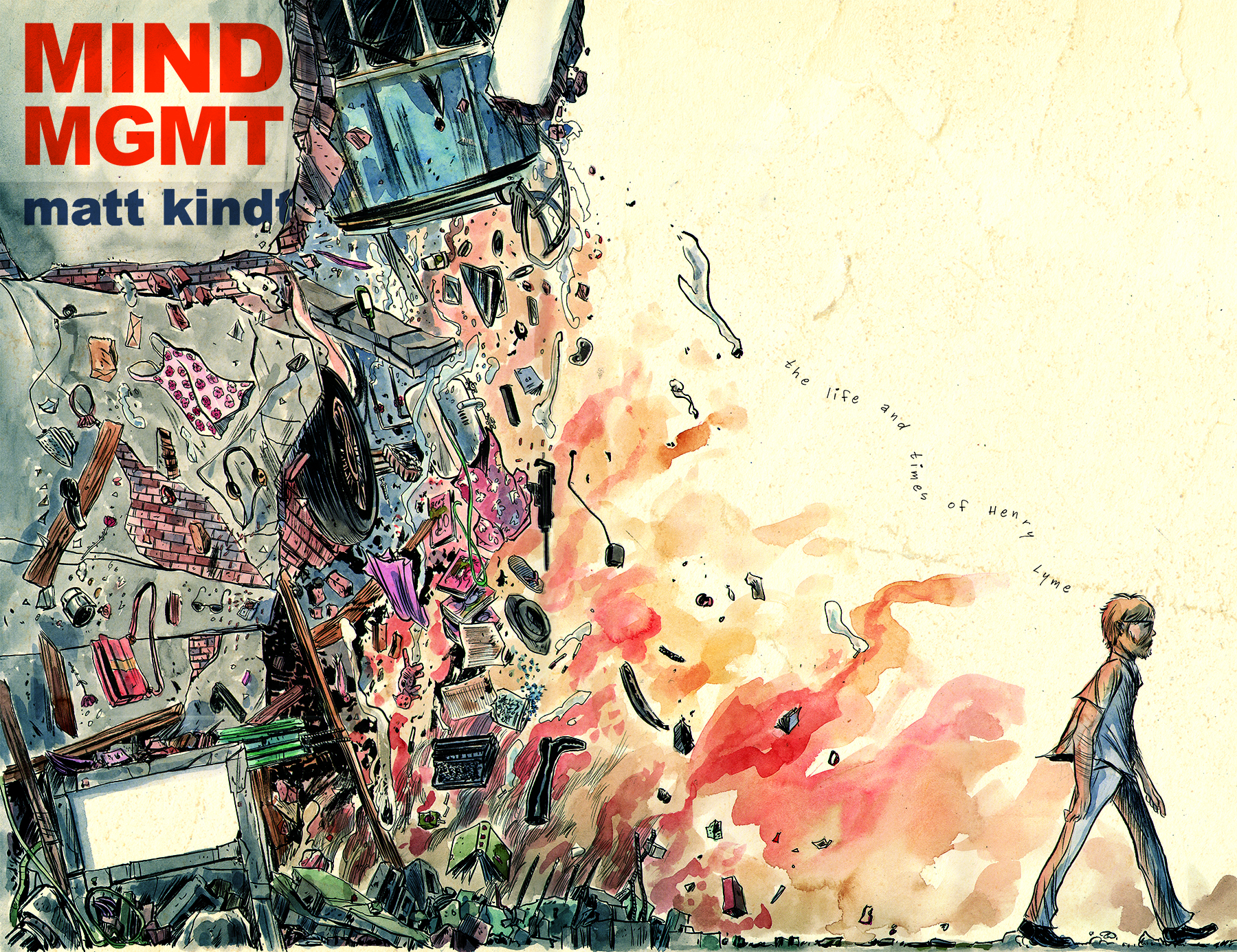 The AV Club's best series of 2013!
MIND MGMT concludes its second year in this crucial one-shot revealing "The Life and Times of Henry Lyme," with a shocking twist that sets up the final two arcs!
This issue is the perfect jumping-on point for new readers!
PARIAH #6 (OF 8)
STAR WARS REBEL HEIST #4 (OF 4)
The Rebellion's plan is coming together. All Luke Skywalker has to do is elude an Imperial spy-and perform some unanticipated rescues! But this farm boy is on the edge of greatness, and he is not about to stop saving the galaxy now!
VEIL #4 (OF 5)
V-WARS #4

DC
ADVENTURES OF SUPERMAN #15
AQUAMAN ANNUAL #2
BATMAN ETERNAL #17
BODIES #1 (OF 8)
VERTIGO brings you the miniseries of the summer, with four detectives, four time periods, and four dead bodies - all set in London. Edmond Hillinghead is an 1890s overachiever who's trying to solve a murder no one cares about while hiding his own secret. Karl Whiteman is our dashing 1940s adventurer with a shocking past. Shahara Hasan is 2014's kickass female Detective Sergeant, who walks the line between religion and power. And Maplewood, an amnesiac from post-apocalyptic 2050, brings a haunting perspective to it all. Si Spencer (HELLBLAZER: CITY OF DEMONS, THE VINYL UNDERGROUND) executes a centuries-spanning murder mystery like nothing you've ever seen before, with four sensational artists illustrating a six-page chapter in each issue: Dean Ormston, Phil Winslade, Meghan Hetrick and Tula Lotay.
DC COMICS PRESENTS BATMAN ADVENTURES #1
DETECTIVE COMICS ANNUAL #3
HARLEY QUINN #8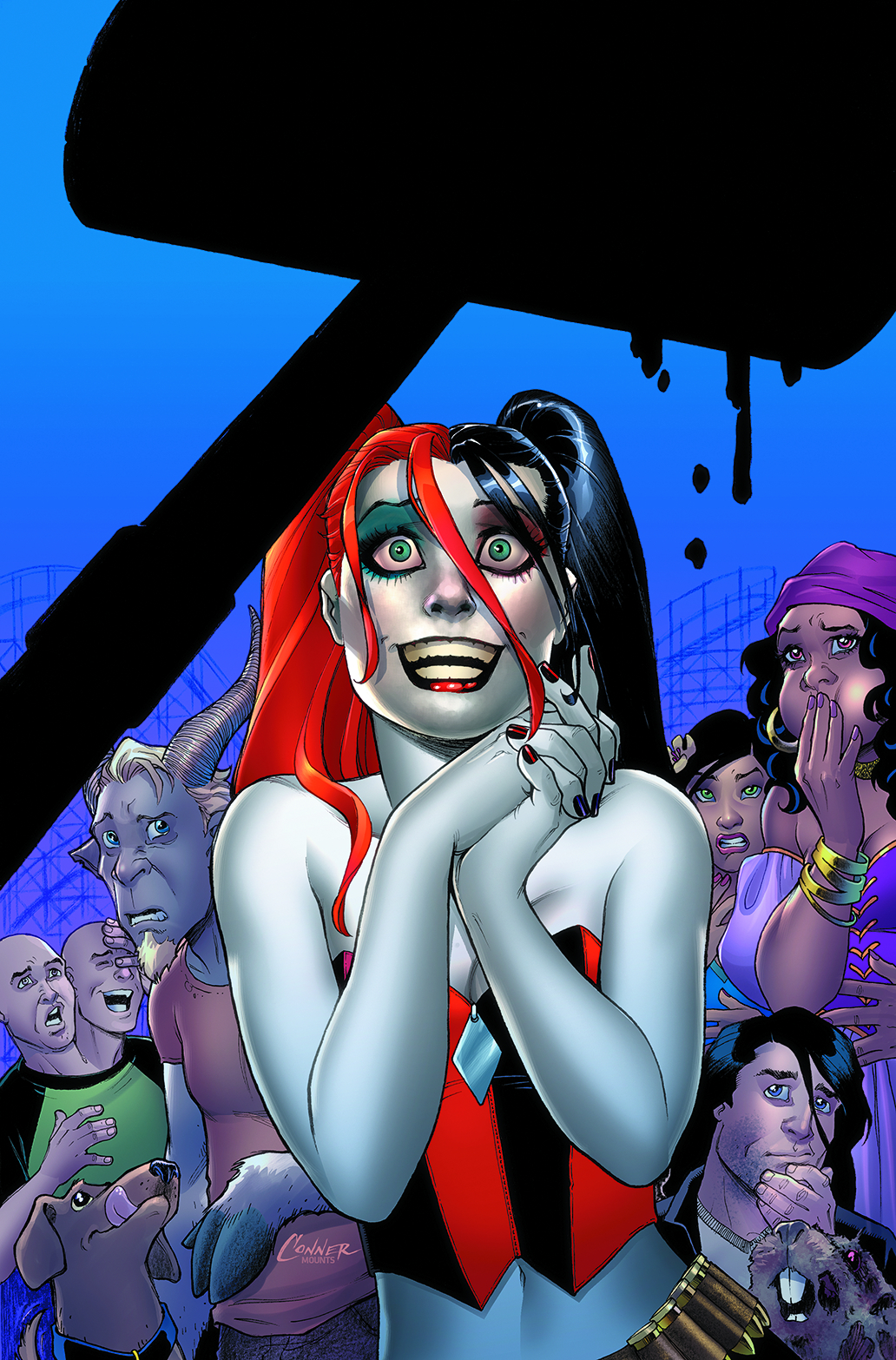 It all comes down to this: Harley finally tracks down some of the mysterious hired killers who have vexed her since the start of the series! But what's she going to do with them? Enter the Scatapult!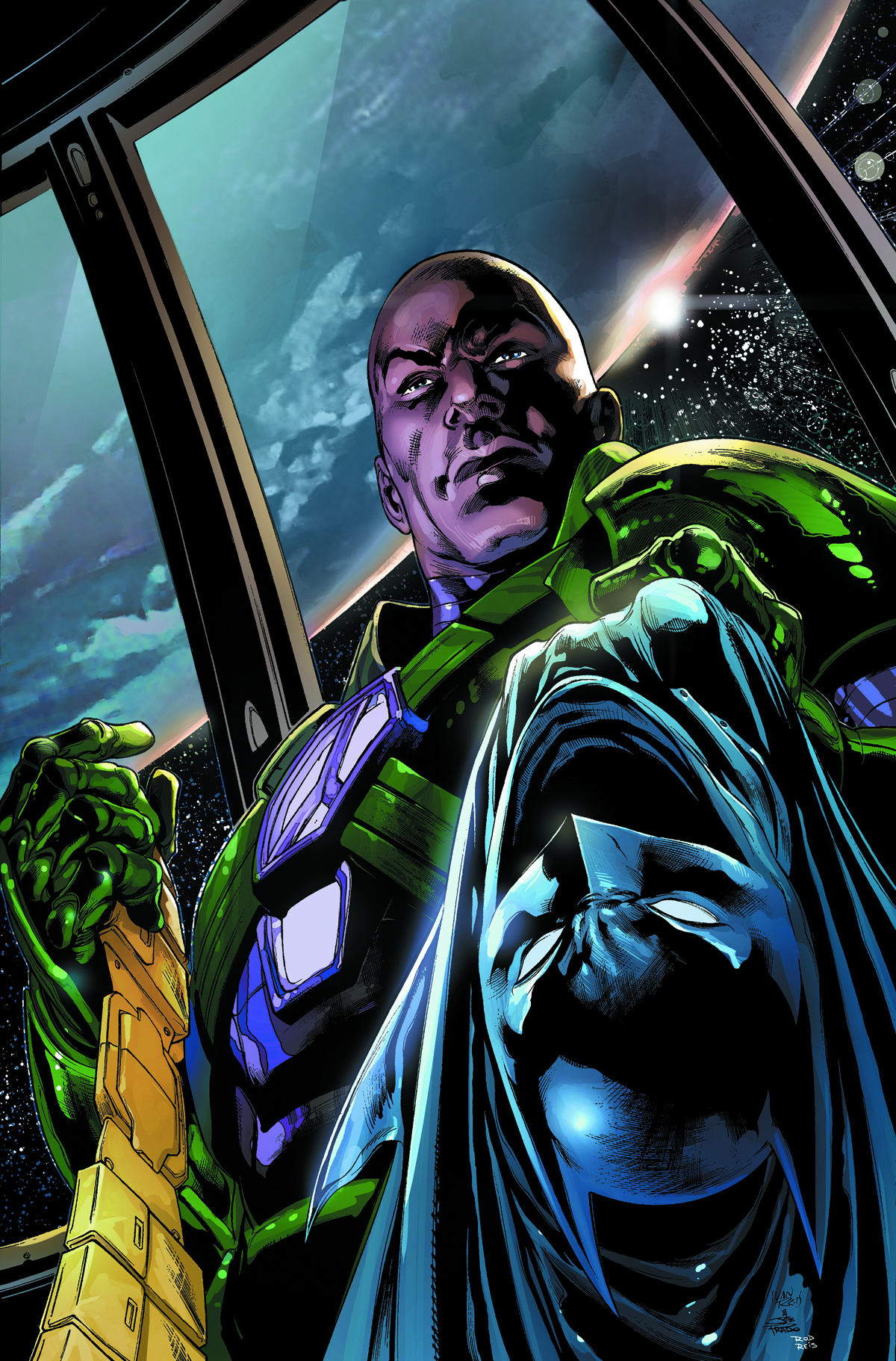 Lex Luthor continues his acclimation to his life as a one of the world's greatest heroes as they search for the mysterious power threatening to unravel our world. But are his sights really set on the Dark Knight? And are the Dark Knight's set on him?
Plus, someone else is targeting Luthor and his new allies - a man who believes himself Luthor's superior in every way...and maybe he is! Here comes The Chief and his treacherous Doom Patrol to The New 52!
NEW 52 FUTURES END #13 (WEEKLY)
RED LANTERNS ANNUAL #1
SANDMAN OVERTURE #3 (OF 6)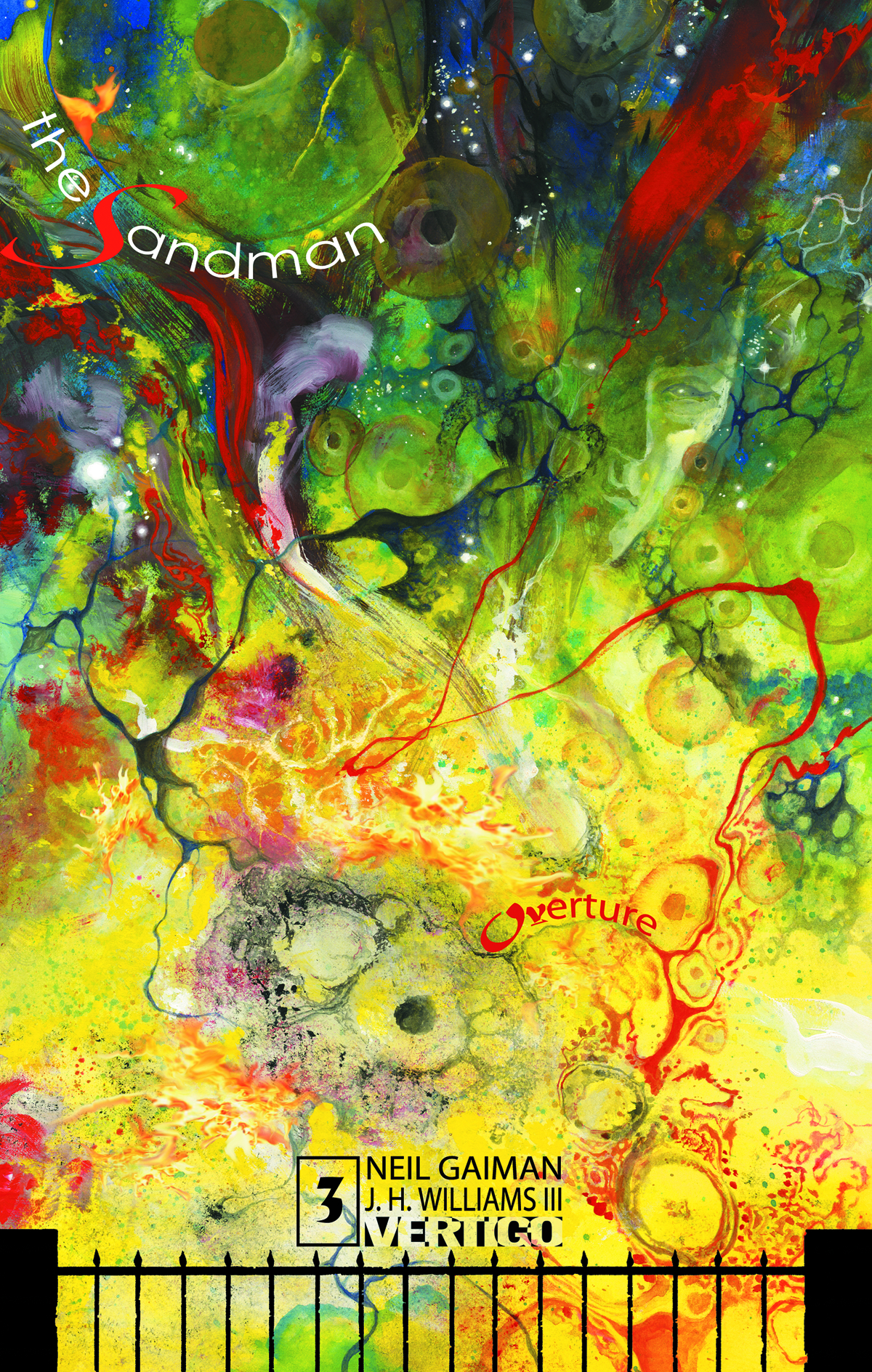 The armies of the night are gathering. The universe is beginning its final dance. Morpheus, far from home, walks the path of madness, accompanied only by himself.
SINESTRO #4
SMALLVILLE SEASON 11 SPECIAL #5
VERTIGO QUARTERLY #1 MAGENTA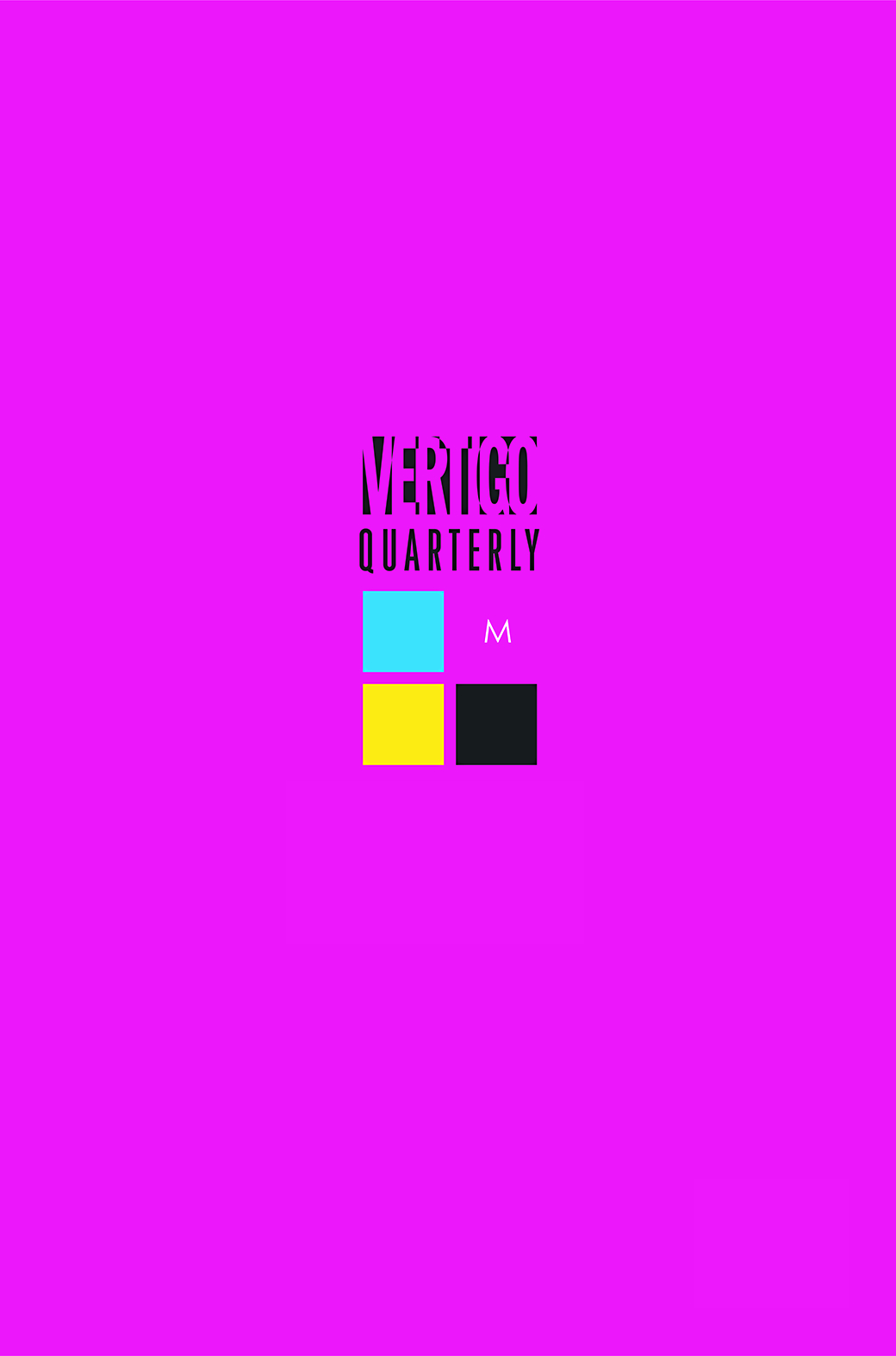 The summer issue of the Vertigo Quarterly is here! It's MAGENTA, the hot pink sky in your sweltering summer, bringing together comics' most talented writers and artists - both established and new - for an anthology only VERTIGO could deliver.
The series Buzzfeed called "the best horror comic of the year" and Comics Alliance rated "most unpredictable" and "uncanny and uncategorizable" comes to a shocking conclusion. Will Leeward uncover a history buried thousands of leagues beneath the sea - or will the waves come crashing down on what little land is left?
DYNAMITE
DOC SAVAGE #8
RED SONJA #0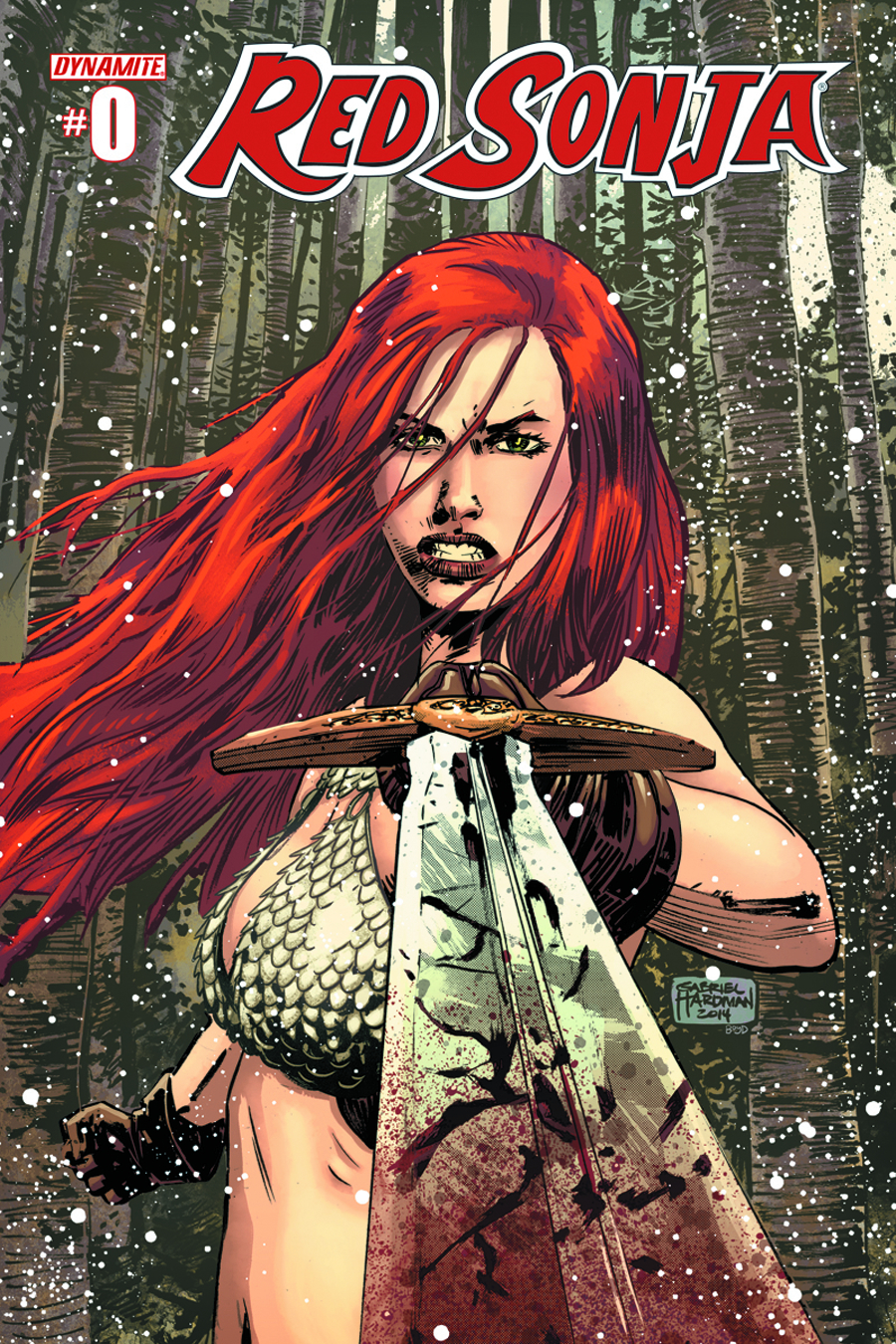 WHO IN THE HYBORIAN AGE IS RED MALAK?
Sonja the Devil returns from war at sea, only to find that the entire coastline has been living in fear of a beastly marauder named Red Malak...who claims to be Sonja's HUSBAND! Don't miss this special Dynamite anniversary comedy of terrors!
SHADOW OVER INNSMOUTH ONE SHOT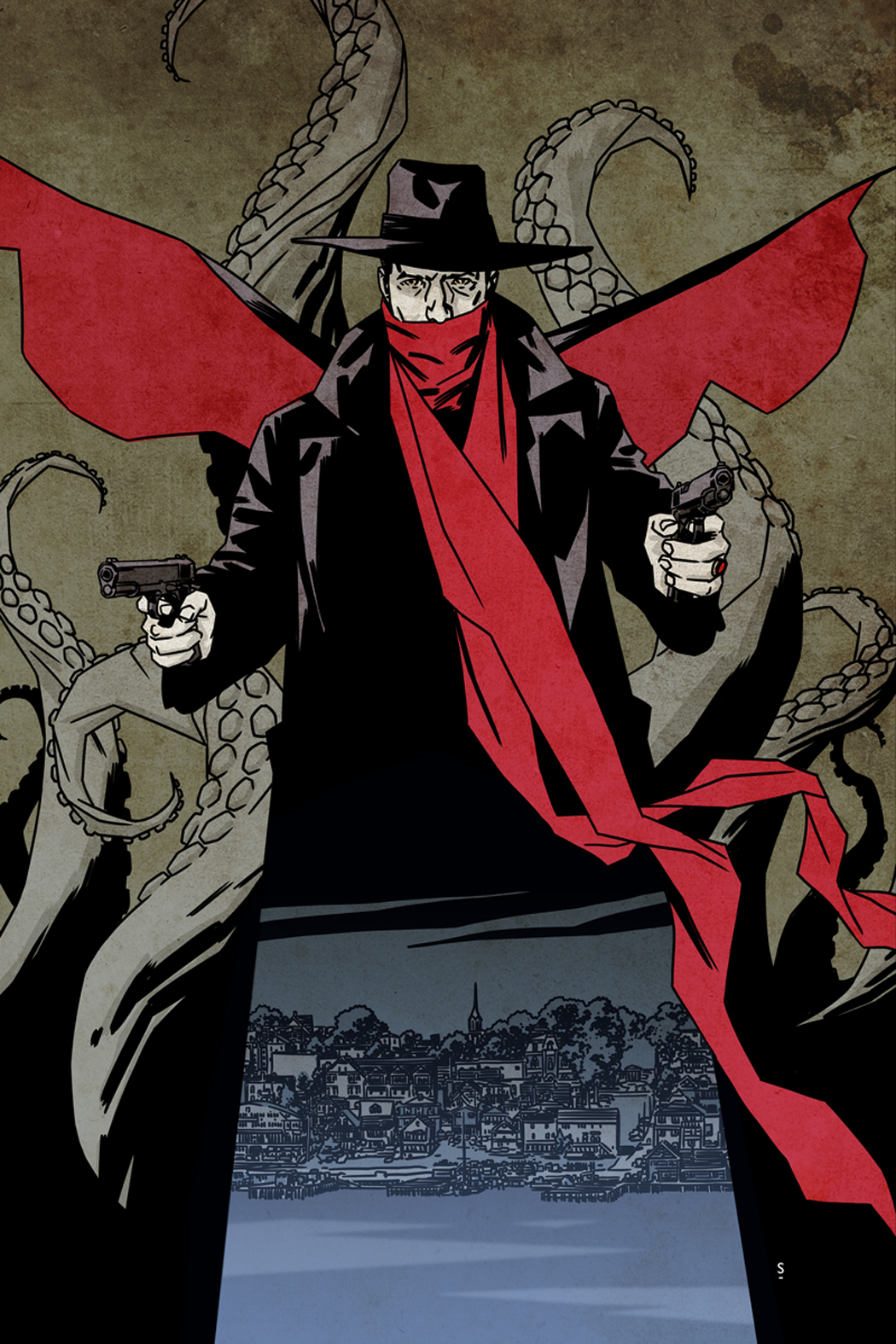 The fog-shrouded town of Innsmouth holds deep secrets. There are legends of inhuman creatures raised from the depths, of supernatural rites and elder gods from beyond. When Lamont Cranston and Margo Lane find themselves trapped in Innsmouth, terrible truths will surface ... truths only the Shadow can know.

Writer Ron Marz and artist Matthew Dow Smith tell a Shadow story like no other, placing the pulp avenger in H.P. Lovecraft's famous setting for a truly inspired one-shot that could only be called "The Shadow Over Innsmouth."
SHERLOCK HOLMES MORIARTY LIVES #5 (OF 5)
SOLAR MAN O/T ATOM #4
TWILIGHT ZONE #7

IMAGE
BLACK SCIENCE #7
CHEW WARRIOR CHICKEN POYO #1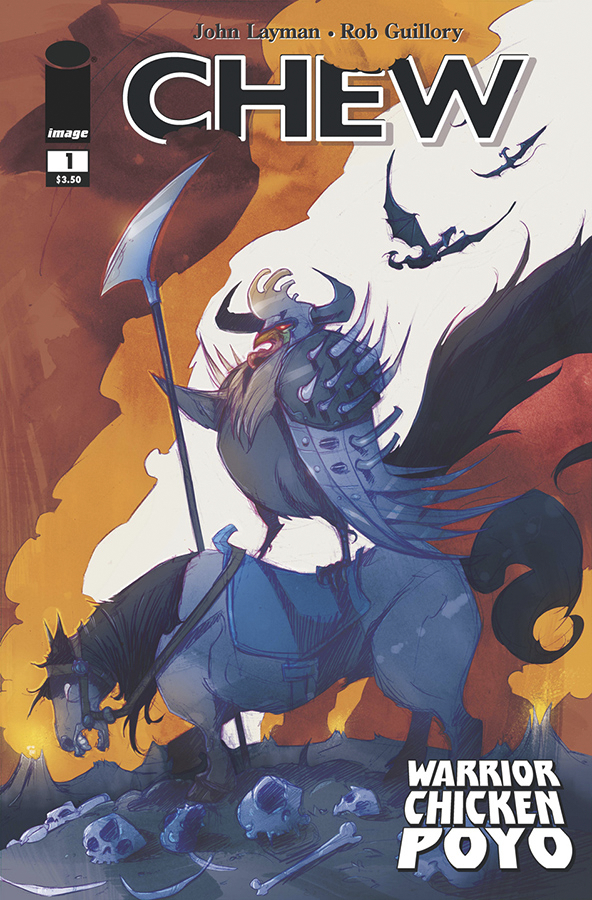 Comics' most beloved homicidal cybernetic kung fu rooster returns for what we humbly anticipate as the most important literary achievement of the 21st Century. All other comics will be made irrelevant. The best thing that's ever happened to comics, and possibly the best thing that's ever happened...EVER!
Plus: an all-star pin-up gallery from some of the most staggeringly talented artists in the industry! DO. NOT. MISS.
COWL #3
DRUMHELLAR #7
EAST OF WEST #14
FATALE #24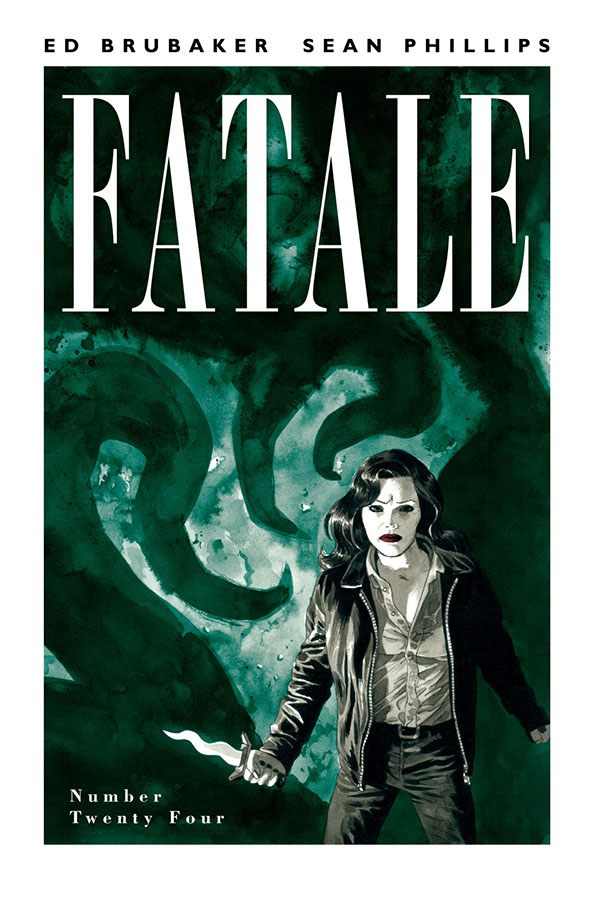 IT ALL ENDS HERE!
The final extra-length issue of FATALE!
There's so much story that we needed a lot more room. Will Josephine's final secrets be revealed? Will there be much tragedy? Will Brubaker and Phillips fans love all the crazy extras jammed into this special final issue? Yes, yes, and yes.
FIVE WEAPONS #10
FUSE #6
LOW #1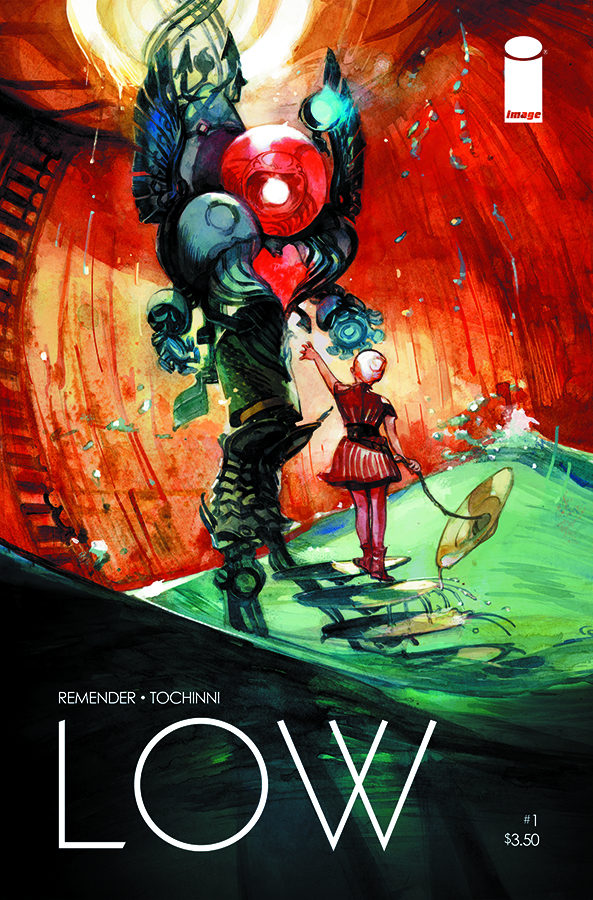 In the far distant future, the sun's premature expansion has irradiated Earth, sending humanity to the lowest depths of the seas, hidden within radiation-shielded cities, while probes scour the universe for inhabitable worlds to relocate to. After tens of thousands of years, a single probe returns, crashing on Earth's surface, a now-alien place no human has seen for many millennia.
Frequent collaborators RICK REMENDER (BLACK SCIENCE, Uncanny Avengers) and GREG TOCCHINI (Last Days of American Crime, Uncanny X-Force) dive into an aquatic sci-fi/fantasy tale following two teams from the last remaining cities undersea as they race to the most unexpected alien world of all-the surface of Earth.
MANHATTAN PROJECTS #22
MERCENARY SEA #6
OUTCAST BY KIRKMAN & AZACETA #2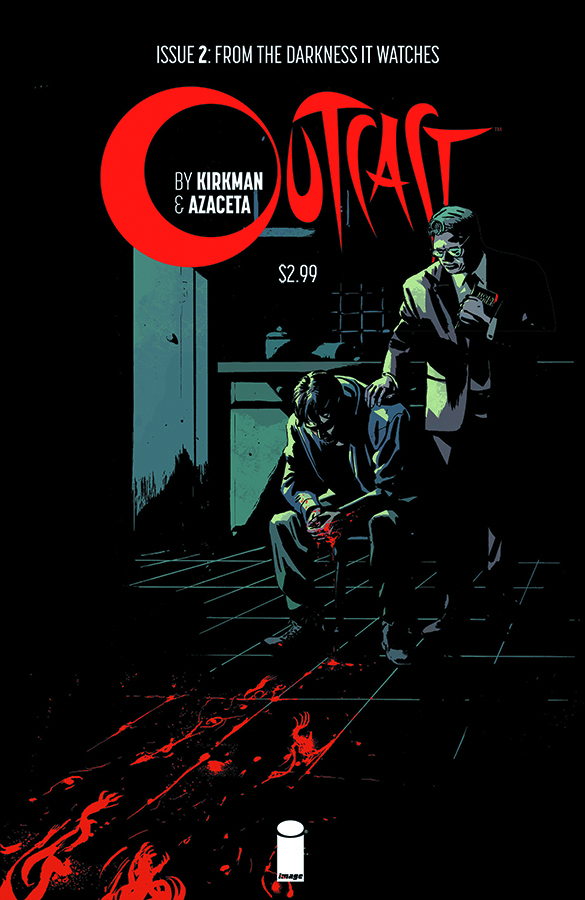 "IT WATCHES FROM THE DARKNESS"
In the second issue of KIRKMAN & AZACETA's horror epic, Kyle Barnes is still reeling from the revelations about demonic possession last issue and what they may mean about the time his mother was possessed.
PROPHET #45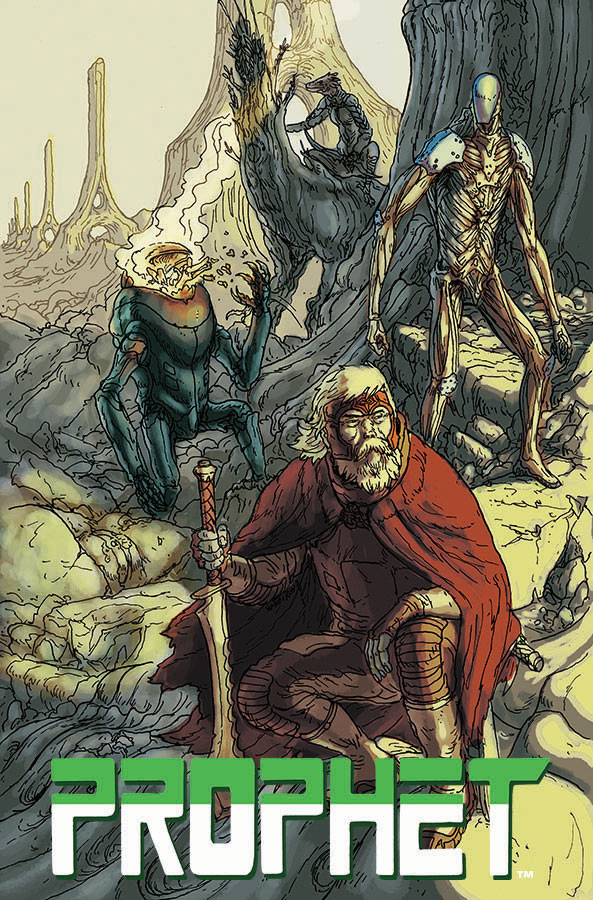 FINAL ISSUE OF PROPHET!
The War in Space reaches its climax, but the story will continue...
SOVEREIGN #5
TEN GRAND #10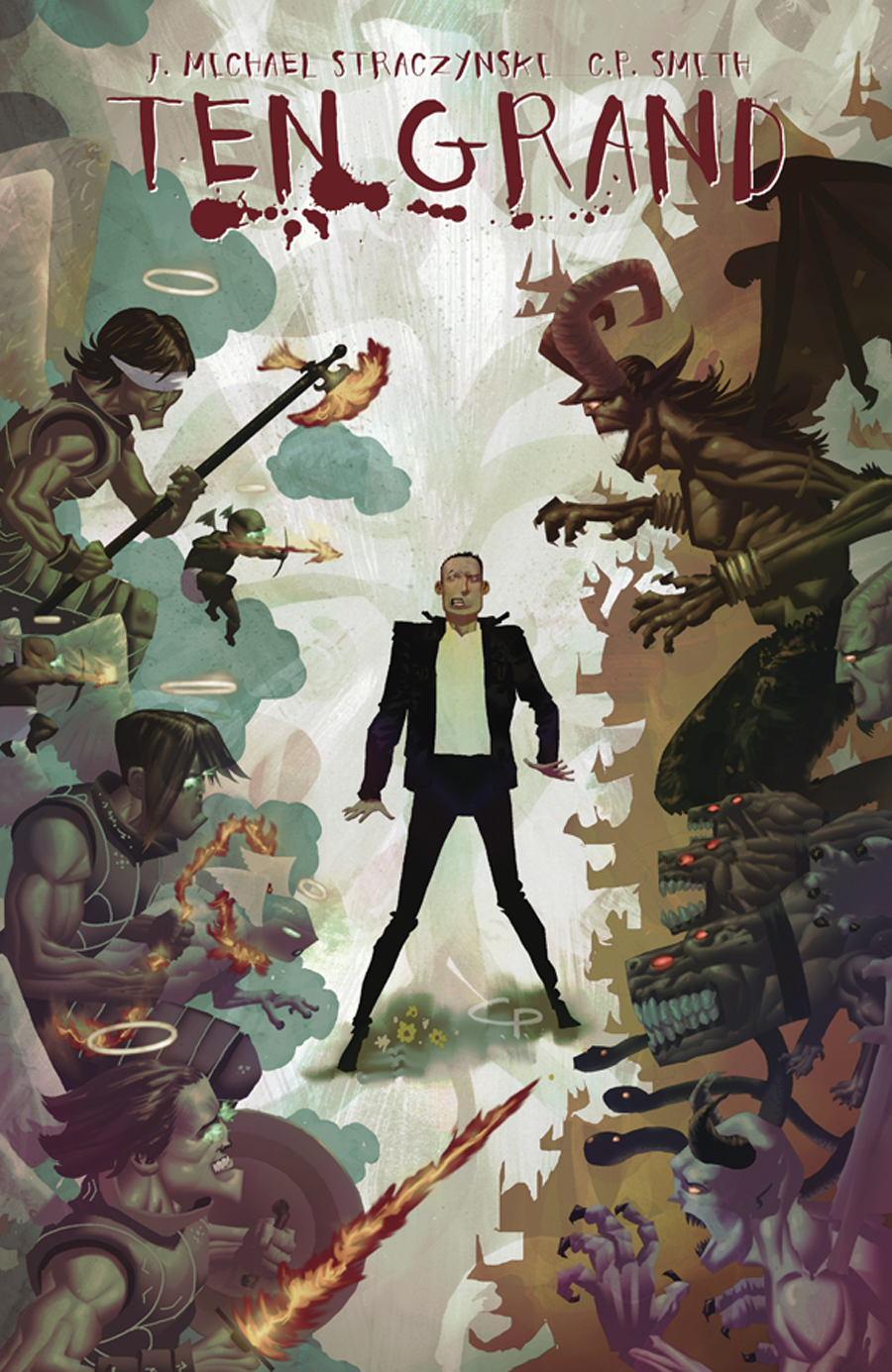 Joe has penetrated into the depths of Hell to save Laura, the woman he loves more than life itself, from a horrific fate beyond description. He's learned the Enemy's plans to bring down Heaven. They think he's cornered, trapped, neutralised. They're wrong, and by the end of this issue, the ultimate war between heaven and hell will begin...with Joe Fitzgerald right at the centre of the biggest fight since the dawn of Creation.
WITCHBLADE #177

INDIE
AFTERLIFE WITH ARCHIE #6
AND THEN EMILY WAS GONE #1 (OF 5)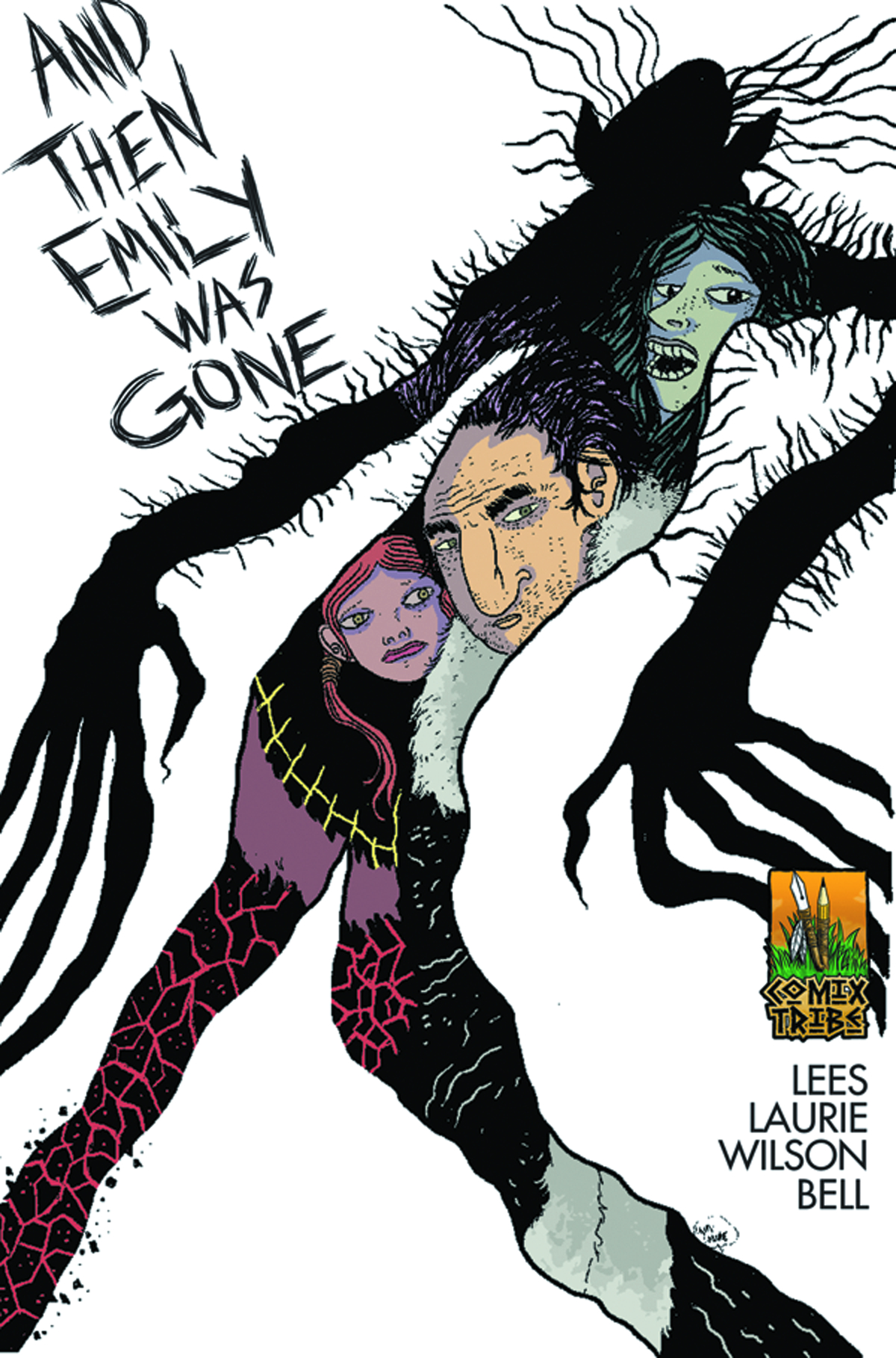 Greg Hellinger is a man who sees monsters. A former detective driven to the brink of madness by terrifying apparitions, he is tasked with finding a missing girl named Emily. Hellinger's search takes him to a remote community in the Scottish Orkney Islands, where strange and terrifying things are happening.
ARCHIE COMICS DIGEST #253
ARMOUR HUNTERS HARBINGER #1 (OF 3)
BART SIMPSON COMICS #91
BRASS SUN #3 (OF 6)
The jaw-dropping clockpunk series continues! Wren and the young Conductor 17 have been pressed into service for the dictatorial Archduke, supported by his untrustworthy manservant Ramkin. But Wren's quest to find the hidden knowledge to help her restart the clockwork sun is not the only plot afoot in the Duchy - invasion plans have been laid and airships fill the skies as mechanicals drop from the air! Continuing the incredible series from the hit writer of Scarlet Traces and the bestselling artist of New Deadwardians.
CALIBAN #5
CLIVE BARKER'S NIGHTBREED #3
CROSSED BADLANDS #58
DEAD LETTERS #4
EVIL EMPIRE #3
GEORGE RR MARTIN'S IN THE HOUSE OF THE WORM #1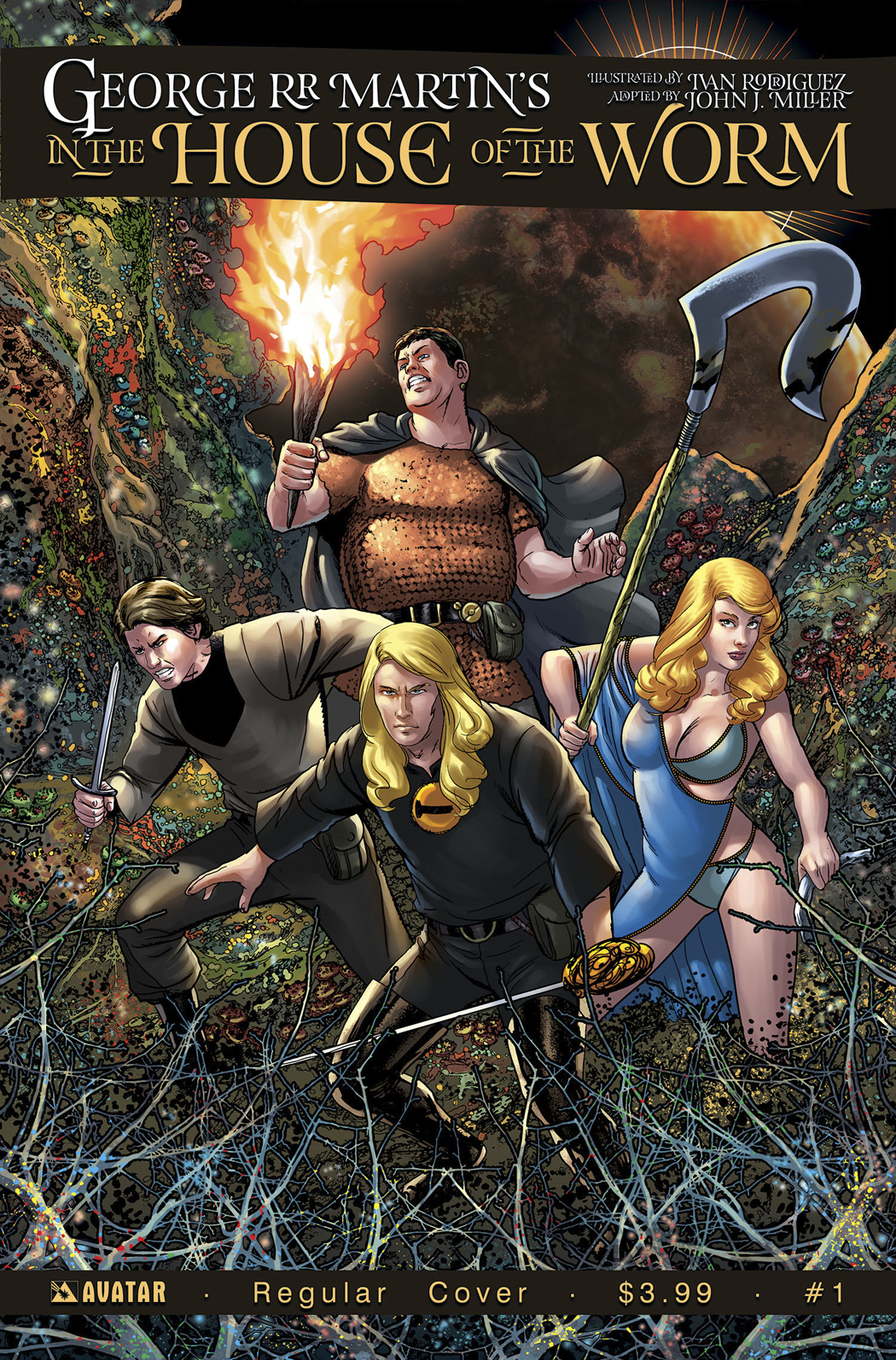 The biggest name in fiction, GEORGE RR MARTIN, opens his story vault as we adapt a tale of dark fantasy to comics for the first time with In The House of the Worm. Beneath a ruined city on a forgotten planet lies a world of plots and revenge. When Annelyn is embarrassed in front of his noble friends by the Meatbringer, he sets forth a devious plan that is meant to gain vengeance. But the terrible truth of the dire White Worm turns his ploy into folly in terrible fashion. Join a master storyteller as he spins a uniquely mysterious tale and reveals new worlds of wonder and horror.
GFT REALM WAR #1 (OF 12)
GFT TALES OF TERROR #1
GFT VS WONDERLAND #1 (OF 4)
GFT WONDERLAND #25
GHOSTBUSTERS #18
GOD IS DEAD #17
HUGH HOWEY'S WOOL #1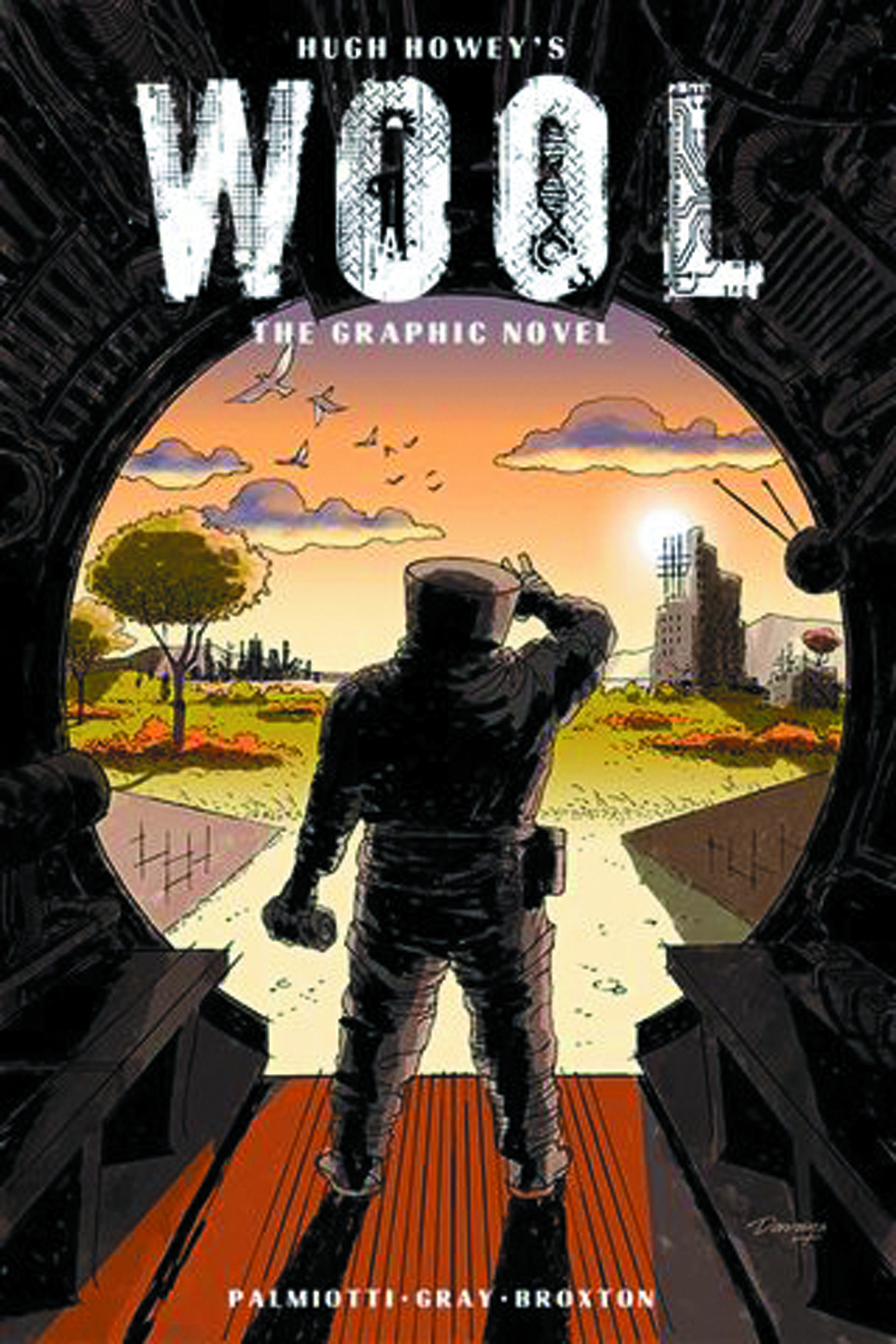 The New York Times-bestselling science-fiction novel by Hugh Howey is now told as a six-part graphic novel. This is the story of mankind clawing for survival, of mankind on the edge. The world outside has grown unkind, the view of it limited, talk of it forbidden. But there are always those who hope, who dream. These are the dangerous people, the residents who infect others with their optimism. Their punishment is simple. They are given the very thing they profess to want: They are allowed outside.
SALLY OF THE WASTELAND #1 (OF 5)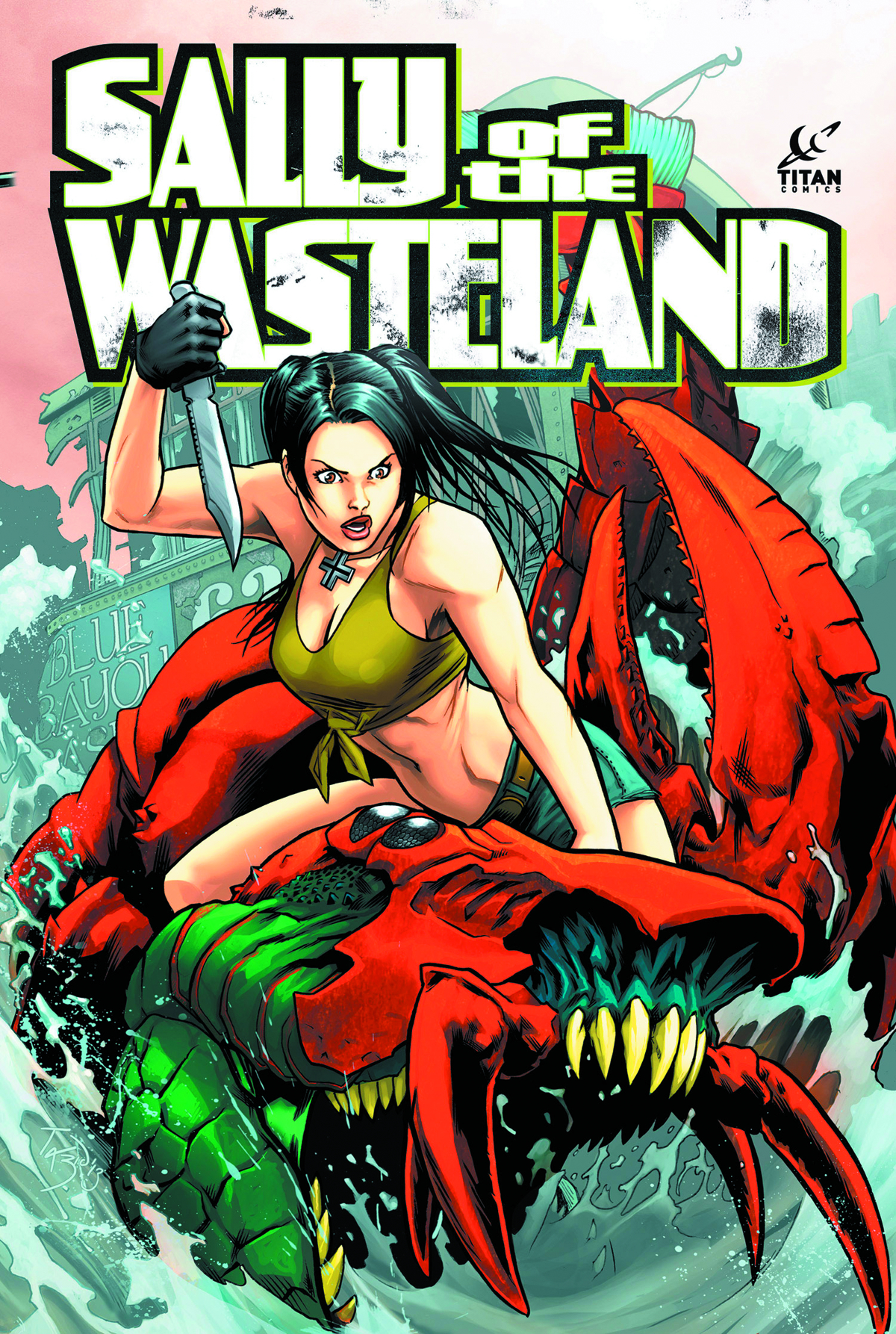 Southern Louisiana, 82 years after the Fall. The apocalypse has come and gone, leaving behind a ravaged landscape of wreckage and mutant crawfish. Still, you gotta laugh, and Sally does, often using her beloved shotgun as the punchline! Inspired more by lust than common sense, Sally leaves her bar job and joins the deranged crew of the Mississippi Duchess on a mission into the ruins of New Orleans. Saving the remnants of civilisation plays second best to keeping her sweetheart Tommy safe as our smart and sexy princess of the wild frontier runs a gauntlet of gigantic genetic freaks and roving gangs of blood-hungry barbarians!
TAROT WITCH OF THE BLACK ROSE #87
TRANSFORMERS ROBOTS IN DISGUISE #31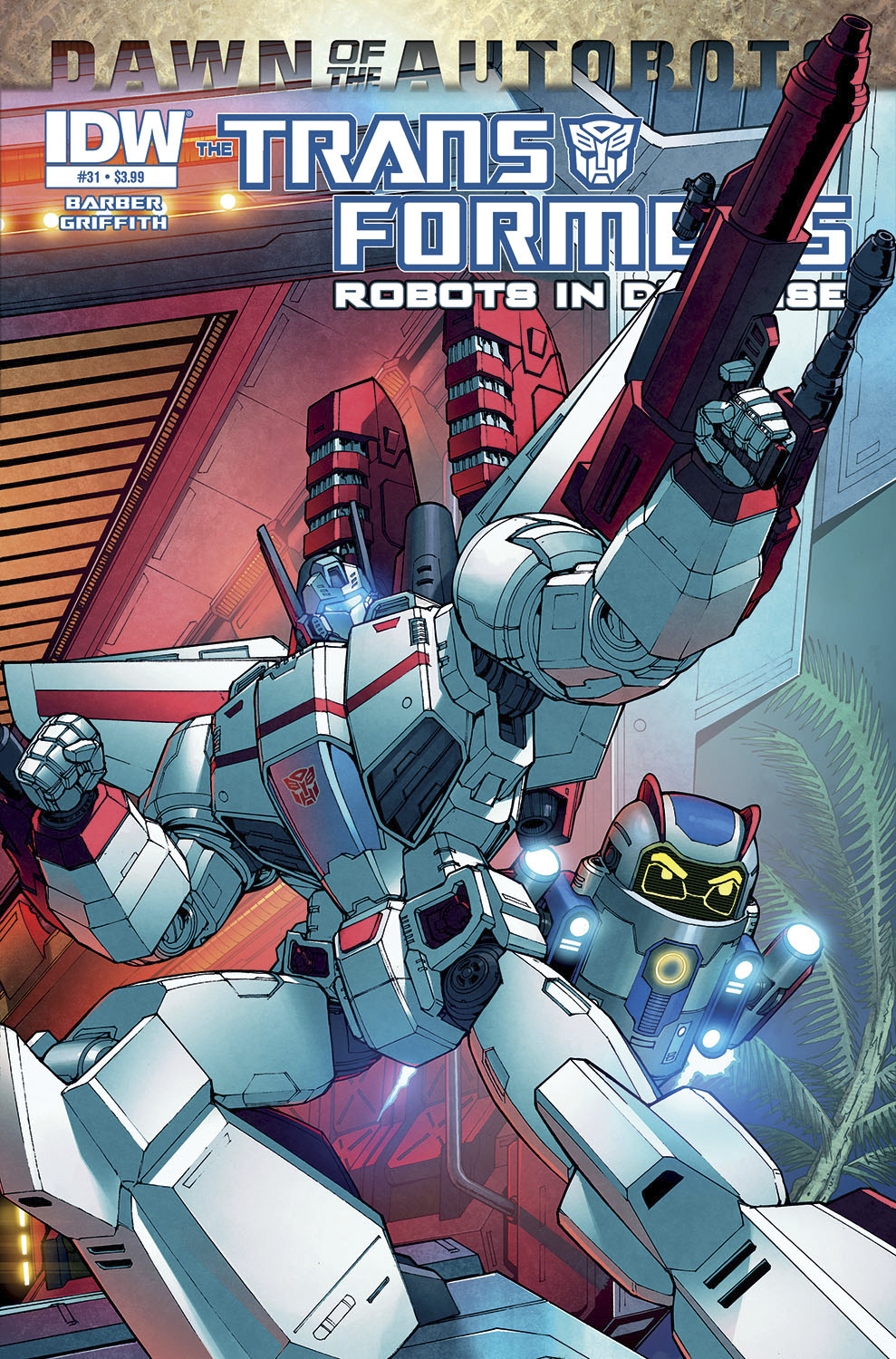 MINDBOMB! The humans have access to a CYBERTRONIAN mind-but whose is it-and why do they want it? OPTIMUS PRIME and GALVATRON race for answers, as JAZZ faces the consequences of his last trip to Earth.
X-O MANOWAR #27
ZOMBIE TRAMP ONGOING #1

MARVEL
100TH ANNIVERSARY SPECIAL #1 GOTG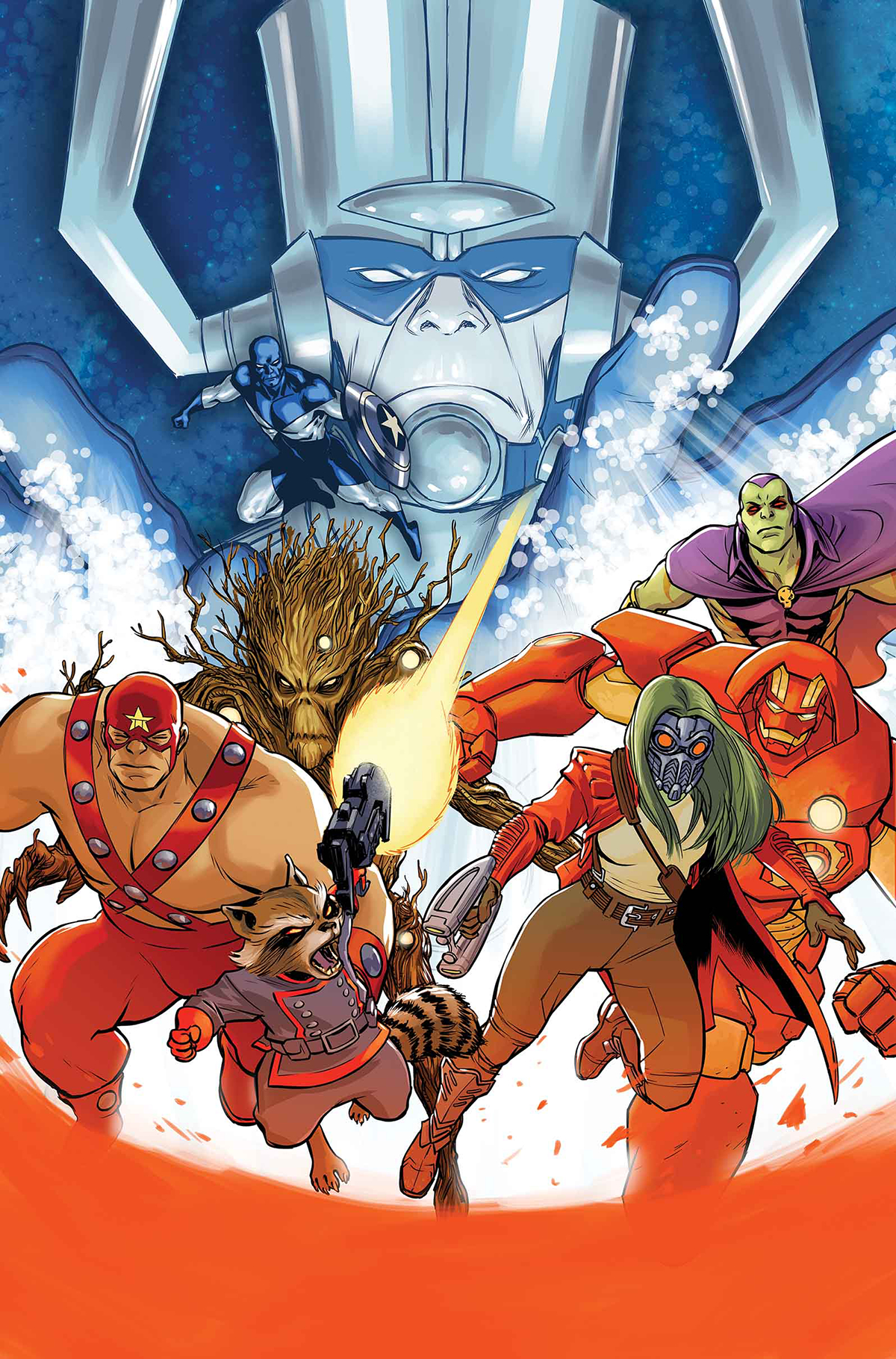 Just in time for the release of their SEVENTH epic motion picture, the Guardians of the Galaxy are celebrating their 100th Anniversary...by taking on the THE SILVER GALACTUS!
ALL NEW GHOST RIDER #5
AVENGERS #33 SIN
AVENGERS WORLD #10
CYCLOPS #3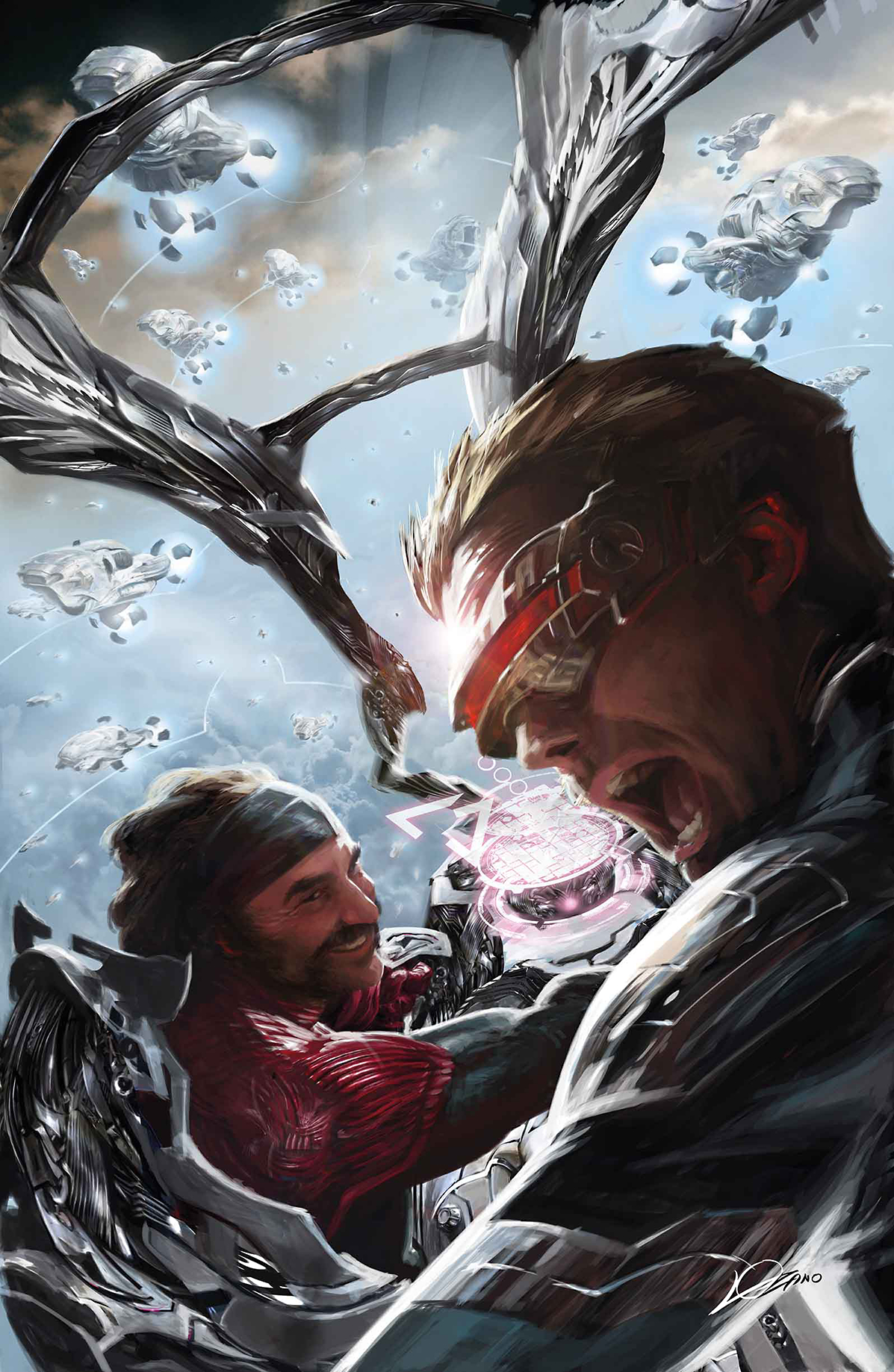 Q: What's the problem with stealing a Badoon ship?
A: It's a Badoon ship.
Corsair and Cyclops experience engine trouble, shipwreck, and have the nice father-son chat they've both been avoiding, as Rucka & Dauterman continue the smash hit of 2014!
DEADPOOL DRACULA'S GAUNTLET #4 (OF 7)
GUARDIANS OF THE GALAXY #17
HAWKEYE #19
The sense-shattering fallout of the Clint vs. the Clown -- Clint Barton has been deafened!
With the Barton Brothers this battered and bloodied, surely they'll make easy pickins for the Bros, right? Bro? Seriously?
If we do our jobs right THIS time, this issue will be the Dog Issue of Sign Language issues.
IRON MAN SPECIAL #1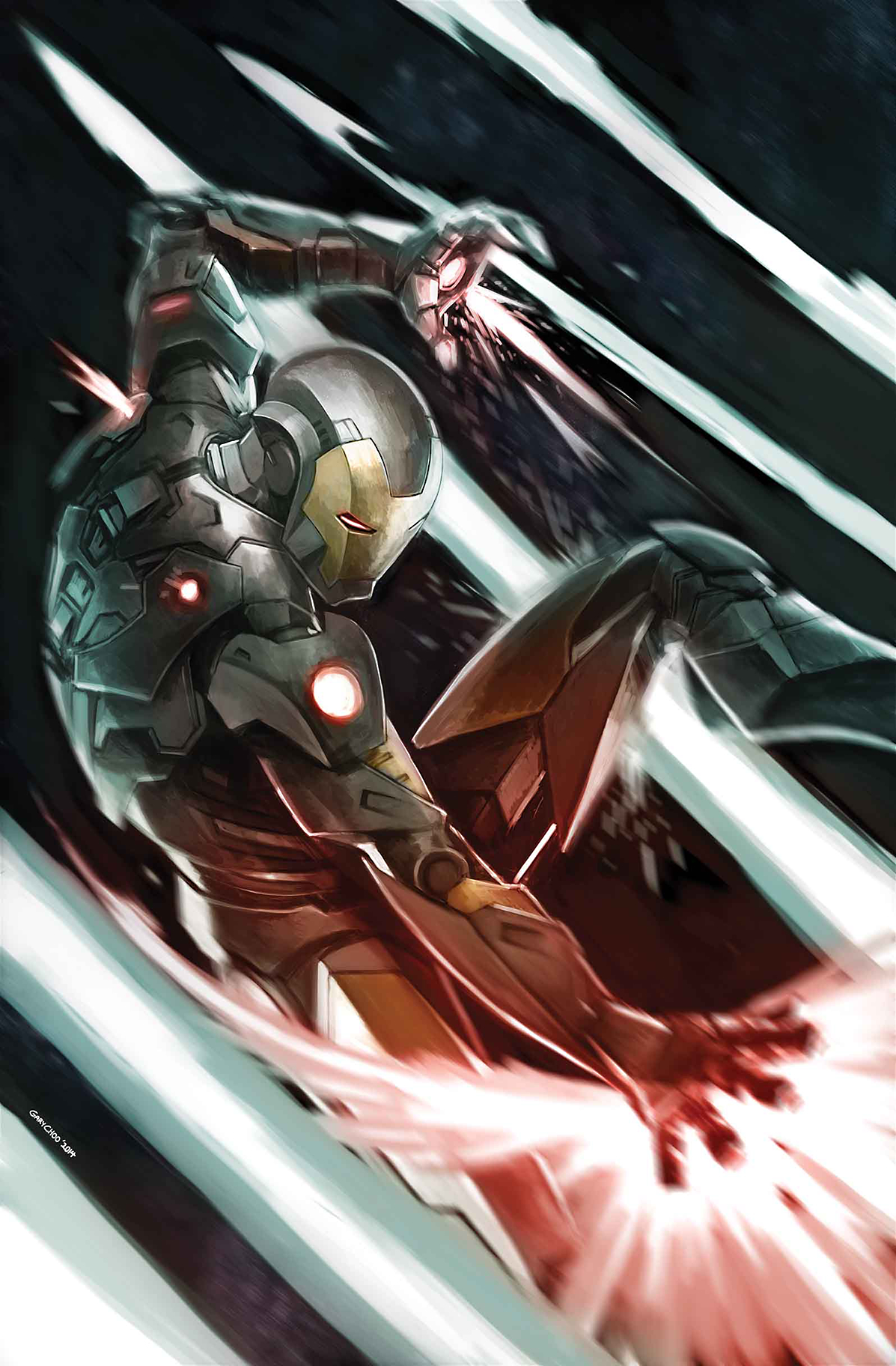 CONTINUING THE STORY FROM JUNE'S UNCANNY X-MEN SPECIAL #1
Iron Man returns to space to settle a score, but ends up embroiled with the fugitive UNCANNY X-MEN! Their paths cross in pursuit of Cyclops, who's been kidnapped by mysterious n'er do wells. All this and guest-starring NOVA, THE HUMAN ROCKET!
NEW AVENGERS #21
ORIGINAL SIN #3.3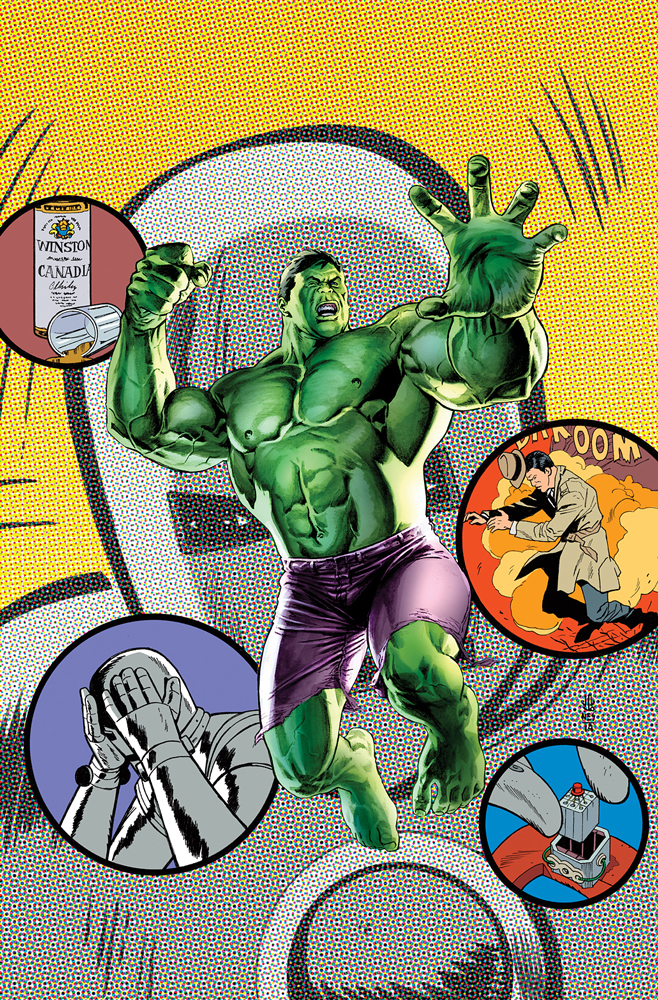 Everybody has one...


SECRET AVENGERS #6
ULTIMATE FF #5
UNCANNY AVENGERS #22
UNCANNY X-MEN #24 SIN
With the secrets held within Xavier's will laid bare, how will the X-Men cope with the shadows of his past? Could a power previously unknown to them now be their greatest threat?


X-MEN #17