New in store this week: everyone's favourite mischief maker HARLEY QUINN Vol 1, the new adventures of the SILVER SURFER Vol 1, the amazing ladies of GOTHAM CITY SIRENS finally get reprinted in an omnibus edition, the tie-in miniseries for Marvel's Original Sin event HULK VS IRON MAN, vampire series V-WARS Vol 1, and new collections for SUICIDE SQUAD, HULK, ALL STAR WESTERN, and HELLRAISER.
What are you excited to read this week? Talk to us @DavesComics!

ALL STAR WESTERN TP VOL 05 MAN OUT OF TIME (N52)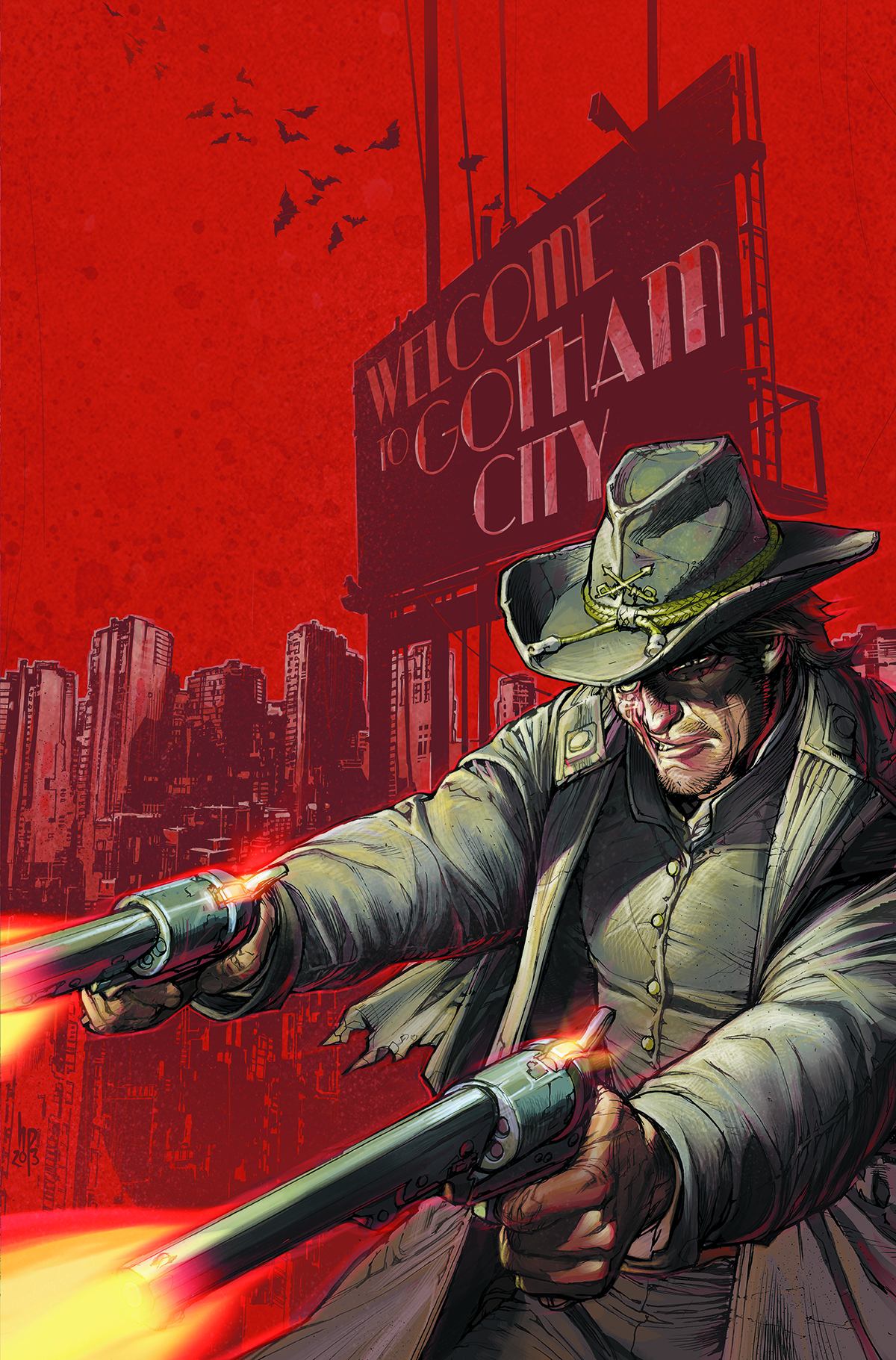 After a confrontation with Booster Gold in the Old West, Jonah Hex is transported to modern-day Gotham City. Confused and adrift but still trigger-happy, Hex looks to shoot his way out of trouble - but that may do him no good when he's thrown into Arkham Asylum! These tales from issues #22-28 guest star Batman, John Constantine, Superman and more.
ART OF MODESTY BLAISE SC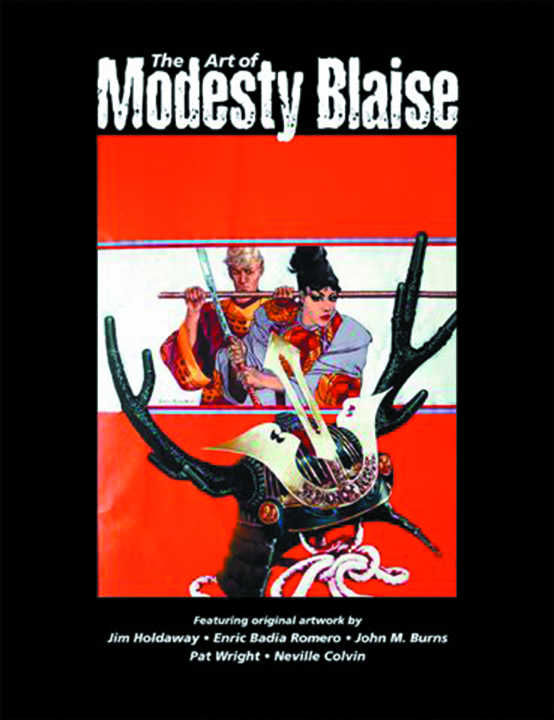 Modesty Blaise, the tough and enigmatic character created by Peter O'Donnell, made her international debut on May 13, 1963 in a newspaper strip story illustrated by Jim Holdaway. On Jim Holdaway's sudden death in 1970 the artwork was taken up by Enric Badia Romero. In 1978 John Burns drew the strip for a year then Pat Wright for nine months. In May 1980 the fifth artist was introduced, Neville Colvin, who produced over 1500 strips. Colvin retired in 1986 and Romero continued again until the very last strip in 2001. This marvelous catalogue showcases over 160 original artworks reproduced here in the finest detail. Each individual scan of the original art shown in this book was carefully taken to optimise its reproduction on the printed page and to retain the look and feel of the artist's detailed pen
Limited to 600 copy print run.
BPRD PLAGUE OF FROGS TP VOL 01 In 2001, Hellboy quit the B.P.R.D., leaving Abe Sapien, Liz Sherman, and a bizarre roster of special agents to defend the world from any occult threats and the growing menace of the frog army. Collects B.P.R.D.: Hollow Earth & Other Stories, B.P.R.D.: The Soul of Venice & Other Stories, and B.P.R.D.: Plague of Frogs.
Brand-new trade paperback edition!
COLONIAL COMICS NEW ENGLAND 1620-1750 TP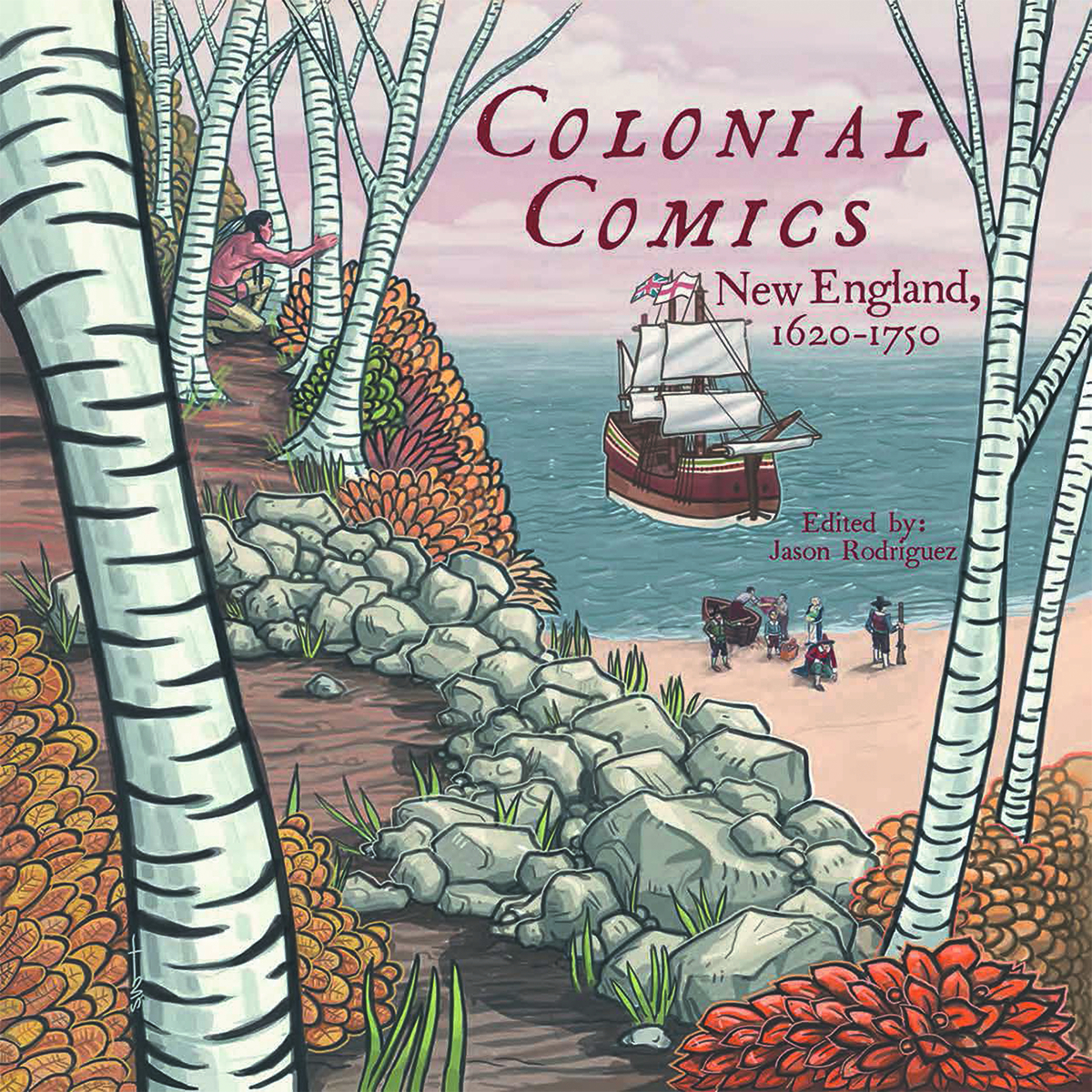 Colonial Comics is a graphic novel collection of 20 stories focusing on the colonial period from 1620 through 1750 in New England. Created in partnership with the Massachusetts Historical Society and the Concord Museum, these illustrated stories will focus on tales you cannot find in history books. Stories about free thinkers, Pequots, Jewish settlers, female business owners and dedicated school teachers, whales and livestock, slavery and frontiers, and many other aspects of colonial life.
GOTHAM CITY SIRENS TP BOOK 01 In this new collection of GOTHAM CITY SIRENS #1-13, Catwoman, Poison Ivy and Harley Quinn are tired of playing by other people's rules regardless of which side of the law they're on. These tough ladies have a new agenda that's all their own, and they'll use any means necessary to pursue it. But can they get along and work as a team? And who will get hurt along the way?
HARLEY QUINN HC VOL 01 HOT IN THE CITY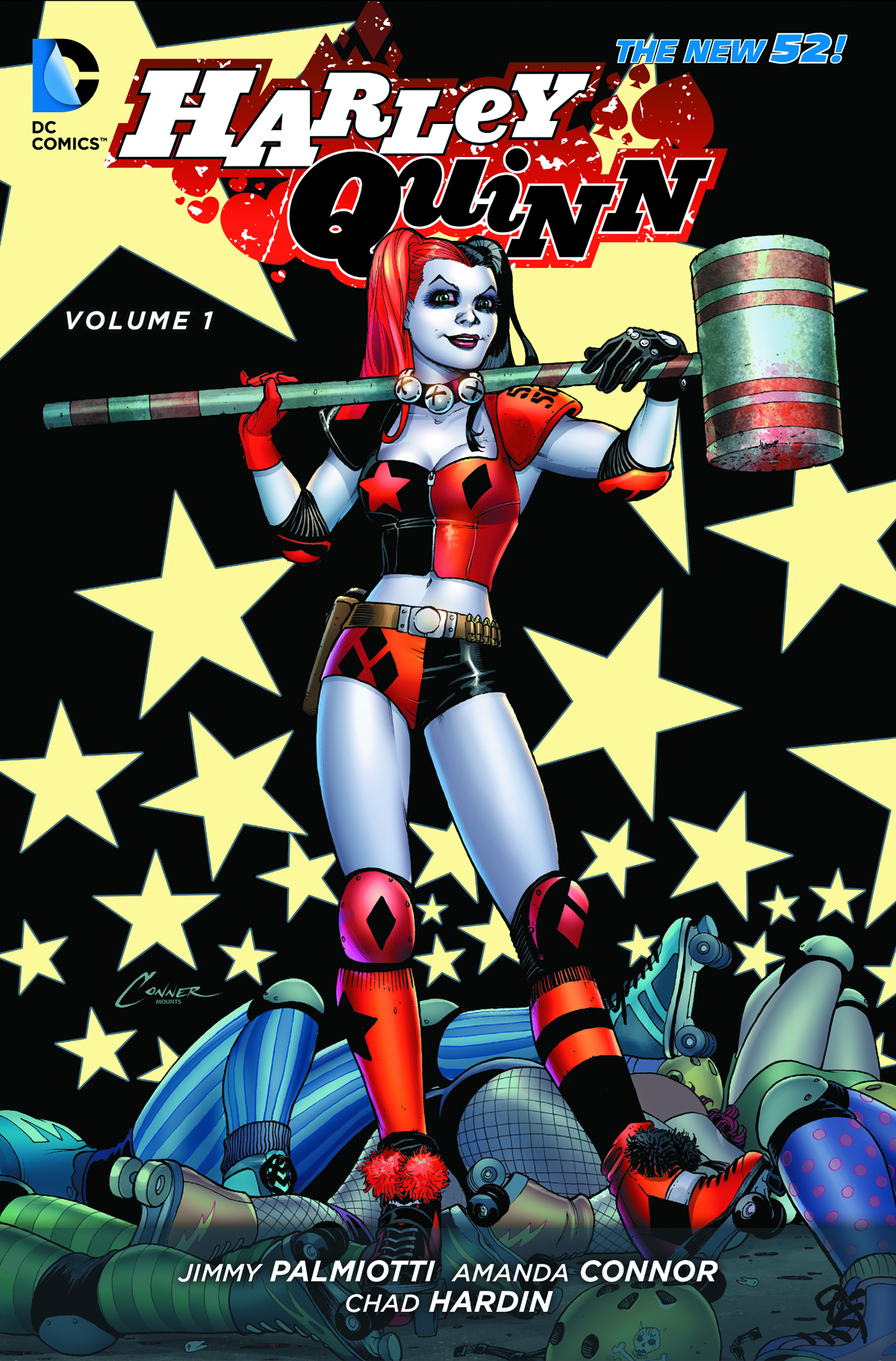 The sensational series that gave Harley Quinn her own New 52 spotlight is collected in hardcover for the first time, from the star-studded #0 issue to issue #8! Don't miss Harley's big move to Coney Island as she becomes a roller derby queen - all while she carries on in her criminal career!
HELLRAISER DARK WATCH TP VOL 03 The three people to serve as Pinhead-Elliott Spencer, Kirsty Cotton, and Harry D'Amour-have been thrown into various factions fighting a war between Hells that threatens to destroy all of humanity. As the divisions between dimensions dissolve, each of the Hell Popes must decide how far they are willing to go to win the war and to ensure their surivial. Clive Barker and cowriter
Brandon Seifert, with artist Tom Garcia, bring this epic HELLRAISER saga to a thrilling conclusion. This volume also includes stories from HELLRAISER ANNUAL 2013, featuring work by Barker and Seifert, as well as Ben Meares, Jesus Hervas, and Janusz Ordon. Collects HELLRAISER: THE DARK WATCH #9-12.
HULK TP VOL 01 BANNER DOA An all-new direction for the Hulk! Following the shocking events of the INDESTRUCTIBLE HULK finale, Bruce Banner lies at death's door, shot in the head by an unknown assailant. If he survives, it won't be as the Bruce Banner we've known! Only the Hulk can save Banner - if he even wants to! How will the Hulk wreak vengeance on Banner's attacker? How can he? As a new threat enters the scene, Banner goes to a dark place - and he could drag the Avengers right along with him! To stop the Hulk from destroying the Avengers, a dangerous plan is put into play. What forbidden knowledge will Tony Stark use to attempt to cure Banner's brain damage? And even if the cure works, what will it cost? Experience a whole new twist in Hulk history! Collecting HULK (2014) #1-4 and ANNUAL #1.
MAMMOTH BOOK OF CULT COMICS SC
Brought together for the first time in a single volume, lost classics from recent decades of underground and independent British and American comic-strip art, including outrageous sex stories of trendsetting Vice.com founder Gavin MacInnes (PERVERT), the miraculous-in-the-mundane diary comics of John Welding (Goathland), and Paul O'Connell's chilling yet darkly funny cut-ups, The Sound of Drowning. Also Through the Habitrails, the little-known masterpiece by Jeff Nicholson, early work from publishing sensation Craig Thompson (creator of Blankets and Habibi). And mercilessly accurate parodies of bestselling graphic novels such as Art Spiegelman's Maus and Chris Ware's Acme Novelty Library and Jimmy Corrigan.
NEIL GAIMAN GRAVEYARD BOOK HC GN VOL 02 (OF 2) The second volume of a glorious two-volume graphic novel adaption of the bestselling and Newbery Award-winning novel The Graveyard Book. Nobody Owens is a normal boy, except he lives in a sprawling graveyard and has been raised since infancy by ghosts and a guardian who belongs to neither the world of the living nor the dead. This full-color graphic novel is the second volume in a two-volume set. It contains chapters 6 through the end of The Graveyard Book, adapted by renowned graphic novelist P. Craig Russell and illustrated by luminaries of the comics world: David Lafuente, Scott Hampton, P. Craig Russell, Kevin Nowlan, and Galen Showman.
ORIGINAL SIN TP HULK VS IRON MAN In the wake of the Watcher's murder, the Marvel Universe's greatest secrets are being revealed! And there's one secret so big, so green, so earth-shattering that it will shake a seminal Avengers' relationship to its core. As everyone knows, Bruce Banner was transformed into the Hulk after he was caught in the explosion of an experimental gamma bomb. But could billionaire weapons manufacturer Tony Stark have been responsible for the accident all along? A startling new development threatens the love/hate relationship you've been following on screen and in comics as Mark Waid and Kieron Gillen's blockbuster writing runs on HULK and IRON MAN come to their colossal conclusions! Collecting ORIGINAL SIN #3.1-3.4.
RONIN DELUXE EDITION HC Frank Miller's 6-issue miniseries RONIN is given the Deluxe Edition treatment! It's the tale of a 13th Century samurai who is reborn in a futuristic 21st Century New York City with one last chance to regain his honor: he must defeat the reincarnation of his master's killer, an ancient demon called Agat. This breathtaking Deluxe Edition includes rarely seen promotional art, fold-out pages and more special features.
SILVER SURFER TP VOL 01 NEW DAWN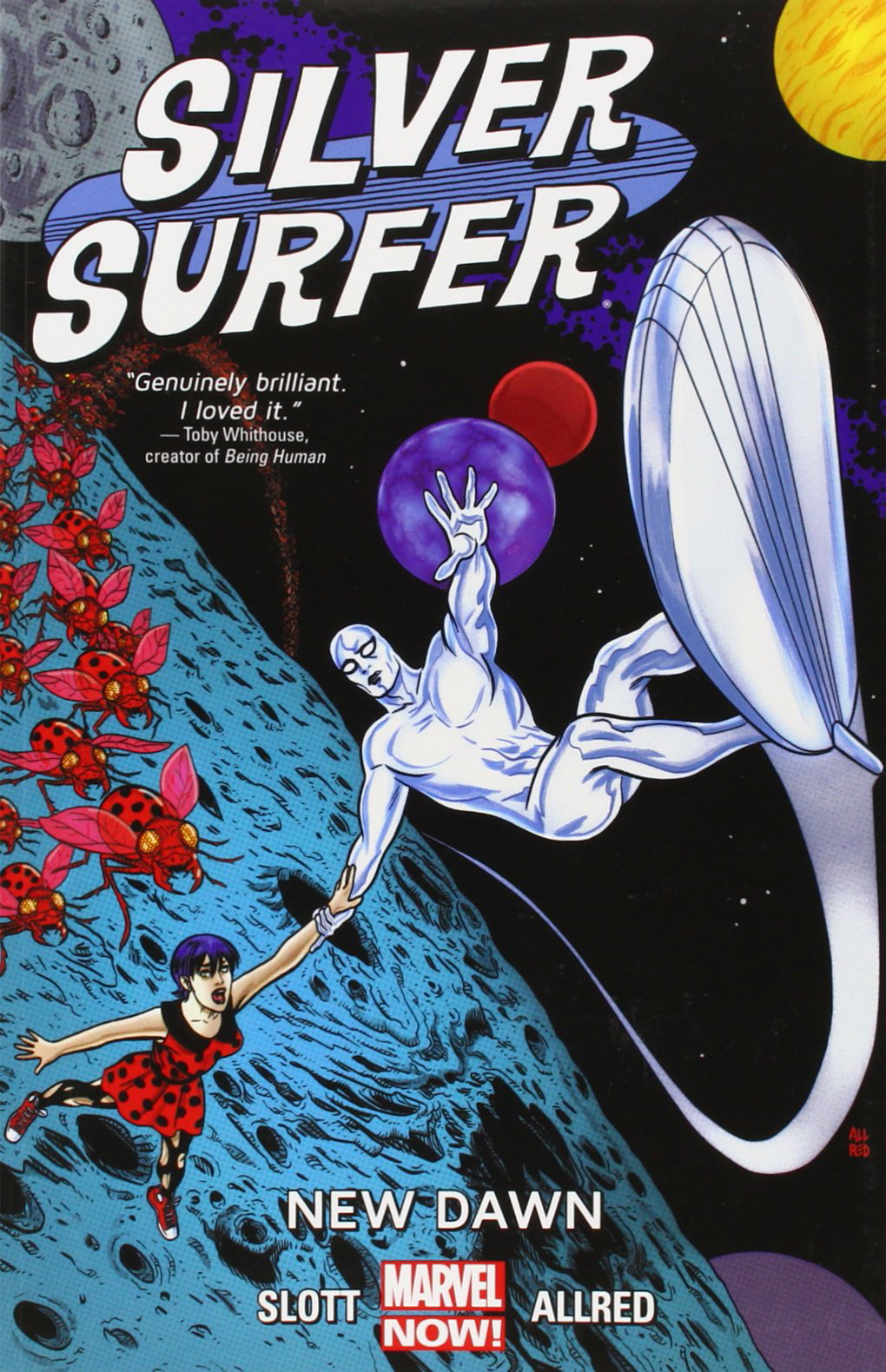 The universe is big. Bigger than you could ever imagine. And the Silver Surfer, lone sentinel of the skyways, is about to discover that the best way to see it... is with someone else. Meet Dawn Greenwood, the Earth girl who's challenged the Surfer to go beyond the boundaries of the known universe - into the strange, the new and the utterly fantastic! Who is the Never Queen? How is the universe's future tied into her very existence? And why is she trying to destroy the Surfer? And when the Surfer tries to return Dawn home, he gets swept into a strange battle against Shuma-Gorath alongside Dr. Strange, the Hulk and more! The problem is, to stop Shuma-Gorath, Dawn will have to pay the price - with her life. Collecting SILVER SURFER (2014) #1-5 and material from ALL-NEW MARVEL NOW! POINT ONE #1.
SONIC SAGA TP VOL 06 MOGUL RISING
It's Sonic vs. Everybody! Blast into the action at Sonic speed with the continuation of the all-new Sonic Saga graphic novel series! In this volume, Sonic battles the ancient, evil Mammoth Mogul, who has lost his Chaos Emerald and been imprisoned, but backing him into such a corner only made him more dangerous! Mogul uses his remaining powers to summon a new Fearsome Foursome - and Sonic is forced to be one of them! Collects selected stories from Sonic the Hedgehog #185-189.
SUICIDE SQUAD TP VOL 05 WALLED IN (N52) As FOREVER EVIL sweeps over the DCU, the Suicide Squad experiences a world full of freed villains! And now, with the Reverse Suicide Squad taking over Belle Reve, Amanda Waller and James Gordon Jr. must free a prisoner from the early days of The New 52 if they are to have any hope of surviving! Collects SUICIDE SQUAD #24-30 and SUICIDE SQUAD: AMANDA WALLER #1.
V-WARS TP VOL 01 CRIMSON QUEEN
V-Wars is set in a world transformed by a global pandemic caused by a millennia-old virus that, once triggered, affects individuals differently depending on their DNA. The result is vampires as unique as their cultures, a response from unaffected humans like never before, and a story that is old-school, scary and complicated.
Springing from the mind of New York Times best-selling author, Jonathan Maberry, this collection begins a non-stop thrill ride of action, horror, and suspense!