New in store this week: smash hit series and pop culture/modern myth epic WICKED+DIVINE, the popular webcomic STRONG FEMALE PROTAGONIST comes to print, relive the 90's with DEADPOOL VS X-FORCE, urban fantasy/adventure SHUTTER, a beautiful DAVE MCKEAN artbook, fantasy manga ICHIRO, Thor and Loki discover they have a new sibling in ORIGINAL SIN: THE TENTH REALM, and new collections for AVENGERS UNDERCOVER, BATMAN SUPERMAN, FANTASTIC FOUR, MOUSE GUARD, NIGHTCRAWLER and THOR.
What are you looking forward to reading? Talk to us @DavesComics!
AVENGERS EPIC COLLECTION TP EARTH'S MIGHTIEST HEROES Gathering together to face Loki, Marvel's greatest heroes - Iron Man, Thor, Hulk, Ant-Man and the Wasp - formed comics' greatest team: the Avengers! They were joined by Captain America soon after, and there was no doubt these were Earth's Mightiest Heroes! But Marvel heroes don't just battle villains, they live, breathe, argue... and even fall out. And in an innovative twist, Stan Lee eventually chose to have those original Avengers depart, leaving Captain America to carry on! Hawkeye, Quicksilver and the Scarlet Witch - all conflicted villains - became Cap's new recruits, transforming the Avengers into a dynamic, unpredictable and exciting quartet! So grab a copy of this Epic Collection, and experience the origins and permutations of the world's most-famous super team from the very beginning! Collecting AVENGERS (1963) #1-20.
AVENGERS UNDERCOVER TP VOL 02 GOING NATIVE
The Murder World survivors continue their infiltration of the Masters of Evil! And as Death Locket is forced to choose between killing Captain America or blowing her cover, the spotlight finally swings back around to the Runaways as something terrible happens to Chase, and Nico must deal with her newly resurrected evil ex-boyfriend, Alex! All the character journeys that began in AVENGERS ACADEMY and AVENGERS ARENA come to a stunning conclusion here when Hazmat finds herself working for Madame Masque, Mystique and Sabretooth; Justice arrives at Baron Zemo's super-villain city for a showdown with the undercover heroes; and S.H.I.E.L.D. and the Avengers attack as Zemo's true plan is revealed! Whose side will the Murder World survivors pick? Who becomes a Master of Evil? It all ends here! Collecting AVENGERS UNDERCOVER #6-10.
BAD ASS TP VOL 01 If Kick-Ass and Deadpool had a baby, it would be Bad Ass! The only difference? Dead End is a villain through and through with no intentions of saving anyone. What makes Dead End so great is his self-aware humour and biting sarcasm - the mark of a true evil genius. Hard to hate and even harder to kill, Dead End is an eloquent psychopath who fights for something better than justice: himself! Collecting the complete 4-issue mini-series along with a complete cover gallery featuring the art of Bruno Bessadi and Ken Haeser!
BATMAN ADVENTURES TP VOL 01 The first ten issues of the classic all-ages series are back in a new collection! Don't miss these tales of the Dark Knight featuring appearances by The Joker, The Penguin, Catwoman, Scarecrow, Killer Croc, Clayface, The Riddler and more!
BATMAN SUPERMAN HC VOL 02 GAME OVER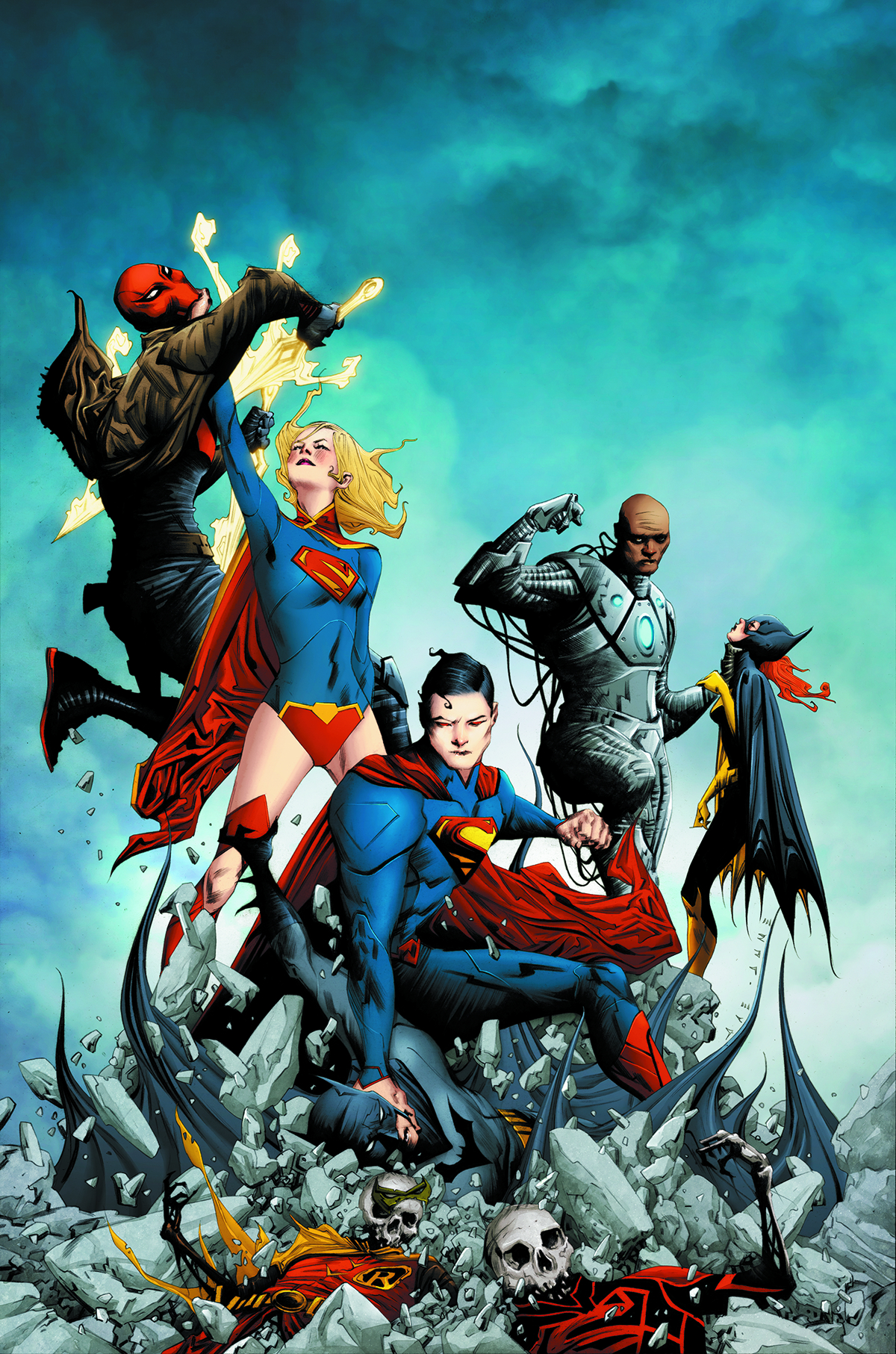 Issues #5-9 of the hit series are collected, along with BATMAN/SUPERMAN ANNUAL #1 and WORLDS' FINEST #20-21 - the "First Contact" crossover epic! The Dark Knight and the Man of Steel uncover the Toymaster's plot to create a secret, potentially deadly element in his new video game that brings to life characters created by players. And these new beings have only one goal: To kill Batman. Guest-starring the Worlds' Finest duo of Power Girl and Huntress.
BATMAN SUPERMAN TP VOL 01 CROSS WORLD (N52)
In this first title collecting BATMAN/ SUPERMAN #1-4 and JUSTICE LEAGUE #23.1: DARKSEID, learn how these two legends met for the first time in The New 52 as they launch into a mysterious adventure that takes them to the world of Earth 2!
DEADPOOL VS X-FORCE TP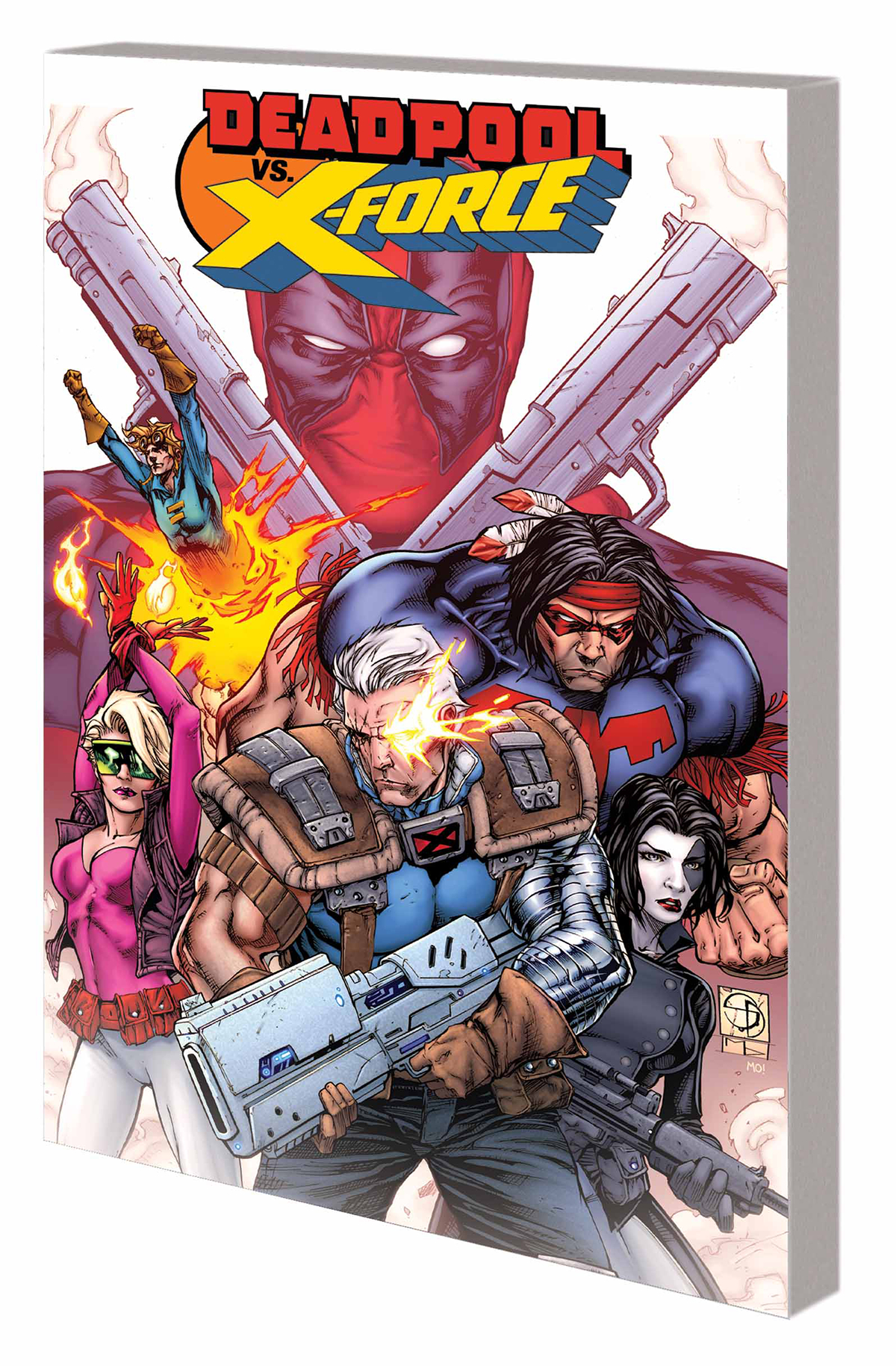 Journey back to the gritty, hyper-detailed days of the 1990s, when two characters debuted who would change the face of comics: Cable and Deadpool! Now, in this new tale, we learn of the pair's first meeting - as Cable and his nascent X-Force race through the timestream to stop the reckless mercenary Deadpool before he destroys American history for good! From the Boxer Rebellion to the present day, can Cable's team stop Deadpool from rewriting the timeline? He's Dead-set on victory, but they're eXtra-For-sure not gonna let him win! (See what we did there? Dead... X... never mind.) X-Force is stronger, but Deadpool is more popular. Who will be victorious?!? Everything you knew about Cable and Deadpool's shared history was wrong - but that's OK, because everything you're about to read is way more awesome! Collecting DEADPOOL VS. X-FORCE #1-4.
DREAM STATES THE COLLECTED DREAMING COVERS HC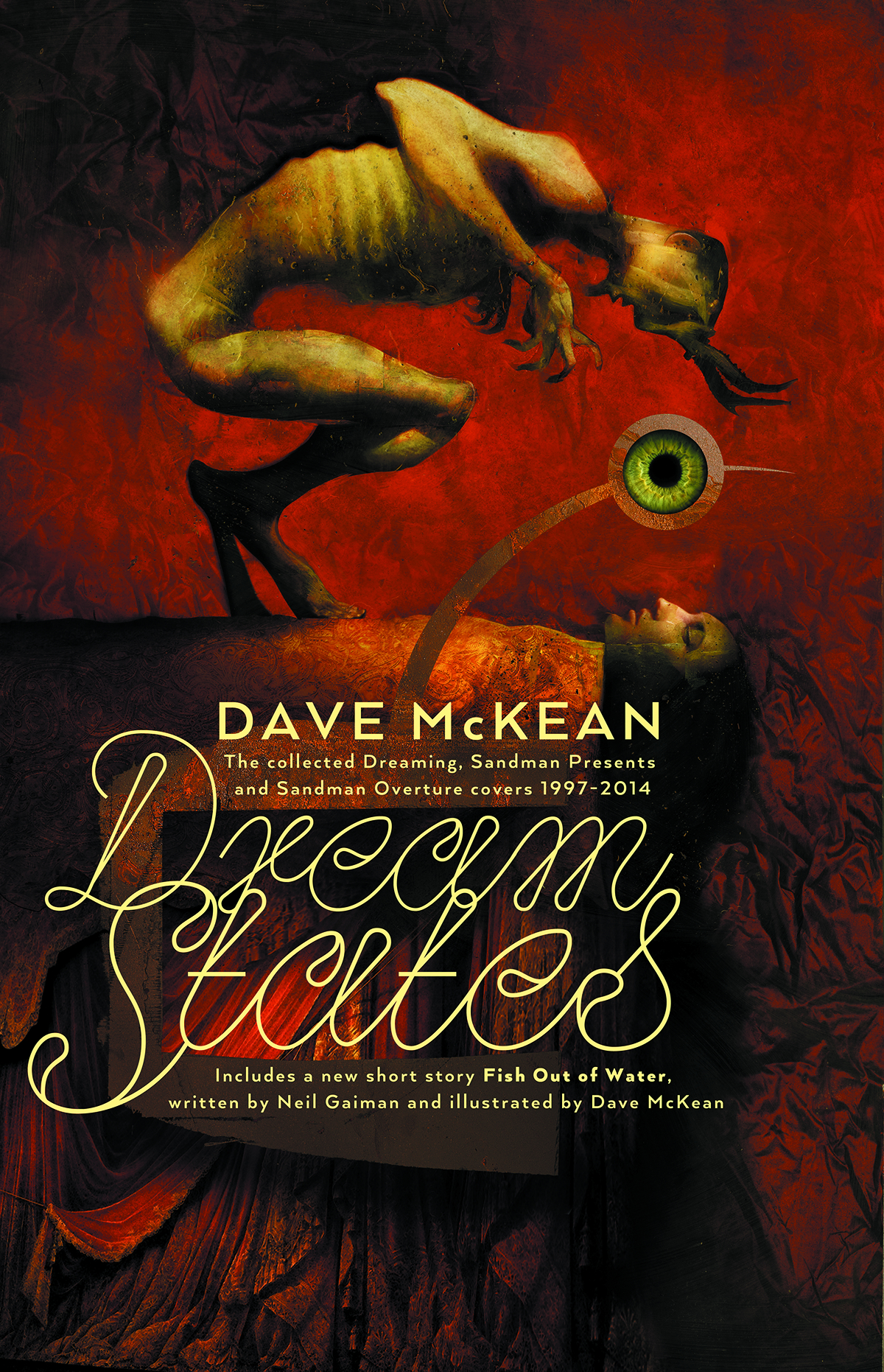 THE COLLECTED DREAMING COVERS presents Dave McKean's astounding cover art from THE SANDMAN's companion series, THE DREAMING, plus THE SANDMAN: OVERTURE, THE SANDMAN COMPANION and more - along with a brand-new story Written by Neil Gaiman that features an appearance by The Sandman!
DUNGEONS & DRAGONS CUTTER TP Teirflin and Doum'weille are half-Drow siblings, locked in competition for the ownership of the bloodthirsty sword Khazid'hea-the Cutter! Their father, the Drow renegade Tos'un-a veteran of battles against the Kingdom of Many-Arrows-is forced to choose his heir... but what does the powerful sword have to say on the subject?
FANTASTIC FOUR TP VOL 02 ORIGINAL SIN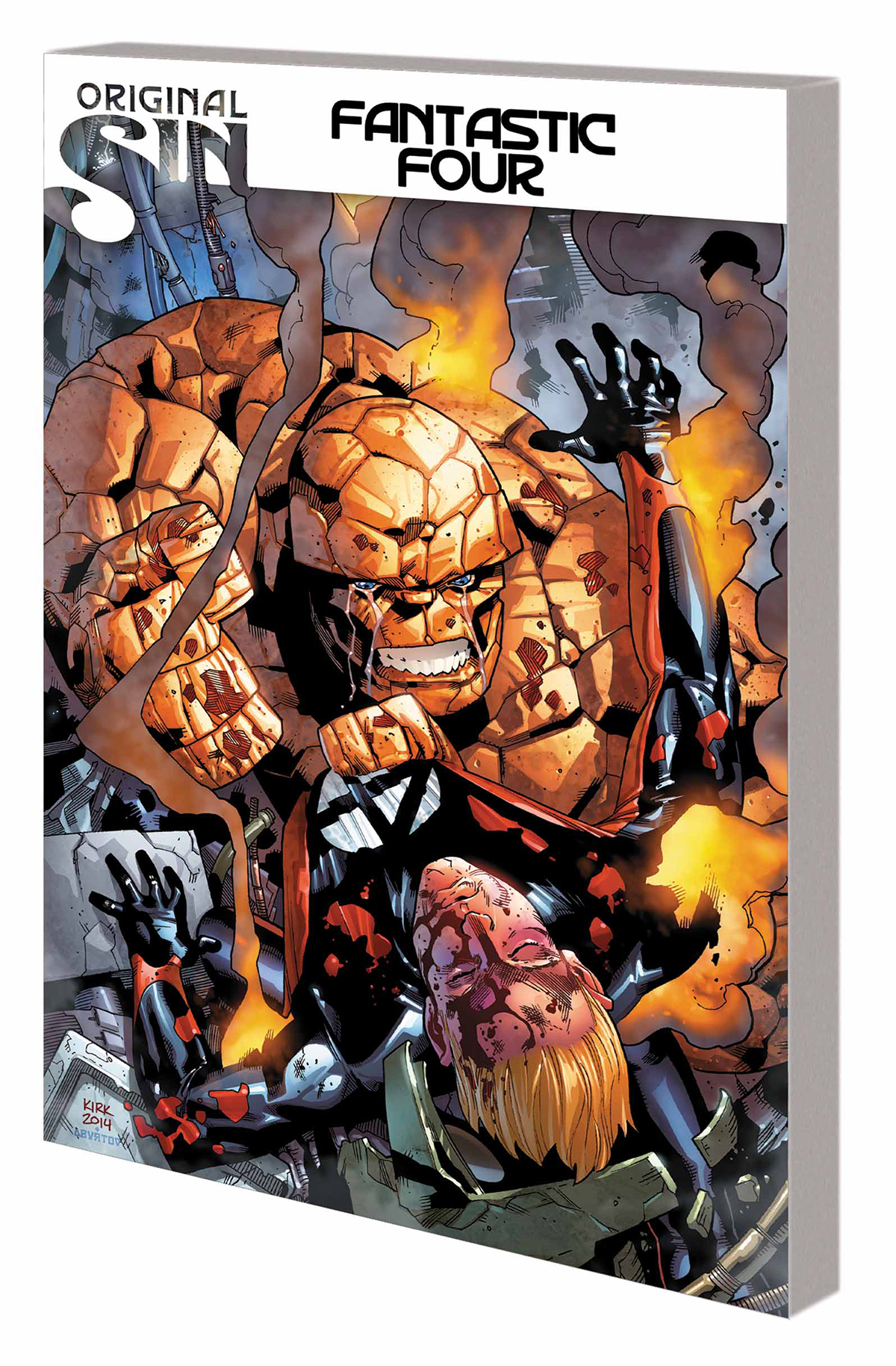 The Fantastic Four are being torn apart at their very foundations! Can Ben cope with the secret he's learned about Johnny? Will Sue and Reed lose Franklin and the kids of the Future Foundation, currently in the custody of Jim Hammond? And can what's left of the team stop their headquarters from being shut down by... the Avengers?! When the Thing is accused of a shocking murder, Mr. Fantastic sets out to prove his friend's innocence - but when the new Frightful Four strike, a savage and strategic attack leads to the fall of Reed Richards! And as Wyatt Wingfoot rushes to save a life, Sue Richards heads to Latveria to reclaim her daughter from Dr. Doom! The epic deconstruction of Marvel's First Family continues as ORIGINAL SIN rolls on! Collecting FANTASTIC FOUR (2014) #6-10.
HAUNTED HORROR HC VOL 02 COMICS MOTHER WARNED ABOUT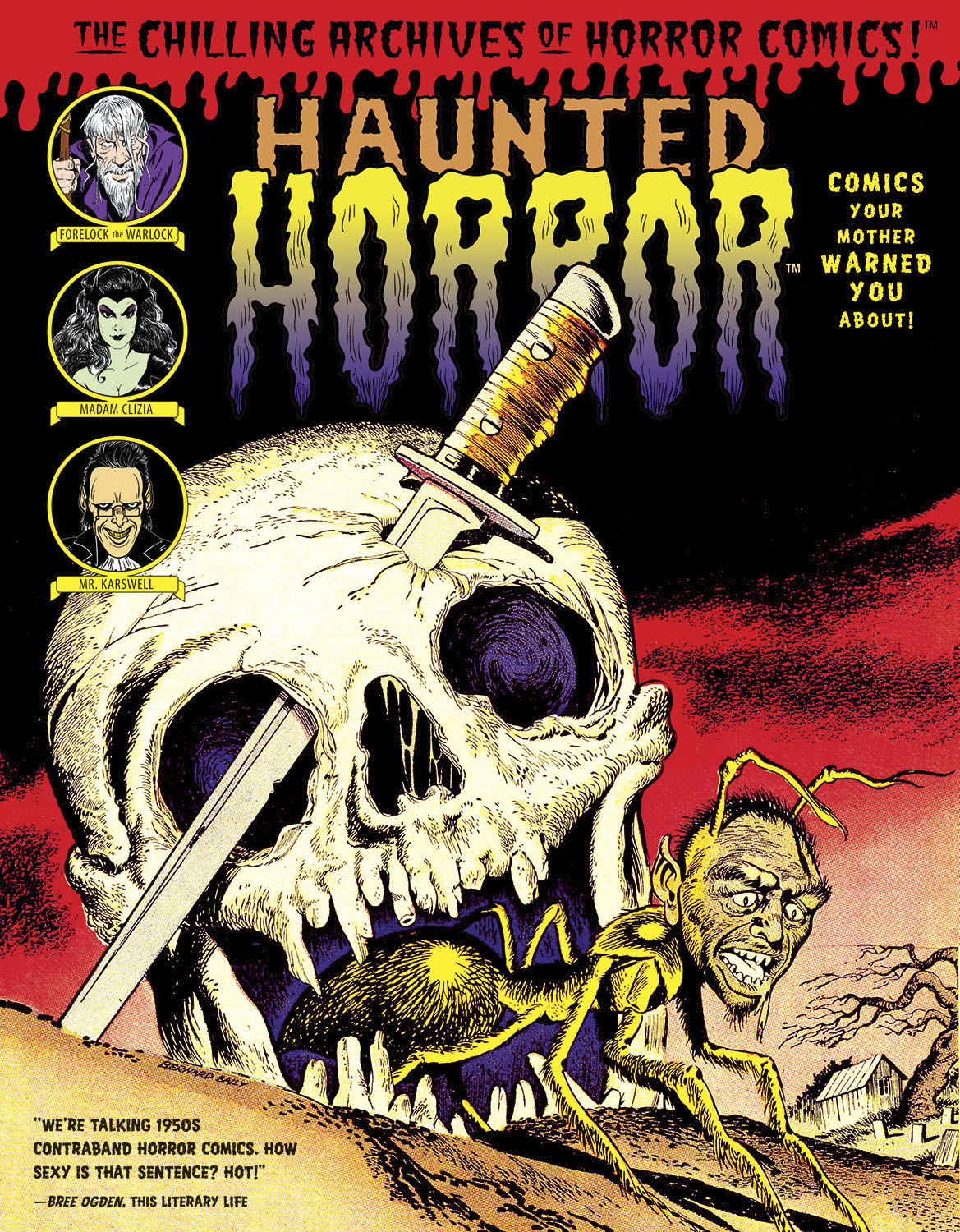 Back from the opened grave are more masterpieces of the macabre from the horror comics of the 1950s. Genius horror artists of the known and unknown variety poured their tortured souls into these comics. The best, and rarest, stories have been chosen with the help of top horror comic collectors and lovingly restored and presented in full-creepy colour.
ICHIRO TP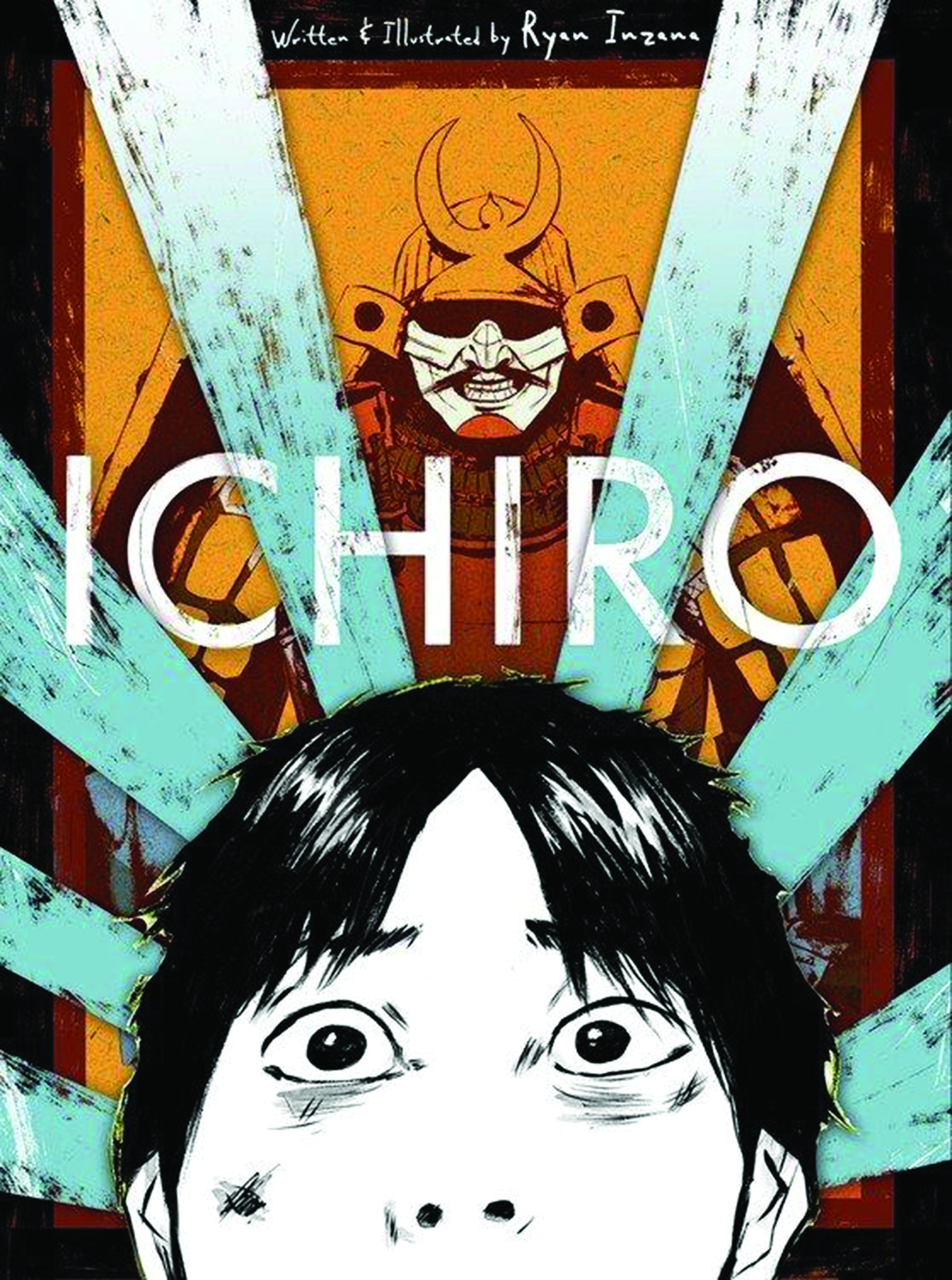 This striking, full-colour graphic novel follows Ichiro as he moves from New York to Japan where a shapeshifting tanuki brings him on a fantastic adventure into the mythological world of Japanese gods. Ichiro lives in New York City with his Japanese mother. His father, an American soldier, was killed in Iraq. Now, Ichi's mom has decided they should move back to Japan to live with Ichi's grandfather. Grandfather becomes Ichi's tour guide, taking him to temples as well as the Hiroshima Peace Park, where Ichi starts to question the nature of war. After a supernatural encounter with the gods and creatures of Japanese mythology, Ichi must face his fears if he is to get back home. In doing so, he learns about the nature of man, of gods, and of war. He also learns there are no easy answers - for gods or men.
INSIDE THE WORLD OF GERRY ANDERSON HC
The perfect book for Gerry Anderson collectors and fans of his shows, Inside the World of Gerry Anderson is the definitive collection including detailed images from Thunderbirds, Fireball XL5, Captain Scarlet, and Joe 90, plus less well known craft and locations seen only in the comic strips.
INVINCIBLE TP VOL 20 FRIENDS A new beginning for INVINCIBLE as things take a turn down a dark path. Everything changes as Invincible is betrayed by one of his own. You won't want to miss this volume!
Collects INVINCIBLE #109-114
JIM BUTCHER'S DRESDEN FILES WAR CRY HC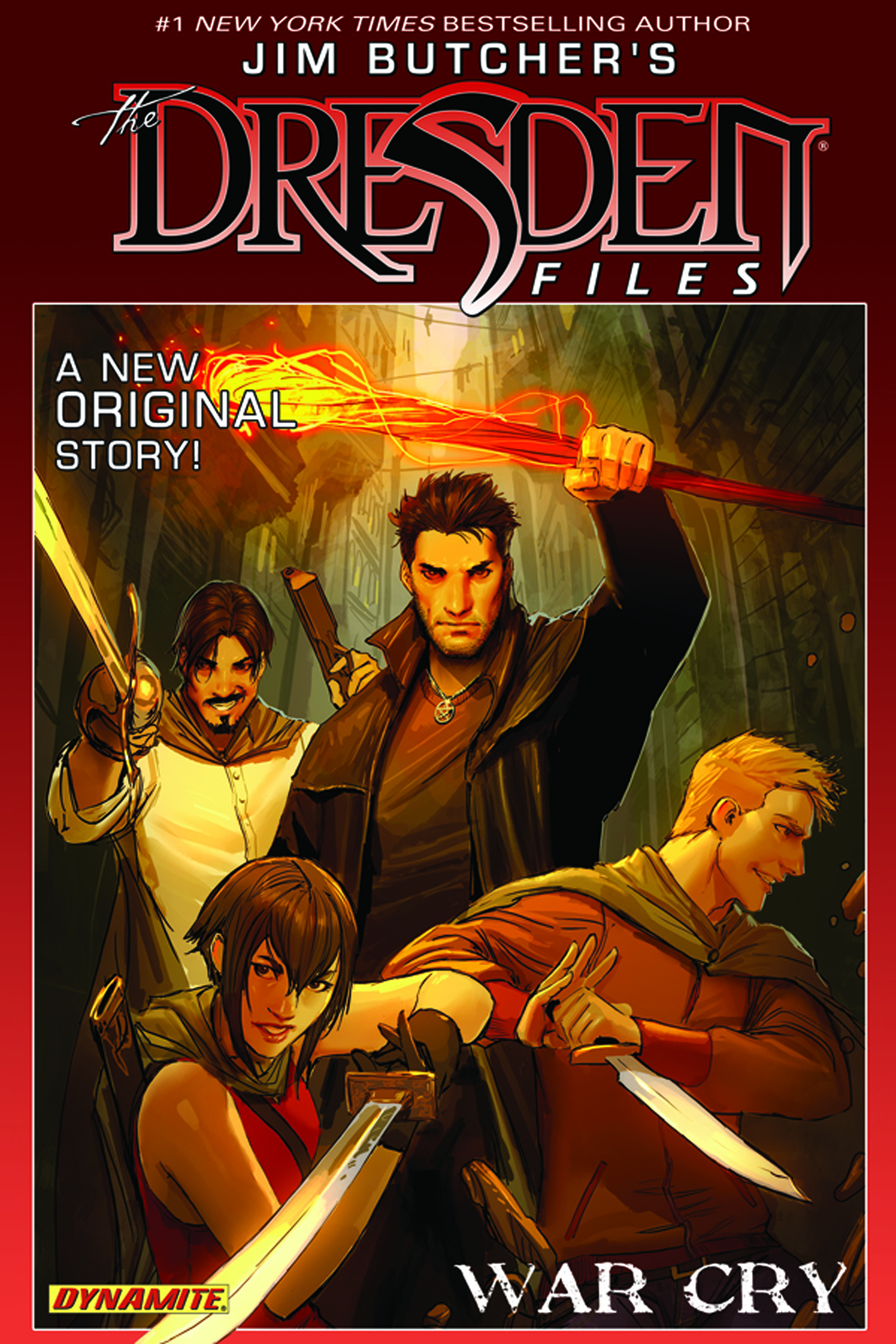 A war is raging between the vampire forces of the Red Court and the White Council - a war that the wizards are losing. So desperate are the Council that they've dragooned the experienced and the outcast to reinforce their thinning ranks of Wardens. One of these draftees is one Harry Dresden, Chicago's only wizard-for-hire and a guy who's long been looked upon with suspicion by the supernatural authorities. Now, he's one of them, and his first big mission as a Warden is a doozy: take a small team of greenhorns to a frigid town in the middle of nowhere to rescue a handful of mortals who've been targeted by the Red Court. The question is, why exactly are these particular mortals so crucial to the outcome of the war? The answer will come only if Harry can keep them, and his team, alive for one very long night.
This graphic novel collects the critically acclaimed five-issue series in one volume, and features a bonus section with Jim Butcher's original story outline, sketchbook artwork from Carlos Gomez, cover gallery with roughs from Stjepan Sejic, and more!
LUMINAE HC VOL 01 Six young warriors are tasked with protecting the mysterious Luminae, a holy creature of Light in exile from those forces of Darkness that would decimate humanity. When one of the warriors disappears, the others know it is the sign of a superior evil soon to arrive. A stylish dark fantasy by the celebrated artist of Naja and Meka.
MAD ARTISTS DON MARTIN 3 DECADES GREATEST WORK HC
Arguably the most recognised, most irreverent, and most amazing MAD artist, Don Martin contributed to the magazine's success from 1956 to 1988. His popularity was so great that he was billed as "MAD's Maddest Artist" and helped shape the direction of the magazine for years to come. This must-have collection brings together the best of Martin's comics from his time at the magazine, essays by other notable MAD writers discussing his life and influence, and a foreword by cartoonist Gary Larson.
MAGICAL GIRL APOCALYPSE GN VOL 01 The zombie survival genre has just met its match! High-schooler Kii Kogami is stuck in a rut, loathing the monotonous doldrums of his everyday life. If only something exciting were to happen, something magical. As fate would have it, Kii is about to get his wish, but in a way more terrifying than anything he could have imagined. When a little girl clad in gothic lolita attire appears at school and starts to gruesomely bludgeon, dismember and mutilate all who cross her path, while chanting the mantra "Magical Girl" under her breath, the school devolves into a state of bloody chaos. Just how will Kii escape from this murderous magical girl?
MARS ATTACKS FIRST BORN TP When Mars attacked Earth, the battle left no side unscarred, least of all a lonely old man and his blind niece...along with the first Martian child born on Earth! Will the child's warlike ways take over, or is there more going on here than it seems?
MARVEL UNIVERSE AVENGERS ASSEMBLE DIGEST TP VOL 03
Featuring screen-capture images from MARVEL'S AVENGERS ASSEMBLE!
Earth's Mightiest Heroes, the Avengers, explode onto the scene with action-packed, all-ages adventures! When the fiendish Attuma sends monsters and a giant tidal wave to sink the island of Manhattan, Hulk must prove that he is the strongest one there is
or perish! The Red Skull has turned the Avengers into rampaging monsters! Now, Hulk and Black Widow must team up and stop the raging Hulk-Vengers!
The Impossible Man turns the Falcon into a movie star?! But the Chitauri have arrived to settle a score with Impossible Man! It's action aplenty from your favourite heroes, based on the hit animated series now airing on Disney XD! Collecting MARVEL UNIVERSE AVENGERS ASSEMBLE #9-12.
MMW INCREDIBLE HULK HC VOL 08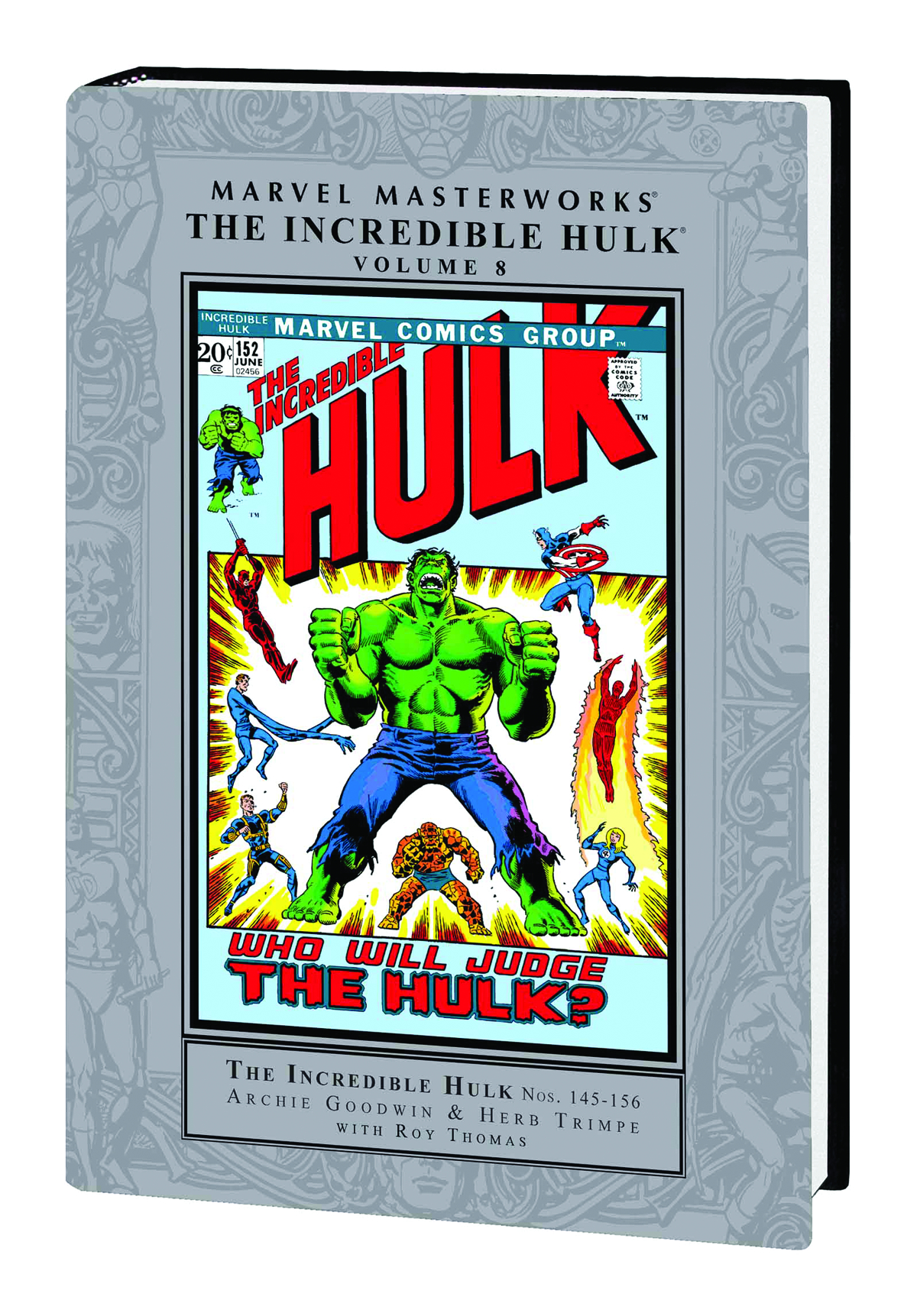 He's mean, he's green, and sometimes he's too small to be seen - he's the Incredible Hulk! Yes, the Hulk's back in another round of tales full of trials, tribulations, revenge, romance and...Richard Nixon?! Returning from a battle with Dr. Doom, the Hulk finds himself in the sights of the U.S. military's Project: Greenskin. Objective? Destroy the Hulk! The adventure continues with the green girl of Hulk's heart, the other-dimensional Jarella! With the help of Ant-Man, Hulk will reunite with his love - but not before he's put on trial in front of the heroes of the Marvel Universe! With art by the classic Herb Trimpe/John Severin team, Hulk's never looked meaner, greener or better! Collecting INCREDIBLE HULK (1968) #145-156.
MOUSE GUARD BALDWIN BRAVE OTHER TALES HC WHY WE LOVE IT: Whether you're of claw, wing or scale, fairy tales and fables never cease to warm our hearts and fill our imaginations. Every year, we look forward to Archaia's Free Comic Book Day MOUSE GUARD short story by Eisner Award winning creator David Petersen. Now, four of the stunningly illustrated fables are collected for the first time, alongside two brand new MOUSE GUARD tales in a beautiful hardcover.
WHY YOU'LL LOVE IT: If you like fantasy stories that not only feature action and adventure, but also a lot of heart, you'll instantly love MOUSE GUARD. Fans of J.K. Rowling's THE TALES OF BEEDLE THE BARD, STUFF OF LEGENDS, or classics like WIND IN THE WILLOWS will love this collection of tales meant to be read again and again.
WHAT IT'S ABOUT: Every hero was once a child, listening to stories of the heroes who came before them. It is the same with the Mouse Guard. Six mouse fables are spun to a few familiar youngfurs, reminding us all to be brave, stay true to ourselves, and follow our hearts. Brandstories include "Service to Seyan," set in the land where Mouse warriors travel after death, and "Oh Day Away," a tale of the insect faeries of the Mouse world!
NIGHTCRAWLER TP HOMECOMING VOL 01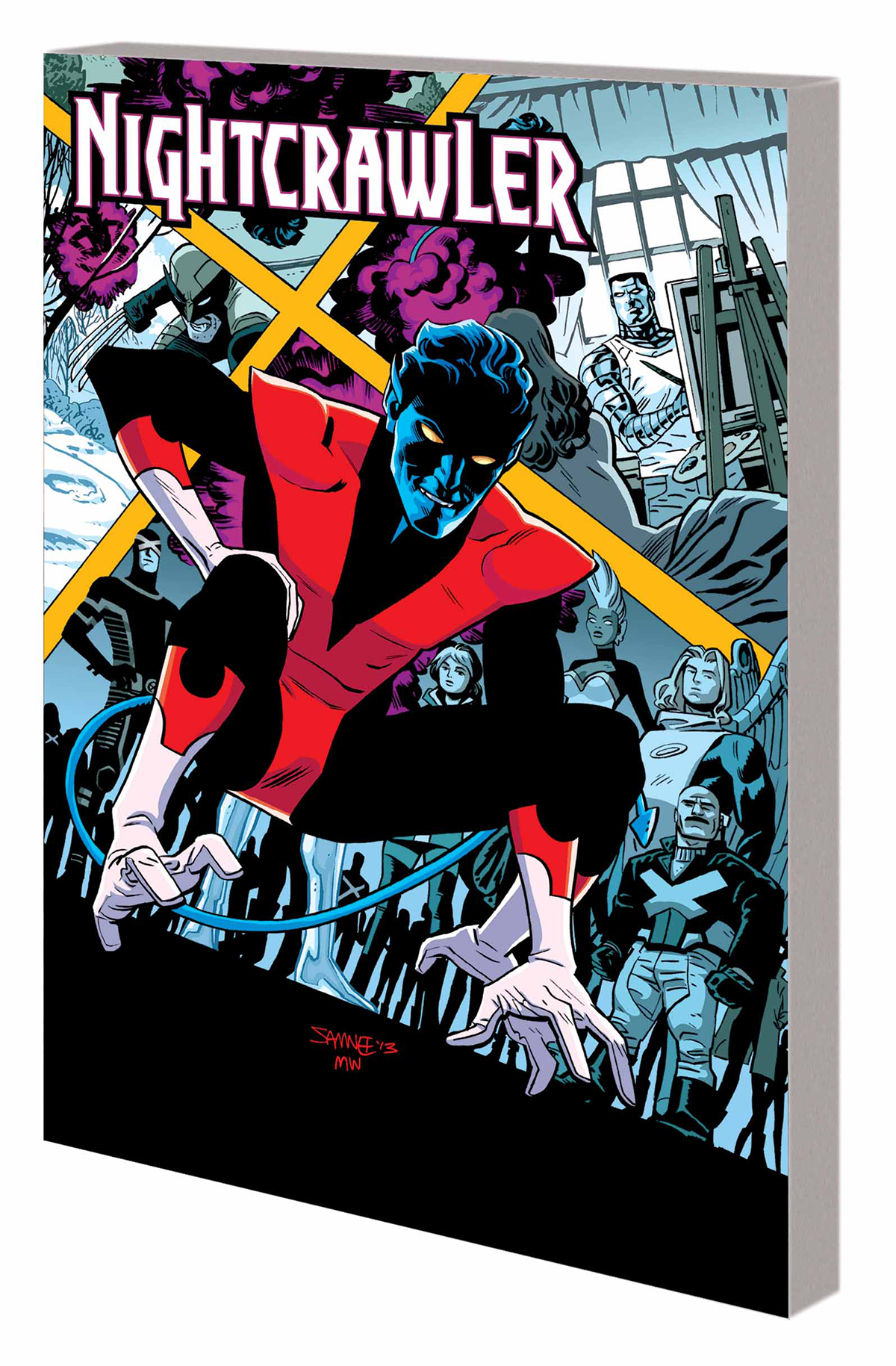 Nightcrawler is back! Newly returned from the afterlife, Kurt Wagner is determined not to waste his new lease on life. But when someone starts hunting down his loved ones, Kurt quickly learns his return may have set these events in motion! The fight soon comes to the Jean Grey School, but torn between two worlds - his family and the X-Men - who will Nightcrawler stand by? Then, struggling to adjust to life at the Jean Grey School, Nightcrawler heads out to locate a newly manifested mutant. But little does he know that the Crimson Pirates have their own nefarious designs on the mutant! Good thing Kurt loves fighting pirates! Collecting NIGHTCRAWLER (2014) #1-5.
ORIGINAL SIN TP THOR AND LOKI TENTH REALM
Thanks to the events of ORIGINAL SIN, the deepest secret of the Nine Realms has been revealed: namely, the existence of a Tenth Realm! Now, Thor and Loki must embark on a quest to find this strange new world - and to discover the sister Thor never knew he had: the Guardian of the Galaxy known as Angela! But can Loki be trusted? What is the startling secret of the Tenth Realm? And will brother and sister murder each other before the truth comes out? Collecting ORIGINAL SIN #5.1-5.5.
SAMURAI EXECUTIONER OMNIBUS TP VOL 03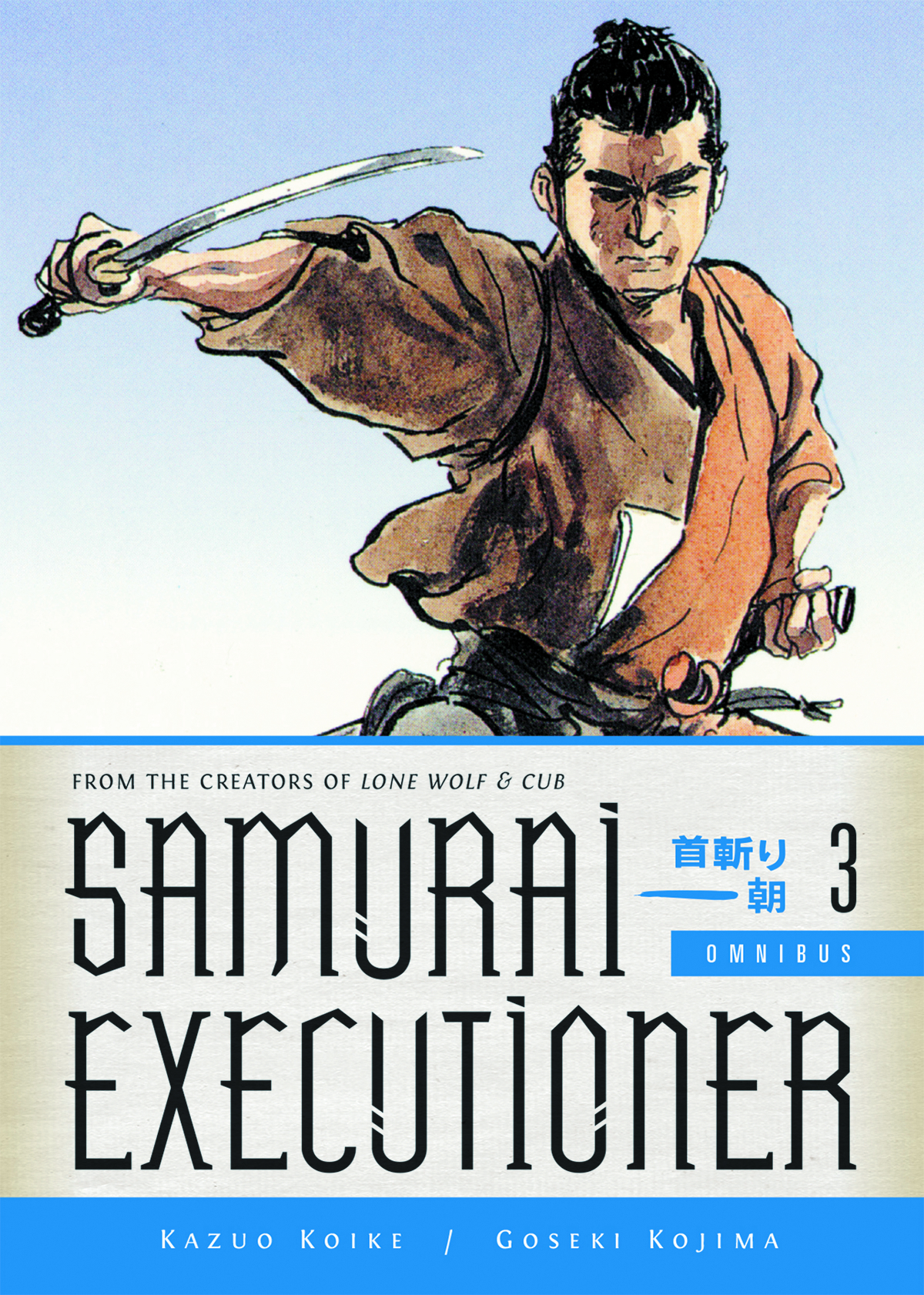 When an execution is ordered of a man backed by hundreds whose vital services the city of Edo desperately needs, the shogunate government seems powerless to act. And so Yamada Asaemon, the shogun's executioner, must carry out the sentence unaided while keeping Edo from descending into chaos!
SHUTTER TP VOL 01 WANDERLOST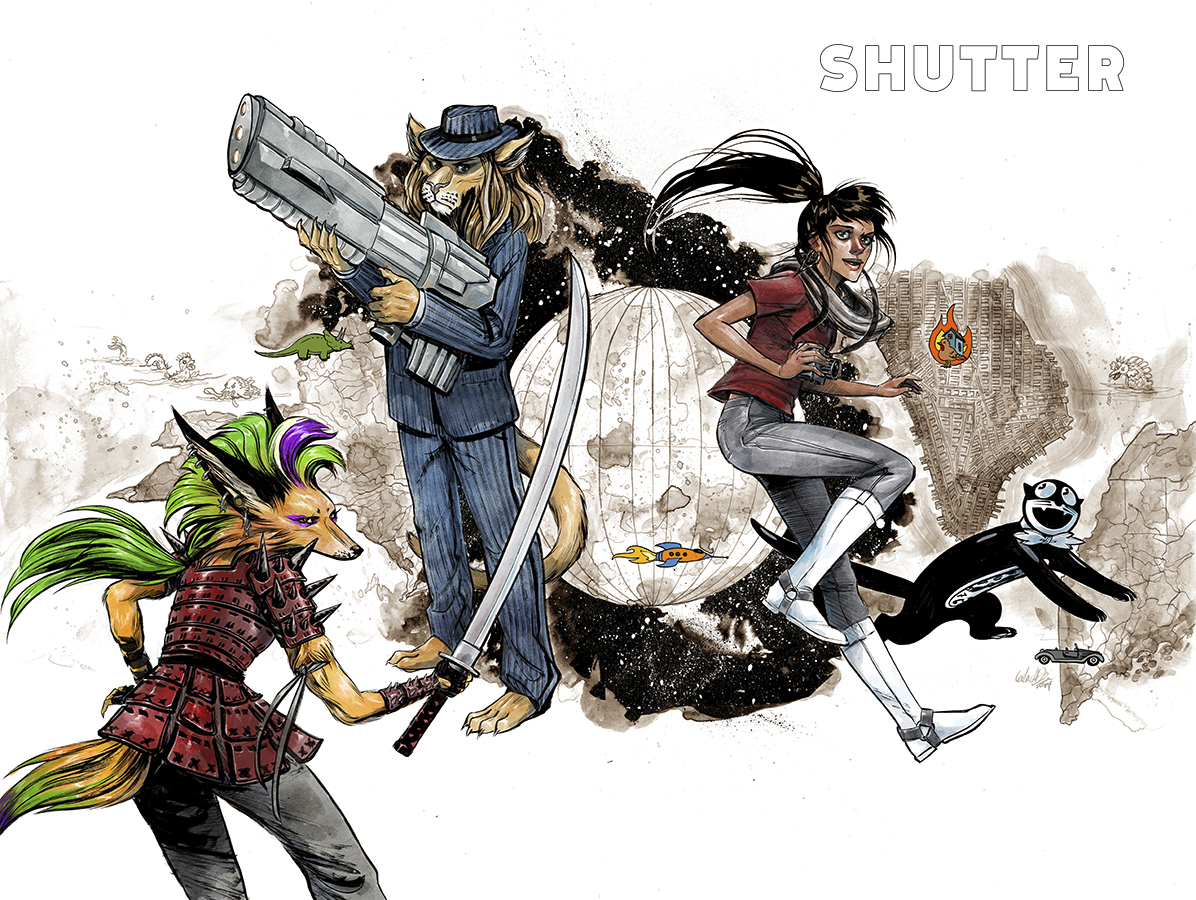 JOE KEATINGE (GLORY, TECH JACKET, Adventures of Superman) teams up with artist extraordinaire LEILA DEL DUCA for her Image Comics debut in the very first collection of their all-new ongoing series combining the urban fantasy of Fables and the globe-spanning adventure of Y: The Last Man. Kate Kristopher, once the most famous explorer of an Earth far more fantastic than the one we know, is forced to return to the adventurous life she left behind when a family secret threatens to destroy everything she spent her life protecting.
Collects SHUTTER #1-6
STRONG FEMALE PROTAGONIST GN BOOK 01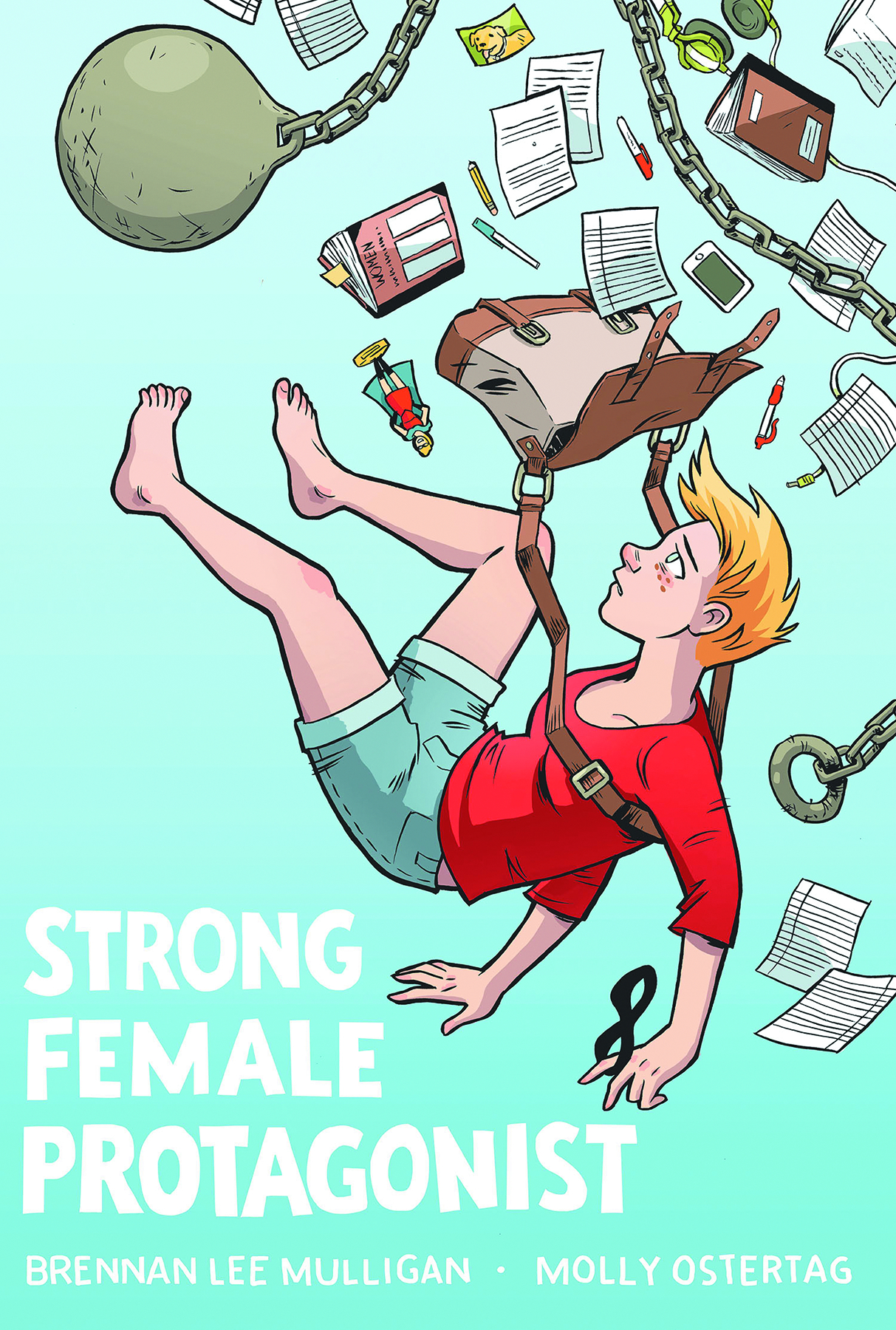 With super strength and invulnerability, Alison Green used to be one of the most powerful superheroes around. Fighting crime with other teenagers under the alter ego Mega Girl was fun until an encounter with Menace, her mind reading arch enemy, showed her evidence of a sinister conspiracy, and suddenly battling giant robots didn't seem so important. Now Alison is going to college and trying to find ways to help the world while still getting to class on time. It's impossible to escape the past, however, and everyone has their own idea of what it means to be a hero. Strong Female Protagonist has been published online since 2012, where it attracted a large fan base, and this self-published graphic novel is the result of a successful Kickstarter.
SWEETER SIDE OF R CRUMB SC Cute little kittens, angels, and babies? Flowers, ice cream cones, and German boy bands? Coming from, supposedly, the creepiest and most pessimistic artist of his generation? Yes indeed, there is a "sweeter side" to R. Crumb. These delectable illustrations wonderfully exemplify the many tender moments that have, until now, played second fiddle to the cult icon's raunchier sketches.
TALES OF HONOR TP VOL 01
THE HONORVERSE EXPANDS TO COMICS!
Based on the bestselling military science fiction novels by David Weber, this original comic book series introduces spaceship captain Honor Harrington on the eve of her execution. From prison, Honor relays her epic adventures, starting with a command outpost to a hellish backwater star system that ends up being the lynchpin of an interstellar crisis that will bring war to her home planet.
Collects TALES OF HONOR: ON BASILISK STATION #1-5
THOR GOD OF THUNDER TP VOL 03 ACCURSED The bloody return of Malekith the Accursed! The former lord of the Dark Elves escapes his otherworldly prison, and the chase is on across the Nine Realms to capture him! Thor finds new allies to join his Wild Hunt: A Dark Elf sorceress! A gun-toting Light Elf! A gargantuan Mountain Giant! A dwarf who loves dynamite! And a particularly surly troll! But when one teammate falls, will it mean war for all Nine Realms? And as a traitor within the group strikes and Thor prepares to take drastic measures, Malekith stages his final bloody raid - on Earth! Plus: What does it mean to walk the Earth as a god? What does Thor do when he's not saving the world with the Avengers? It's the return of Thor's longtime love interest, Dr. Jane Foster! Collecting THOR: GOD OF THUNDER #12-18.
WICKED & DIVINE TP VOL 01 THE FAUST ACT Every ninety years, twelve gods incarnate as humans. They are loved. They are hated. In two years, they are dead. The team behind critical tongue-attractors like Young Avengers and PHONOGRAM reunite to create a world where gods are the ultimate pop stars and pop stars are the ultimate gods. But remember: just because you're immortal, doesn't mean you're going to live forever.
Collects THE WICKED + THE DIVINE #1-5