Happy Christmas everyone!
Lots of great new comics arriving Wednesday to enjoy this holiday: the topsy turvy event of AVENGERS AND X-MEN AXIS reaches its finale, fan favourite writer Ryan North leaves ADVENTURE TIME (but will be back writing comics in the Unbeatable Squirrel Girl next year!), prepare for shocks and surprises in the BATMAN ANNUAL,
anthology series, THE SHADOW SHOW features a short story by Neil Gaiman,

the conclusion of the ROBIN RISES saga, a unique take on the teenage superhero in THEY'RE NOT LIKE US, and new issues for HARLEY QUINN, SUPERIOR IRON MAN, BEE AND PUPPYCAT, BUFFY THE VAMPIRE SLAYER, GOTHAM BY MIDNIGHT, OUTCAST and UNCANNY X-MEN.
What are you excited to read this week? Talk to us @DavesComics!


BOOM
ADVENTURE TIME #35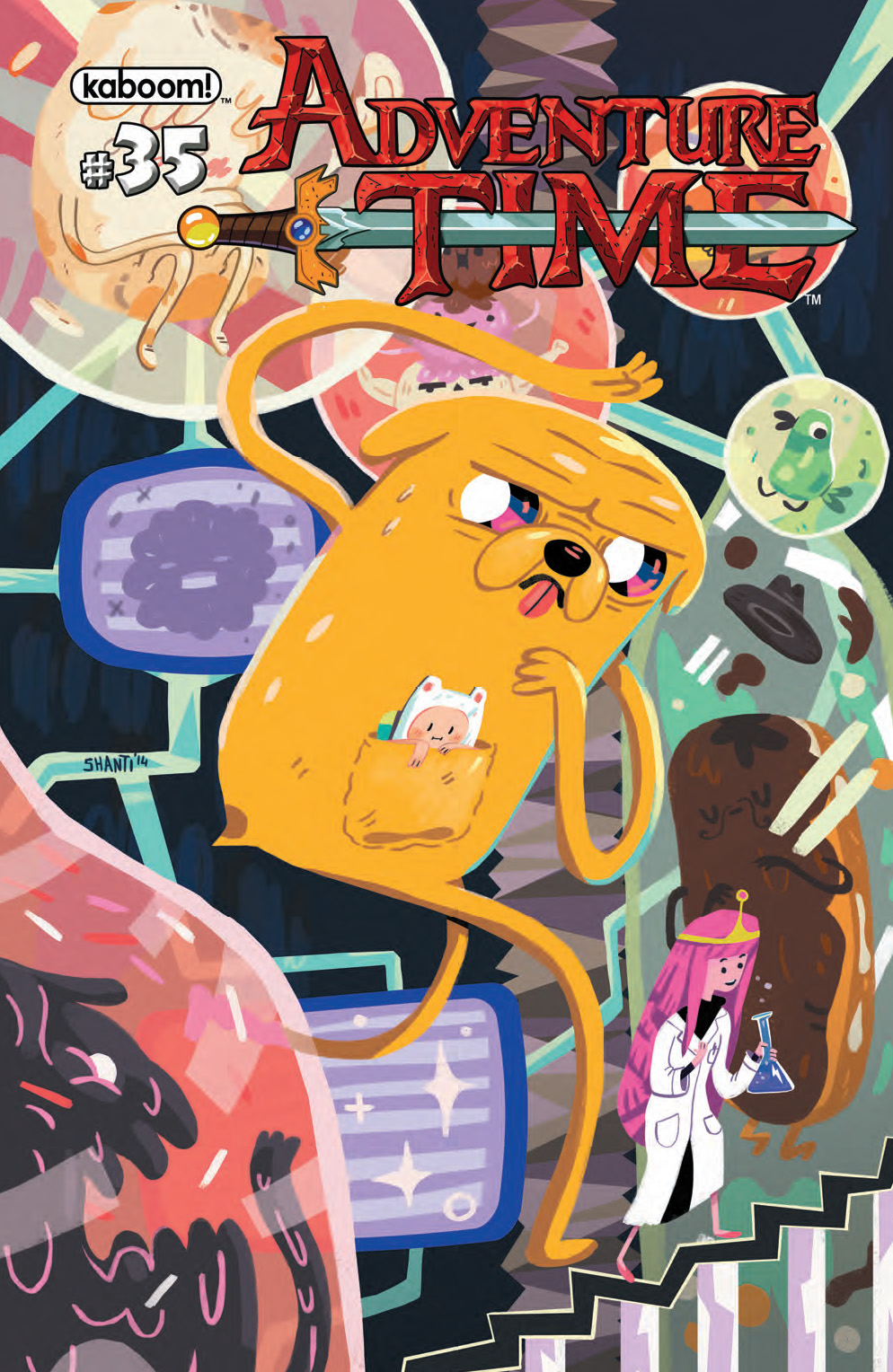 It's the end of an era...the last ADVENTURE TIME issue featuring the Eisner Award winning team of Ryan North, Shelli Paroline, and Braden Lamb. It's your chance to say goodbye, and experience an adventure you'll never forget.


BEE AND PUPPYCAT #7
CAPTURE CREATURES #2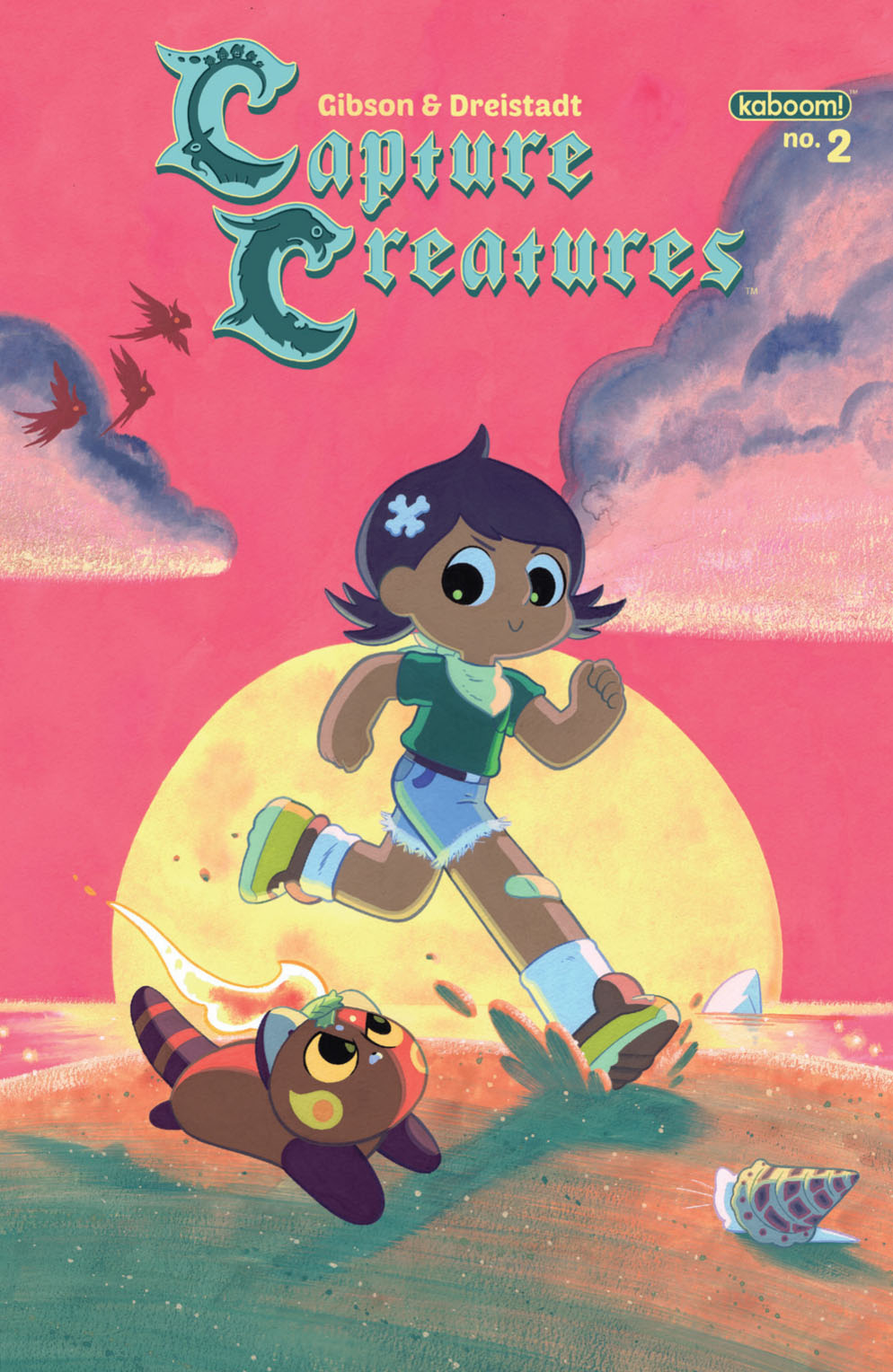 When 151 critters appear on earth all with a variety of weird, wild powers, it's up to two teenagers to figure out where they came from and how to save them from an world that doesn't understand them... all the while having a ton of fun in the process! It's the second issue in Becky & Frank's highly anticipated original series!


CLIVE BARKERS NIGHTBREED #8
DAWN OF PLANET OF APES #2
EVIL EMPIRE #9
SLEEPY HOLLOW #3 (OF 4)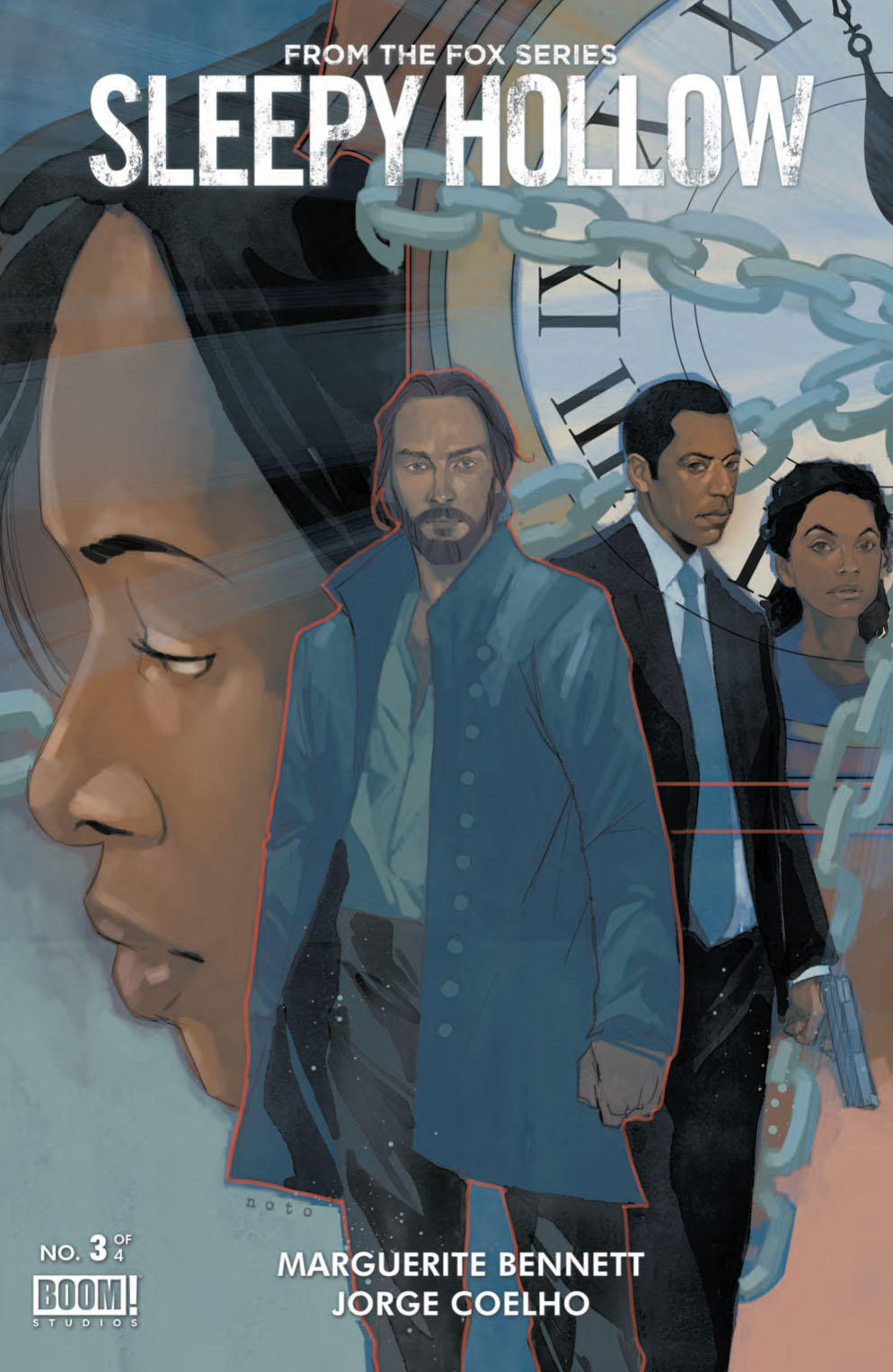 Hidden for a century, a terrible evil is awakened when movers unwittingly unearth a huge grandfather clock bound in chains. Drenched in magic, riddles, and mystery, the clock itself has gone mad. Abbie, Ichabod, and their companions must outwit its riddles and madness to free themselves - or be consumed. With a back-up story by Noelle Stevenson (LUMBERJANES).



DARK HORSE
ALIENS FIRE AND STONE #4
BTVS SEASON 10 #10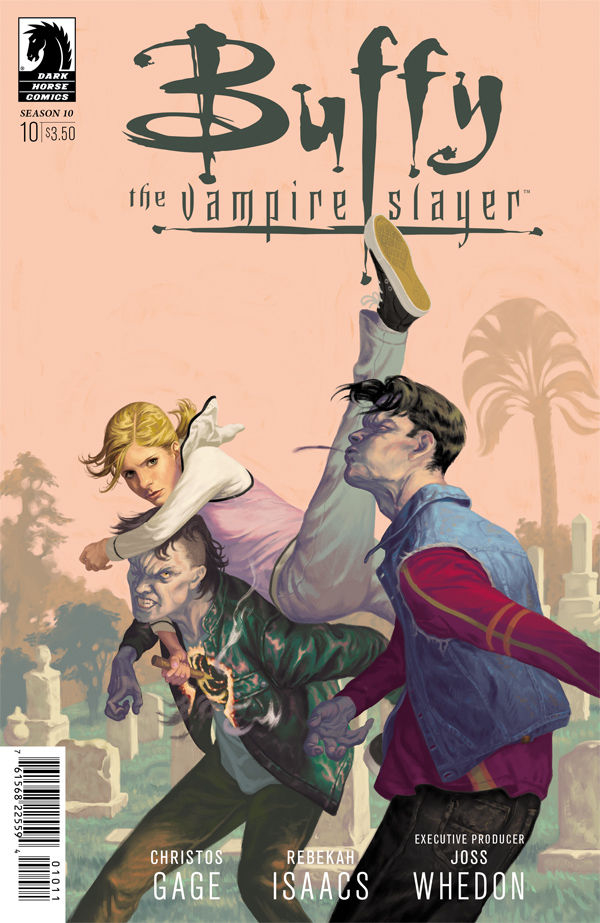 With the responsibility of writing new rules in the Vampyr book, Buffy and crew are literally the bosses of all magic-but as more baddies learn who has the power, protecting the book is becoming a full-time job!


COLDER BAD SEED #3
CONAN THE AVENGER #9
GRINDHOUSE DRIVE IN BLEED OUT #2 (OF 8)
HALO ESCALATION #13
MASSIVE #30
Dead calm. Quiet seas. Second chances?
The Ninth Wave crew enter a brand-new chapter in Earth's history.


MIND MGMT #29
RESURRECTIONISTS #2
TERMINATOR SALVATION FINAL BATTLE #12 (OF 12)
TOMB RAIDER #11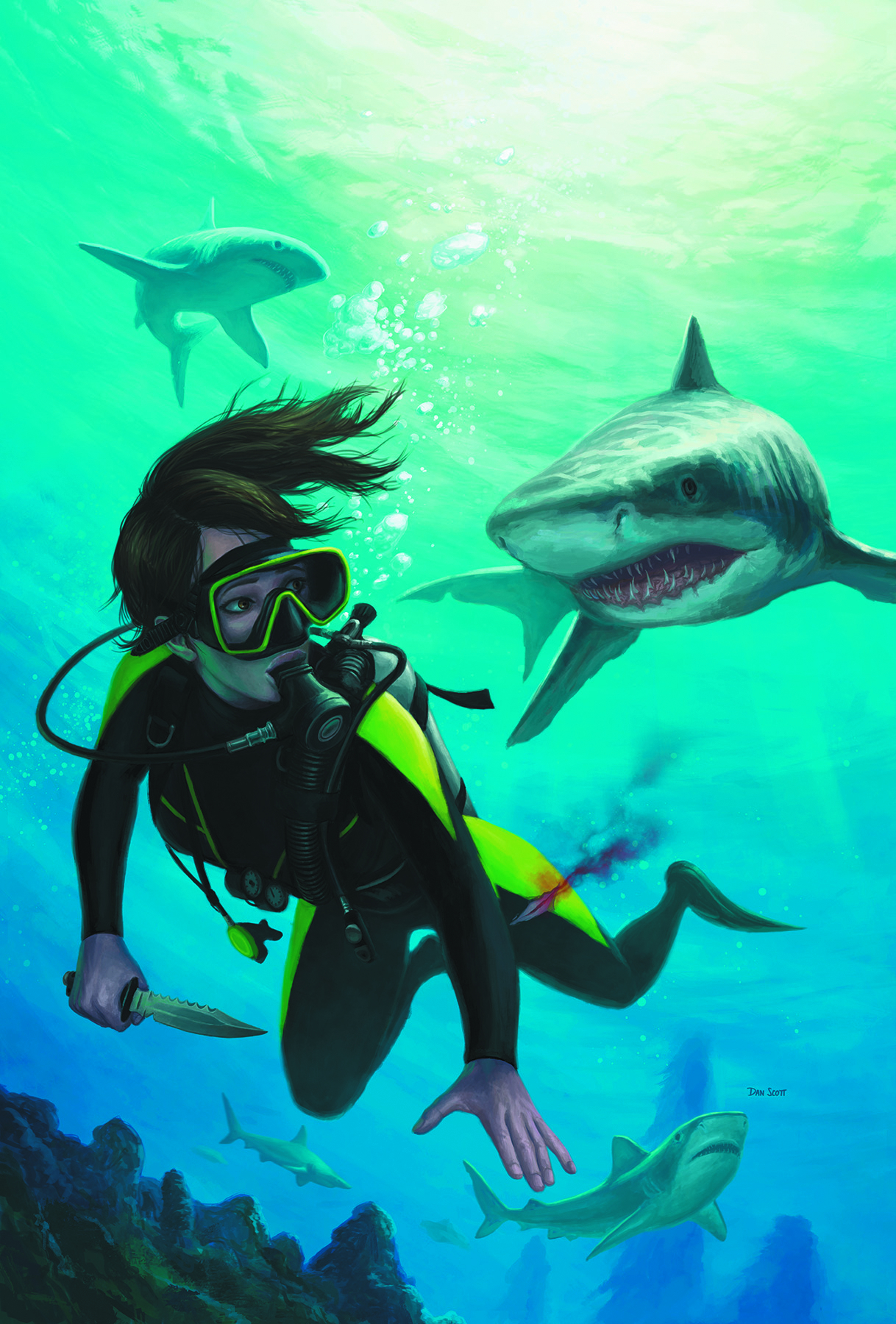 The newest addition to the Tomb Raider saga, co-written by Gail Simone and Rhianna Pratchett! Lara's risking her life to reveal a terrifying secret-however, while she's globetrotting, things aren't right at home. What price must Lara pay to learn the truth?



DC
AQUAMAN #37
ARKHAM MANOR #3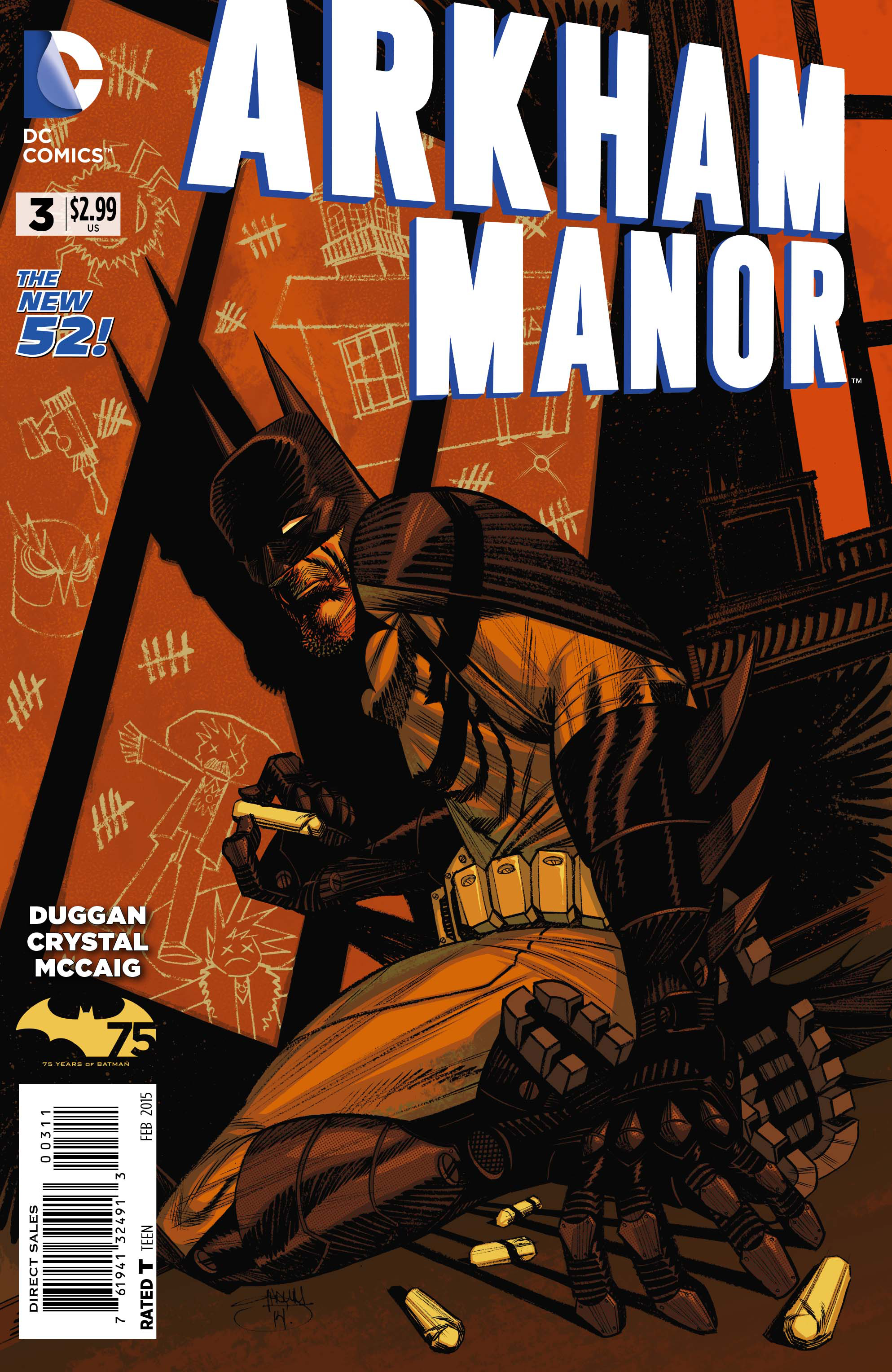 All is not as it seems as Batman's plans unravel in Arkham Manor, and Jack Shaw investigates the serial killer who's murdering inmates!


BATMAN 66 #18
BATMAN ANNUAL #3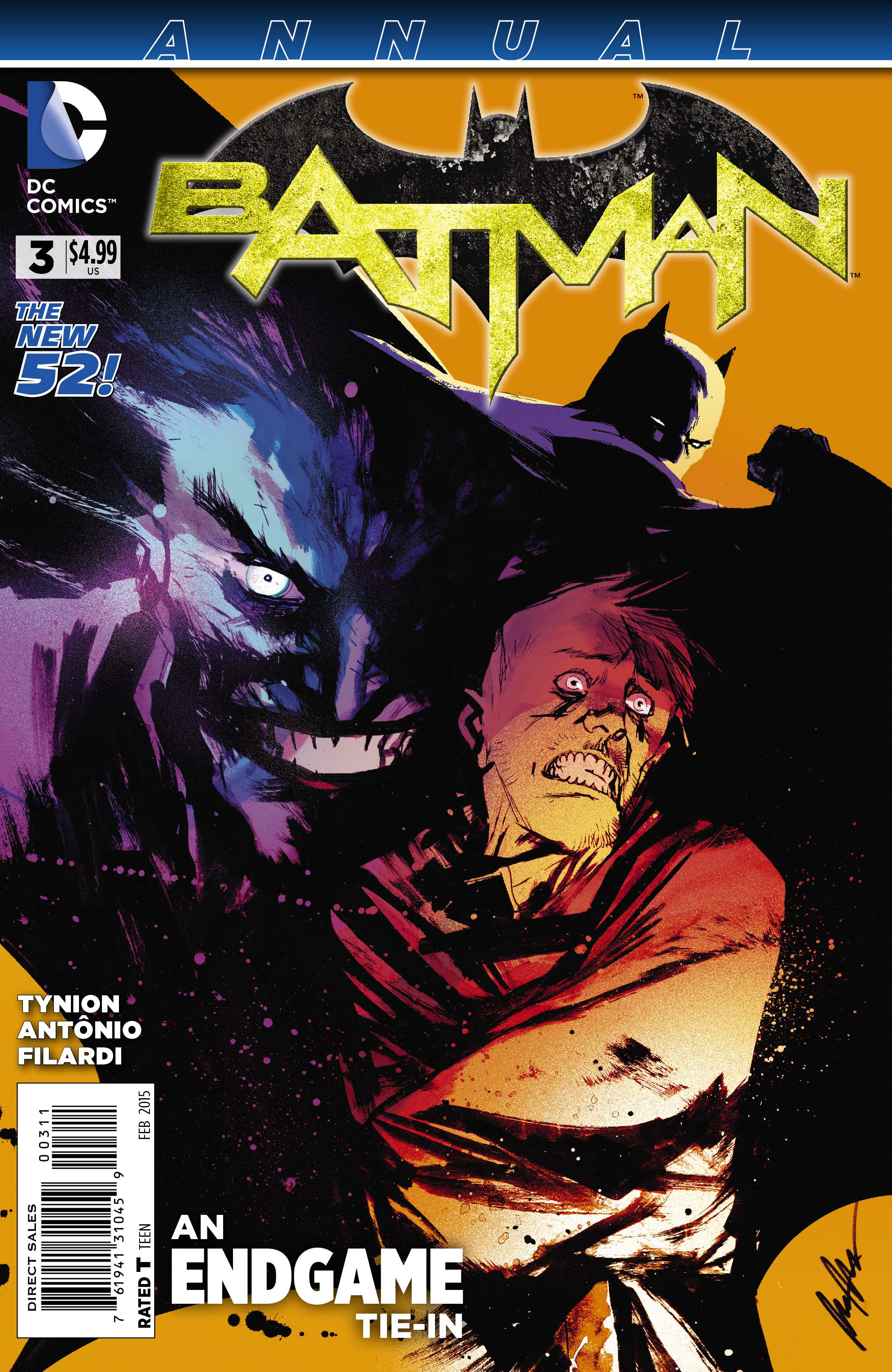 Don't miss this top-secret tale that ties in to the "Endgame" storyline running now in BATMAN - sorry, but that's all we can tell you! Trust us - it's going to be big!


BATMAN ETERNAL #38
BODIES #6 (OF 8)
CATWOMAN ANNUAL #2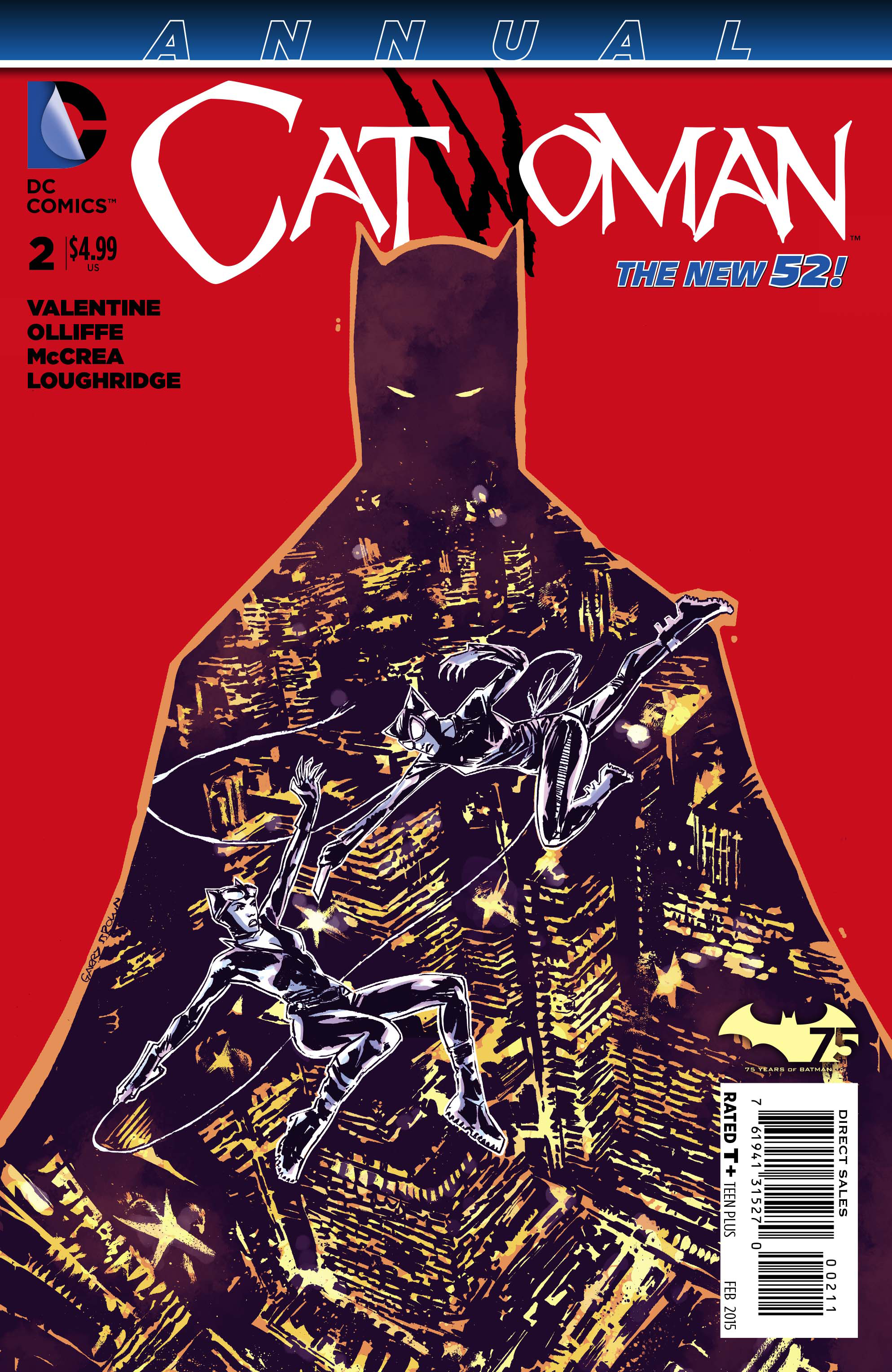 The Hasagaua crime family has been a big thorn in Selina's side as she grapples with the underworld. Now learn the secret of how their stories intersect!


DEAD BOY DETECTIVES #12
DEATHSTROKE #3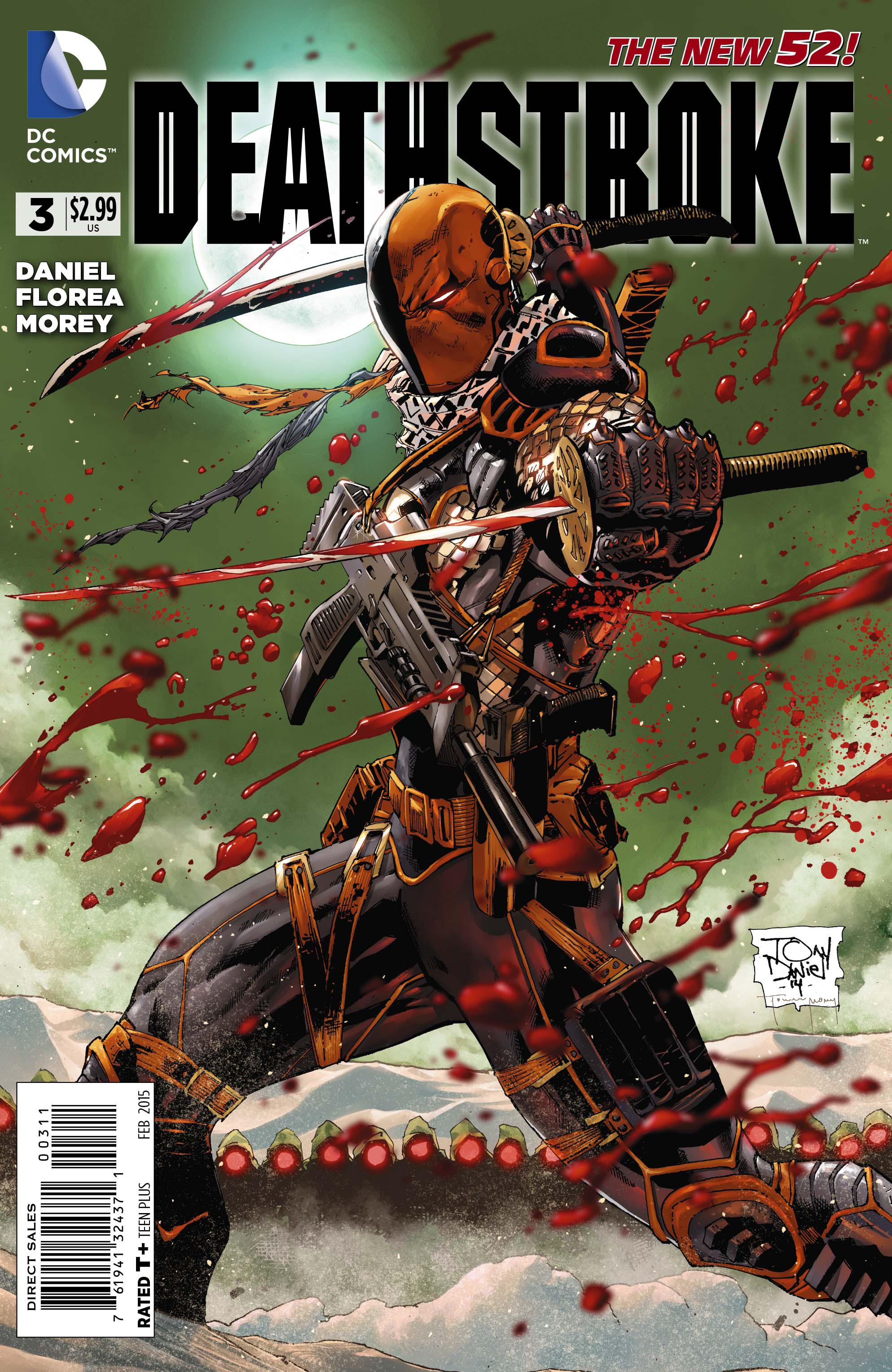 Deathstroke's taking bigger and bolder risks as the hunt for his stolen memories continues. Slade will be pushed to the edge to achieve his goal, but will he ultimately be undone by executing his way to the truth?
EARTH 2 WORLDS END #12
FLASH #37
GOTHAM BY MIDNIGHT #2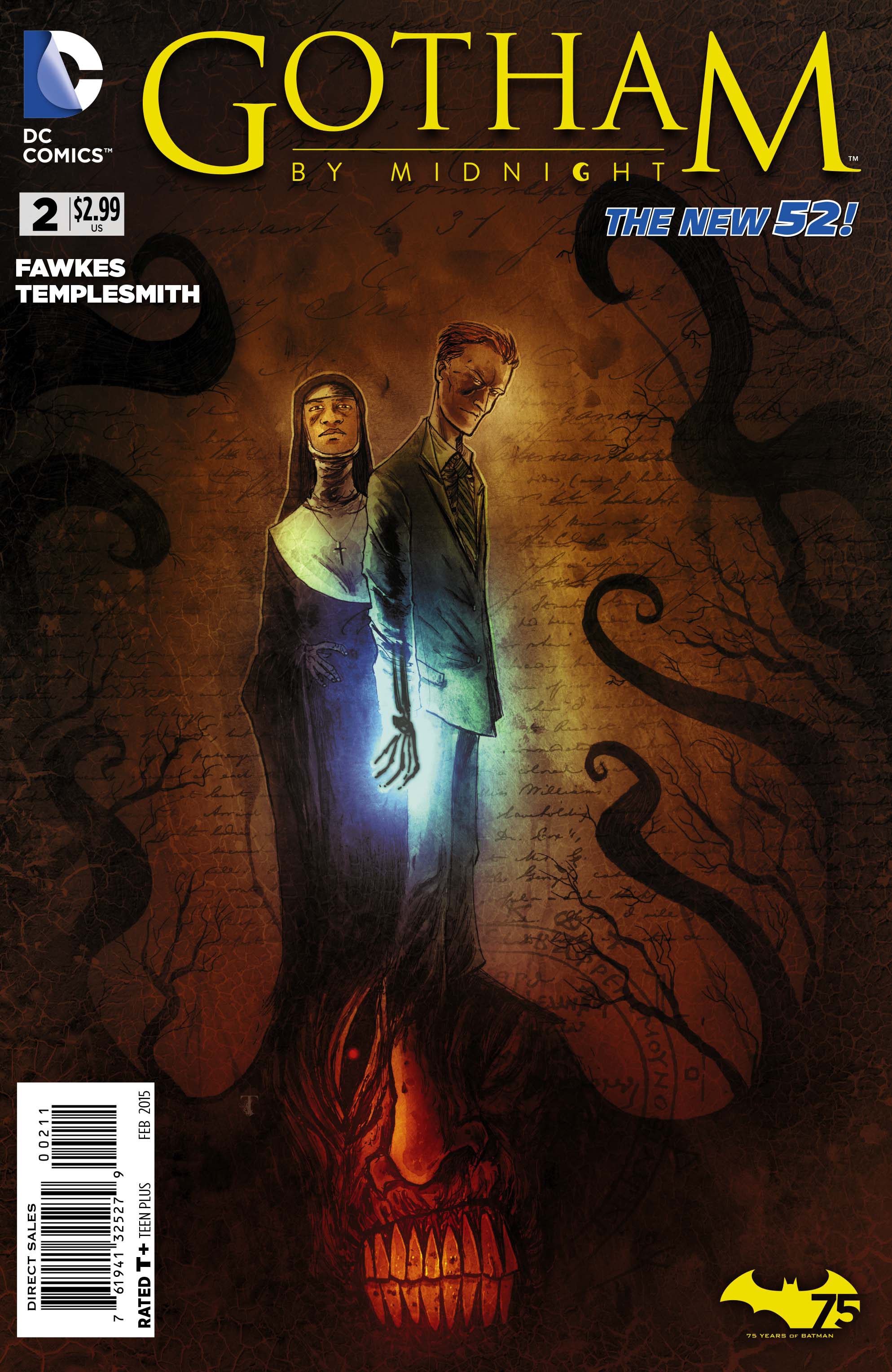 Internal Affairs Agent Rook is learning the Midnight Shift really does have the hard cases - and Jim Corrigan may not be able to bail him out. At least, not without some divine intervention! But can Corrigan risk letting loose the wrath of God, especially against a departed sister?
GRAYSON ANNUAL #1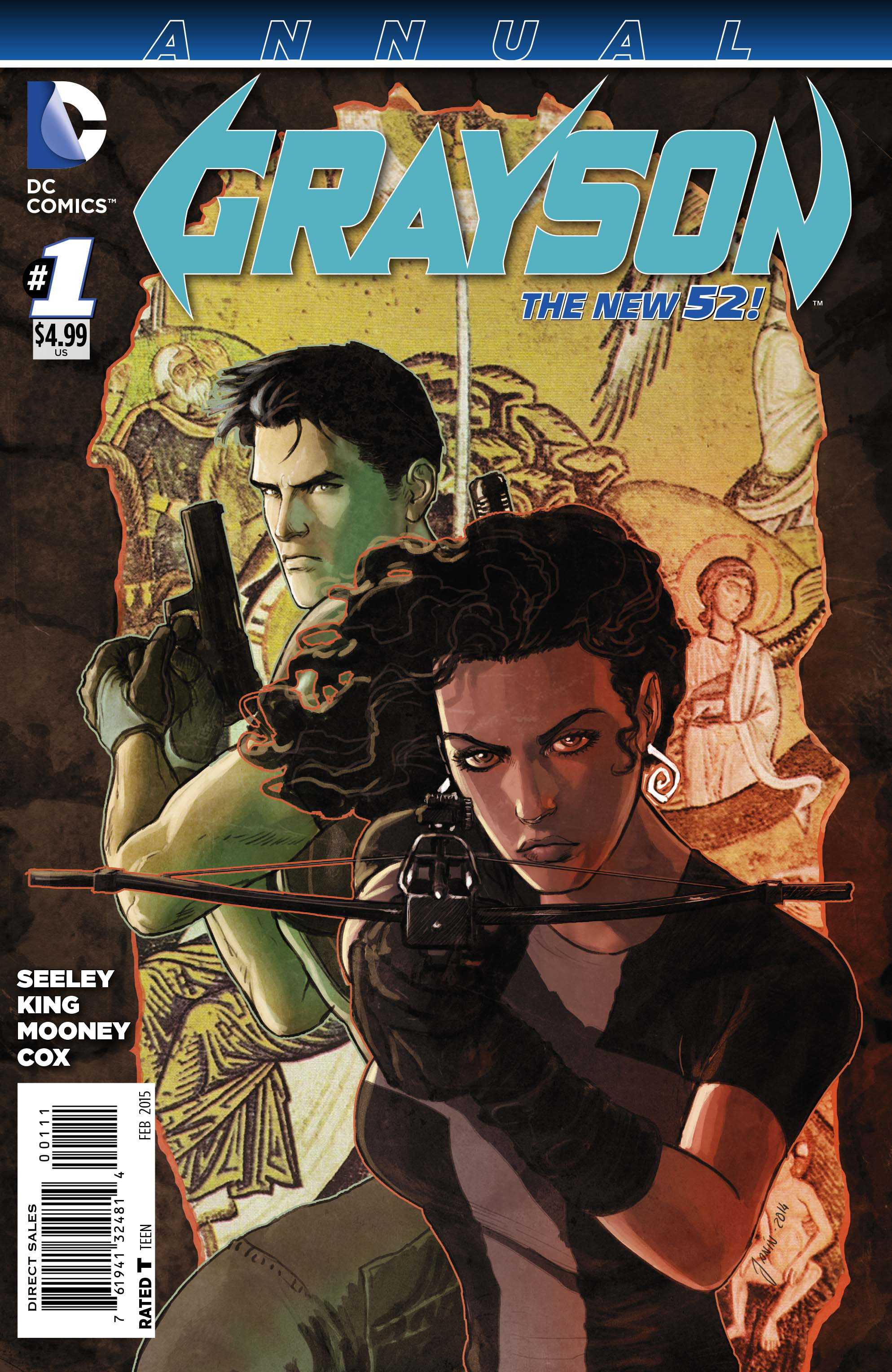 At last - it's the secret origin of Helena Bertinelli!


GREEN LANTERN ANNUAL #3 (GODHEAD)
HARLEY QUINN #13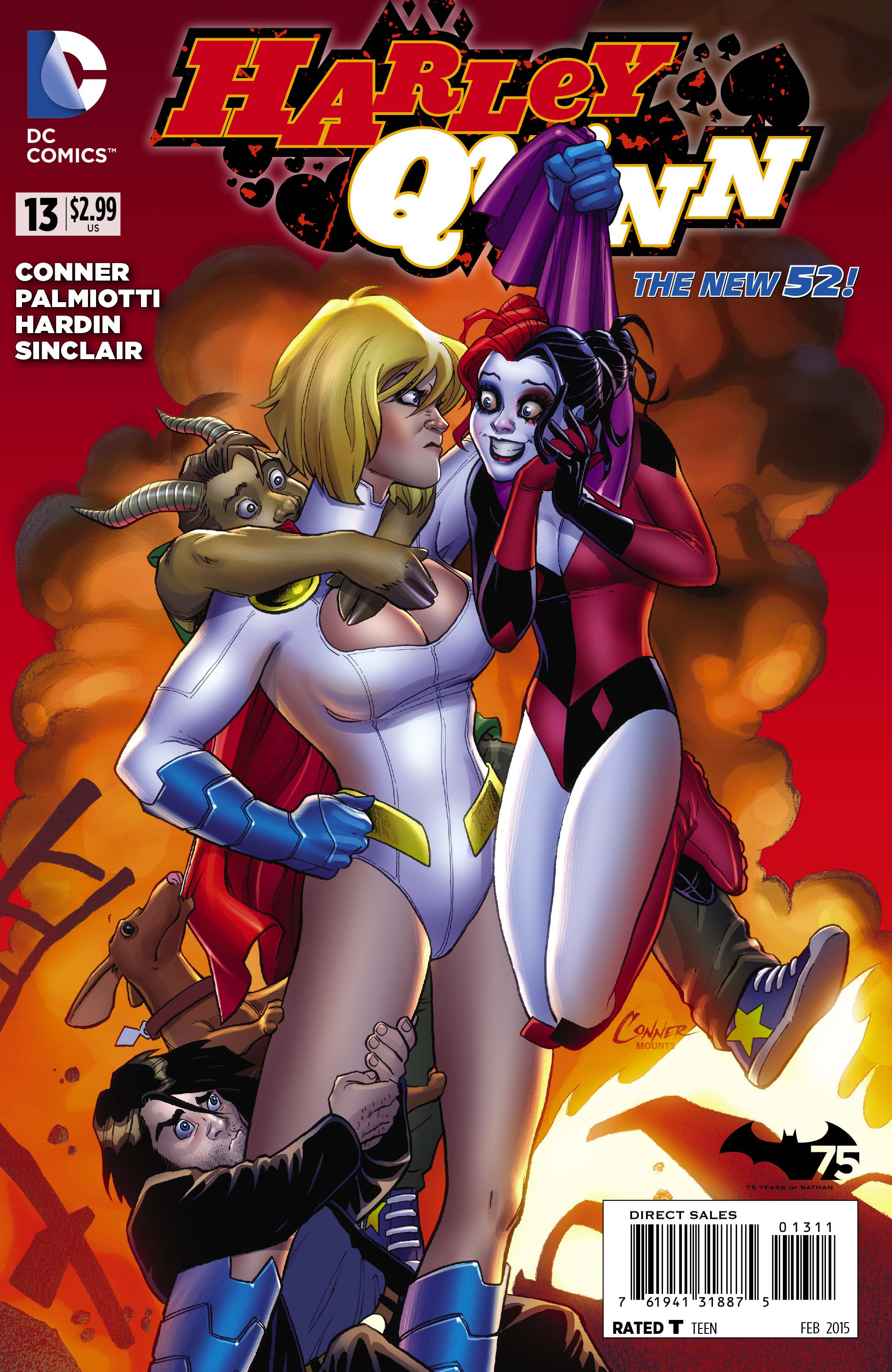 Harley Quinn and Power Girl! The team-up that no one said could last ends with spectacular violence!
HE MAN THE ETERNITY WAR #1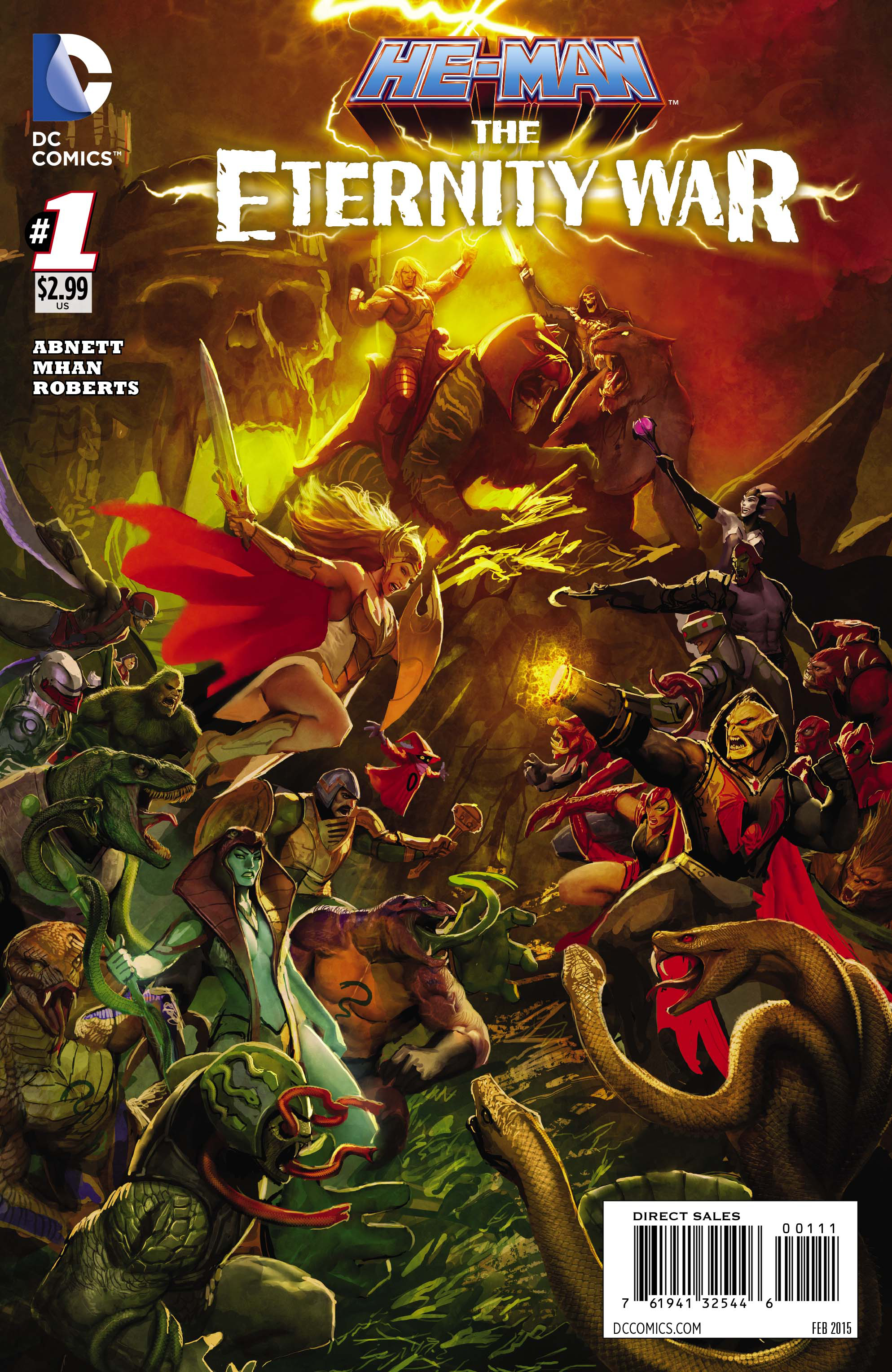 The war to end all wars has begun in Eternia! Hordak and the villainous Dark Horde have taken over Castle Grayskull and plan to use it as a weapon to terrorise and rule the universe. However, a resistance is building led by She-Ra, The Sorceress Teela and the benevolent warrior He-Man! To what lengths will the Masters of the Universe go to reclaim their kingdom? What sacrifices must He-Man make to salvage his family legacy? Don't miss a moment of this epic new MOTU series!


INFINITY MAN AND THE FOREVER PEOPLE #6 (GODHEAD)
INJUSTICE GODS AMONG US YEAR THREE #6
JUSTICE LEAGUE DARK #37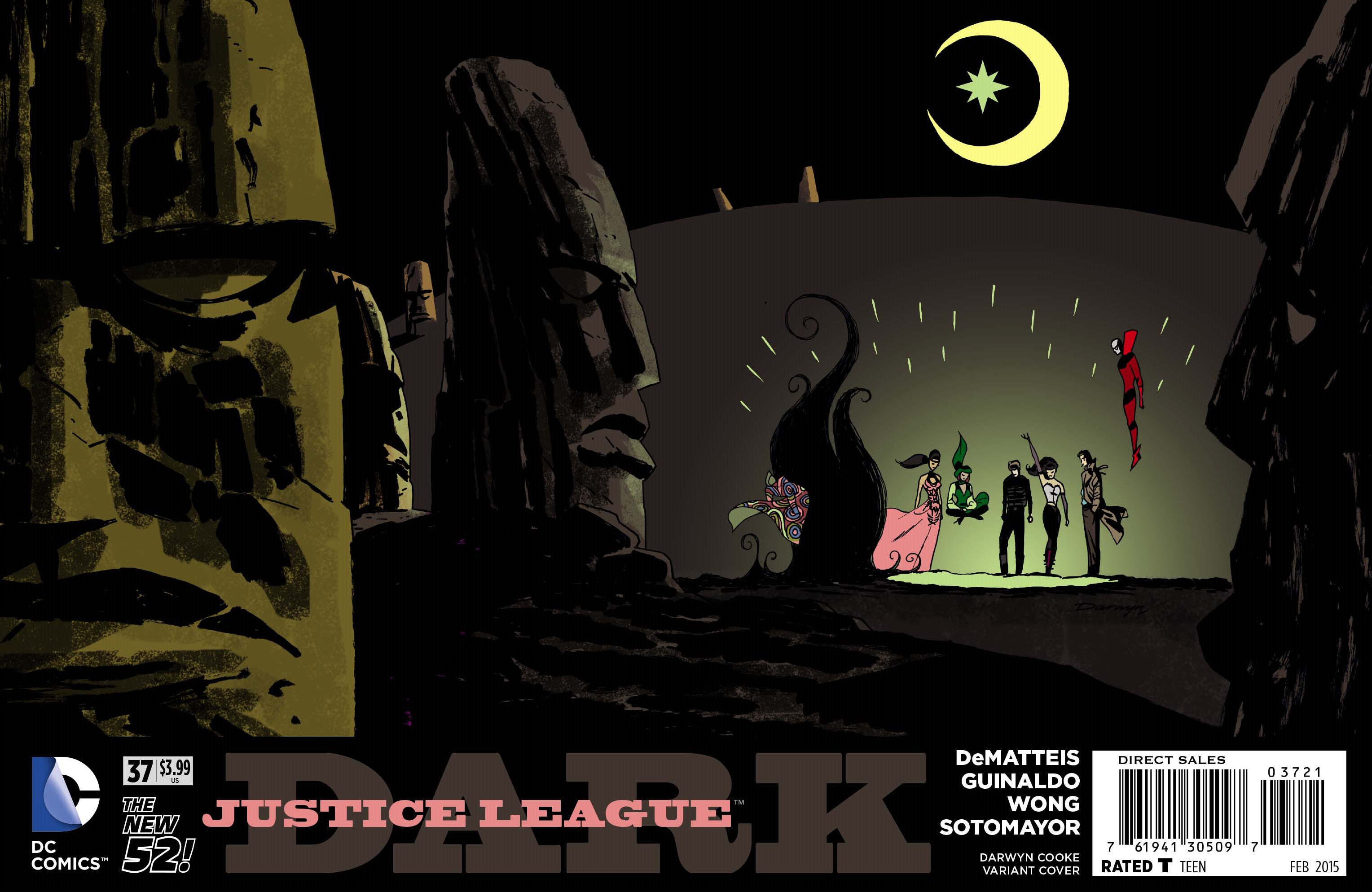 Trapped in a universe outside time, the members of Justice League Dark must survive a surreal landscape to find their way home - at the beginning of time!


NEW 52 FUTURES END #34 (WEEKLY)
RED HOOD AND THE OUTLAWS ANNUAL #2
RED LANTERNS #37 (GODHEAD)
ROBIN RISES ALPHA #1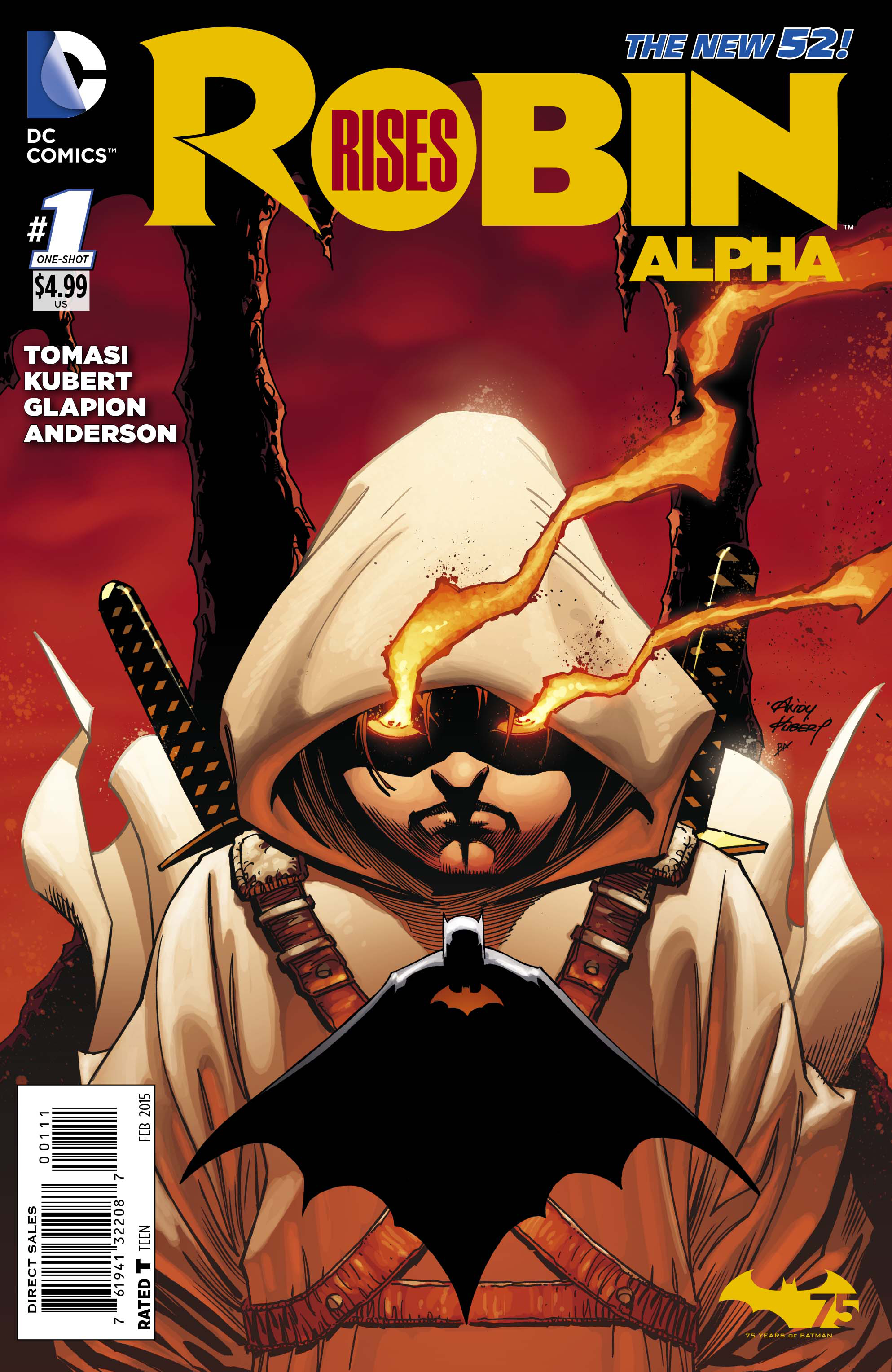 It all ends here! Batman's been to the hells of Apokalips and back just to retrieve his son's body. But what has he brought back with him? And who is the new Robin?


SECRET ORIGINS #8
SINESTRO #8 (GODHEAD)
STAR SPANGLED WAR STORIES GI ZOMBIE #5
SUPERMAN #37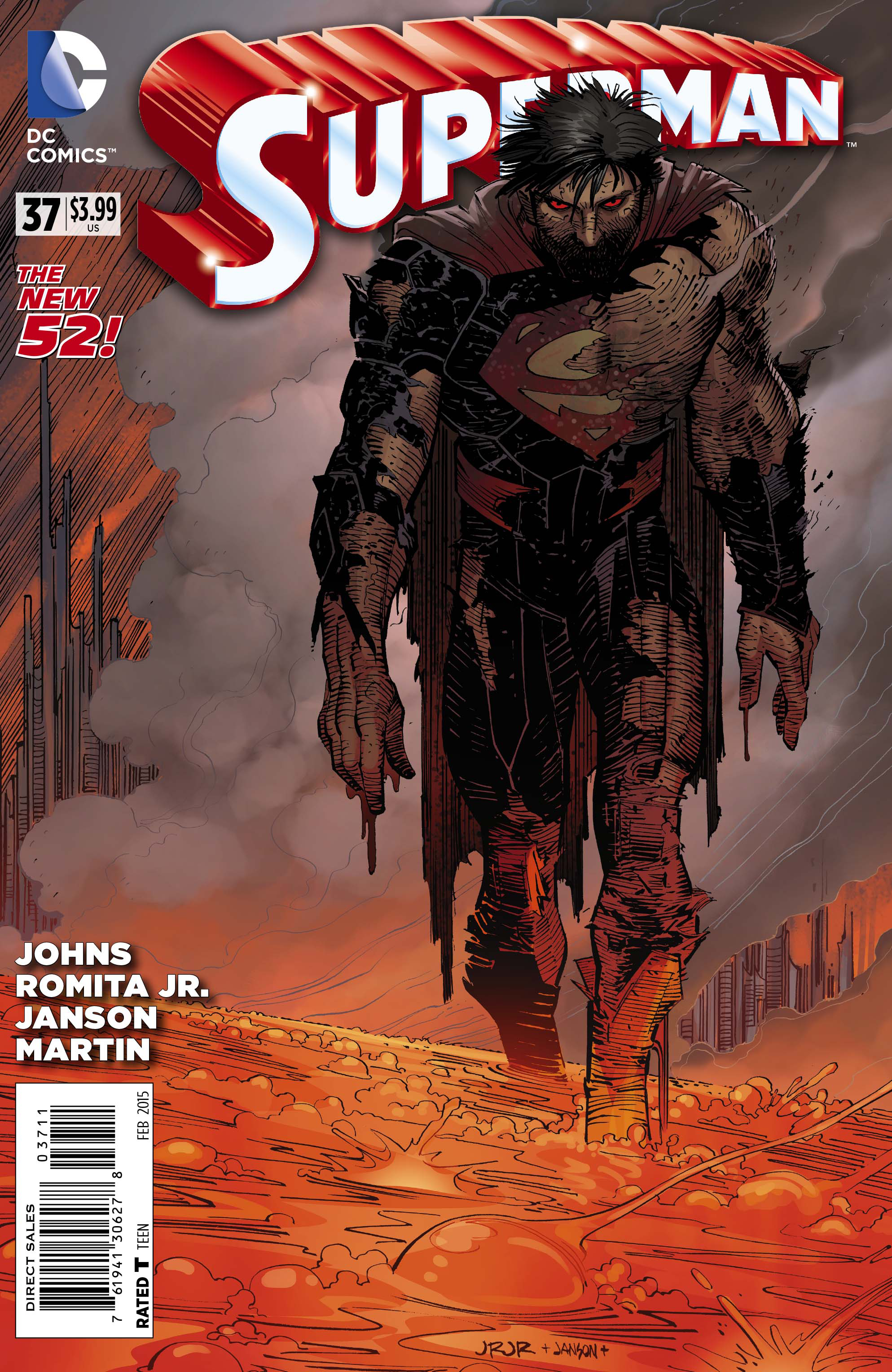 Can there be peace and good will toward people without a price? Geoff Johns and John Romita Jr. serve up some holiday shocks as they answer this question and more in this the penultimate chapter of "MEN OF TOMORROW"! And be warned - some significant changes are in store for the Man of Steel to ring in the New Year!


SUPERMAN WONDER WOMAN #14

DYNAMITE
BIONIC WOMAN SEASON FOUR #4
DOC SAVAGE SPECIAL 2014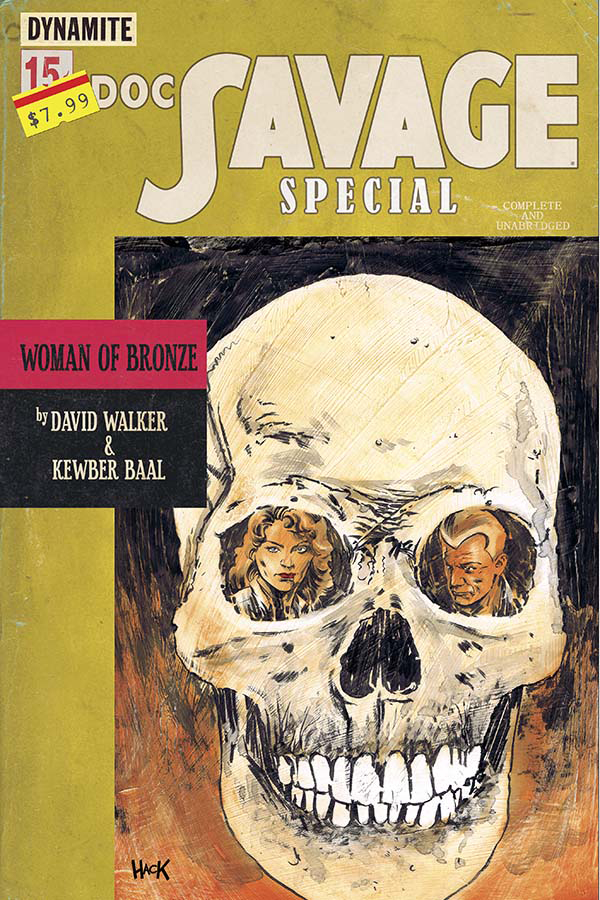 Known as the cousin of world famous adventurer Doc Savage, Pat Savage wants nothing more than to prove she has what is takes to be a hero. What starts out as a thankless job as a babysitter, soon turns into an epic life-and-death struggle that finds Pat squaring off against sinister forces. It's a double-size tale of two-fisted action starring the first lady of pulp adventure, Pat Savage, Woman of Bronze.


PURGATORI #4
THE AVENGER SPECIAL ONE SHOT
THE DEVILERS #5 (OF 7)
THE SHADOW 2014 ONE SHOT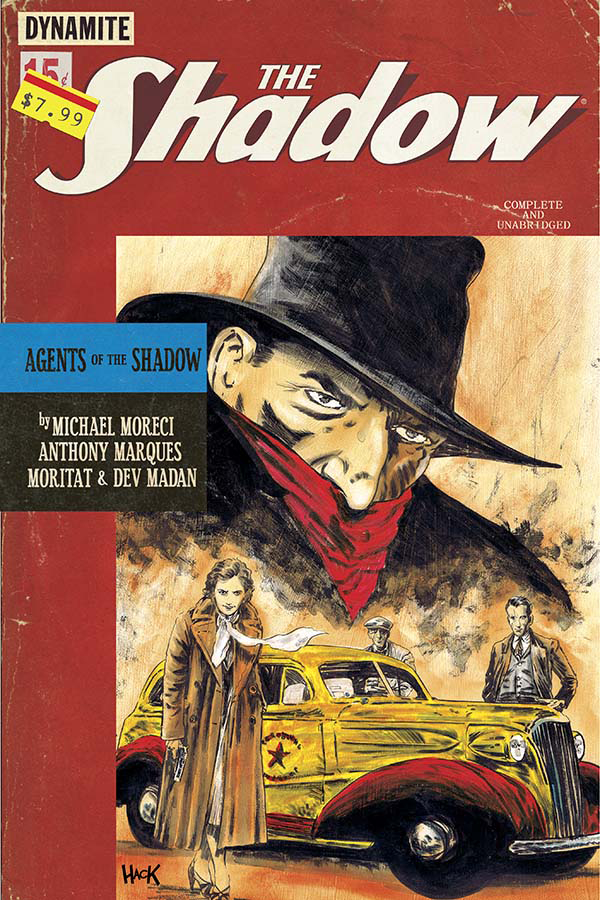 Faced with a world without The Shadow, his agents must step up and take down a crime syndicate that is crippling the city! From the mean streets to the mountains of China, the agents run a counter operation to break up this menace and uncover its mysterious leader. Margo, Jericho, Cliff, and more unite to stem the bitter fruit of crime!
IDW
GARBAGE PAIL KIDS COMIC BOOK PUKETACULAR #1
Remember mullets and teased bangs? Stonewashed denim jackets and jeans? Well, not everything about the '80s was lame, because that's when the Garbage Pail Kids ruled the world! Those irreverent, satirical stickers quickly became a pop-culture phenomenon, but they never had their own comic book... until now! In the spirit of the avant-garde cartoonists and humorists who fathered these miscreants, a new generation of alternative-comics creators has lent their unique talents to bring the Garbage Pail Kids into the wacky world of comics- just in time for their 30th birthday!


GI JOE A REAL AMERICAN HERO #209
JUDGE DREDD #26
JUDGE DREDD ANDERSON PSI DIVISION #4
MY LITTLE PONY FRIENDSHIP IS MAGIC #26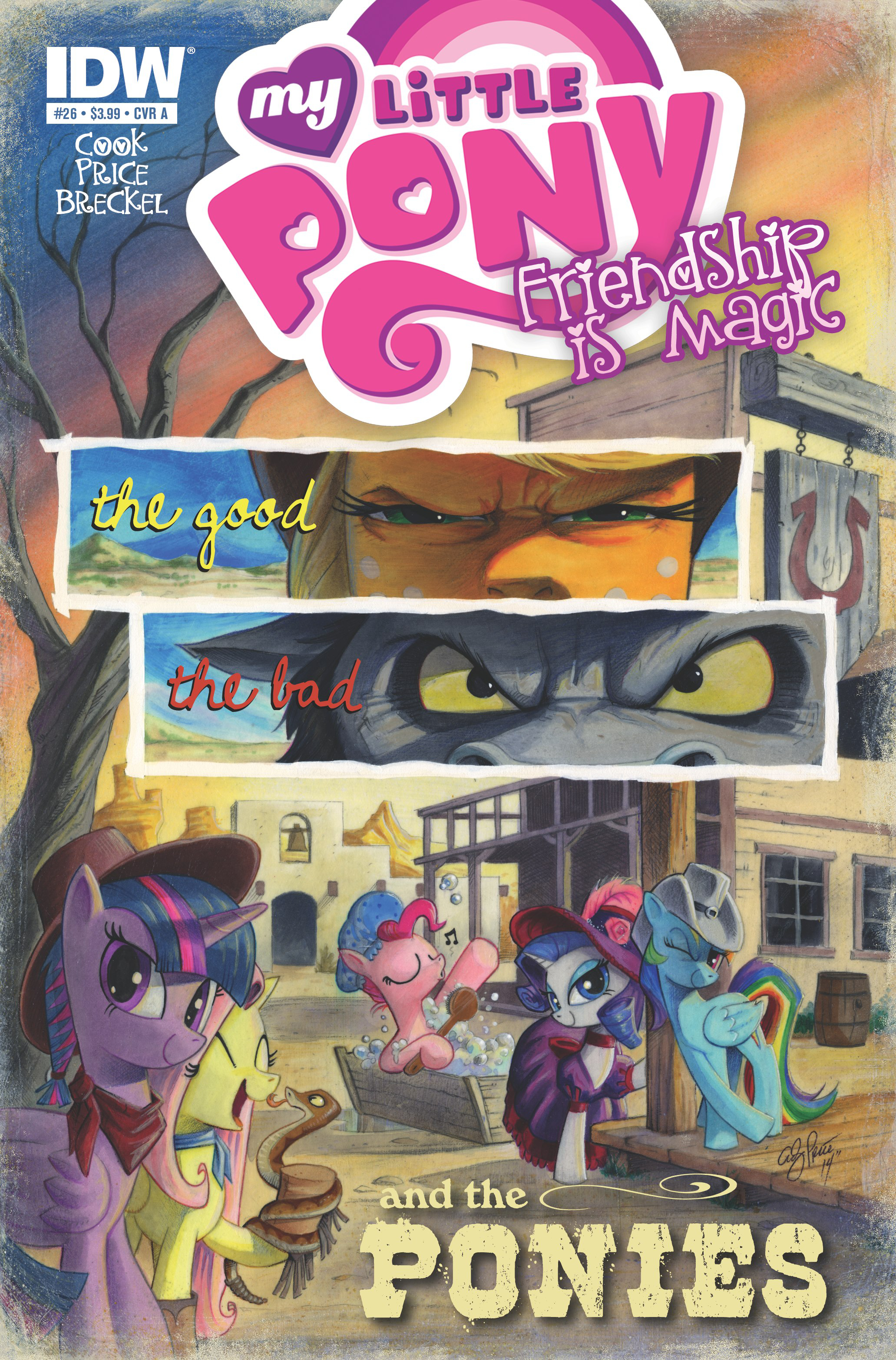 All plans to stop the Cattle Rustler gang have failed! Hope seems to be in short supply in the small town of Canter Creek. Luckily a new sheriff is in town... Applejack!
SHADOW SHOW #2 (OF 5)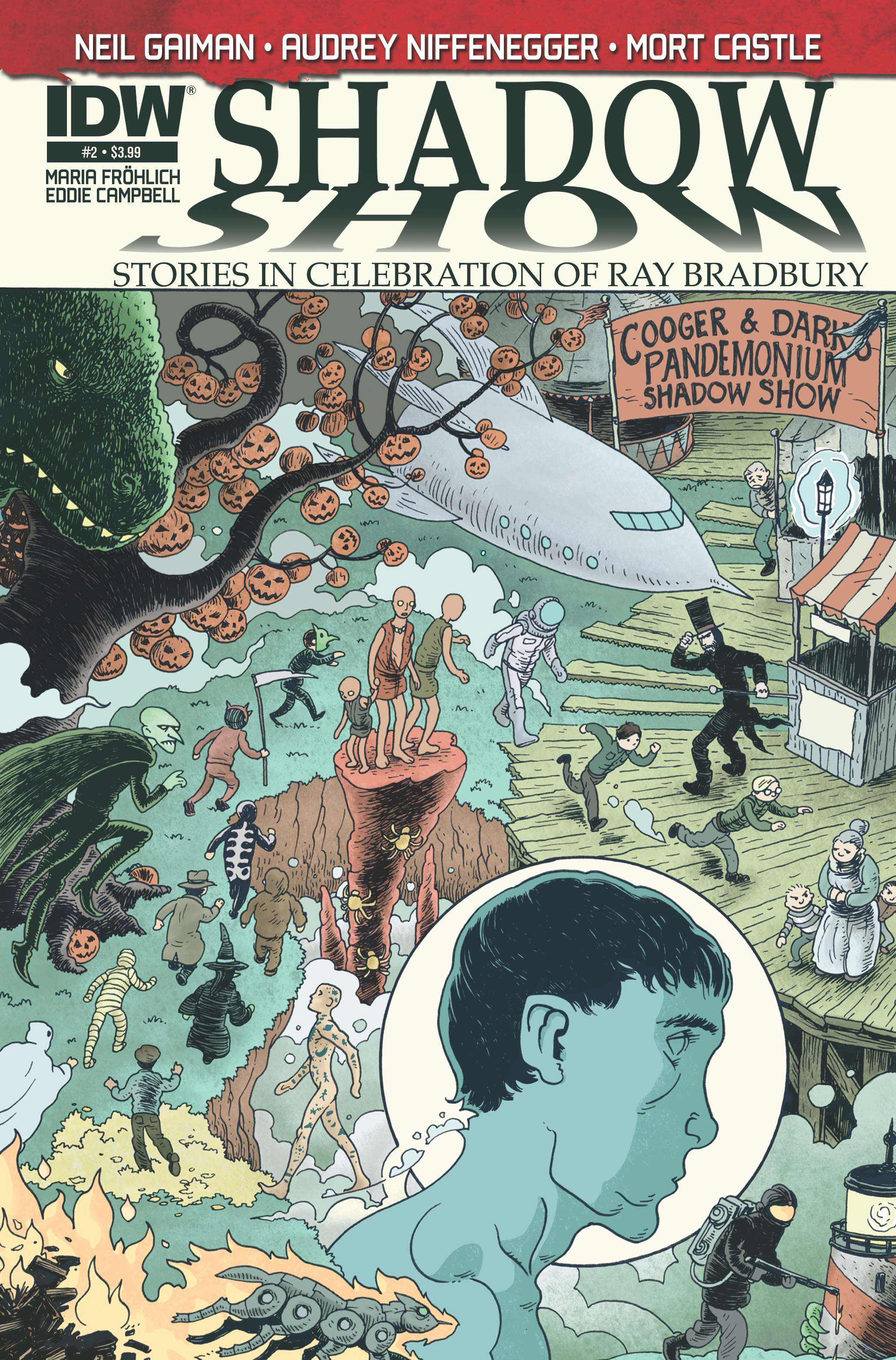 In Shadow Show, acclaimed writers and come together to pay tribute to the work of the one and only Ray Bradbury! The first story featured is "The Man Who Forgot Ray Bradbury," written by Neil Gaiman with art by Maria Fröhlich, which peers into the mind of a man who sifts through his own memories in an attempt to recover the name of a famous sci-fi author. The next story, "Backward in Seville," brings together the singular talents of Audrey Niffenegger and Eddie Campbell to tell a small tale of a woman's regrets and the new life that awaits her.


SILENT HILL DOWNPOUR ANNE'S STORY #4
TMNT GHOSTBUSTERS #3 (OF 4)
X FILES X-MAS SPECIAL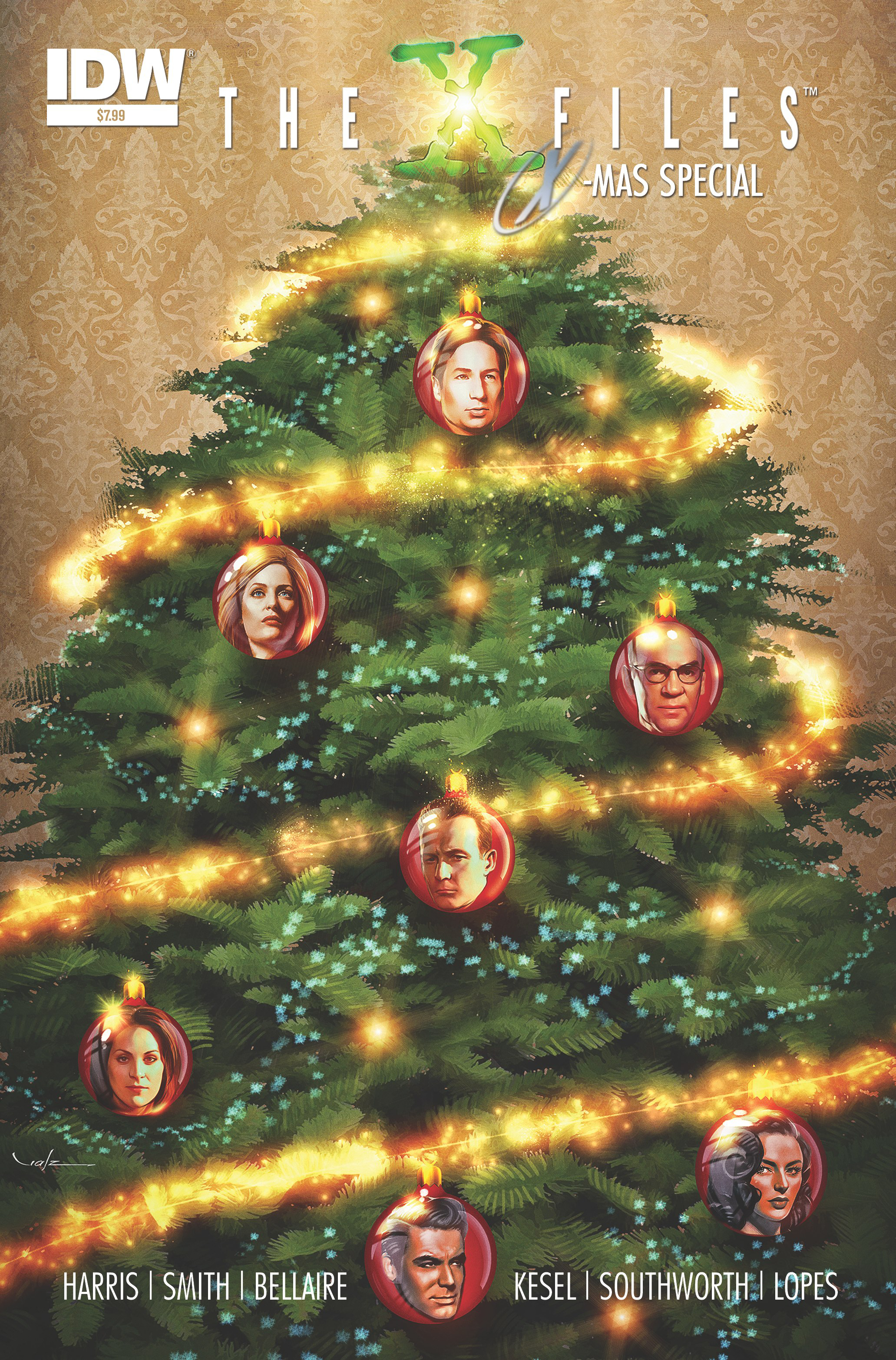 The holidays have brought together all the X-Files agents for the very first time! Walter Skinner hosts a get-together for his most special agents, but the festive night turns tense when someone-or something-comes down the chimney! In a second story, the X-Files team of the 1940s-Bing Ellington and Millie Ohio from the Year Zero miniseries-investigate a potential Communist saboteur, but discover an impossible creature-a gremlin!
IMAGE
BLACK SCIENCE #11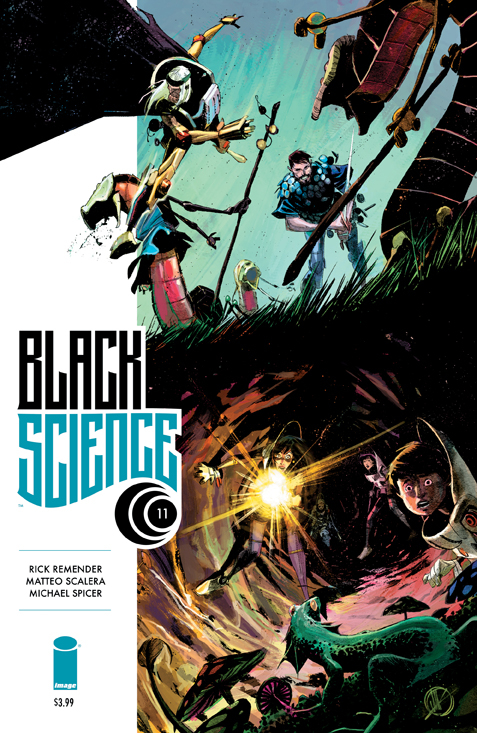 As the Pillar counts down towards its next jump the Dimensionauts are besieged by an endless wave of horrors. Can they hold out long enough to escape, or will one of them have to remain behind and pay the ultimate price?
Join RICK REMENDER, MATTEO SCALERA, & DEAN WHITE, as they bring the second chapter of the smash sci-fi hit series to a close!
COWL #7
GRAVEYARD SHIFT #1 (OF 4)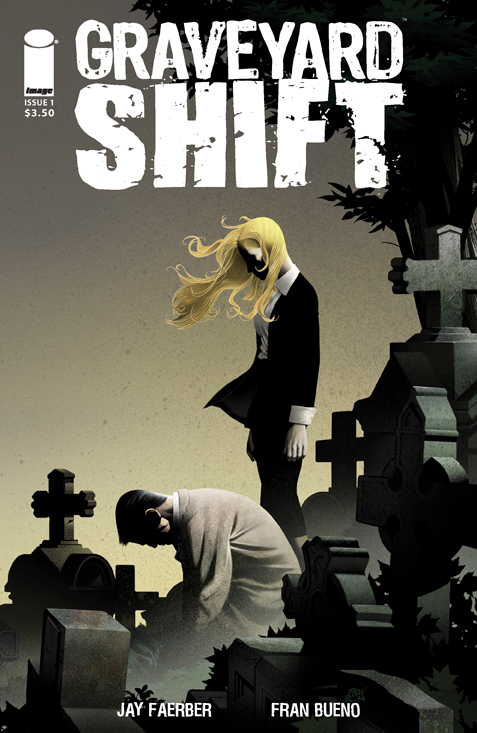 Reunited after their memorable run on the critically acclaimed NOBLE CAUSES, JAY FAERBER and FRAN BUENO bring you a new tale of crime, horror, and romance! It's Fright Night-style thrills and Castle-style crime-solving as a homicide detective and his girlfriend find their love put to the ultimate test when they run afoul of a gang of vampires!


GREAT PACIFIC #18
MERCENARY SEA #8
OUTCAST BY KIRKMAN & AZACETA #6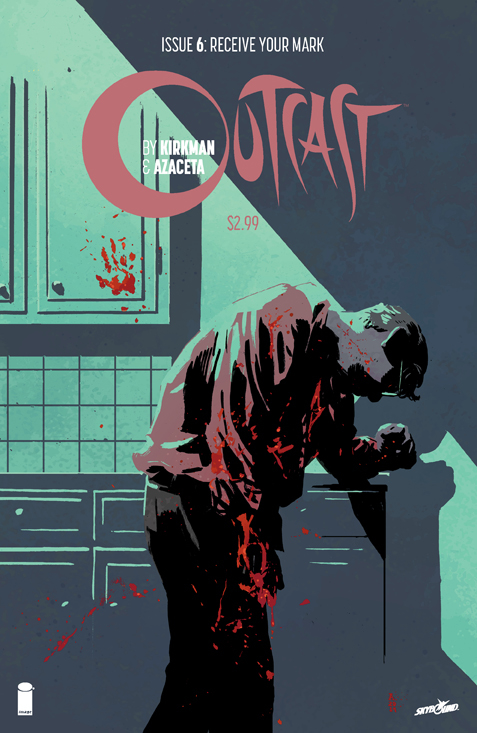 "RECEIVE YOUR MARK"
Our first group of stories comes to a very startling conclusion, setting the stage for what is to come.
RASPUTIN #3
REVIVAL #26
SUPER DINOSAUR #23
THEY'RE NOT LIKE US #1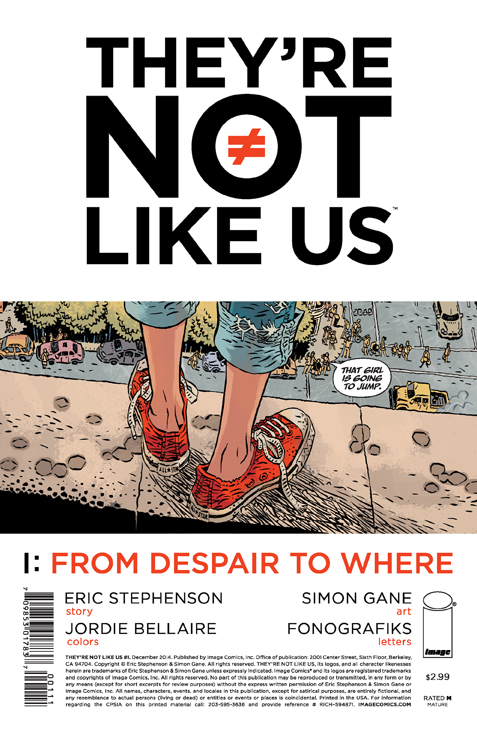 Generation after generation, it's the same old S.O.S.:
There's no hope for the future, because young people think only of themselves.
They have no respect for authority. They think they know everything. They are arrogant. They are reckless. They want to tear the world apart.
In a time full of possibilities, yet rife with disappointment, the youth are changing.
They look the same, but they act different, think different, and have abilities we can only dream of.
They're not like us.
INDIE
AND THEN EMILY WAS GONE #5 (OF 5)
BETTY & VERONICA COMICS DIGEST #229
DOCTOR WHO 11TH #6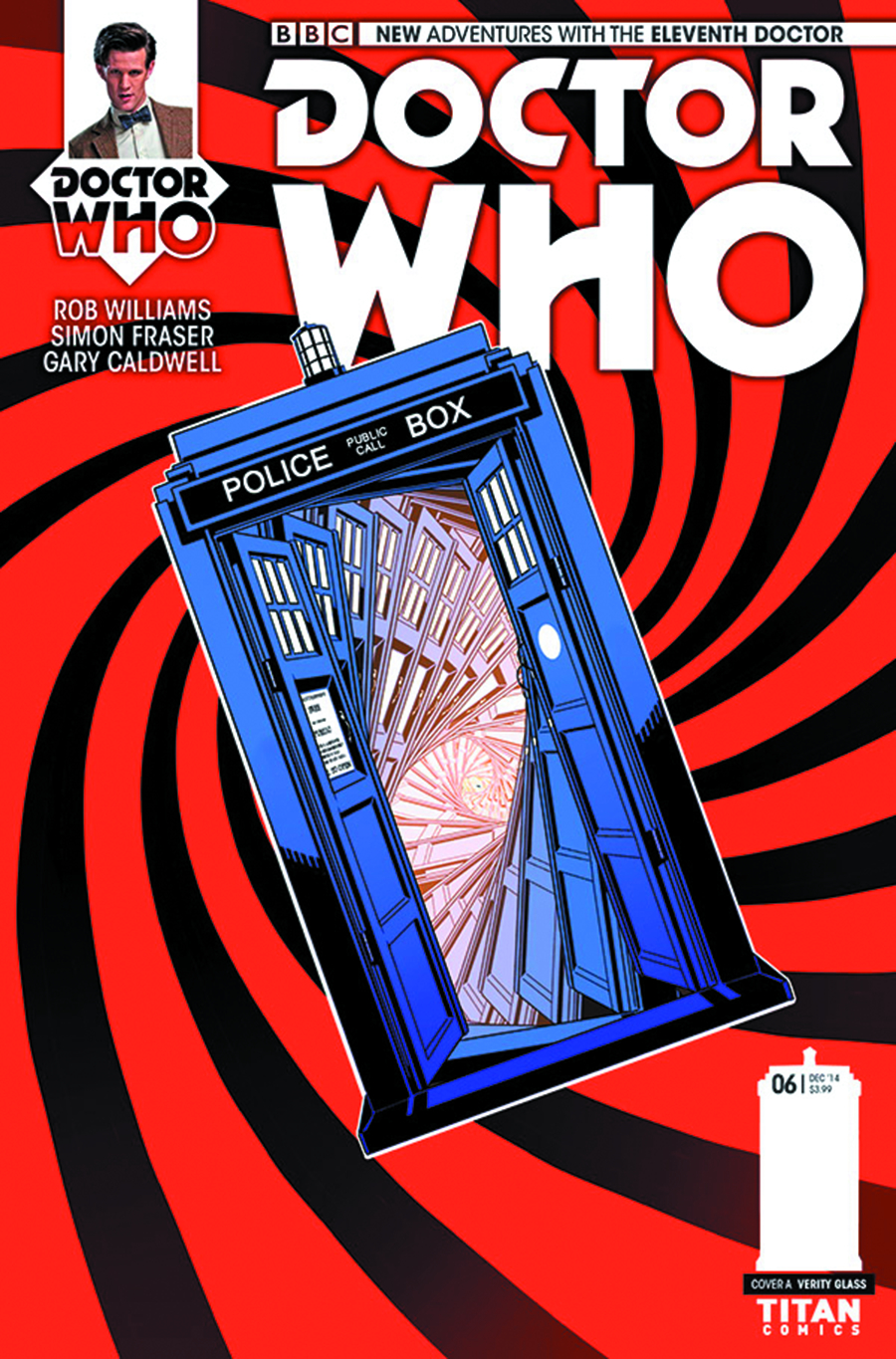 The Doctor is the only one who realises that the flow of time in the vortex has been disrupted, but can he uncover the cosmic culprit and put causality back on the right track before Alice and her fellow TARDIS travelers are de-aged right out of existence?


FATHOM SOURCEBOOK #1
LAST BORN #4
LETTER 44 #13
MCBAIN #1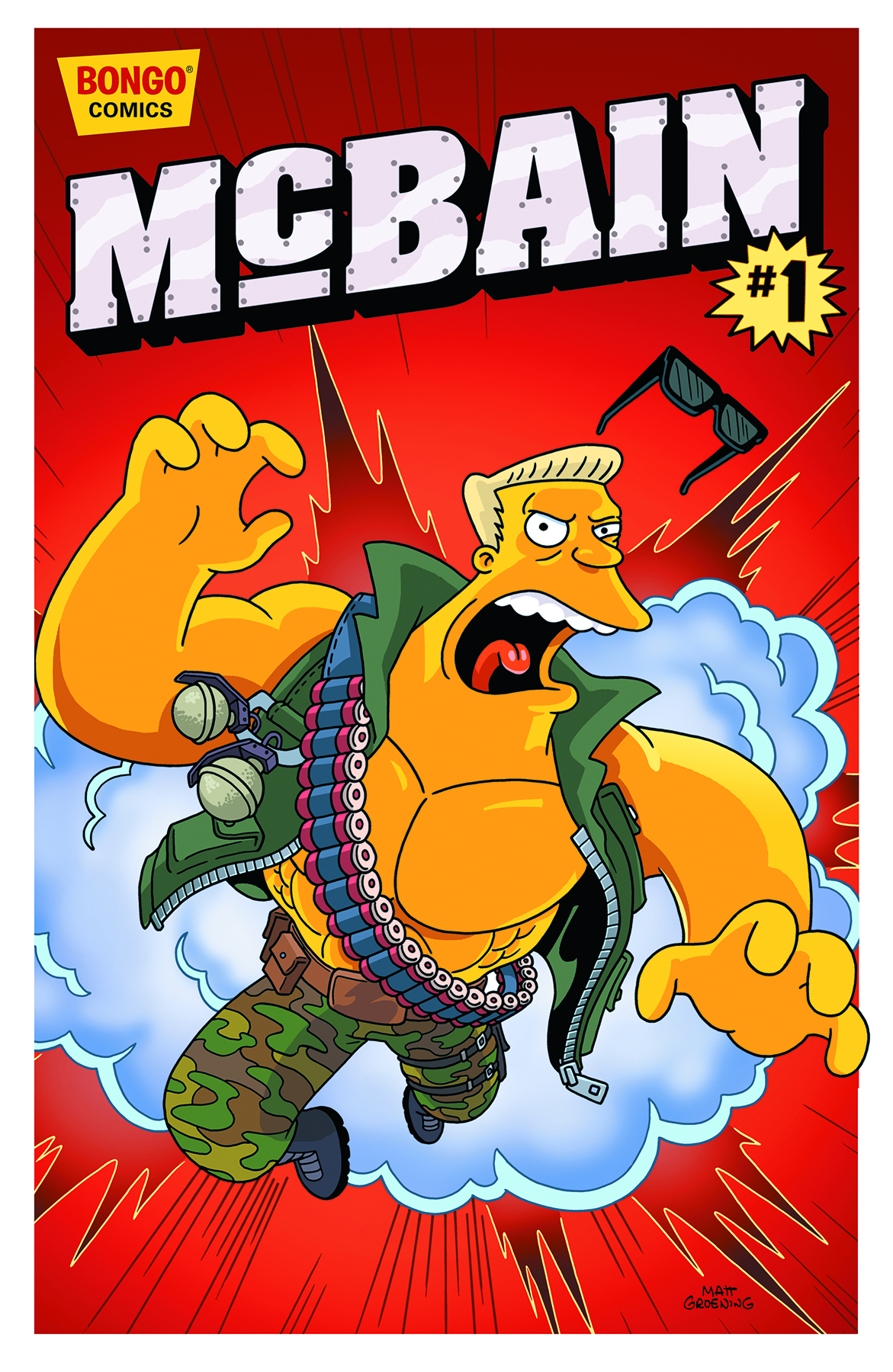 You Only Die Once! Springfield's #1 box office draw finally gets top billing on the Simpsons One-Shot Wonders marquee! Many of you may know him as the muscle-bound strongman turned action star Rainier Wolfcastle, but the world (as if that wasn't enough) knows him simply by one name - McBain! Never Say One-Shot Again!


SONIC UNIVERSE #71
UNITY #13
ZOOHUNTERS #2
MARVEL
ALL NEW INVADERS #13
ALL NEW X-FACTOR #18
ALL NEW X-MEN ANNUAL #1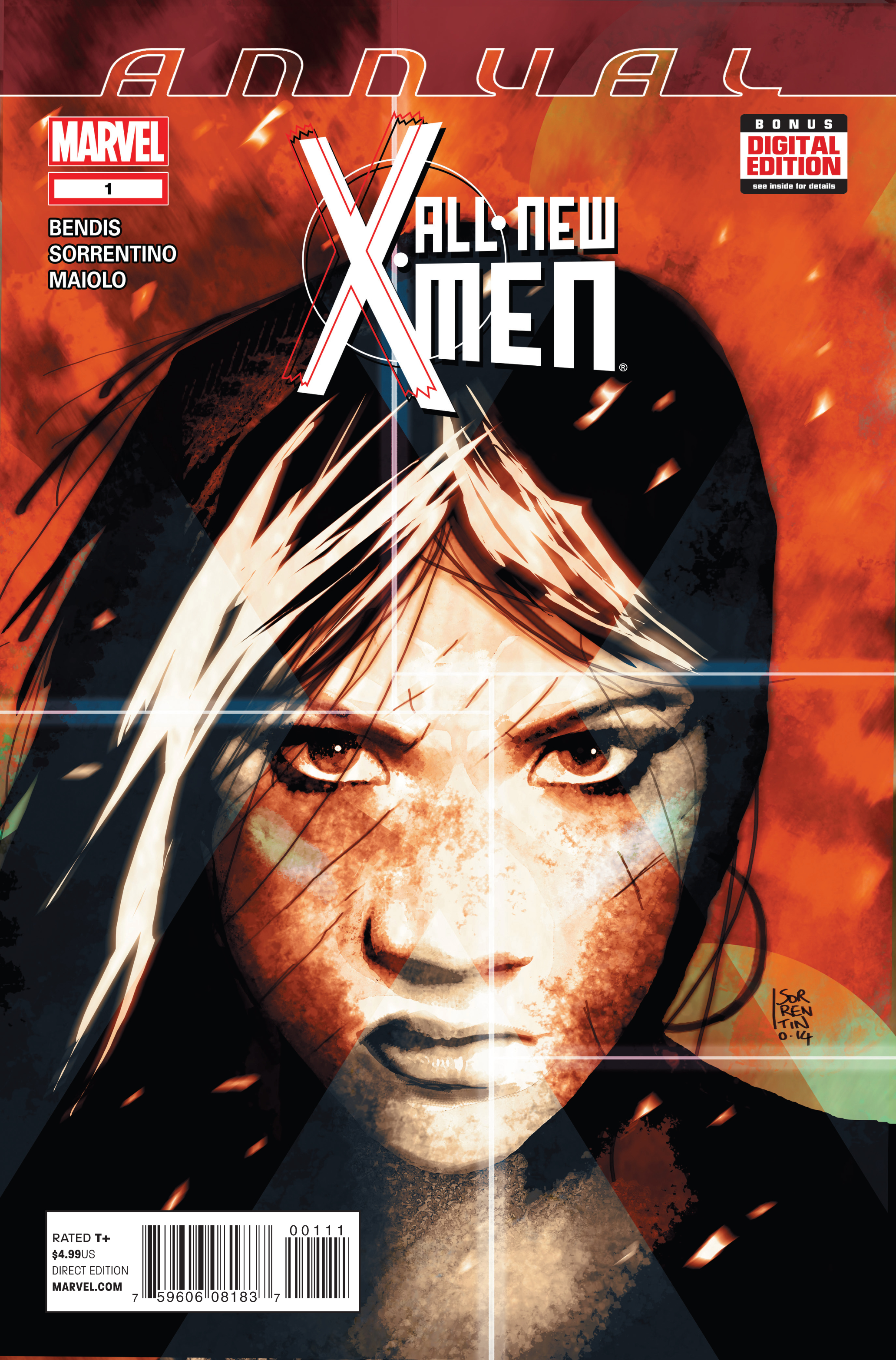 THE SECRET LIFE OF EVA BELL - Part 2
Part two of Eva Bell's journey through the ages!
With limited control over her powers, and even less control over her destinations, Eva had believed herself lost in time. But just when she had come to accept this as truth, her world was once again ripped asunder as she is once again sent tumbling through time.
AVENGERS AND X-MEN AXIS #9 (OF 9)
ACT III: NEW WORLD DISORDER
Who will live? Who will die? Who will remain inverted? A shocking climax that promises to crack the Marvel Universe to its very core!
An old foe must claim the mantle of his greatest enemy to save the lives of all he cares for!
An X-Man's horrifying fate! An Avenger's appalling choice! If you read only one comic this century - This is it!
CAPTAIN AMERICA AND MIGHTY AVENGERS #3 AXIS
DARK TOWER DRAWING OF THREE PRISONER #5 (OF 5)
DEADPOOL #39 AXIS
AXIS TIE-IN!
You heard right-since the events of AXIS inverted him...
DEADPOOL HAS GONE ZEN!
HE FOUND PEACE! HE SWORE OFF VIOLENCE!
So how is he going to help his friends live through the inverted X-Men?!?
DEATH OF WOLVERINE LOGAN LEGACY #7 (OF 7)
HAWKEYE VS DEADPOOL #3 (OF 4)
LOKI AGENT OF ASGARD #9 AXIS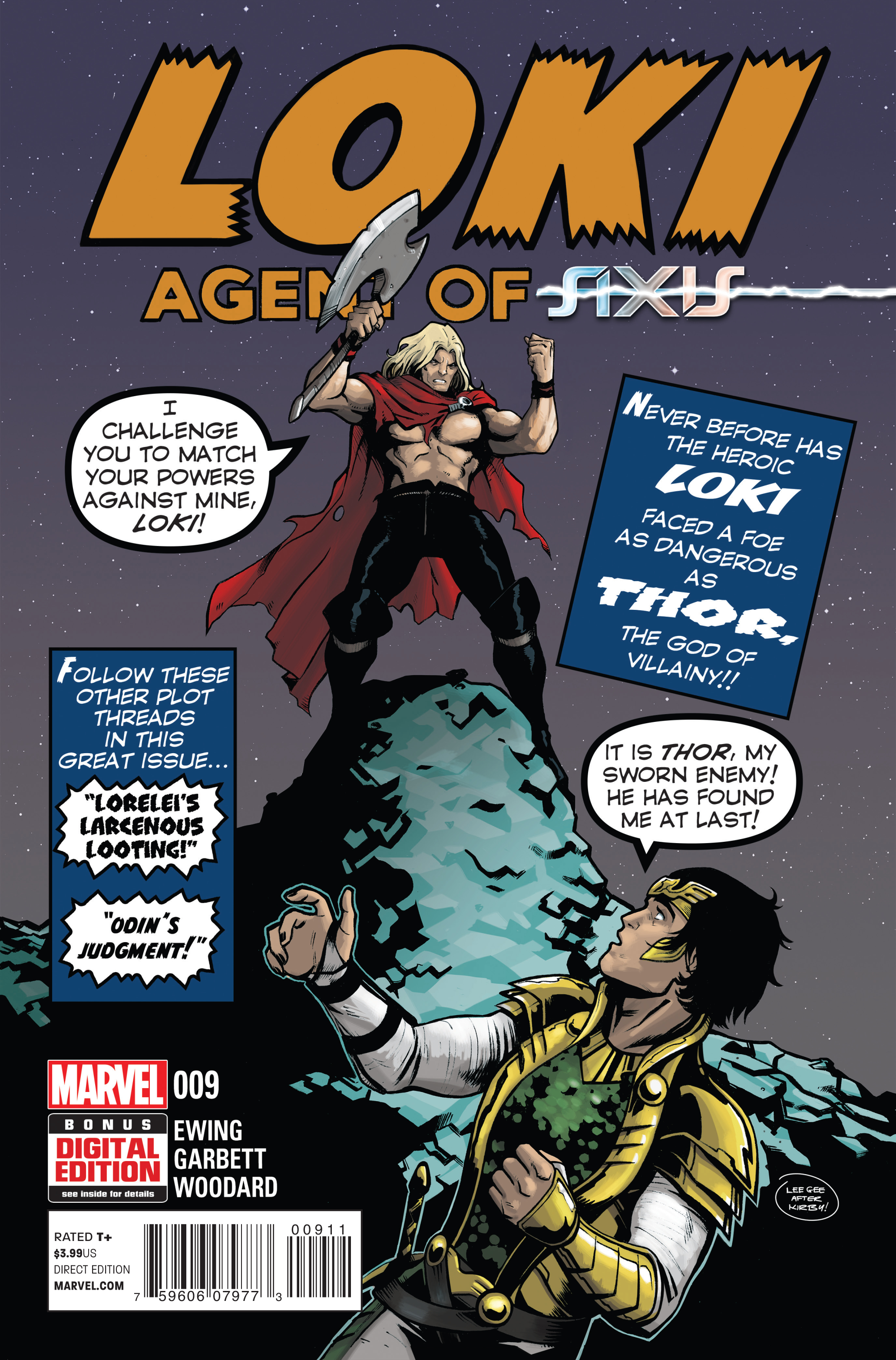 Loki, swashbuckling saviour of truth and justice, versus Lorelei -- scheming sister of the noble Enchantress! Once -- in a time Loki would rather forget -- these two were allies. Now, Loki must bring Lorelei in -- or die trying! Also featuring: the base villainy of Thor -- Marvel's brutish God Of Evil!


MAGNETO #13
MARVEL UNIVERSE ULT SPIDER-MAN WEB WARRIORS #2
MARVELS AVENGERS #1 (OF 2)
NEW AVENGERS #28 TRO
NOVA #25 AXIS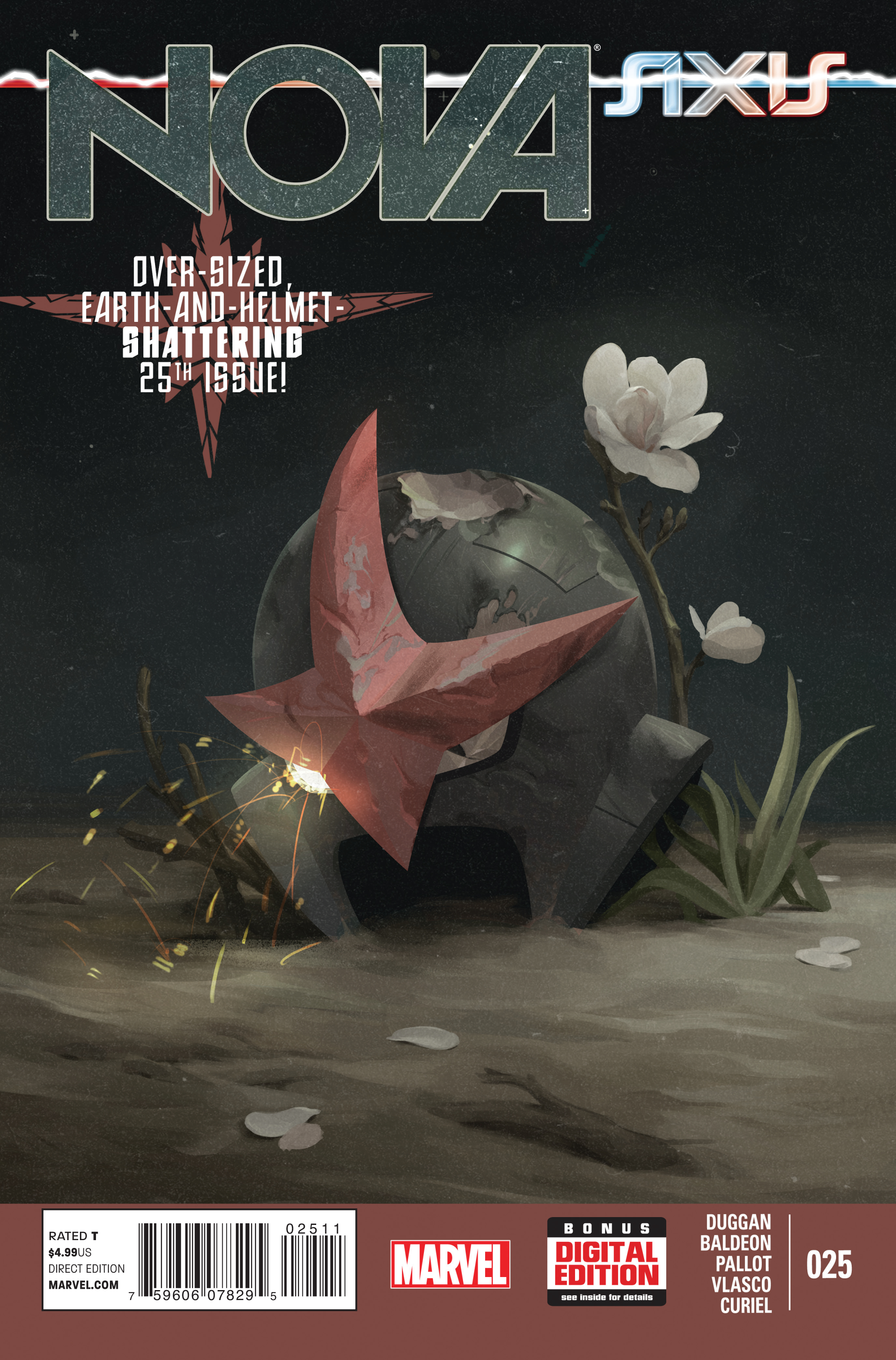 AXIS TIE-IN!
Over-sized monumental 25th issue and great jumping-on point!
Things are changing for Sam Alexander, A.K.A. Nova, the Human Rocket, so get on board to the fastest moving comic in the business!
SECRET AVENGERS #11
SHE-HULK #11
SUPERIOR IRON MAN #3 AXIS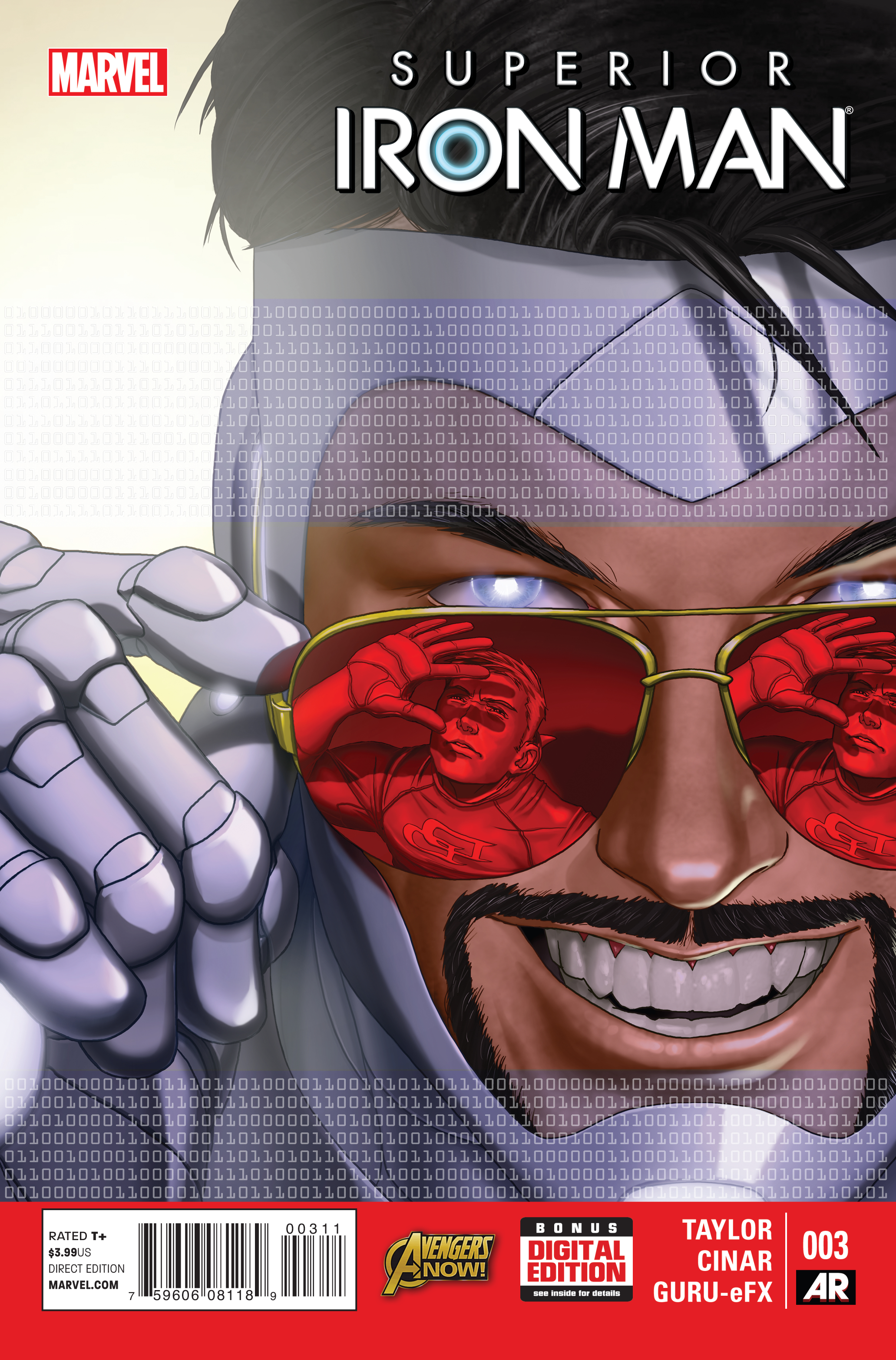 THE LAST TEMPTATION OF MATT MURDOCK
After the life-changing events of issue #2, MATT MURDOCK is faced with an impossible choice. Will DAREDEVIL rebel or will he buy into TONY STARK'S vision?
Can nothing stop the SUPERIOR IRON MAN'S non-stop party? You'll be surprised at who wants to crash it!
UNCANNY X-MEN #29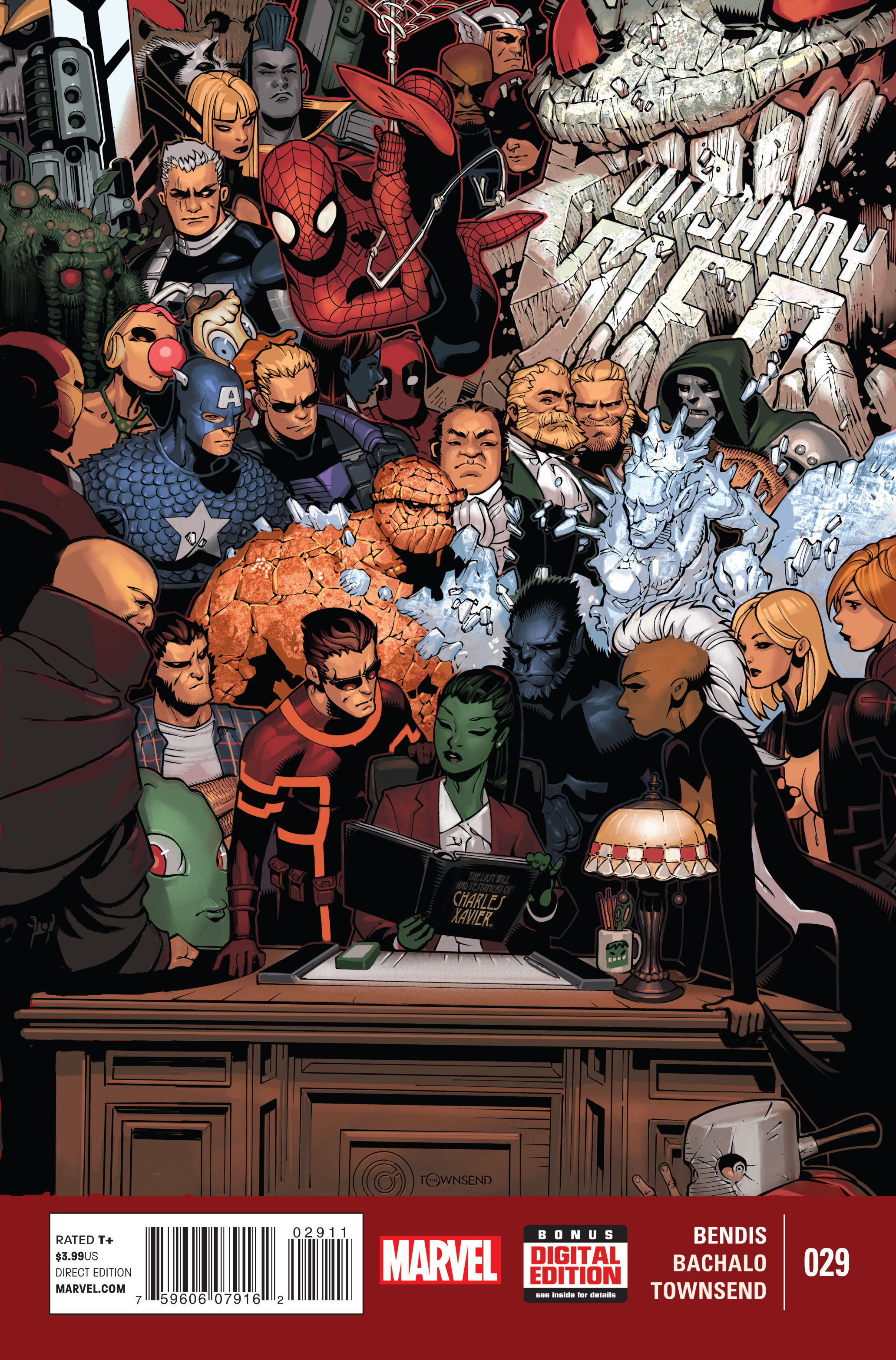 Everything over the last several months has been leading to this-a turning point for the X-Men. And it all revolves around their deceased former mentor and leader, Professor Charles Xavier!