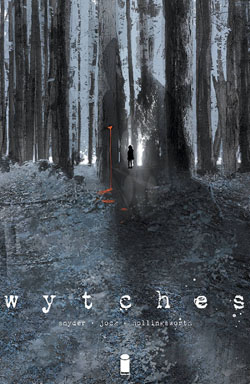 Dark Horse Comics
CHRONICLES OF KING CONAN TP VOL 11 NIGHTMARE
Dark Horse Comics

(W) Jim Owsley (A) Geoff Isherwood (CA) Michael William Kaluta

While King Conan sets out to search for his lost son, Conn, and prevent a devastating war with the powerful nation of Khitai, darkness descends on his kingdom. The demon sorcerer Thoth-Amon has returned to usurp Conan's throne . . . with Prince Taurus as his willing foot slave! Collects Conan the King #51-#55.
KUROSAGI CORPSE DELIVERY SERVICE TP VOL 14 - Dark Horse Comics
(W) Eiji Otsuka (A) Housui Yamazaki (CA) Bunpei Yorifuji

The Kurosagi Corpse Delivery Service is back . . . only to find they've got competition from an evil-rival version of themselves, not to mention an . . . American-cartoon version of themselves? But don't fear the reaper, because our original corpse-carrying crew is still ready for any gruesome weirdness, classical or modern-from a headless stiff who only does his séances in binary, to a good old-fashioned iron maiden! Excellent!
MASSIVE TP VOL 05 RAGNAROK Dark Horse Comics
(W) Brian Wood (CA) Garry Brown, John Paul Leon

The Crash was only the beginning. What remains of civilization is being obliterated by a series of cataclysmic events. The truth about Mary's identity, which began as a faint signal, grows louder-and she's seemingly connected to it all. The secret of the Crash and the location of the missing ship The Massive get answered here, in the final arc, Ragnarok! Collects issues #25-#30.
REXODUS TP - Dark Horse Comics
(W) James Farr (A/CA) Jon Sommariva

The Black Blood is unleashed upon the earth again, and Amber must save her father-and the world-with the aid of the only other Black Blood survivor, Kelvin Sauridon, a dinosaur from the past. In this high-stakes adventure, can they put aside their differences long enough to save the planet they both called home?
DC Comics
AQUAMAN AND THE OTHERS TP VOL 02 ALIGNMENT EARTH -
DC Comics
(W) Dan Jurgens (A) Lan Medina & Various (CA) Ivan Reis

When the secrets of their pasts are used against them, can the Others keep their tenuous union intact? In facing deadly villains like the KGBeast, the King of Atlantis and his allies may not live to ask that question! Collects issues #6-11, plus AQUAMAN: FUTURES END #1 and AQUAMAN AND THE OTHERS: FUTURES END #1.


BATMAN & ROBIN TP VOL 05 THE BIG BURN - DC Comics
(W) Peter J. Tomasi (A) Patrick Gleason & Various (CA) Patrick Gleason, Mick Gray

The origin of Two-Face begins as Batman finds himself in the crossfire of a war between Two-Face and mobster Erin McKillen! Don't miss these explosive tales from BATMAN AND TWO-FACE #24-28 and BATMAN AND ROBIN ANNUAL #2.
BATMAN & ROBIN HC VOL 06 THE HUNT FOR ROBIN - DC Comics
(W) Peter J. Tomasi (A) Andy Kubert & Various (CA) Andy Kubert

After losing his son Damian - a.k.a. Robin - Batman has finally found peace with his death. Damian's grandfather, Ra's al Ghul, has not, however. In order to resurrect Robin, he's stolen the body - and now Batman will stop at nothing to reclaim him. Don't miss these stories from BATMAN AND ROBIN #29-34 and ROBIN RISES: OMEGA #1!
IDW Comics
JUDGE DREDD TP VOL 07
IDW Comics
(W) Duane Swierczynski (A) Nelson Daniel, Steve Scott (CA) Nelson Daniel

Dredd has defeated the Dark Judges and broken out of Sector One... only to find himself a fugitive in Judge Cal's insane surveillance state with only Anderson in his head helping him survive Cal's rabid chase. Collects issues #25-30.
Image Comics
INVINCIBLE TP VOL 21
Image Comics
(W) Robert Kirkman (A) Ryan Ottley, Cliff Rathburn (CA) Ryan Ottley

In the aftermath of Robot's attempt to take over the world, the few survivors that remain must pick up the pieces of a world once familiar...but now completely alien.

Collects INVINCIBLE #115-120
POSTAL TP VOL 01
Image Comics
(W) Bryan Edward Hill, Matt Hawkins (A) Isaac Goodhart (CA) Linda Sejic

The first volume of Top Cow's bold new ongoing series POSTAL brings readers into the fictional town of Eden, Wyoming, a place founded by criminals for criminals. A place where, despite its inhabitants, no crime is allowed. Local postman Mark Shiffron has Asperger's, and through his peculiar eyes we see a town struggling to keep its fragile peace, a town on the constant brink of chaos. When a murdered woman's body is found on Eden's main street, Mark's need to solve her crime leads him into darkness and truth about the town he's known his entire life and the hidden realms of his own psychology. Co-writers BRYAN HILL & MATT HAWKINS work with newcomer ISAAC GOODHART to take an unflinching look at the cost of justice and the price of redemption through a tale set in the murky soul of America's heartland.



Collects POSTAL #1-4
RASPUTIN TP VOL 01

Image Comics
(W) Alex Grecian (A/CA) Riley Rossmo

In one night Rasputin was poisoned, beaten, stabbed, shot in the head, and drowned, then tied up and thrown in a frozen river. But how did he get from Siberia to the Winter Palace? And why was it so hard to kill him? A supernatural reimagining of the "mad monk." Collects RASPUTIN #1-5.
RUMBLE TP VOL 01 WHAT COLOR OF DARKNESS
Image Comics
(W) John Arcudi (A/CA) James Harren

A Scarecrow Warrior God walks into a bar...and proceeds to drag a modern American city into a ten-thousand-year-old grudge-match! A bizarre new adventure-complete with boozehound shamans, monster queens, and a football-fetching hydra! Featuring an extended sketchbook section and a few surprises!

Collects RUMBLE #1-5
WYTCHES TP VOL 01
Image Comics
(W) Scott Snyder (A/CA) Jock

When the Rooks family moves to the remote town of Litchfield, NH to escape a haunting trauma, they're hopeful about starting over. But something evil is waiting for them in the woods just beyond town. Watching from the trees. Ancient...and hungry.
Collects WYTCHES #1-6


Marvel Comics
ALL NEW CAPTAIN AMERICA PREM HC VOL 01 HYDRA ASCENDANT
Marvel Comics
(W) Rick Remender (A/CA) Stuart Immonen

The spy-fi, high-flying adventures of Sam Wilson - the all-new Captain America - begin here! Hydra has infiltrated society completely, but why? Cap's new partnership with Nomad is tested as they race to uncover the Sect of the Unknown, but Hydra gathers Steve Rogers' old rogues' gallery to take down the new heroes! The all-new Captain America battles Sin and Baron Blood, and uncovers the new Hydra's ultimate goal - but is it too late? Millions of innocent souls hang in the balance - but broken and nearly dead from Hydra's gauntlet, can Cap stop the Great Leveling? In the face of Zemo's atrocities, Sam Wilson will earn his stripes - make the single greatest sacrifice of his life - and he will never be the same again. The stage is set for the Age of Hydra! Collecting ALL-NEW CAPTAIN AMERICA #1-6.
ANT-MAN GIANT-MAN EPIC COLLECTION TP MAN IN ANT HILL
Marvel Comics
(W) Stan Lee & Various (A) Jack Kirby & Various (CA) Jack Kirby

A man of action and a man of science, Dr. Henry Pym invented an amazing growth serum and a cybernetic helmet, and with them he became - the Astonishing Ant-Man! Pym soon teamed with Janet Van Dyne, the winsome Wasp, and the two tiny titans went on to battle an array of mini- and maxi-sized menaces from the Scarlet Beetle to the Black Knight! But adventures in the microscopic world weren't enough for one of the Marvel Age's first super heroes. Soon, Ant-Man became the biggest Avenger there ever was - Giant-Man! And his foundational adventures are all here in this debut Epic Collection! Collecting the Ant-Man, Giant-Man and Wasp material from TALES TO ASTONISH (1959) #27 and #35-59.
ANT-MAN TP VOL 01 SECOND CHANCE MAN
Marvel Comics
(W) Nick Spencer (A) Ramon Rosanas (CA) Mark Brooks

LScott Lang has never exactly been the world's best super hero. Heck, most people don't even think he's been the best Ant-Man! And the last guy invented Ultron and joined the Masters of Evil, so that's saying something. But when Iron Man calls with a once-in-a-lifetime opportunity, Scott's going to get a second chance to be the hero he's always dreamed of becoming! Then, Scott faces off against his old foe the Taskmaster, but who is the mystery villain pulling the strings? And when Ant-Man needs to pull off an impossible break-in, he assembles a new gang...of criminals! Because that's what heroes do, I guess. Sure, he's been to prison, had a messy divorce and was...um, dead for a while there. But this time is different! This time nothing is gonna stop the astonishing Ant-Man! Collecting ANT-MAN #1-5.
HOWARD THE DUCK TP VOL 01 COMPLETE COLLECTION
Marvel Comics
(W) Steve Gerber (A) Various (CA) Frank Brunner

Get the full story of how Marvel's most notorious movie star became trapped in a world he never made! Howard the Duck takes an adventure into fear when he's plucked from Duckworld and finds himself on Earth, bill to proboscis with the melancholy muck-monster Man-Thing! Stuck here on a planet of hairless apes, the furious fowl forges a future for himself in, of all places, Cleveland. But the would-be Master of Quack Fu will have his wings full hanging out with Spider-Man - and waging "waaaugh" with madcap menaces like the Space Turnip, the Cookie Creature, the Beaver and Doctor Bong. Will that earn him a spot on the Defenders? Better yet, Howard for president! Collecting FEAR #19, MAN-THING (1974) #1, HOWARD THE DUCK (1976) #1-16 and ANNUAL #1, MARVEL TREASURY EDITION #12, and material from GIANT-SIZE MAN-THING #4-5
Other publishers
DOCTOR WHO 11TH SC VOL 02 SERVE YOU
TITAN COMICS
(W) Al Ewing, Rob Williams (A) Simon Fraser & Various (CA) Boo Cook

A threat in reverse as time inside the TARDIS flows backwards! An ancient alien war for supremacy in the sky comes to near-future London! And the machinations of SERVEYOUinc revealed, when the Doctor hits them where it hurts - their wallets! Three companions, three times the danger, three times the excitement! Experience every twist and secret reveal in the thrilling second act of the eleventh Doctor's first year in comics! Collects Doctor Who: The Eleventh Doctor #6-10.
JOHNNY BOO MEETS DRAGON PUNCHER HC

(W/A/CA) James Kochalka

James Kochalka, the first Cartoonist Laureate of Vermont, has been hailed by School Library Journal for creating "Just the right blend of sarcasm, silliness, and action to appeal to both child readers and to adults reading with their kids." Now, his two uproarious series collide, as "the best little ghost in the world" teams up with everyone's favorite robot-kitty-warrior to take on a terrifying Ice Dragon! When JOHNNY BOO meets DRAGON PUNCHER, the result is an explosion of adventure and fun.
MAZE RUNNER OFFICAL PRELUDE GN SCORCH TRIAL VOL 01
BOOM! STUDIOS
(W) Jackson Lanzing & Various (A) Marcus To (CA) Scott Newman

As anticipation for 20th Century Fox's Maze Runner: The Scorch Trials ramps up (out in September), gain more insight into the Maze Runner cinematic universe with this anthology collection of five short stories that go deeper into the lives of several key characters that feature prominently in the upcoming film, including Aris, Ava Paige, and Mary Cooper.
MIDAS FLESH TP VOL 02
BOOM! STUDIOS
(W) Ryan North (A) Shelli Paroline, Braden Lamb (CA) Sam Bosma

What if everything you touched turned into gold? Joey and her space crew have found King Midas' body and turned it into the most powerful weapon of all time. With the ability to transform any planet into gold within seconds, the team will find out if they have what it takes to actually put him to use. There will be greed. There will be vengeance. There will be gold. The second volume of Ryan North's (Adventure Time, The Unbeatable Squirrel Girl) debut original print comic book series The Midas Flesh features illustration dynamos Shelli Paroline and Braden Lamb (Adventure Time) and a conclusion that you will never see coming. Collects issues #5-8.
RUSSIAN OLIVE TO RED KING HC

ADHOUSE BOOKS
(W) Kathryn Immonen (A/CA) Stuart Immonen

When your lover may be dead, how long can you hold on to what remains? To whatever is left of you? A plane crash, a package, her dog, her voice. A notebook, his writer's block, and heat-distorted summer memories of a search for Jumbo the Elephant and an absent father.