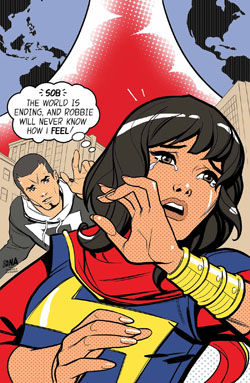 NEW Comics Day
August 19th
Dark Horse Comic
B.P.R.D. HELL ON EARTH #134
BUFFY THE VAMPIRE SLAYER SEASON 10 #18
DARK HORSE PRESENTS #13
DEATH HEAD #2 (OF 6)
EMPOWERED VOLUME 9 TP
GROO FRIENDS AND FOES #8
MIDNIGHT SOCIETY THE BLACK LAKE #2 (OF 4) DELAYED FROM 07/15/15
NANJING THE BURNING CITY VOLUME 1 HC
RESURRECTIONISTS VOLUME 1 NEAR-DEATH EXPERIENCED TP
STRAIN THE NIGHT ETERNAL #12
DC Comics - New DC U
ASTRO CITY #26
BATMAN ARKHAM KNIGHT #7
BIZARRO #3 (OF 6)
BLACK CANARY #3
CONSTANTINE VOLUME 4 THE APOCALYPSE ROAD TP
DOOMED #3
DR FATE #3
FAIREST VOLUME 5 THE CLAMOR FOR GLAMOUR TP
GOTHAM BY MIDNIGHT VOL 1 WE DO NOT SLEEP TP
GREEN LANTERN NEW GUARDIANS VOL 6 STORMING THE GATES TP
GREEN LANTERN THE LOST ARMY #3
HARLEY QUINN AND POWER GIRL #3 (OF 6)
INJUSTICE GODS AMONG US YEAR FOUR #8
JUSTICE LEAGUE #43
JUSTICE LEAGUE GODS AND MONSTERS #2 (OF 3)
MARTIAN MANHUNTER #3
NAMES TP
ROBIN SON OF BATMAN #3
SECRET SIX #5
SENSATION COMICS FEATURING WONDER WOMAN #13
SUPERMAN WONDER WOMAN #20
TEEN TITANS GO #11
WONDER WOMAN #43
WONDER WOMAN BY GEORGE PEREZ OMNIBUS VOL 1 HC
IDW Comics
G.I. JOE A REAL AMERICAN HERO #217
TEENAGE MUTANT NINJA TURTLES ONGOING #49
TRANSFORMERS WINDBLADE #6
Image Comics
BIRTHRIGHT #10
EMPTY ZONE #3
INVINCIBLE #122
ISLAND #2
MANIFEST DESTINY #16
MANTLE #4
POSTAL #6
RAT QUEENS #11
REVIVAL #32
SAVAGE DRAGON ARCHIVES VOLUME 4 TP
STRAY BULLETS SUNSHINE AND ROSES #7
STRAY BULLETS VOLUME 3 OTHER PEOPLE TP
TREES #12
WOLF #2
Marvel Comics
1872 #2
AGE OF ULTRON VS MARVEL ZOMBIES #3
AMAZING SPIDER-MAN RENEW YOUR VOWS #4
ARMOR WARS #4
CAPTAIN BRITAIN AND THE MIGHTY DEFENDERS #2 (OF 2)
CAPTAIN MARVEL VOL 3 ALIS VOLAT PROPRIIS TP
DAREDEVIL EPIC COLLECTION VOL 21 WIDOW'S KISS TP
GEORGE ROMERO'S EMPIRE OF THE DEAD ACT THREE #4 (OF 5)
GUARDIANS OF KNOWHERE #3
GUARDIANS TEAM-UP #10
HOUSE OF M #1
INFERNO #4
KANAN #5
LOKI AGENT OF ASGARD #17
MARVEL UNIVERSE ULTIMATE SPIDER-MAN WEB WARRIORS DIGEST VOL 2 TP
ROGUE THE COMPLETE COLLECTION TP
RUNAWAYS #3
SECRET WARS JOURNAL #4 (OF 5)
SECRET WARS SECRET LOVE #1
SILK #6
SPIDER-VERSE #4
STAR WARS #8
UNBEATABLE SQUIRREL GIRL VOLUME 1 SQUIRREL POWER TP
WEIRDWORLD #3
X-MEN AGE OF APOCALYPSE VOLUME 1 ALPHA TP
X-TINCTION AGENDA #3
HOUSE OF M

#1
Marvel Comics
(W) Dennis Hopeless (A) Marco Failla (CA) Kris Anka

The House of Magnus controls all, having crushed all resistance to their reign. Magneto rules with an iron-fist, while his children and grandchildren live their lives as royals-with all the privileges and pit-falls that come with that title.

But is Magneto's control as all-encompassing as it seems? And what happens to a conqueror when there is no one left to conquer?

HOWARD THE HUMAN

#1
Marvel Comics
(W) Skottie Young (A) Jim Mahfood

Spend a day with Howard, a private investigator and the only human living in city full of animals. But not, like, criminals and lowlifes. We're talking elephants, apes, ducks and kitty cats. Catching a case, grinding a few gears, dodging some bullets and almost getting killed by an anthropomorchic monstrosity. It's just another Monday for Howard the Human brought to you by Skottie Young (ROCKET RACCOON) and Jim Mahfood (MIAMI VICE REMIX).


SECRET WARS SECRET LOVE

#1
Marvel Comics
(W) Various (A) David Nakayama

When Worlds Collide, Can Their Love Survive?

- Robbie Reyes/kamala Khan!
- Typhoid Mary/karen Page/matt Murdock!
- And Many More Secret Love Affairs..

Other Publishers
(release dates subject to change)
2000 AD PROG #1944
ADVENTURE TIME FIONNA AND CAKE CARD WARS #2 (OF 6) (BOOM)
ALICE COOPER VOL 1 WELCOME TO MY NIGHTMARE HC (DYNAMITE)
ARCHIE #2
ARMY OF DARKNESS ASH IN SPACE TP (DYNAMITE)
BLACKLIST #2
BOOK OF DEATH #2 (OF 4) (VALIANT)
BOOK OF DEATH LEGENDS OF GEOMANCER #2 (OF 4) (VALIANT)
BRAVEST WARRIORS VOLUME 5 TP (BOOM)
BURNING FIELDS #7 (OF 8) (BOOM)
COMPLETE CHI SWEET HOME TP VOL 01
CREEPS GN VOL 01 NIGHT OF FRANKENFROGS
DOCTOR WHO 2015 FOUR DOCTORS #2 (OF 5)
ESCAPE FROM NEW YORK #9 (BOOM)
EX-CON VOL 1 FADING LIGHTS TP (DYNAMITE)
FATHOM BLUE #3
FEDOR ONE SHOT
FICTION #3 (OF 4) (BOOM)
GFT VAN HELSING VS DRACULA #1 (OF 5)
GIANT DAYS #6 (OF 12) (BOOM)
GOD IS DEAD #41
HEXED #12 (BOOM)
HIP HOP FAMILY TREE #1
IVAR TIMEWALKER #8 (VALIANT)
JUDGE DREDD MEGAZINE #363
LAST BROADCAST VOLUME 1 HC (BOOM)
MAD MAGAZINE #535
MEGA MAN #52 EPIC CONNECTING POSTER PT 12
MIDNIGHT SOCIETY THE BLACK LAKE #2 (OF 4)
MUNCHKIN #8 (BOOM)
MY LITTLE PONY FRIENDSHIP IS MAGIC #33
NEW VAMPIRELLA #13 (DYNAMITE
OH KILLSTRIKE #4 (OF 4) (BOOM)
POWER UP #2 (OF 6) (BOOM)
QUANTUM AND WOODY VOL 1 KLANG TP (VALIANT)
RAI #9 (VALIANT)
RIVERS OF LONDON #2 (OF 5)
SHADOW MIDNIGHT IN MOSCOW TP (DYNAMITE)
SIMPSONS COMICS #223
SWORDS OF SORROW VAMPIRELLA JENNIFER BLOOD #4 (OF 4) (DYNAMITE)
TRANSFERENCE #2
VAMPIRELLA FEARY TALES TP (DYNAMITE)
WELCOME BACK #1 (BOOM)
WRITTEN AND DRAWN BY HENRIETTA HC
X-O MANOWAR VOLUME 9 DEAD HAND TP (VALIANT)
YANKEE #1
YOUNG TERRORISTS #1
HIP HOP FAMILY TREE #1
Fantagraphic Books
(W/A) Ed Piskor

The New York Times bestselling book series debuts as a monthly comic book (!) with new covers, artwork, a "director's commentary" section that describes the motivation, process, and research involved in making this masterpiece, plus other surprises! This first issue highlights the breakdancers, graffiti artists, DJs and MCs who formed hip hop culture beginning in the tenement rec rooms of the south Bronx in the 1970s. You'll discover who invented the term "Hip Hop". You'll see names you recognize like Grandmaster Flash and Afrika Bambaataa and you'll discover where they fit into the culture as pioneers... every month!
WELCOME BACK #1
Boom Studios Comics
(W) Christopher Sebela (A) Jonathan Brandon Sawyer

We believe Christopher Sebela is one of the most exciting new comic writers and his idea of reincarnated assassins who are forever fighting, killing, and loving each other throughout endless lives is another reason why. Plus, Jonathan Brandon Sawyer's (Critical Hit) expressive art style reminds us of Becky Cloonan and Sean Gordon Murphy, and it's just perfect for Welcome Back.

Mali and Tessa have lived hundreds of different lives throughout time, caught up in an eternal cycle as they take part in a war so old that neither side remembers what they're fighting for anymore. As Mali wakes up in her newest life, she suddenly becomes self-aware and starts to question everything, especially why she continues to fight. But elsewhere, Tessa is already on the hunt..


YANKEE #1
AA Comics
(W) Jason Leivian (A/CA) Ian MacEwan

The Yankee is a dumb American. He's Cosmo Vitelli. He's Prince Rogers Nelson. He's a Richard Pryor monologue Psychedelic-economic fiction set in the Nation States of America. Reality is just a part of your brain. The part that you can touch. Features visionary artwork by Ian MacEwan (Prophet, Sex, The Tomorrows).
YOUNG TERRORISTS #1
Boom Studios Comics
(W) Matt Pizzolo (A) Amancay Nahuelpan (CA) Amancay Nahuelpan, Matt Pizzolo

What if "The Smoking Man" from The X-Files were a real person, and his daughter found out what he did for a living? The daughter of an assassinated globalist kingpin breaks out of an internment camp and leads her fellow escaped prisoners in a battle against an elitist conspiracy of shadow governments, megabanks, and military juntas in this edgy and subversive sci-fi thriller. Incendiary writer Matt Pizzolo and striking newcomer Amancay Nahuelpan unleash this tour-de-force that fearlessly assaults politics-as-usual. Young Terrorists continues the legacy of DMZ and The Invisibles as it manically rips the scab off life under the new world order and revels in the pus underneath.