New Comics and Graphic Novels for Wednesday NEW Comics Day 28th November
Dark Horse Comics
ADAM.3 #4 (OF 5) (late)
COLDER TOSS THE BONES #3 (OF 5)
CONAN THE AVENGER #20
ELFQUEST THE FINAL QUEST #12
EMPOWERED SPECIAL #7 (PEW! PEW! PEW!)
FIGHT CLUB 2 #7
FRANKENSTEIN UNDERGROUND TP
HALO ESCALATION #24
HELLBOY AND THE B.P.R.D. 1953 THE WITCH TREE AND RAWHEAD REX AND BLOODY BONES
#1 (ONE SHOT)
ITTY BITTY HELLBOY THE SEARCH FOR THE WERE-JAGUAR
#1 (OF 4)
KABUKI LIBRARY EDITION VOL 2 HC
OH MY GODDESS OMNIBUS VOL 2 TP
TOMORROWS #5 (OF 6)
USAGI YOJIMBO SAGA VOL 5 TP
HELLBOY AND THE B.P.R.D. 1953 THE WITCH TREE AND RAWHEAD REX AND BLOODY BONES

#1 (ONE SHOT)
Darkhorse Comics
(W) Mike Mignola (A) Ben Stenbeck (CA) Mike Mignola

As Hellboy continues his journey across England with his mentor, he confronts some of the most horrible figures of British folklore-Rawhead Rex and Bloody Bones.

ITTY BITTY HELLBOY THE SEARCH FOR THE WERE-JAGUAR

#1 (OF 4)
Darkhorse Comics
(W) Art Baltazar, Franco (A/CA) Art Baltazar

Aw yeah! Art Baltazar and Franco return to Itty Bitty Hellboy! This time, Hellboy, Abe, Liz, and friends are on a very special quest . . . to deliver underwear to the Island of Rogers! But their mission is suddenly interrupted by the discovery of the strange, mysterious beast known as the were-jaguar!
DC Comics
- New DC U
AMERICAN VAMPIRE SECOND CYCLE #11
AQUAMAN #46
ART OPS #2
BATMAN '66 MEETS THE GREEN HORNET TP
BATMAN AND ROBIN ETERNAL #8
BATMAN ARKHAM KNIGHT ROBIN SPECIAL
#1
BATMAN ENDGAME DIRECTOR'S CUT
#1
DARK KNIGHT III THE MASTER RACE
#1 (OF 8)
DC COMICS BOMBSHELLS #5
DEATHSTROKE #12
EARTH 2 VOLUME 5 THE KRYPTONIAN TP
EARTH 2 VOLUME 6 COLLISION HC
FLASH #46
FLASH BY GEOFF JOHNS VOLUME 1 TP
GRAYSON #14
HE-MAN THE ETERNITY WAR #12
JACKED
#1 (OF 6)
JUSTICE LEAGUE 3001 #6
JUSTICE LEAGUE OF AMERICA #5
KITCHEN TP
OMEGA MEN #6
ROBIN SON OF BATMAN #6
SANDMAN OVERTURE HC (DIRECT MARKET EDITION)
SINESTRO #17
SUPERMAN #46
SUPERMAN LOIS AND CLARK #2
SUPERMAN WONDER WOMAN #23
WE ARE ROBIN #6
WONDER WOMAN #46
BATMAN ARKHAM KNIGHT ROBIN SPECIAL

#1
DC Comics
(W) Peter J. Tomasi (A) Robson Rocha, Juan Albarran (CA) Francis Manapul

After an intense training session in the Batcave, Tim Drake settles in for a normal day as a science teacher at Robinson Academy. But just as a class field trip to Wayne Industries begins, things take a violent turn when a gang of armed thugs enter the building. Don't miss this special spotlight issue on the Boy Wonder!

BATMAN ENDGAME DIRECTOR'S CUT

#1
DC Comics
(W) Scott Snyder (A) Greg Capullo (CA) Greg Capullo, Danny Miki

The sensational finale to the "Endgame" epic gets the Director's Cut treatment! BATMAN #40 is reprinted with Greg Capullo's art in pencil form, plus original script pages by the one and only Scott Snyder!

DARK KNIGHT III THE MASTER RACE

#1 (OF 8)
DC Comics
(W) Frank Miller, Brian Azzarello (A/CA) Andy Kubert, Klaus Janson

The epic ending you never saw coming is here because you demanded it! The Dark Knight rises again to face the dawn of the master race!

JACKED

#1 (OF 6)
DC Comics
(W) Eric Kripke (A) John Higgins (CA) Glenn Fabry

Eric Kripke (creator of Supernatural) teams up with Vertigo veterans John Higgins (HELLBLAZER) and Glenn Fabry (PREACHER) to bring you a very Vertigo take on the modern superhero in this six-issue miniseries. Josh Jaffe, a neurotic family man mid-midlife crisis, buys an online "smart pill" to increase his focus and jolt him out of his slump. But to Josh's surprise, the pill gives him incredible strength and power-but its cost is that it's extremely addictive. This irreverent and brutally realistic story examines both the mighty highs and humiliating lows of being a real-life superhero.
IDW Comics
FISTFUL OF BLOOD #2 (OF 4)
G.I. JOE A REAL AMERICAN HERO #220
GHOSTBUSTERS ANNUAL 2015
T.H.U.N.D.E.R. AGENTS CLASSICS VOLUME 6 TP
TEENAGE MUTANT NINJA TURTLES #52
TRANSFORMERS MORE THAN MEETS THE EYE #47
TRANSFORMERS ROBOTS IN DISGUISE ANIMATED #5
Image Comics
BLACK MAGICK #2
CHEW #52
DEAD@17 THE COMPLETE COLLECTION HC
FADE OUT #11
FUSE #16
INVISIBLE REPUBLIC #7
JUPITER'S CIRCLE VOLUME 2
#1
KAPTARA #5
OUTCAST BY KIRKMAN AND AZACETA #13
POSTAL #8
RINGSIDE
#1
RUMBLE #9
SAGA #31
SONS OF THE DEVIL VOLUME 1 TP
SPAWN #258
SPAWN RESURRECTION VOLUME 1 TP
SPREAD VOLUME 2 THE CHILDREN'S CRUSADE TP
SWITCH #2
WITCHBLADE #185
JUPITER'S CIRCLE VOLUME 2

#1
Image Comics
(W) Mark Millar (A) Wilfredo Torres (CA) Bill Sienkiewicz

Legendary MARK MILLAR reunites with the superlative WILFREDO TORRES in this epic prequel to the smash-hit JUPITER'S LEGACY series! In midcentury America, the world's greatest superheroes triumph in their public battles, while struggling with private ones. Mad Men-style period drama meets Justice League-inspired team action in a brand new volume. Introducing new regular cover artist BILL SIENKIEWICZ. Also features character design cover by FRANK QUITELY.

RINGSIDE

#1
Image Comics
(W) Joe Keatinge (A/CA) Nick Barber, Simon Gough

THE PROFESSIONAL WRESTLING EPIC BEGINS IN AN OVER-SIZED FIRST ISSUE!

RINGSIDE is an ongoing series set within the world of professional wrestling, written by JOE KEATINGE (SHUTTER, GLORY, TECH JACKET) and drawn by acclaimed illustrator NICK BARBER, combining the ensemble drama of THE WALKING DEAD with interconnected rotating perspectives akin to The Wire. Each issue will explore the relationship between art and industry from the view of the wrestlers themselves, the creatives they work with, the suits in charge and the fans cheering them all on.

But that's just the beginning.

The real violence is outside the ring.
Marvel Comics
ALL-NEW WOLVERINE #2
ANGELA QUEEN OF HEL #2
CARNAGE #2
CHEWBACCA #4 (OF 5)
DARTH VADER #13
DEADPOOL CLASSIC VOLUME 14 SUICIDE KINGS TP
GROOT #6
GUARDIANS OF THE GALAXY #2
GUIDEBOOK TO MARVEL CINEMATIC UNIVERSE INCREDIBLE HULK/MARVEL'S IRON MAN 2
HAIL HYDRA #4
HOWLING COMMANDOS OF S.H.I.E.L.D. #2
JESSICA JONES ALIAS VOL 3 TP
KANAN #8 (late from last week)
MARVEL PREVIEWS VOLUME 2 #41
MARVEL UNIVERSE ULTIMATE SPIDER-MAN SPIDER-VERSE
#1 (OF 4)
MILES MORALES ULTIMATE SPIDER-MAN ULTIMATE COLLECTION VOL 3 TP
MOON GIRL AND DEVIL DINOSAUR
#1
NEW AVENGERS #3 (late from last week)
S.H.I.E.L.D. #12
SILK
#1
SILVER SURFER #15
SPIDER-GWEN VOLUME 0 MOST WANTED TP
SPIDER-WOMAN
#1 (late from last week)
UNBEATABLE SQUIRREL GIRL #2
VENOM SPACE KNIGHT
#1
MARVEL UNIVERSE ULTIMATE SPIDER-MAN SPIDER-VERSE

#1 (OF 4)
Marvel Comics
(W) Joe Caramagna (A/CA) TBD

Join Spidey on his wildest adventure yet, when the Green Goblin transports him to alternate dimensions...each with its own alternate Spider-Man (or Woman!)

Don't miss the start of this unprecedented 4-part series: SPIDER-VERSE! -
All Ages

MOON GIRL AND DEVIL DINOSAUR

#1
Marvel Comics
(W) Amy Reeder, Brandon Montclare (A) Natacha Bustos (CA) Amy Reeder

LUNELLA LAFAYETTE is a preteen super genius who wants to change the world-but learned the hard way that it takes MORE than just big brains. Fearful of the monstrous INHUMAN genes inside her, life is turned upside down when a savage, red-scaled tyrant is teleported from prehistoric past to a far-flung future we call TODAY. The pair are many things, and together the most amazing Marvel Team-Up. MARVEL PRESENTS... MOON GIRL & DEVIL DINOSAUR!


SILK

#1
Marvel Comics
(W) Robbie Thompson (A) Stacey Lee (CA) Helen Chen

SILK IS BACK AND BADDER THAN EVER!

Cindy Moon has been working to find the missing members of her family since she escaped the bunker that was her home prior to the events of SPIDER-VERSE. But her quest has taken her down a darker path than she expected, and she's now in cahoots with none other than the most ferocious feline in the Marvel Universe - BLACK CAT!

What's gotten under her skin, and is there any redeeming the SINISTER SILK? !



SPIDER-WOMAN

#1
Marvel Comics
(W) Dennis Hopeless (A) Javier Rodriguez

Jessica Drew is a private investigator, a super hero and? a mom to be? Since we last saw her, ent people and keep herself out of harm's way? See how in the mother of all Spider-Stories!


VENOM SPACE KNIGHT

#1
Marvel Comics
(W) Robbie Thompson (A/CA) Ariel Olivetti

IN SPACE, NO ONE CAN HEAR YOU SCREAM...WITH EXCITEMENT!

Flash Thompson is a lot of things. Soldier. Veteran. Doubleamputee. Host to a powerful alien symbiote. Now, apart from the GUARDIANS OF THE GALAXY, Flash has also been tasked with being an intergalactic ambassador of Earth and an Agent of the Cosmos. What does that mean? It means Flash Thompson will be what he's always wanted to be: A BIG. DAMN. HERO. It's high adventure in deep space as Venom swashbuckles his way across the universe!

Other Publishers
2000 AD PROG #1958
ARCHIE #4
ARCHIE'S FUNHOUSE JUMBO COMICS DOUBLE DIGEST #17
ART OF ALFREDO ALCALA SECRET TEACHINGS OF PAINTED COMICS HC (DYNAMITE)
BART SIMPSON COMICS #99
BLACK HOOD #7
BLOOD FEUD #2 (OF 5) (ONI)
BRIAR TP VOL 01
CAPTAIN CANUCK 2015 ONGOING #5
CROSSED BADLANDS #90
DAWN OF THE PLANET OF THE APES VOLUME 1 TP (BOOM)
FUBAR MOTHER RUSSIA TP
GIL KANE UNDERSEA AGENT HC
GLANCE BACKWARD HC
GROO FRIENDS AND FOES #11
HOPELESS SAVAGES VOL 4 BREAK TP (ONI)
IVAR TIMEWALKER #11 (VALIANT)
JAMES BOND SPECTRE COMIC STRIPS COLLECTION HC
JOHN CARTER WARLORD OF MARS #13 (DYNAMITE)
JUSTICE INC THE AVENGER #6 (OF 6) (DYNAMITE)
MAGICIANS WIFE GN
MONSTER TP VOL 06 PERFECT ED URASAWA
MUNCHKIN #11 (BOOM)
OVER THE GARDEN WALL #4 (OF 4) (BOOM)
PATHFINDER VOLUME 4 ORIGINS HC (DYNAMITE)
PEANUTS REVISTED HC 1955-1959 (TITAN ED)
PEANUTS THE SNOOPY SPECIAL
#1 (BOOM)
PITIFUL HUMAN LIZARD #2
POWER UP #5 (OF 6) (BOOM)
PREVIEWS #327 DECEMBER 2015
PROVIDENCE #6 (OF 12)
PS BLACKCROSS #6 (OF 6)
ROGUES #3 (OF 5) ODD PARENTHOOD
SECONDS HELPING DRAWING ASST MEMOIR ONE SHOT
STRINGERS #4 (OF 5) (ONI)
TAROT WITCH OF THE BLACK ROSE #95
TMNT ONGOING #52
WE LOVE YOU CHARLIE BROWN TP 1957-1959 (TITAN ED)
WEED WHISPERER DOONESBURY COLL HC
WEIRD LOVE #10
WILD'S END THE ENEMY WITHIN #3 (OF 6) (BOOM)
WILL EISNER'S THE SPIRIT #5 (DYNAMITE)
X-O MANOWAR #42 (VALIANT)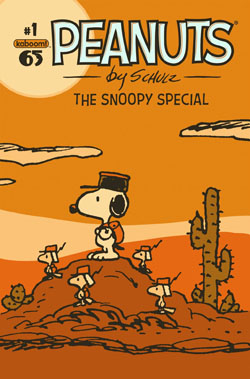 PEANUTS THE SNOOPY SPECIAL

#1
Boom Comics
(W) Charles M. Schulz (A) Vicki Scott (CA) Charles M. Schulz

Celebrate the release of the new film with this one-shot Snoopy Special. Follow Snoopy, the World Famous Sergeant-Major of the Foreign Legion, on the mission of a lifetime to save his dear brother Spike, encountering adventure at every which corner of the neighborhood-from Lucy's Psychiatric Booth to Schroeder's piano.