Two of the most anticipated comics of the year arrive this week, along with a jolly host of brand new number ones to bring you some holiday cheer. First up is the new science fiction miniseries from wildly popular Adventure Time creator Ryan North, THE MIDAS FLESH, which features space battles, unsolved mysteries, and a talking dinosaur. What's not to love? And then of course is the long awaited HARLEY QUINN #1 - Harley finds a job! Sort of. There are two great new all ages comics beginning this week as well: TEEN TITANS GO!, based on the animated series, and THE WONDERFUL WORLD OF LISA SIMPSON, written by Batgirl author Gail Simone! We also have a variety of Hellboy related offerings for the Mike Mignola fan on your Christmas list, including a stand alone story in DARK HORSE PRESENTS, a fantastic giant edition of THE WAKE to get you caught up with the story, and the first issue of Kelly Sue DeConnick's 'extra-dimensional' superheroine tale GHOST. Image are having a huge week, with new issues of BLACK SCIENCE, SAGA, EAST OF WEST, PRETTY DEADLY and UMBRAL - do reserve copies in advance to ensure you receive them, as they will fly off the shelf! Some big finales this week as well - LOCKE AND KEY, SCARLET SPIDER, MARS ATTACKS JUDGE DREDD, and RED SONJA all bid us adieu. Although the YOUNG AVENGERS storyline has officially ended, we still have the 'afterparty' to look forward to this week, which should tie up loose ends. And probably make us cry. :)
BONGO
SERGIO ARAGONES FUNNIES #11
WONDERFUL WORLD OF LISA SIMPSON #1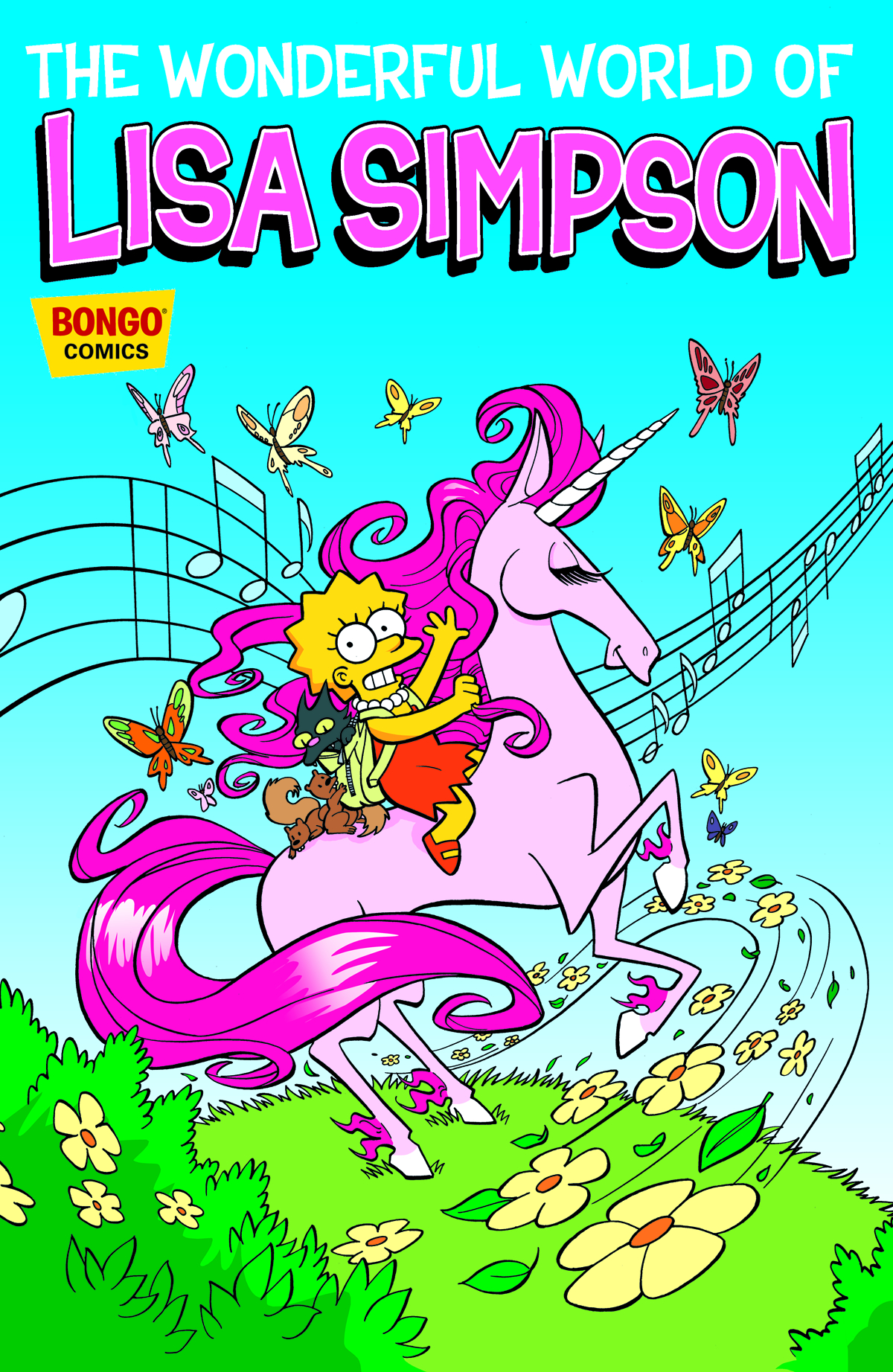 Whether she's extolling the virtues of vegetarianism, raising awareness about the world's moral and social ills, or simply playing with her Malibu Stacy dolls and dreaming of ponies, Lisa Simpson, the pint-sized, pre-teen progressive, may just be the smartest and savviest citizen in Springfield - and she's still only in the second-grade! Enter the world of Lisa Simpson, a joy-filled journey through a realm of high ideals and girlish delights!
BOOM
ADVENTURE TIME #23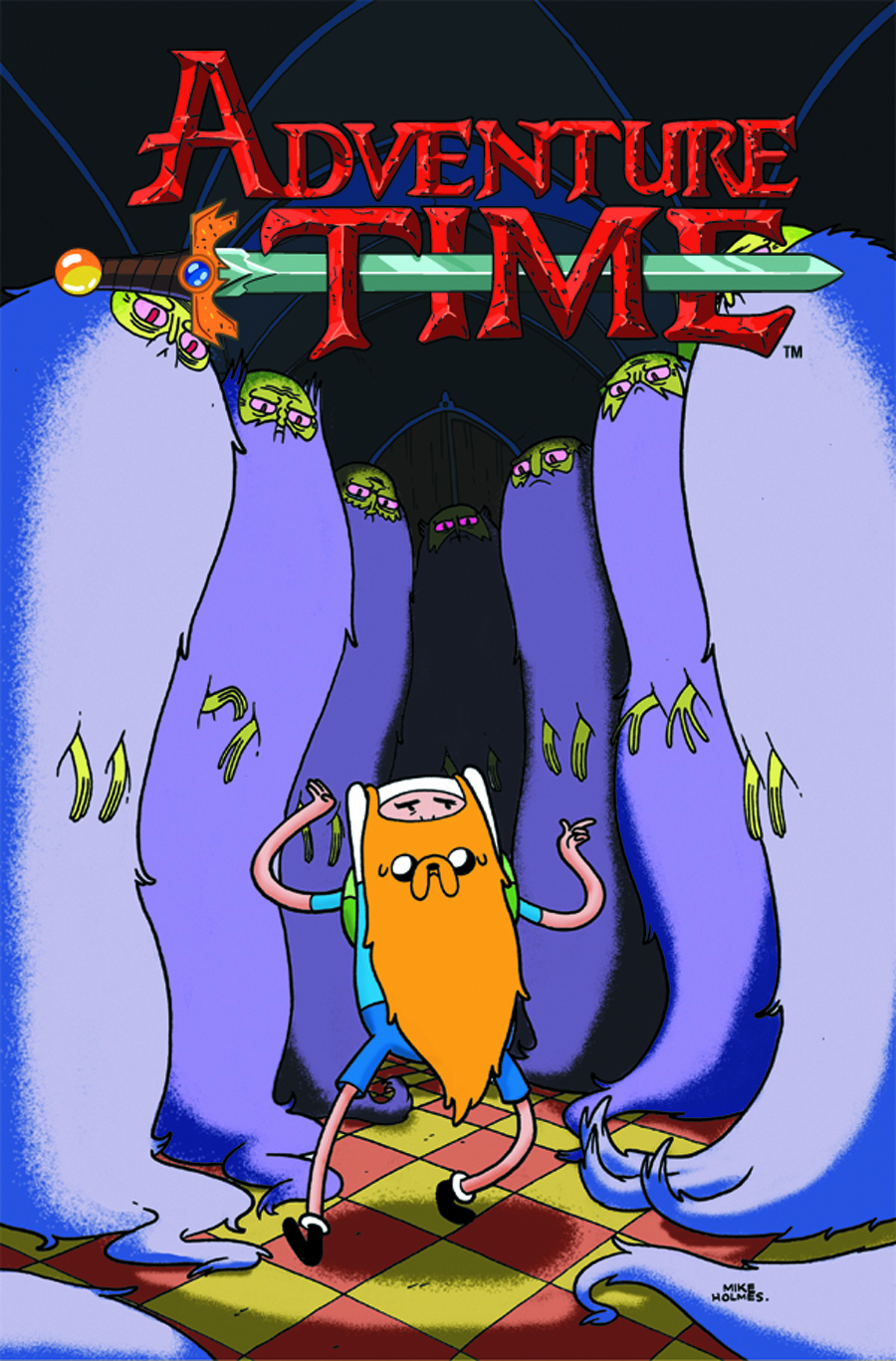 Will Princess Bubblegum be able to stop her creation from spreading, or is already too late for the Kingdom of Ooo?! With the Kingdoms Heroes under it's influence it leaves Marceline and Princess Bubblegum in a race again time as they try to find a way to not only save themselves, but everyone else in Ooo!
HELLRAISER DARK WATCH #11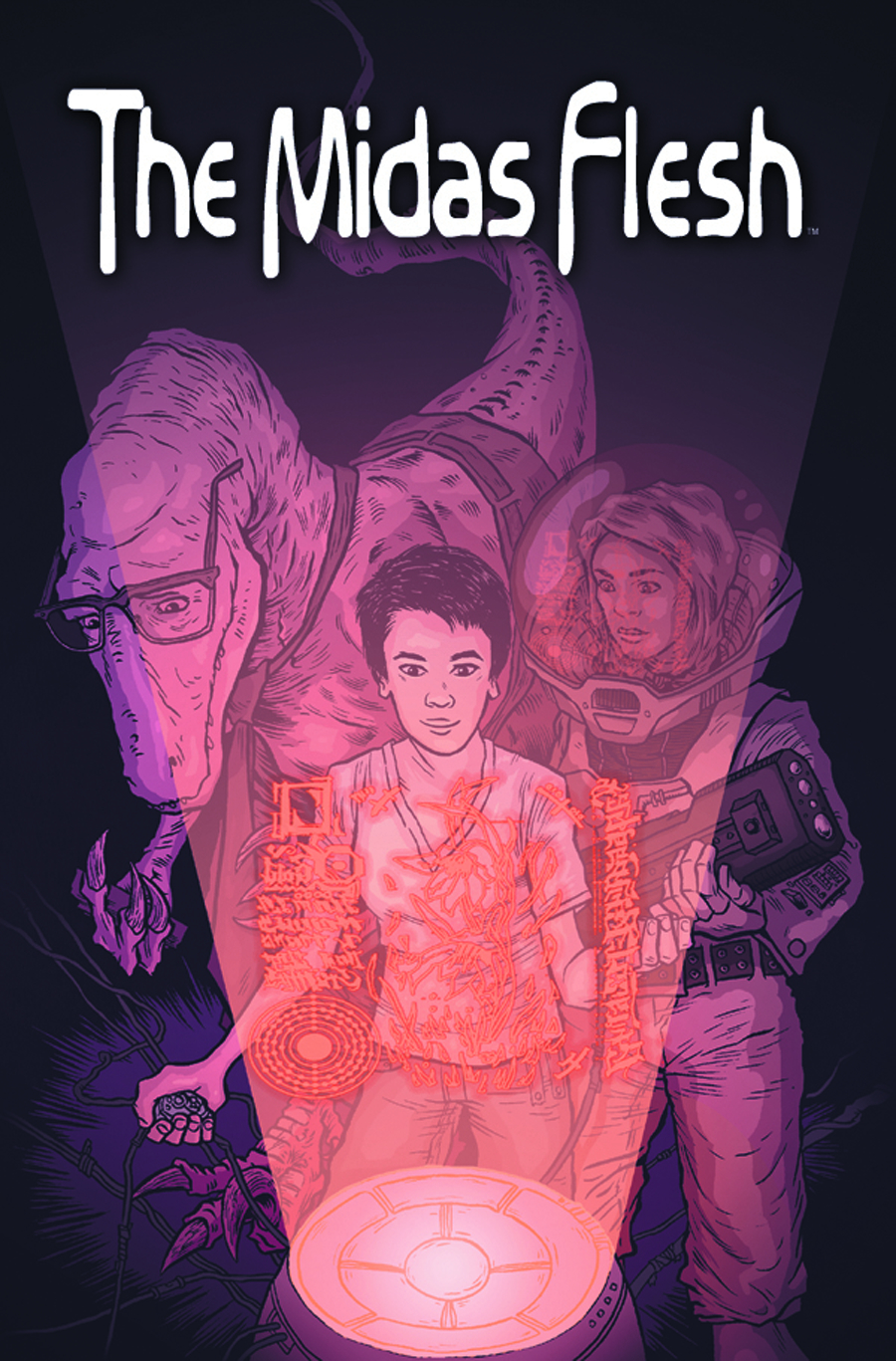 WHY WE LOVE IT: We have been having so much fun with writer Ryan North (Dinosaur Comics, To Be Or Not To Be: That Is The Adventure) on ADVENTURE TIME that we couldn't resist the opportunity to publish a new original idea of his. And it is original.
WHY YOU'LL LOVE IT: We've all heard of The Midas touch. You know, the Greek Mythology about the man who did a number on himself by wishing for everything he touched to turn to gold? Who better to turn that tale on its head with a heavy dose of scifi than Ryan North? Also, did we mention the Utahraptor?
WHAT IT'S ABOUT: Fatima and her space crew have decided to return to Earth- a planet completely sectioned off, abandoned, and covered in gold-to find out exactly what happened to this once thriving planet and see if they can use that knowledge against the evil empire that's tracking them down. As luck would have it, they just landed the most powerful weapon in the universe: some ancient dead guy's body.
DARK HORSE
BUZZKILL #4 (OF 4)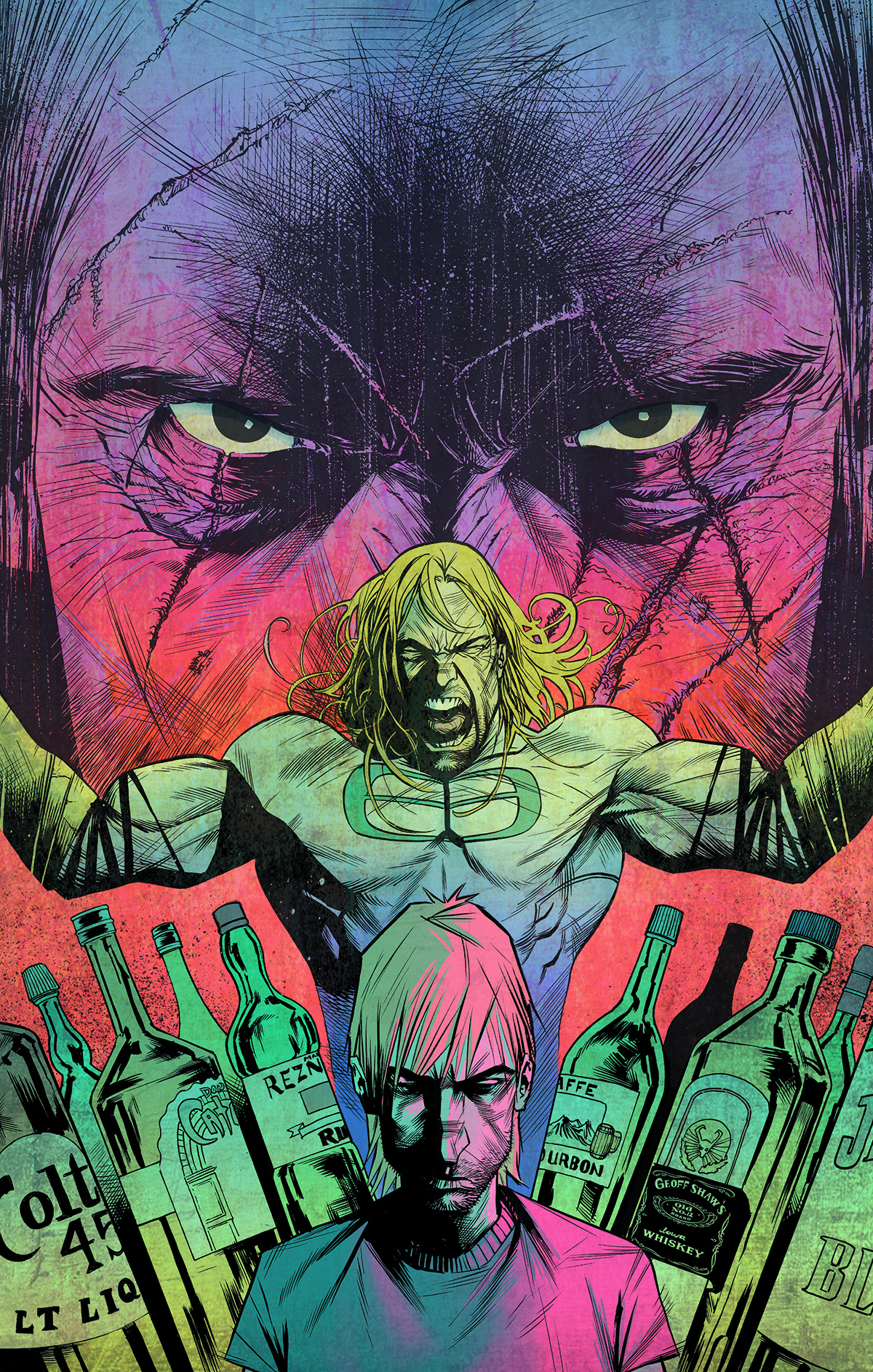 Ruben's greatest enemy has awakened from his catatonic state. The last time they clashed, their battle laid the city to waste. Can a newly sober Ruben take on this monster from his past without resorting to the alcohol that's always generated his superpowers? The compelling miniseries comes to a gut-punching conclusion!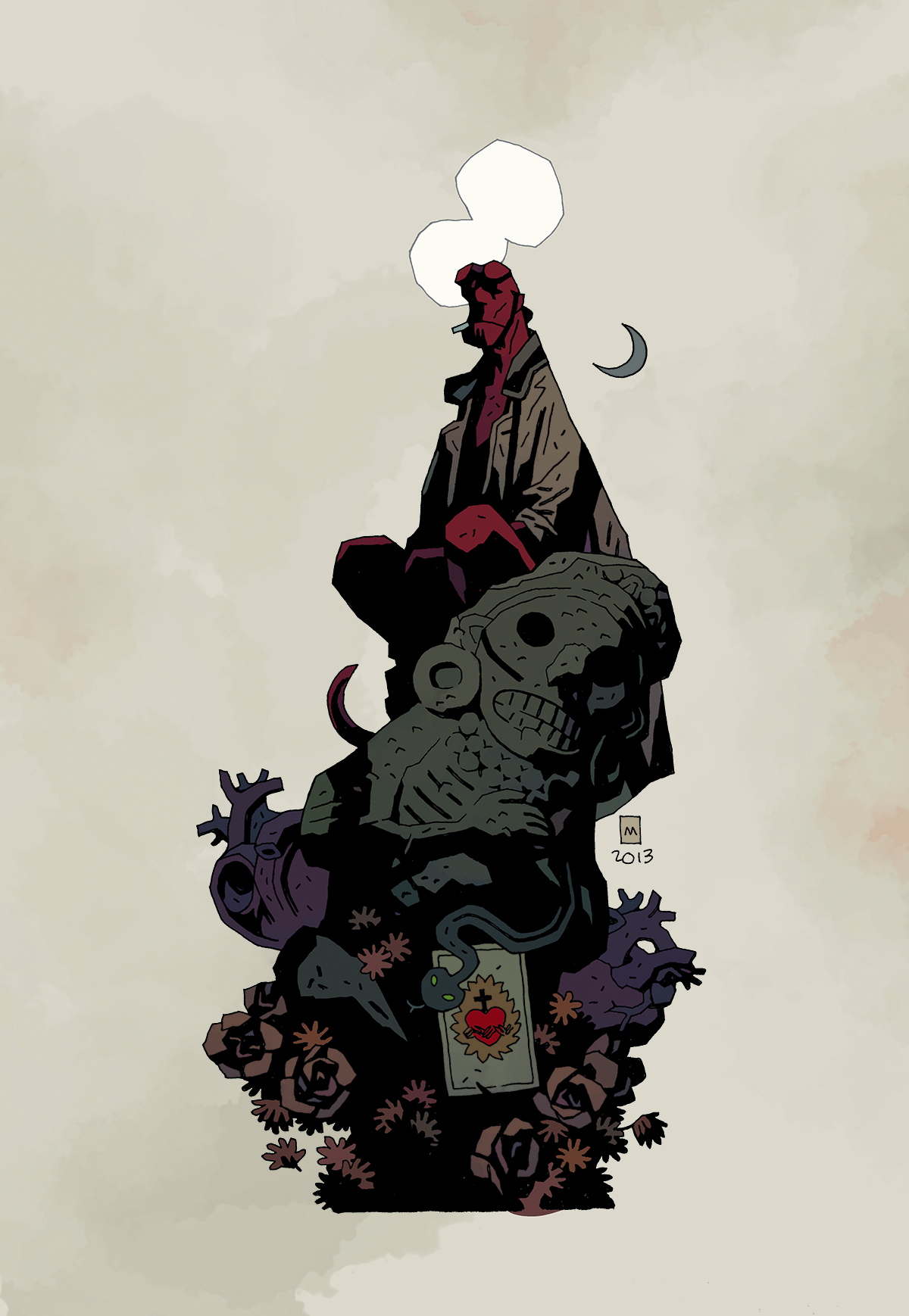 In a direct follow-up to the uberpopular Hellboy in Mexico, Mike Mignola and Mick McMahon tell another tale set south of the border, in which . . . Hellboy gets married! First of two parts!
Gain some insight into the next arc of Matt Kindt's runaway hit MIND MGMT as we meet . . . the Magician! Bryan J. L. Glass and Victor Santos reveal the brutal new heroine of their new creator-owned series, Furious! And Chad Lambert and Christine Larsen give new meaning to the phrase "Kill me!" in the new story of the same name.
Plus, new installments of Integer City, Alabaster, Nexus, Monstrous, City of Roses,
ITTY BITTY HELLBOY #5 (OF 5)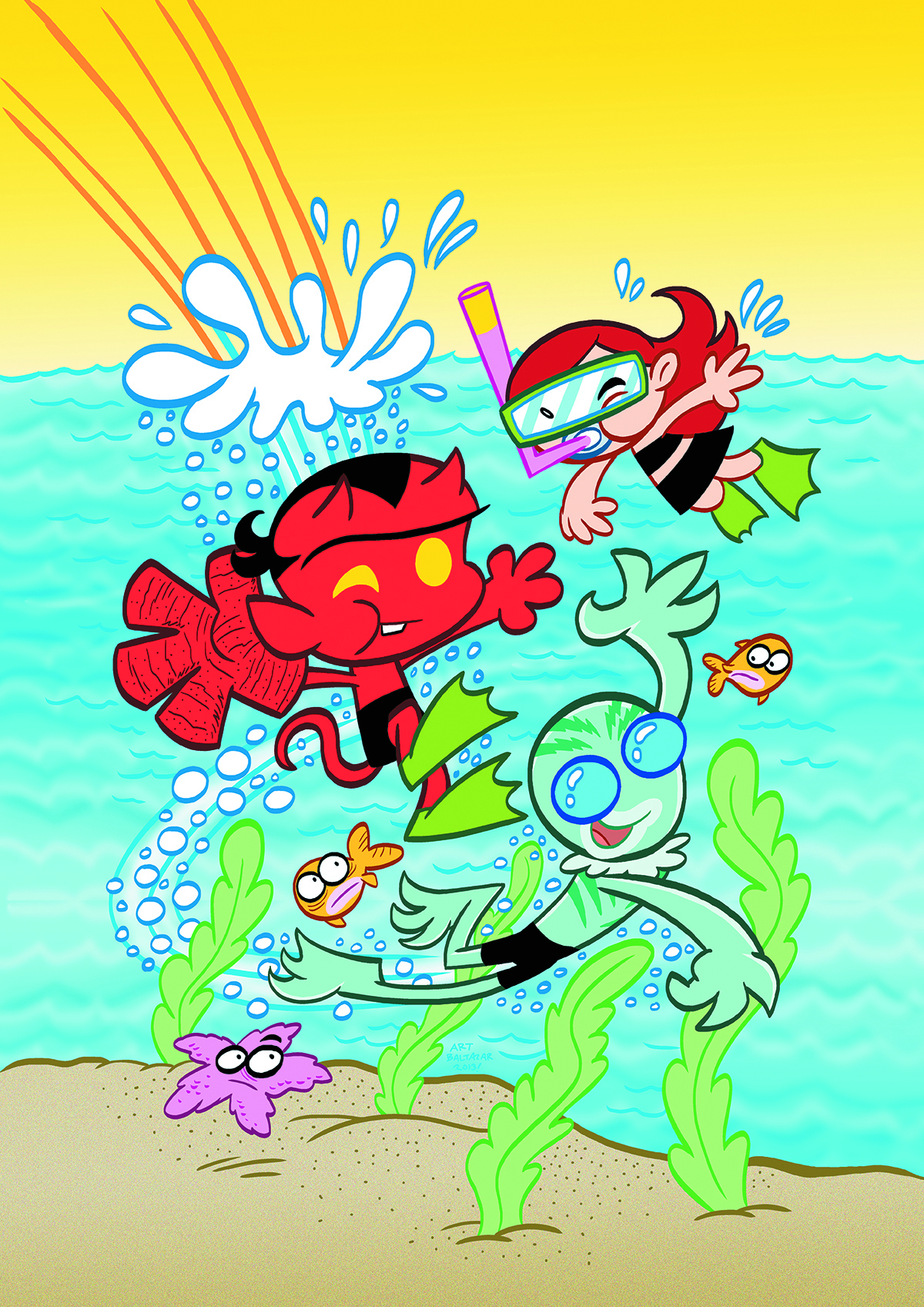 It had to happen. It was unavoidable. Sooner or later, we all end up there. That's right! It's time to visit our friend who lives underwater! Let's go hang out with Abe Sapien! Are Hellboy and his pals underwater by choice? Or did something more sinister send them to the cold, lagoony depths? We know one thing: Abe does not mind the company! And where is Lobster Johnson during this visit? When all is said and done, sometimes a beach party is the best way to go . . . even if you happen to be in the swamp.
MASS EFFECT FOUNDATION #6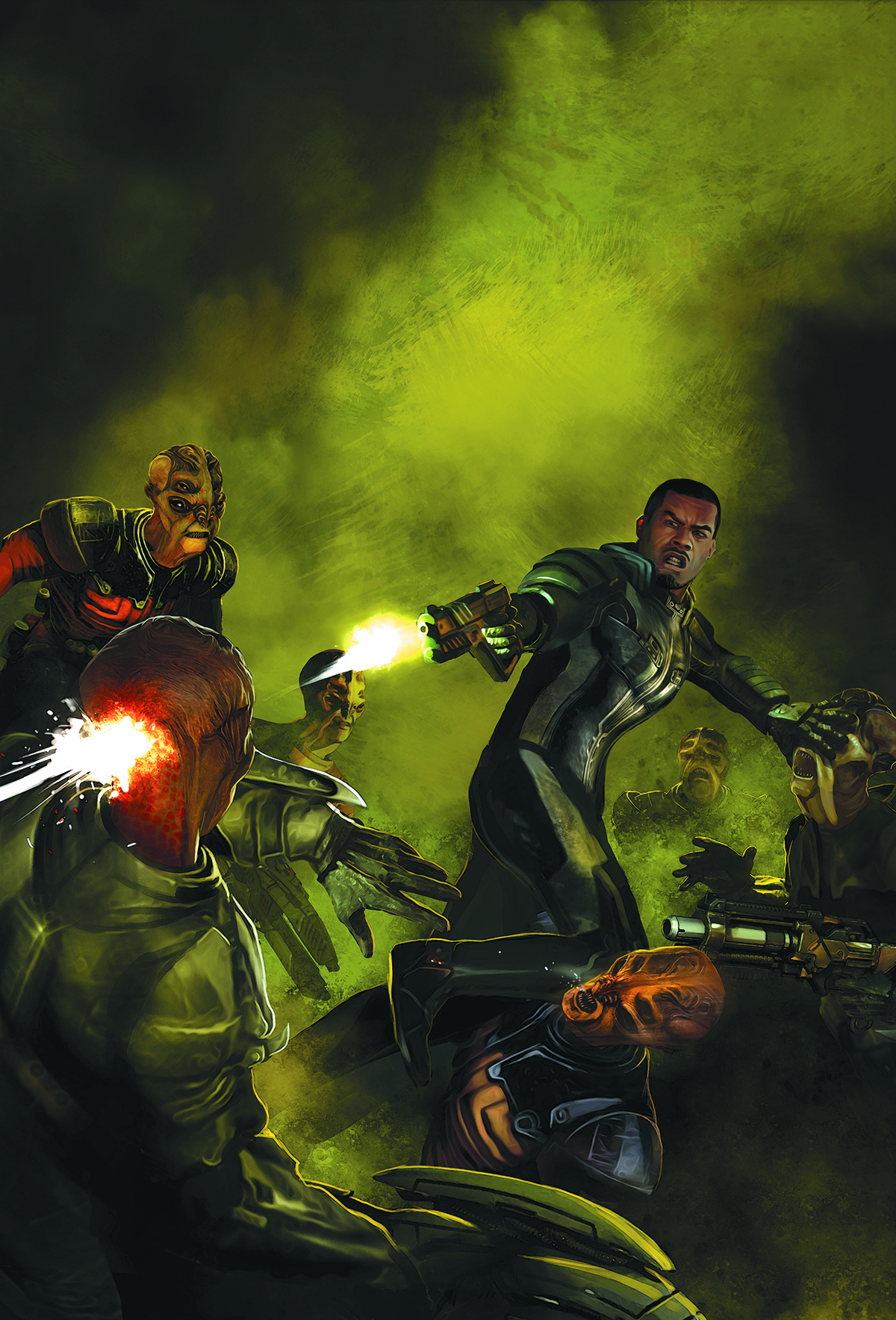 Jacob and Miranda's mission takes a deadly turn as the duo find themselves in the gun sights of a vicious batarian warlord! Mass Effect 2 and 3 lead writer Mac Walters continues the thrilling series set during the events of BioWare's blockbuster science fiction trilogy!
SLEDGEHAMMER 44 LIGHTNING WAR #2 (OF 3)
STAR WARS DARK TIMES SPARK REMAINS #5 (OF 5)
The fight is on! Darth Vader and his numerous forces are besieged with death traps. A showdown with the Jedi who lured Vader to this doom is inevitable-and now Darth Vader is angry. Do not underestimate the power of an angry Sith!
STAR WARS DARTH VADER & CRY OF SHADOWS #1 (OF 5)
During the Clone Wars, a single trooper-left for dead during battle-comes to hate the Jedi generals who abandoned him. Years later, he lives on, bitter and angry, until hearing tales of a great warrior. Now, this clone believes he may have found the leader he should have been following all along . . . Darth Vader!
STAR WARS DAWN OF THE JEDI FORCE WAR #2 (OF 5)
DC
BATMAN BEYOND UNIVERSE #5
FOREVER EVIL ROGUES REBELLION #3 (OF 6)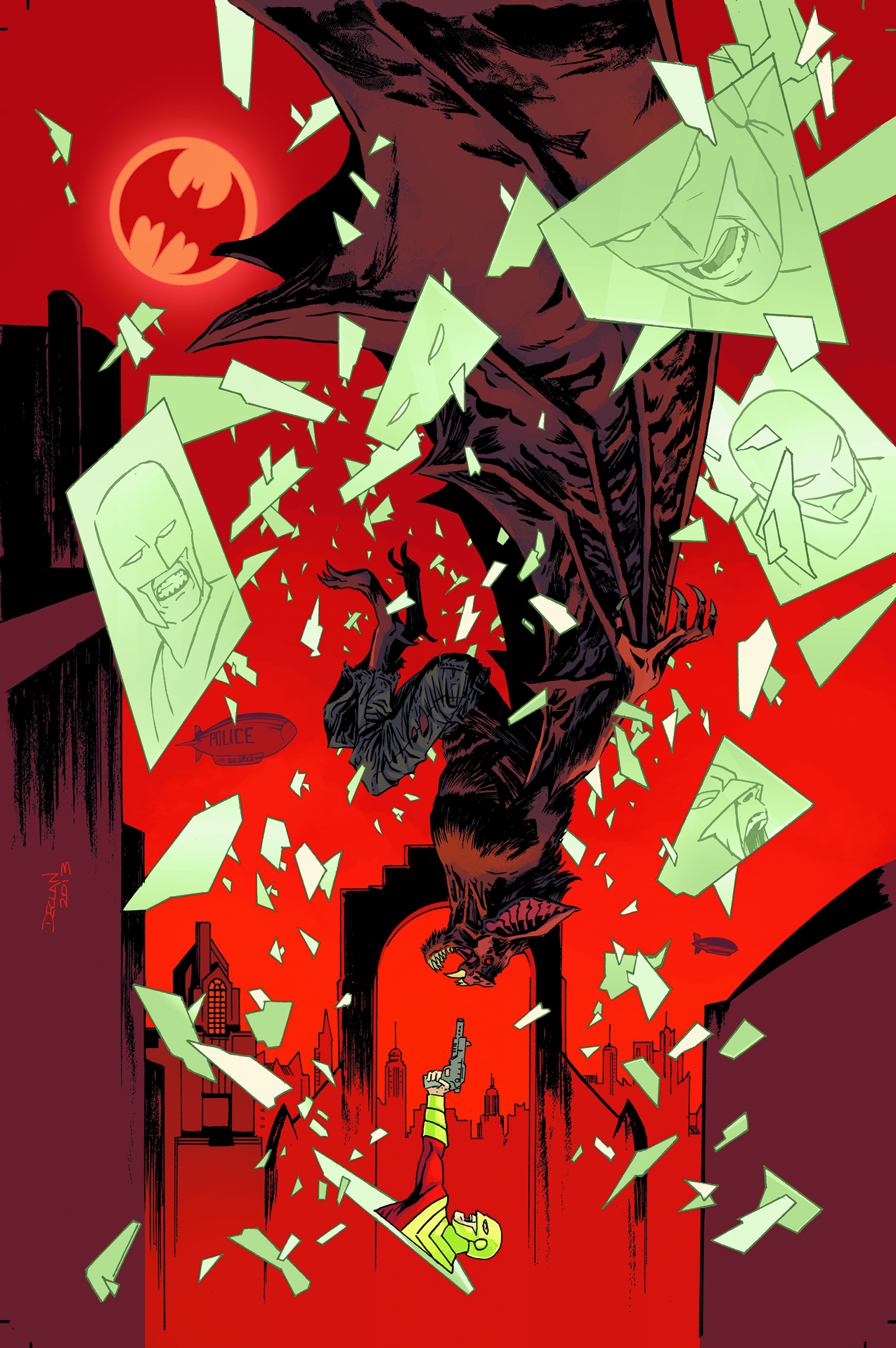 The Rogues continue their flight from the ruthless Crime Syndicate, who have put a bounty on their heads. But en route back to Central City, Mirror Master's powers malfunction, and they land in the middle of the events of ARKHAM WAR with pretty much every Bat-villain around going after the bounty!
GREEN LANTERN NEW GUARDIANS #26
HARLEY QUINN #1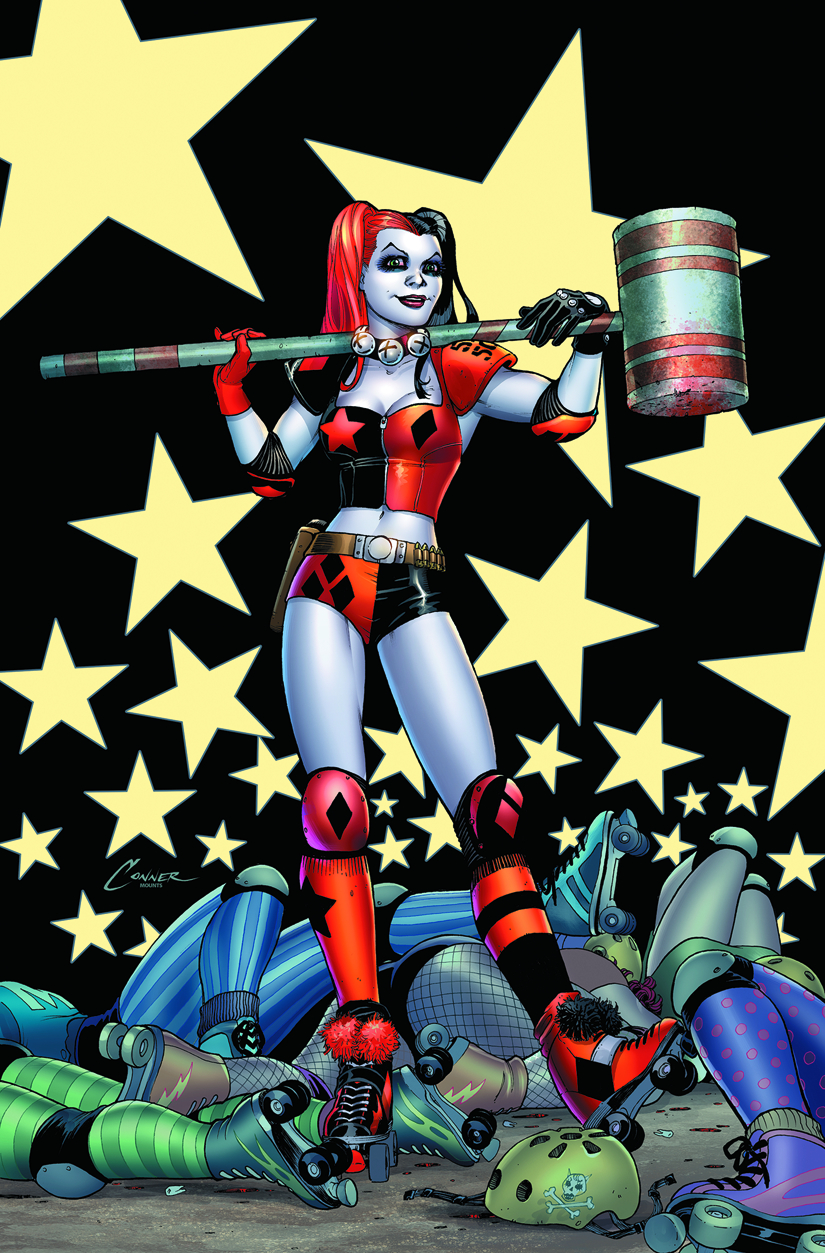 Harley is set to begin her new life, but she needs a job first! Enter the Coney Island
Roller Derby! It's game time as Harley sets out to destroy her competition - literally!
JUSTICE LEAGUE OF AMERICAS VIBE #10
RED HOOD AND THE OUTLAWS #26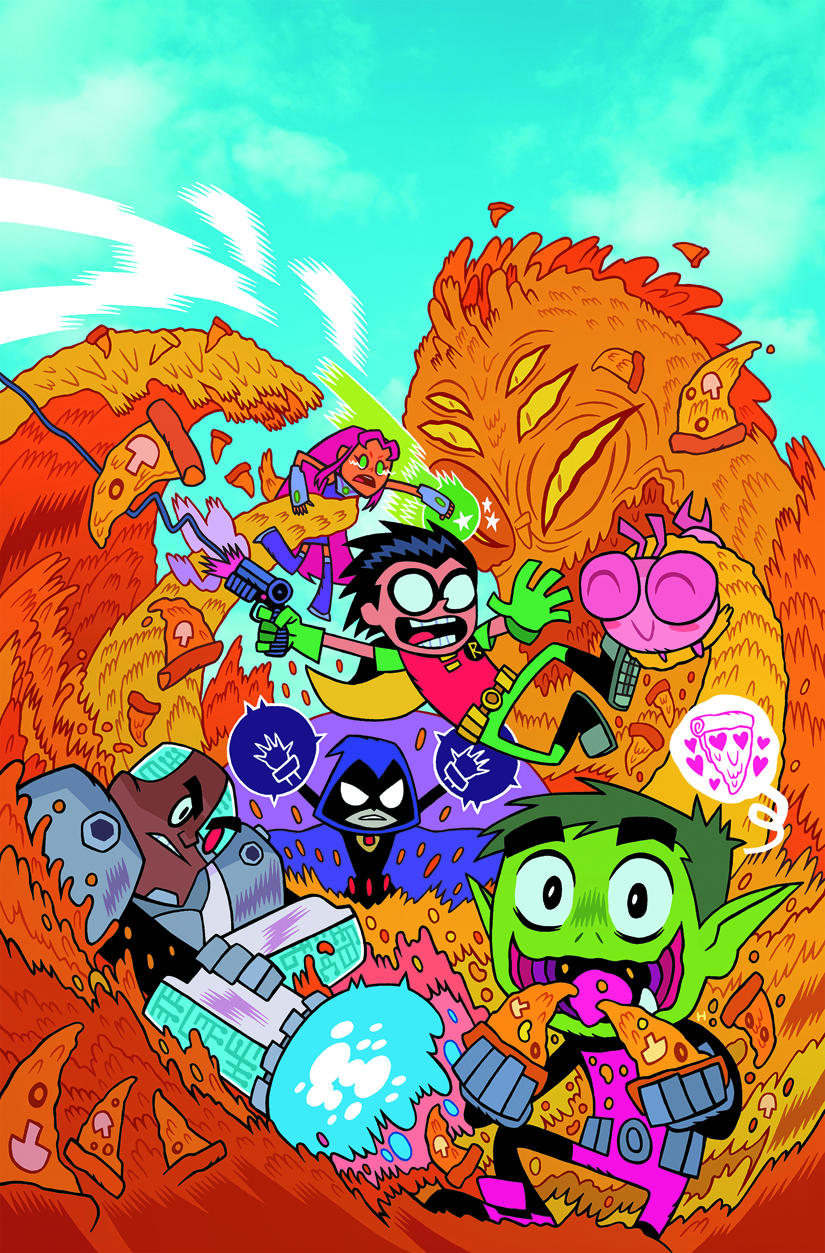 Based on the hit new TV show, feast your eyes on this all-new, all-ages comic book series! Join Robin, Starfire, Beast Boy, Cyborg and Raven as they display their unique brand of hijinks, mayhem and justice! But giant pizza monsters aren't the only dastardly and delicious villains on the menu... so dig in, Titans!
TRINITY OF SIN PANDORA #6 (EVIL)
VERTIGO ESSENTIALS 100 BULLETS #1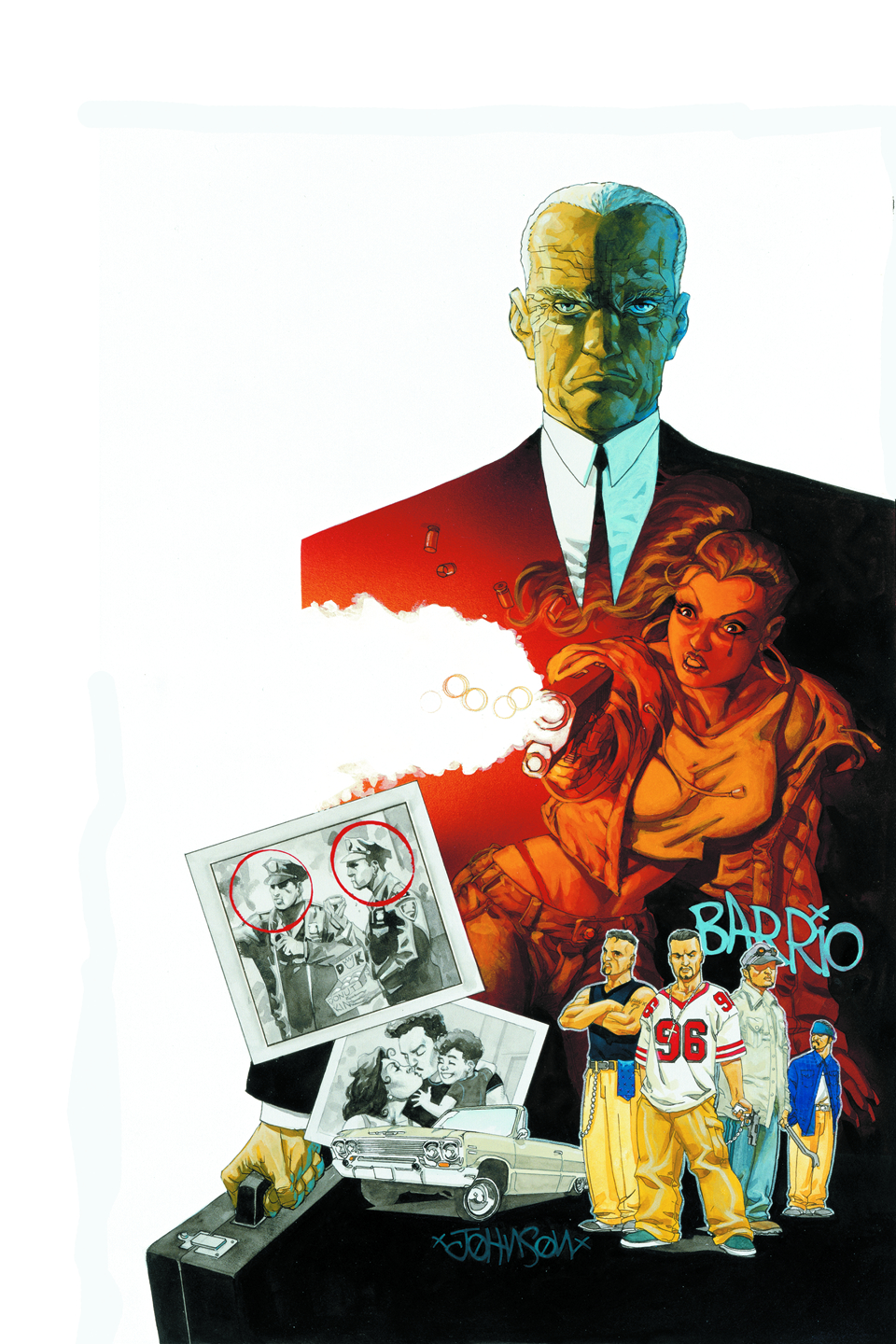 The issue that kicked off the Eisner Award-winning series is back in this promotionally priced reprint! Everyone talks about "getting away with murder," but what would you do if you were given irrefutable proof of the identity of the one that "done you wrong," the opportunity to kill them and the means to get away with it, scot-free?
WAKE PART ONE #1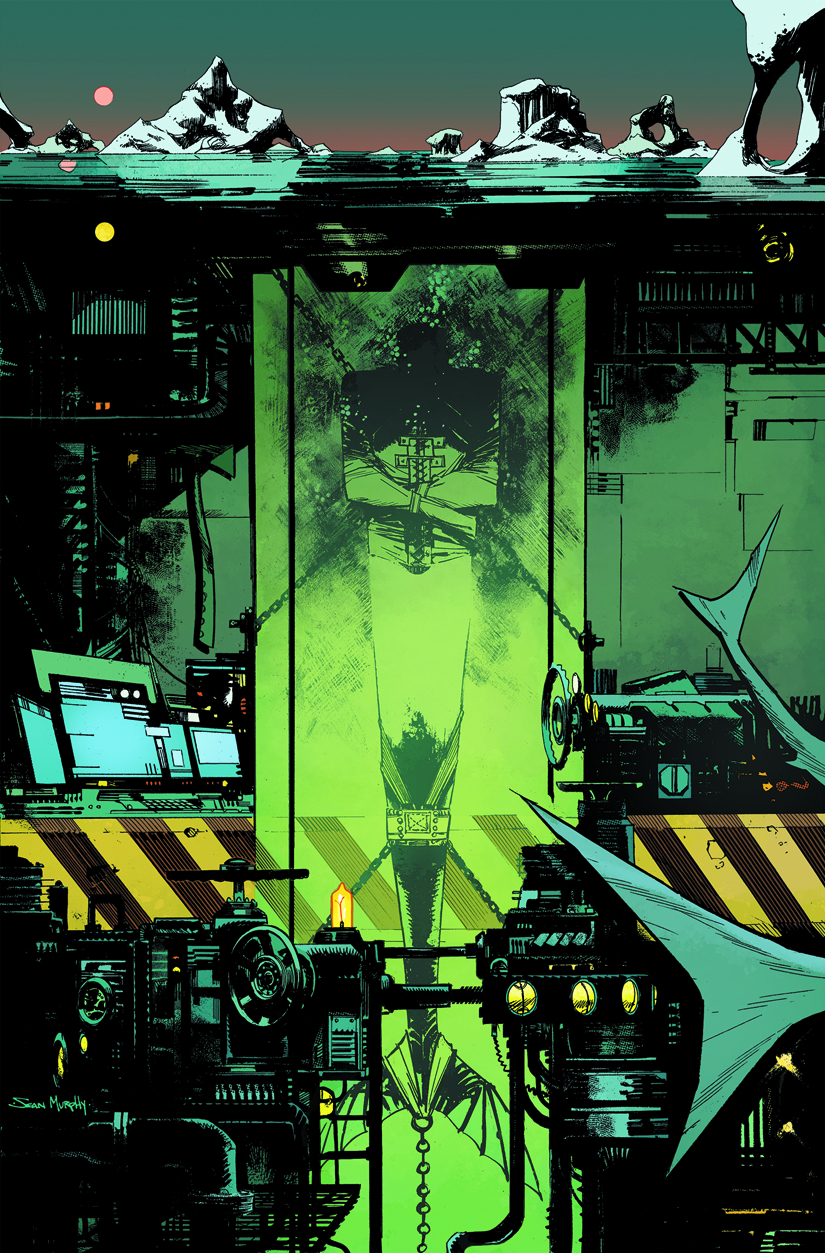 The first five issues of the acclaimed new Vertigo series THE WAKE are all collected
CODENAME ACTION #4 (OF 6)
GRIMM #8
LADY RAWHIDE #3 (OF 5)
RED SONJA #6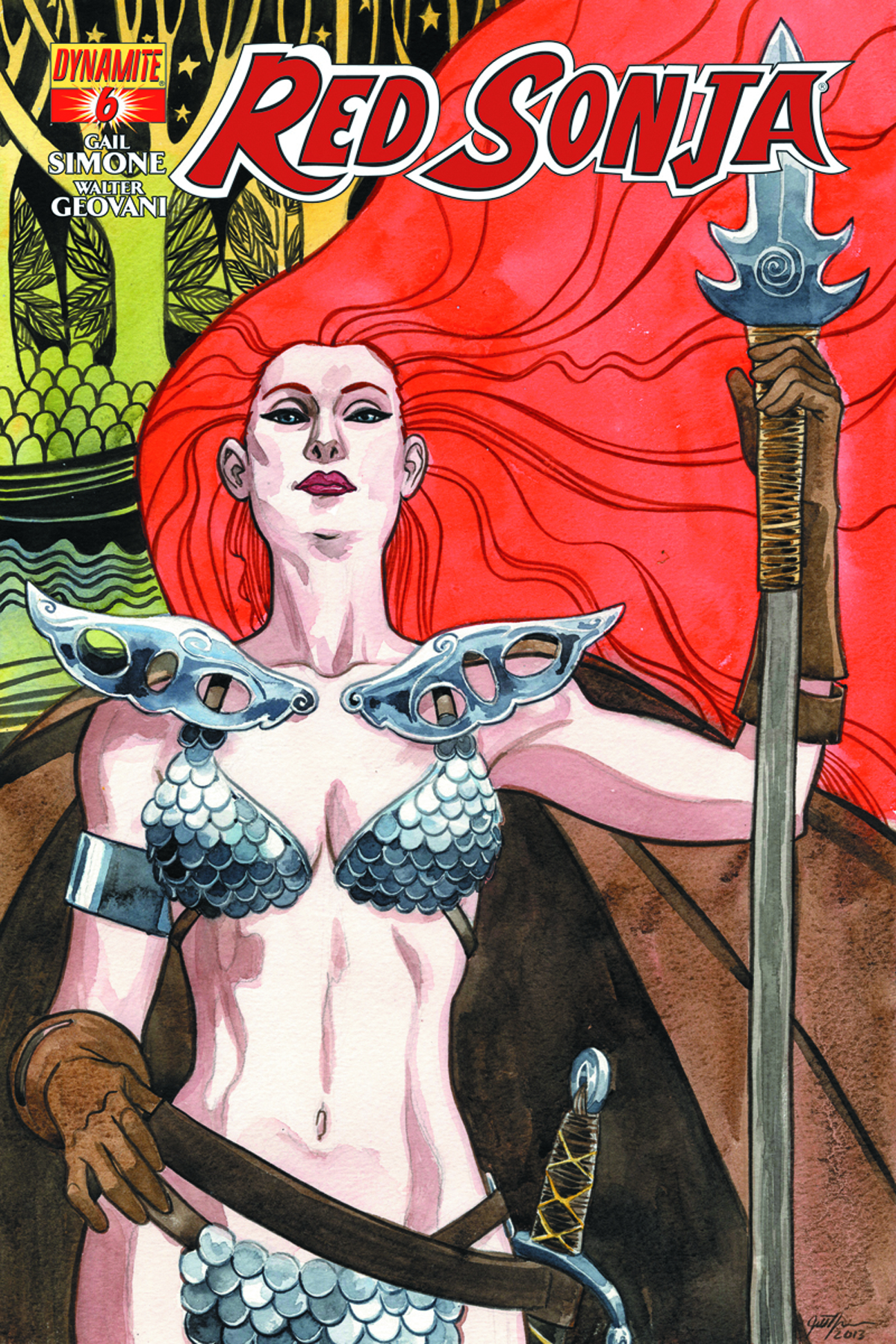 This is IT. The culmination to the bloody WAR of VENGEANCE waged between two former sisters of the sword, DARK ANNISIA and RED SONJA! Annisia has done something no other god nor demon has been able to do, force Sonja to her knees in surrender. But Sonja returns, a changed woman, and she has a mighty SCORE to settle! The climax to the entire
QUEEN OF PLAGUES saga is here!
THE SPIDER #16
VAMPIRELLA #37
IDW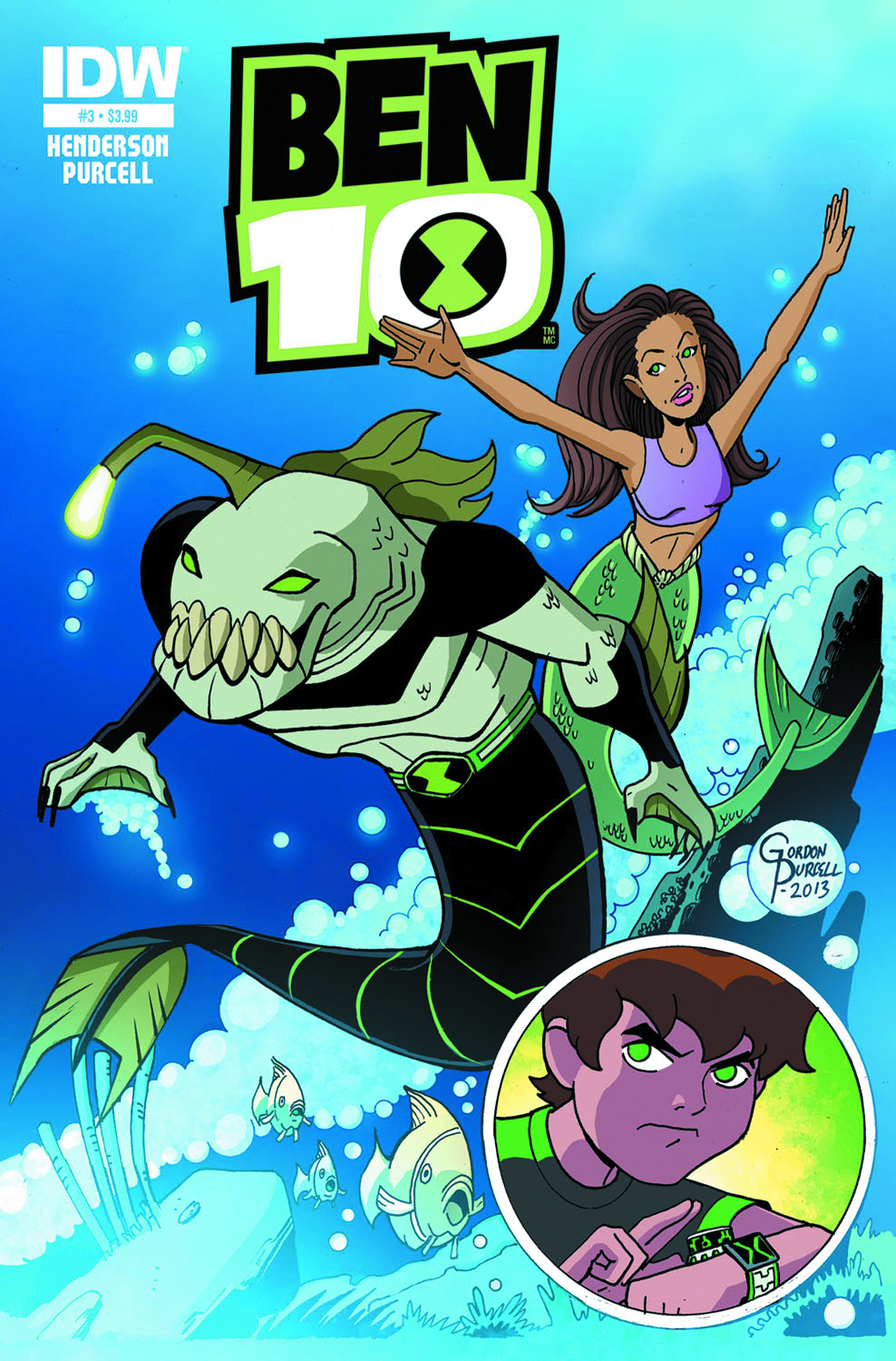 Ben Tennyson's cruise vacation takes a turn for the weird when he discovers that his mysterious new friend Lorelai is actually a mermaid, the princess and head protector of an alien-hybrid undersea kingdom called TerraPisciss. The mer-people are heroes of the sea and have never needed help before-- so why are they suddenly bringing Ben 10 and the Plumbers into their trust? Action, aliens and romance on the high seas!
GODZILLA RULERS OF THE EARTH #7
HAWKEN MELEE #2 (OF 5)
ILLEGITIMATES #1 (OF 6)
Jack Steele: World renowned agent of OLYMPUS, super-spy, debonair, lover of ladies, man-slut. While facing off with his arch-nemesis, Viktor Dannikor, Steele faces his biggest defeat, but who will take his place? Olympus scrambles to find not one, but FIVE newbie agents to fill the void and, unbeknownst to them, they share a common thread. Can these five strangers embrace their fates and come together to save the world? They are THE ILLEGITIMATES! And if you called them bastards.... you'd be absolutely right!
LOCKE & KEY ALPHA #2 (OF 2)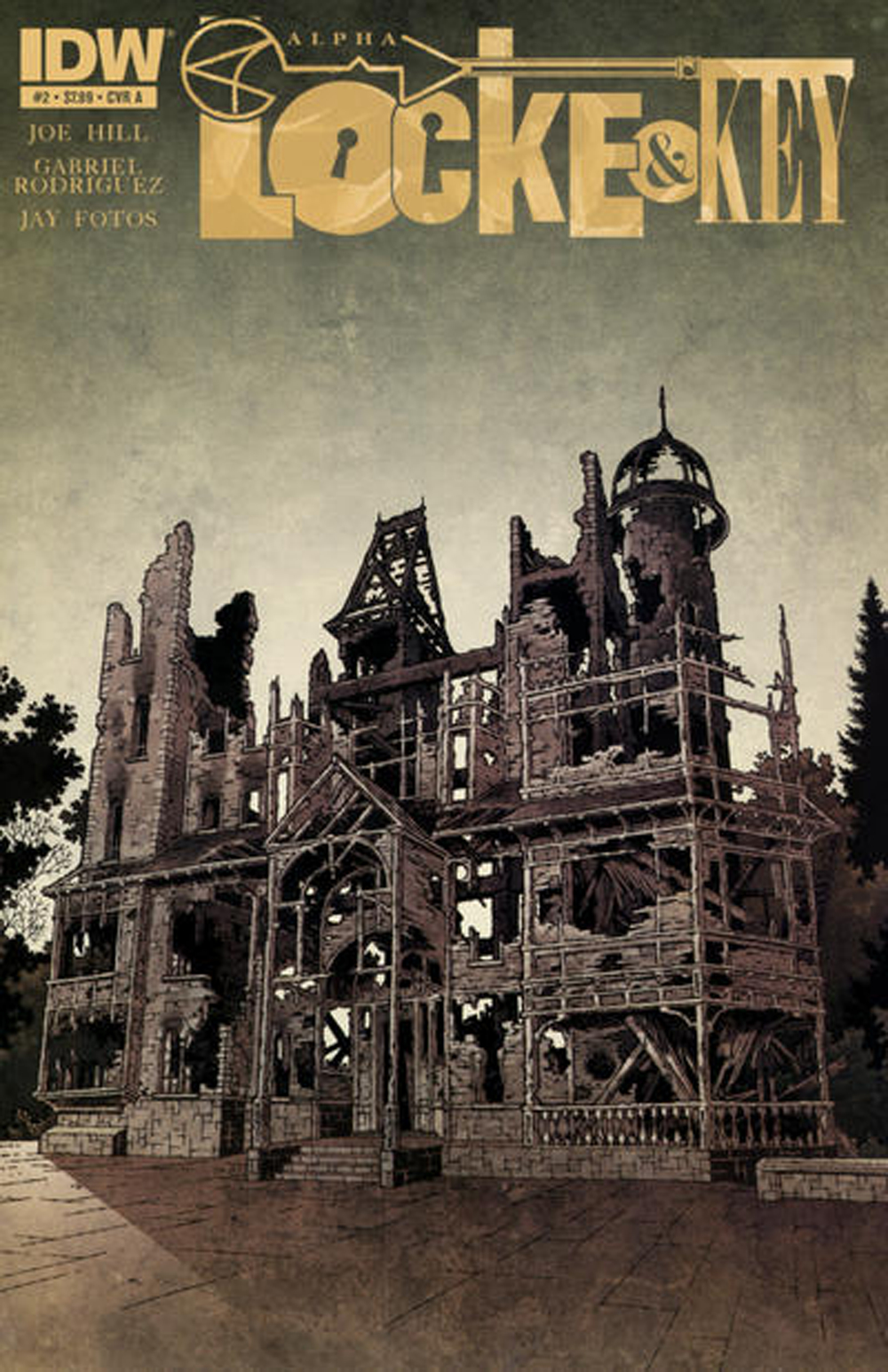 "The End." A door claps softly shut. A key scrapes in a last rusted lock. It ends here: the story of the Locke children and their desperate, tragic battle with the monster set on destroying them... the past. Join Gabriel Rodriguez and Joe Hill for the final chapter of
MARS ATTACKS JUDGE DREDD #4 (OF 4)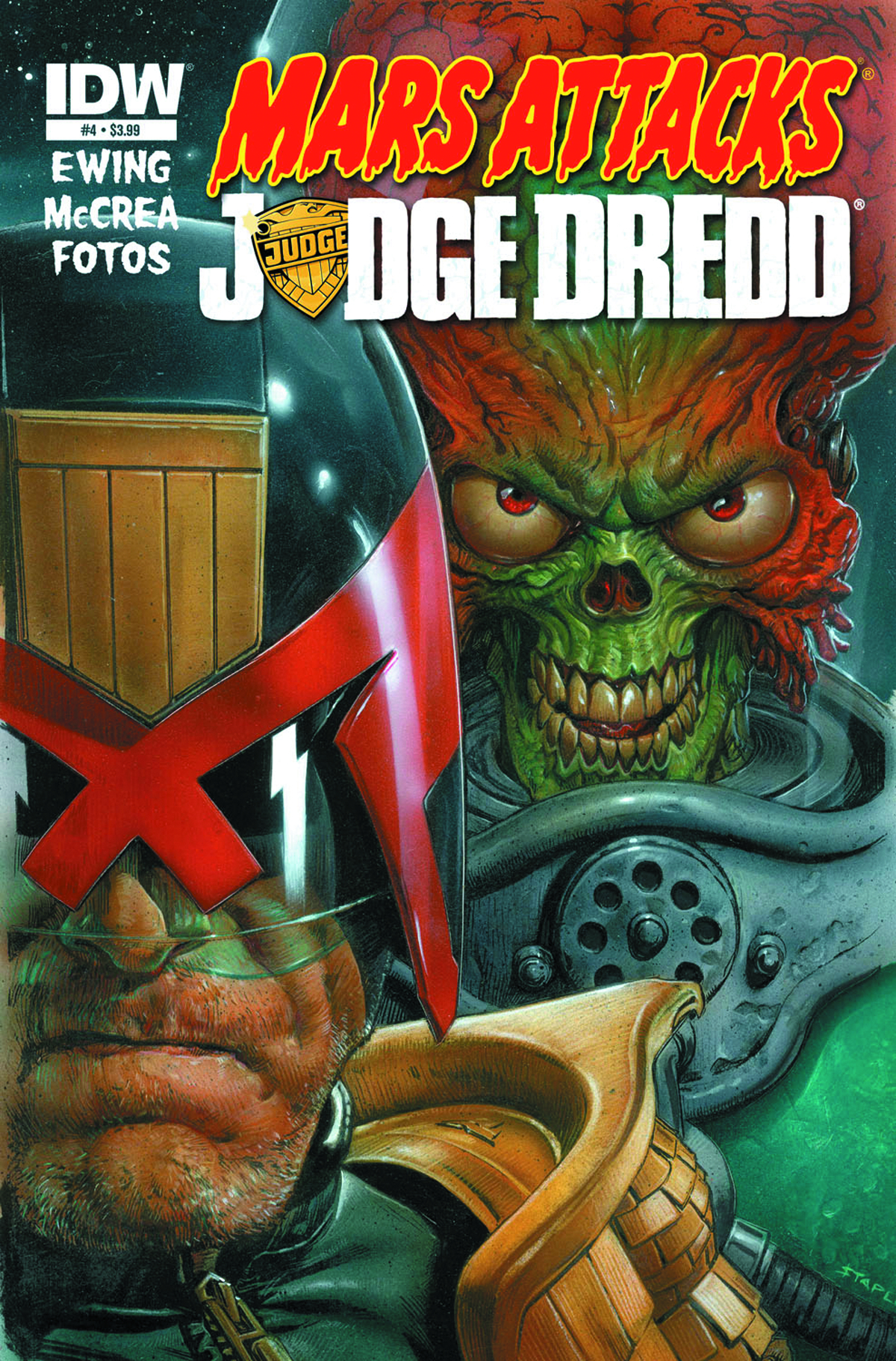 The Martian mayhem comes to an explosive conclusion! The full-scale invasion has begun, and even Judge Dredd finds himself overmatched by the Martian forces. Judge Anderson has a plan, however, but can Dredd bring himself to seek the aid of the Mega-City Mafia?
MR PEABODY & SHERMAN #2 (OF 4)
MY LITTLE PONY FRIENDSHIP IS MAGIC #14
MY LITTLE PONY MICRO SERIES #10 LUNA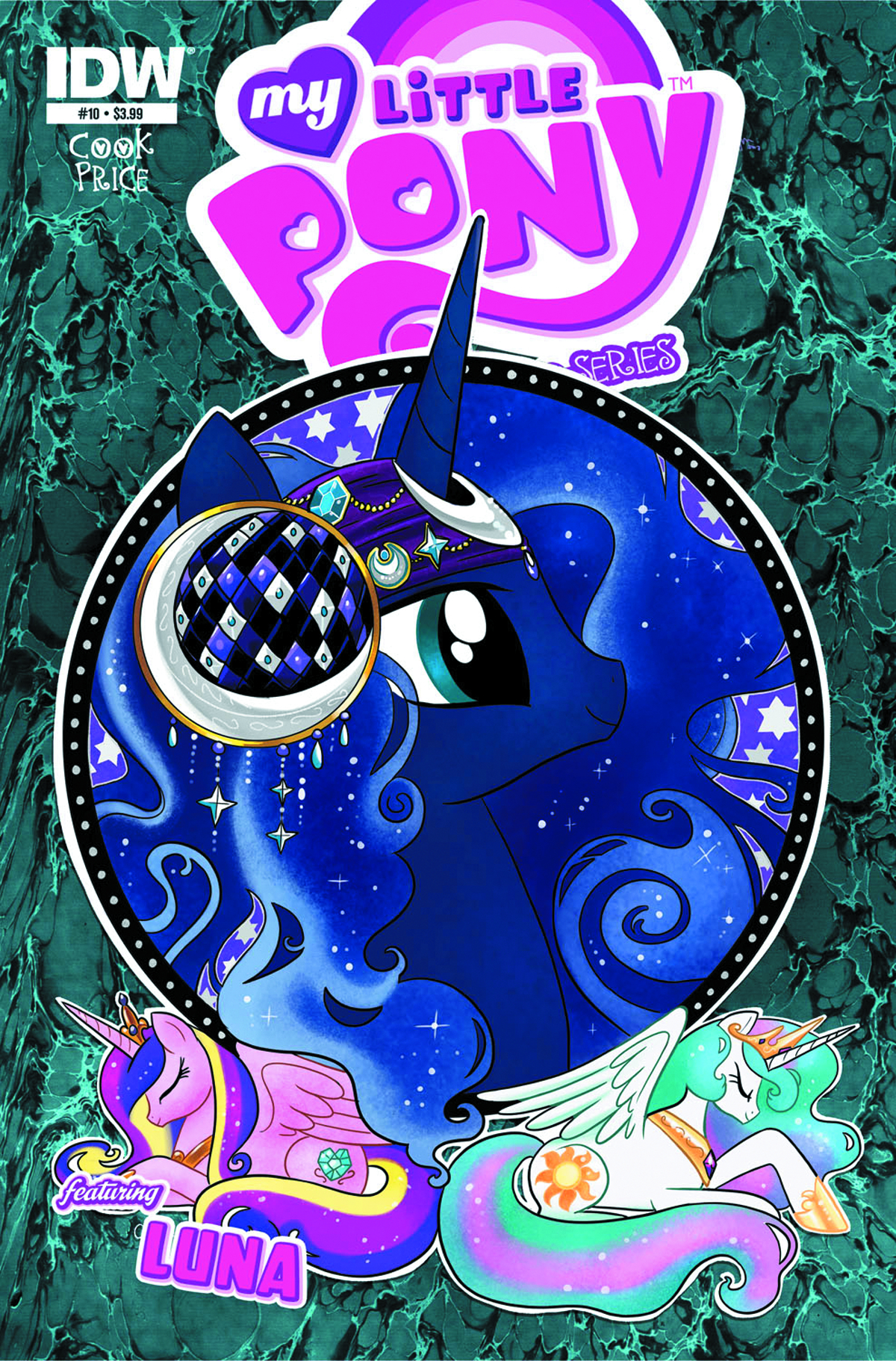 A royal eclipse! When Celestia has to leave for the day, Luna is charged to keep watch over waking hours. Will the guardian of the night be able to juggle a new set of responsibilities while keeping her cool? (Not to mention keeping awake!)
POPEYE CLASSICS ONGOING #17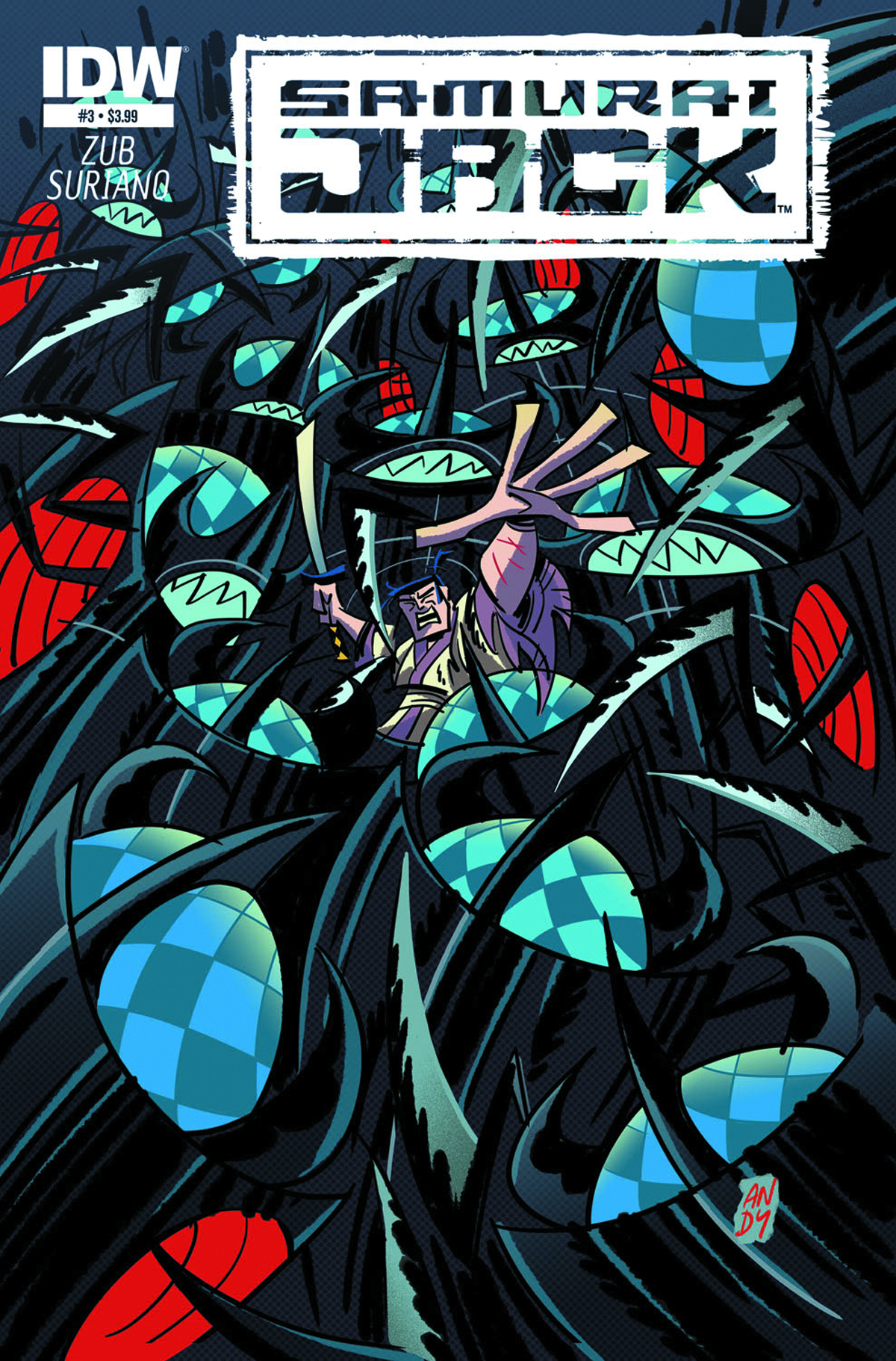 Jack's travels bring him to a village filled with tension and mystery. Can he discover the town's strange secret before Aku's robotic army invades? Our samurai hero's quest to gather the Threads of Time continues.
SINISTER DEXTER #1 (OF 7)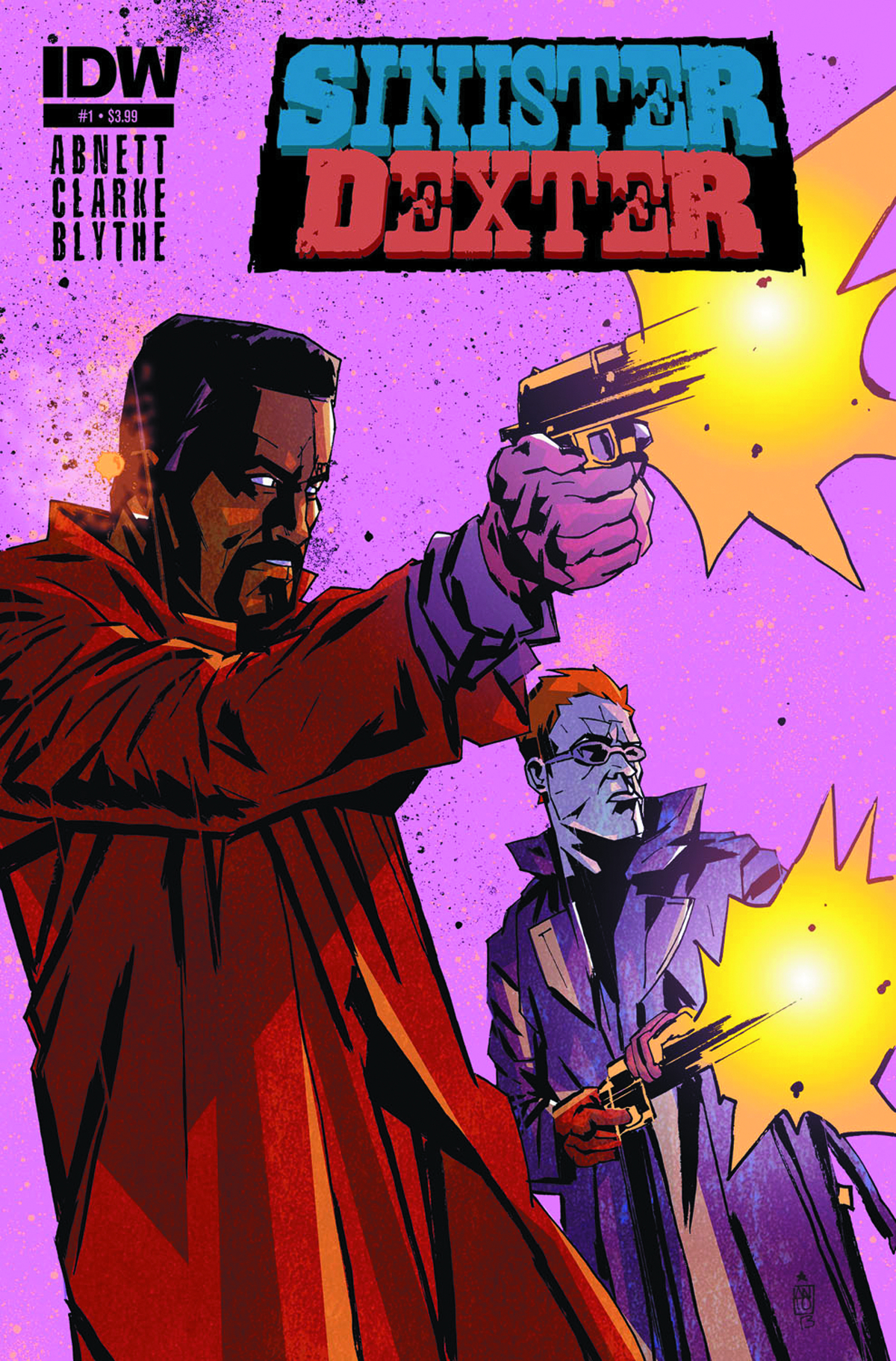 The popular sci-fi strip makes its way to our shores! Finn and Ramone in two classic
2000 AD stories! First is "Money Shots," which sees the two gunsharks crashing the set of an adult movie in order to carry out a hit on a target that may be happier to see them than they expected! Second is "Point Blanc." The duo is recruited to take out a narc boss who owns extreme firepower. Is their mystery employer out for more than control of
Downlode's heavy-duty killware?
TRANSFORMERS REGENERATION ONE #97
TRANSFORMERS ROBOTS IN DISGUISE #24 DARK CYBERTRON
IMAGE
BLACK SCIENCE #2
Run-amok reality! Grant and his crew escape the madness of the lightning sea-swamp only to be flung into a futurepast trenchworld, where the Sons of the Wakan Tech-Tanka wage never-ending war on the savages of Europe! How did the Anarchist League of Scientists end up this deep in the onion? Who among them sabotaged the Pillar?
GHOST #1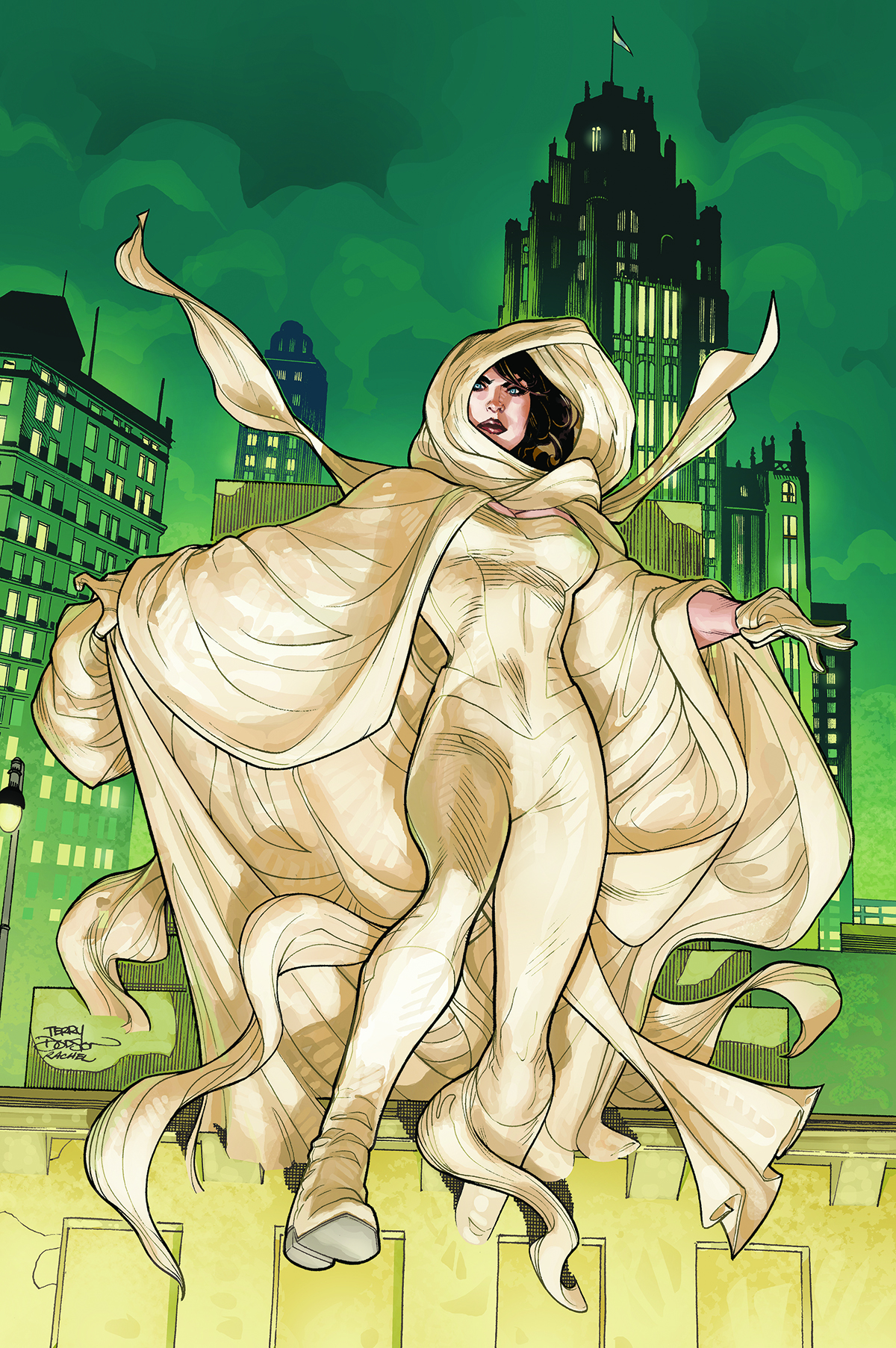 Ghost, the hero trapped between two worlds, fights to protect Chicago from
extra-dimensional demons disguised as humans. When a familiar stranger destroys an el train, Ghost makes a deal with a devil for the chance to uncover her own mysterious past. The perfect issue to join this action-packed superhero title!
PRETTY DEADLY #3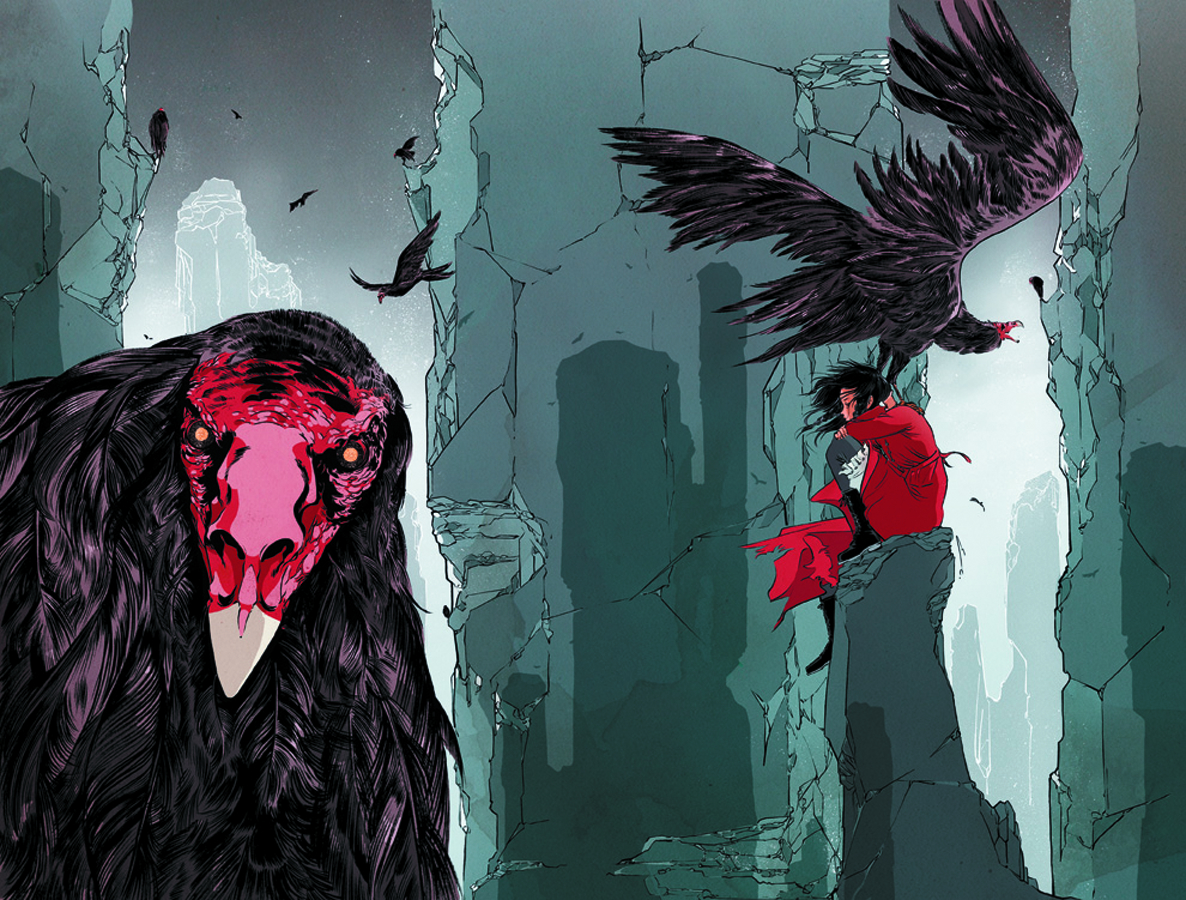 All blood spilled into the earth makes its way to a river. Where those rivers meet, Fox attends the birth of a beast, the child of a thousand violent deaths.
UMBRAL #2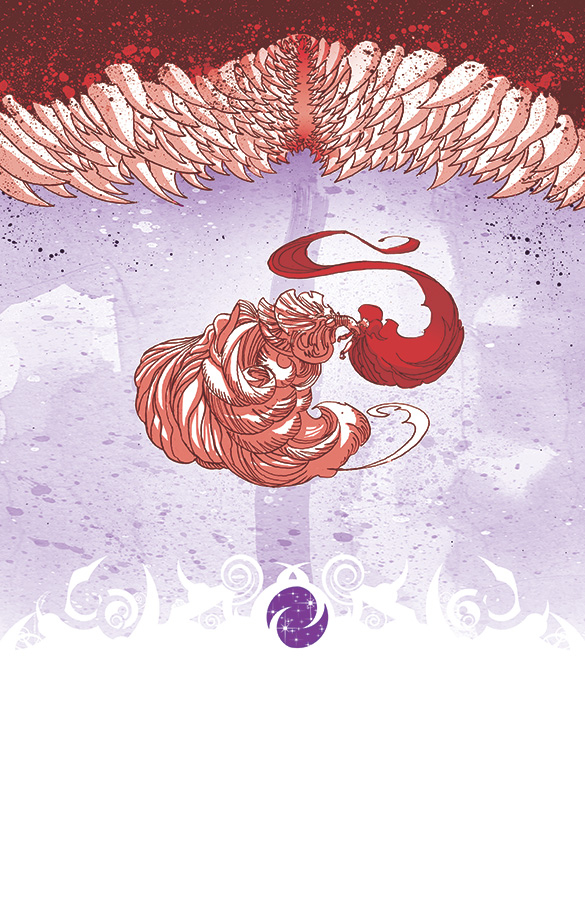 "FALLING INTO DARK"
The nightmare creatures called Umbral are invading, and only the young thief Rascal knows it! But in a world where magic and religion are outlawed, will anyone believe her? And is the mysterious hobo Dalone an ally... or a deadly enemy?!
INDIE
BLOODSHOT & HARD CORPS #17
DEJAH THORIS & GREEN MEN OF MARS #9 (OF 12)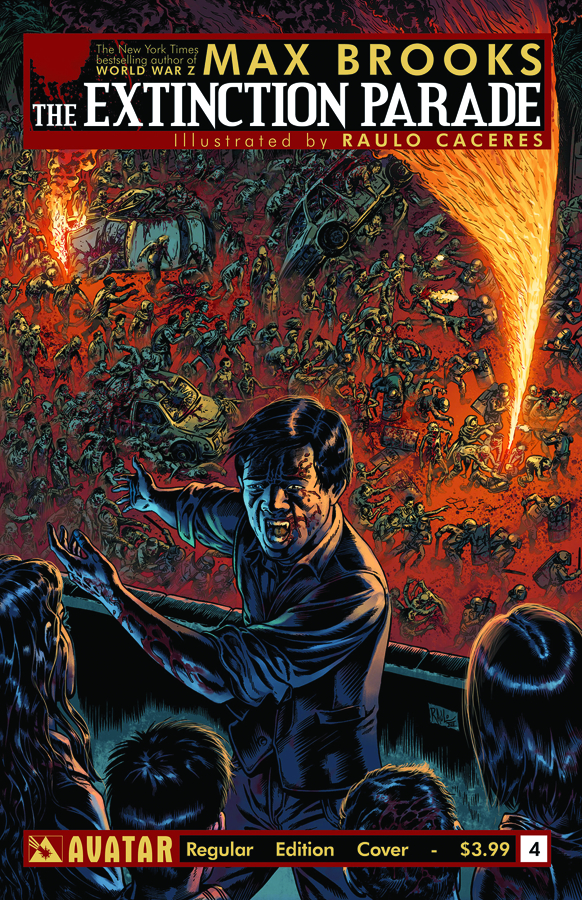 This year's biggest horror comic continues its brutal march towards annihilation! His books on zombies have entertained millions of readers and now MAX BROOKS redefines vampires as he brings an all-out war of the undead! Zombies have been at best a nuisance to the vampire race for thousands of years but never a real threat. Their clumsy foothold over humans has always been beaten back. But this time the tide of shambling dead have turned the corner and are rapidly depleting the ranks of the living. Even with their superior abilities and ferocity, can the vampire race find a way to stop the decimation?
MARVEL
AMAZING SPIDER-MAN #700.4
AMAZING SPIDER-MAN #700.5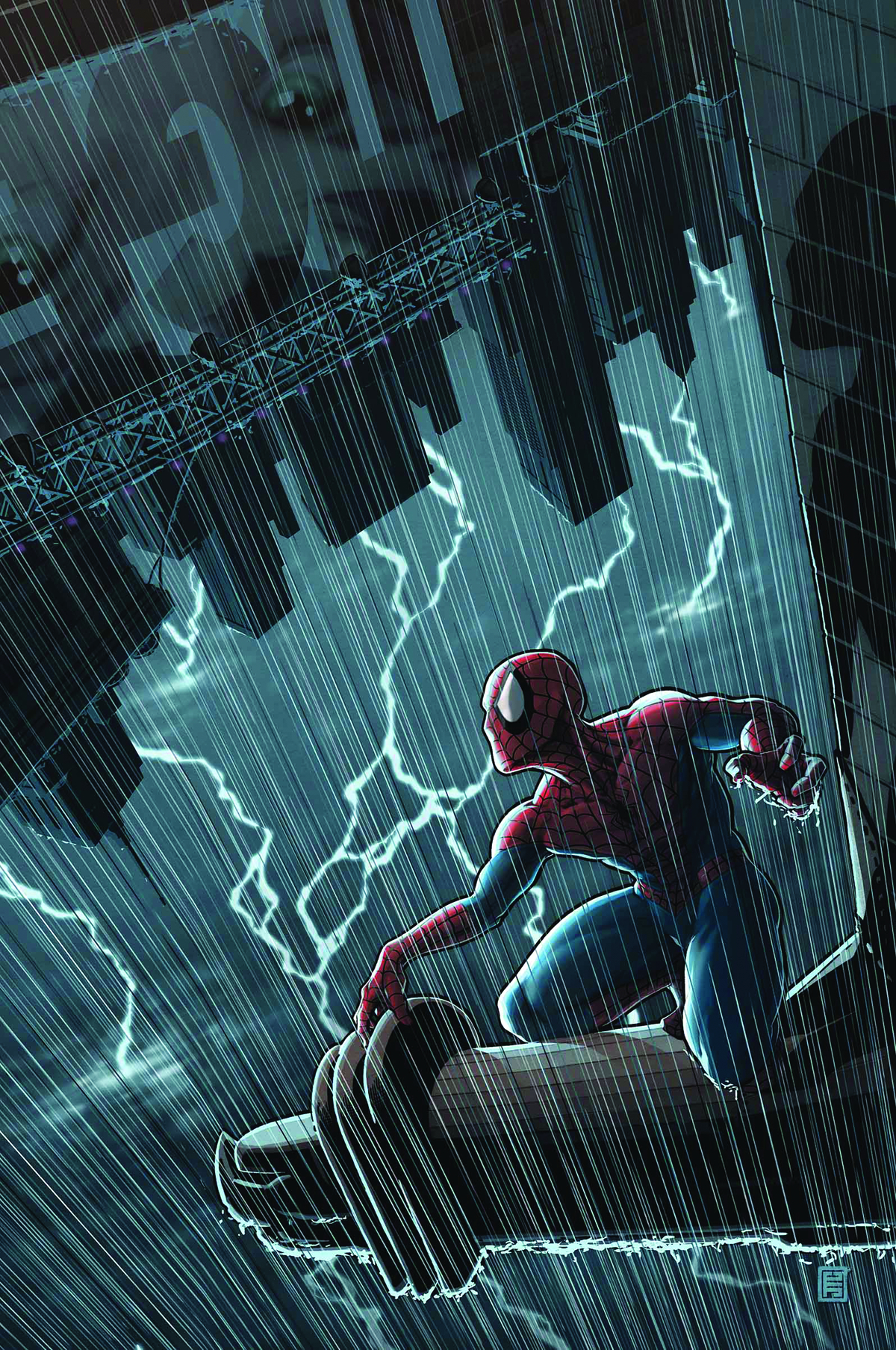 Peter Parker and Johnny Storm must stop an apocalyptic future by fighting - the Fantastic Four?! By Brian Reed (MS. MARVEL) and Sean Chen (AVENGERS)!
Then, a young child risks his life to save Spider-Man's in the emotional
WHAT WOULD SPIDER-MAN DO? By Kevin Grievioux (NEW WARRIORS) and Lee Weeks (AMAZING SPIDER-MAN)!
AVENGERS ASSEMBLE #22. INH
CATACLYSM ULTIMATE X-MEN #2 (OF 3)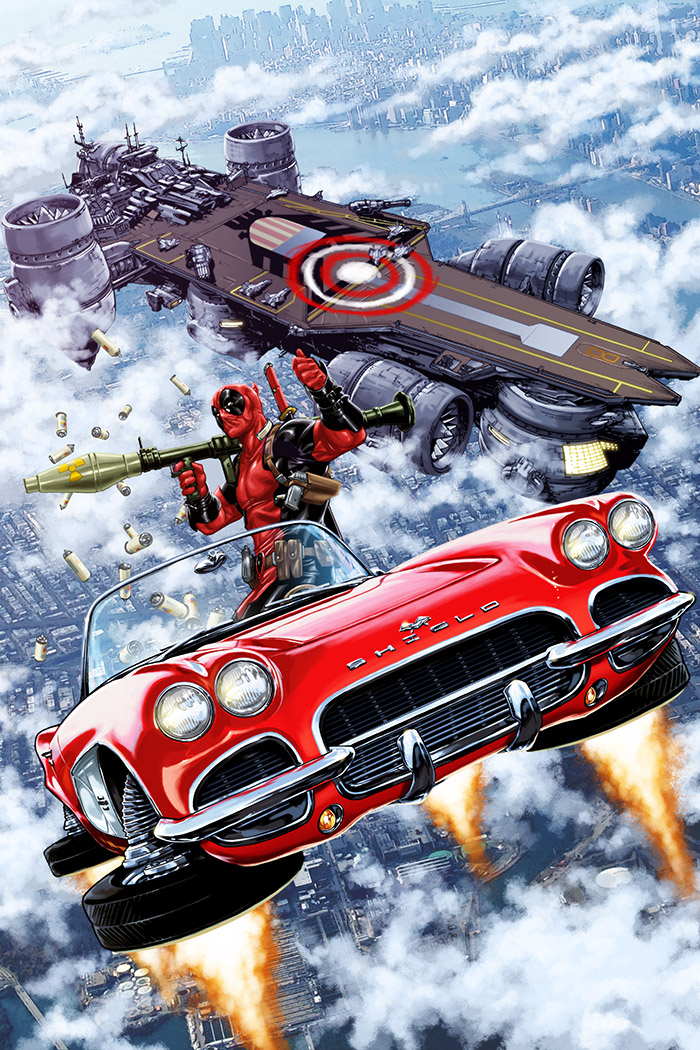 Deadpool vs. S.H.I.E.L.D., part one!
S.H.I.E.L.D. stiffed Deadpool on a bill!
Now, they're gonna regret it!
INDESTRUCTIBLE HULK #17. INH
LONGSHOT SAVES MARVEL UNIVERSE #4 (OF 4)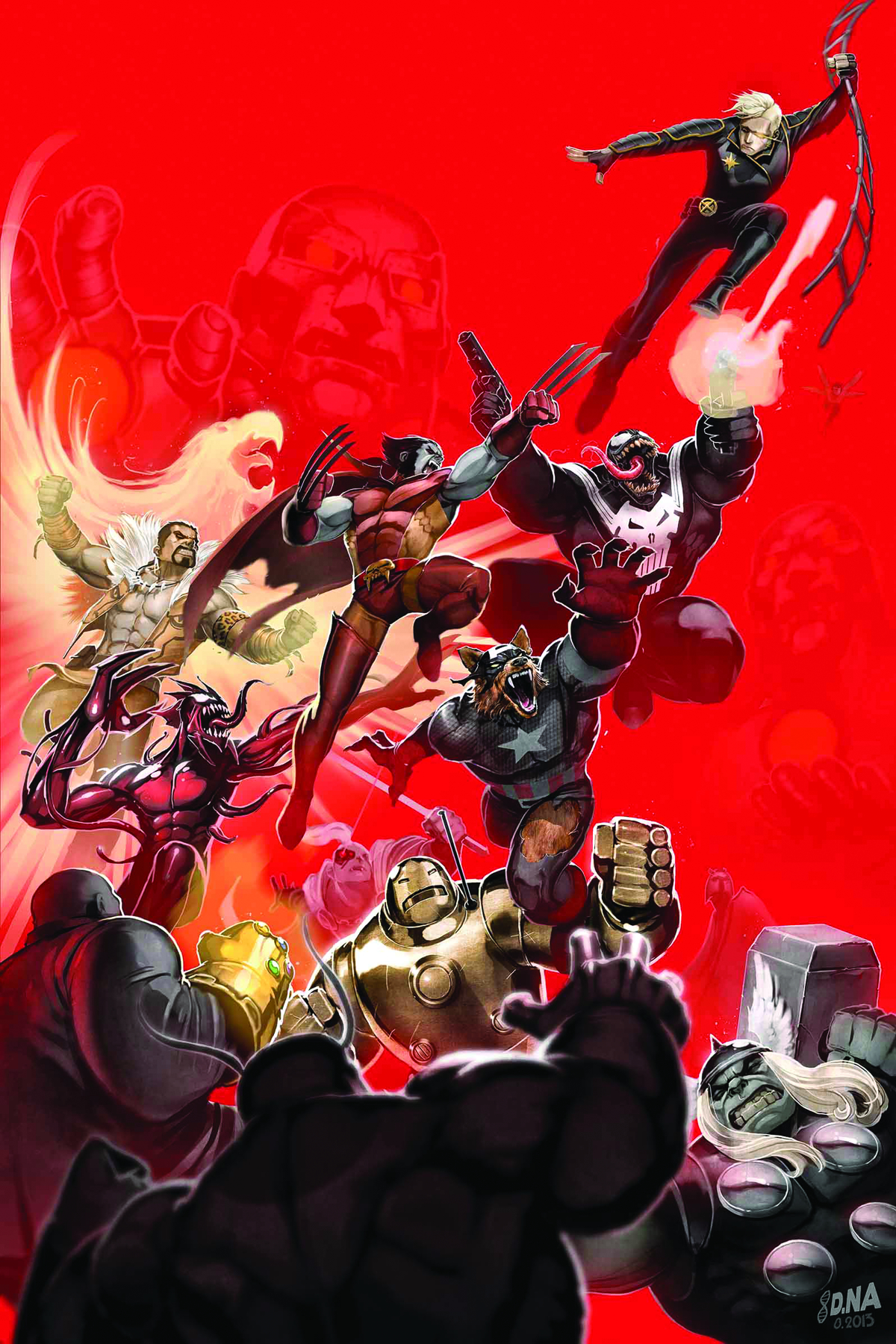 The worst threats that ever have/will face the Marvel Universe?
The Hulkvengers? Kraven the Pheonix? WolfCap? Wolverine King of the Vampires? Cosmic Carnage? Sounds like a job for Longshot, right?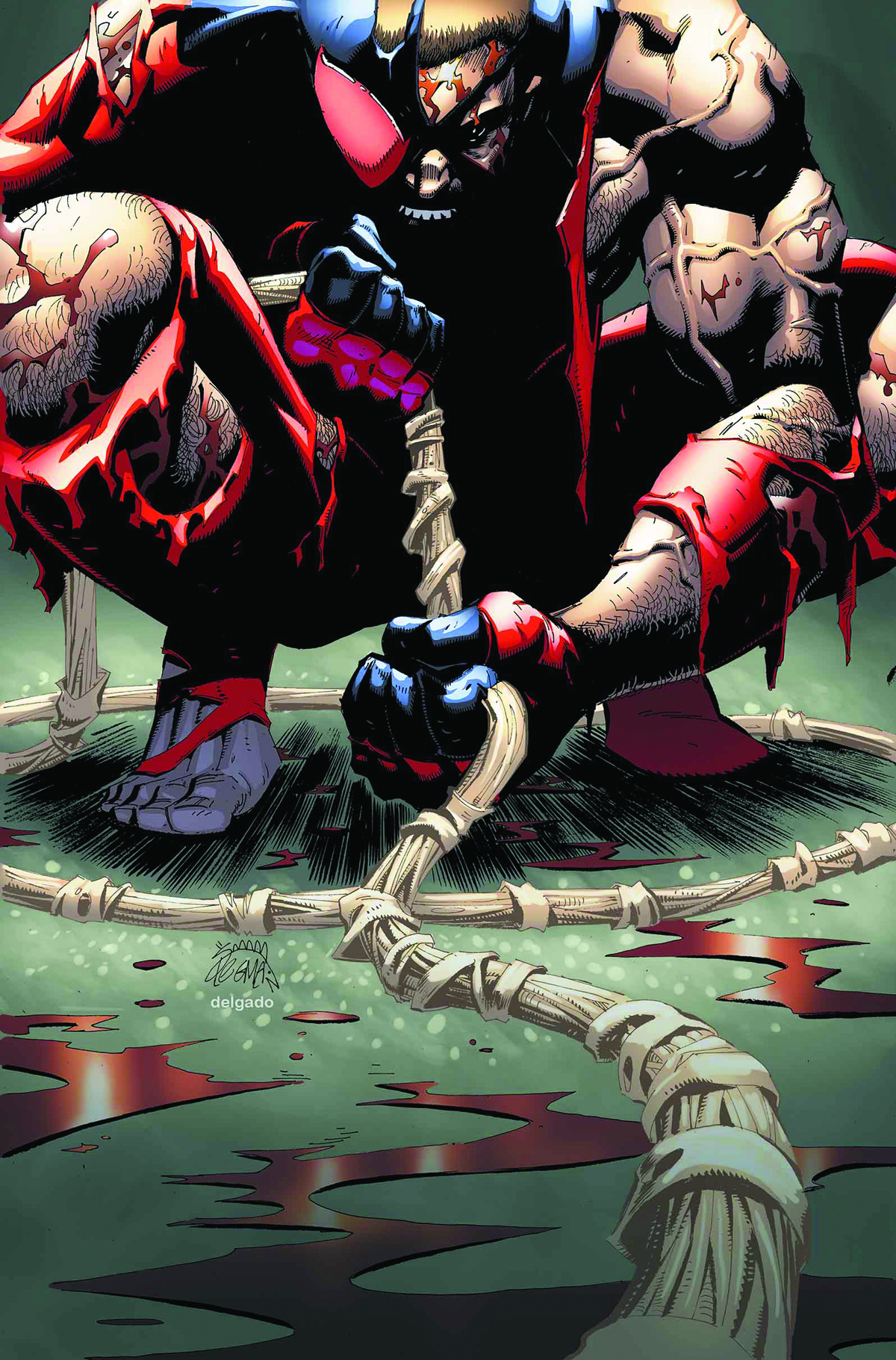 LAST DEVASTATING ISSUE!
It's over. Kaine did his best to be a hero. He failed.
What about Houston?! Who lives? Who dies? Is there a place for the Scarlet Spider in this world? The answers will surprise you.
Two years and 25 issues have led to THIS! Guest starring: MEXICO!
SUPERIOR SPIDER-MAN TEAM UP #8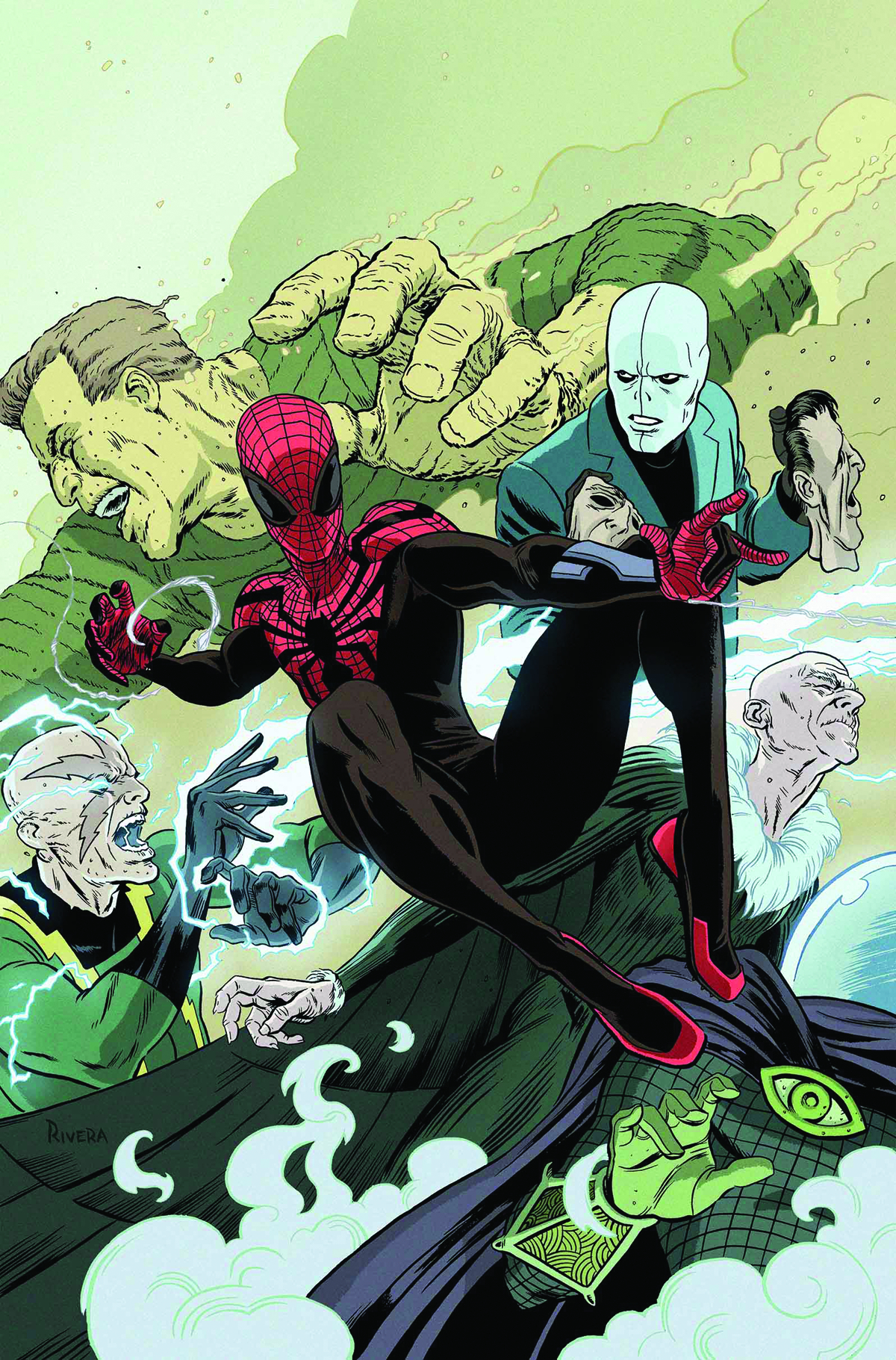 After the events of the Superior Six, the Superior Spider-Man faces off
with an even deadlier foe: SELF-DOUBT.
Has the Superior Spider-Man been humbled? How can he come back from this?
With the help of a guest-star even more arrogant than Spider-Man... THE SUB-MARINER!
THUNDERBOLTS ANNUAL 2013 #1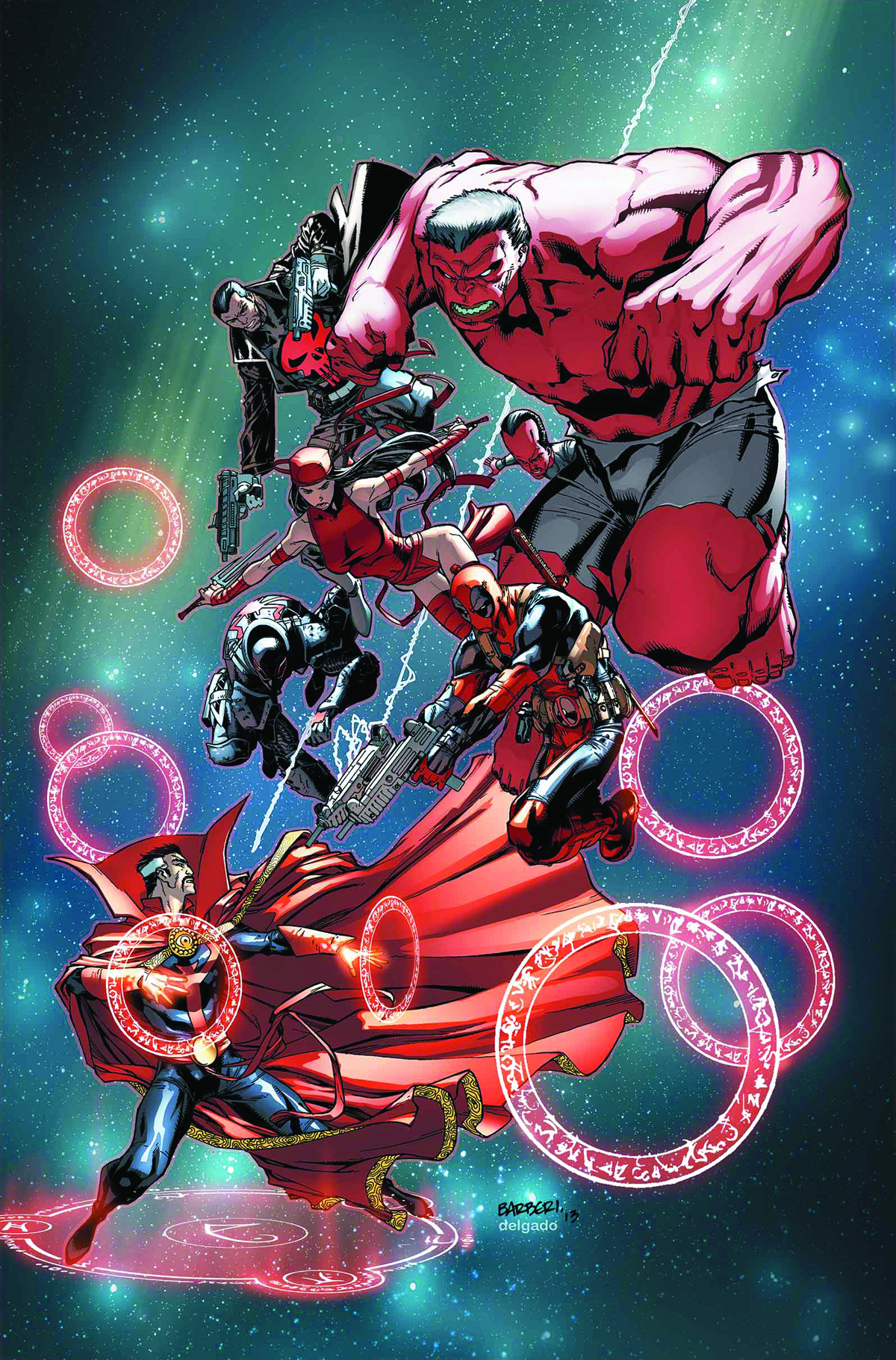 The Thunderbolts' new mission? KILL DOCTOR STRANGE.
Of course, they're gonna need a pretty special arsenal for that.
"Thrilling Adventure Hour" creators Ben Acker & Ben Blacker take the Thunderbolts
on a whirlwind tour of the Marvel Magicverse!
YOUNG AVENGERS #14
RESOLUTION (1 of 2)
We gather in a night club, and have a string of connected and overlapping stories starring our cast. It's a completely and unprecedented approach to a story in comics history.
There are no parallels. We refuse to accept it.
Team Young Avengers are joined by an all-start cast of some people we really like. Each individual section gets one individual artist. It's a metaphor, probably.
It's been one hell of a year. In two episodes, one before and one after the new year, the Young Avengers get resolution. You guys do as well.