New in store for you this week: seriously mad science in MANHATTAN PROJECTS Vol 4, Hellraiser author Clive Barker's NEW TESTAMENT Vol 1, the complete STAR TREK: KHAN miniseries, the second volume of Peter David's excellent run on X-FACTOR, DEADPOOL Vol 4, BATGIRL Volumes 3 and 4, THE IMMORTAL IRON FIST Vol 2, Vol 3 of the sadly underrated MIND MGMT, and a stand alone graphic novel I've been eagerly anticipating for months, BLACK CANARY AND ZATANA: BLOODSPELL! Written by Paul Dini and illustrated by Joe
Quinones, this is definitely my Pick of the Week.
What are you looking forward to reading? Talk to us @DavesComics!
A PLUS X TP VOL 03 EQUALS OUTSTANDING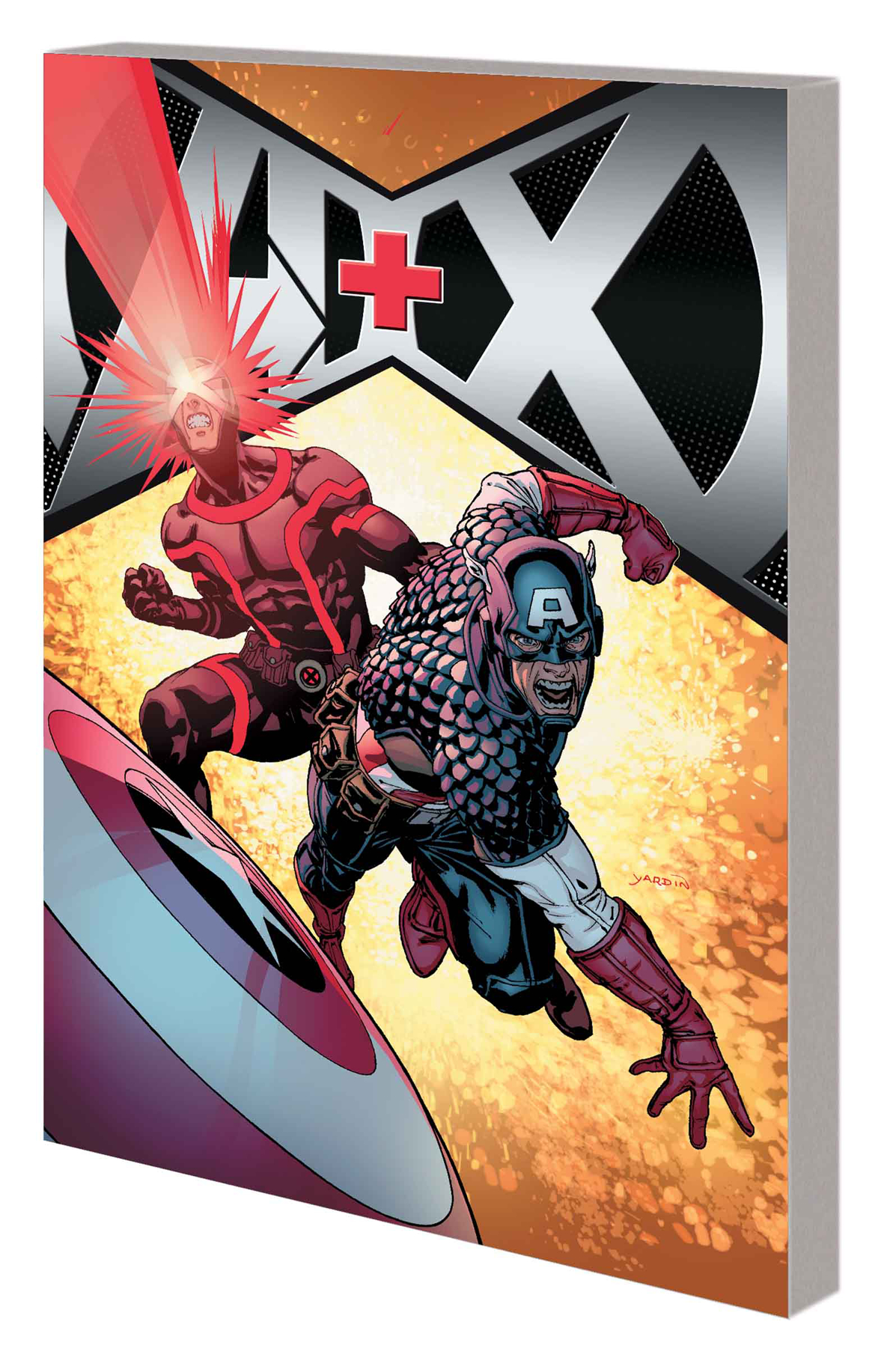 A+X shakes things up with its first book-length story as Captain America and Cyclops find themselves on a collision course! Cap is hell-bent on arresting the fugitive Cyclops, but that's only half of this duo's troubles. They also need to defeat a horde of menacing Skrulls and find Professor X's former students, the Skrull mutants known as Cadre K! But there's more! Emma Frost and Black Widow team up in a steamy saga! Magneto encounters the Superior Spider-Man! Dr. Strange and Beast face a truly insane threat! A heartbreaking story from the past of Spider-Man and Psylocke! Iron Man teams with fan-favourite X-student Broo! And Brian Michael Bendis pens a very special A+X tale! Featuring the Marvel writing debut of Max Bemis of the band Say Anything and Jeff Loveness, Emmy-nominated writer for Jimmy Kimmel Live! Collecting A+X #13-18.
AMAZING SPIDER-MAN EPIC COLLECTION TP GHOSTS OF THE PAST The Hobgoblin is back! The high-flying villain is after Norman Osborn's journals - and he's targeted Mary Jane and the pregnant Liz Osborn! Plus: Mary Jane reveals the secrets of her childhood! The Scorpion attacks as J. Jonah Jameson ties the knot! Spidey battles the symbiotic alien costume in a senses-shattering showdown! The Kingpin strikes after the Beyonder turns a skyscraper to gold! Spidey faces the cosmic power of Firelord! The new Spider-Slayer attacks the person he believes to be Spider-Man: Mary Jane! And things get downright silly when Spidey must deal with Spider-Kid, Frog-Man and the Toad, and track a thief to...the suburbs! Featuring the return of Black Fox and Crusher Hogan, and the debuts of Silver Sable and Slyde! Collecting AMAZING SPIDER-MAN (1963) #259-272 and ANNUAL #18-19, and WEB OF SPIDER-MAN (1985) #1 and #6.
ART OF WOLFENSTEIN NEW ORDER HC
Bethesda and Machine Games offer up the secrets behind Wolfenstein: The New Order,
a game set in a post-WWII world where the Nazis have won and only you can rewrite
history. Featuring concept art, character designs, and astonishing settings, landscapes,
and technology, this book provides a unique look at one of the gaming industry's most
intriguing games. Includes iincredible full colour artwork from the game and commentary direct from the creators!
BATGIRL TP VOL 03 DEATH OF THE FAMILY (N52) Batgirl stars in these epics from #14-19 of her monthly series, plus BATMAN #17, BATGIRL ANNUAL #1 and a story from YOUNG ROMANCE #1, all spinning out of "Death of the Family." The Joker is back, and Barbara Gordon must confront her past as she deals with the crazed criminal responsible for crippling her. Plus, once the dust settles, Barbara must deal with her family demons as her psychotic brother James Jr. comes after her.
BATGIRL HC VOL 04 WANTED (N52)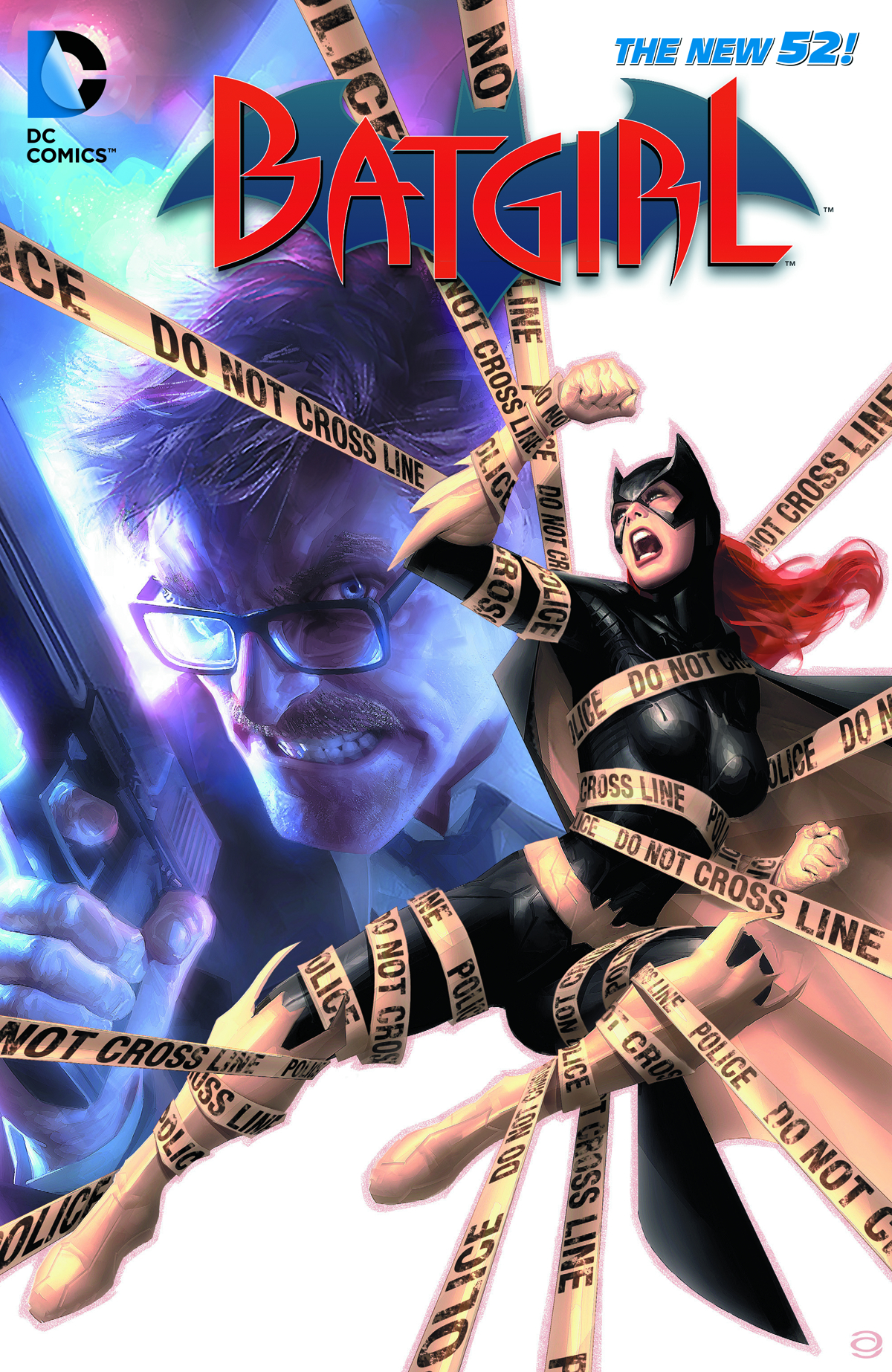 In these tales from BATGIRL #19-25 and BATMAN: THE DARK KNIGHT #23.1: VENTRILOQUIST and Batgirl struggles to continue fighting crime after the death of her brother, James, Jr. With her relationships with both Batman and her father strained, Batgirl must face one of Batman's most ruthless villains: The Ventriloquist.
BATMAN DEATHBLOW AFTER THE FIRE TP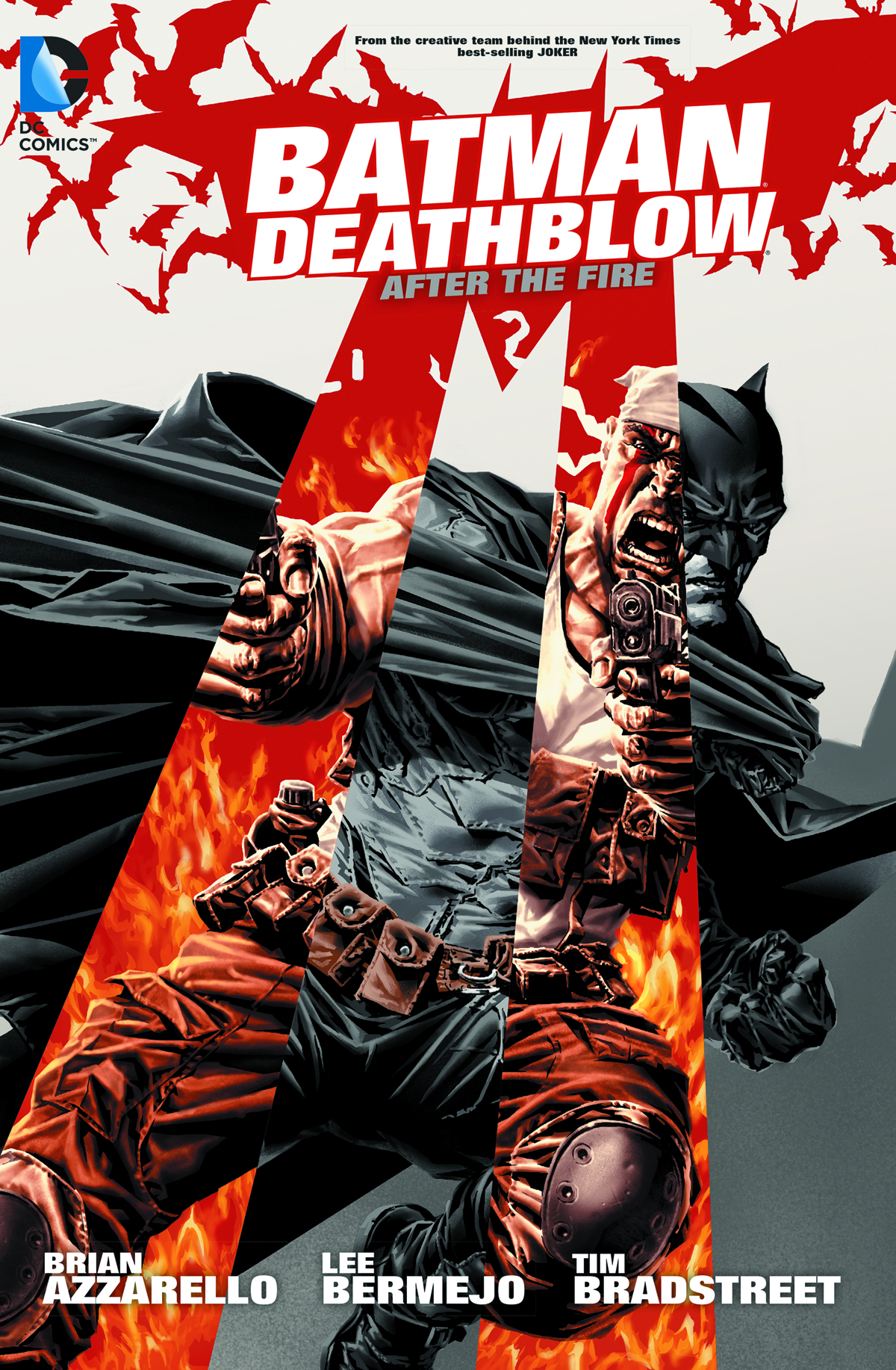 The Dark Knight faces the daunting task of finishing a job that someone else started but - for reasons that remain a mystery - refused to finish. That someone was Michael Cray. It's a tale of secret agents, double agents and a charismatic madman with a fiery, lethal touch. Collecting the original 3-issue miniseries!
BLACK CANARY AND ZATANNA BLOODSPELL HC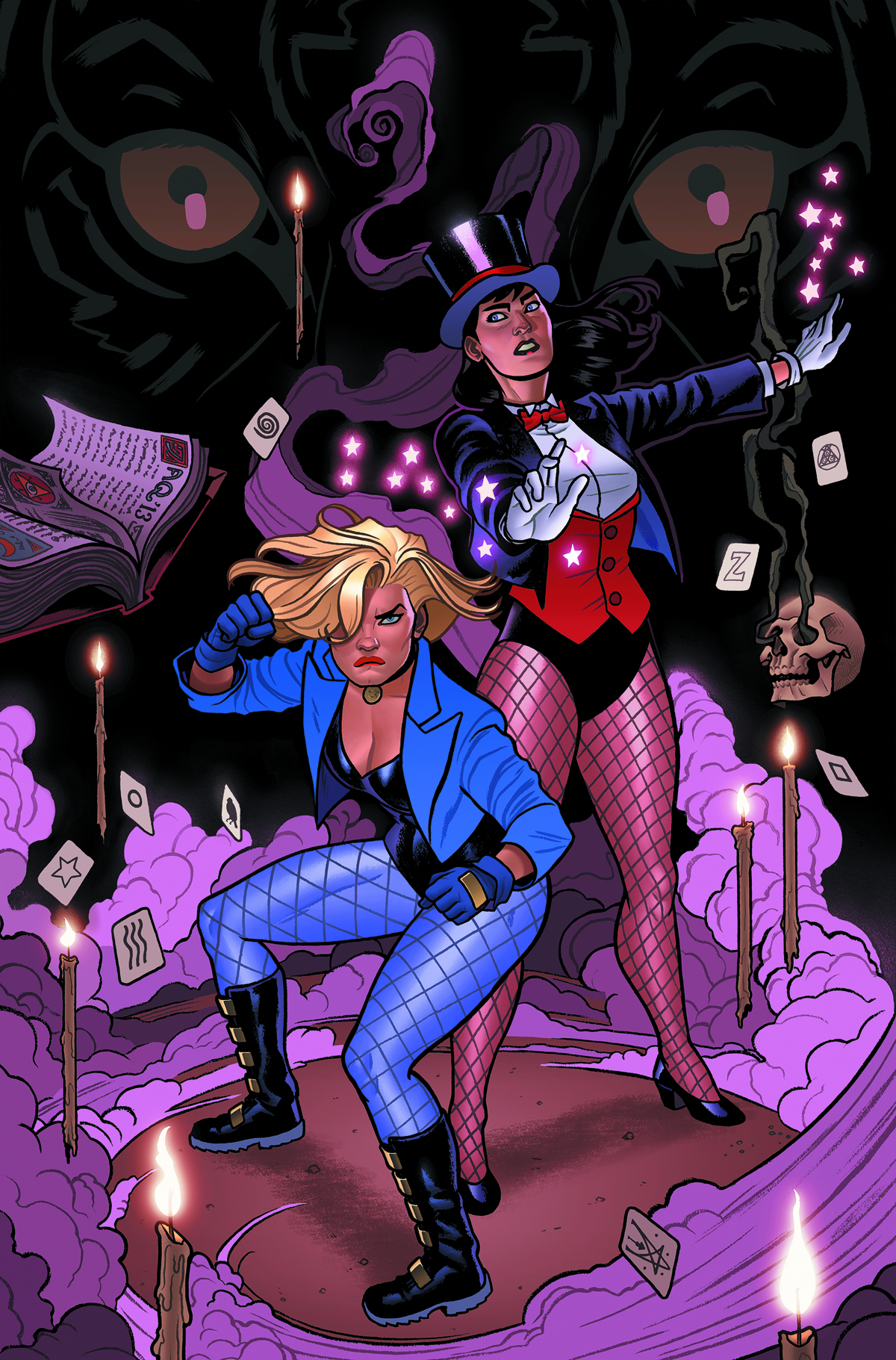 Two of the DC Universe's brightest stars join forces in this original graphic novel!
A year ago, Black Canary infiltrated a gang of female criminals set to pull a dangerous heist at a Las Vegas casino. Its leader was skilled in hand-to-hand combat and more than a passing interest in black magic. Rather than be captured by Canary or the law, she went to her death, vowing to get revenge on Canary! Now, one year later, death stalks those gang members, and Canary must turn to her friend Zatanna to help investigate.
This title also includes a special sketchbook section.
CLASSICS ILLUS DLX SC VOL 11 SEA WOLF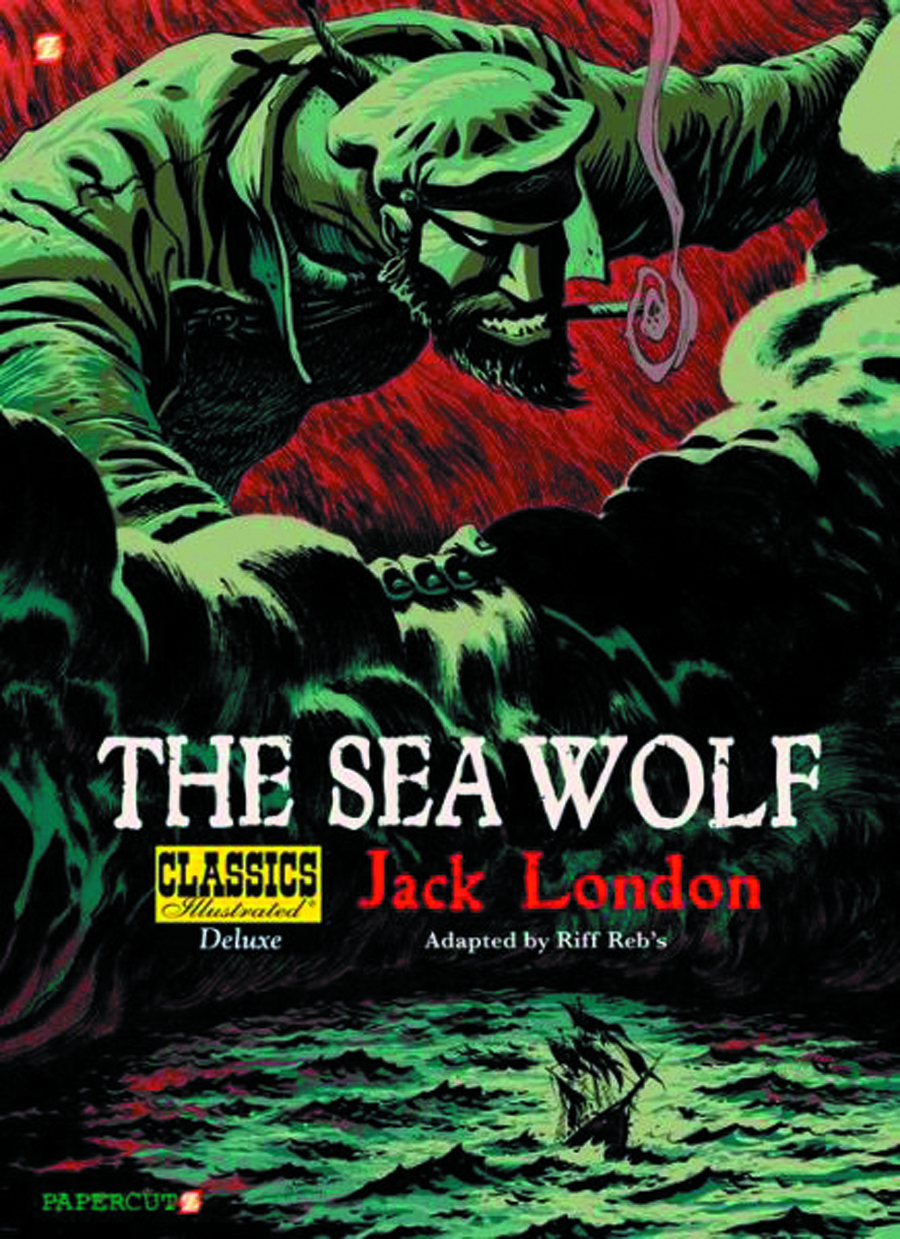 When the ferry the intellectual Humphrey van Weyden is aboard sinks off of the San Francisco Bay, he drifts in the ocean until a seal-hunting schooner, under the command of hardened sailor Wolf Larsen, rescues him. Wolf Larsen is an incredibly strong brute and a hedonist who sees no value in life but is also educated- he likes that Humphrey (or "Hump") is someone he can have meaningful conversations with, and decides to let him stay. This rescue comes with a catch, however- the boat is not returning to port soon. If van Weyden wants to stay on board he must become a cabin boy and do chores on the ship, while he avoids angering the murderous crew. Furthermore, if he's going to survive this trip, van Weyden must keep the crew from killing their captain, and the captain from tossing him overboard.
CLIVE BARKERS NEXT TESTAMENT TP VOL 01 WHY WE LOVE IT: Clive Barker has reimagined the HELLRAISER mythos since 2011 with BOOM! Studios, creating one of the most successful horror comics on the stands. Now, he's created and written an all-new original comic book series, and his vision again proves why he is the Master of Horror.
WHY YOU'LL LOVE IT: Named the best miniseries of 2013 by Bloody Disgusting, this trade paperback collects the first arc of Clive Barker's original comic book creation, with collaborators Mark Miller (HELLRAISER) and Haemi Jang (HELLRAISER: THE ROAD BELOW).
WHAT'S IT ABOUT: Julian Demond, captain of industry, leaves his life behind to begin a
walkabout. While wandering the desert, he comes across a unique figure, who calls himself
Wick and claims to be God. Together, they begin a terrifying journey across the Earth, as
neither man merely wants to merely make a mark on the world. Instead, they intend to leave a scar.
DEADPOOL TP VOL 04 DEADPOOL VS SHIELD S.H.I.E.L.D. makes a grievous tactical error when they stiff Deadpool on a bill, and you can bet that they're going to regret it! Deadpool declares a one-man war on the world peacekeeping agency - but even as the maniacal merc pursues his revenge, S.H.I.E.L.D. discovers someone has been betraying them...and it seems to be Agent Preston! Deadpool takes his fight to the Helicarrier, intent on getting his money one way or the other - and comes face to face with Agent Phil Coulson! You know, the guy from the hit TV show MARVEL'S AGENTS OF S.H.I.E.L.D.! How cool is this going to be?! Plus: it's another trip back to Deadpool's storied past as the Merc with a Mouth wreaks havoc on a cosmic level! Collecting DEADPOOL (2012) #20-25.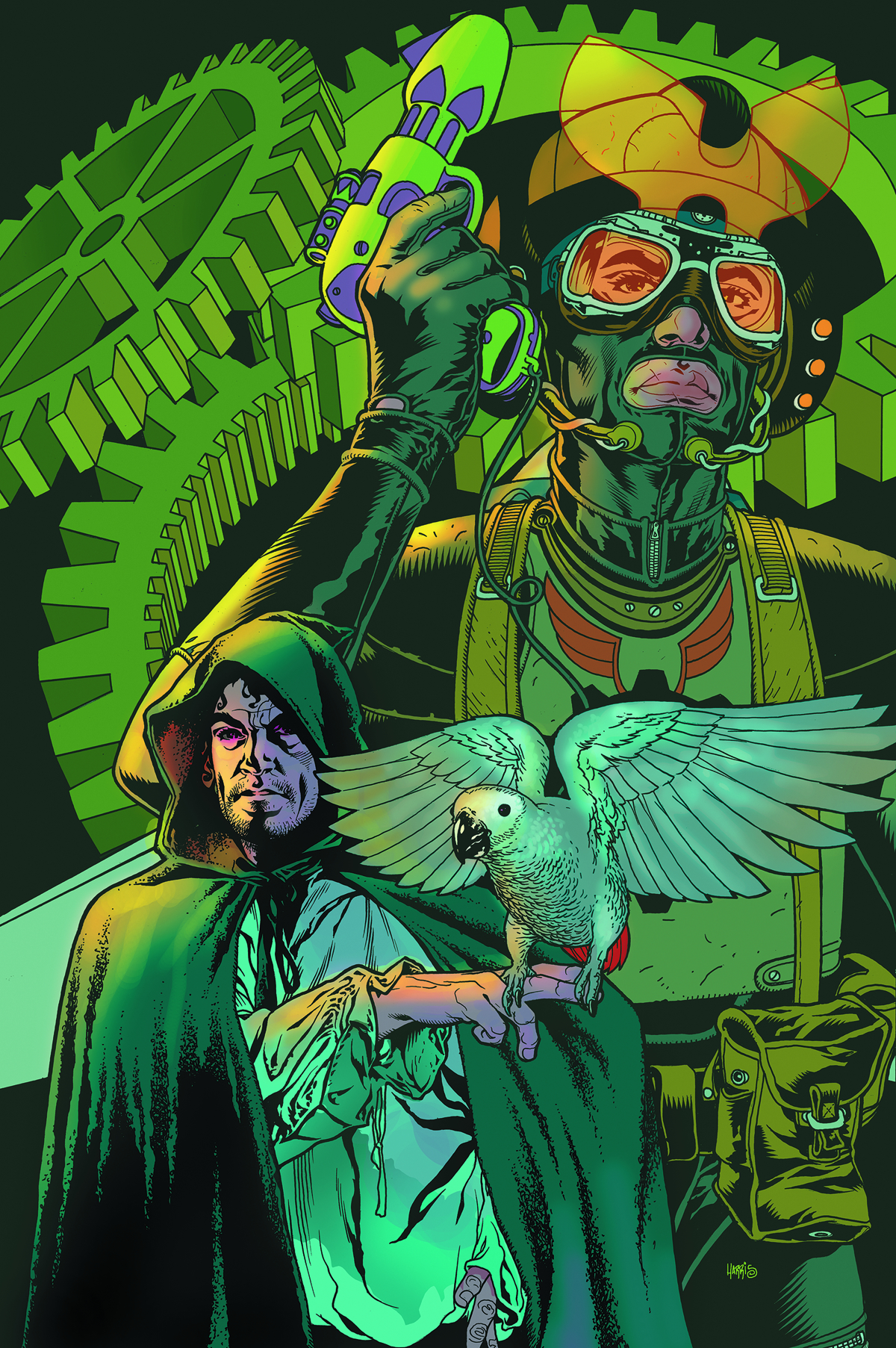 In this new title featuring issues #12-20 of the hit series along with EX MACHINA SPECIAL #1-2, Mayor Mitchell Hundred must make a difficult decision about his own future, becomes part of a shocking trial complicated by the unexpected arrival of an all-new super hero, and leaves New York City for the first time since his election to embark on a strange adventure.
GENIUS ANIMATED CARTOON ART OF ALEX TOTH HC VOL 03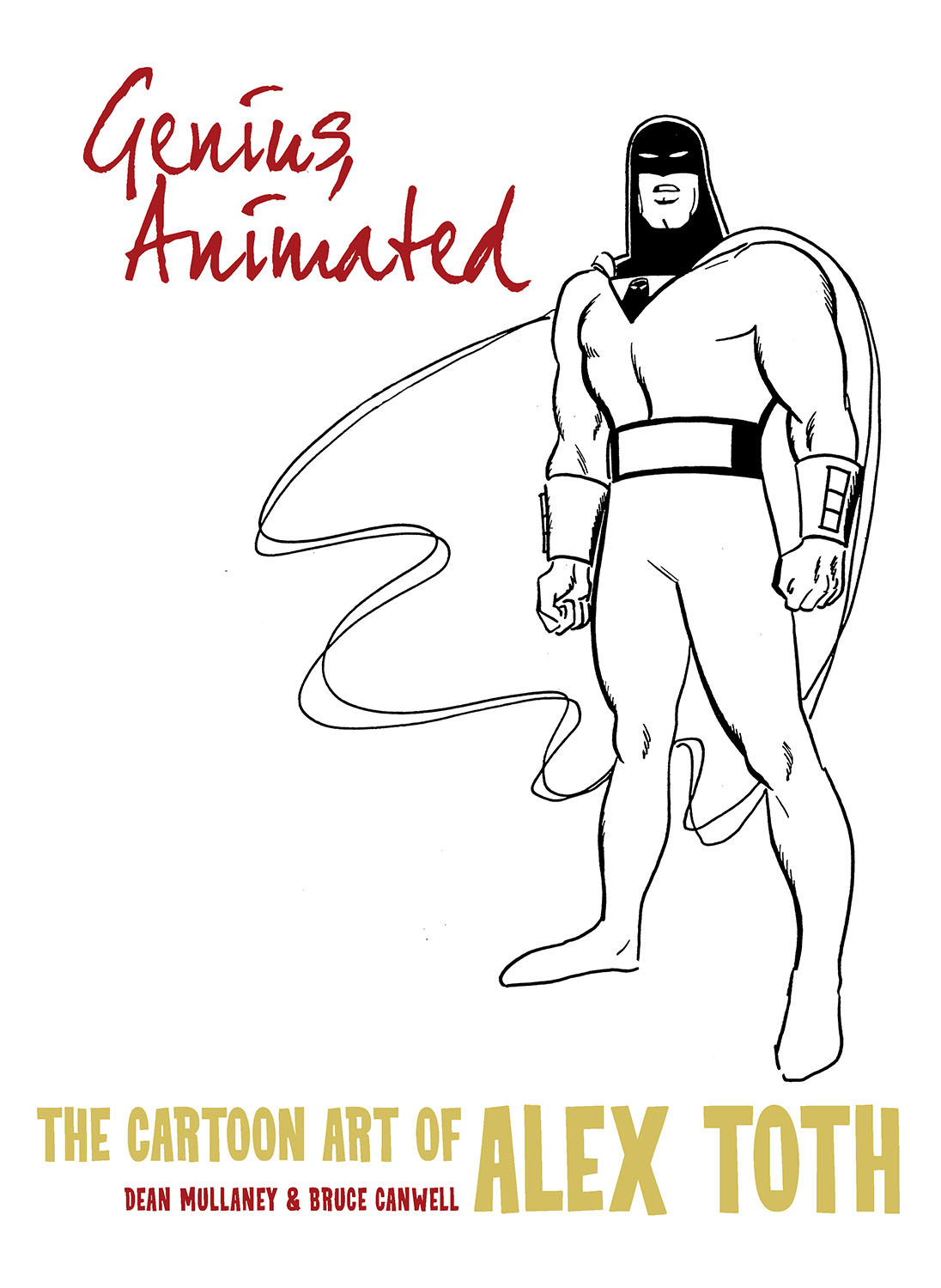 The Library of American Comics concludes its in-depth look at Alex Toth's life and art with Genius, Animated. This companion volume to 2011's award-winning Genius, Isolated and 2013's Genius, Illustrated zooms in to focus on Toth's groundbreaking contributions in the field of animation and features many rarely-seen or never-before-published pieces of art, much of it uncovered in the archives of Hanna-Barbera Studios! Featuring presentation illustrations for unsold series; character designs and storyboards for old favourites such as Space Ghost, Shazam, and Superfriends; and work taken from both the beginning (Space Angel) and end (Bionic 6) of Toth's "Saturday kidvid" career, this oversized art book features observations from animation professionals about his work, plus Alex's own commentary on the cartoon shows that shaped a generation.
IMMORTAL IRON FIST COMPLETE COLLECTION TP VOL 02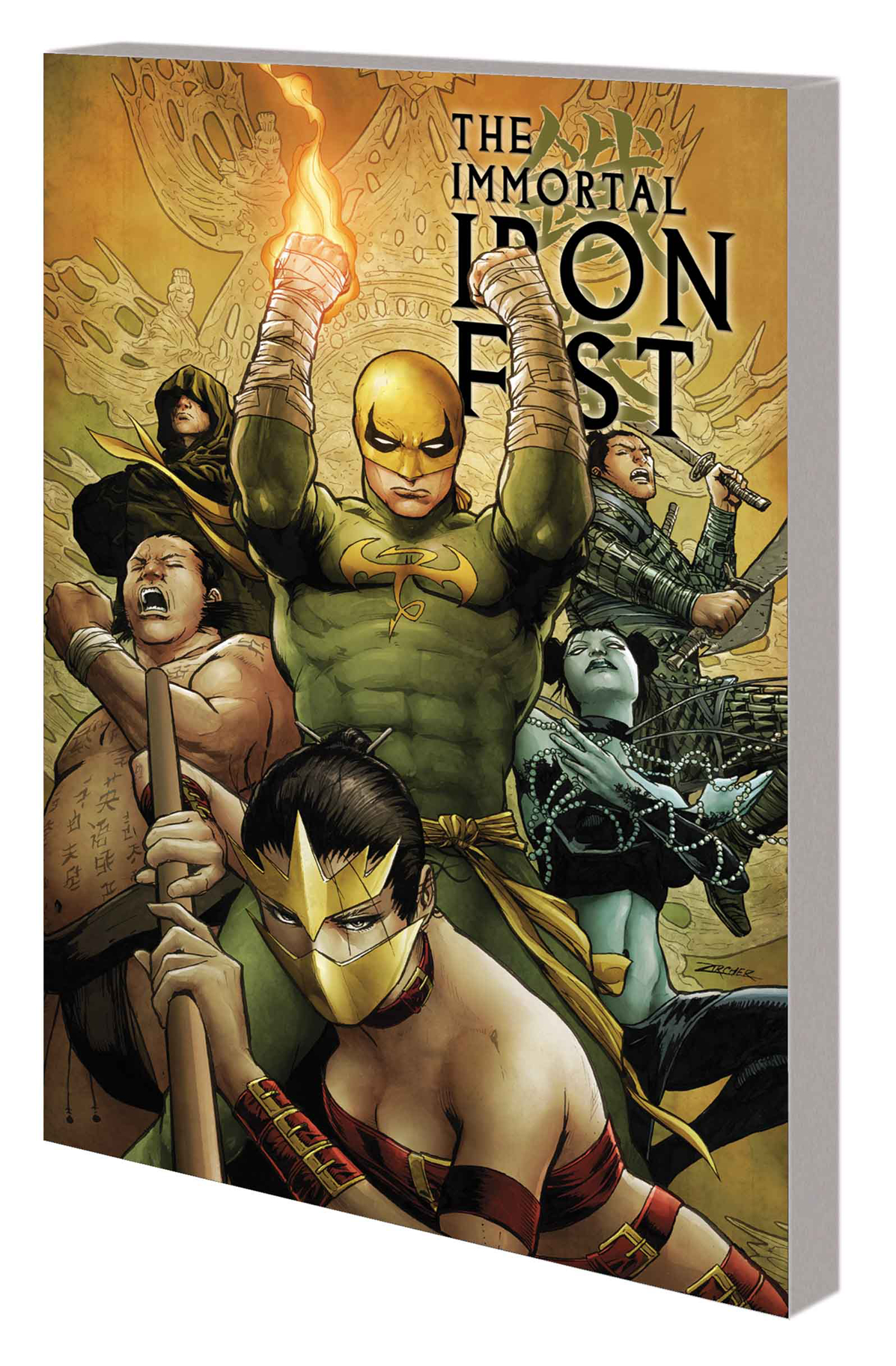 Although the Iron Fist's legend is immortal, Danny Rand is definitely not! Why is Danny sweating over an inescapable legacy that has haunted the Iron Fists for centuries? And what is the deeper meaning of Xao's ominous threat? As Danny and the Immortal Weapons begin another dimension-spanning adventure, they discover that the Seven Capital Cities of Heaven...might have an Eighth! Plus: Iron Fist teams with Aman and delves deeper into the Immortal Weapons' lives! Thrill to Fat Cobra's decades of adventure! Bride of Nine Spiders confronts her past! Is Dog Brother #1 involved with disappearing orphans? How did Tiger's Beautiful Daughter become the world's deadliest fighter? And what is the Prince of Orphans' mission on Earth? Collecting IMMORTAL IRON FIST #17-27, IMMORTAL IRON FIST: ORSON RANDALL AND THE DEATH QUEEN OF CALIFORNIA #1, IMMORTAL WEAPONS #1-5 and the IMMORTAL WEAPONS SKETCHBOOK.
MANDALA TP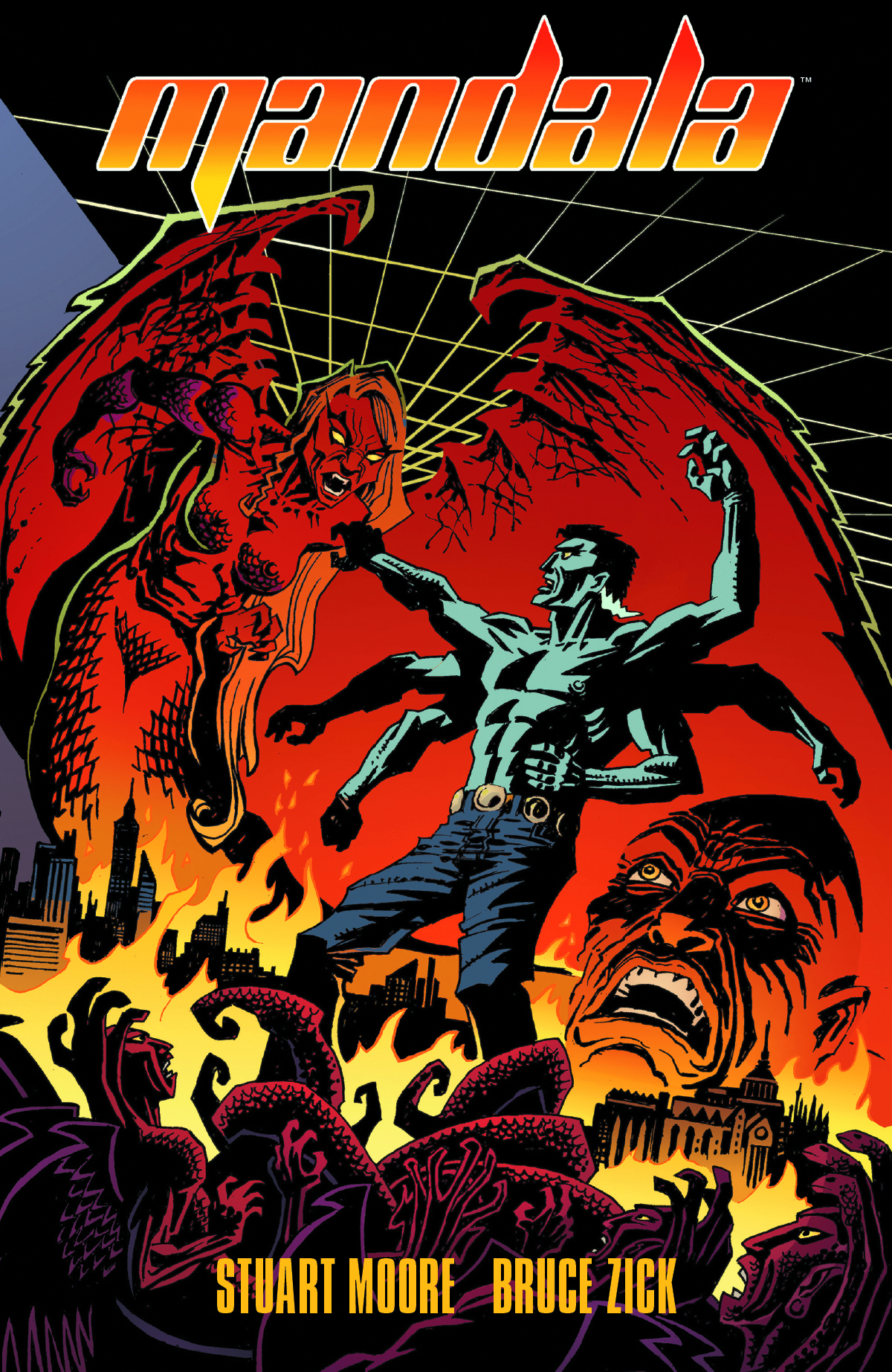 Earth-here and now. Humankind is secretly enslaved by a global mind-control system
called the GRID. Mike Morningstar and his spiritual spec-ops unit, the Thirteen, must
alter time and take down the GRID before it's too late. As fiction meets reality, the
Thirteen need your help if they are to succeed in awakening humanity and changing the
future. Are you awake?
Art by Bruce Zick (Thor, Atomic Legion), written by Stuart Moore (Wolverine Noir).
MANHATTAN PROJECTS TP VOL 04 FOUR DISCIPLINES It's the fourth volume of the world's greatest secret science history, THE MANHATTAN PROJECTS. "The Four Disciplines" follows our fractured cast as they focus on their own diverse, secret experiments and global power plays resulting in inevitable betrayal.
Collects issues #16-20.
MARVEL KNIGHTS HULK TP TRANSFORME It's an all-new Hulk epic spotlighting the unique talents of two rising stars as Joe Keatinge (Glory) and Piotr Kowalski (Sex) unleash the Green Goliath! An amnesiac Bruce Banner awakens on the banks of the Seine - and soon finds himself in a desperate race through the streets of Paris! Who is hunting him, and how are they both transforming into grotesque Hulks? Someone wants Banner's monstrous alter ego to do their bidding - but what happens when Banner doesn't know who the Hulk is, or how to unleash him? Nikoleta Harrow, heir of A.I.M., has enslaved the Hulk - but she may have bitten off more than she can chew! It's a mind-bending mystery loaded with quirky cool action!
Plus: the Hulk's classic debut by Stan Lee and Jack Kirby!
Collecting MARVEL KNIGHTS: HULK #1-4 and INCREDIBLE HULK (1962) #1.
MIND MGMT HC VOL 03 HOME MAKER New York Times best-selling series!

With Meru and Lyme's partnership destroyed, the players go their separate ways in a series of interconnected one-shots revealing each character's hidden past! As the former team continue their investigations separately, the Eraser sets her sights on a valuable newrecruit - Meru! Collects The Home Maker from MIND MGMT #13-#17 and The Zoo Keeper from #18.
MOVEMENT TP VOL 01 CLASS WARFARE (N52)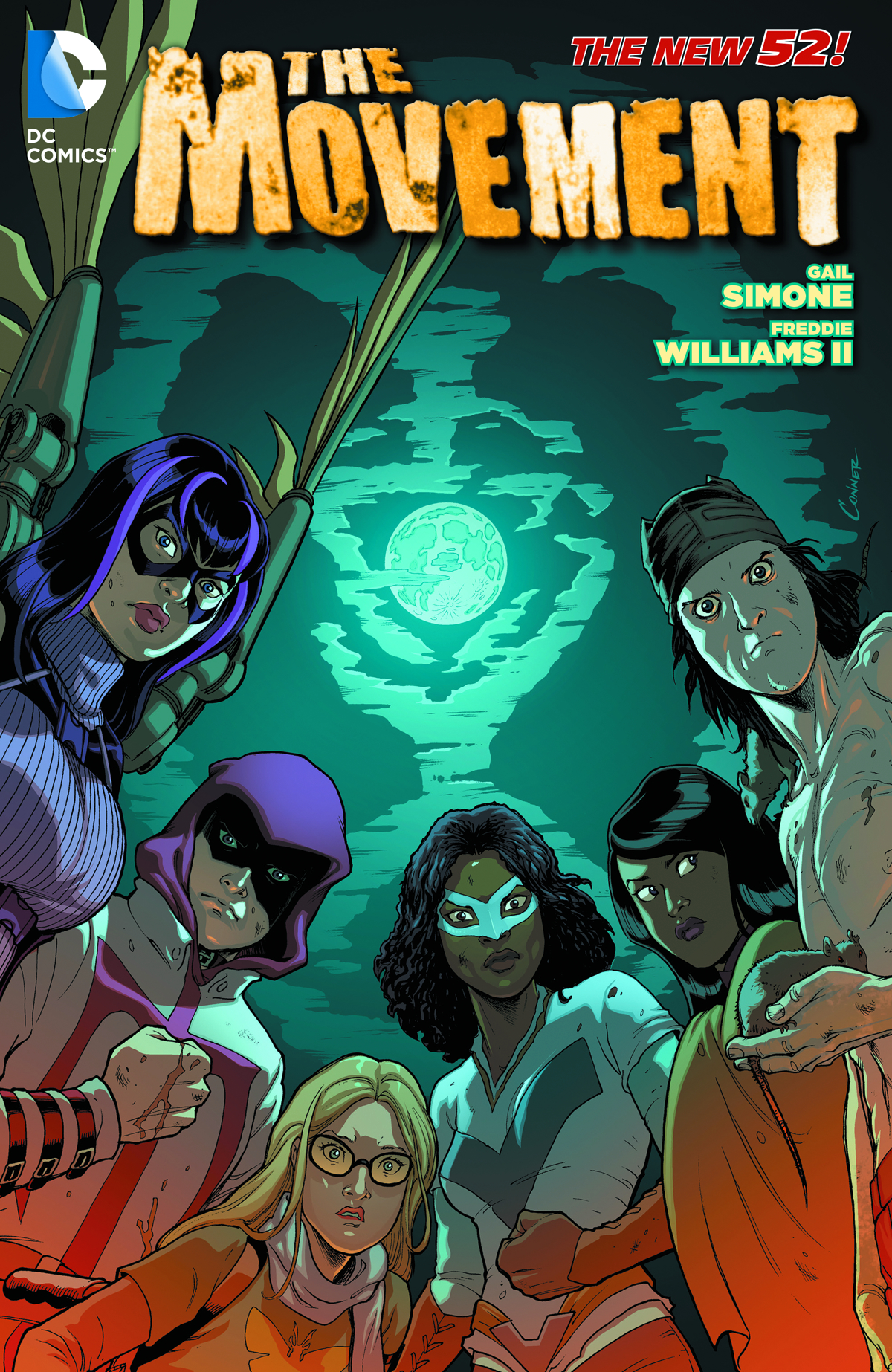 In these stories from THE MOVEMENT #1-8, the young heroes of The Movement rise up to take back the dirty streets of Coral City. But when one of their own is captured by the police, it's Coral City's finest against the citizens they have neglected to protect.
NINJAGO GN VOL 10 PHANTOM NINJA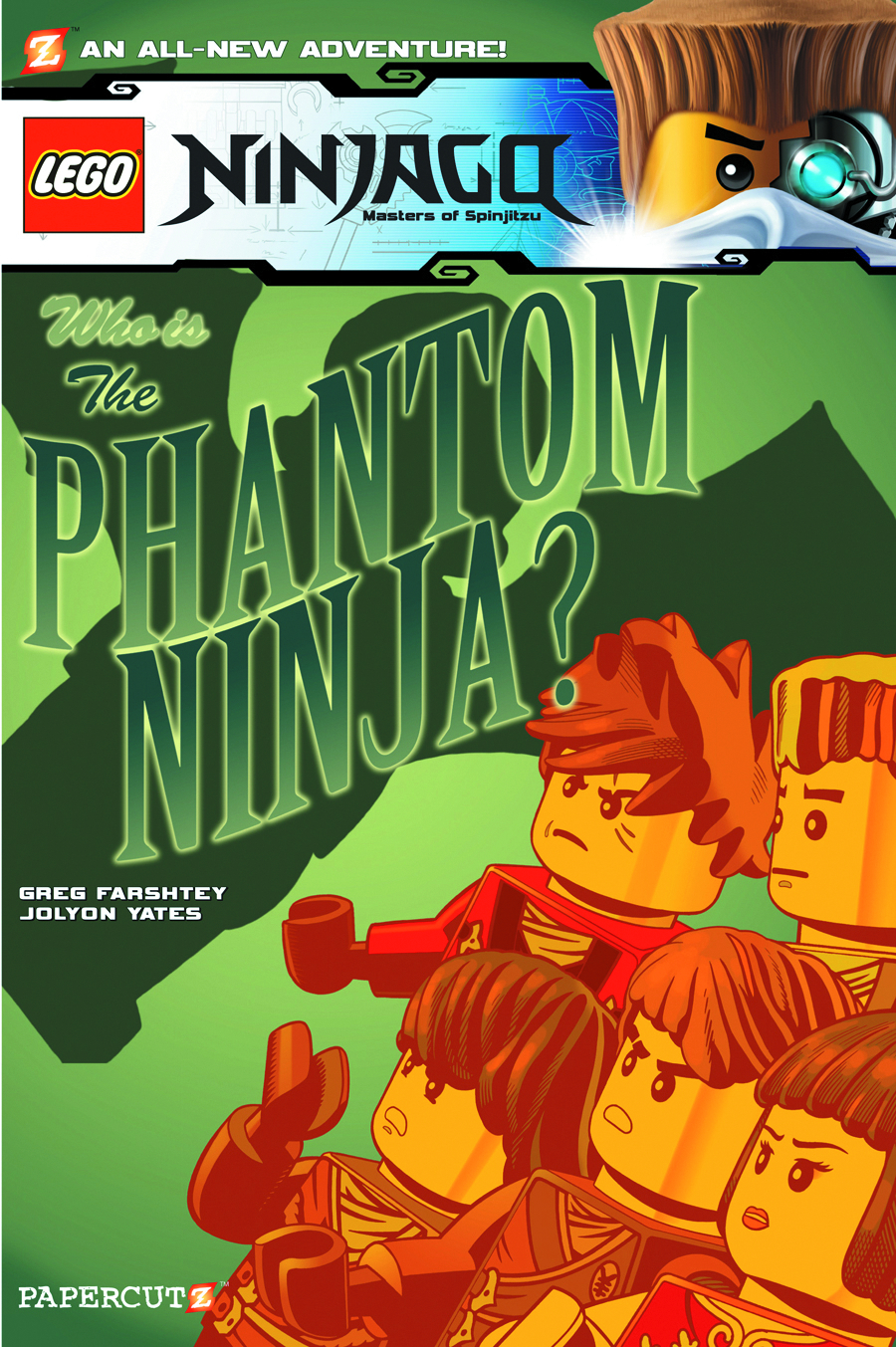 A factory in Ninjago Village is under siege by an unstoppable new menace, with the beloved mayor and his daughter held hostage! Only Nya, Jay, Cole, and Kai - the Masters of Spinjitzu - can save the day. Or are they? Much to the brave warriors' astonishment, a new grey ninja is on the scene! Is the Phantom Ninja friend or foe, and will his reckless fighting style sabotage the rescue mission before it even starts?
NOVA TP VOL 03 NOVA CORPSE It's All-New Nova Now as new writer Gerry Duggan (DEADPOOL) takes the reins! The Nova Corps' deadly secrets stand revealed - and Sam Alexander is in waaay over his helmeted head. This is the beginning of something big, cosmic fans! An epic odyssey that will take our warp speed wunderkind to the very ends of the Marvel Universe! Hot on the trail of the missing Nova Corps, Nova manages to save the lives of some new friends in deep space. But as Sam continues to hunt down clues to the Corps' demise, he finds a new threat of his own making! And as if that wasn't bad enough, the arrival of former Mjolnir-wielder Beta Ray Bill means Nova's days may be numbered! Can the galaxy's newest and least experienced hero prevail against overwhelming odds?
Collecting NOVA (2013) #11-15 and material from #10.
PLANET OF THE APES TP VOL 05 When the Lawgiver was assassinated by a human, Ape City fell into a vicious civil war. Ten
years have passed since the horrific violence and a fragile peace is emerging. Voice Alaya has
been deposed and awaits sentencing in Ape City's prison. Meanwhile, Sully has begun to rally
forces, both human and ape. Little do they know they're both on a collision course towards an
even greater danger... Collects the PLANET OF THE APES SPECIAL, SPECTACULAR, and
GIANT issues and concludes the series Jason Aaron has called "The best PLANET OF THE
APES comics ever."
SAVAGE SWORD OF CONAN TP VOL 16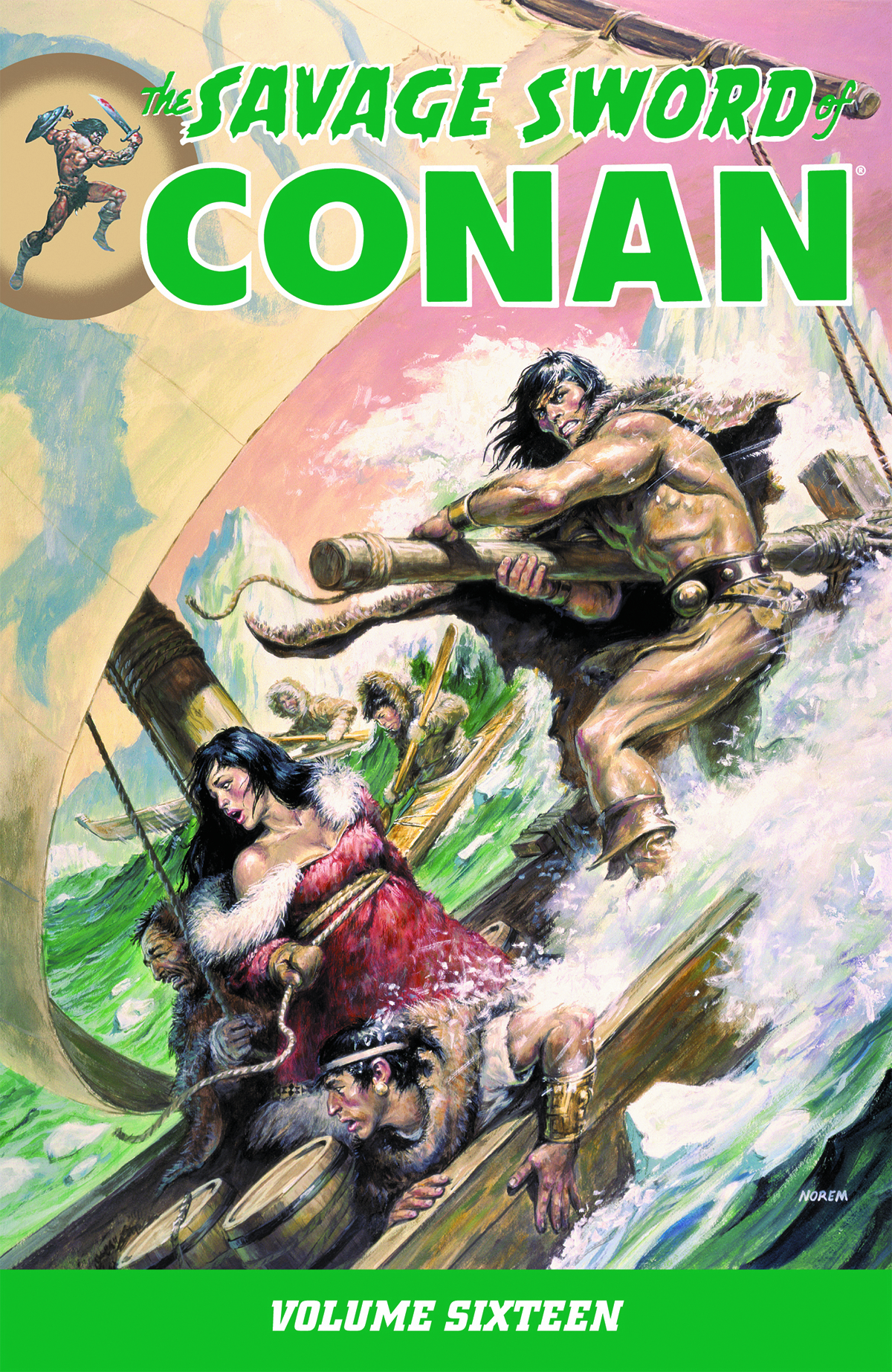 Plagued by the apparition of a lost lover in torment, Conan returns to the Valley of
Howling Shadows, a forbidding land of dark magic and suffocating madness. But the
visions are the conjuring of a treacherous necromancer who needs Conan's aid to claim
a treasure of ultimate sorcerous power! Collects Conan stories from Marvel's The Savage
Sword of Conan the Barbarian #161-#170.
Showcasing stories never before collected and out of print for over twenty years!
Over 500 pages, value priced.
Featuring stories by famed comics and screen scribe Gerry Conway.
SHOWCASE PRESENTS SUPER FRIENDS TP VOL 01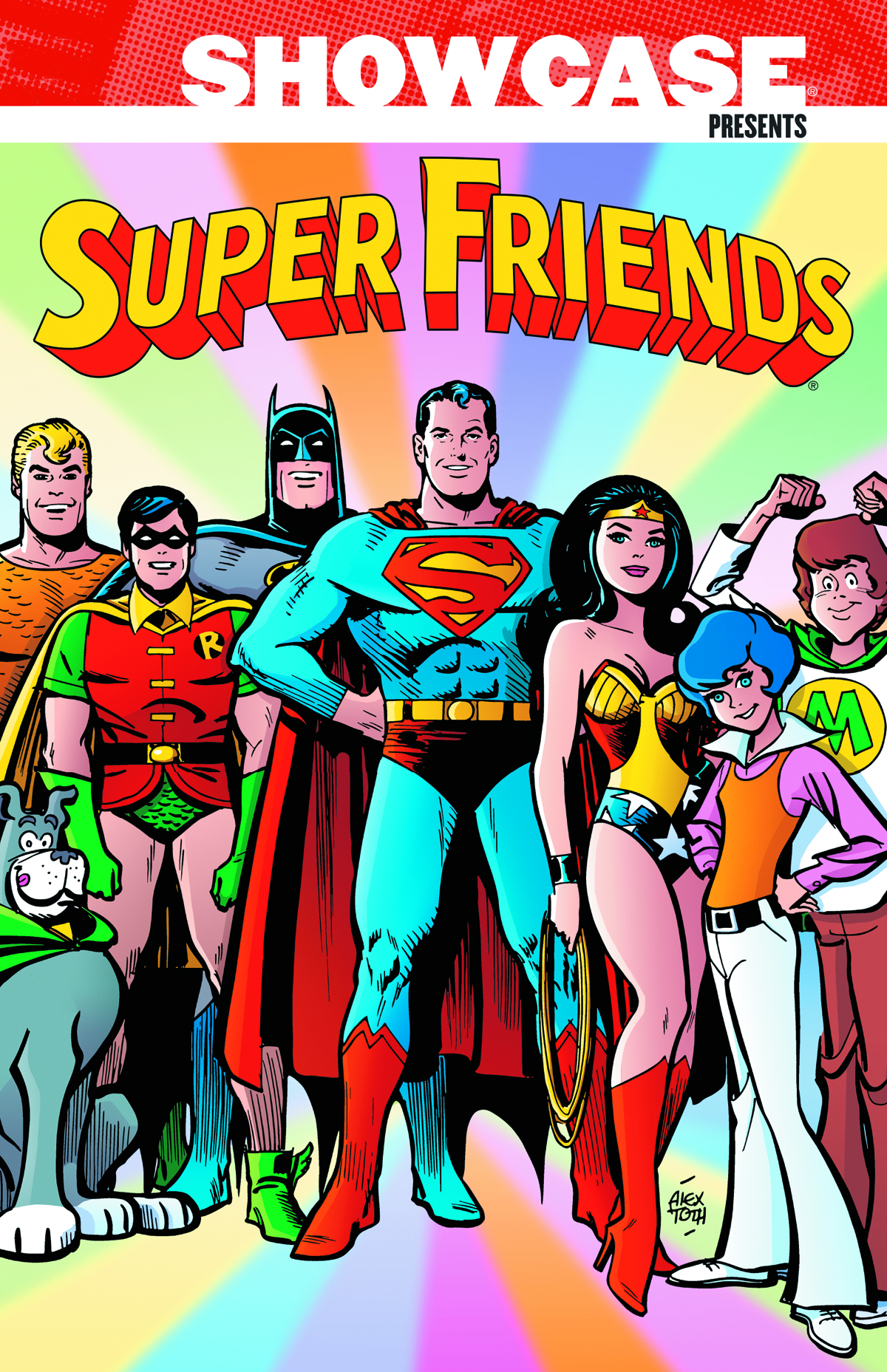 Don't miss these tales based on the hit animated TV series "Super Friends," from issues #1-34! Batman, Superman, Wonder Woman, Aquaman, The Flash, Green Lantern, Green Arrow and other heroes battle The Riddler, the Time Trapper and others in these all-ages stories. Witness the shocking origin of Khan Noonien Singh from his earliest years through his rise to power during the epic Eugenics Wars! Behold the events that led to his escape from Earth aboard the Botany Bay! Learn the truth behind his re-awakening by Admiral Marcus and Section 31! It's the origin of Star Trek's greatest villain!
TRANSFORMERS ROBOTS IN DISGUISE TP VOL 01 NEW PTG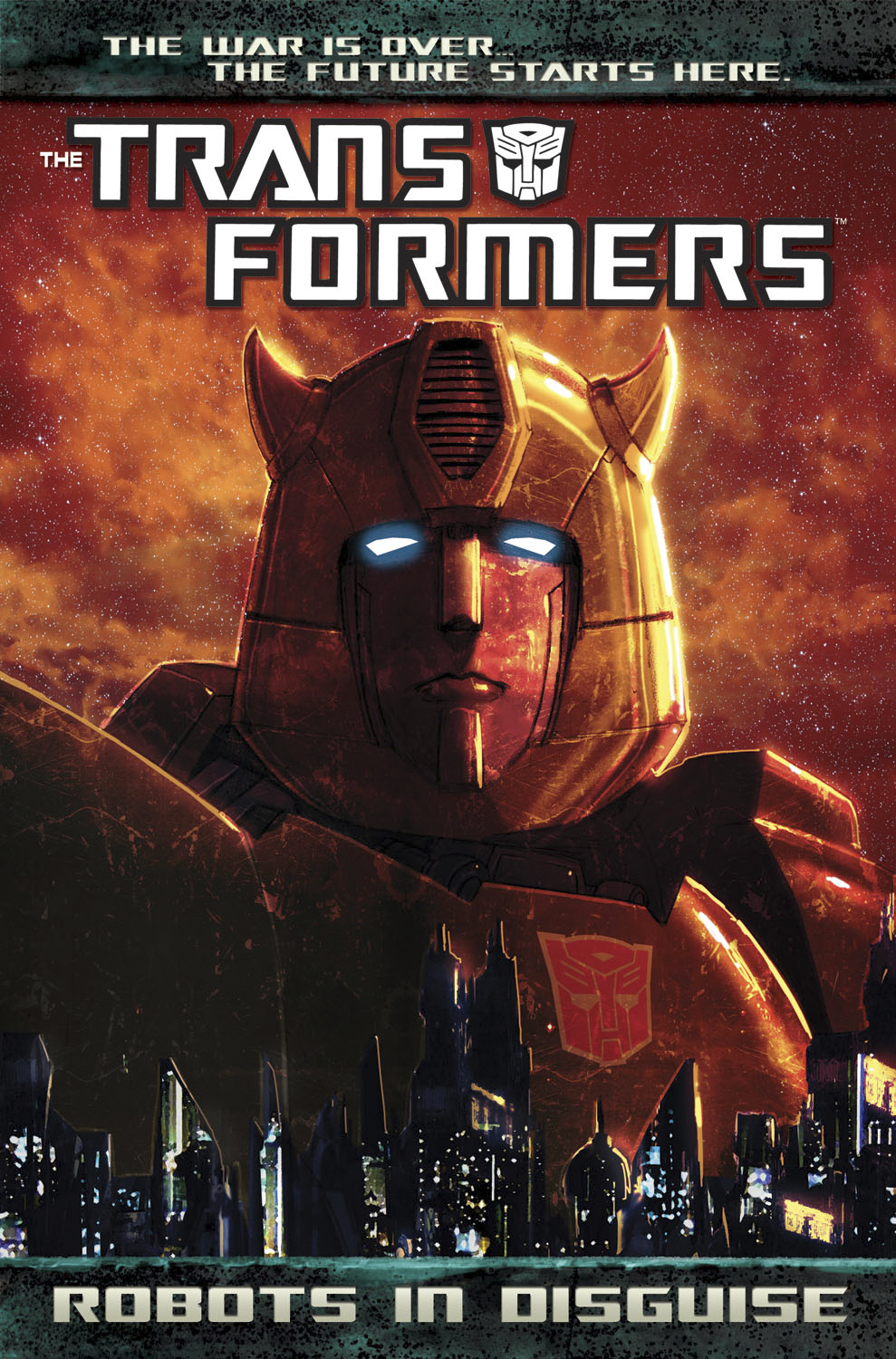 The war for Cybertron is over-now the hard part begins! BUMBLEBEE and his fellow AUTOBOTS struggle to maintain control of a world without OPTIMUS PRIME! Bumblebee's provisional government is struggling and Prowl defends it against the DECEPTICONS but how far will he go - and who will chose to stand by his side?
TRANSFORMERS MORE THAN MEETS THE EYE TP VOL 01 NEW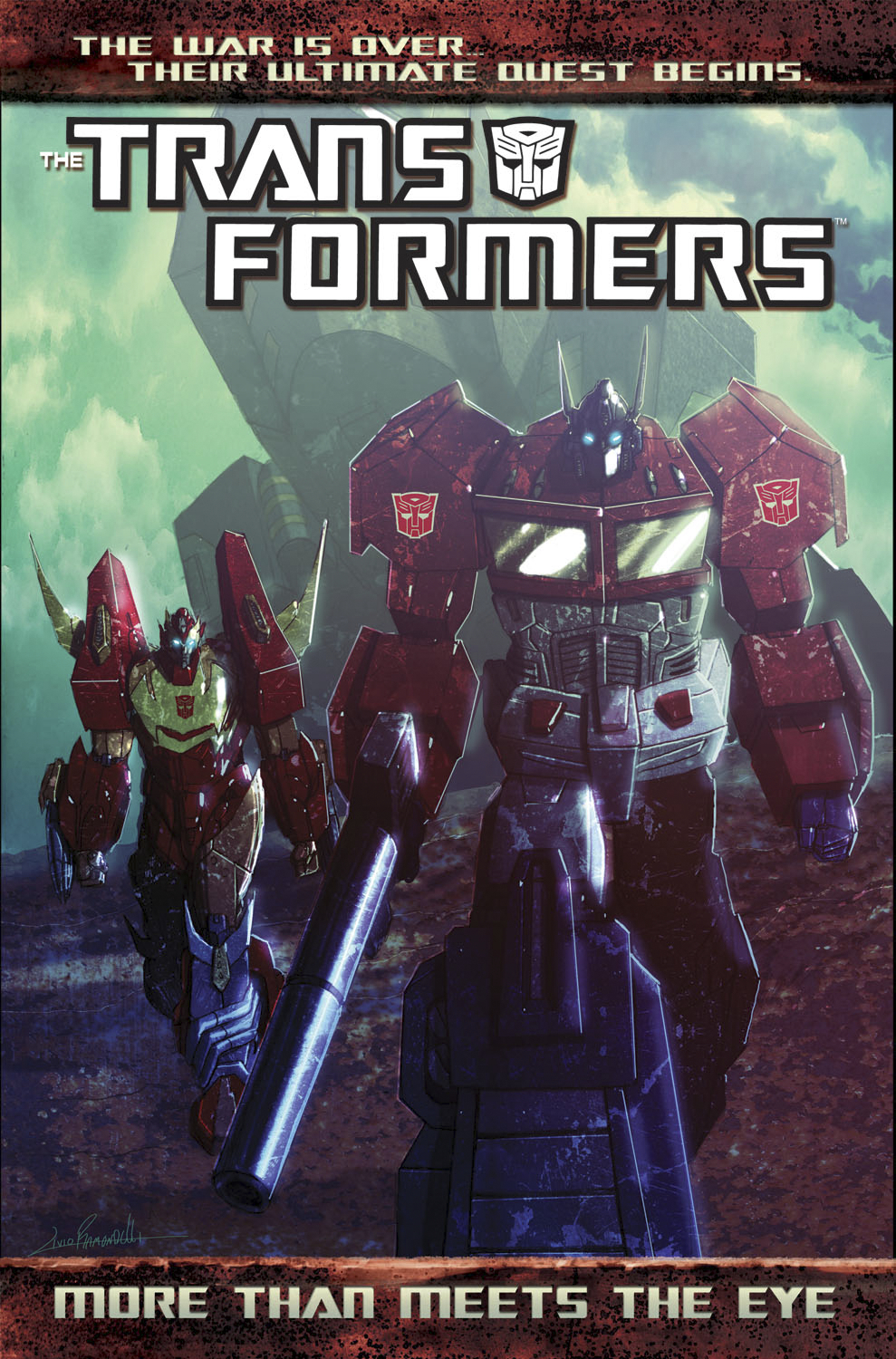 More Than Meets The Eye reunites the fan-favourite creative team behind Last Stand of the Wreckers and sends the Transformers on an epic quest to the farthest reaches of the Transformers Universe and beyond! Also includes the one-shot "Death of Optimus Prime."
X-FACTOR BY PETER DAVID TP VOL 02 COMPLETE COLLECTION As X-Factor unloads their hopes, fears and darkest secrets to Doc Samson, Jamie Madrox decides to gather up his stray dupes. The trouble is, two don't want to go quietly: the married priest and the agent of S.H.I.E.L.D.! And when Hydra comes calling, will Jamie become their secret weapon? With Mutant Town under siege thanks to the terrorist X-Cell, X-Factor races the clock to keep every former mutant from being imprisoned. What an awful time for the Isolationist to strike! Then, after the events of MESSIAH COMPLEX, X-Factor is a shambles. Jamie is a basket case; Wolfsbane quits but won't say why; and Layla is trapped in the future, in the middle of the Summers Rebellion! Plus: Quicksilver's life takes a dramatic turn! Collecting X-FACTOR (2006) #13-24 and #28-32, X-FACTOR: THE QUICK AND THE DEAD #1, and X-FACTOR SPECIAL: LAYLA MILLER #1.