8 OCTOBER 2014

New comics this week: Batman writer Scott Snyder's new creeptastic horror series WYTCHES, the all new, much hyped creative team takes over on BATGIRL, the Marvel Universe suffers the psychic wrath of the Red Skull in Part One of giant crossover event AXIS, the WORLD'S END crossover begins in EARTH TWO and CONSTANTINE, the snarky team up/rivalry of HAWKEYE VS DEADPOOL begins, ALIENS VS PREDATOR joins the Fire and Stone crossovers, KLARION the Witchboy joins the New 52, an adorable new ongoing series for FRAGGLE ROCK, dark fantasy THE CHILLING ADVENTURES OF SABRINA, and find out what happens when a missing child returns home from his fantastical adventures in BIRTHRIGHT. Also in store: BATMAN, ROCKET RACCOON, Grant Morrison's ANNIHILATOR, DOCTOR WHO 10, RAGNAROK, SEX CRIMINALS, THANOS: A GOD UP THERE LISTENING, and ADVENTURE TIME: BANANA GUARD.
What are you excited to read this week? Talk to us @DavesComics!
BOOM
ADV TIME BANANA GUARD ACADEMY #3 (OF 6)
The Banana Guard trainees get a well deserved R&R and they are going to make the most
of their time. Too bad a flat tire is going to get in the way of that. It's a crazy weekend for
these cadets and it looks like it's only going to get worse-the Ice King wants to help!
BIG TROUBLE IN LITTLE CHINA #5
BLACK MARKET #4 (OF 4)
BRAVEST WARRIORS #25
DEAD LETTERS #5
FRAGGLE ROCK JOURNEY TO EVERSPRING #1 (OF 4)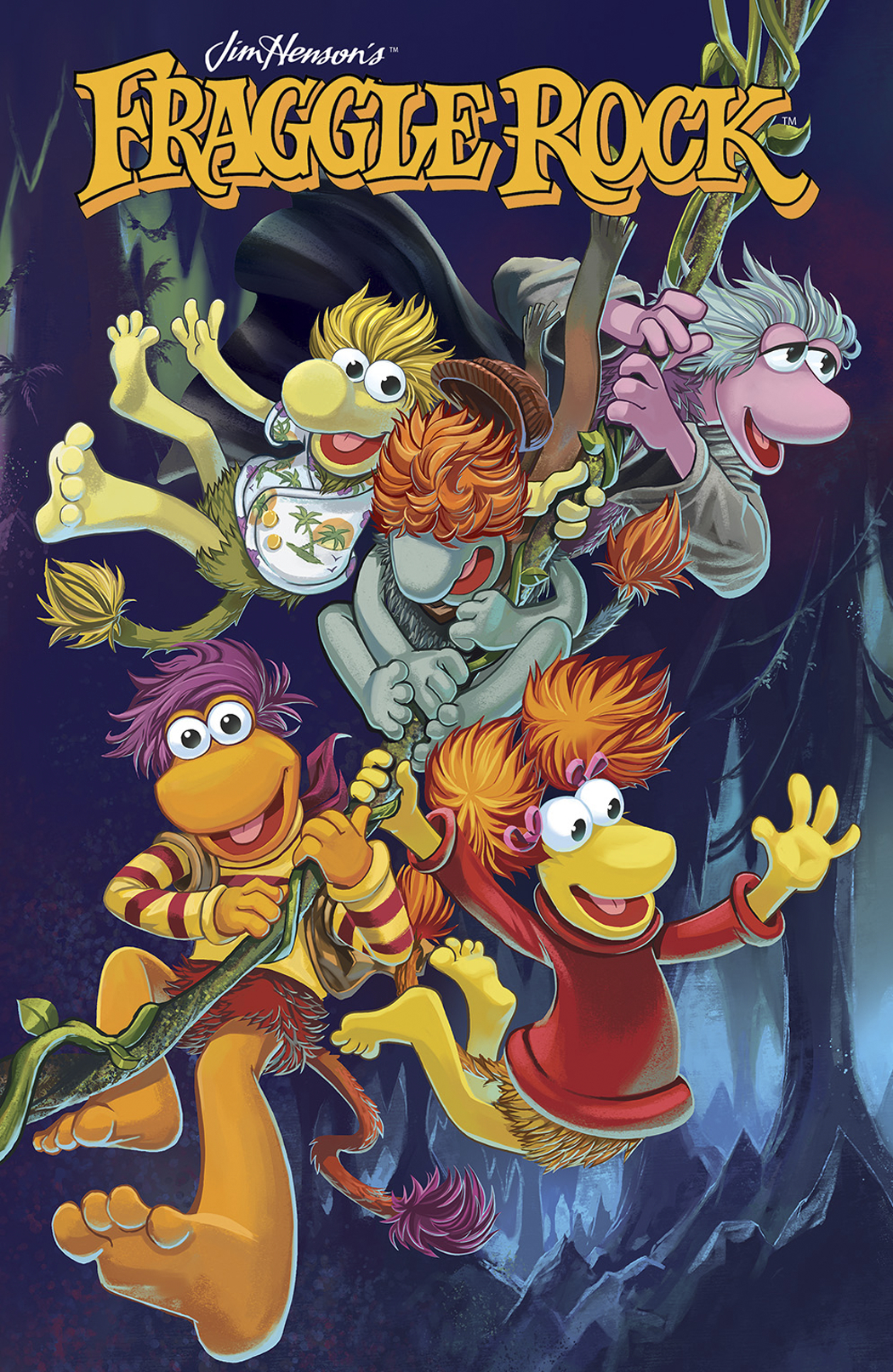 WHY WE LOVE IT: Our FRAGGLE ROCK anthologies were the first comics we published with our friends at The Jim Henson Company and ever since then, we've always wanted to tell one big, epic, Fraggletastic story only possible in comics. Now we have our chance in this four-issue limited series! The Fraggles will adventure to places they've never been before, places where Gobo, Red, Mokey, Wembly, and Boober will meet brand-new friends, sing brand-new songs, and dance their cares away!
WHY YOU'LL LOVE IT: Whether it's ADVENTURE TIME, AMULET, or MOUSE GUARD, comics fans are coming out for all-ages stories. No one mastered that art form quite like Jim Henson, and the characters of FRAGGLE ROCK remain some of his most beloved creations. New York Times bestselling author Kate Leth (ADVENTURE TIME: SEEING RED, BRAVEST WARRIORS) and artist Jake Myler (FRAGGLE ROCK, Orphan Blade), have spun a hilarious, super fun story for longtime fans and comic readers of all ages who've yet to meet this lovable gang of Fraggles.
WHAT IT'S ABOUT: When the water supply of Fraggle Rock mysteriously runs dry, the Fraggles have to journey deep into the caves of Fraggle Rock to find the fabled Everspring where adventure awaits and no Fraggle has gone before! It's the beloved characters of Fraggle Rock in their biggest story yet!
HEXED #3
TEEN DOG #2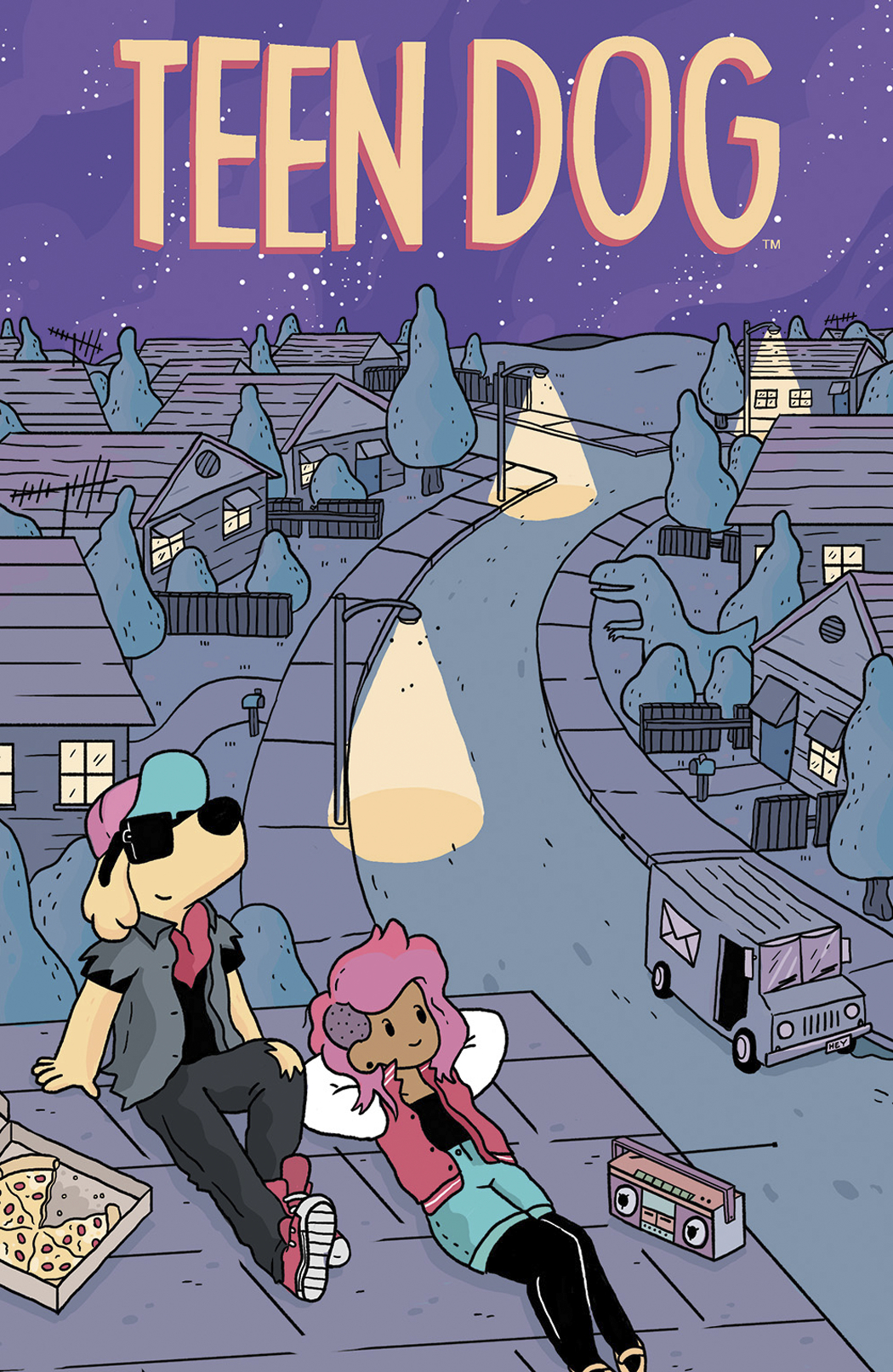 High school is tough, man. Even when you're Teen Dog. Teachers, homework, and bullies are always trying to cramp your style. But, hey! That's what buddies, pizza, and good times are for. Gotta keep the good vibes going.
DARK HORSE
ABE SAPIEN #17
ALIEN VS PREDATOR FIRE AND STONE #1 (OF 4)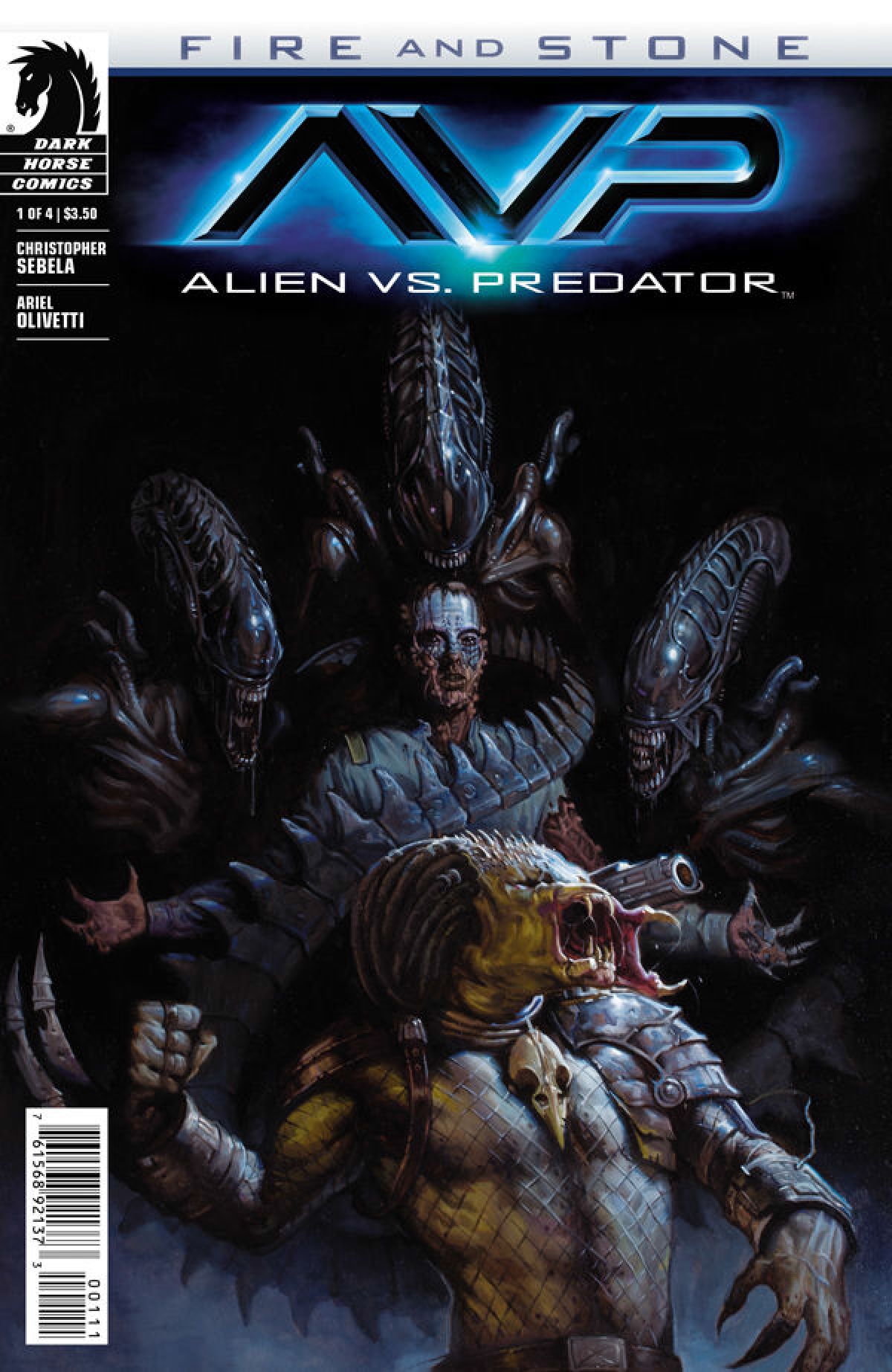 As the mercenary crew of the Perses leave the horror of LV-223 behind them, one passenger reveals a terrible new danger, and the crew soon find themselves in a deadly struggle between predator and prey!
CREEPY COMICS #18
DARK AGES #3 (OF 4)
GRENDEL VS SHADOW #2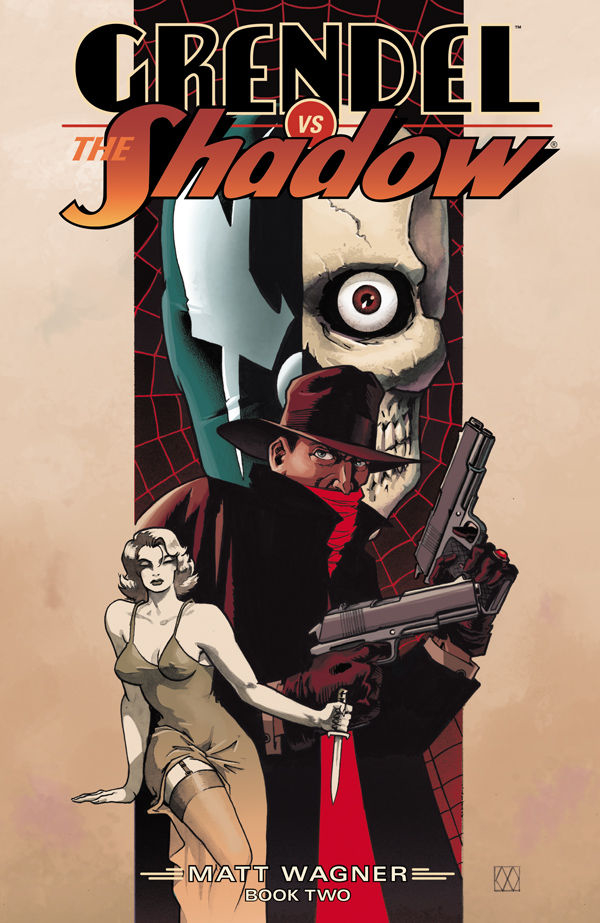 The excitement continues as Eisner Award-winning creator Matt Wagner spins a tale from the Golden Age of pulp adventures. The era's most iconic crime fighter and Master of Darkness, the Shadow, faces a foe who may prove to be his match . . . and more: the masked and mysterious menace known only as Grendel!
X #18

DC
ARROW SEASON 2.5 #1
ASTRO CITY #16 (DEFY)
BATGIRL #35
Barbara Gordon is no stranger to dusting herself off when disaster strikes... so when a fire destroys everything she owned, she spots the opportunity for a new lease on life - and seizes it! Following the rest of Gotham's young adults to the hip border district of Burnside, Barbara sets about building an all-new Batgirl... and discovers all-new threats preying on her peers! It's a re-invention of Batgirl from the boots up, by the incredible creative team of Cameron Stewart (BATMAN INC.), Brenden Fletcher (WEDNESDAY COMICS), and rising star Babs Tarr!
BATMAN #35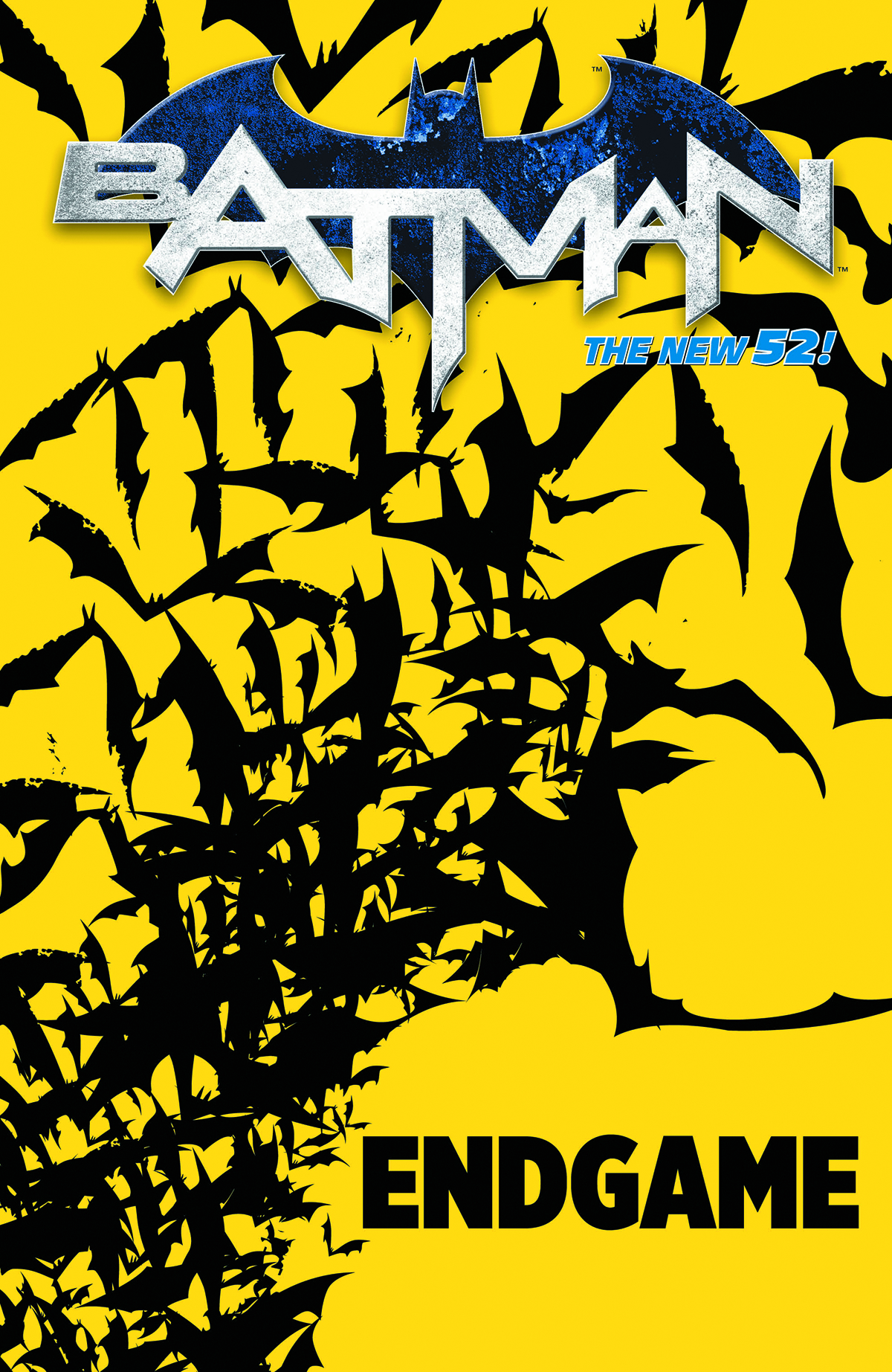 From the superstar creative team that brought you a new start to the Caped Crusader comes the story that could end him. Be there in October for the biggest, deadliest and most epic story yet from writer Scott Snyder and artist Greg Capullo - "Batman: Endgame" begins here!
BATMAN ETERNAL #27
COFFIN HILL #12 (DEFY)
CONSTANTINE #18
EARTH 2 #27
EARTH 2 WORLDS END #1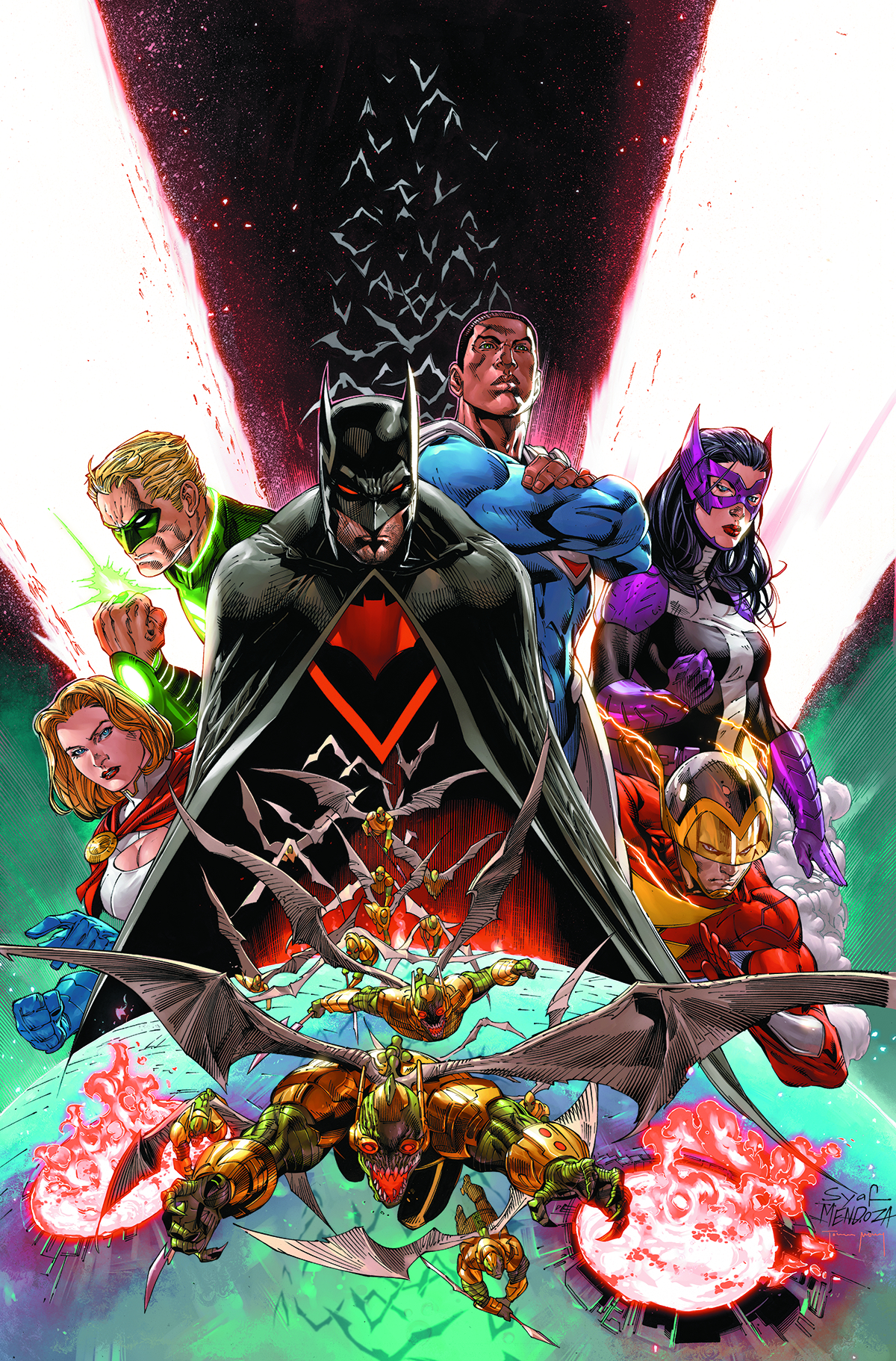 Daniel H. Wilson, New York Times best-selling author of Robopocalypse and Robogenesis, delves into the world of EARTH 2 for the start of a new weekly series that will see the origins of a world much like the New 52 Earth, but yet so different. A world that saw its greatest heroes die - and new ones take their places. A world where Superman became it' greatest villain, and a man named Zod seeks to save it, along with Batman, Green Lantern, The Flash and other heroes. A world they can only save from the forces of Apokolips through great personal sacrifice! Death and destruction will follow each week, and you'll never know who will live and who will die! It all begins with this extra-sized debut issue!


FBP FEDERAL BUREAU OF PHYSICS #14 (DEFY)
GREEN LANTERN CORPS #35 (GODHEAD)
INJUSTICE GODS AMONG US YEAR THREE #1
JUSTICE LEAGUE UNITED #5
KLARION #1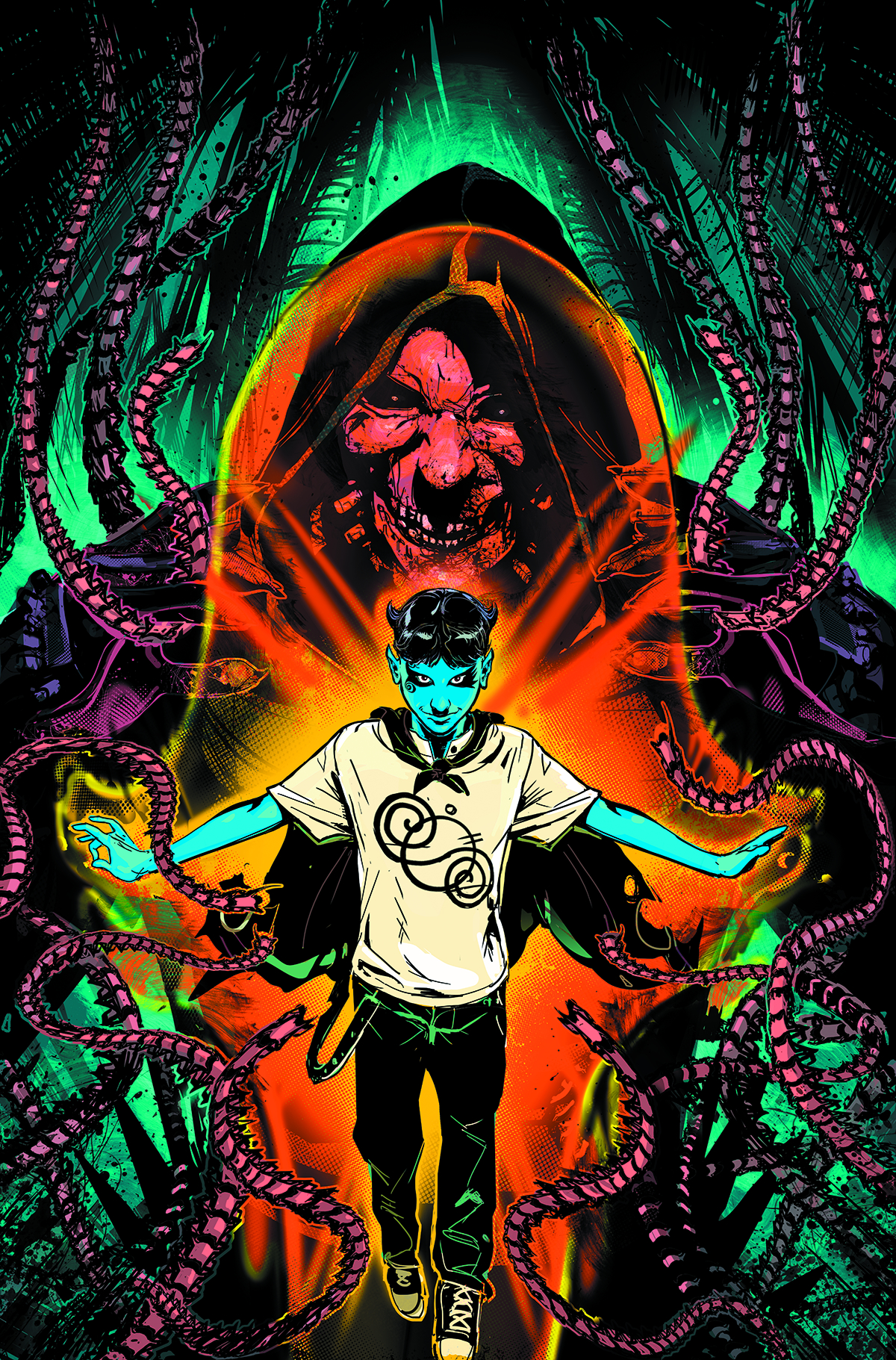 Klarion the Witch Boy makes his New 52 debut and stands for the forces of chaos in this new ongoing series!
NEW 52 FUTURES END #23 (WEEKLY)
NEW SUICIDE SQUAD #3
SMALLVILLE SEASON 11 CHAOS #3 (OF 4)
SUPERMAN WONDER WOMAN #12 (DOOMED)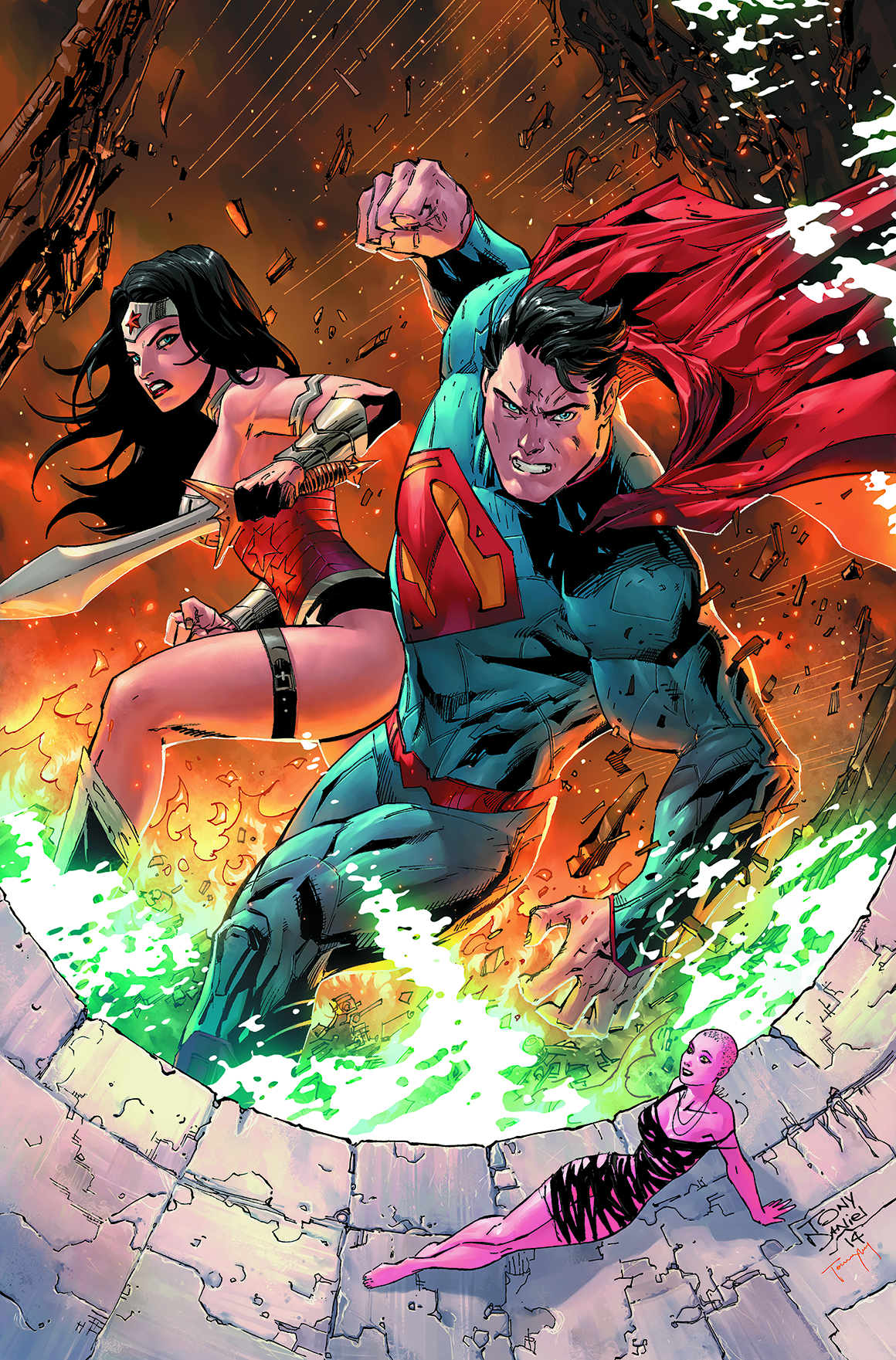 "SUPERMAN: DOOMED AFTERMATH"!
Diana recovers from the events of DOOMED, and the sacrifices and betrayals made.
Is love lost?
WORLDS FINEST #27

DYNAMITE
BLOOD QUEEN ANNUAL 2014
CHASTITY #4
EVIL ERNIE #1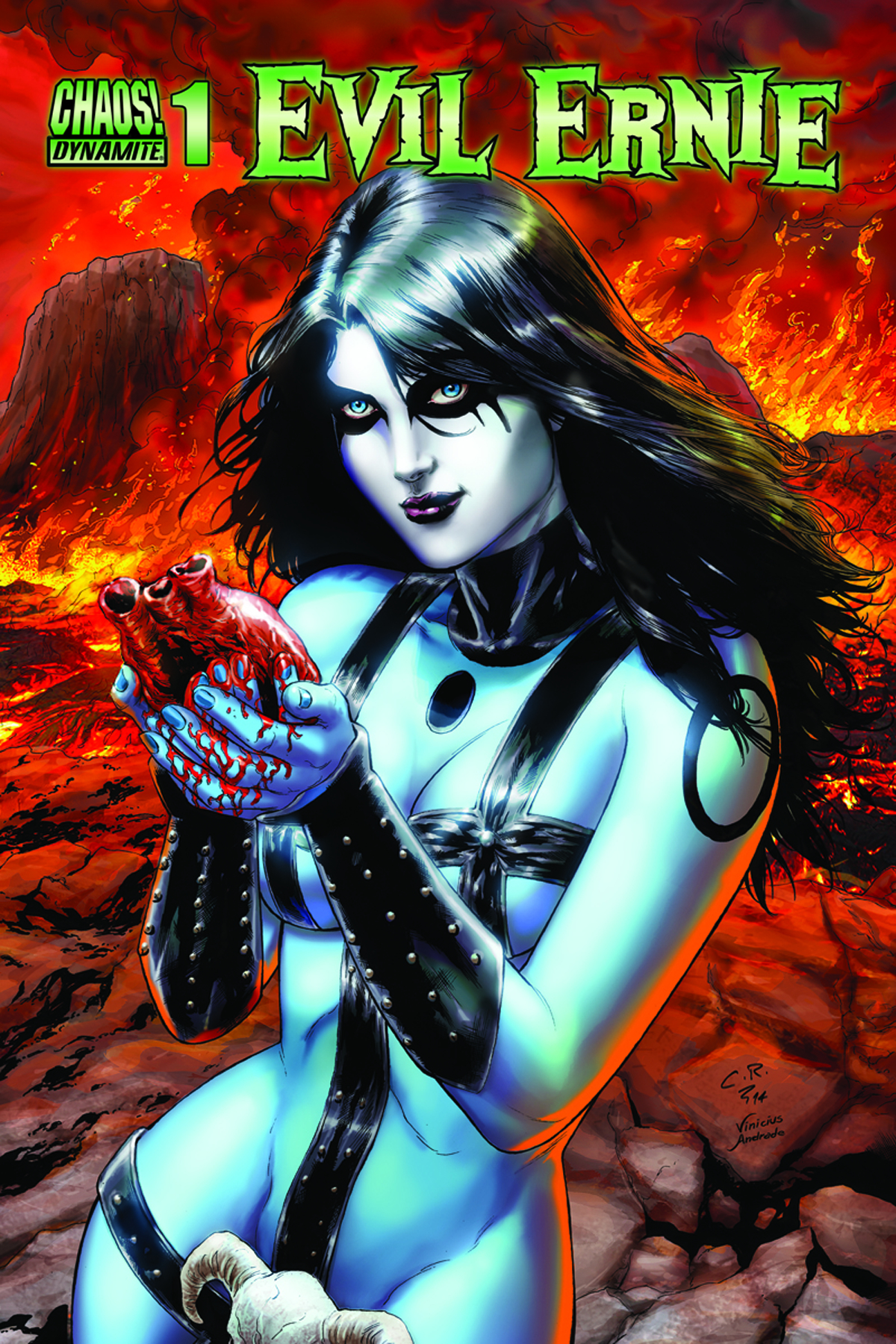 Teen psychopath Evil Ernie is dead, resigned to Hell where he belongs. But when reality is threatened by an evil even the Devil can't handle, he calls on the only weapon that can prevent total megadeath: Evil Ernie himself! Mistress Hel has found new love... three of them! And the antihero to end all antiheroes is the world of Chaos' only hope.
GEORGE RR MARTIN IN THE HOUSE O/T WORM #3
GEORGE RR MARTIN MEATHOUSE MAN ONE SHOT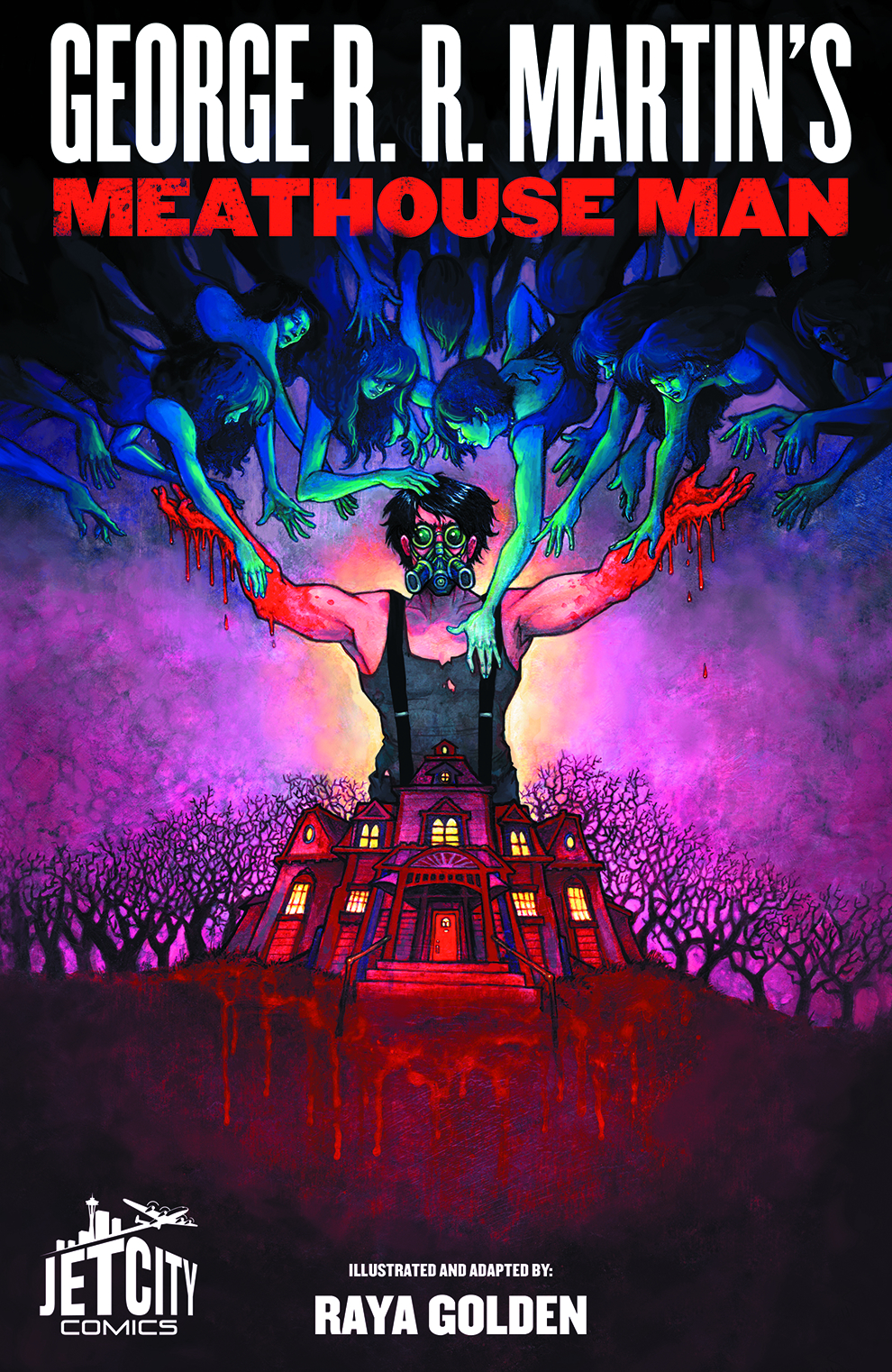 Based on the Hugo Award-nominated short story by George R.R. Martin, best-selling author of A Game of Thrones, Meathouse Man is a darkly poignant tale set on a collection of planets called corpse worlds. On these planets, corpse handlers transmit their wills to an army of brainless bodies - once living people now rendered expendable. Perversion abounds as these corpses are exposed to appalling conditions at the whim of their handlers. The grim story follows one such handler - a man who remains nameless - through his teenage years and into adulthood, across corpse brothels, monotonous jobs, heartbreak, and betrayals. His increased detachment from reality becomes a spiraling descent into rejection and desensitization to the horrors around him. Set among towering buildings, giant rolling planetary processing units, and vast forest terrains on several different worlds, this journey serves as a modern fable of warning and a fascinating exploration of an alternate world perhaps not so different from our own.
JENNIFER BLOOD BORN AGAIN #3 (OF 5)
TERMINAL HERO #3
VAMPIRELLA FEARY TALES #1 (OF 5)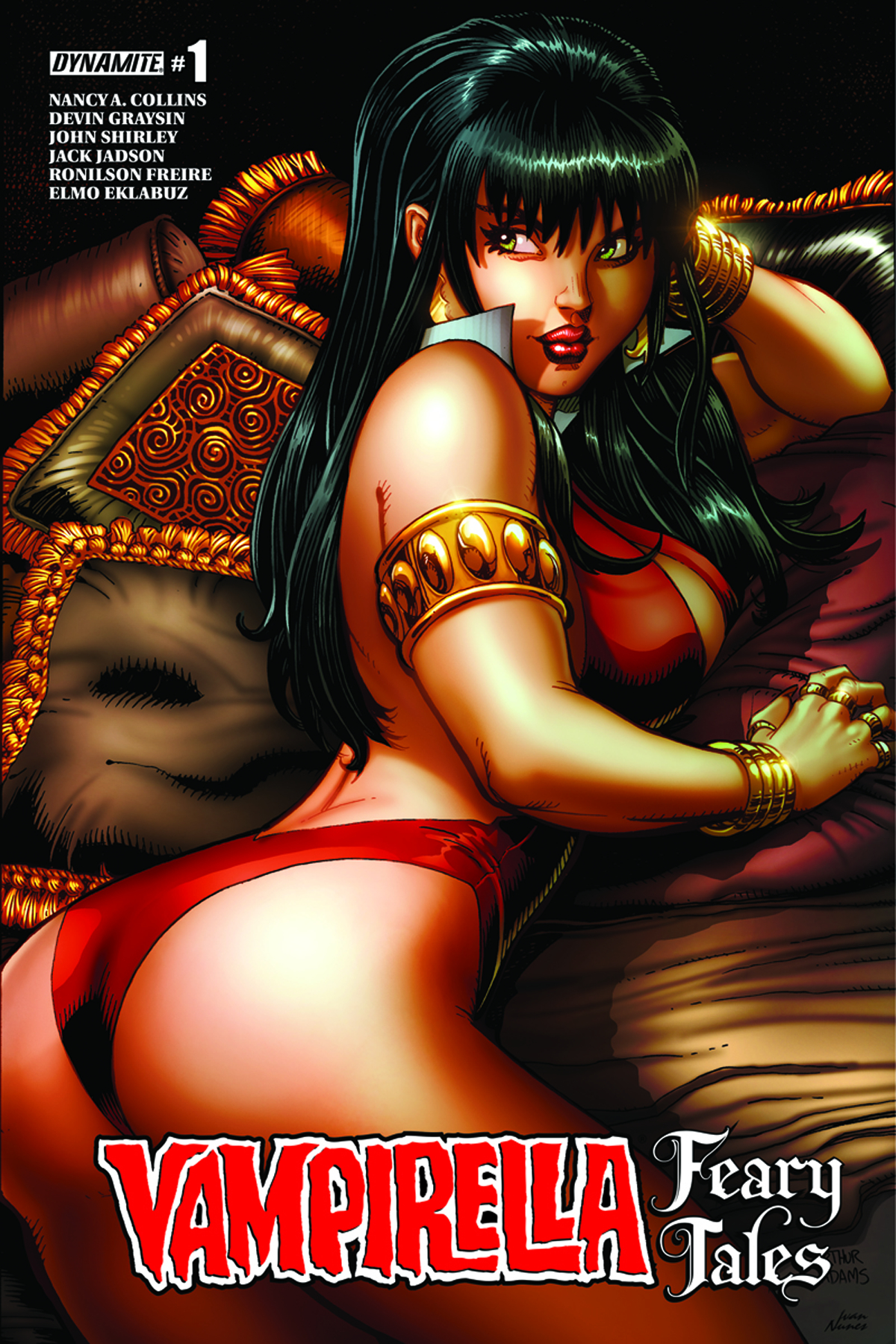 While exploring the Transylvanian castle she's recently inherited, Vampirella discovers a strange old book of "Feary Tales" that seems oddly familiar. Upon opening it, she is sucked inside its pages and lands in a weird alternate reality, where she is compelled by a disembodied voice calling itself The Storyteller to live out each of the 'feary tales' if she ever hopes to return to reality. In the first issue, Vampirella is surprised to discover herself married to an infamous wife-killer in "Bluebeard's Blood" by Devin Grayson (Nightwing, Batman: Gotham Knights, Titans), and then finds herself both the belle and the bête of the ball in "Cinderella? Vampirella!" by John Shirley (award-winning horror & science fiction author, and screenwriter for the 1994 cult classic film, The Crow).
IMAGE
68 HOMEFRONT #2 (OF 4)
BIRTHRIGHT #1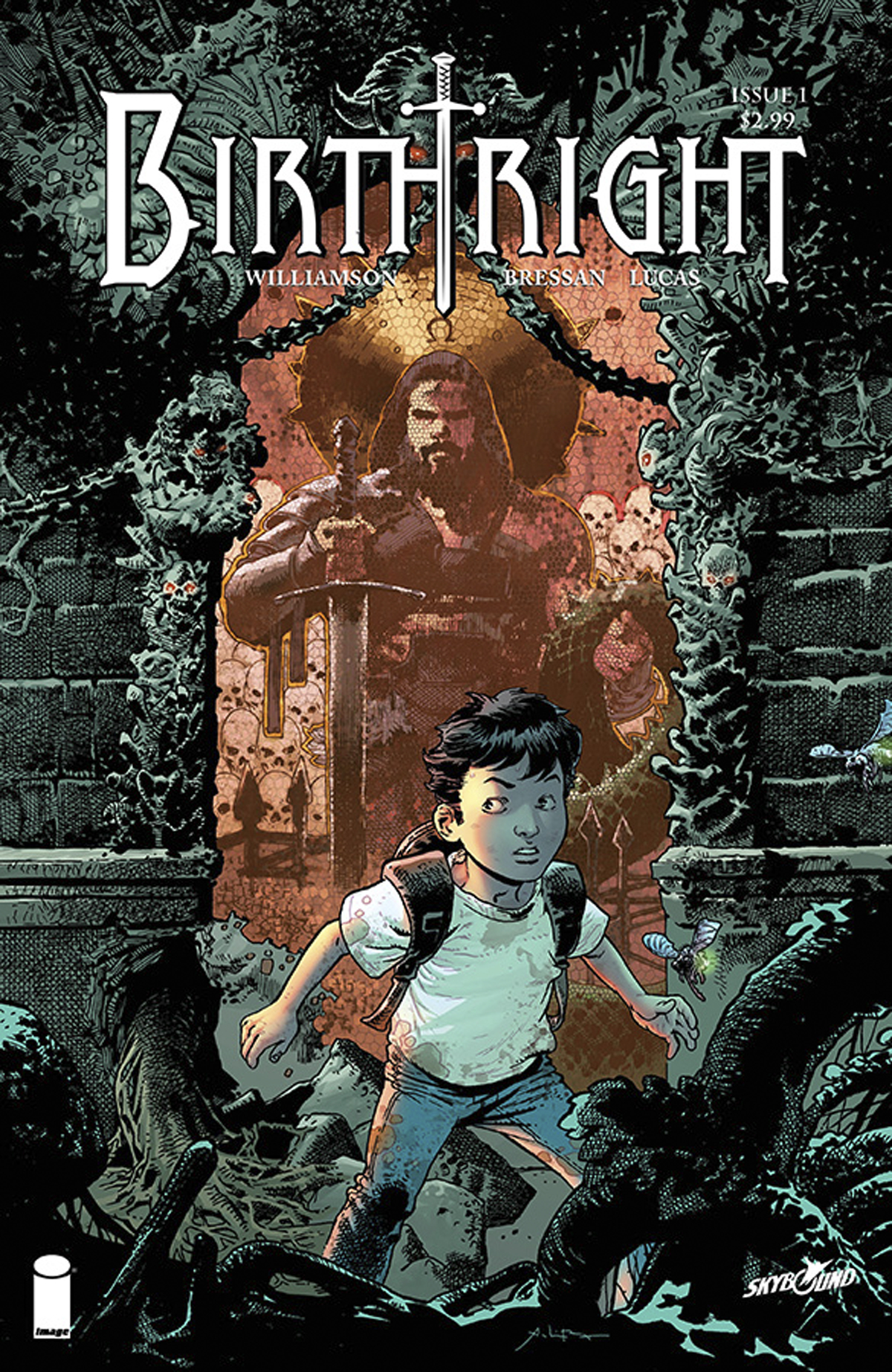 For the Rhodes family, losing their son was the most devastating thing that could've ever occurred... but it couldn't prepare them for what happened when he returned.
Skybound's newest original series turns fantasy into reality in this EXTRA-SIZED FIRST ISSUE for just $2.99, by creator/writer JOSH WILLIAMSON (GHOSTED, NAILBITER) and artist ANDREI BRESSAN.
BLACK SCIENCE #9
CBLDF LIBERTY ANNUAL 2014 #1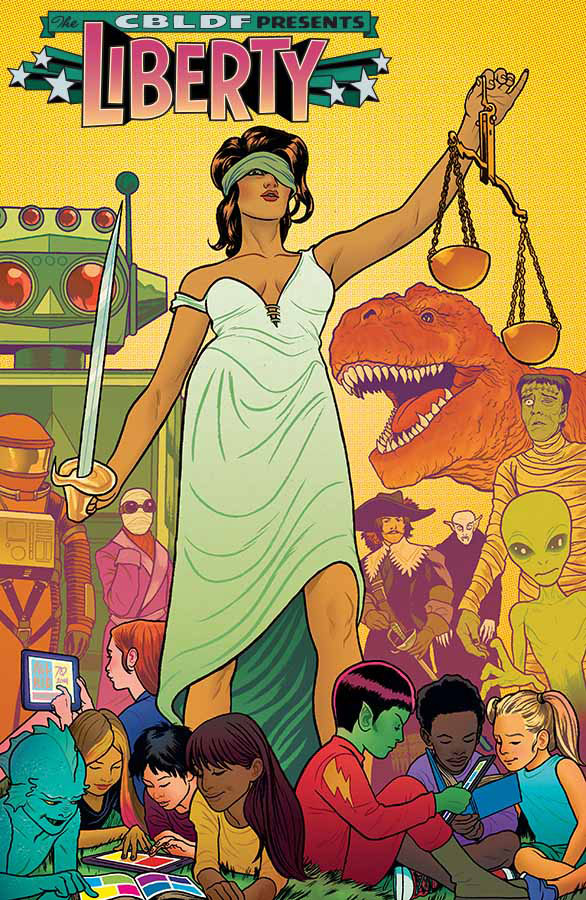 "USED YOUR IMAGINATION LATELY?"
Calling all dreamers and dancers, wanderers and wonderers, free speakers and free thinkers to this year's CBLDF LIBERTY ANNUAL, compiled by former Marvel editor and ardent imaginaut LAUREN SANKOVITCH. Within the pages of this year's Annual, a merry band of legendary creators has crafted 48 PAGES of THRILLING ADVENTURE, POWERFUL DRAMA, and GUT-BUSTING HILARITY that is not only ALL-NEW but ALL AGES! So grab your favorite life forms and gather 'round for a series of tales to test the bounds of your imagination and celebrate our freedom to do so! All proceeds from this book benefit the important First Amendment work of the COMIC BOOK LEGAL DEFENSE FUND, who've been fighting censorship in comics for over 25 years!
COPPERHEAD #2
DARK ENGINE #3
DEATH VIGIL #4 (OF 8)
HOWTOONS REIGNITION #3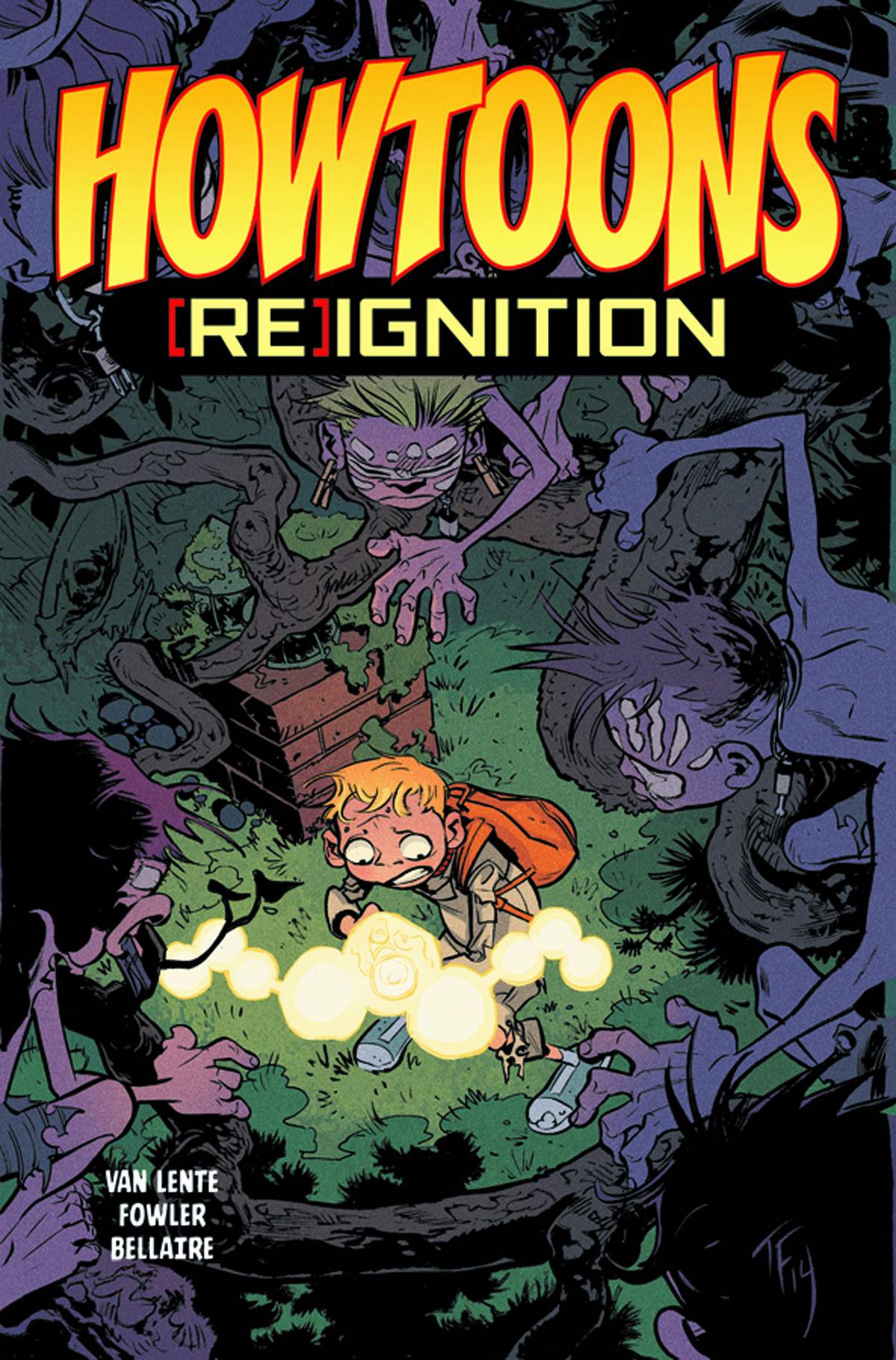 Celine and Tuck learn the hard way they're not the only residents of the ruined city when the feral ORPHANS attack! Can the siblings survive when separated from each other? More projects! More SCIENCE!
IMPERIAL #3
MANHATTAN PROJECTS #24
PUNKS THE COMIC #1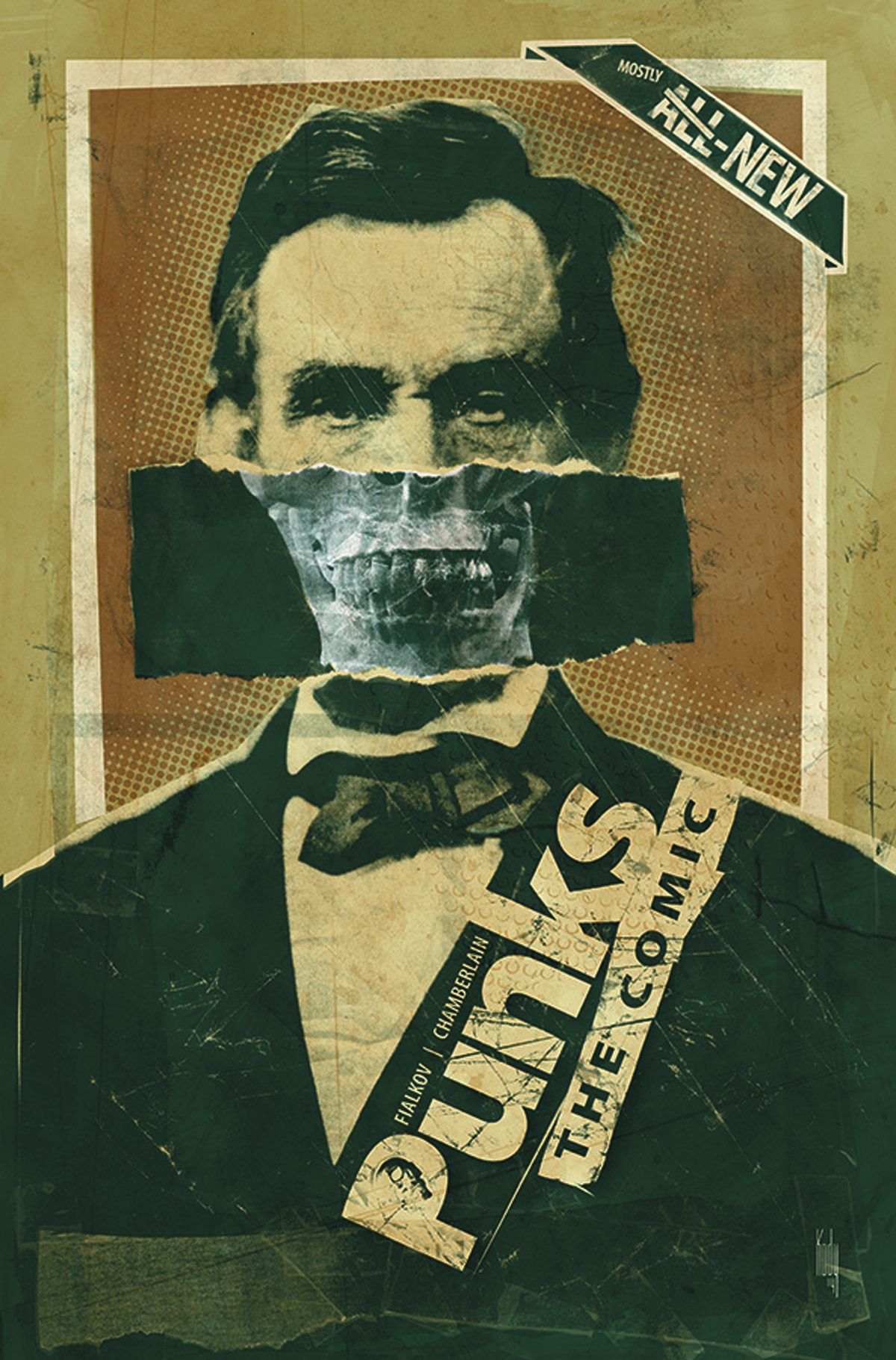 Dog, Skull, Fist, and Abe Lincoln live in a house, beat the #### out of each other, and frequently humiliate themselves. There is bleeding and sadness; Morrissey would likely approve. The cult hit comedy returns with new stories and a classic in the back. From Eisner/Harvey nominees JOSHUA HALE FIALKOV (The Bunker, I, Vampire) and KODY CHAMBERLAIN (SWEETS, The Ride).


SEX CRIMINALS #8
SPAWN #247
TALES OF HONOR #5
THIEF OF THIEVES #24
WYTCHES #1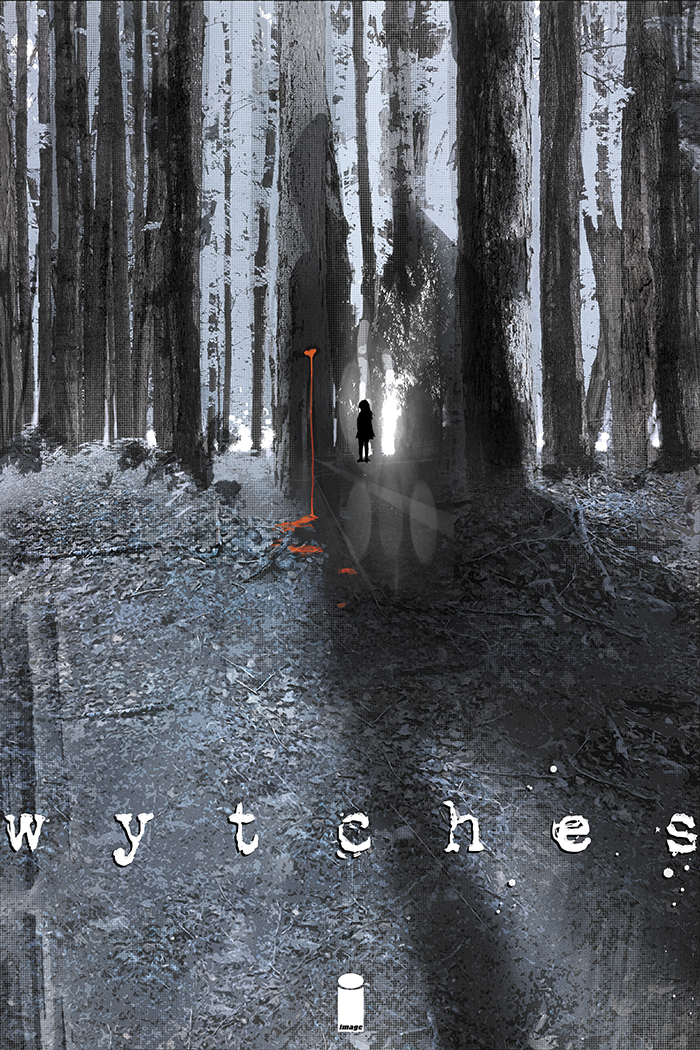 Across the globe, century after century, men and women were burned, drowned, hanged, tortured, imprisoned, persecuted, and murdered for witchcraft. None of them were witches. They died protecting a terrible and hidden truth: witches, real witches, are out there. They are ancient, elusive, and deadly creatures that are rarely seen and even more rarely survived. This October, superstar creators SCOTT SNYDER (SEVERED, Batman) and JOCK (SNAPSHOT, Batman) unveil WYTCHES, and introduce you to a world of unimaginable horror in a special EXTRA-SIZED FIRST ISSUE with 30 pages of story and no ads.
INDIE
1 FOR $1 ACTION PHILOSOPHERS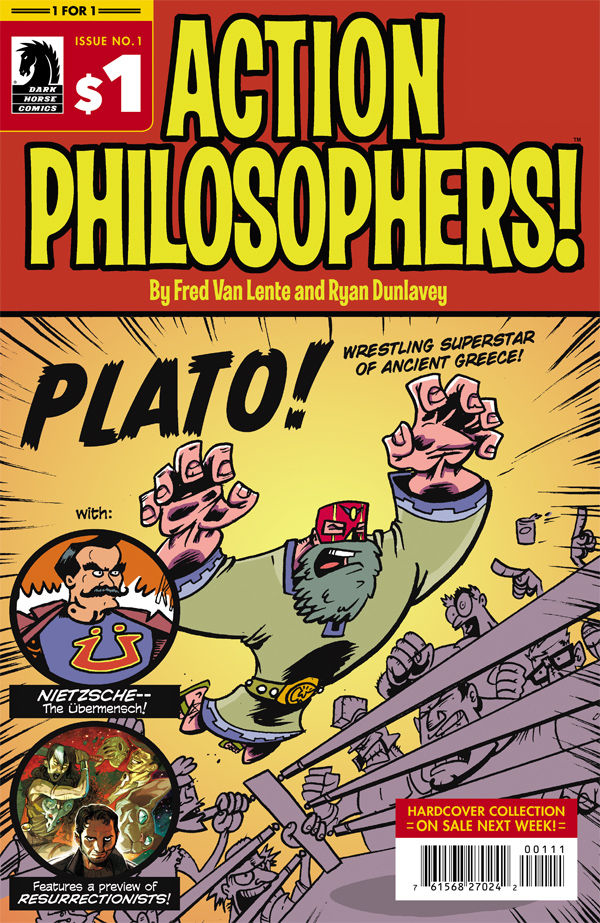 Get a taste of Fred Van Lente and Ryan Dunlavey's award-winning, best-selling Action Philosophers! Read about Plato, the wrestling superstar from ancient Greece, and learn the lessons of Nietzsche, the original übermensch!
ANNIHILATOR #2 (OF 6)
ARCHIE #660
BETTY & VERONICA COMICS DIGEST #227
CALIBAN #7
CROSSED BADLANDS #63
DEATH DEFYING DR MIRAGE #2 (OF 5)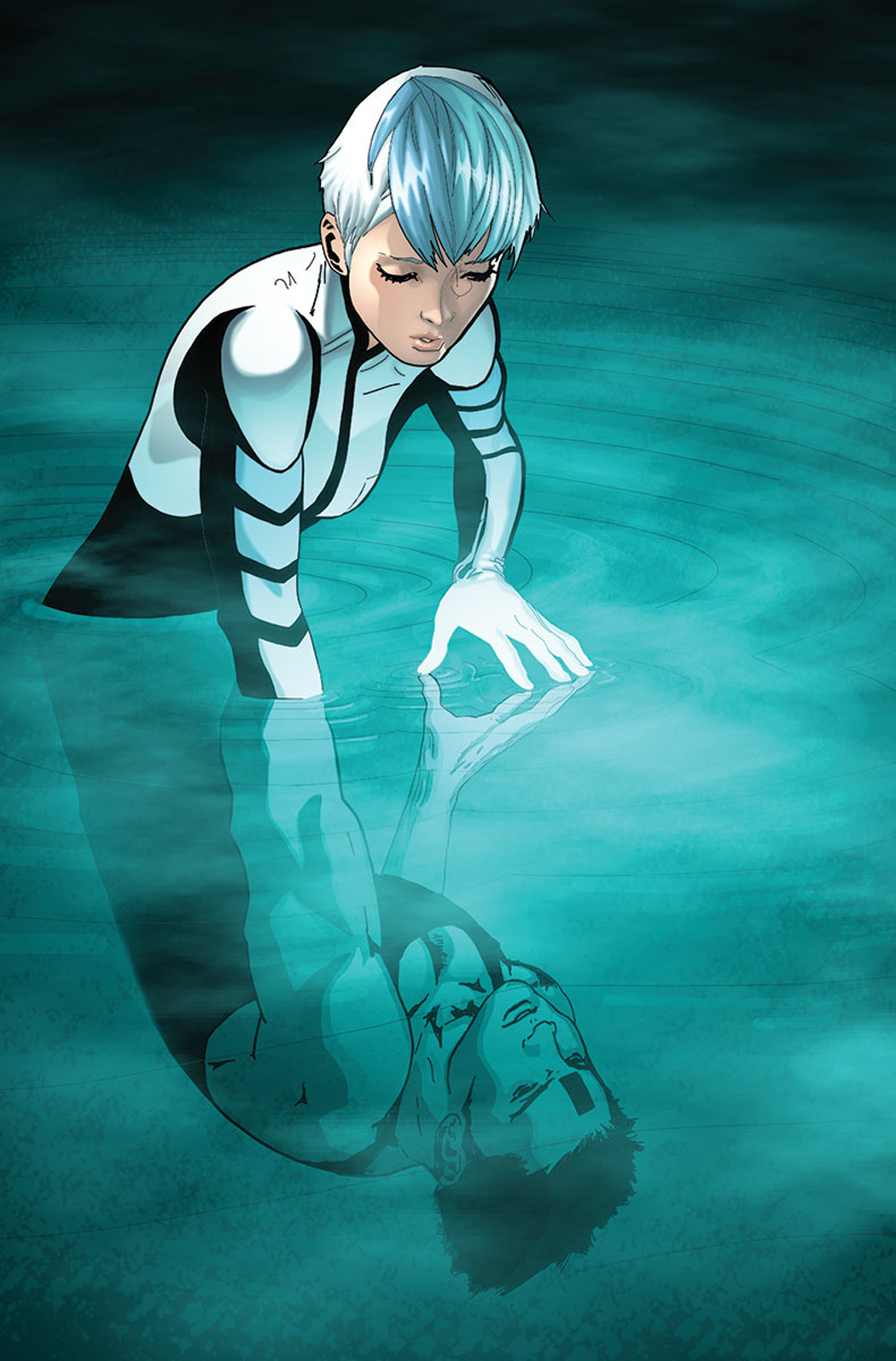 Descent and peril!
Leaving her mortal body in deadly danger, the spirit of Dr. Mirage is about to enter the afterlife's web of worlds, and begin the fight to win back a partner she thought she'd lost forever. But enemies lie in wait everywhere, and while demons and beasts besiege Mirage in the spirit world, an unexpected new eruption of evil threatens her life on Earth!
DOCTOR WHO 10TH #3
DICKS END OF TIME #5
EXTINCTION PARADE WAR #4
GOD IS DEAD #22
RAGNAROK #2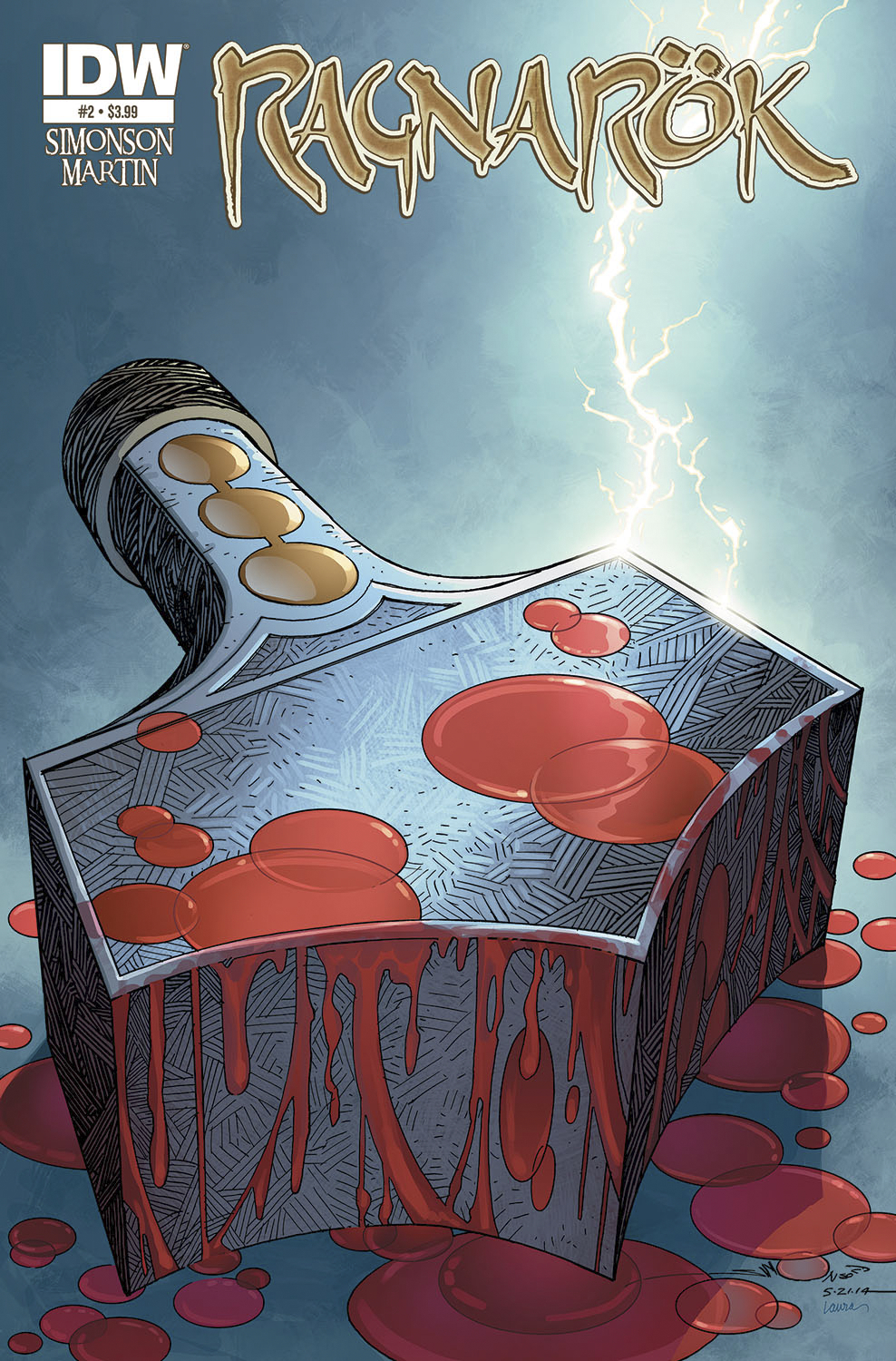 Walter Simonson's grand epic continues! The Black Elf Assassin and her team of trolls, orcs, and renegades has reached to the Fortress at the Edge of the World. Their masked employer gifted them with the spells necessary to break into Kliffborg to destroy whatever, or whomever, they find within. And in a stone chamber surrounded by a field of stars, they come face to face with a myth all but forgotten in the wake of the Enemies' victory at Ragnarök, a myth more dangerous than anything they could have imagined.
SABRINA #1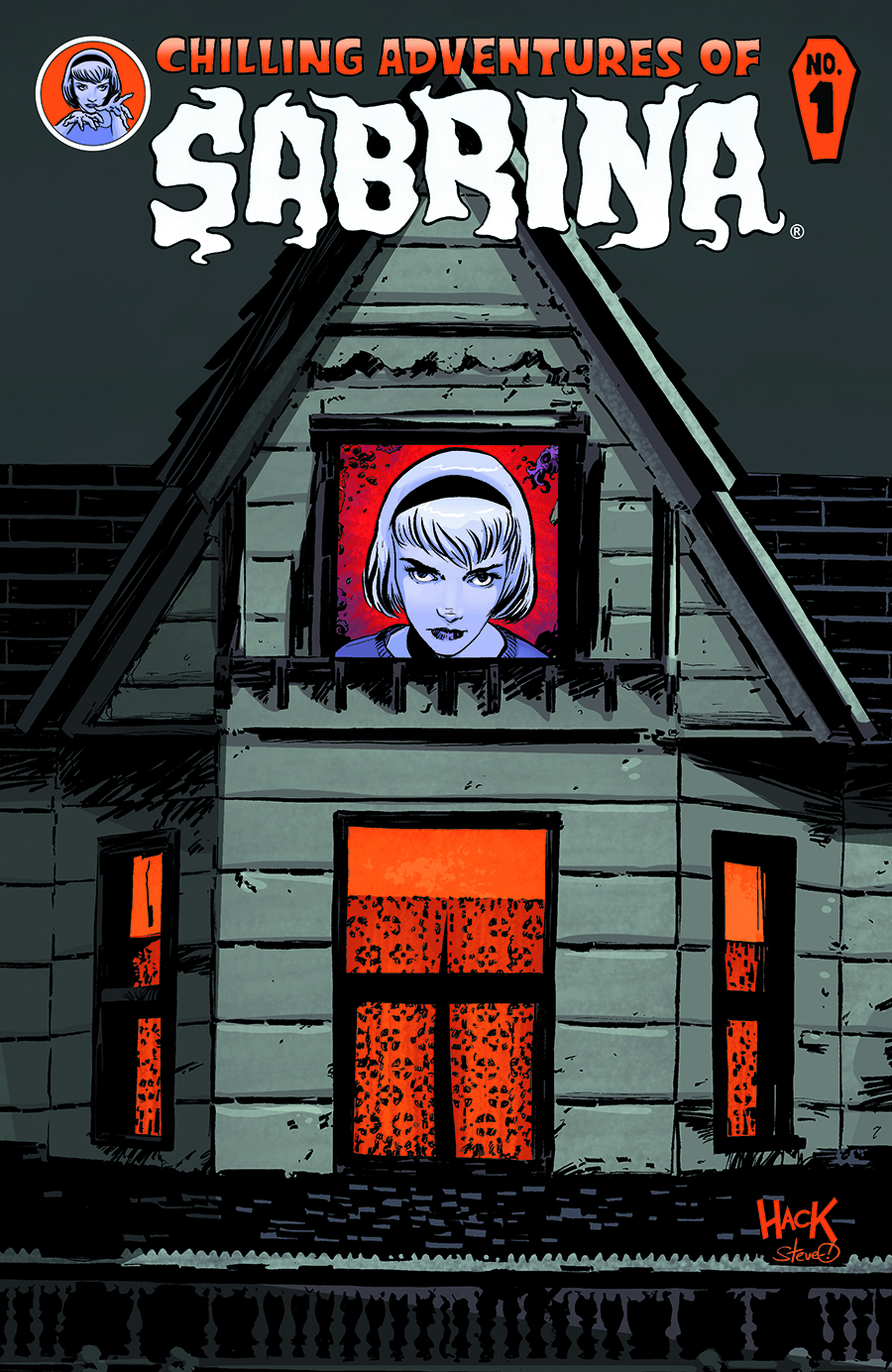 New Ongoing Series! Terror is born anew in this dark reimagining of Sabrina the Teenage Witch's origin. On the eve of her sixteenth birthday, the young sorceress finds herself at a crossroads, having to choose between an unearthly destiny and her mortal boyfriend, Harvey. But a foe from her family's past has arrived in Greendale, Madame Satan, and she has her own deadly agenda. Archie Comic's latest horror sensation starts here!
SONIC THE HEDGEHOG
SPONGEBOB COMICS #37
TRANSFORMERS VS GI JOE #3
WAR STORIES #1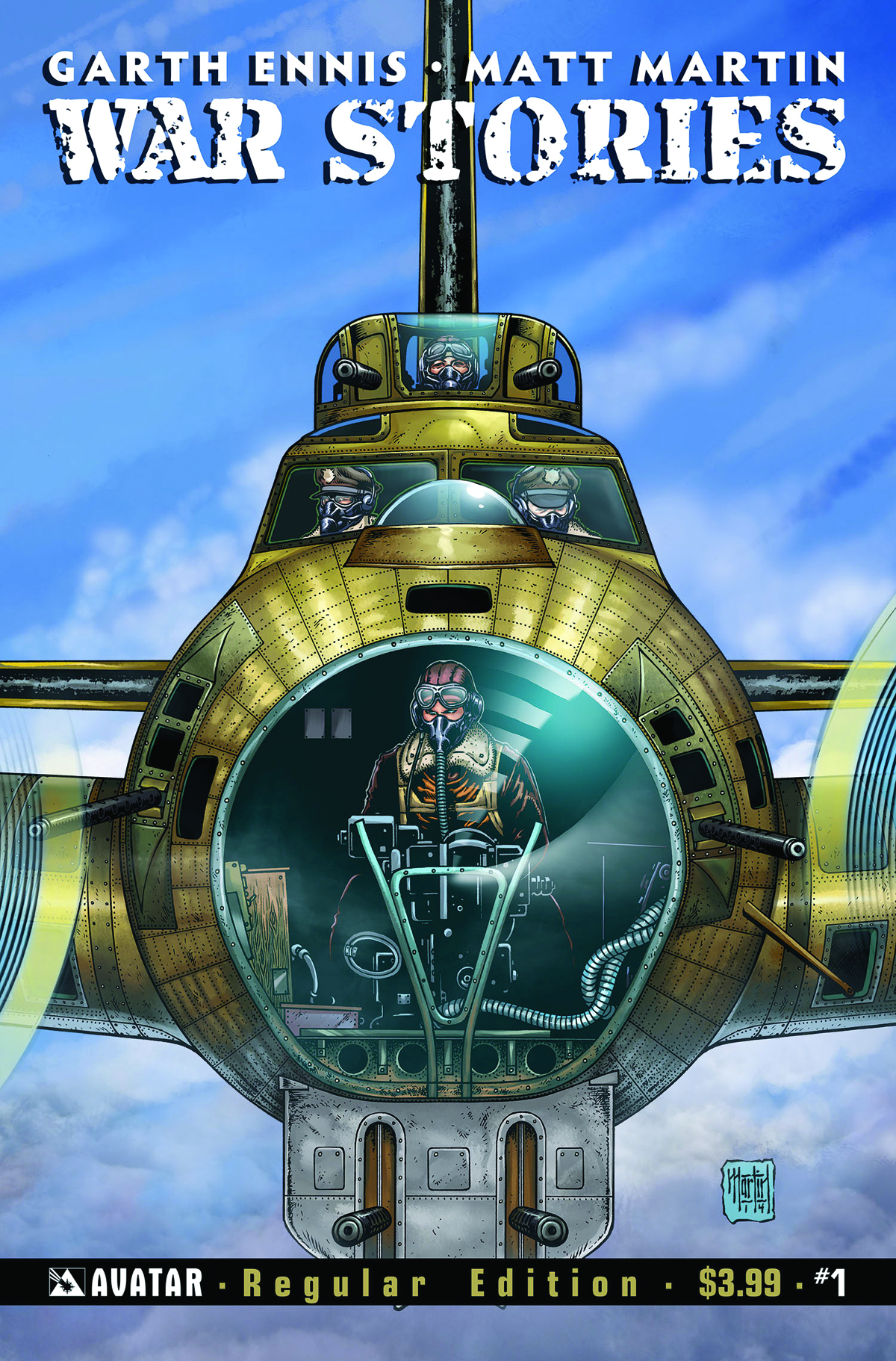 Garth Ennis' War Stories find a new home at Avatar with the launch of this ongoing monthly! Pulling tales from real conflicts throughout modern history, this series is where a master storyteller brings the horrors of war to life in comics. Ennis travels the timeline to pull some of the most harrowing tales of valor and bloodshed from history's most violent battles with his trademark wit and spot-on dialogue to show the humanity within the inhuman horrors. The first story is Castles in the Sky, a tale of early bomber pilots and their incredibly difficult missions.
X-O MANOWAR #0

MARVEL
ALL NEW ULTIMATES #9
AMAZING SPIDER-MAN #7 EOSPV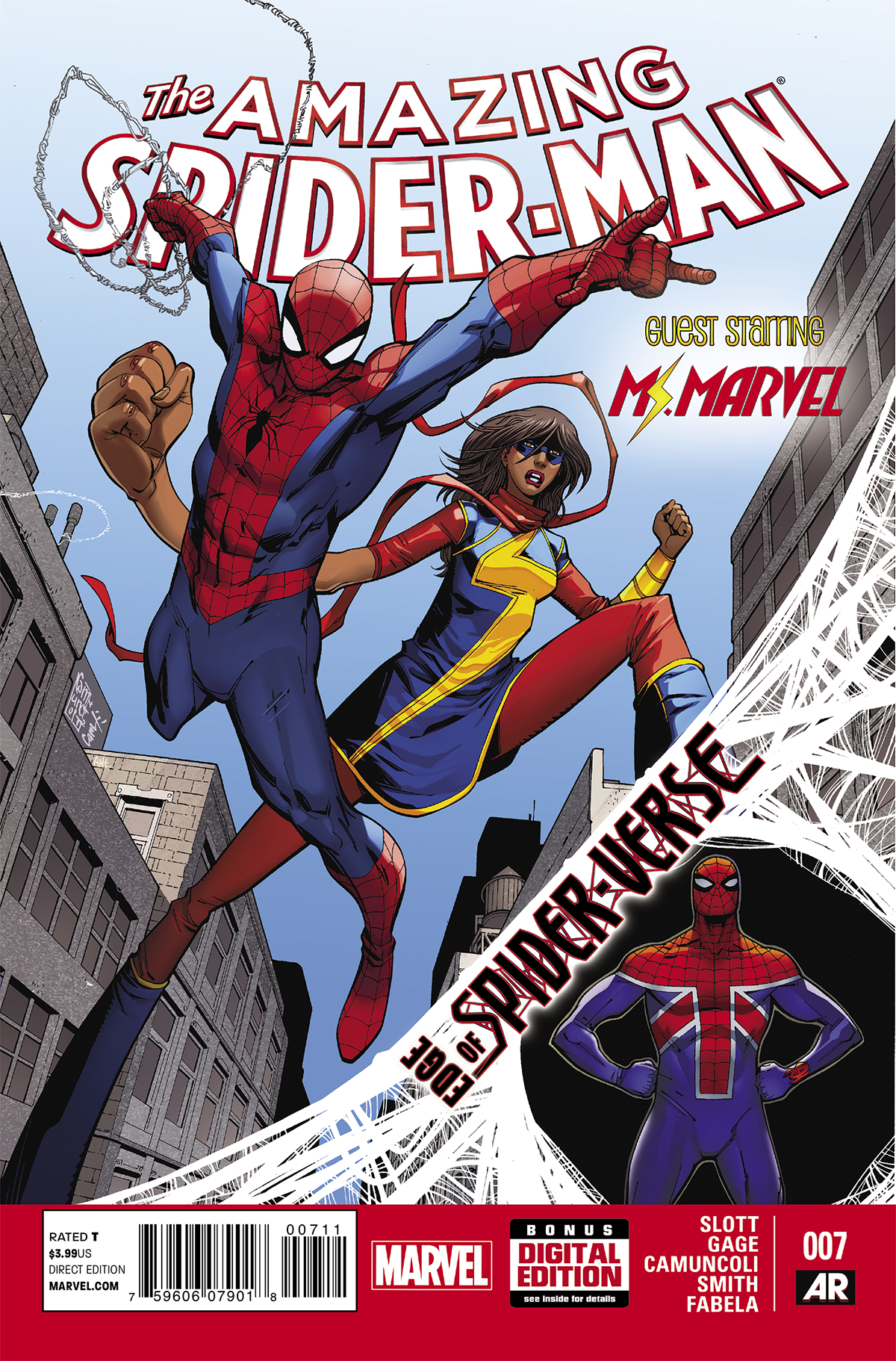 Peer over the EDGE OF SPIDER-VERSE!
Spidey teams up with Ms. Marvel in a high-flying (stepping in Kamala's case) adventure!
Who is Spider-UK and what does he have to do with SPIDER-VERSE?
AVENGERS #36 TRO
AVENGERS AND X-MEN AXIS #1 (OF 9)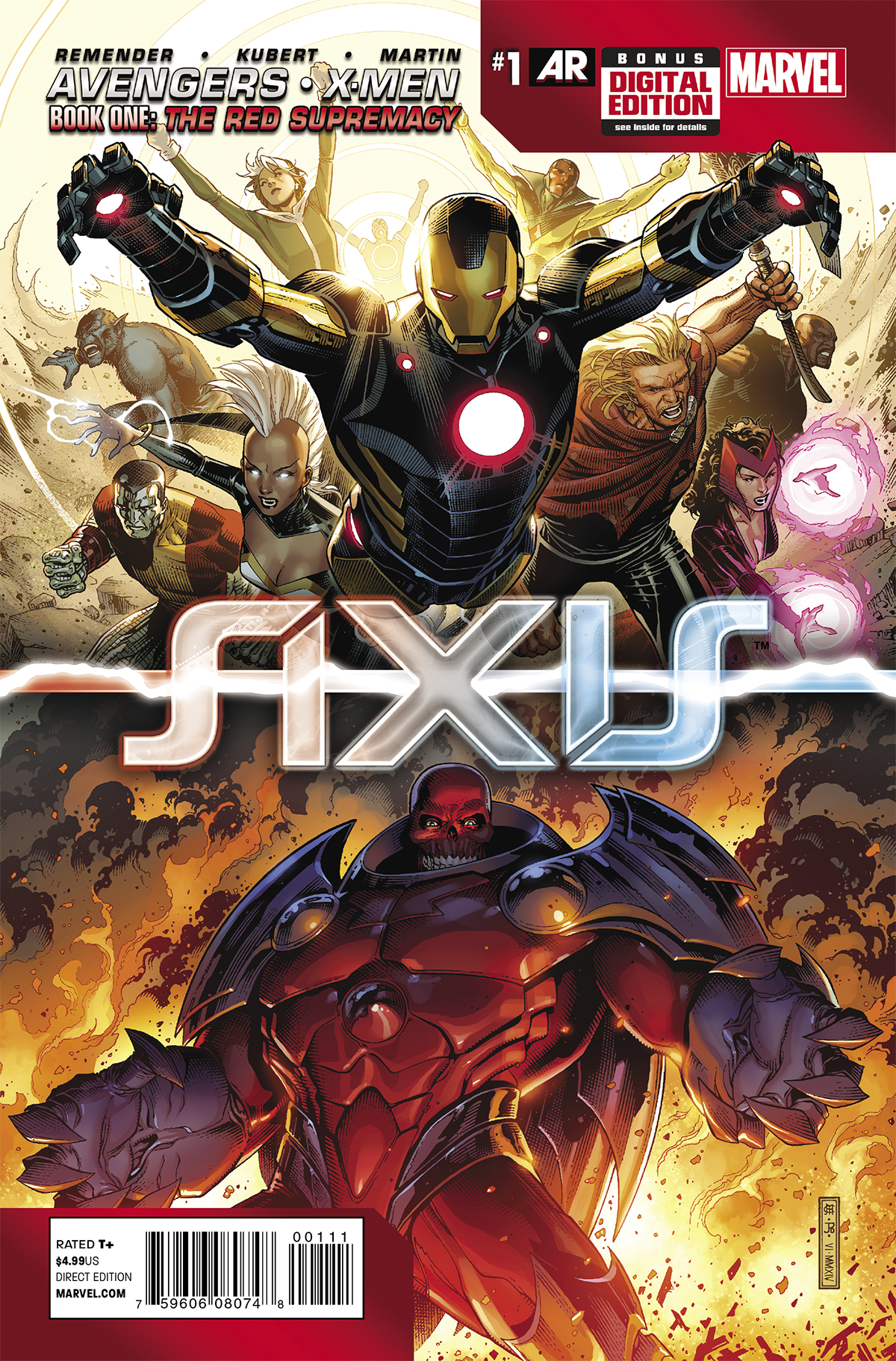 ACT I: THE RED SUPREMACY
The Red Skull has exploited the gifts of the world's greatest telepath to broadcast pure hatred across the globe. Now, born of the murder of Charles Xavier, World War Hate has begun. Tony Stark discovers a secret truth that will upend not only his life, but also the lives of everyone he cares for. Can The Avengers and X-Men finally unite? Would their combined strength be enough to hold back the darkness of the Red Onslaught?
Magneto murdered the wrong man, releasing the greatest evil the Marvel Universe has ever known. Now Rogue and Scarlet Witch are all that stand in its way.
CAPTAIN MARVEL #8
GEORGE ROMERO'S EMPIRE OF DEAD ACT TWO #2 (OF 5)
HAWKEYE VS DEADPOOL #1 (OF 4)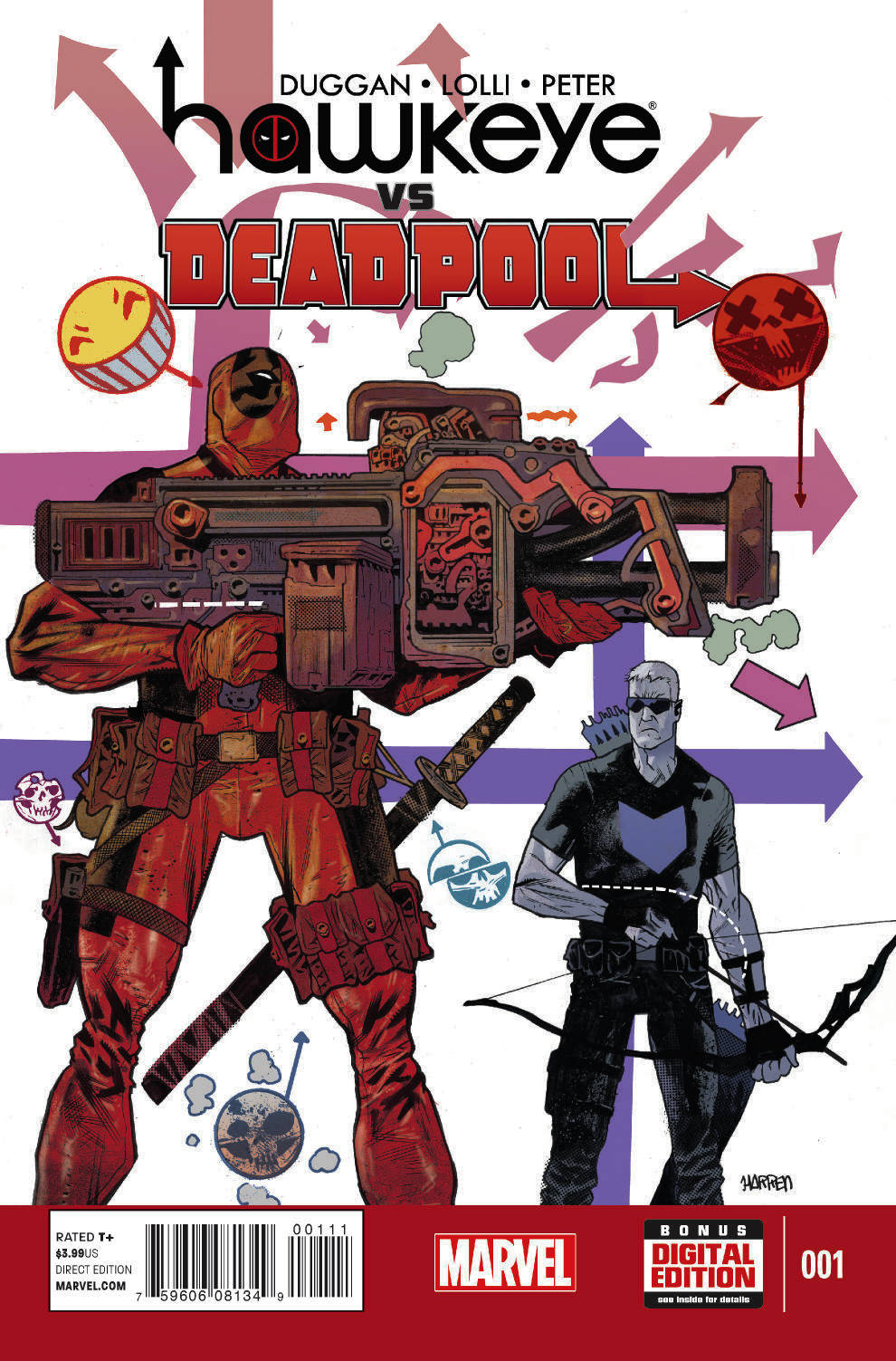 Trick or treat! It's Halloween in Brooklyn, and that can only mean one thing -- disaster is right around the corner! Why are the bad guys dressed as good guys? And will Deadpool and Hawkeye kill each other before they figure it out? The blockbuster comic event of the fall returns for its official #1 issue (even though this is really issue 2, but what does a number really even MEAN anyway?)!


MARVEL UNIVERSE AVENGERS ASSEMBLE #13 SYU
MIRACLEMAN #12
NIGHTCRAWLER #7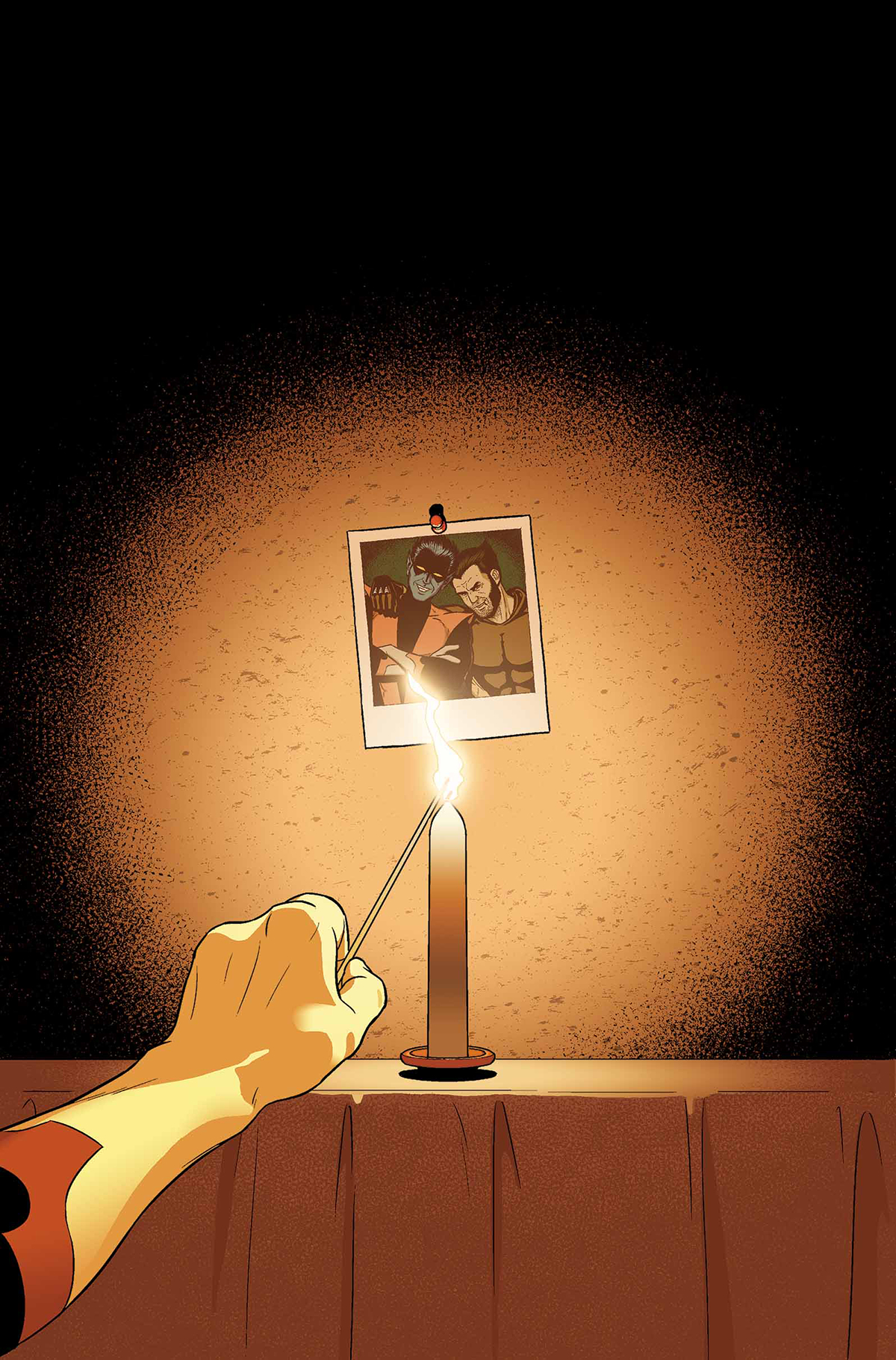 DEATH OF WOLVERINE Aftermath!
Not so long ago, Nightcrawler was dead.
Now, with a second lease on life, Nightcrawler struggles to find his place back in the land of the living. But now that his best friend, Wolverine, has taken his place in the afterlife, that struggle just got a lot more difficult! And he may just find his solace in the last place he (or YOU!) would imagine!
PUNISHER #11
ROCKET RACCOON #4
SAVAGE HULK #5
THANOS A GOD UP THERE LISTENING #1 (OF 4)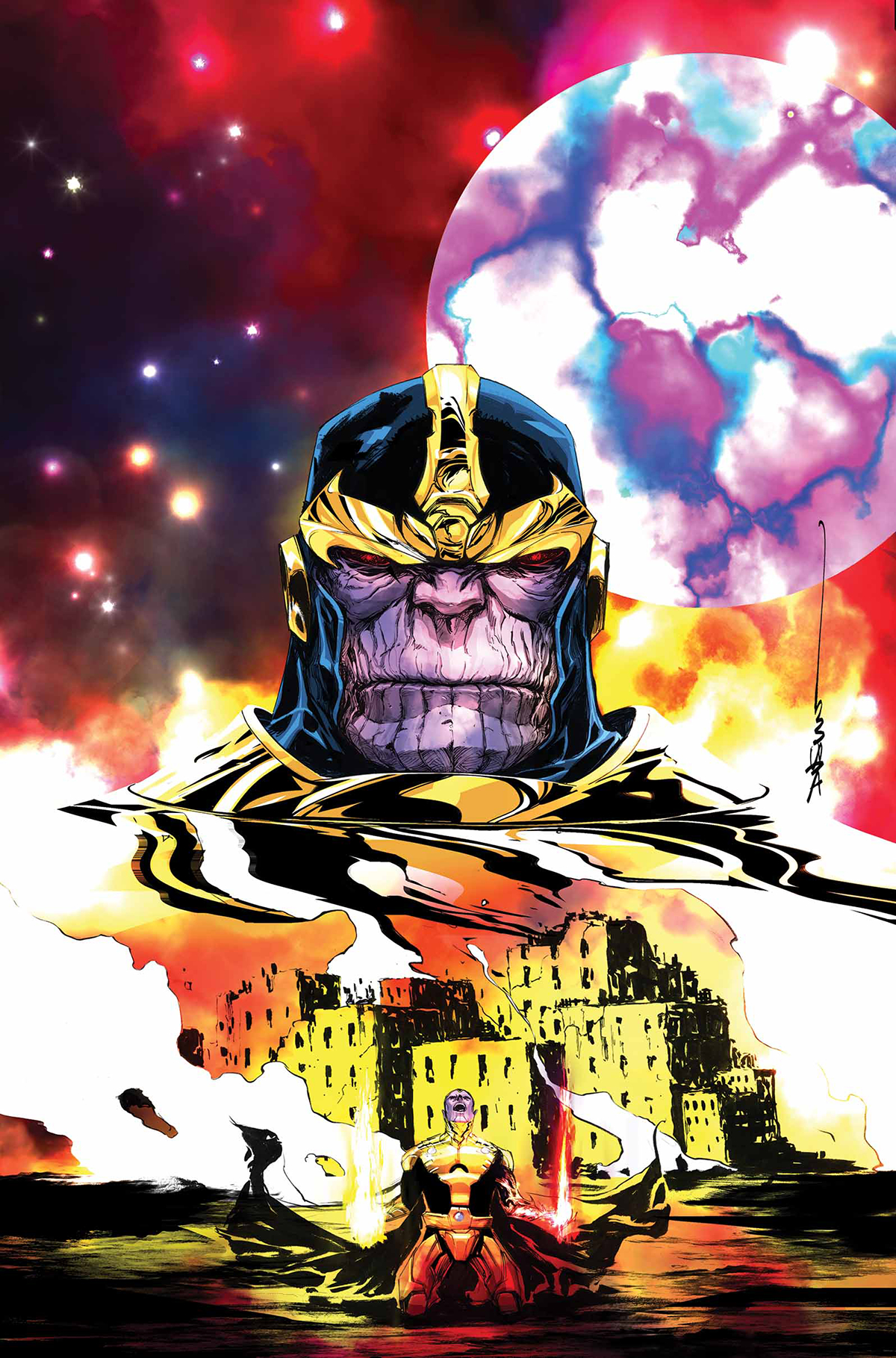 At the close of INFINITY, Thane discovered he was the son of Thanos and that his touch was death.Now, accompanied by the constantly whispered advice of the Ebony Maw, he wants to discover his father's history, and his own future.


X-FORCE #10