BATMAN 75TH ANNIVERSARY ACTION FIGURE 4 PACK SET 1
The first special edition action figure 4-pack celebrates Batman's 75th Anniversary-with figures of the Dark Knight based on the designs of Bob Kane, Jim Lee, Darwyn Cooke, and the best-selling Batman: Arkham Origins video game! Featuring a unique paint deco only seen here!
FIRST APPEARANCE BY BOB KANE - 6.5"
NEW FRONTIER BY DARWYN COOKE - 6.75"
HUSH BY JIM LEE - 6.65"
BATMAN: ARKHAM ORIGINS - 7"

BATMAN ANIMATED NBA BATMAN AF
The highly anticipated line from DC Collectibles is finally here! Based on the designs from the hit New Batman Adventures and Batman: The Animated Series comes the first wave of figures of Batman, Mr. Freeze, Catwoman and Two-Face! Each figure comes with multiple accessories!
BATMAN ANIMATED BAS CATWOMAN AF
BATMAN ANIMATED NBA MR FREEZE AF
BATMAN ANIMATED NBA TWO FACE AF
BATMAN ARKHAM ASYLUM HARLEY QUINN STATUE
SCULPTED BY JACK MATHEWS
Laughter may be the best medicine, but with this caregiver you just might die laughing. Based on her Nurse's Costume from the best-selling video game Batman: Arkham Asylum, Harley Quinn's ready to deliver doses of maniacal medicine.
Limited Edition of 5,200
BATMAN BLACK & WHITE STATUE BY JAE LEE
BASED ON THE DESIGNS OF JAE LEE
SCULPTED BY JONATHAN MATTHEWS
The Dark Knight smashes out of his best-selling series BATMAN/SUPERMAN and into your home with this stunning statue designed by artist Jae Lee!
Limited Edition of 5,200
Measures Approximately 7.8" Tall
BATMAN LIL GOTHAM
BATMAN

MINI ACTION FIGURE
BASED ON THE ART OF DUSTIN NGUYEN
The characters of Gotham City get an adorable make-over in the newest figures from DC Collectibles! Based on the designs by fan-favourite artist and co-writer of BATMAN: LI'L GOTHAM comes Batman, Robin, The Joker and Harley Quinn like you've never seen them before.
BATMAN LIL GOTHAM HARLEY QUINN MINI ACTION FIGURE
BATMAN LIL GOTHAM JOKER MINI ACTION FIGURE
BATMAN LIL GOTHAM ROBIN MINI ACTION FIGURE
DC COMICS COVER GIRLS HARLEY QUINN STATUE 2ND ED
DC COMICS DESIGNER SER 2 CAPULLO CATWOMAN AF
Based on the designs from the fan-favourite artist of BATMAN, Greg Capullo, comes the next wave in the hit Designer Series from DC Collectibles.
DC COMICS DESIGNER SER 2 CAPULLO MR FREEZE AF
DC COMICS DESIGNER SER 2 CAPULLO RED HOOD AF
DC COMICS GREEN ARROW ARTFX+ STATUE NEW 52 VER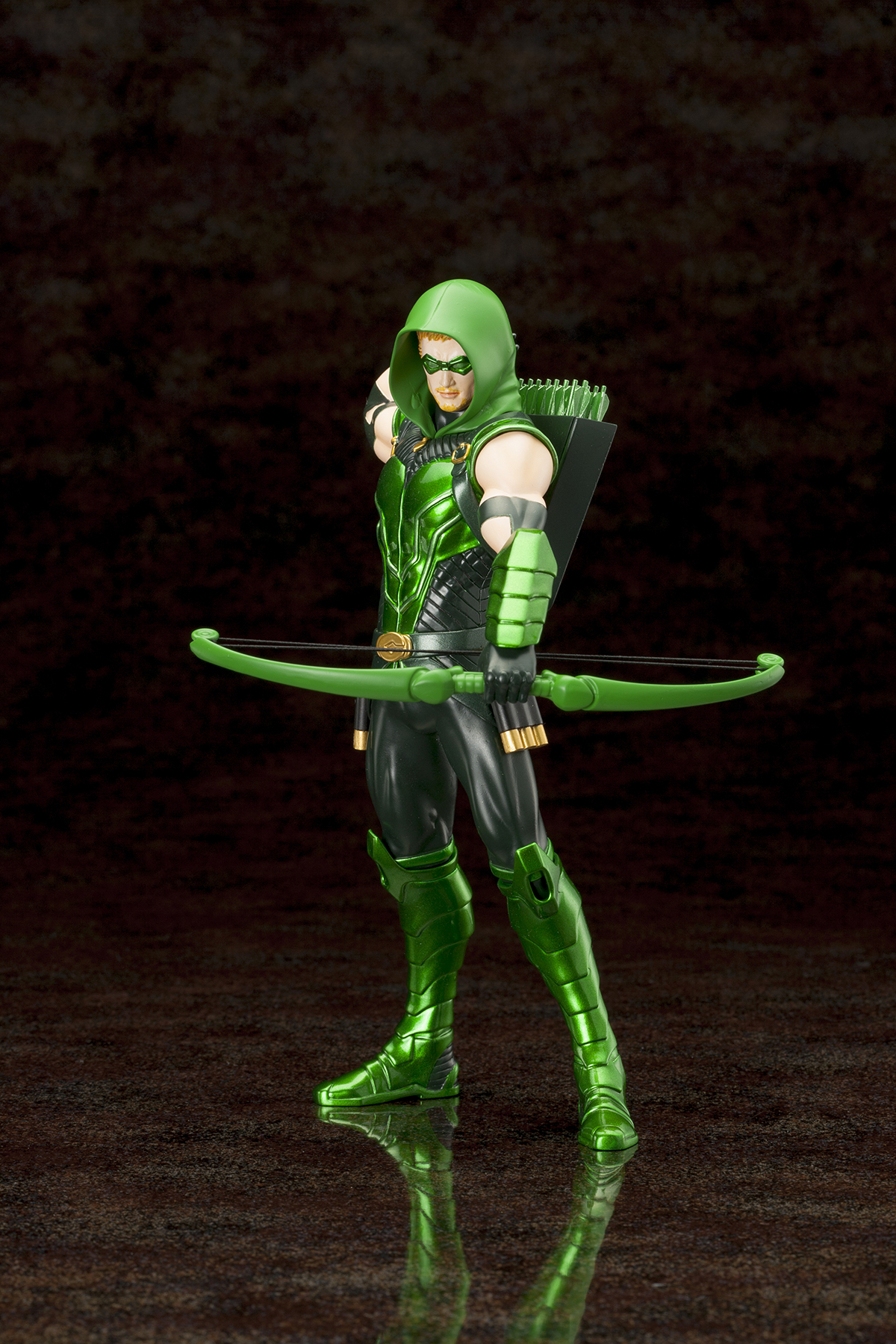 From Kotobukiya. The latest DC Comics ARTFX+ Statue from Kotobukiya returns to the pages of the New 52 with a popular and colourful character, GREEN ARROW! Introduced all the way back in 1941, billionaire Oliver Queen was marooned on a deserted island and there learned to survive by the way of the bow. Taking those skills back to civilisation after being rescued, "Ollie" would take on the identity of Green Arrow and fight crime in Star City and Seattle, though his adventures with the Justice League would take him all around the world and beyond. In the New 52 Green Arrow continues to defend the innocent as he investigates the truth of his past and what shaped him as a hero.
The Emerald Archer appears for the first time in the ARTFX+ lineup, posed with a wide stance as he scans for enemies and prepares to draw an arrow. Oliver wears his New 52 costume featuring a black and green outfit that leaves his arms mostly bare for shooting. With reinforced boots, a padded chest piece, and armoured gauntlets Green Arrow is ready for anything, and the gold accents shine on his buckles and arrow emblem belt buckle. The archer holds his bright green bow sideways in front of him, ready for nocking an arrow from the full quiver on his back. Wearing his trademark green hood and mask, the focused hero still shows off a bit of his blond hair and scruffy beard.
Sculpted by Atelier Bamboo, Green Arrow stands over 7 ½ inches tall (in the ARTFX+ 1/10th scale) and makes for an excellent display piece standing on his included base which he connects to via the magnets in his feet.
Add the Emerald Archer to your DC Comics New 52 ARTFX+ collection!
DC COMICS NEW 52 HAWKMAN AF
DC COMICS NEW 52 STARGIRL AF
From their appearances in DC Comics - The New 52 Justice League of America, comes Super Hero celebrity, Stargirl and the Thanagarian warrior Hawkman!
DOCTOR WHO TARDIS TRAY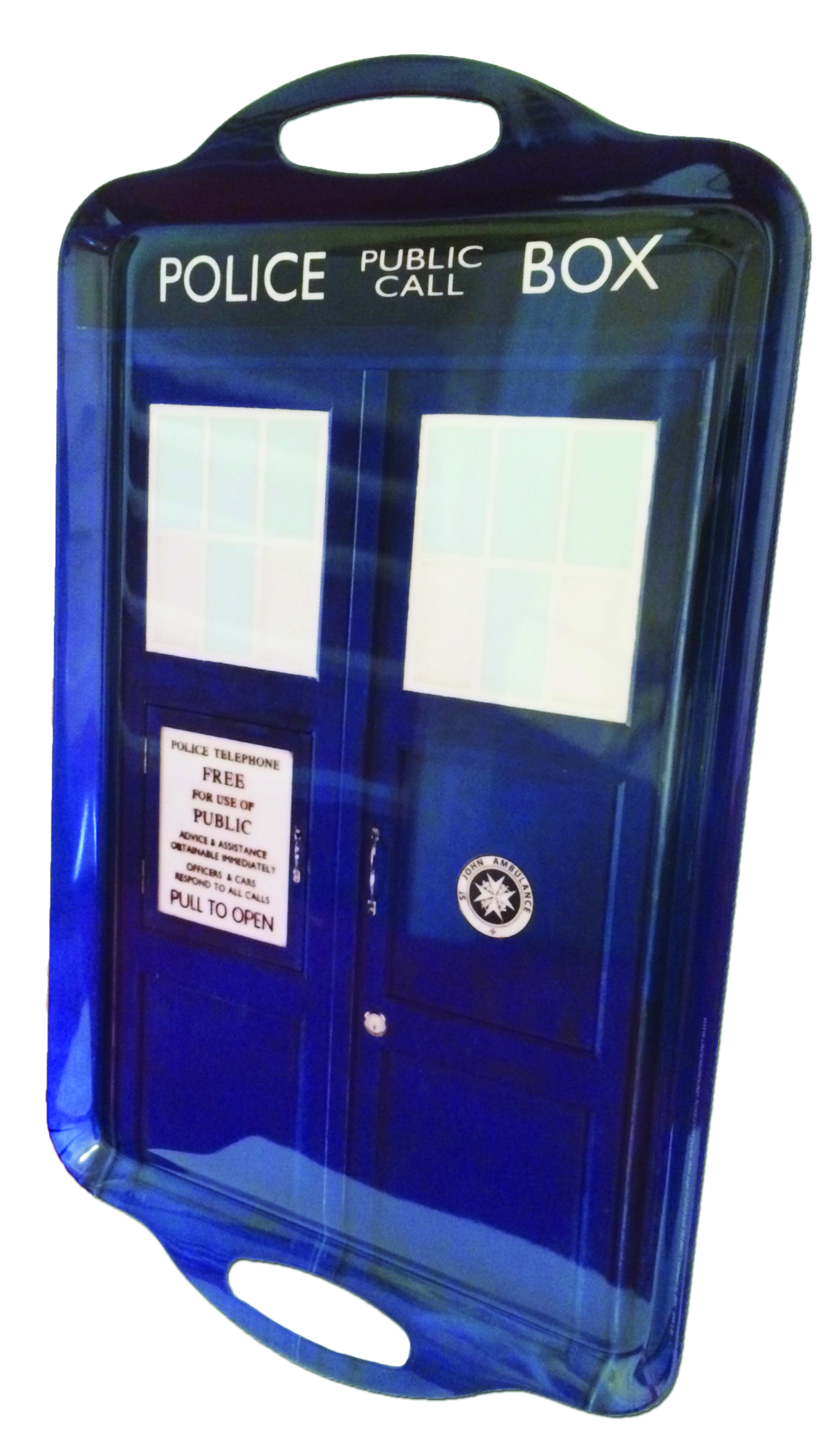 Serve dinner with this TARDIS kitchen tray!
JUSTICE LEAGUE WAR CYBORG AF
Half-man, Half-machine, all awesome. The hero Cyborg battles the hordes of Apokolips with this action figure based on his designs from the DC Universe Animated Original Movie, Justice League: War!
SANDMAN OVERTURE STATUE
SCULPTED BY DAVE CORTES
From the pages of THE SANDMAN: OVERTURE - the acclaimed prequel to Neil Gaiman's award-winning Vertigo series THE SANDMAN - comes Dream of the Endless, ready for display in your very own home with this intricately sculpted statue.
Measures Approximately 11.25" Tall
SCRIBBLENAUTS UNMASKED BMB MINI FIGURES SER 3
In Scribblenauts Unmasked: A DC Comics Adventure, Maxwell unites with Batman, Superman and the rest of the Justice League to restore order to the DC Comics Universe. Each tray contains 18 pieces of 8 different figures (some rarer than others), including Yellow Lantern Sinestro, Kyle Rayner, Reverse Flash, Batman and MORE!
SW HAN SOLO & CHEWBACCA ARTFX+ STATUE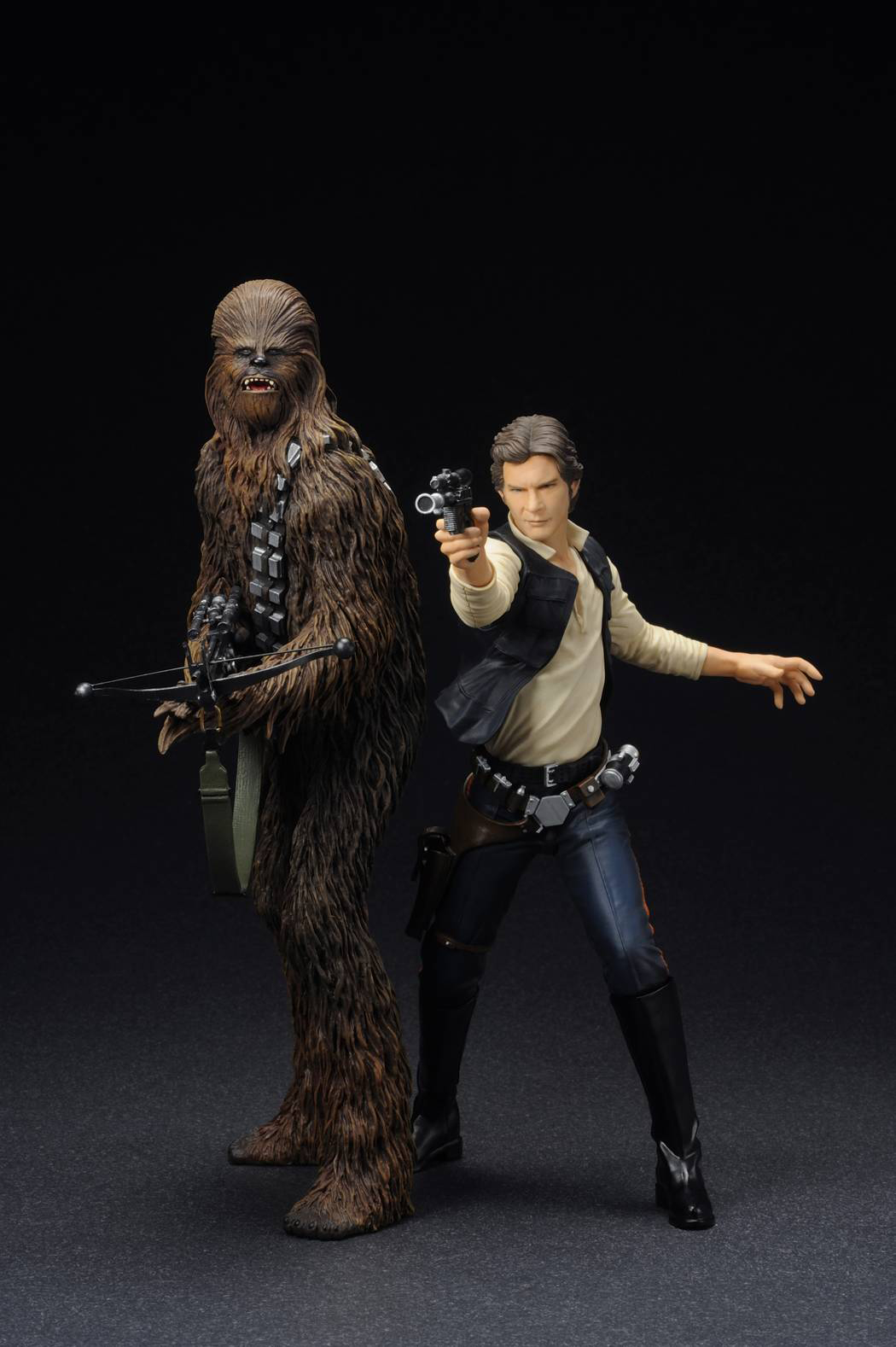 A KOTOBUKIYA Japanese import! The incredible Star Wars ARTFX+ lineup has already featured some of the most iconic heroes and villains from the Star Wars films, and now it expands to an epic team up of two of the most popular characters of all time, HAN SOLO & CHEWBACCA! Jumping straight out of Episode IV: A New Hope, the inseparable smuggling duo stands side by side ready to take on the forces of the evil galactic Empire. Literally from different worlds (Corellia and Kashyyyk), Han Solo and Chewbacca formed an unlikely yet lasting friendship that would resonate with fans from their first appearance.
Ready to take on anything the Empire might throw at them, the pair of space scoundrels advance in turn as they point their weapons at hordes of ineffective Stormtroopers. Han wears his iconic outfit consisting of a white shirt, navy vest, orange-striped blue pants, belt with holster, and tall black boots. Meanwhile, his Wookie partner is au naturale as usual, covered in thick brown fur broken up only by his bandolier. Both level their respective trademark weapons, a BlasTech Industries DL-44 heavy blaster pistol for the former and a crossbow-like bowcaster for the latter. Kotobukiya's renowned craftsmanship is evident in all of the fine details from Chewie's intricately sculpted fur to the folds and creases in Han's clothing!
ARTFX+ Statues are fun-to-assemble pre-painted snap-fit kits that can be easily put together in seconds without glue or modeling skill. Han Solo stands just over 7 inches tall and Chewbacca over 8 inches (1/10th scale) atop their included display bases; magnets in their feet provide extra stability. Whether they're guarding your shelves alone or displayed alongside the R2-D2 & C-3PO or Stormtrooper army builder two-packs they're guaranteed to be the highlight of your Star Wars collection!
VERTIGO COVER GIRLS DEATH STATUE NEW ED
New production run with a new deco application.
WONDER WOMAN ART OF WAR STATUE
BASED ON THE ART OF ADAM HUGHES
SCULPTED BY TIM MILLER
The Art of War line of statues featuring the amazing amazon continues with this beautifully sculpted piece inspired by the art of legendary artist Adam Hughes!
Limited Edition of 5,200
Measures Approximately 7.25" Tall