14 JANUARY 2015
New arrivals in store: bestselling I Kill Giants illustrator Ken Niimura's original graphic novel HENSHIN, The Rabbi's Cat creator Joann Sfar's satirical fantasy series DUNGEON, two picture books teaching children about SUPERMAN and WONDER WOMAN, the thriller miniseries VEIL, the creator of Earthworm Jim's new series NNEWTS, and new collections for AVENGERS, CROSSED, FLASH, MANIFEST DESTINY, RACHEL RISING, GREEN LANTERN CORPS, SUPERGIRL, STRAY BULLETS and ANIMAL MAN.
What are you excited to read this week? Talk to us @DavesComics!
AMERICAN VAMPIRE HC VOL 07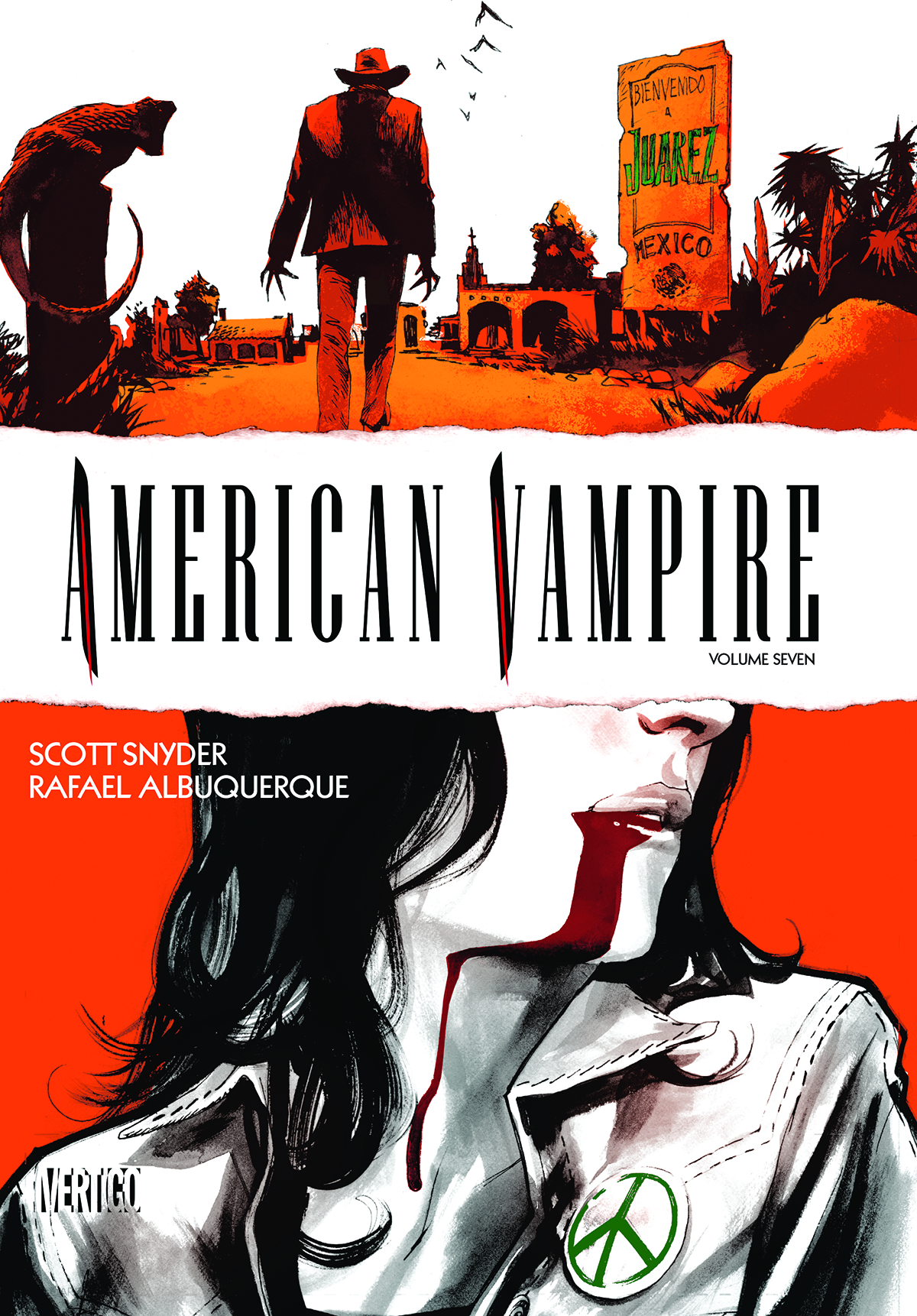 The first collection of AMERICAN VAMPIRE SECOND CYCLE features issues #1-5 of the new series! When we meet Pearl again, it is in 1960's Kansas, an era fraught with fear of nuclear war, angry demonstrations and vast social change. But what has changed in the years since the V.M.S. attack? And where is Skinner Sweet?
ANIMAL MAN TP VOL 07 RED PLAGUE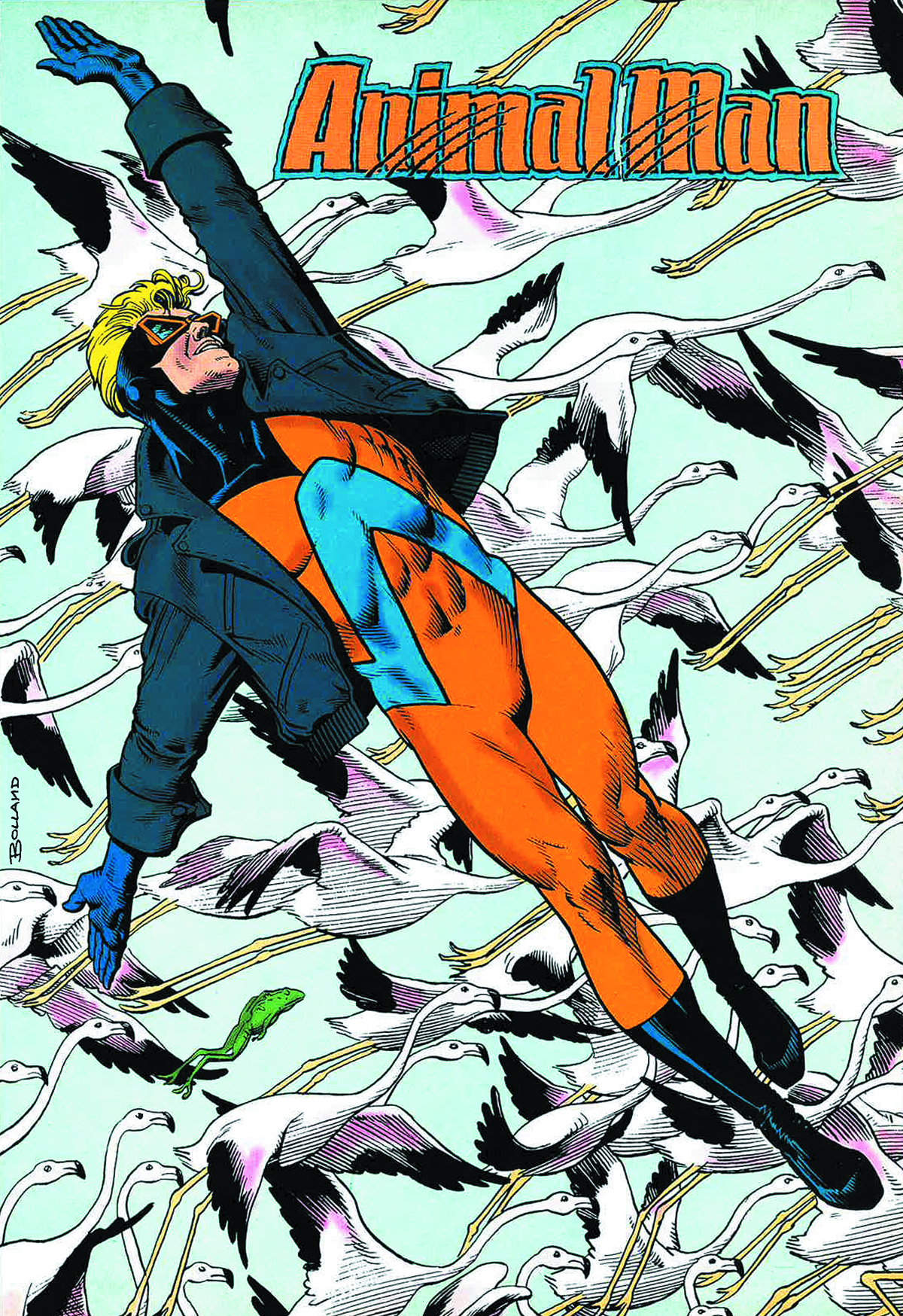 Tragedy strikes Animal Man's daughter Maxine in these stories from issues #64-79 and Annual #1 - but is it the result of a government conspiracy? Animal Man attacks Washington, D.C., with an army of rats and birds. Then, Animal Man forms a new religion and leads a group of followers intent on securing humanity's place in the mystic realm known as the Red.
AVENGERS TIME RUNS OUT PREM HC VOL 01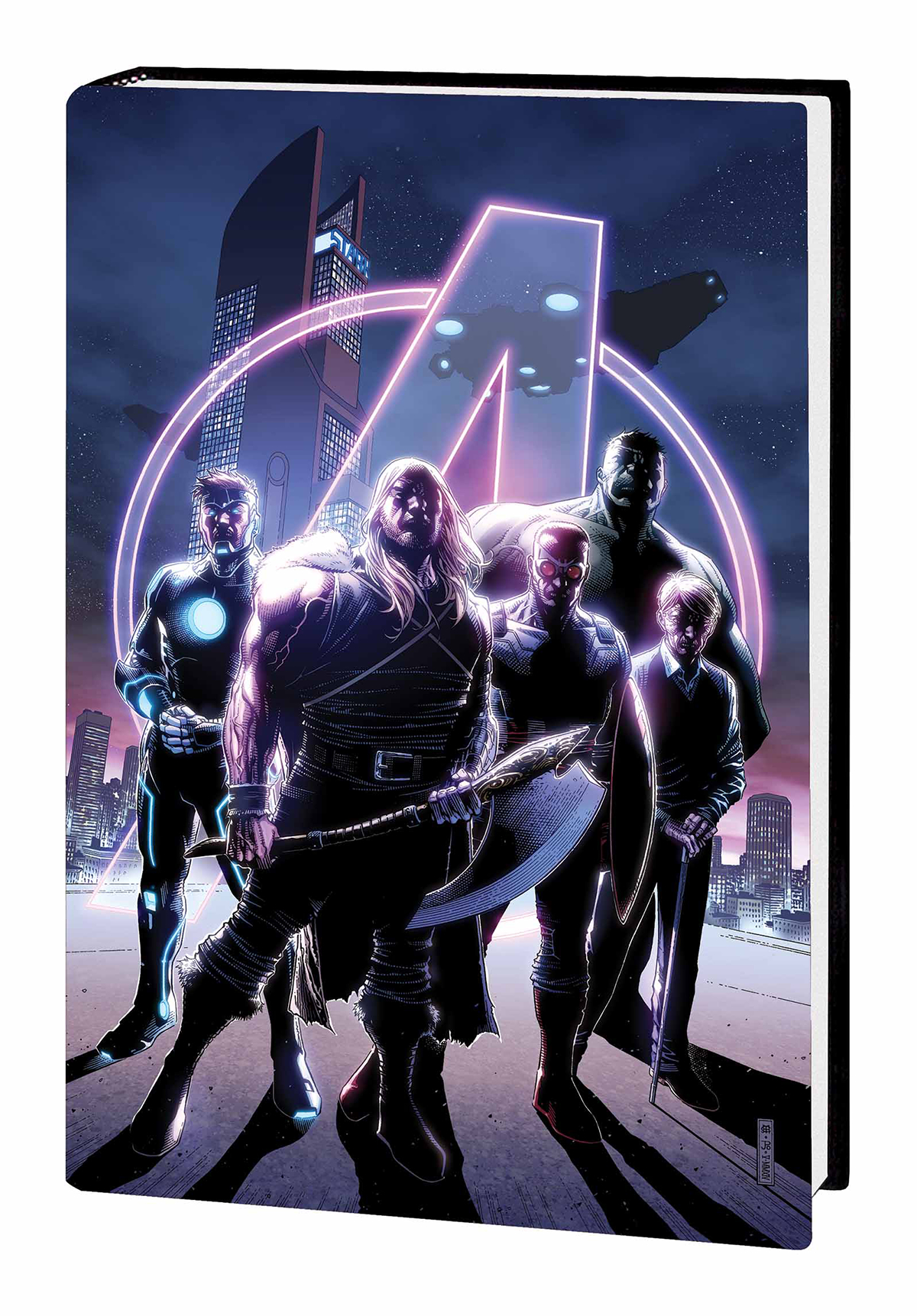 For Earth's Mightiest Heroes and the Illuminati, it has all been building to this. After two years of carefully crafting his cataclysmic saga, writer Jonathan Hickman jumps ahead eight months to the grand finale, the honest-to-goodness immediate future of the Marvel Universe - and the day of the Final Incursion! After the events of ORIGINAL SIN - and the revelation of the Illuminati's desperate, world-destroying actions - much has changed for the Avengers. What has become of Earth's Mightiest Heroes during the past eight months? Who comprises the new Cabal? And have all the battles they've endured, and the sacrifices they've made, prepared either group for the inevitable moment where time runs out for everybody? The first act of the astonishing climax to Jonathan Hickman's legendary run is here! Collecting AVENGERS (2012) #35-37 and NEW AVENGERS (2013) #24-25.
BATMAN BLACK AND WHITE TP VOL 04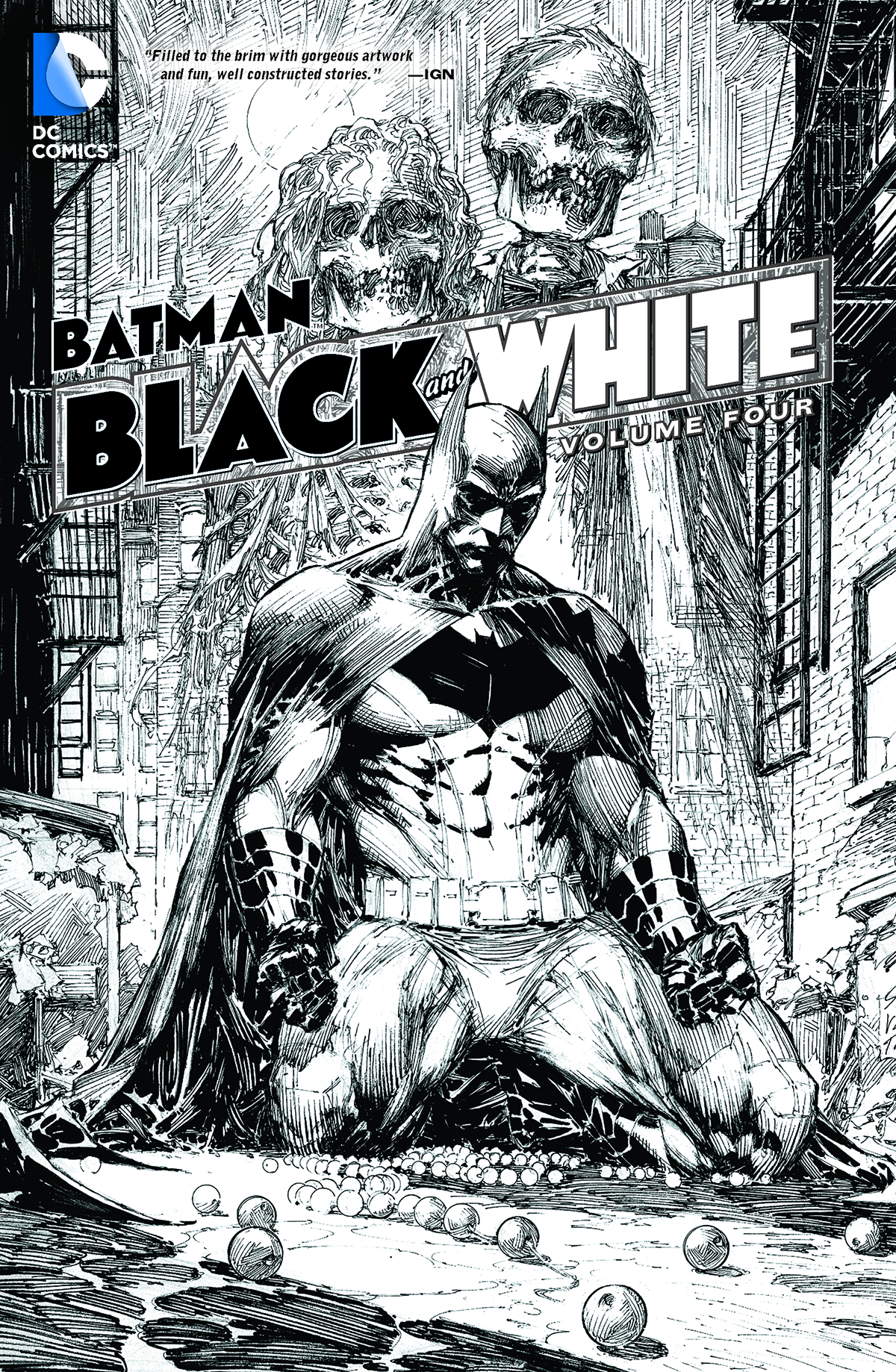 The legendary, Eisner Award-winning series BATMAN BLACK AND WHITE returns in a brand-new volume featuring tales of the Dark Knight by some of comics' greatest writers and artists!
BTVS SEASON 9 LIBRARY HC VOL 01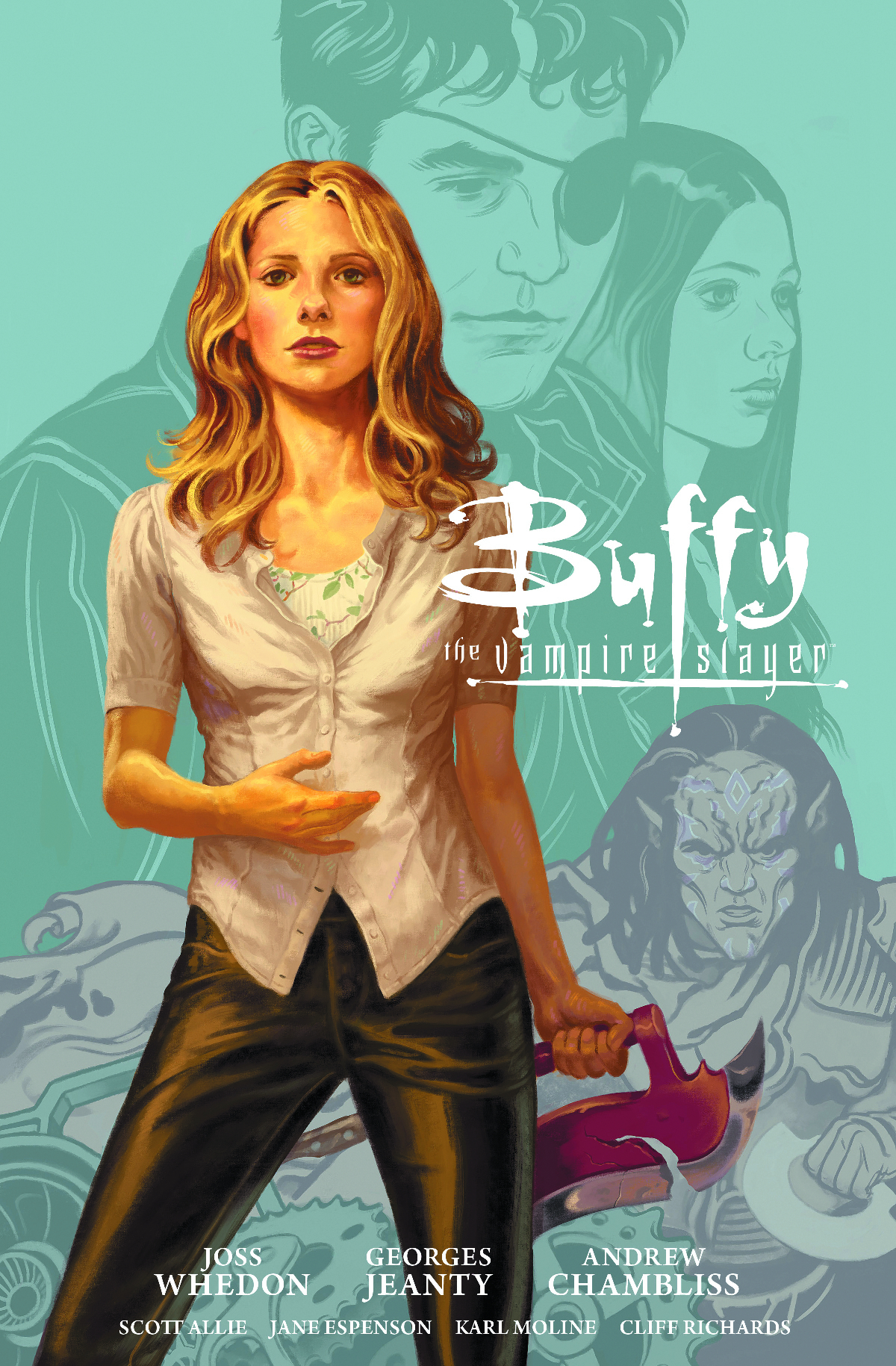 The world has lost its connection to magic, and a new breed of vampires has been born - zompires! Still, there's more trouble for Buffy the Vampire Slayer: a magic siphon is loose, student loans have to be paid, Willow goes walkabout, and Buffy finds herself pregnant while coming to terms with her relationship with Spike.
Collects Buffy Season 9 Volume 1 and Volume 2.
CROSSED TP VOL 11
The Crossed universe is an unyielding nightmare vision of animal depravity and homicidal insanity. In this volume, two of the industry's best new talents come together to tell very different stories of despair. Simon Spurrier takes you to a picturesque environment in the English countryside with tweeting birds, friendly vicars, crumpets and jam, and a mob of Crossed lurking near the duck pond. No one sees Wheezy the fat asthmatic kid hiding up in the old tower but if he shows his face it will only be the farmer's wife between him and a bloody fate. The problem is, she's Crossed too. And newly-Crossed Justin Jordan tells his first diabolical tale as two women attempt to escape the band of monsters out for their blood. When a mysterious unseen Samaritan helps them escape to a sanctuary it seems as though they've found what little safety there is in the new world order. But trusting anyone in the world of Crossed usually leads to a gut-wrenching and miserable end. Crossed Vol 11 TP collects Crossed 2014 Annual and issues #57 - 61 of the ongoing Crossed: Badlands comic book series.
DEATHLOK TP SOULS OF CYBER-FOLK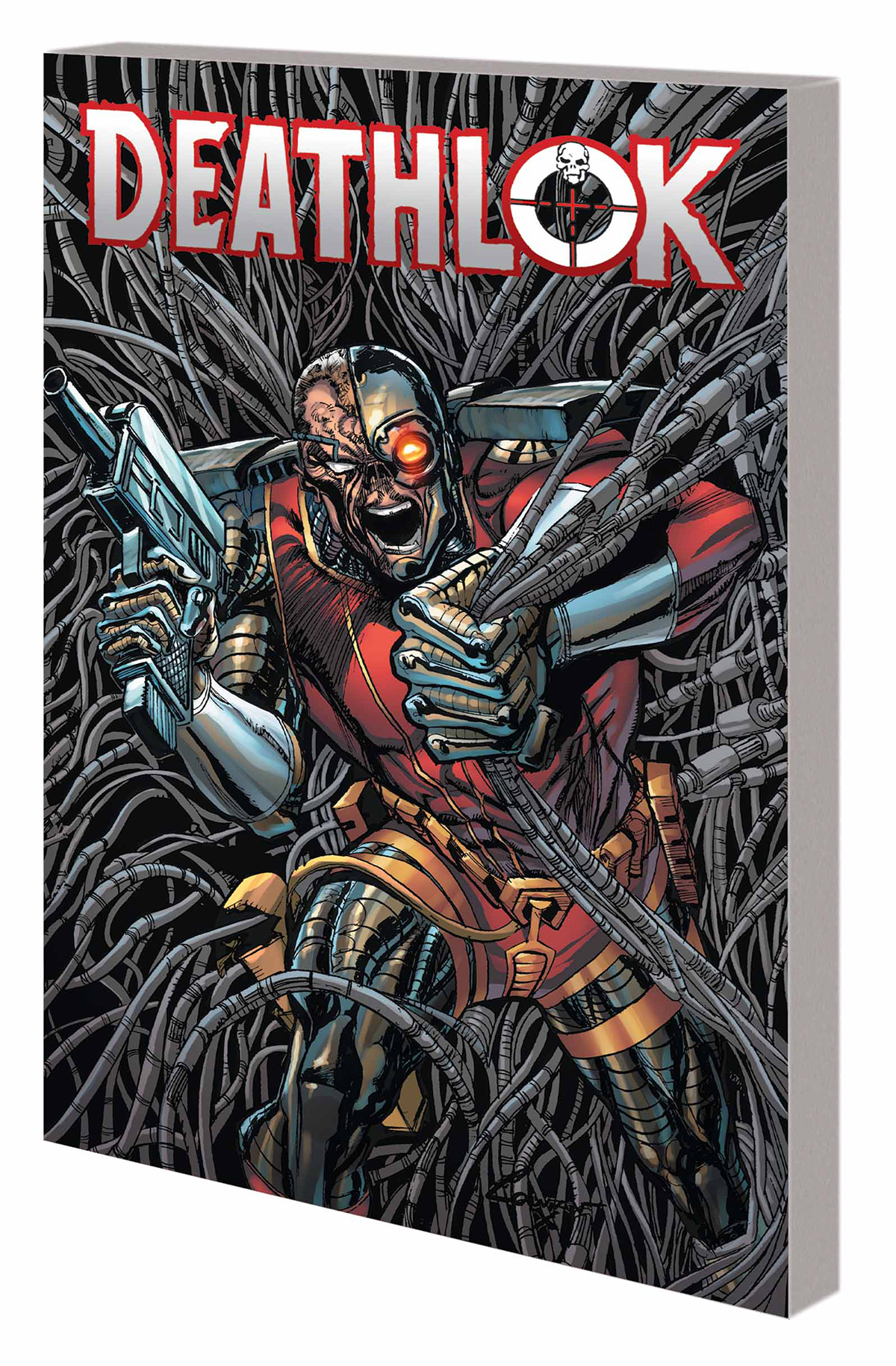 As if being duped by his evil ex-employers into becoming the cyborg soldier Deathlok isn't enough, now Michael Collins is square in the sights of a mad villain collecting and disassembling cyborgs and androids. Can you guess the secret of Mechadoom? Hopefully, Deathlok can - with a little help from the Fantastic Four and the X-Men! Then, what happens when the man in the body of a killing machine meets the killing machine in the body of a man? Find out when Deathlok and the Punisher team up! And the nightmare is far from over for Collins: When he finds himself in battle with Ghost Rider, it's time to fight hellfire with firepower! Though a pacifist at heart, Deathlok quickly gets to grips with the ever-volatile Marvel Universe! Collecting DEATHLOK (1991) #1-15 and ANNUAL #1.
DUNGEON EARLY YEARS GN SET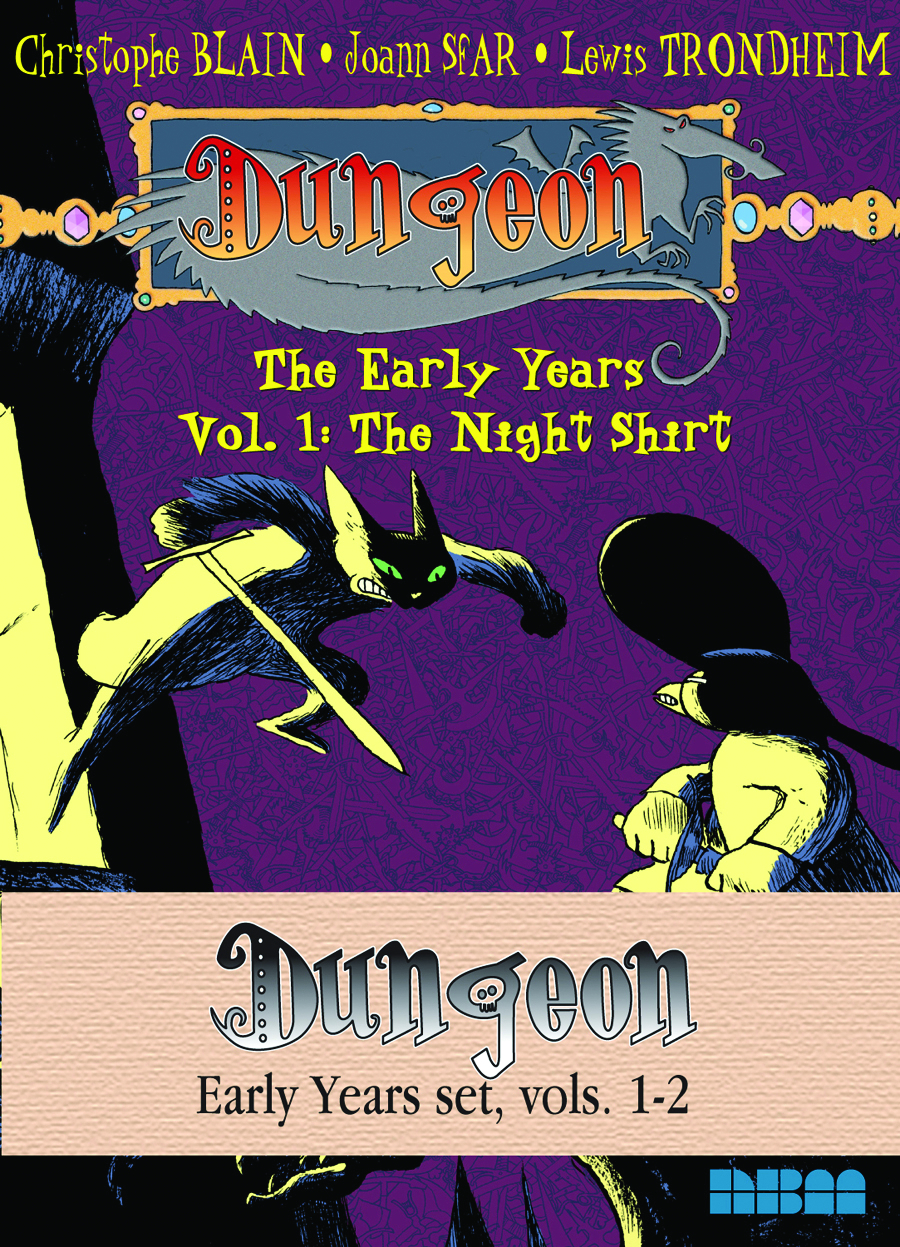 A darkly funny satire of fantasy that brings together the first two volumes of the Early Years, this collection relates the origins of the vast world of Dungeon. In the first story, the Keeper leaves his family to go find fortune in a time of chaos and darkness and becomes the Night Shirt, a misguided vigilante who renders justice nightly. In the second story, the Night Shirt stumbles upon Alexandra, the one he pines for, about to be raped and comes to her valiant and heroic rescue with romantic bravura. Perfect for lovers of heroic fantasy and dark humor, this two-volume set is the complete run of this subseries of Dungeon.
DUNGEON TWILIGHT GN SET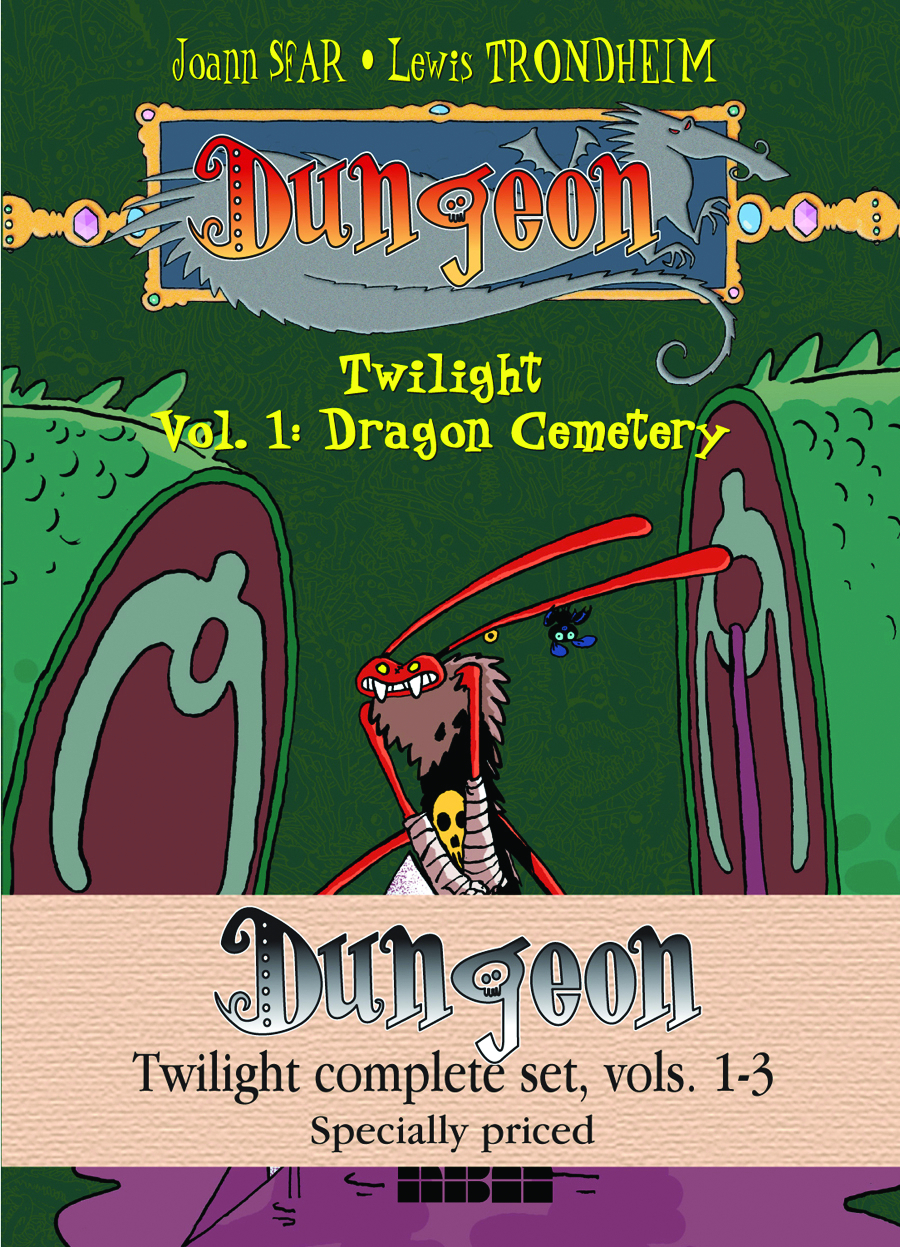 The first 3 books in this part of the great saga in one specially priced set. The planet Terra Amata, on which Dungeon resides, has stopped turning. On one side, total darkness and absolute coldness; on the other, a searing desert and eternal day. The survivors live on a thin slice of earth where day and night meet. A territory known as Twilight. Welcome to the third facet of the Dungeon world, its dark downfall. Marvin is blind but still dangerous and Herbert the Duck has become the darkest of Lords.
DUNGEON ZENITH GN SET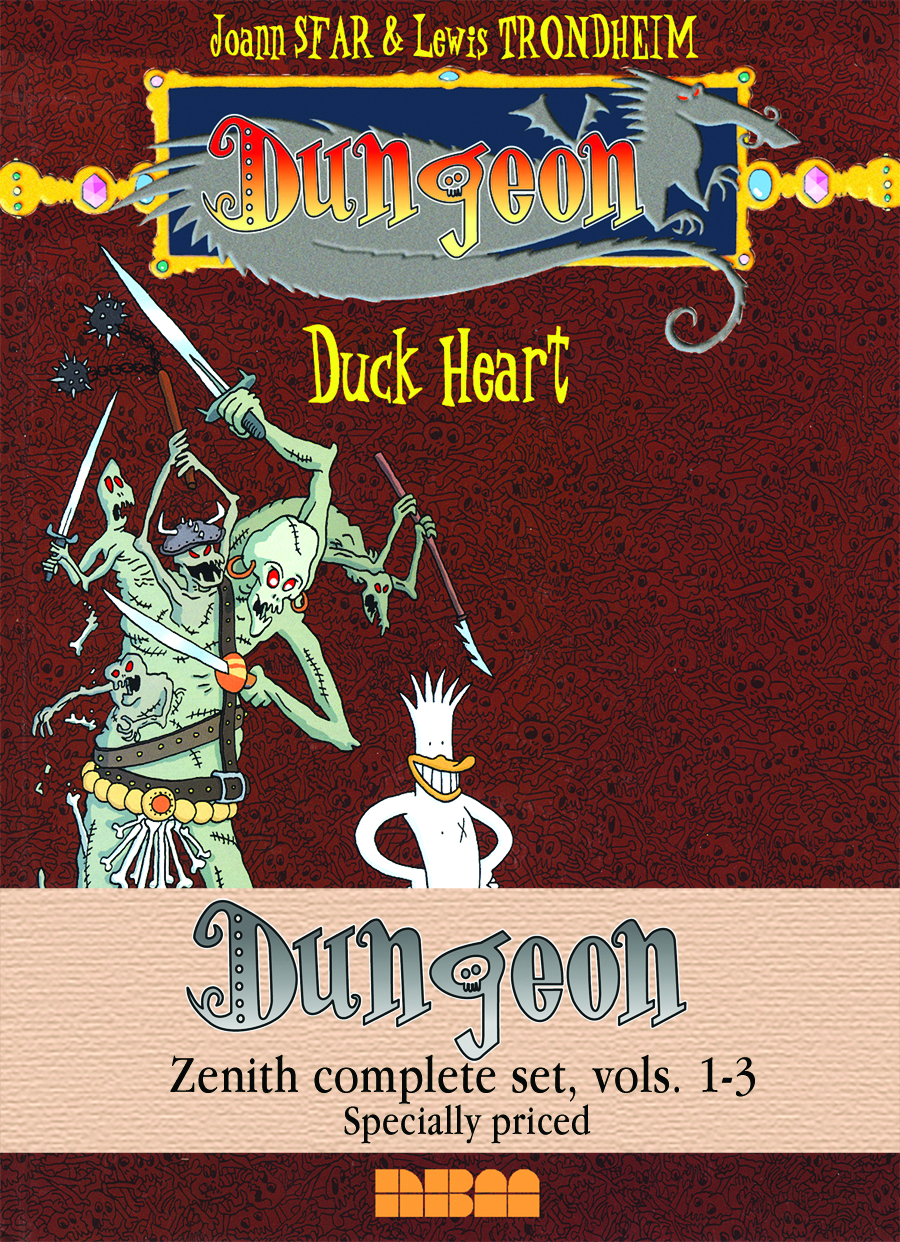 Specially priced set! Collecting the main core introductory storyline to the popular sprawling dark-humored epic spoofing horror and heroic fantasy. Includes volumes newly back to press!
FLASH TP VOL 04 REVERSE (N52) In these stories from THE FLASH #20-25 and #23.3: REVERSE FLASH, a Speed-Force killer has left a trail of bodies in his wake, and only Barry has the power to stop him. But when the killer stays one step ahead of him, Barry finds himself face to face with the Teen Titans and Kid Flash for the first time, which leads to a confrontation with Reverse-Flash!
FUNGUS THE UNBEARABLE ROT OF BEING GN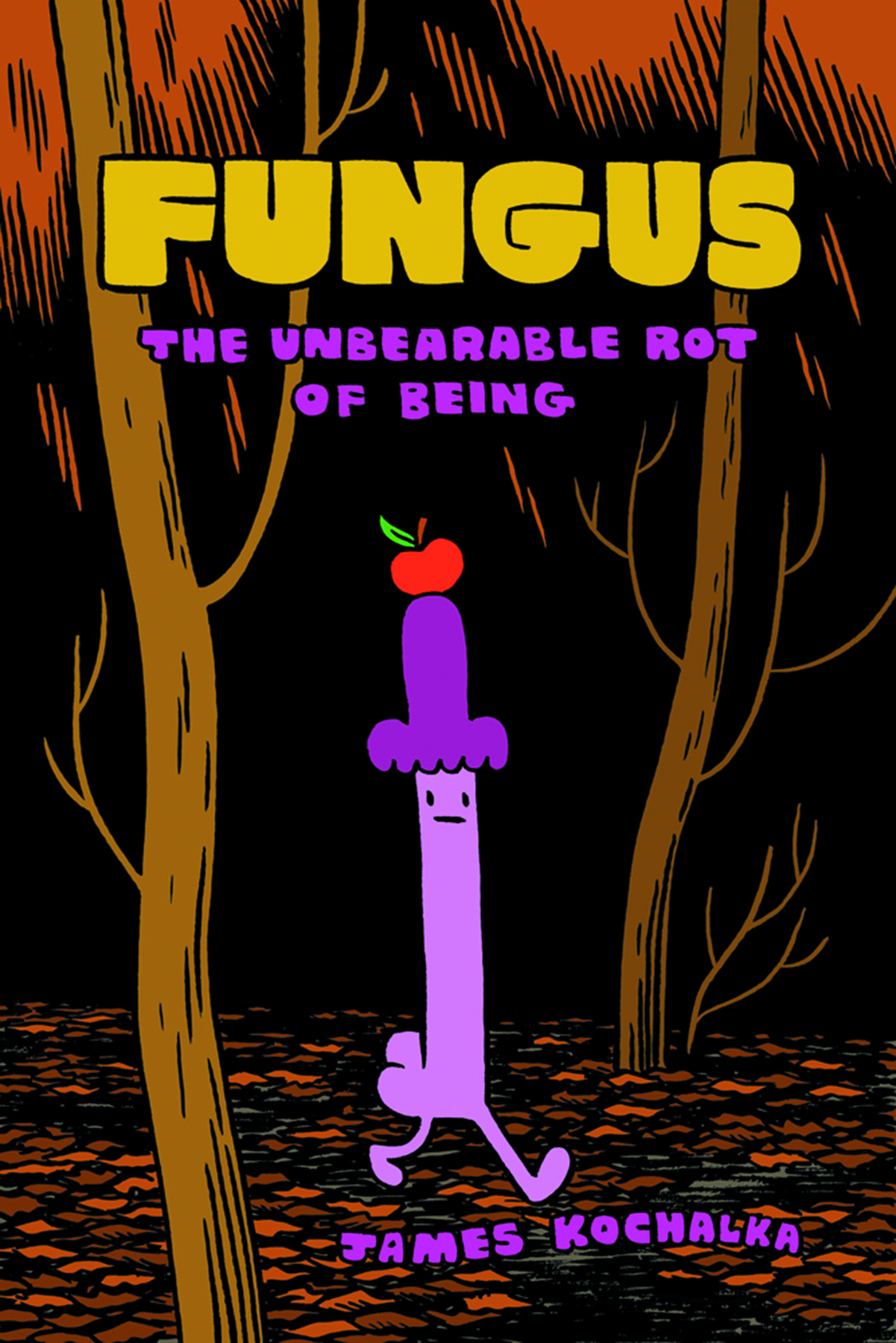 Eisner Award-winner James Kochalka presents a forest full of cute but strange fungus creatures. They ruminate on a variety of topics, including such bizarre mysteries as "comic books" and "philosophy", "cyberspace" and "redemption". A surreal and funny outside look at the elements of our own reality.
GREEN LANTERN CORPS TP VOL 05 UPRISING (N52)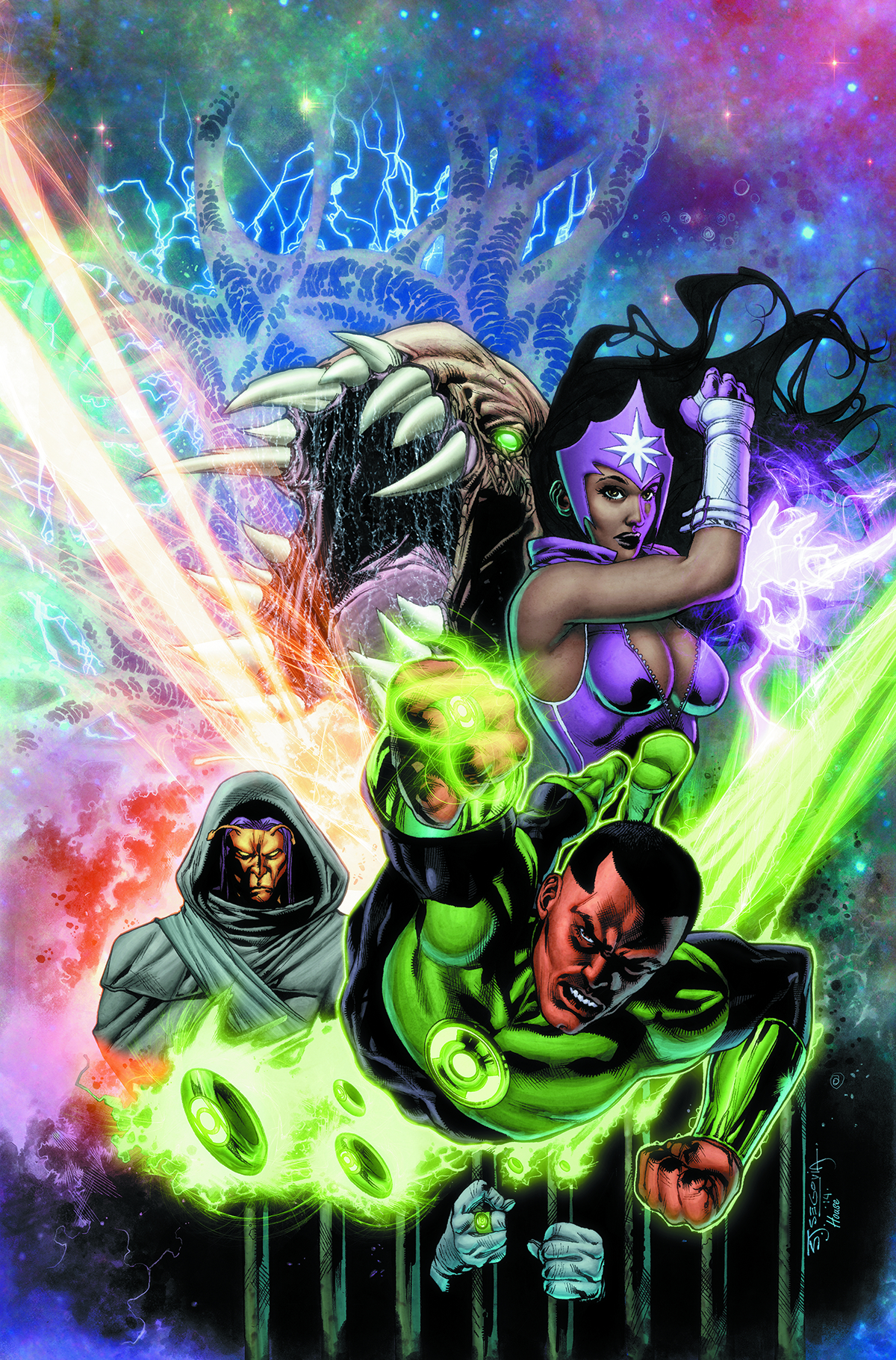 With the Corps under attack by the Khund and the shapeshifting Durlans in stories from GREEN LANTERN CORPS #28-34, GREEN LANTERN #31-33 and GREEN LANTERN CORPS ANNUAL #2, John Stewart must unravel the mystery behind the destroyed Sector Houses!
HENSHIN OGN I KILL GIANTS co-creator KEN NIIMURA (International Manga Award winner and Eisner nominee) brings a unique vision of life in Japan to the page in HENSHIN. The lives of a kid with peculiar superpowers, a lonely girl discovering herself in the big city, and a businessman on a long night out are some of the short stories included in this collection that will make you laugh, and even maybe shed a tear. Explore Tokyo as you've never seen it before under NIIMURA's masterful and imaginative storytelling, printed here for the first time in English.
LETS DANCE SNOOPY 65 YEARS OF PEANUTS TP Snoopy stars in this original collection of full-color comic strips celebrating the 65th anniversary of the Peanuts gang! Snoopy is so much more than just "that round-headed kid's" dog. Whether crash-landing a plane as World War I Flying Ace, hanging around the dorm as Joe Cool, or struggling to make it past the first line of the World Famous Author's next bestseller, Snoopy's wild imagination makes him a hero among dogs and a legend among readers. Join the beloved beagle in this collection of comics, never before published together in one book!
MANIFEST DESTINY TP VOL 02 Lewis, Clark and the surviving members of their expedition continue westward across America, only to learn there is nowhere to run on a river.
Collects MANIFEST DESTINY #7-12
NNEWTS GN VOL 01 ESCAPE FROM LIZZARKS A little hero faces big challenges in the first book of this totally unique fantasy-adventure series. The first book in the Nnewts series follows the story of Herk, a lovable Nnewt who longs for stronger legs, something his mother and father wish they could give him. When his quaint village is attacked by the reptile Lizzarks, he's forced to flee his home and leave behind the only life he's ever known. Now, all alone and on the run, Herk navigates a dangerous world filled with strange creatures and mysterious wonders, where friends are few and an evil lord is in hot pursuit.
RACHEL RISING TP VOL 05 NIGHT COMETH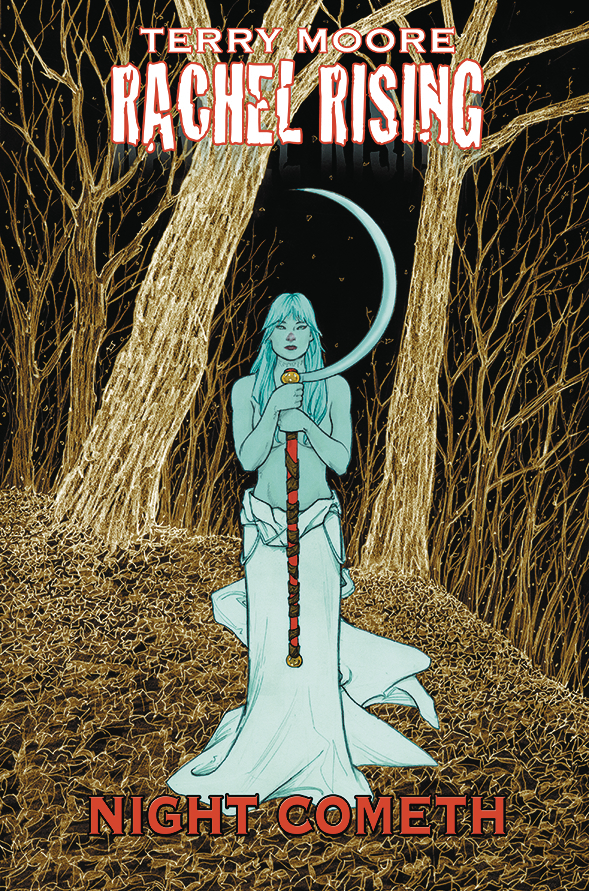 Rachel, Jet, and Aunt Johnny recover quickly from their harrowing adventures with the air of a magic herbal wrap, but they soon discover they've been the victims of a serial killer. Now they are determined to find the mysterious predator and deliver him to the evil of Zoe's knife. This new book is the 5th trade paperback in Terry Moore's Eisner Award nominated series, collecting issues #25-30.
STAR WARS MARVEL YEARS OMNIBUS HC VOL 01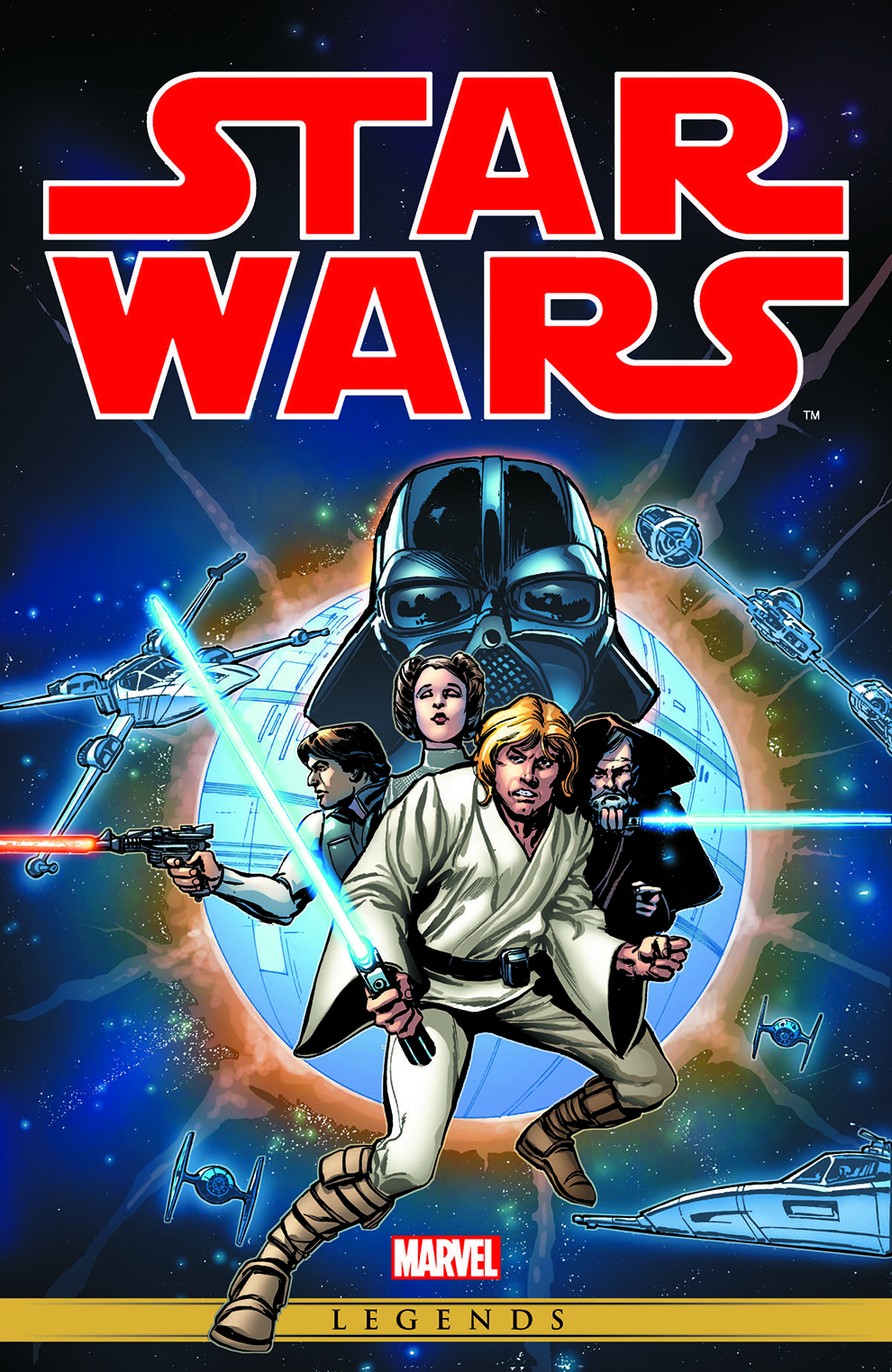 As the phenomenon dawned in 1977, Marvel Comics published the very first STAR WARS comic-book series. Now, the House of Ideas is re-presenting those original adventures in its wampa-sized Omnibus format! It's the return of the Jedi to Marvel in an opening volume that begins with A NEW HOPE and ends with THE EMPIRE STRIKES BACK. In between, the rebels face a wealth of new perils - from space pirate Crimson Jack to the bounty hunter Beilert Valance, as well as a surprisingly svelte Jabba the Hut (one "t"). Luke goes back to Tatooine, Leia battles alone, Han and Chewie play the deadly Big Game, and Darth Vader hunts for answers! With all your old favorites and plenty of new faces - hello, Jaxxon! - there's no doubt, the Force is strong with this one!
Collecting STAR WARS (1977) #1-44 and ANNUAL #1.
STRAY BULLETS TP VOL 06 KILLERS A little boy learns too late that running your mouth can get you run over. A young babysitter gets in way over her head when she's hired tos it by a dangerous man with a dangerous request. A young couple's hopeful visit to the city turns to anything but when they step into the middle of a mob turf war and watch more than just friends die. And a young man just trying to help his hustler cousin out of a bad spot instead becomes the ultimate killer. These are only some of the eight stories comprising KILLERS, the newest arc in the ongoing world of STRAY BULLETS. Each story stands on its own but collectively they tell the twisted story of two teens -- Virginia and Eli -- both scarred by tragic childhood intersections with the Baltimore underworld, drawn together in the sleepy seaside town of Sandcastle, unable to escape their dark pasts....
SUPERGIRL TP VOL 05 RED DAUGHTER OF KRYPTON (N52) Supergirl will burn down the universe before she lets another person tell her who she should be - and her journey as a Red Lantern begins here. The new chapter of Supergirl's life begins in issues #26-33, plus GREEN LANTERN #28 and RED LANTERNS #28-29.
SUPERMAN STORY OF MAN OF STEEL YR HC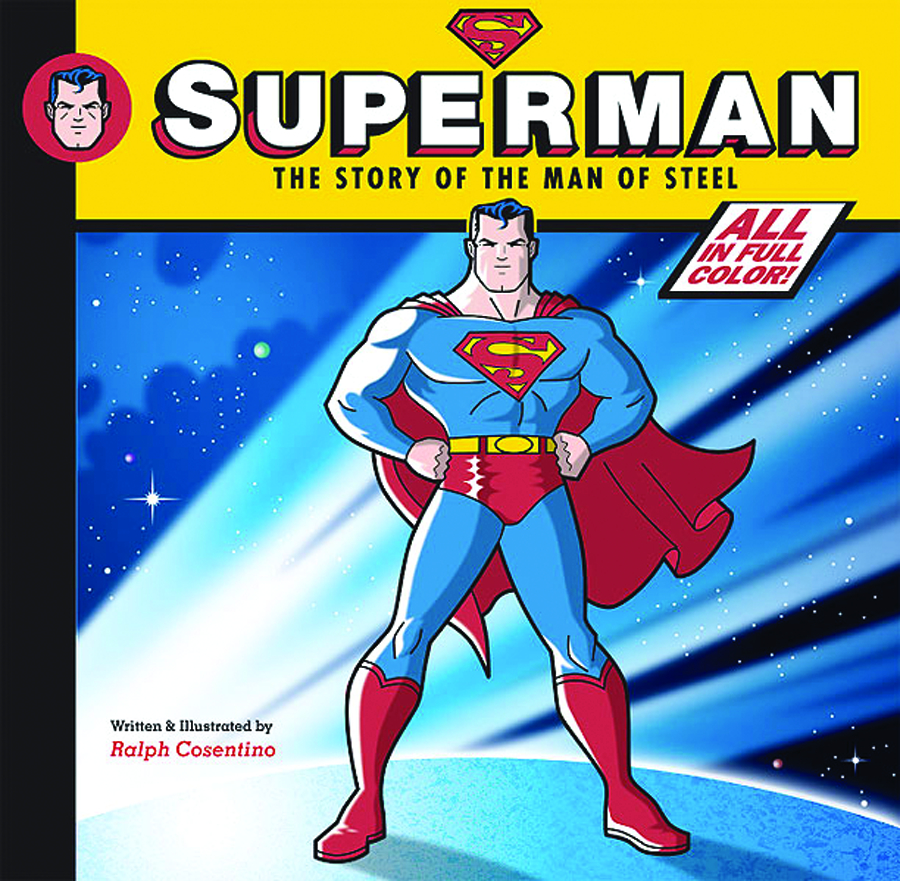 It's a bird! It's a plane! It's Superman! All children love Superman, but until now, there hasn't been a book written and illustrated specifically for the youngest fans of the earth's greatest superhero. Ralph Cosentino's Superman: The Story of the Man of Steel tells the tale of the caped crime fighter's amazing journey from the planet Krypton to the town of Smallville, Kansas, to the big city of Metropolis. There he lives a double life as Clark Kent, mild-mannered journalist, and Superman, protector of humanity.
TRINITY OF SIN PHANTOM STRANGER TP VOL 03 (N52)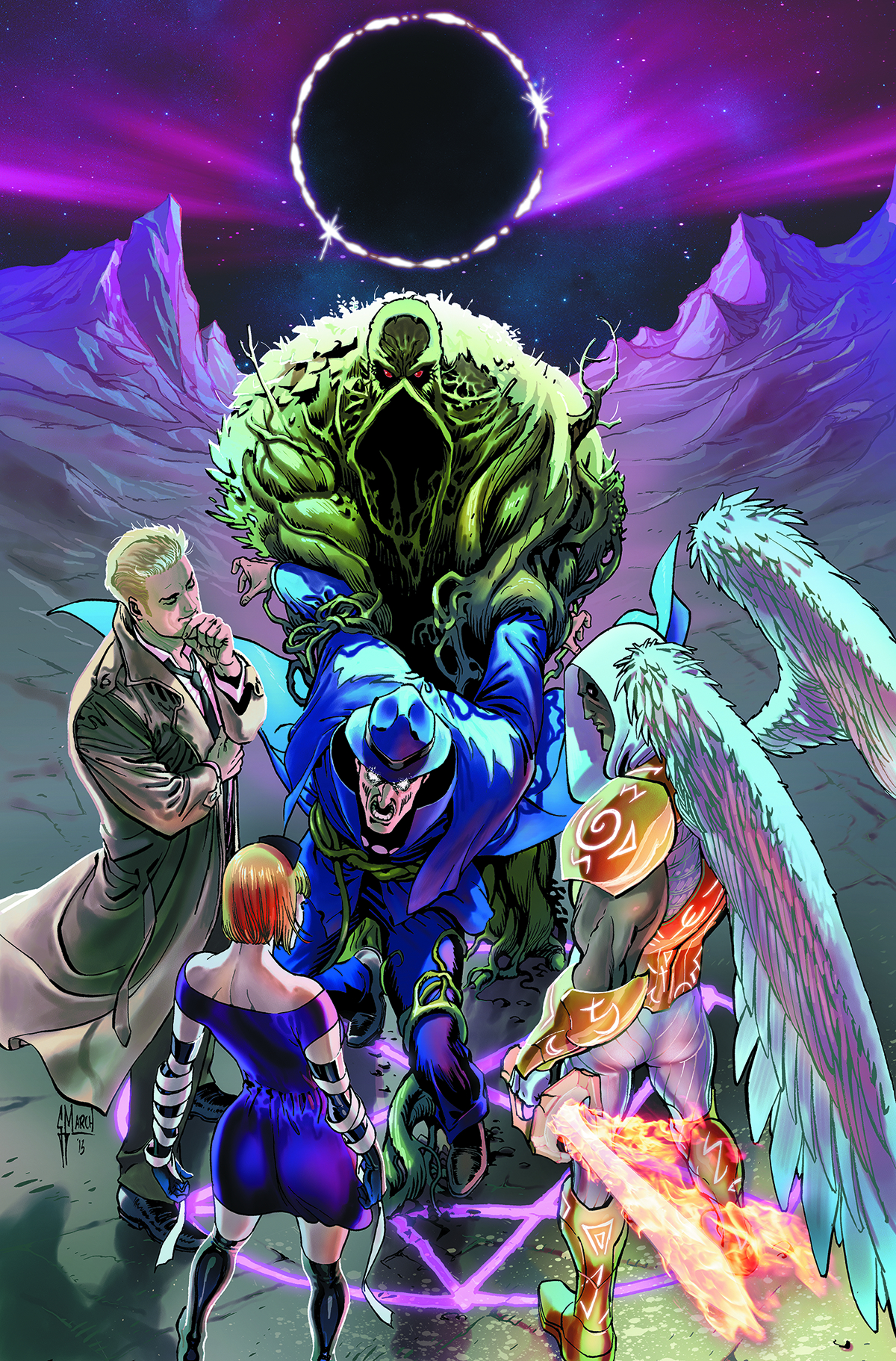 With the Justice League missing and the villains in control, Phantom Stranger must destroy evil itself! But to stop the Crime Syndicate, Deadman must take control of Aquaman's body! These stories from issues #12-22 and TRINITY OF SIN: PHANTOM STRANGER FUTURES END #1 guest-star Pandora, Swamp Thing, Constantine and others!
UR GN Eric Haven, the Emmy-nominated producer of MythBusters, takes us through the modern world in UR, a collection of work that has appeared in various comic anthologies. Dark, absurdist, and deadpan, these stories reflect the apocalyptic undercurrent of the modern era. Also included is Haven's long-running comic strip "Race Murdock" which appeared in The Believer magazine.
VEIL HC Passions run high when a beautiful woman wanders out of an abandoned subway tunnel. With no memory of who she is or how she got there, Veil must figure out who to trust and what she is-an object of desire or a force to be reckoned with-as her past is revealed.
Collects Veil #1-#5.
From Eisner Award-winning writer Greg Rucka (Whiteout, Stumptown, Queen & Country, Gotham Central)!
WONDER WOMAN BONDAGE FEMINISM IN COMICS 1941-48 SC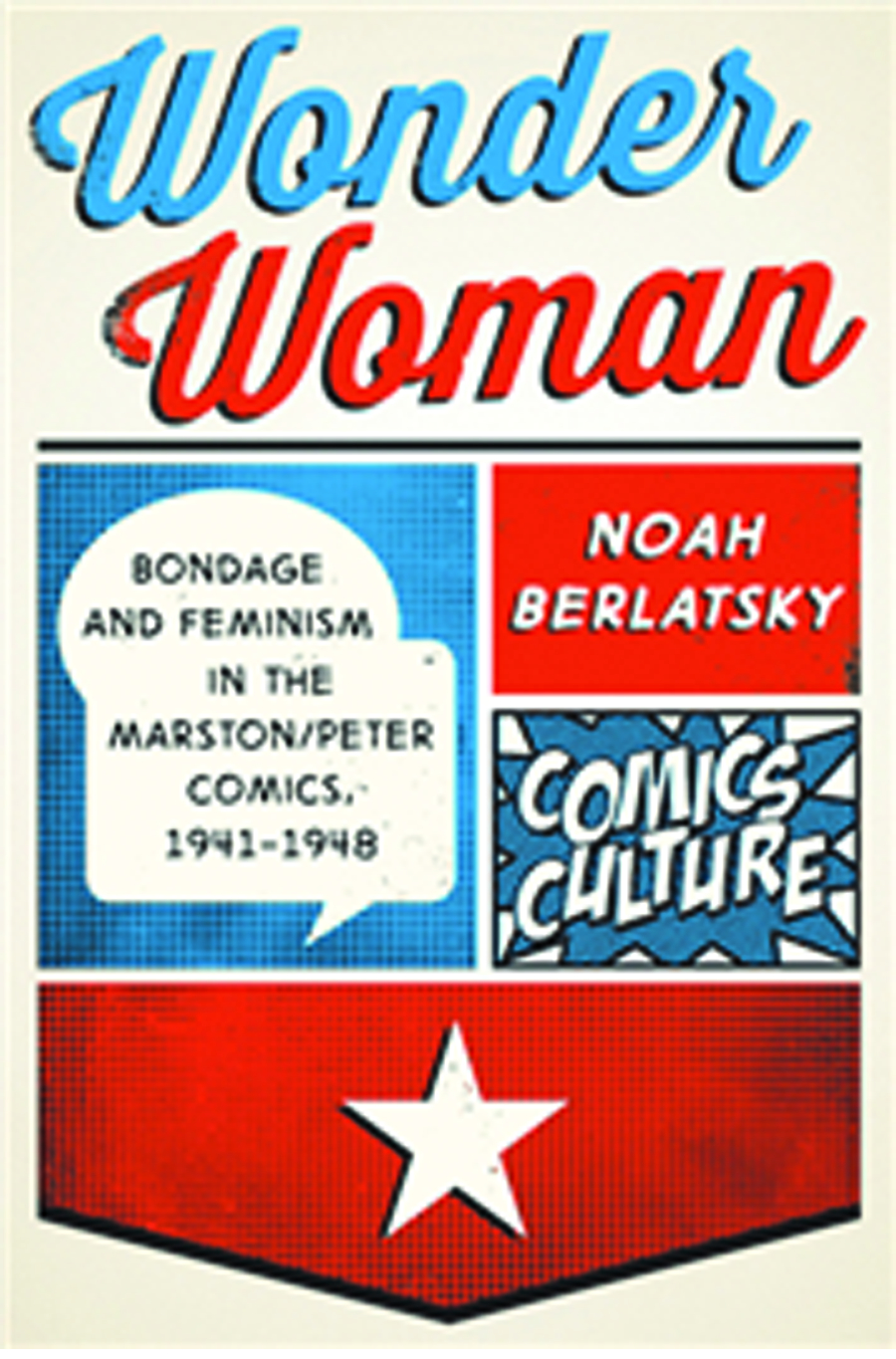 William Marston was an unusual man - a psychologist, a soft-porn pulp novelist, more than a bit of a carny, and the (self-declared) inventor of the lie detector. He was also the creator of Wonder Woman, the comic that he used to express two of his greatest passions: feminism and women in bondage. Comics expert Noah Berlatsky takes us on a wild ride through the Wonder Woman comics of the 1940s, vividly illustrating how Marston's many quirks and contradictions, along with the odd disproportionate composition created by illustrator Harry Peter, produced a comic that was radically ahead of its time in terms of its bold presentation of female power and sexuality.
WONDER WOMAN STORY OF AMAZON PRINCESS YR HC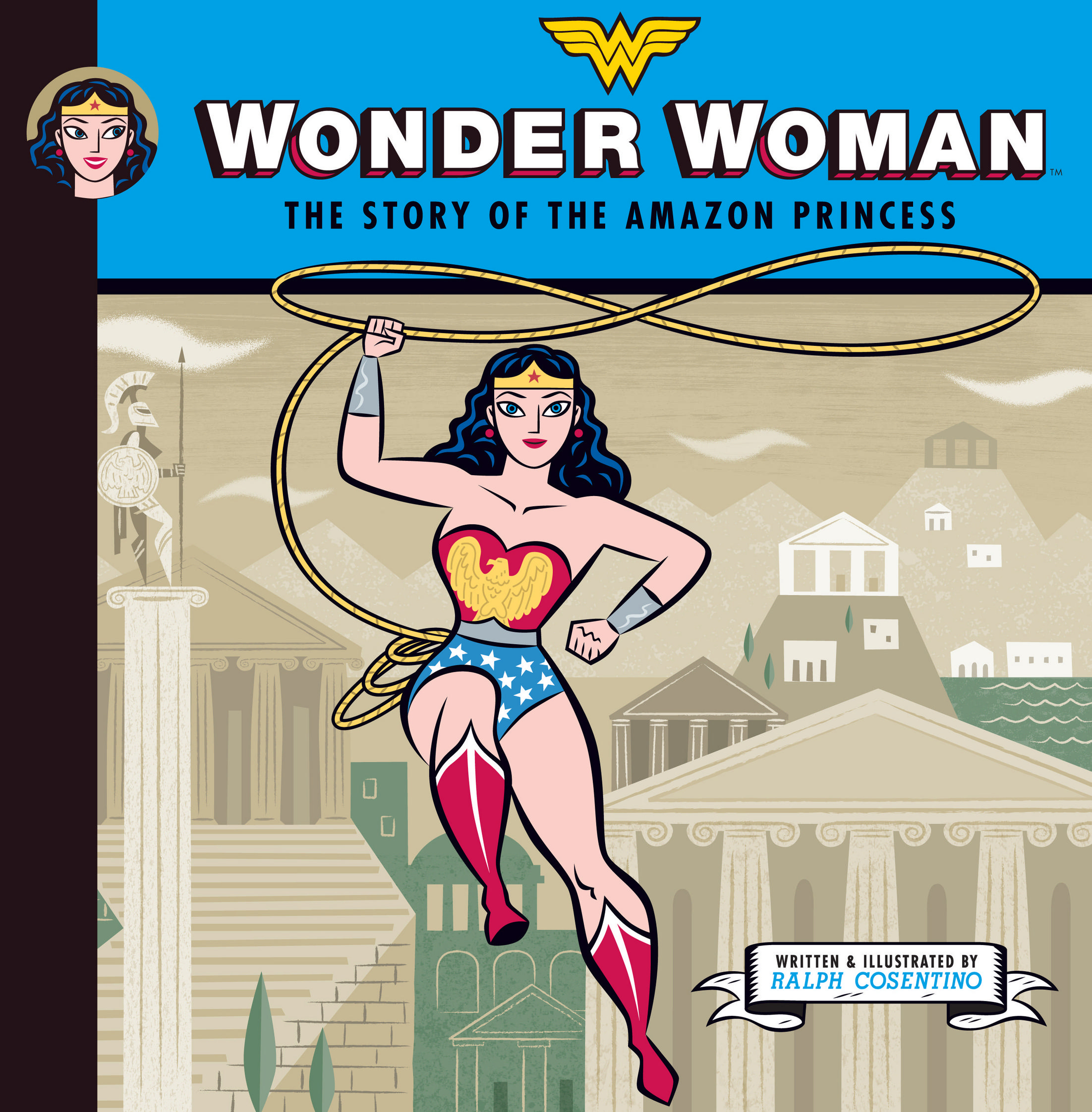 Wonder Woman has been a star on television and, of course, in comic books. But this is her first ever jacketed hardcover picture book. Written in a simple, engaging manner perfect for a very young audience and illustrated with bright, bold artwork inspired by the original comic book art, Wonder Woman is the ideal introduction to this legendary super hero. Children will find out how the daughter of an Amazon queen grew up to become a protector of mankind, with a mission to teach peace and kindness to all.