What an exciting week for new comics, with the launch of Marvel's new STAR WARS series, and after nearly a year of anticipation the next issue of JUPITER'S LEGACY, hurray! Plus the return of RAT QUEENS, the debut of Marceline's new mini series for ADVENTURE TIME, and the Fables prequel THE WOLF AMONG US. Also arriving in store: TEN GRAND, SPIDER-VERSE, CONAN RED SONJA, BATGIRL, AVENGERS, GRAYSON, JUSTICE LEAGUE UNITED, SHIELD, SUPREME BLUE ROSE, and THANOS VS HULK.
What are you looking forward to reading this week? Talk to us @DavesComics!
BOOM
ADVENTURE TIME MARCELINE GONE ADRIFT #1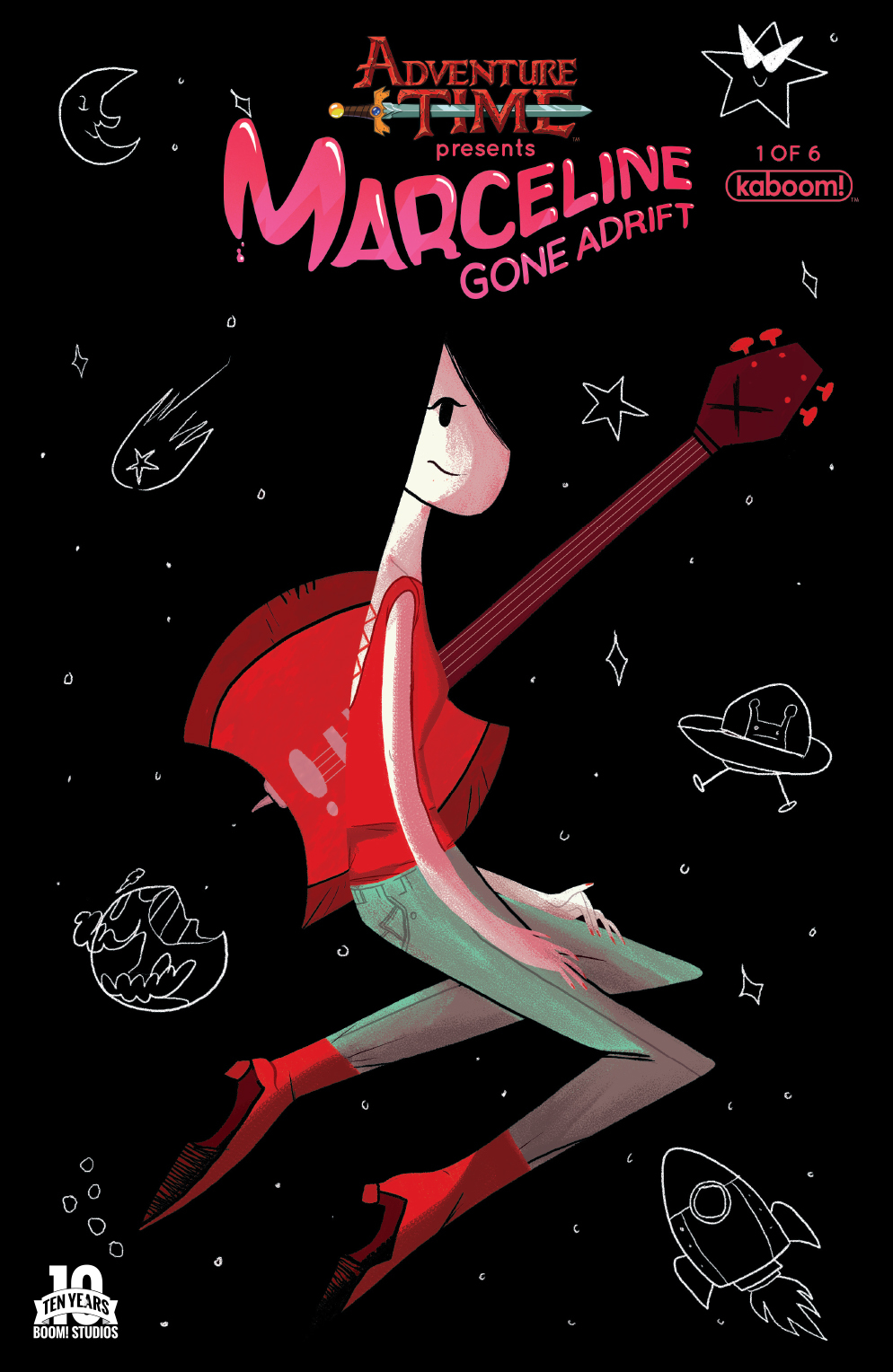 WHY WE LOVE IT: Marceline and the Scream Queens was our first Adventure Time mini-series and we loved the tour Meredith Gran took us on. It's definitely time for more Marceline and what better way to get everything rolling than with an epic that takes Marceline and Princess Bubblegum to the far corners of the world and into space!
WHY YOU'LL LOVE IT: Marceline. The. Vampire. Queen. From the writer that brought you Marceline and the Scream Queens, Meredith Gran (Octopus Pie), and introducing indie talent Carey Pietsch, this is your chance to get some oneonone time with one of your favorite residents of Ooo.
WHAT IT'S ABOUT: Marceline is on a rampage for mysterious reasons, and the kingdom of Ooo is desperately scrambling to stop her. In trying to save both Ooo and Marceline herself, Princess Bubblegum accidentally propels Marceline into the farthest reaches of space... and strips her of her powers! Guiltridden, Princess Bubblegum sets off on a space rescue that'll test the power of her mind... as well as the power of friendship.
BRAVEST WARRIORS #28
FRAGGLE ROCK JOURNEY EVERSPRING #4 (OF 4)
SUICIDE RISK #21
TEEN DOG #5
WILD'S END #5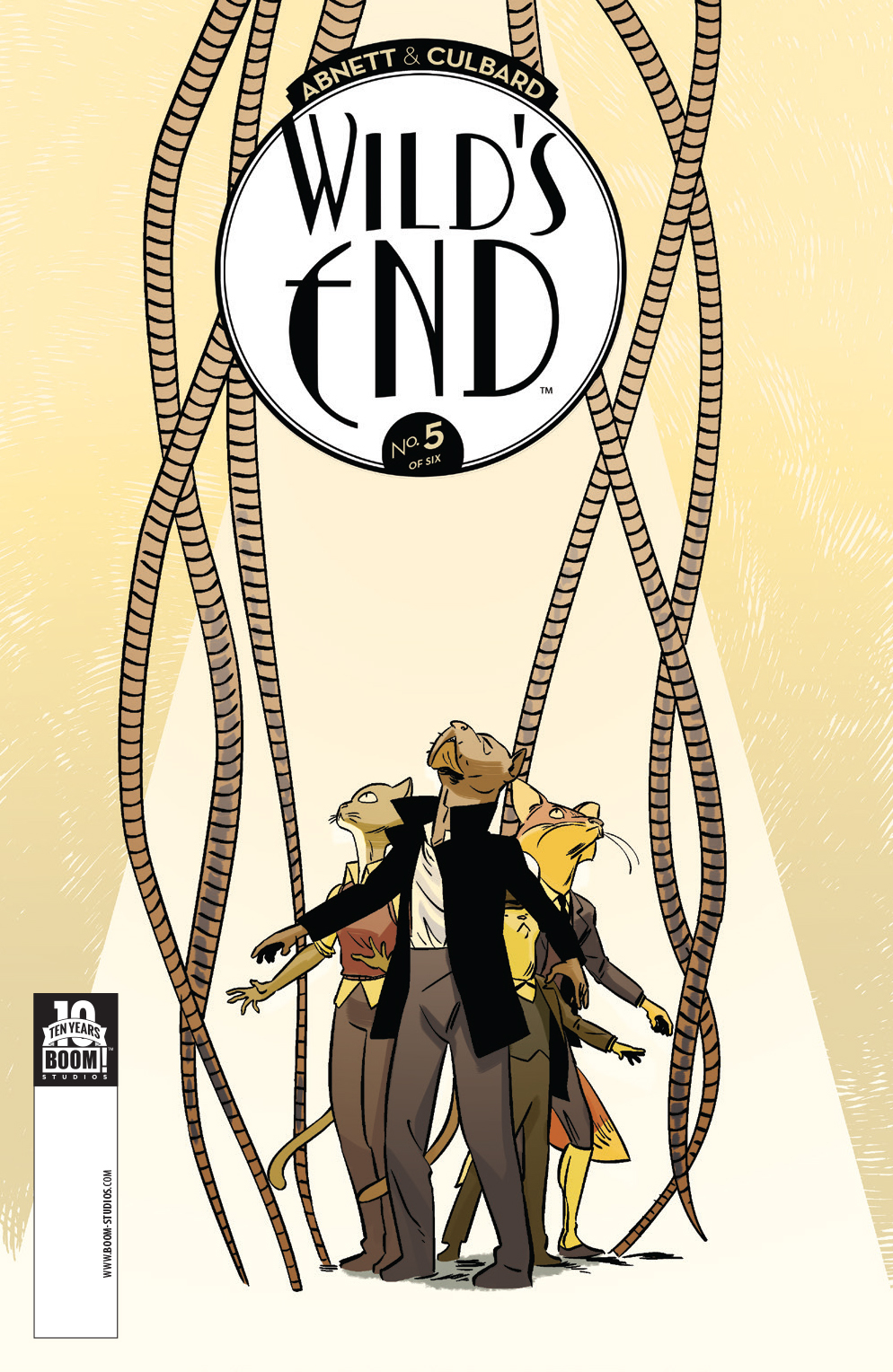 With nowhere left to run, our heroes must band together in a desperate bid to take down the largest alien they have faced yet and save whatever is left of Lower Crowchurch. But is there hope of safety even if they succeed?
DARK HORSE
ABE SAPIEN #19
ALIEN VS PREDATOR FIRE AND STONE #4 (OF 4)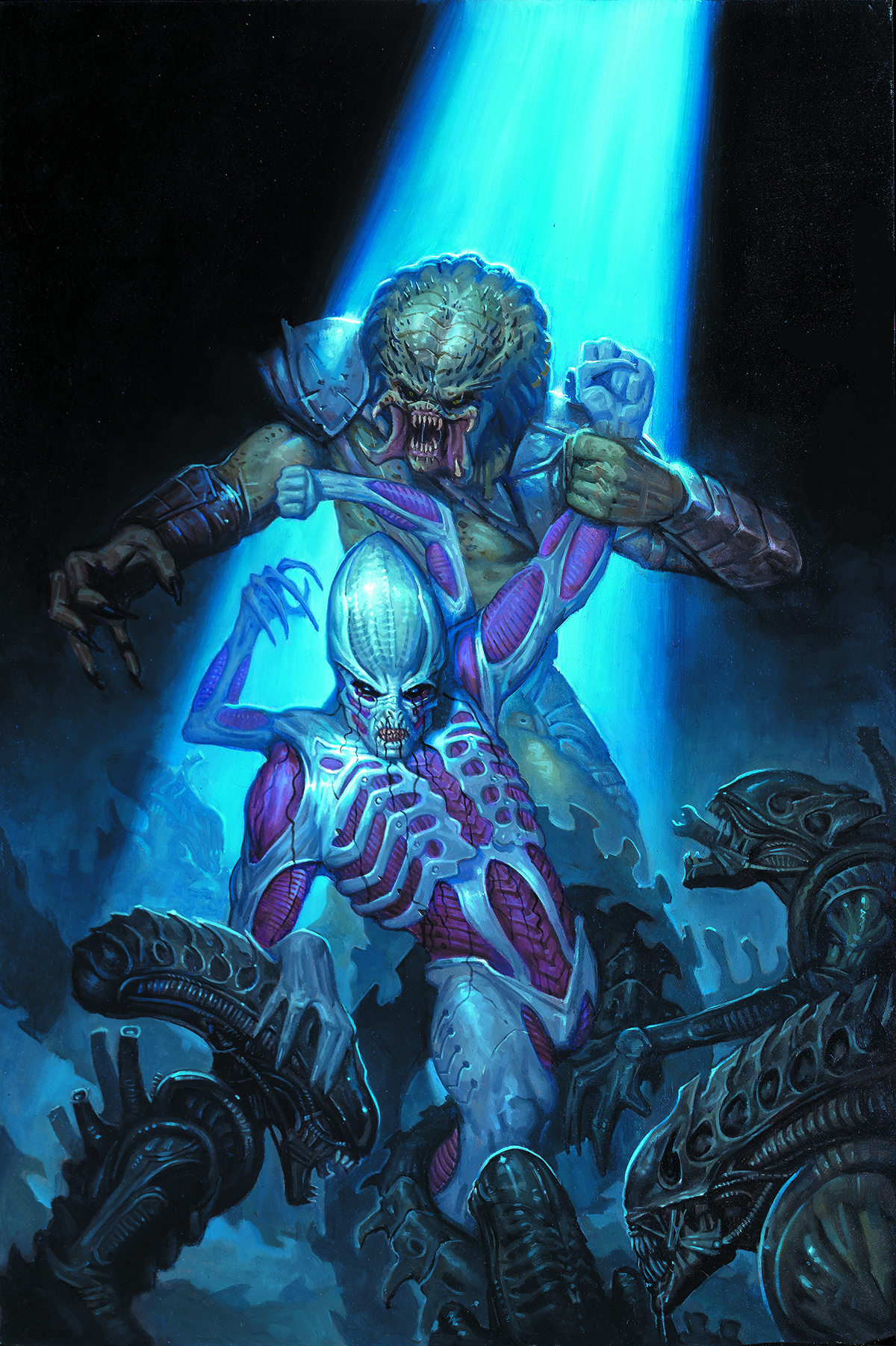 As a desperate scientist's violent evolution reaches its deadly apex, an alien-and-predator battle royale erupts in the bowels of the doomed Geryon armada! Now, on a ship of killers-there can be only one survivor . . .
CONAN RED SONJA #1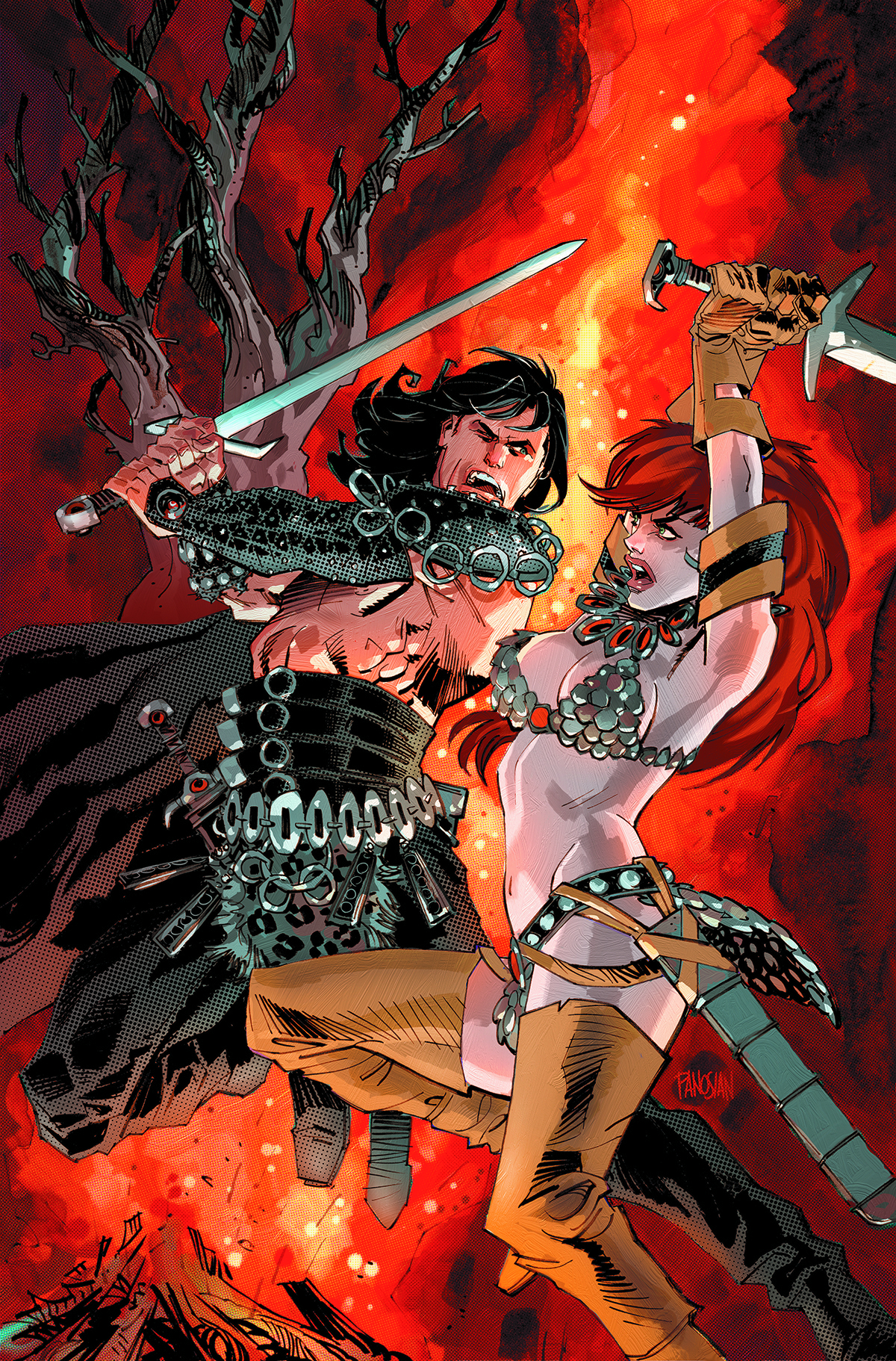 Gail Simone teams with Jim Zub to bring together legendary warriors in this truly epic crossover!
In a story spanning multiple eras in the lives of these classic characters, Conan and Red Sonja become comrades to take down a sorcerer-priest hell bent on creating a dark new age in Hyborian warfare!
ITTY BITTY COMICS THE MASK #3
RESURRECTIONISTS #3
X #21

DC
ARROW SEASON 2.5 #4
ASTRO CITY #19
BATGIRL #38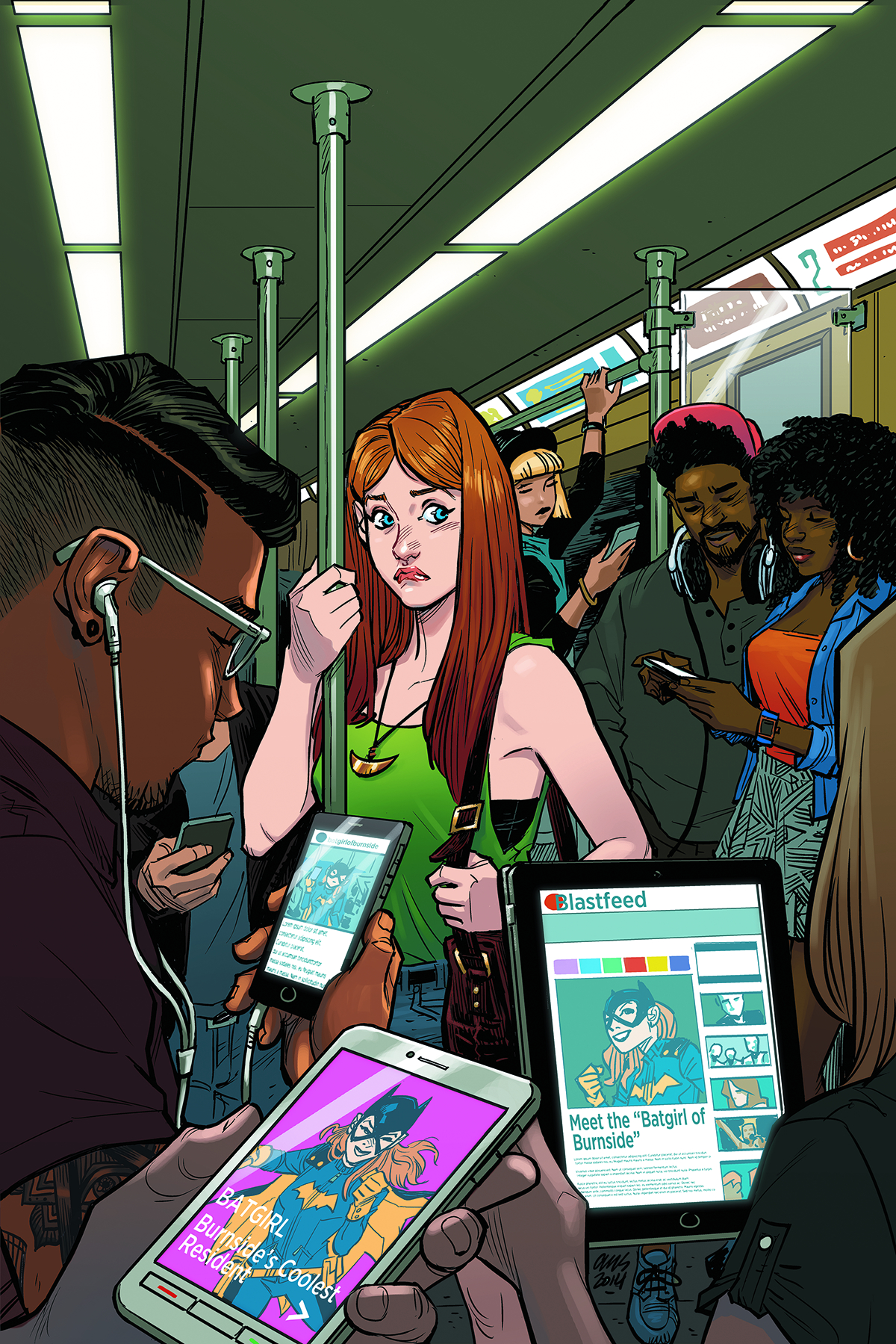 Things are going surprisingly well in Batgirl's new life! But nothing good ever lasts long in Gotham City - and the other yellow boot is about to drop...hard!


BATMAN ETERNAL #41
CONSTANTINE #21
EARTH 2 WORLDS END #15
FABLES THE WOLF AMONG US #1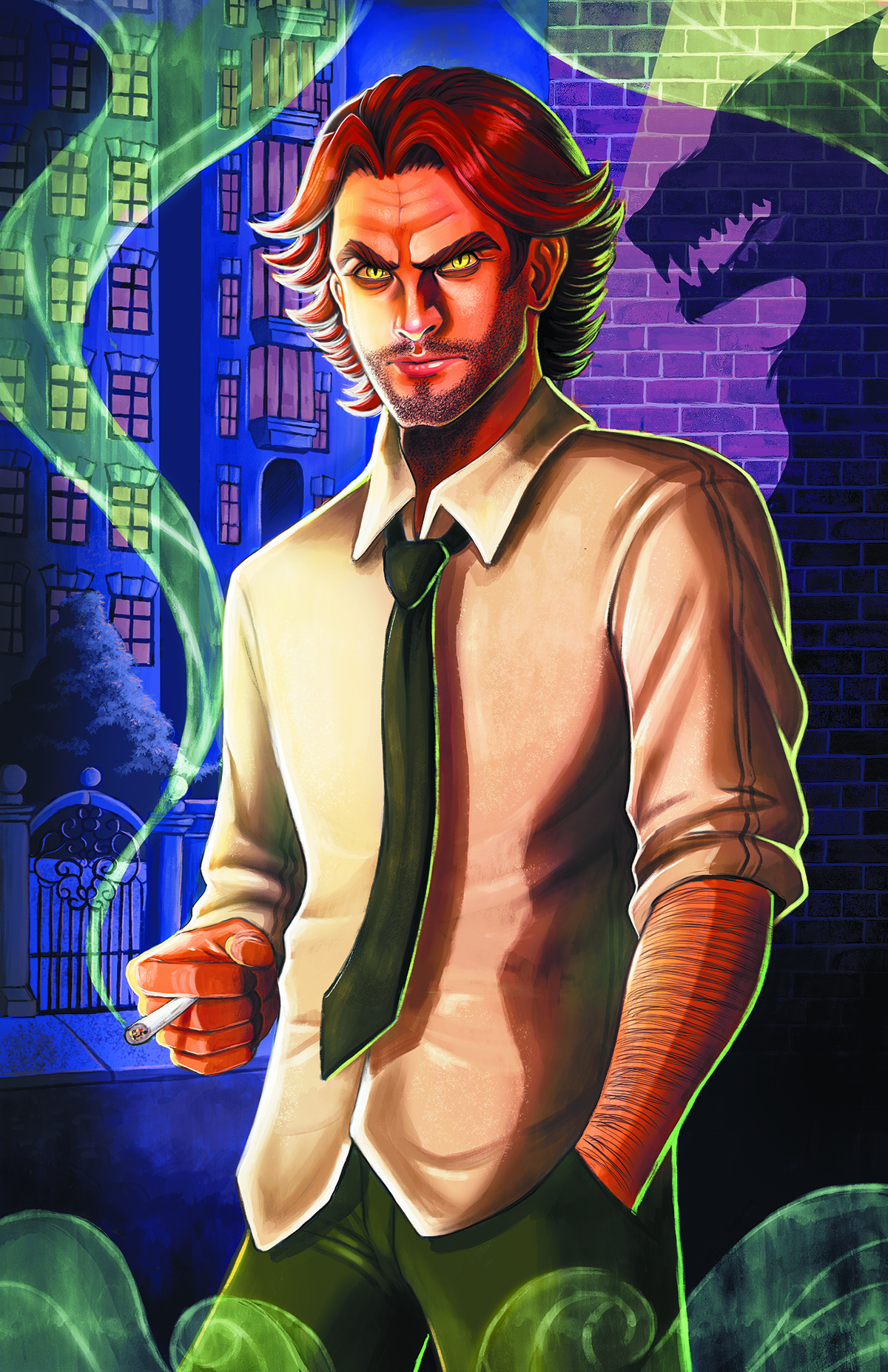 Even before the first issue of FABLES, there were stories to be told, shadowy avenues to explore, and lives hanging in the balance! Bigby Wolf has seen plenty in his time as Sheriff of Fabletown...but nothing can prepare him for this...
It all starts with a simple domestic disturbance. But when Bigby learns that his old nemesis, the Woodsman who has an axe to grind, is part of the scene, things go downhill fast. And how will Bigby and Snow White keep their heads long enough to crack the case when they get caught up in a grisly murder mystery?
Vertigo's first-ever digital-first series, FABLES: THE WOLF AMONG US is a gripping adaptation and expansion of the smash-hit video game from Telltale Games, and an official prequel to Bill Willingham's bestselling FABLES!
FBP FEDERAL BUREAU OF PHYSICS #17
GRAYSON #6
GREEN LANTERN CORPS #38
INJUSTICE GODS AMONG US YEAR THREE #7
KLARION #4
MORTAL KOMBAT X #1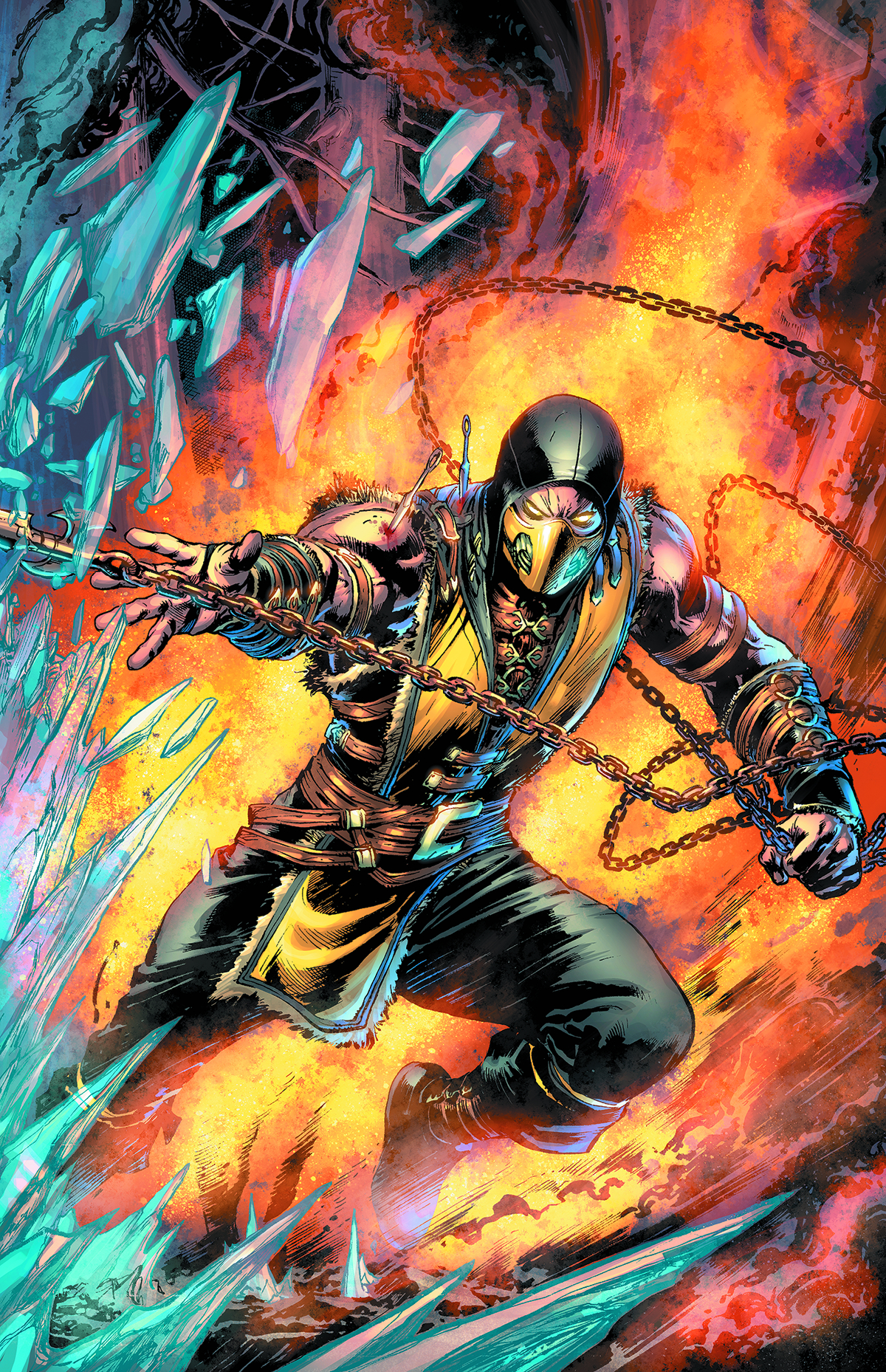 Get over here...for an all-new digital-first series set before the events of 2015's highly anticipated game Mortal Kombat X! Prepare yourself for the brutal adventures of all your favorite Mortal Kombat characters and witness the rise of the next generation of Kombatants!


NEW 52 FUTURES END #37
NEW SUICIDE SQUAD #6
SMALLVILLE SEASON 11 CONTINUITY #2
SUPERMAN WONDER WOMAN #15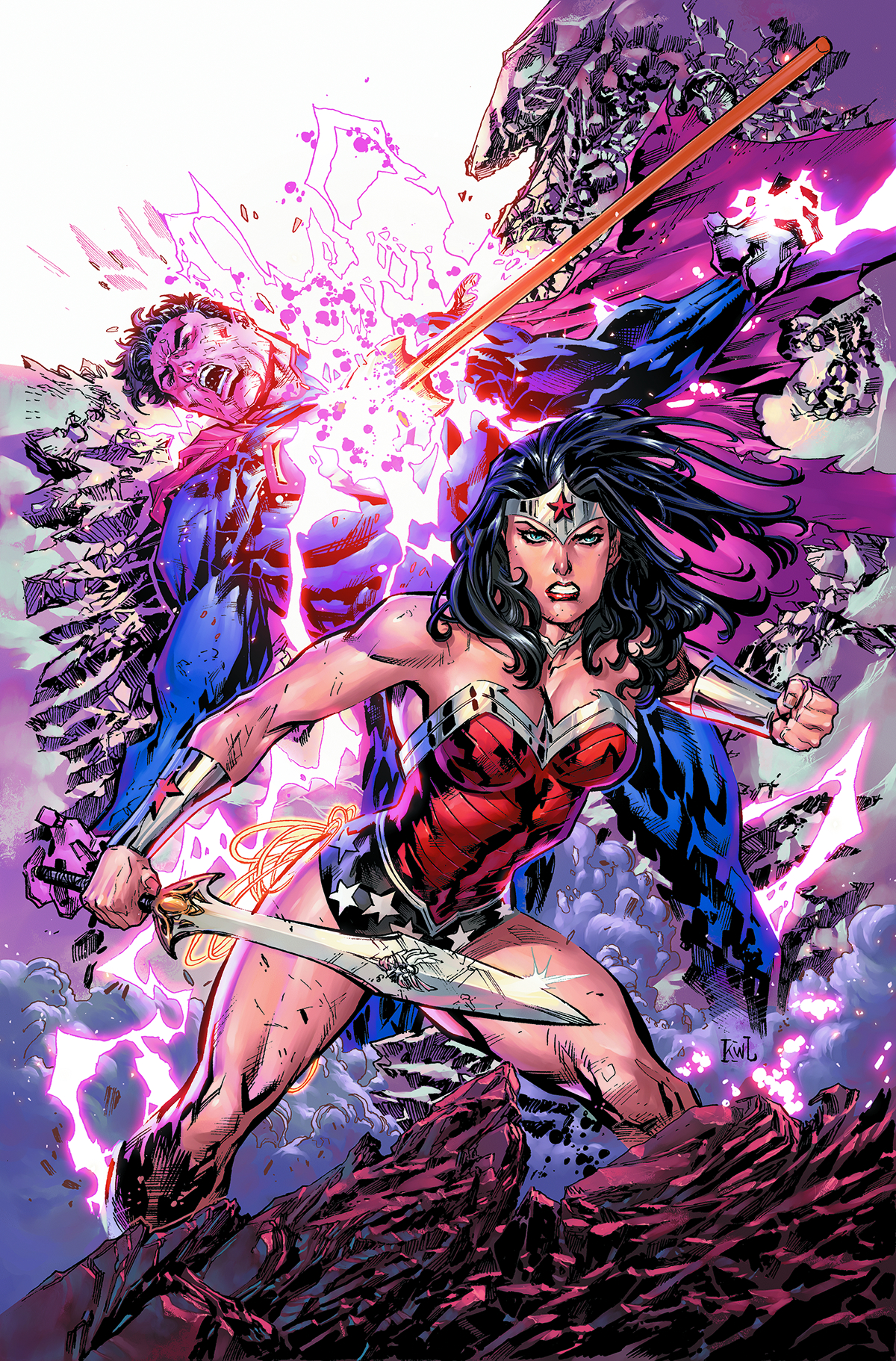 Wonderstar's destiny is starting to become clear - and his path may lead to the end of humanity! Will Superman and Wonder Woman be able to prevent him from becoming what - or who - he's meant to be?


WORLDS FINEST #30

DYNAMITE
ALICE COOPER #5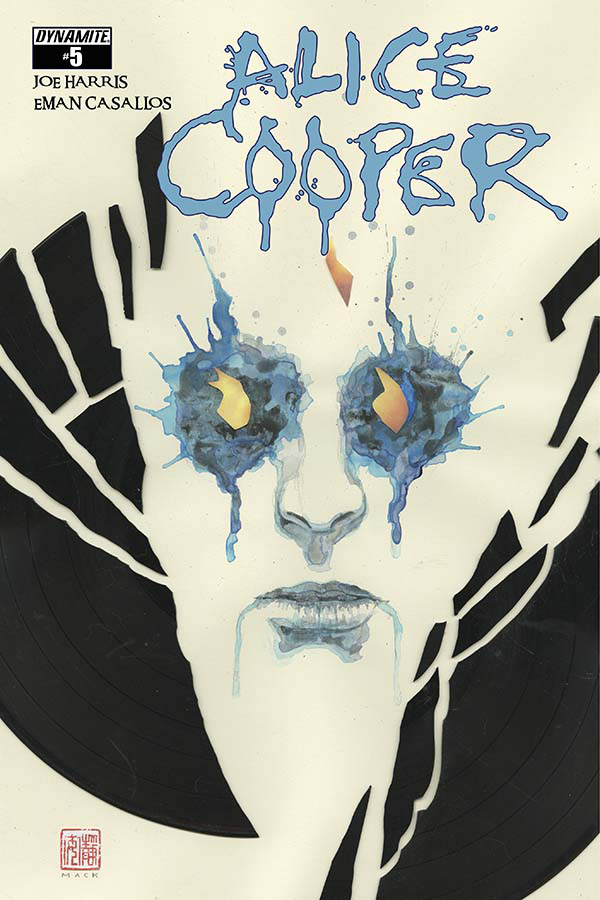 As friends, fans, demons and derelicts gather for his big "comeback" show, Alice Cooper prepares his final vengeance against Clan Black. The first rocking, shocking story arc concludes... and there will be casualties.


BSG DEATH OF APOLLO #2 (OF 6)
EVIL ERNIE #3
HOLMES VS HOUDINI #3 (OF 5)
LONE RANGER VINDICATED #3 (OF 4)
TWILIGHT ZONE #11
VAMPIRELLA #100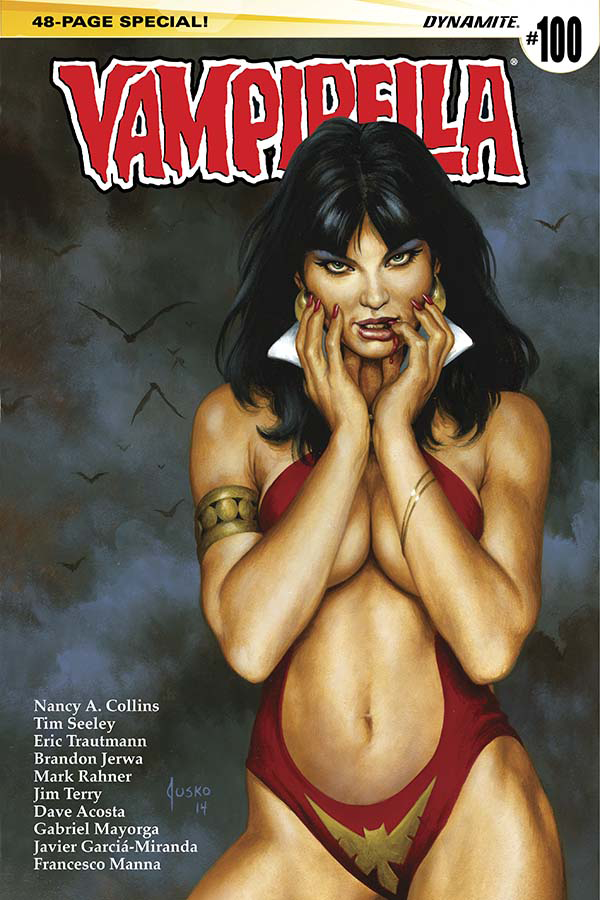 Get ready to party - Vampi style! With one hundred issues stacked high since Dynamite's launch of Vampirella in 2010, it's time for a giant-sized spectacular. To commemorate the occasion, we welcome the best Vampirella writers - past, present, and even future - to contribute short stories, guaranteed to send chills up your spine and quicken your pulse. Featuring Nancy A. Collins (who launched the current ongoing series with her bold new take), Eric Trautmann (who kicked off the Dynamite era), Brandon Jerwa (who expanded the mythology in over 20 issues), Mark Rahner (who spoofed pop horror culture with several one-shot specials), and Tim Seeley (the architect of Chaos who debuts his first-ever Vampi work here)!
IMAGE
COPPERHEAD #5
FUSE #9
JUPITER'S LEGACY #5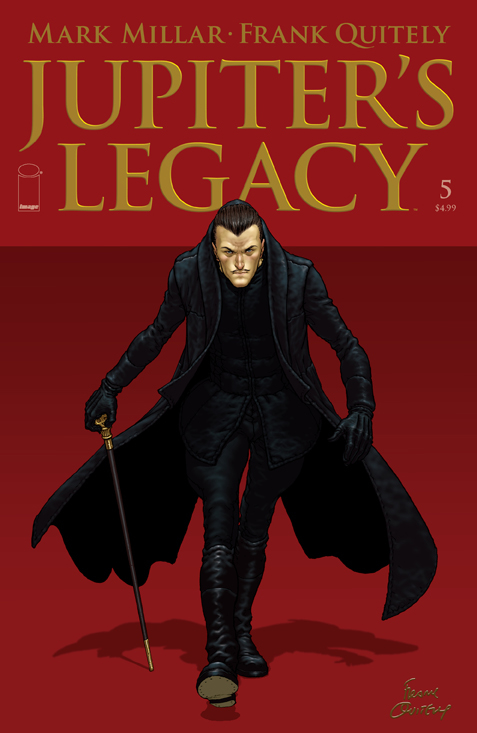 Meet BARNABAS WOLFE-a former supervillain with Sherlock Holmesian instincts who hunts heroes for the U.S. government. While Brandon and Uncle Walter struggle with their utopian vision for America, Chloe and family live under the radar in Australia. But their peaceful lives are about to explode when the authorities find suspicious super-activity down under and send their #1 weapon to investigate. The generation gap is about to reach the next level as Millar and Quitely bring their epic to a head!
LAZARUS #14
RAT QUEENS SPECIAL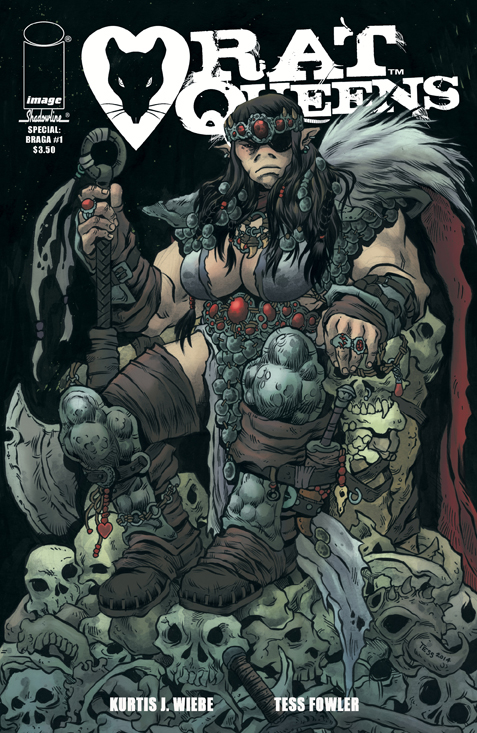 "BRAGA: THE ONCE PRINCE, NOW BASTARD"
Before joining the Peaches, Braga was destined to become the greatest leader of her people. But a life changing decision proved too controversial for even her most devout followers. A former life paved on the bodies of her enemies left behind...what choice was worth losing everything?
SAVAGE DRAGON #201
SHUTTER #8
SUPERANNUATED MAN #5 (OF 6)
SUPREME BLUE ROSE #6
TEN GRAND #12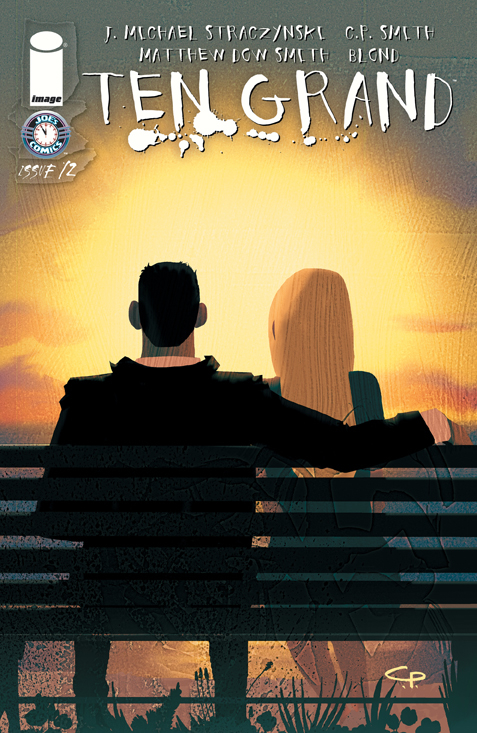 Issue twelve signals the emotional conclusion of the first title from Joe's Comics: the latest war between Heaven and Hell is over, for now, with casualties as far as the stars themselves. But Laura's fate is still to be resolved. When Joe makes a life-or-death request of the Powers, a favor beyond anything he could have imagined, will they consent...and lift the veil between life and death one last time?


WALKING DEAD #136


INDIE
ARCHIE #663
ARCHIE COMICS DIGEST #257
BETTY & VERONICA #274
DEATH DEFYING DR MIRAGE #5 (OF 5)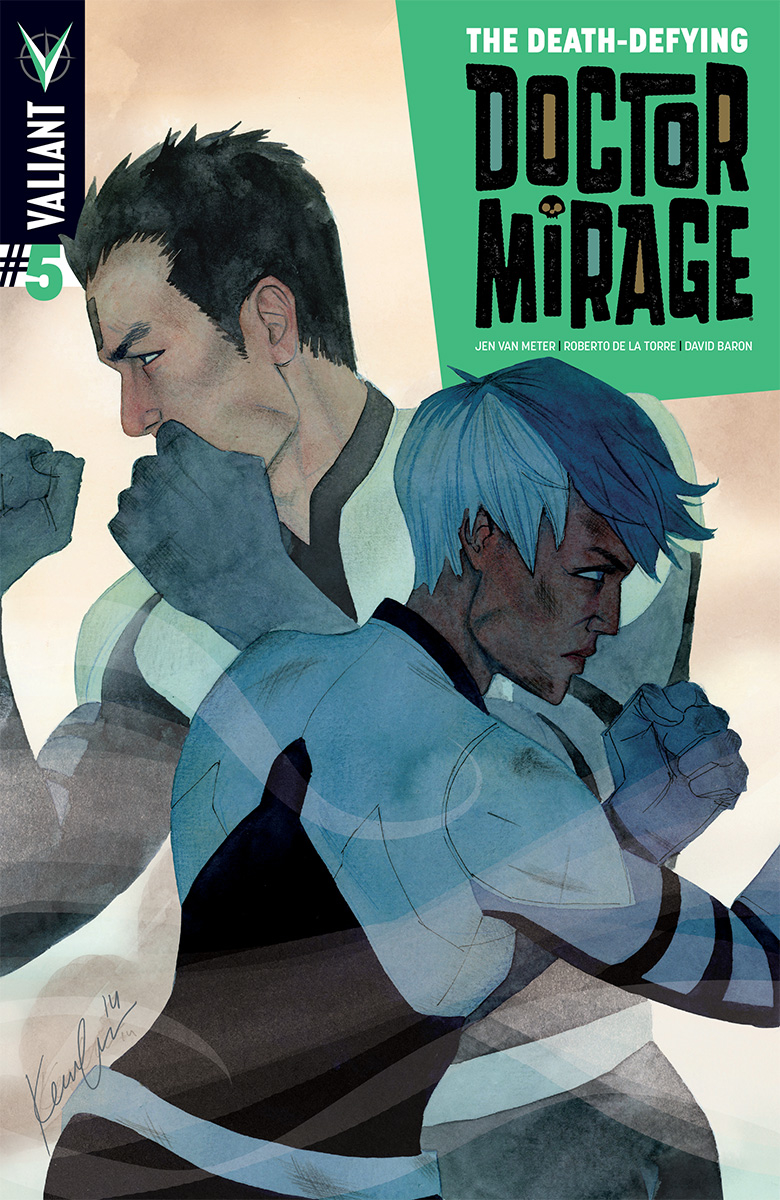 Doctor Shan Fong-Mirage has lived and died...and lived to fight again!
Scarred, transformed, and strengthened, Dr. Mirage returns from the perils of the spirit world to face the treacherous men who would erase her from existence...with everything to fight for and nothing left to lose! Do not miss out on the haunting climax of the critically acclaimed, sold-out series that Comic Book Resources calls "equal parts clever and emotional as it sets up an impressive new hero."
DOCTOR WHO 10TH #6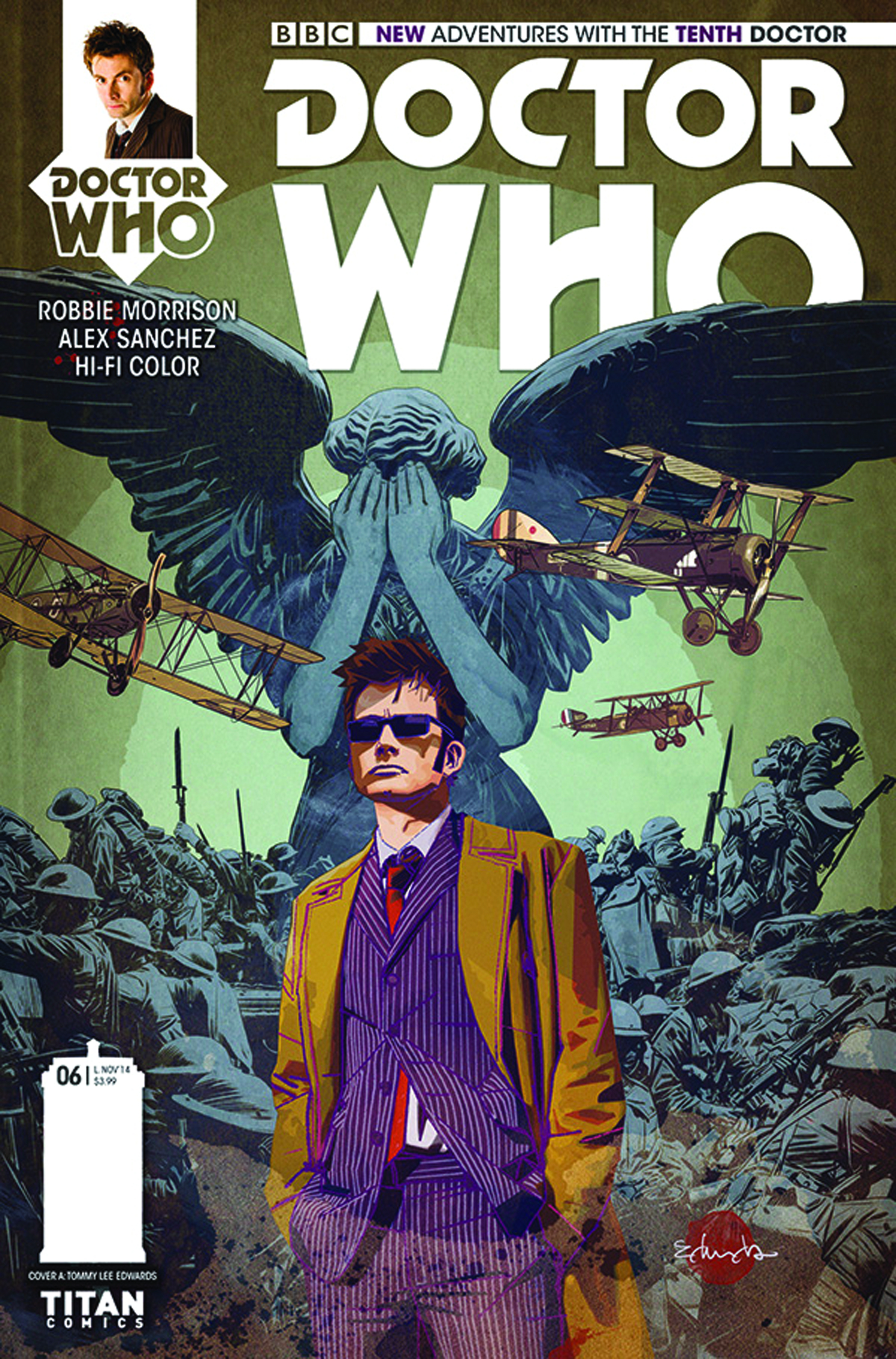 When Gabby and the Doctor arrive by accident in No Man's Land in July, 1916, they're met by Corporal Jamie Colqhoun, a soldier who knows from bitter experience that there are worse things than the Jerries out in the rat-strewn trenches. Things that drift through the smoke of a thousand cannon shells, and move only when you look away. Shadows that flit over artillery-blasted field hospitals and throw their terrifying wings over the living. Statues that steal your life in an instant. The Weeping Angels. But in a conflict where the life of young men is cheap and thousands die every day, are the Angels actually offering salvation? Trapped in the midst of a flock of starving Angels, the Doctor faces his most challenging and terrifying moral dilemma yet!


MEGA MAN #44
MERCY THOMPSON #4 (OF 6)
Q2 RTN QUANTUM & WOODY #4 (OF 5)
RAI #6
SPONGEBOB COMICS #40
STAR TREK ONGOING #40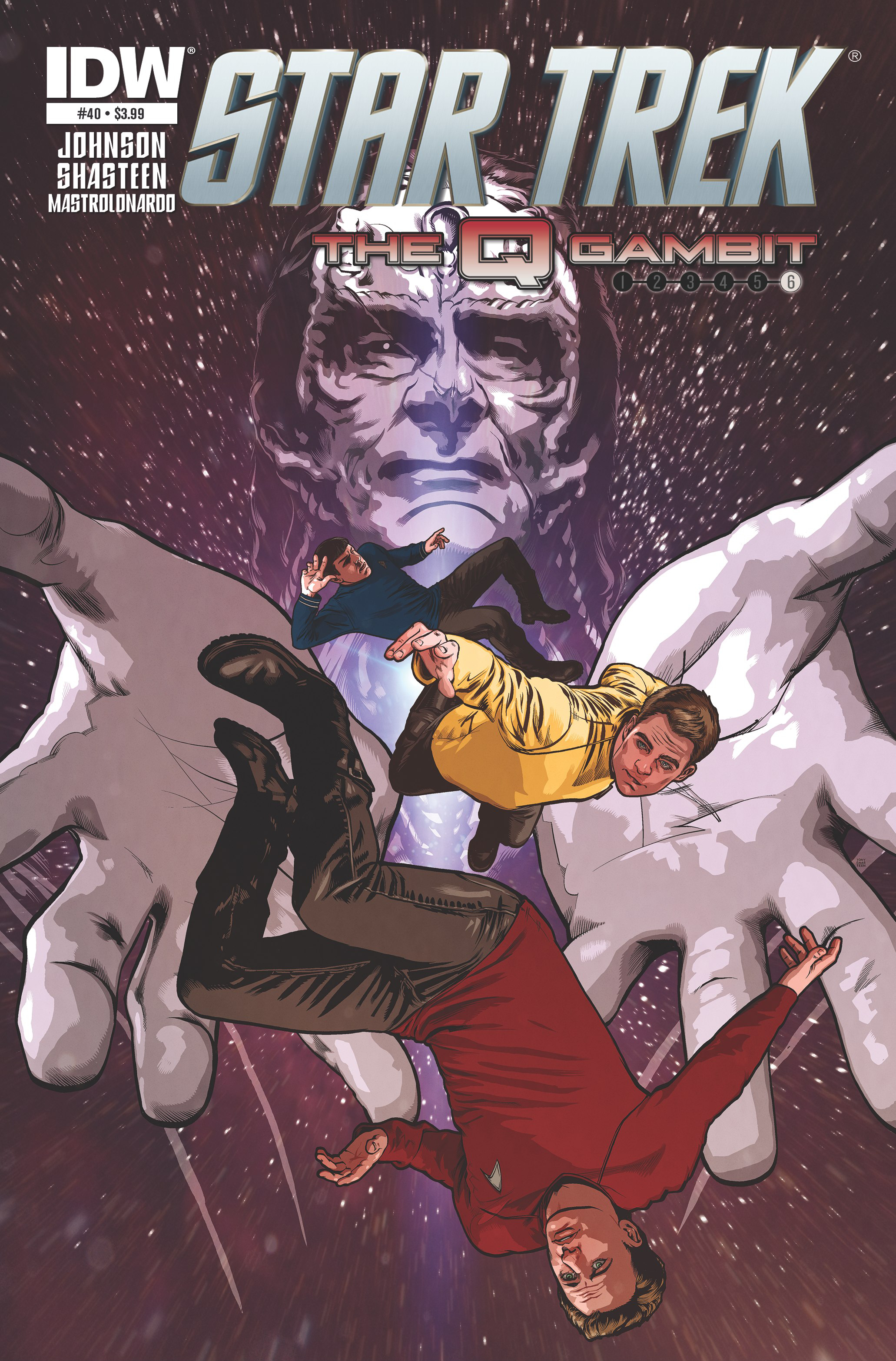 It's the epic finale of "The Q Gambit"! The fate of the past, present and future are at stake as Kirk, Sisko and Spock face off with the mad Cardassian Dukat... and discover the secret behind Q's machinations in their timeline! Don't miss this climactic chapter in the STAR TREK event of 2014, produced in association with TREK writer/producer Roberto Orci!


STUMPTOWN V3 #5

MARVEL
ALL NEW CAPTAIN AMERICA #3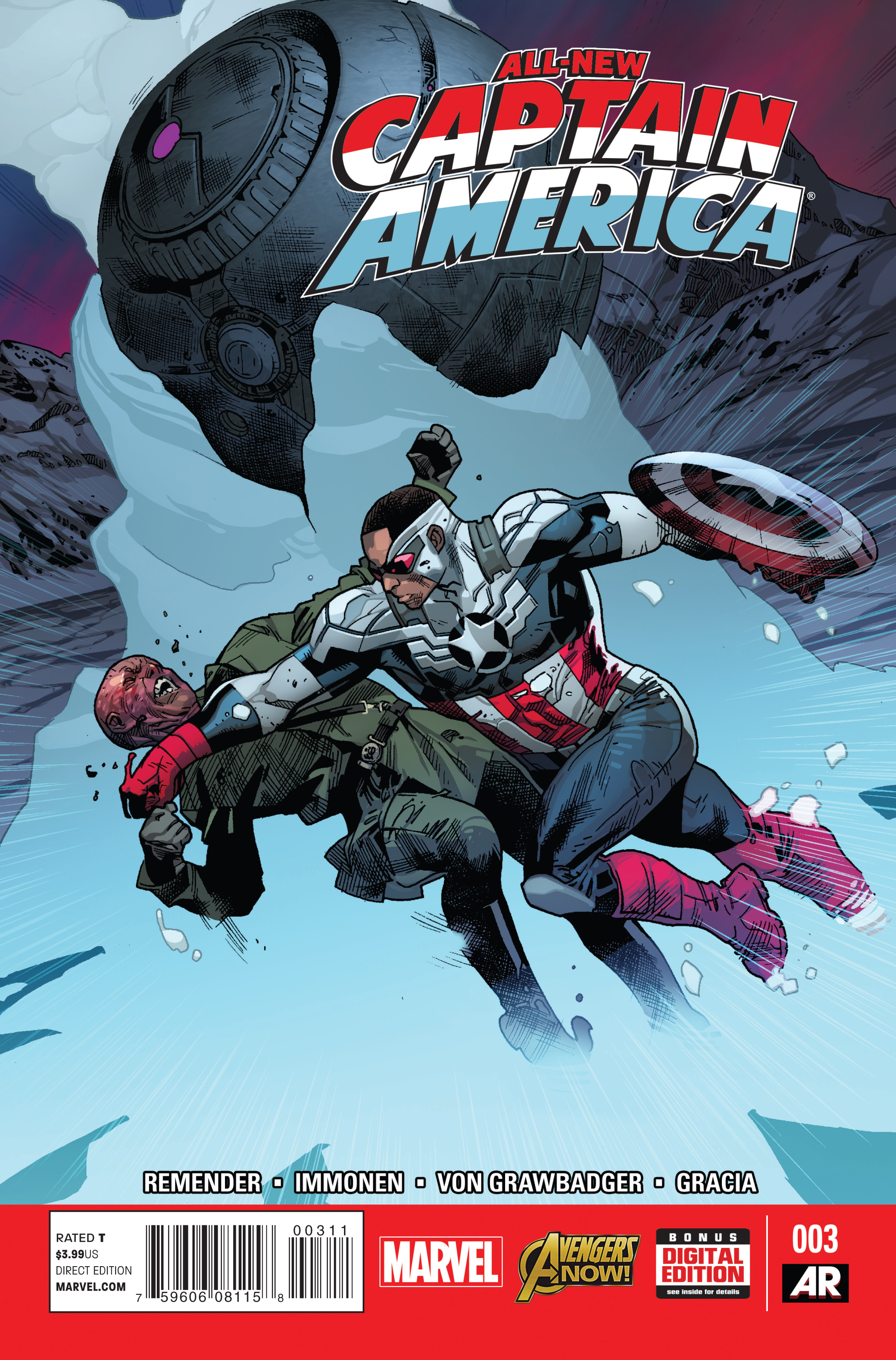 This is it! The new generations meet - Captain America vs Sin, daughter of the Red Skull!
The truth in regards to the blood of equalization is revealed, but Hydra's proliferation is too wide, there is no stopping them now.
Nomad stands tall against the ruthless might of one of Cap's oldest foes!
ALL NEW GHOST RIDER #10
ALL NEW ULTIMATES #12
AMAZING X-MEN #15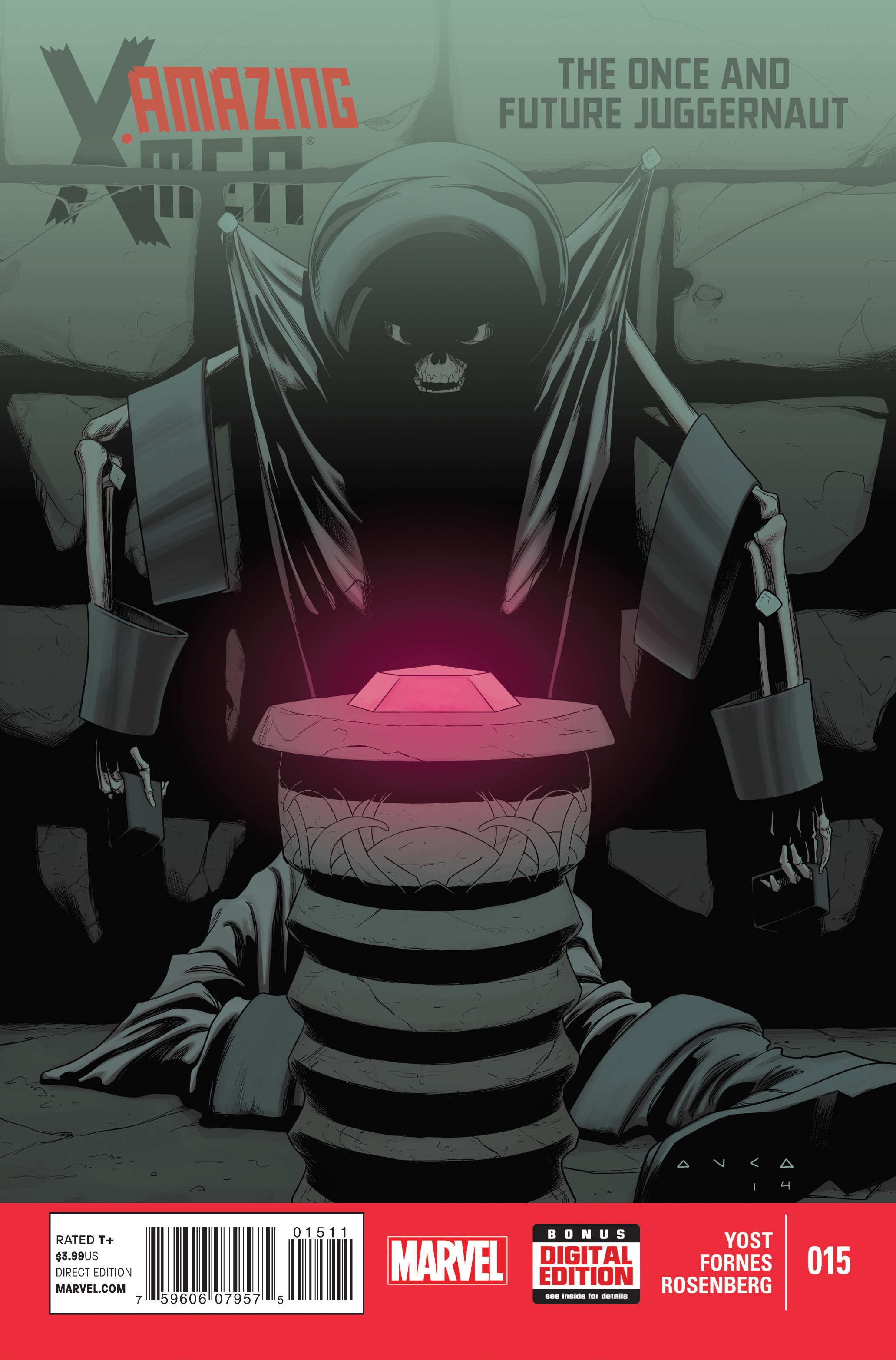 THE ONCE AND FUTURE JUGGERNAUT 1 of 4
We've all heard the phrase "those are big shoes to fill."
That's especially true when those are the massive boots of the unstoppable Juggernaut.
So when the Gem of Cyttorak reappears, the X-Men must ask themselves: Who's going to wear those boots?
AVENGERS #34.2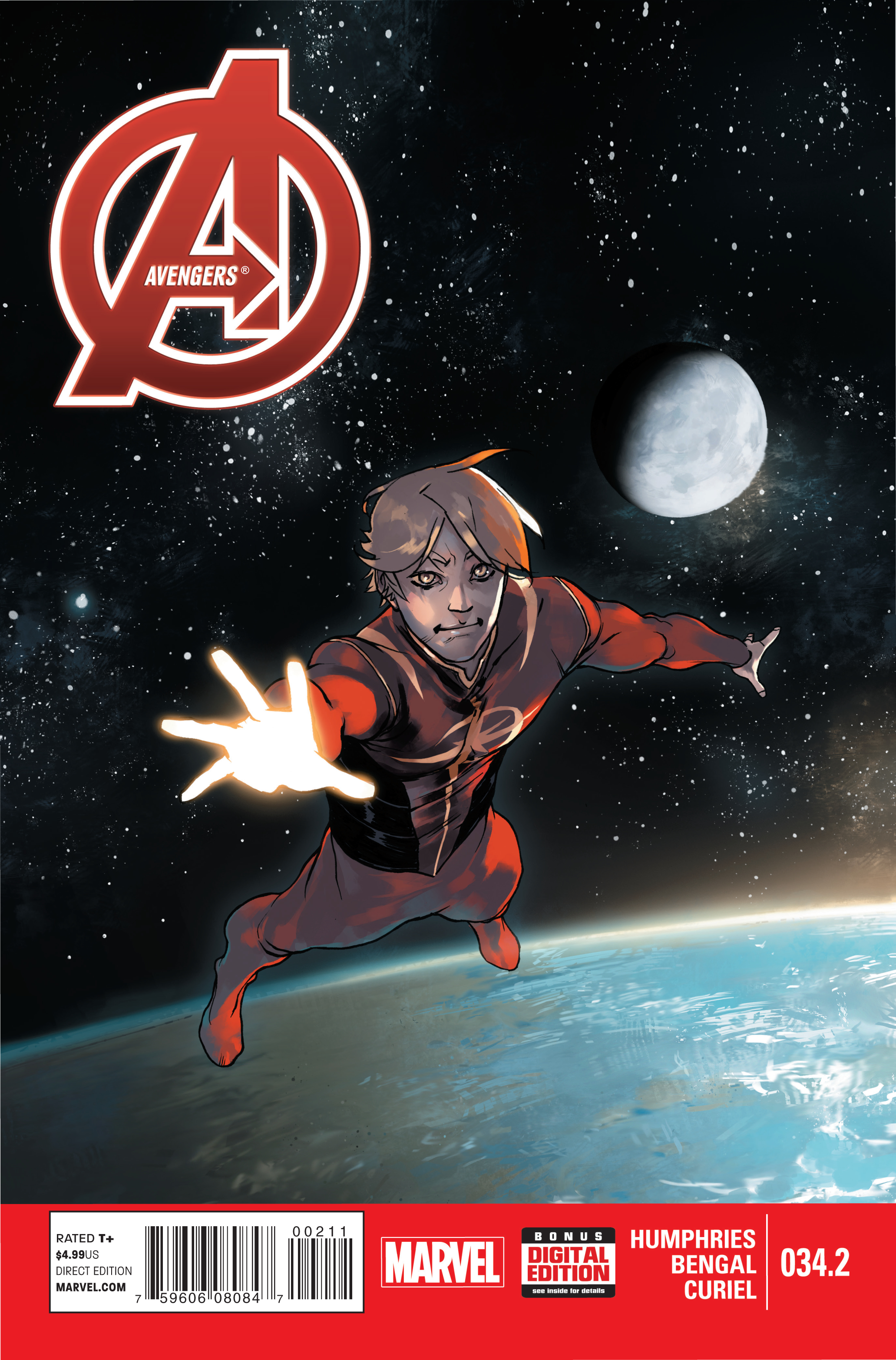 The god-like STARBRAND is losing his grip on his humanity!
Can NIGHTMASK bring him back to Earth?
And as our planetary defense, we need STARBRAND more than ever!
Feel the heat of KOLOBUS...a cosmic threat powerful enough to burn us all down!
AVENGERS #40 TRO
CAPTAIN MARVEL #11
Christmas comes to the Carol Corps!
You could even say this will be a CHRISTMAS CAROL.
That's a hint, guys.
CYCLOPS #9
DAREDEVIL #12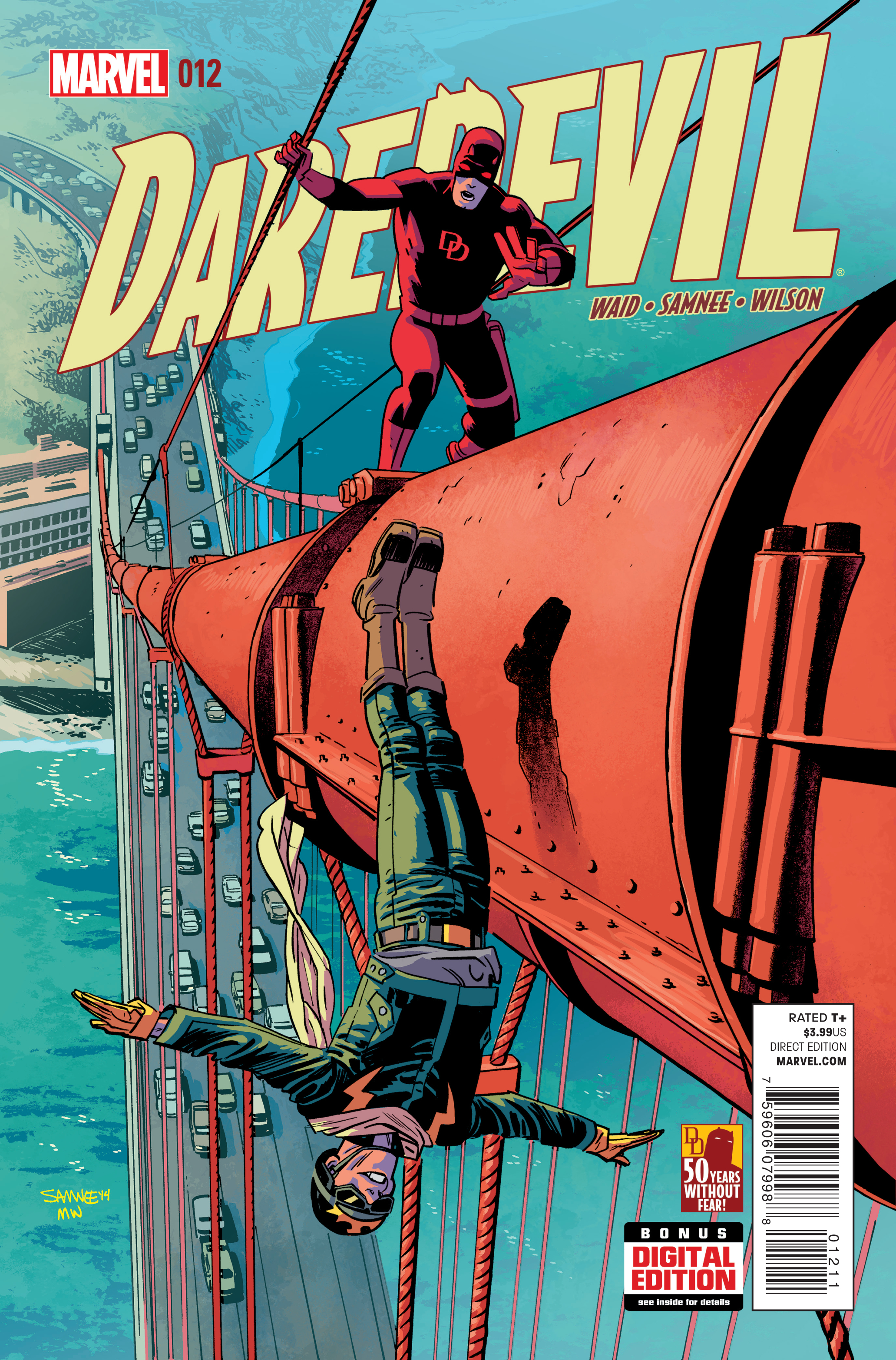 The shocking conclusion to Stunt-Master's death defying dare!
The Owl begins to set his machinations into motion!
And another old foe waits in the wings to blindside the Man Without Fear!
DEADPOOL #40
DEATHLOK #4
GEORGE ROMERO'S EMPIRE OF DEAD ACT TWO #5 (OF 5)
GUARDIANS 3000 #4
MARVEL UNIVERSE AVENGERS ASSEMBLE SEASON TWO #3
MILES MORALES ULTIMATE SPIDER-MAN #9
NIGHTCRAWLER #10
SHIELD #2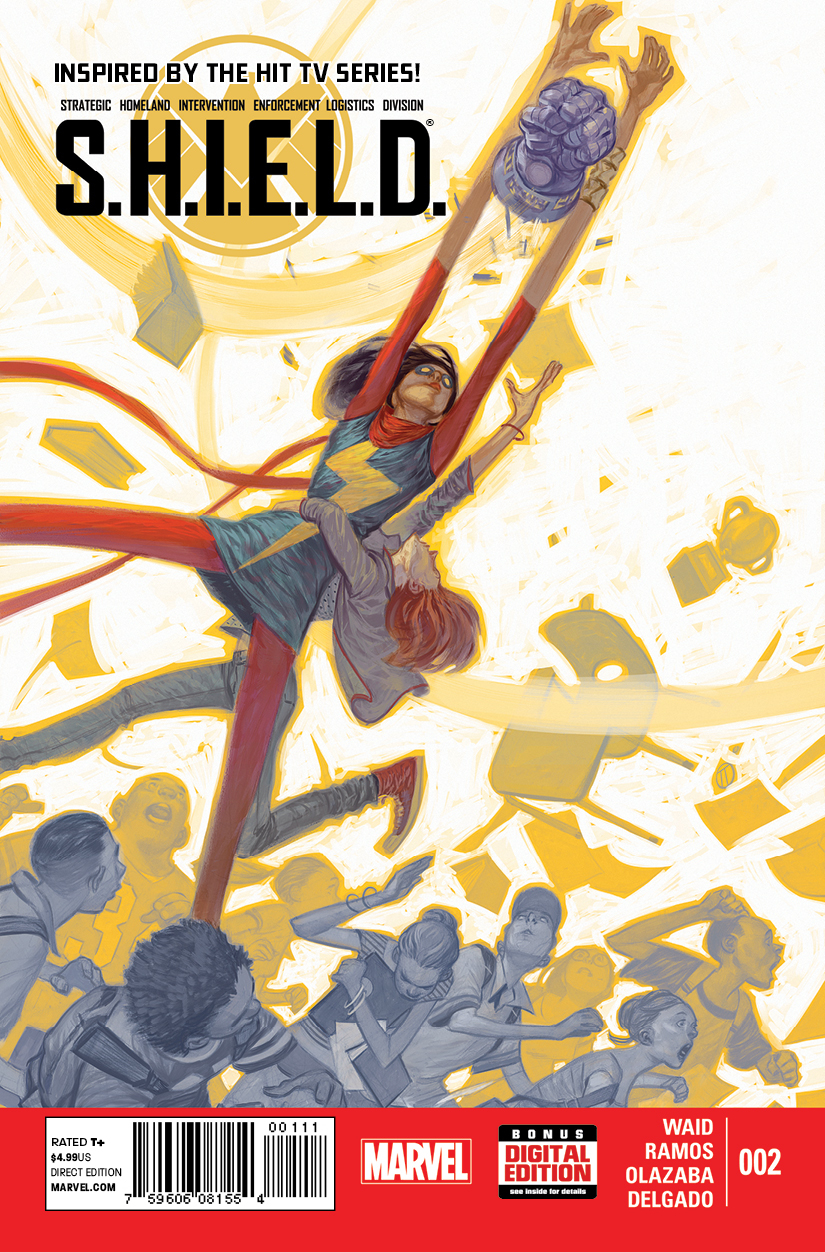 Why has SHIELD agent Jemma Simmons gone undercover at the Coles Academic High School in Jersey City?
Maybe it has something to do with the all-new Ms Marvel...
and the most dangerous lunch meal ever served...
SILVER SURFER #8
SPIDER-VERSE #2 (OF 2)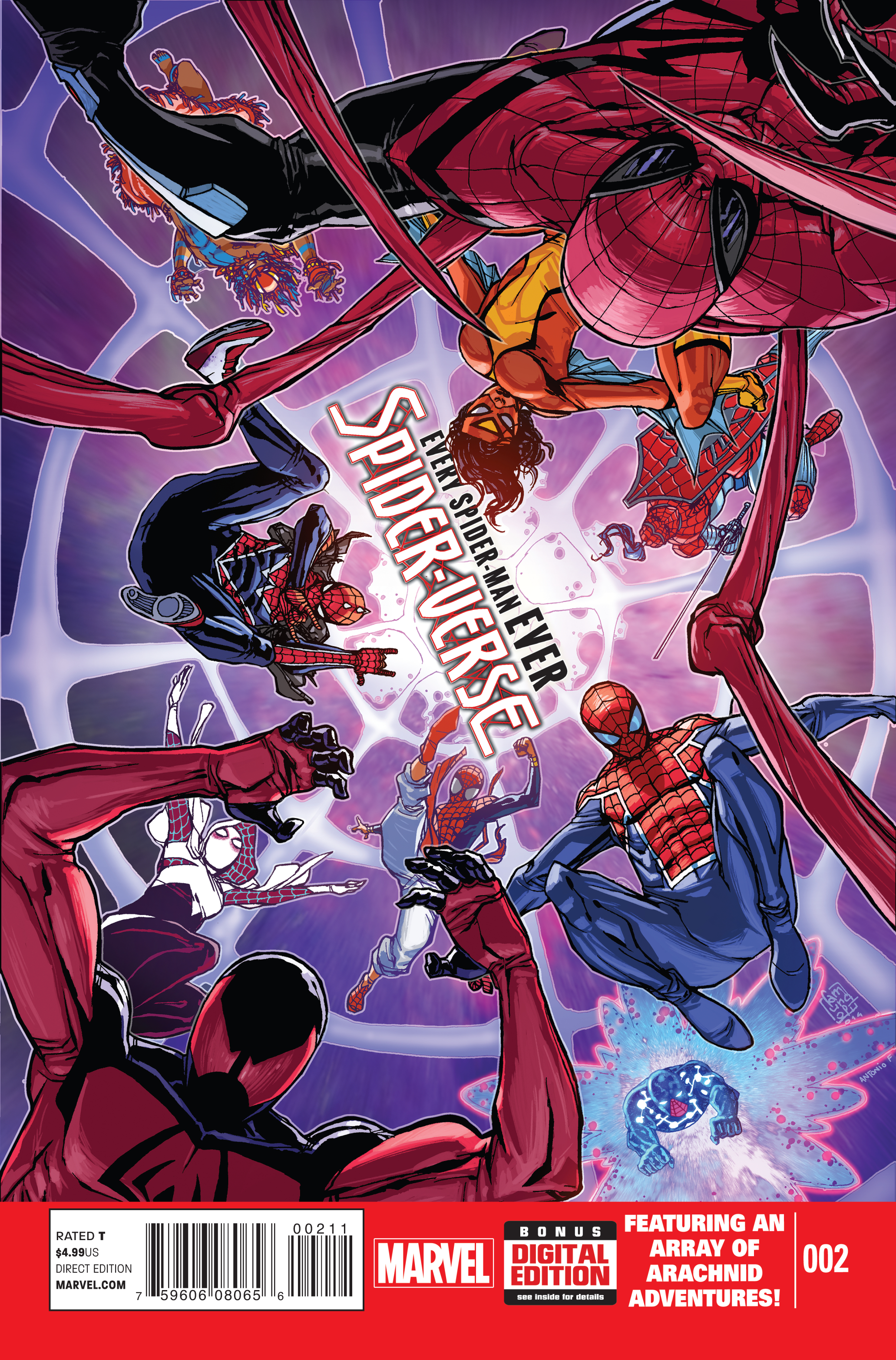 THE SPIDER-VERSE ANTHOLOGY CONTINUES!
SO MANY SPIDER-MEN AND WOMEN! THIS ISSUE:
VIDEO-GAME SPIDEY!
PUNK-ROCK SPIDEY!
FAIRY TALE SPIDEY!
MEXICO'S OWN SPIDEY TALE IN SPANISH!
STAR WARS #1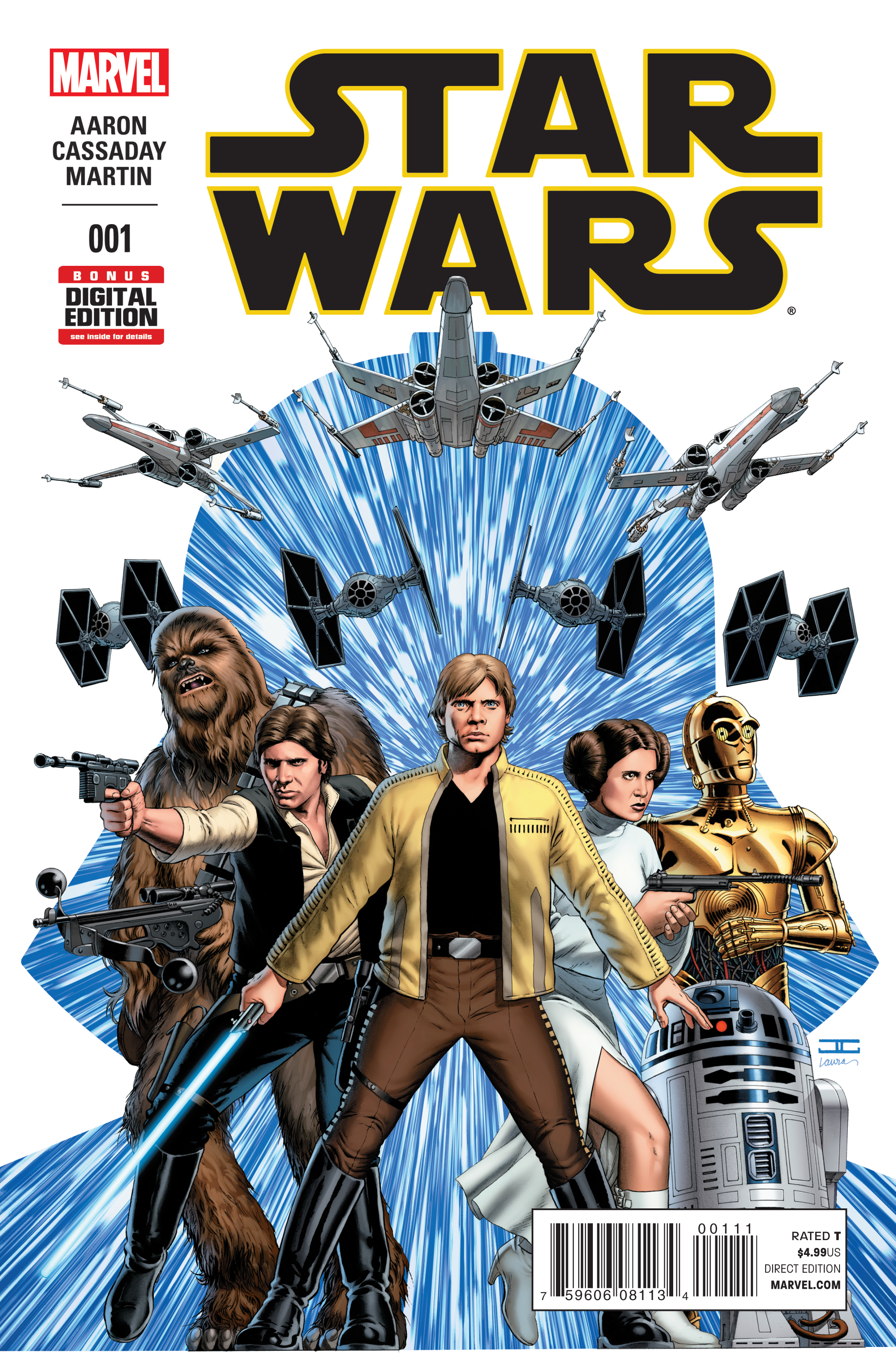 THE GREATEST SPACE ADVENTURE OF ALL TIME RETURNS TO MARVEL!
Luke Skywalker and the ragtag band of rebels fighting against the Galactic Empire are fresh off their biggest victory yet-the destruction of the massive battle station known as the Death Star. But the Empire's not toppled yet! Join Luke along with Princess Leia, smugglers Han Solo and Chewbacca, droids C-3PO and R2-D2 and the rest of the Rebel Alliance as they strike out for freedom against the evil forces of Darth Vader and his master, the Emperor. Written by Jason Aaron (Original Sin, Thor: God of Thunder) and with art by John Cassaday (Astonishing X-Men, Uncanny Avengers), this is the Star Wars saga as only Marvel Comics could make it!
THANOS VS HULK #2 (OF 4)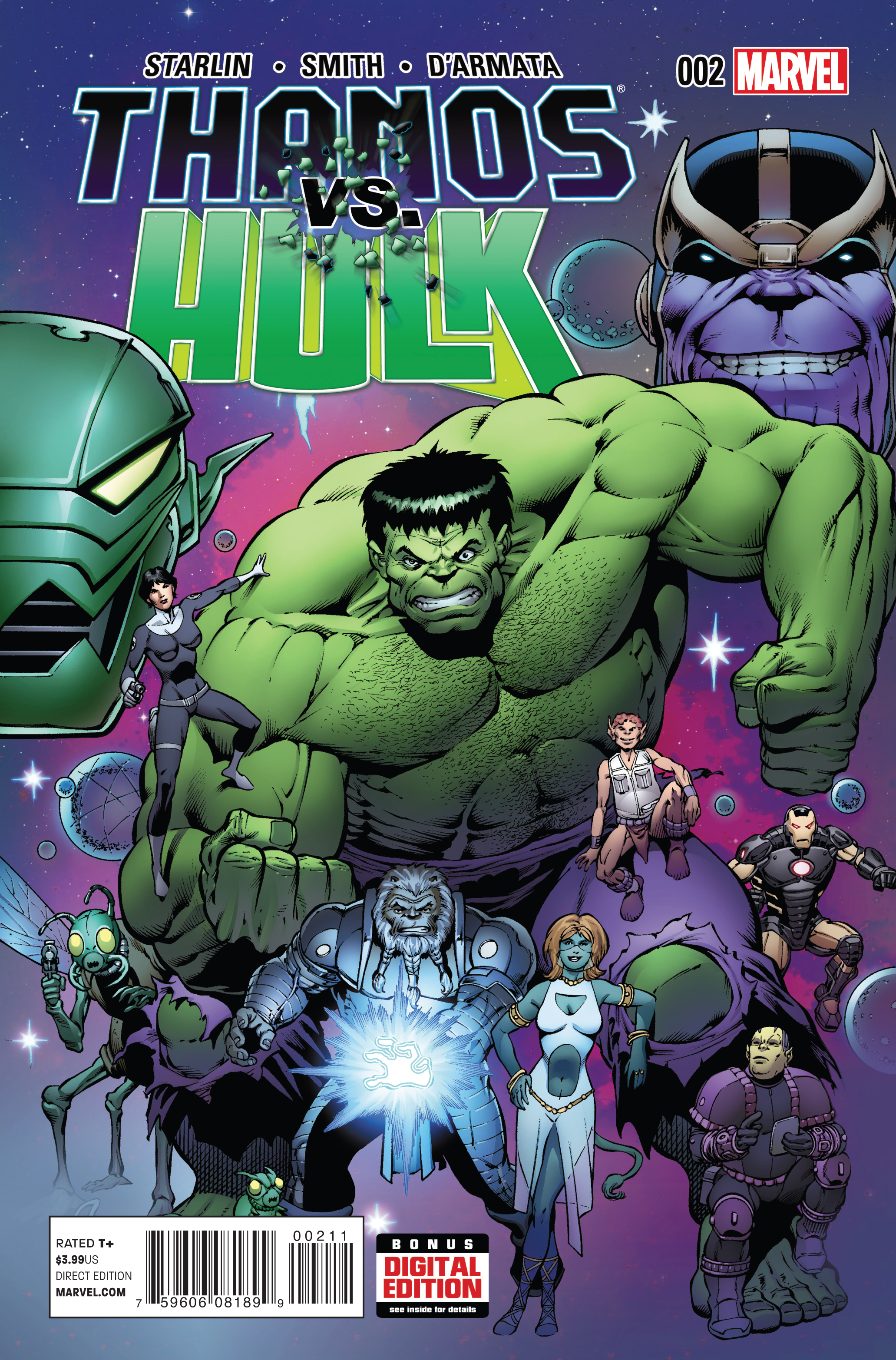 Jim Starlin continues his epic tale of Smash versus Space!
Can the Hulk withstand the devious machinations of Thanos?!
Meanwhile, Annihilus plots to exploit Big, Green and Mean in a most unexpected fashion.
WOLVERINES #2
X-FORCE #14