New in store this week: French coming of age drama ADRIAN AND THE TREE OF SECRETS, a collection of DC superhero adventures for young readers,Guardians of the Galaxy leader Peter Quill gets his own series in LEGENDARY STAR-LORD, the artbook and behind the scenes peek at series 3 of THE LEGEND OF KORRA, an unlikely team up occurs in volume two of BLACK WIDOW, remastered newspaper collections for BATMAN and THE PHANTOM, the first volume of AQUAMAN AND THE OTHERS, a beautiful new artbook goes IN SEARCH OF LOST DRAGONS, and new collections for X-FORCE, ABE SAPIEN, MAGNETO, JLA, EX MACHINA, SONS OF ANARCHY, and BIRDS OF PREY.
What are you looking forward to reading? Talk to us @DavesComics!
ABE SAPIEN TP VOL 05 SACRED PLACES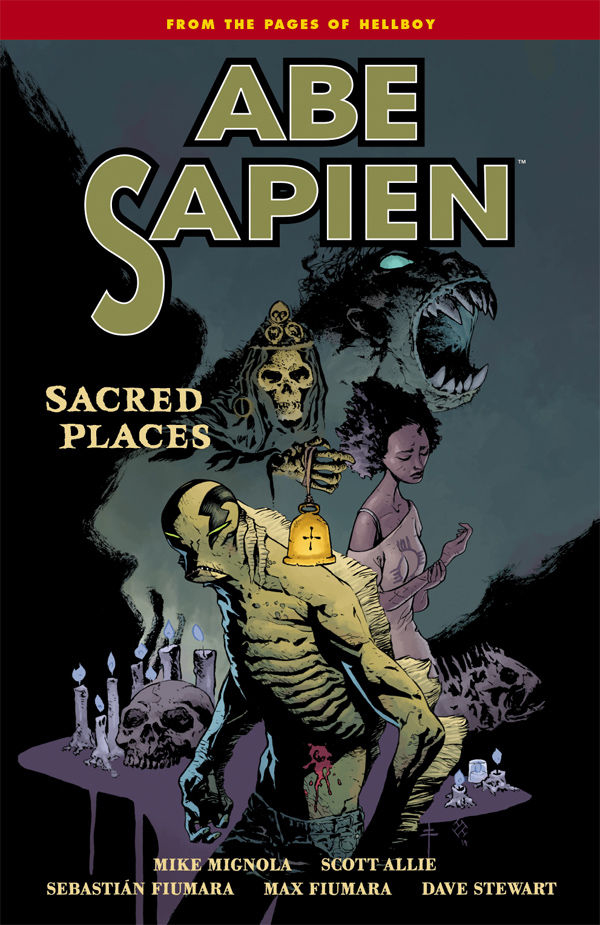 Haunted by deaths he's seen and ones he's caused, Abe returns to the place where he was shot, where his latest transformation began. His path is blocked by strange priests, apocalyptic prophets, and one doomed soul after another, who all seem to think Abe is either the answer or the cause. Collects Abe Sapien #12-#14 and #16-#17.
ADRIAN AND TREE OF SECRETS GN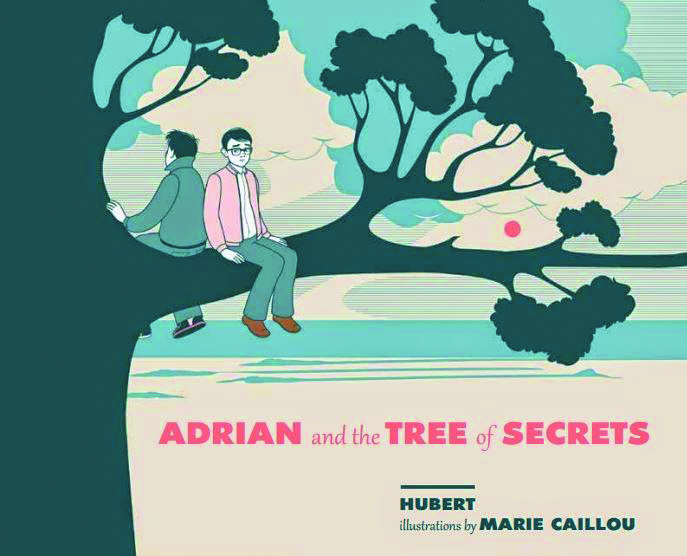 The bittersweet story of Adrian, a nerdy teenage boy who falls in love with Jeremy, the cool kid at school. Adrian isn't very happy these days. He lives in a small town and goes to a Catholic high school. He's dogged by a strict mother, bullied on the soccer field, and chastised by the school principal, who considers gay rumours about Adrian as a sign that he is "ill." But Jeremy, the coolest kid at school, thinks otherwise; he takes Adrian on scooter trips, where they end up in Jeremy's secret treehouse stealing kisses. Adrian finds himself falling in love, until Jeremy's girlfriend rats them out, sending Jeremy into a tailspin of embarrassment for being different than the rest. What will become of him?
AQUAMAN AND THE OTHERS TP VOL 01 LEGACY OF GOLD
In these tales from issues #1-5 of the new series plus AQUAMAN #20 and AQUAMAN ANNUAL #1, Aquaman reunites with The Prisoner, Ya'Wara, and The Operative after they find themselves targeted by an unknown foe who wants their Atlantean artifacts!
ARCHIE 1000 PG COMICS MEGA DIGEST TP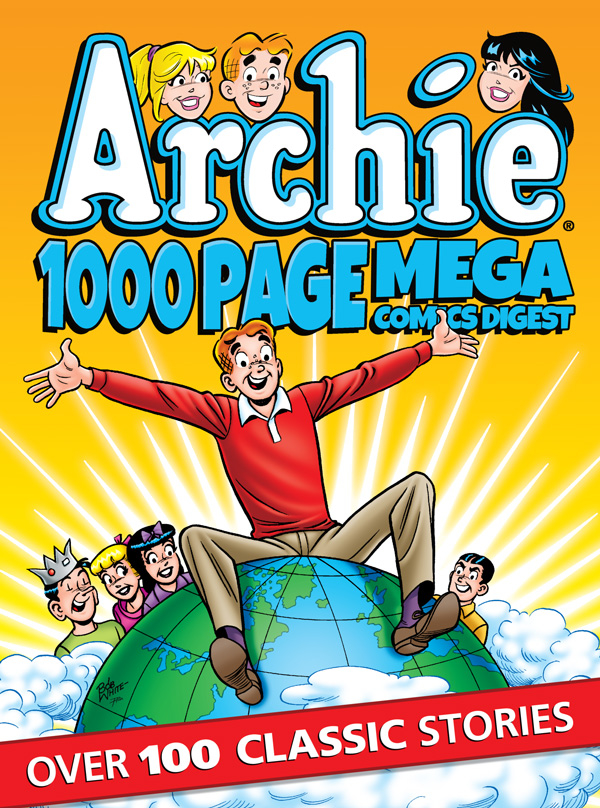 There's always room for more merriment from Archie and his pals 'n' gals! Get ready for 1000 more mega-pages of hijinx and hilarity! For over seven decades, Archie and his friends have been making everyone laugh, with their dating hijinx and misadventures at Riverdale High School! Everything's Archie in the largest Archie collection series ever - offered at an incredible value price!
BATMAN YOU CHOOSE YR STORIES JOKER'S DOZEN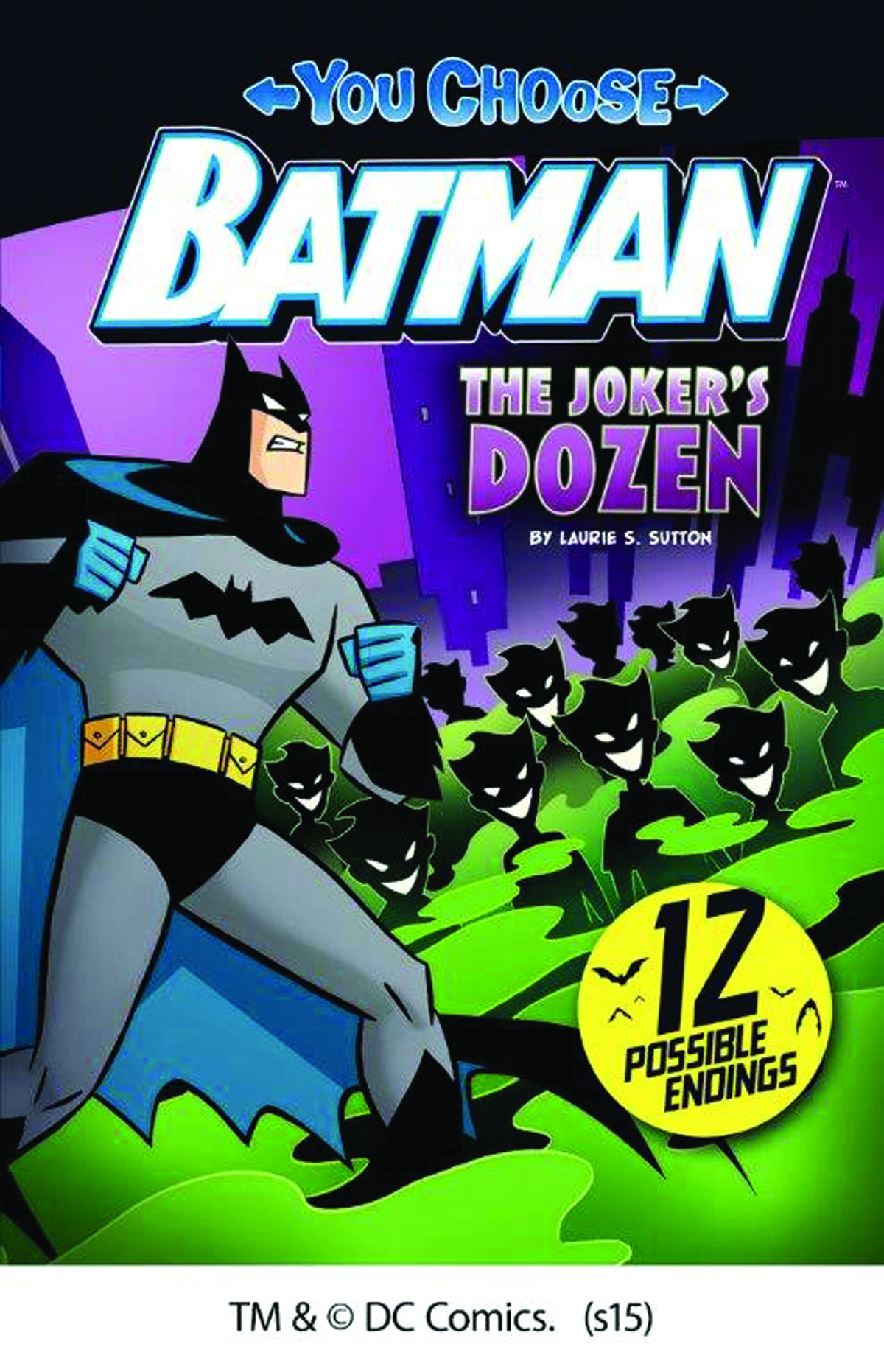 The Joker transforms dozens of Gotham City citizens into laughing (and robbing) fools! Is the Dark Knight outnumbered, or can he even the odds? Should he use a Batarang or another high-tech weapon? Can the Caped Crusader save the city, or will the Clown Prince have the last laugh? In this interactive story, You Choose the path Batman should take. With your help, hell take down The Joker's Dozen!
BATMAN YOU CHOOSE YR STORIES RIDDLER'S RANSOM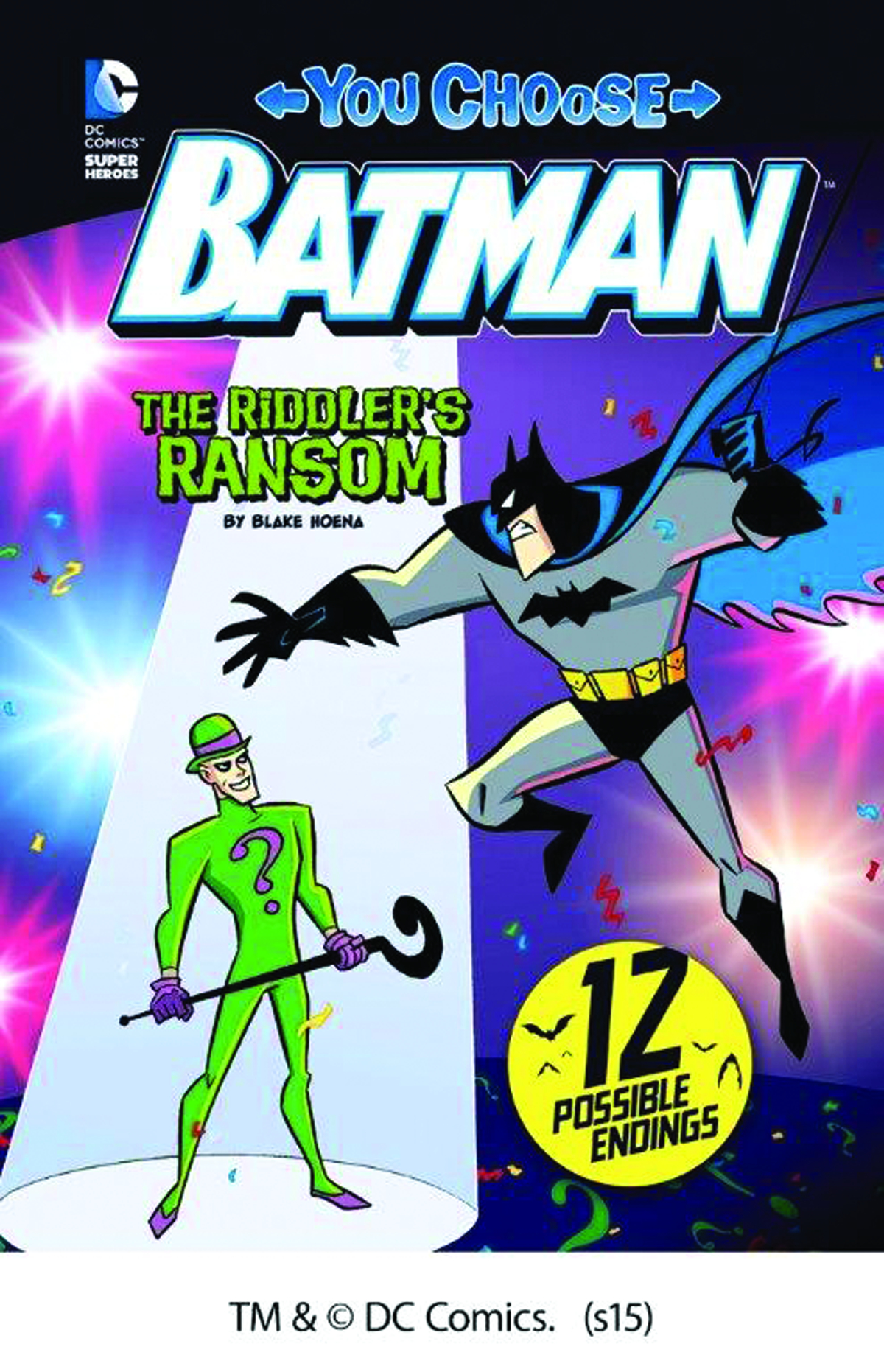 At a Gotham City charity event, The Riddler kidnaps a wealthy businessman and demands a huge ransom. Can Batman decipher the villains riddles, or will he be stumped? Does the Dark Knight call for backup or take the case alone? Will he find the businessman or be lost himself? In this interactive story, You Choose the path Batman should take. With your help, hell solve the puzzle of The Riddler's Ransom!
BATMAN YOU CHOOSE YR STORIES SEED BANK HEIST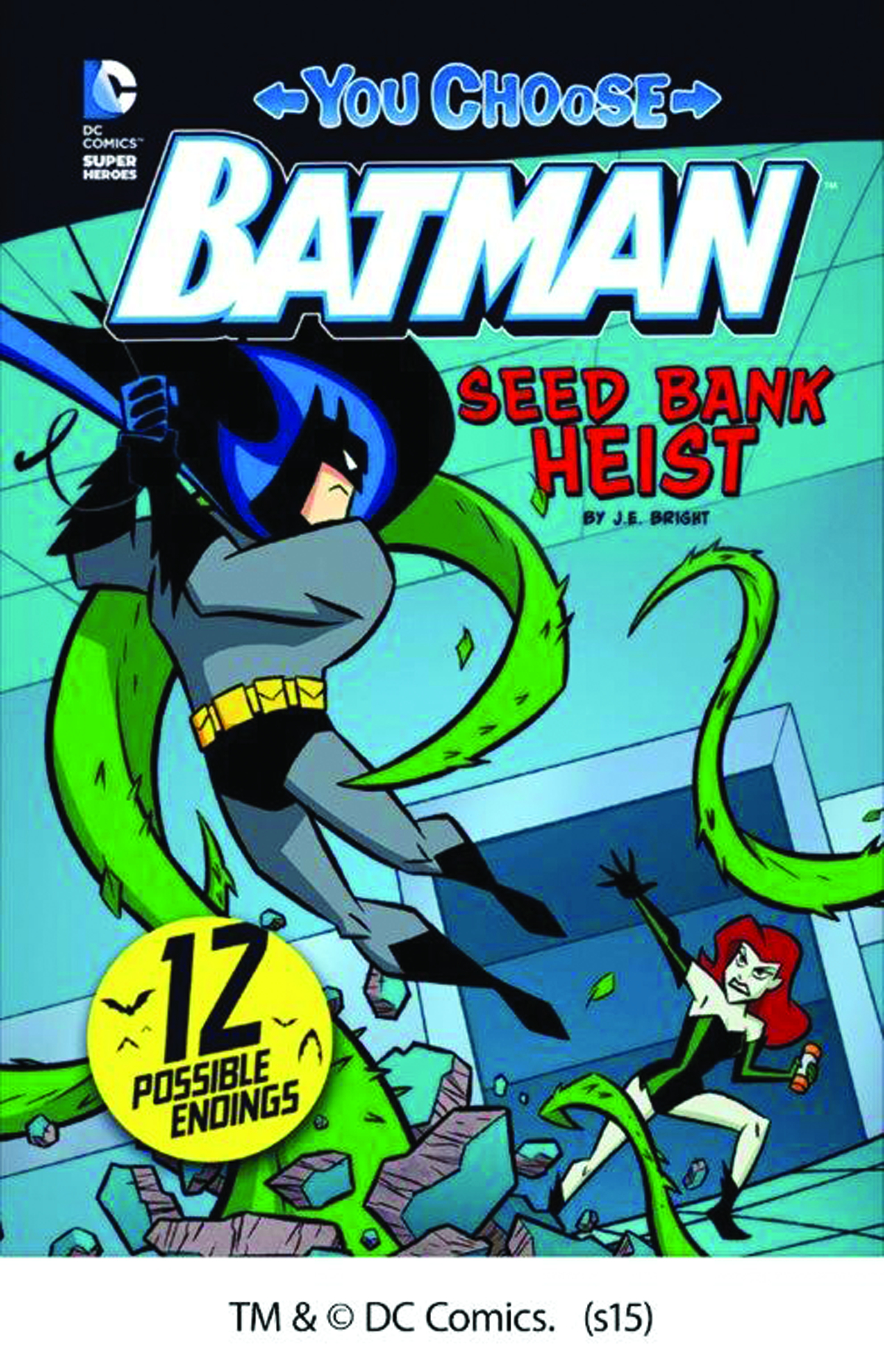 Poison Ivy takes over a seed bank filled with the world's most historical and priceless plant seeds. Does Batman enter Ivy's thorny maze alone or call for backup? Should he use a Batarang or another high-tech weapon? Will the Dark Knight cut through Ivy's plants or save each species? In this interactive story, You Choose the path Batman should take. With your help, hell stop the Seed Bank Heist!
BATMAN YOU CHOOSE YR STORIES SUMMER FREEZE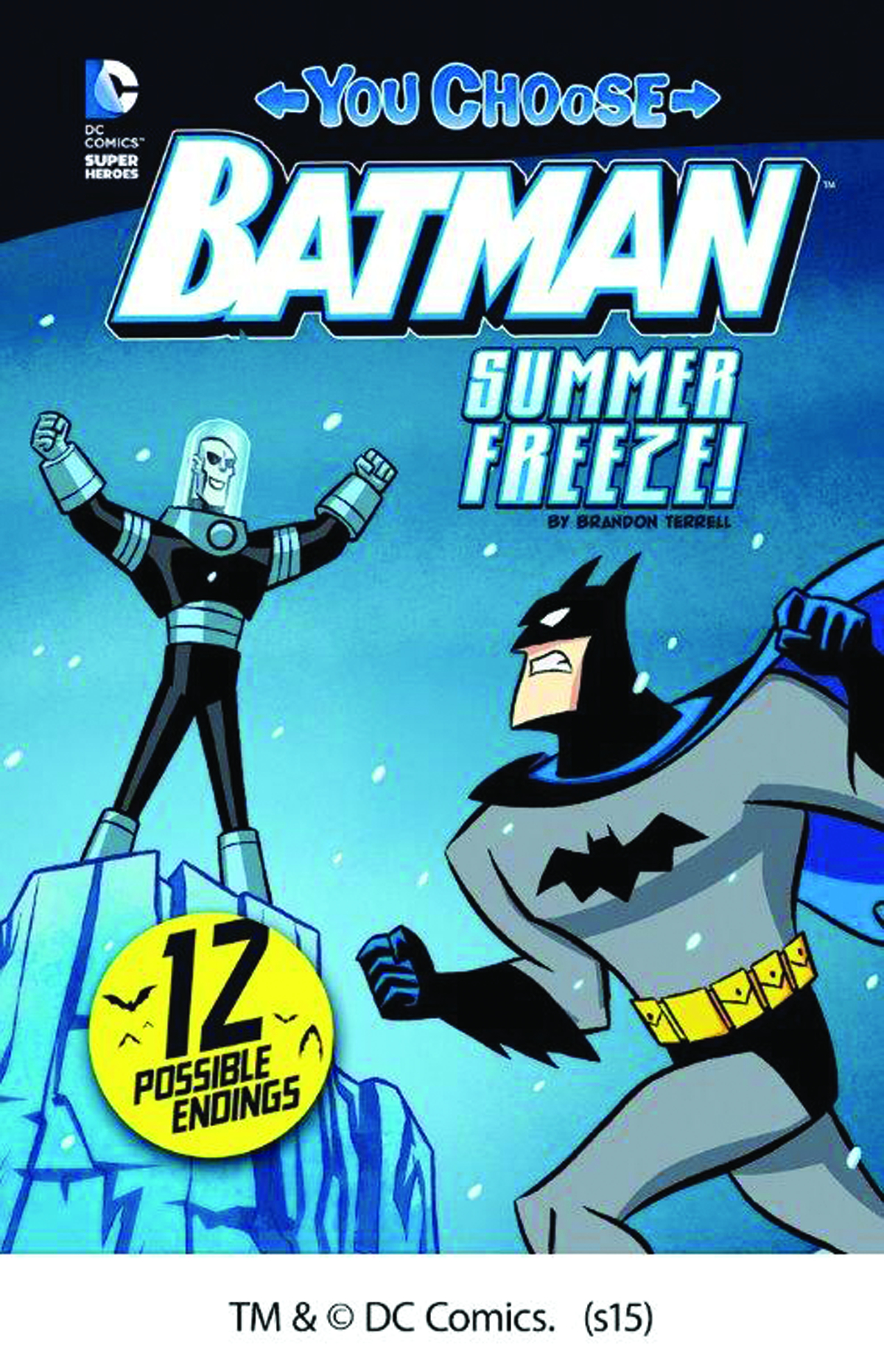 Mr. Freeze blankets Gotham City in a blizzard, turning the city into an enormous snow globe. Should the Dark Knight take the case or turn to the police instead? Will Mr. Freeze go easily or put up a fight? Does Batman use his brains or his brawn to stop the super-villain? In this interactive story, You Choose the path Batman should take.
BATMAN SILVER AGE NEWSPAPER COMICS HC VOL 02 1968-1969 In this second volume, produced in partnership with DC Entertainment, Batman's rare 1960s newspaper adventures continue. Will Batman and Robin survive the double-dealings of Madame Zodiac, not to mention the redoubtable Blue Max? If so, can the Caped Crusader then survive being trapped on an island with an atomic time bomb beneath him? Can his friend Superman save him when the Man of Steel might not be able to save himself? Can Aquaman come to rescue them both? The answers to these questions-and many more-are in this breathtaking Bat-Volume.
BEWARE THE BATMAN TP VOL 01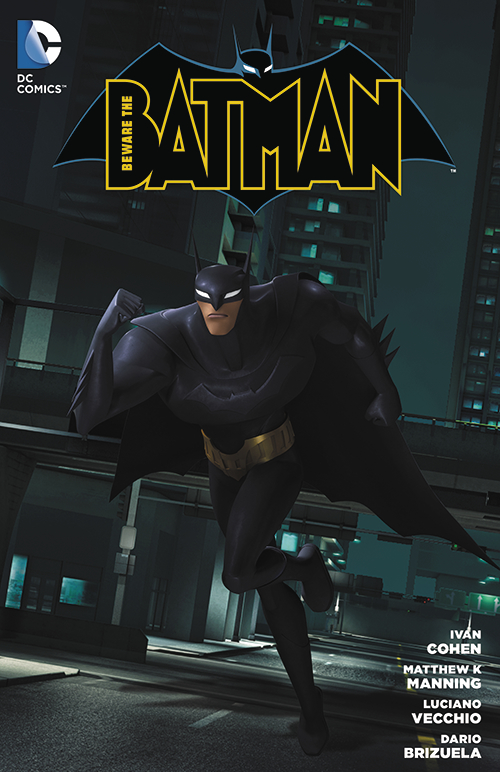 In this all-ages title based on the Cartoon Network series, Bruce Wayne and his butler, former secret spy Alfred Pennyworth, take on Gotham City's worst evildoers! Batman's skills will be put to the test against villains Professor Pyg, Man-Bat, Tobias Whale and more in stories from issues #1-6.
BIRDS OF PREY TP VOL 05 SOUL CRISIS (N52)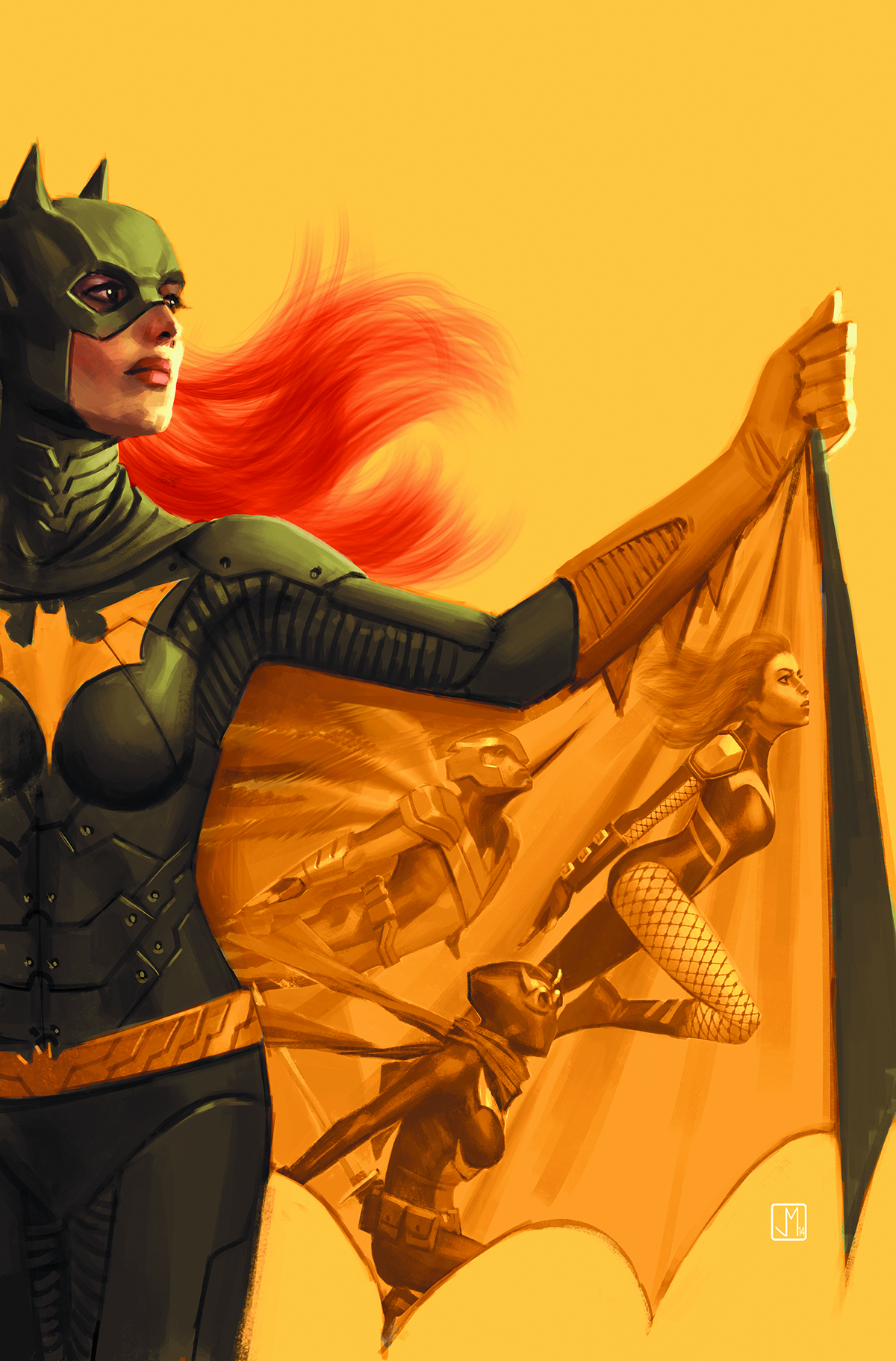 The Birds find a new benefactor and a new mission: to take down Ra's al Ghul! But when Black Canary confronts the Demon's Head, he makes her an offer that could save her husband! Will she take him up on it? Find out in these stories from issues #25, 27-34 and BIRDS OF PREY: FUTURES END #1.
BLACK WIDOW TP VOL 02 TIGHTLY TANGLED WEB On a snowy night in Prague, Black Widow must fight her way out of disaster alongside the Winter Soldier! And as Isaiah's London business turns complicated, Natasha finds herself fighting against - or alongside? - the Punisher for access to a deadly criminal network. But trapped on an exploding oil rig with Crossbones and his Skull Squad, will Frank and Natasha complete their missions - or take each other out? Then, Hawkeye is back! But could his fight with the Widow cost Isaiah his life? And in the wake of Wolverine's death, Black Widow bonds with the despondent X-23 over punching and espionage, and teams up with the Howling Commandos for a dangerous mission in Afghanistan. But what will the Avengers do when they learn how Natasha has been spending her days off? Collecting BLACK WIDOW (2014) #7-12 and PUNISHER (2014) #9.
DC SUPER HEROES ORIGINS YR TP BATMAN ORIGIN STORY He's known by many names. The World's Greatest Detective. The Caped Crusader. The Dark Knight. But how did young Bruce Wayne grow up to become Batman? Follow young Bruce's incredible transformation in this action-packed chapter book for early readers, filled with colourful comic art by DC Comics artists.
DC SUPER HEROES ORIGINS YR TP GREEN LANTERN In brightest day and in blackest night, Hal Jordan heeds all calls for help as sector 2814's Green Lantern. But before Hal became a galactic guardian, he was a test pilot for the U.S. Air Force. Follow in Hal's footsteps as he becomes the greatest Green Lantern of all! This action-packed chapter book for early readers is filled with comic art by DC Comics illustrators.
DC SUPER HEROES ORIGINS YR TP SUPERMAN ORIGIN STORY One day, an alien orphan crash-lands on Earth and is adopted by a human couple, the Kents. Many years later, that little baby becomes Superman, protector of Earth! But how did the Man of Steel go from orphan to super hero? Experience Clark Kent's incredible journey in this action-packed chapter book for early readers featuring vibrant art by DC Comics illustrators.
DC SUPER HEROES ORIGINS YR TP WONDER WOMAN She was once a young princess on the secret island inhabited by warrior women known as the Amazons, but she left her homeland - and her royal birthright - behind to become a protector for the entire planet of Earth: Wonder Woman! Follow young Diana's incredible transformation from princess to super hero in this action-packed chapter book for early readers featuring colourful illustrations by DC Comics artists.
EX MACHINA TP BOOK 04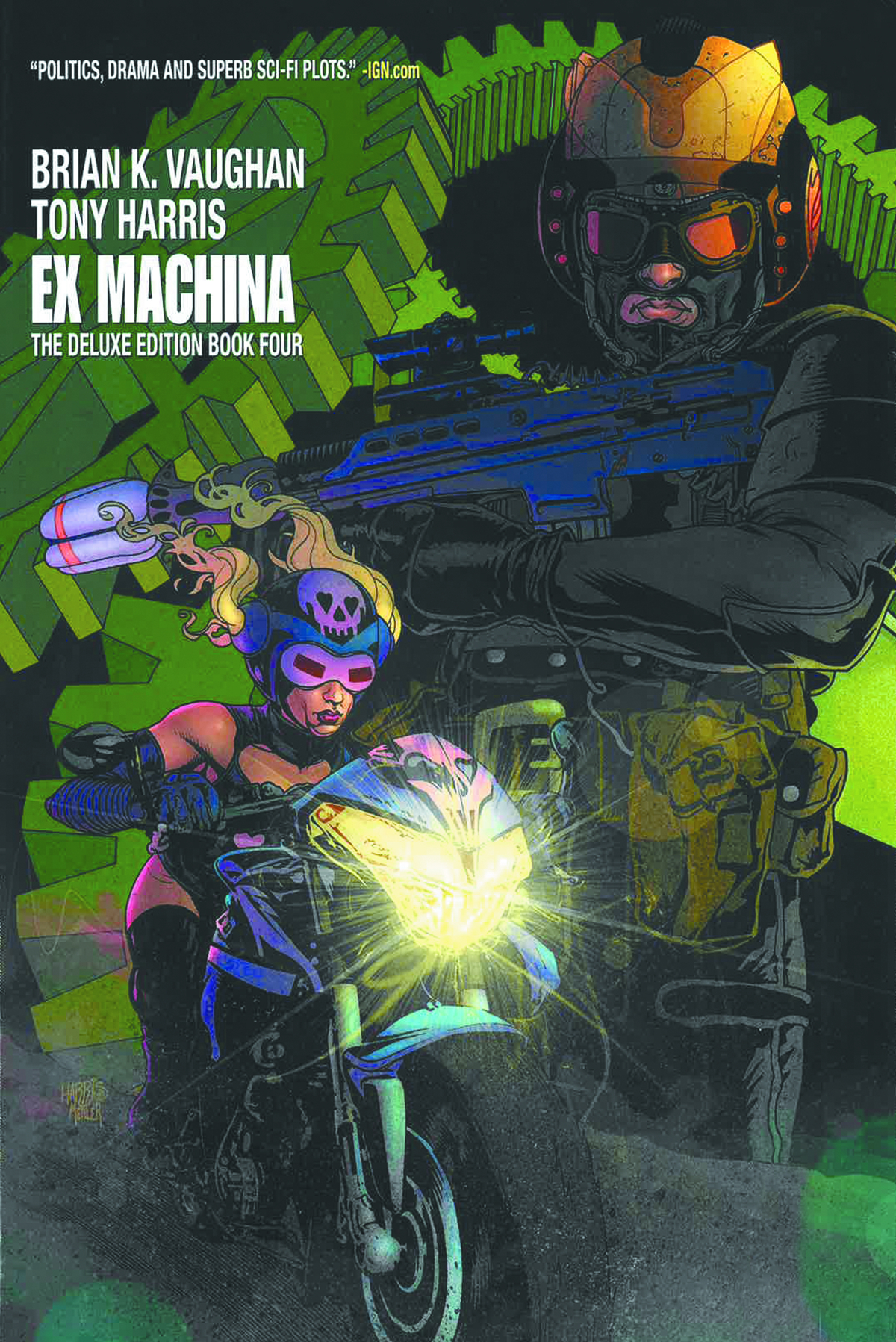 In these tales from issues #30-40, super hero-turned-mayor Mayor Mitchell Hundred is summoned to Rome for an audience with the Pope. But as he makes his travel plans, he is unaware of the assassin who has him in his sights. Then, a masked adventurer thrills New York City but threatens to derail the upcoming Republican National Convention - and the political future of Mitchell Hundred hangs in the balance.
IMAGINARY DRUGS TP An Illuminati celebrity assassin, adorably twisted ritual sacrifices, doomed space affairs, war toads, G.U.N.T.S., luchador gorillas, and urban languawitches await in this bizarrely wonderful sci-fi-fantasy fueled comic anthology.
Imaginary Drugs is a creator driven exploration of life, love, death, and raygun-toting, multiverse adventure. Skirting the fears and fringes and subverting the hopes and expectations of the modern imagination, Imaginary Drugs tackles the possible future origins of human life, our increasingly dependent relationship with technology, and the ass-kicking absurdity of beating a nest of blood-suckers into submission with a cosmically powered baseball bat.
IN SEARCH OF LOST DRAGONS HC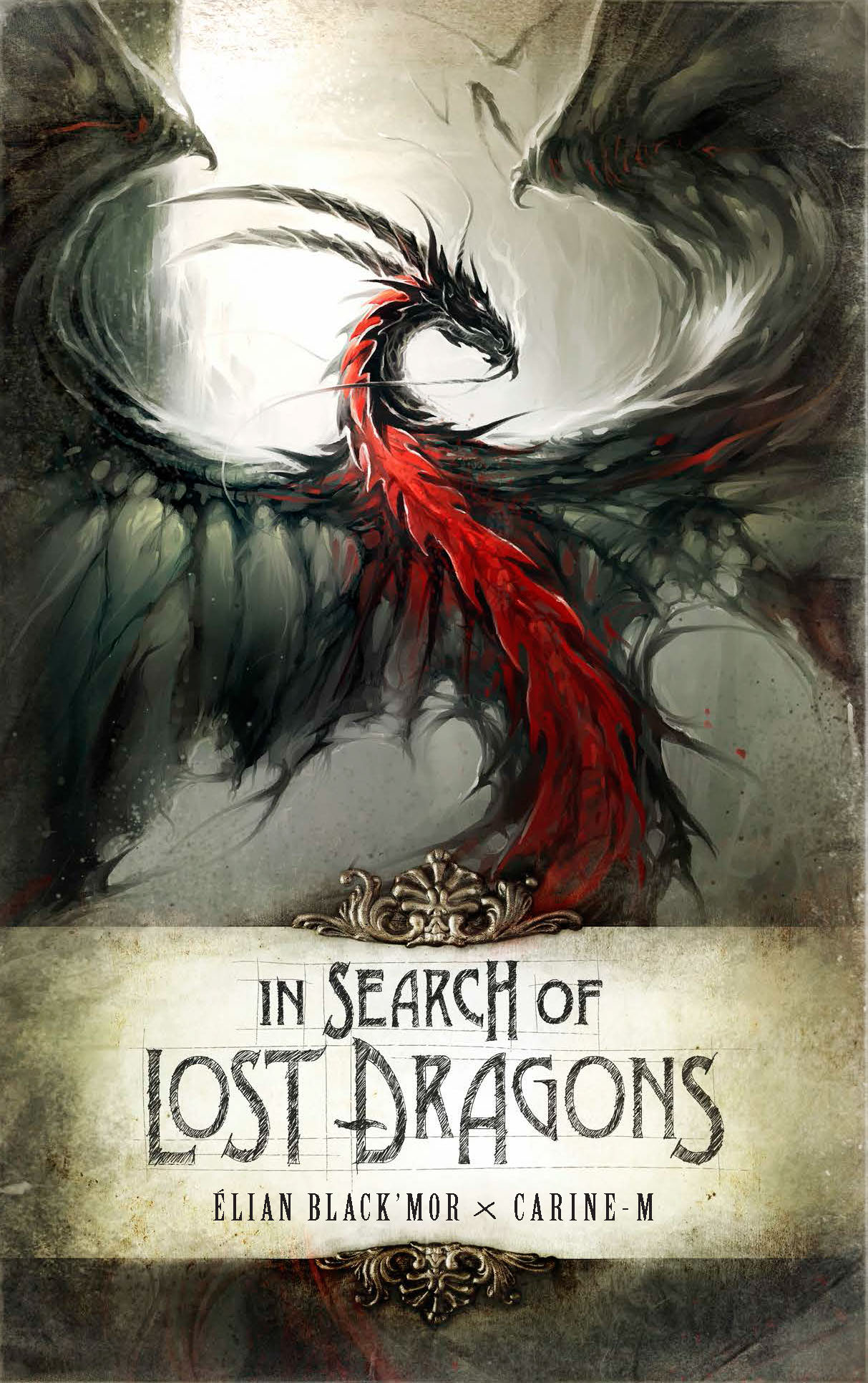 Over 200 pages of gorgeous full-colour paintings, accompanied by a unique story of world-wide exploration and dragon encounters! On the trail of dragons forgotten, an intrepid illustrator and reporter journeys from Europe through the Middle East and finally to Saigon in search of the dark caverns and mountaintop perches where the elusive winged serpents dwell. With the gift of seeing the invisible, our explorer friend records each encounter in a journal of gorgeous, fully painted artwork, capturing every majestic and fearsome visual detail of the scaly behemoths, and accompanies his findings with snippets of local lore as evidence that these hidden beasts continue to shape the world in ways we may never expect!
IRON MAN EPIC COLLECTION TP STARK WARS Time for the Armoured Avenger to start avenging! Tony Stark is back in the groove as Iron Man, from outer space to the ocean depths. But the new Stark Enterprises is on constant super-villain alert, under attack from familiar faces like Spymaster and new threats like the ethereal Ghost. And when Tony discovers that his technology has been stolen and abused, he declares war on anyone in armour! Iron Man's new ruthless streak brings him into conflict with the U.S. government, S.H.I.E.L.D. and the Avengers. And as his actions grow ever more extreme, he must battle an old friend in a new guise - Steve Rogers, aka the Captain! By the time the dust settles on these Armour Wars, the world might need a new Iron Man! Collecting IRON MAN (1968) #215-232 and ANNUAL #9.
JLA TP VOL 06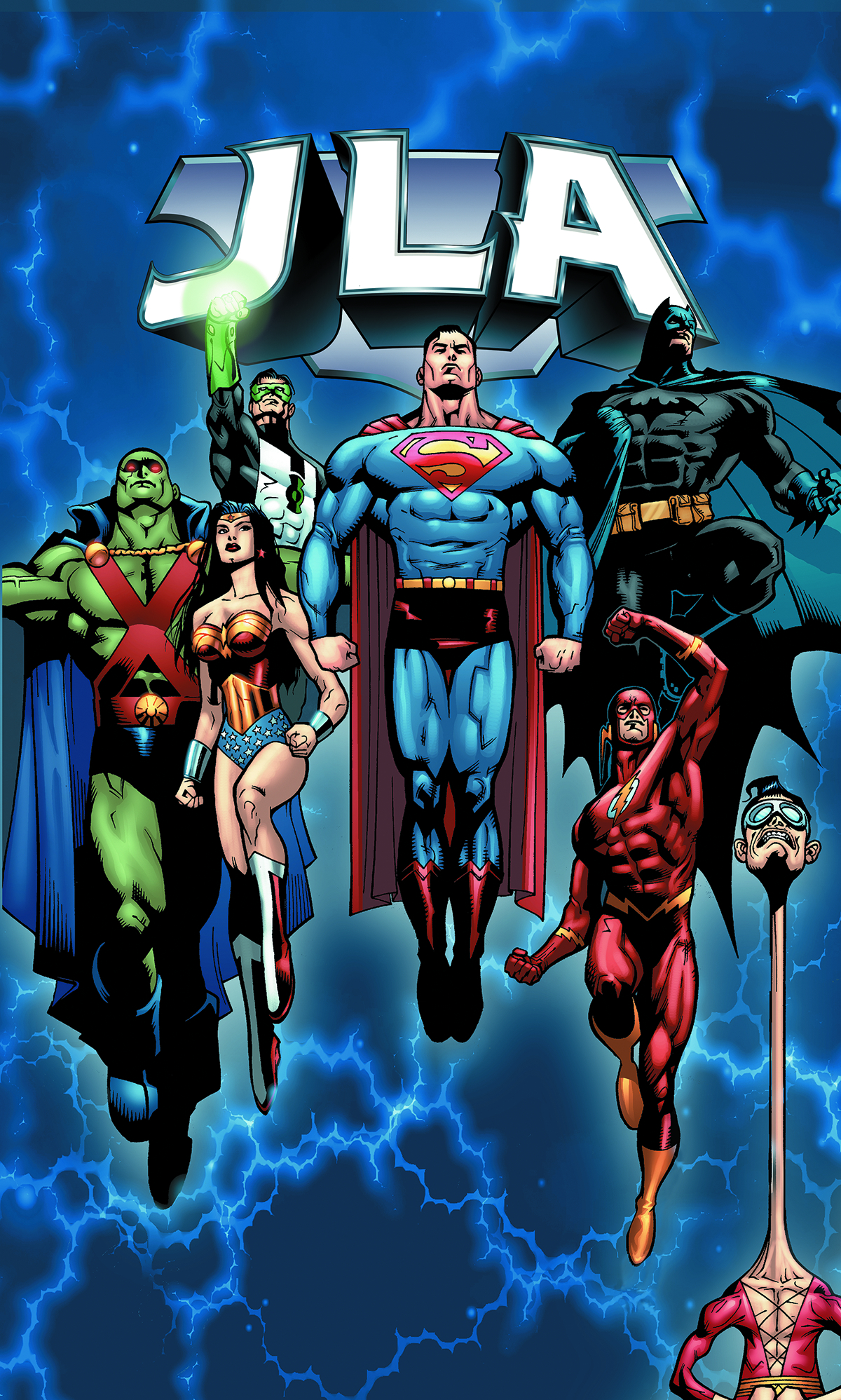 With Wonder Woman's Lasso of Truth severed, the very concept of truth has been fractured - and the Justice League must contend with a world redefined by the dreams and fears of the human race. Then, the JLA battles for control of Atlantis with the help of some mages...and when only Batman remains, the Dark Knight assembles an unexpected new Justice League! Don't miss this title collecting JLA #61-76.
LEGEND OF KORRA ART ANIMATED SERIES HC BOOK 03 CHANGE Go behind the scenes of the third season of the Legend of Korra animated TV series-created by Michael Dante DiMartino and Bryan Konietzko - the smash-hit sequel to their blockbuster show Avatar: The Last Airbender!
Discover amazing never-before-seen artwork created during the development of The Legend of Korra Book Three. Detailed captions throughout this impressive art book give you an in-depth, revealing tour of the creative process that went into creating this beloved series.
LEGENDARY STAR-LORD TP VOL 01 FACE IT I RULE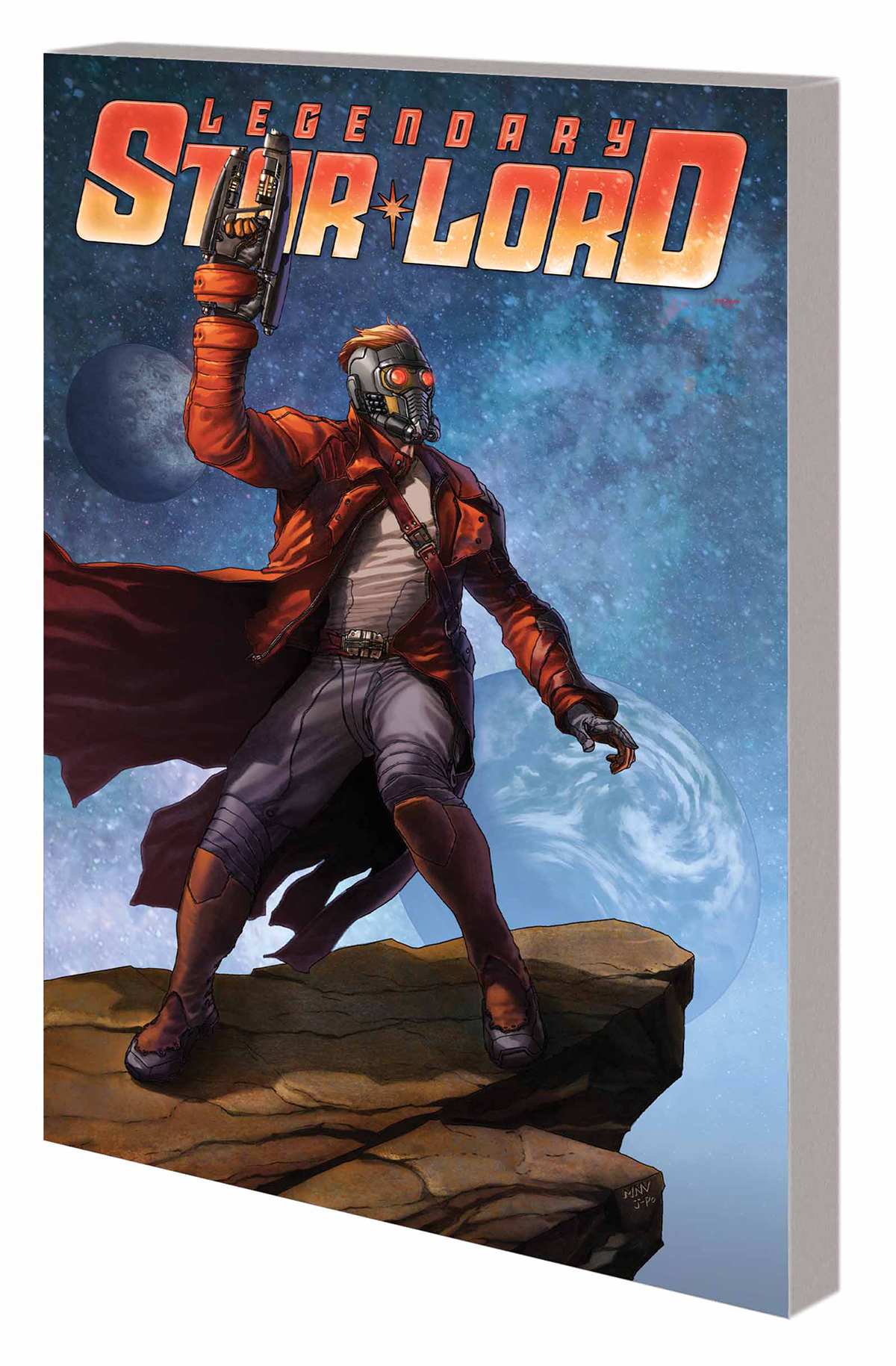 Exploding from the pages of GUARDIANS OF THE GALAXY! Peter Quill battles the Badoon, saves an orphanage and still finds time to flirt with the X-Men's Kitty Pryde - all in a day's work for the legendary Star-Lord! But when Peter is captured by a bounty hunter with a strange connection to his past, can the two make amends before he's fed to a giant alien? A Badoon death sentence isn't exactly Peter's idea of a good time - luckily, he's got an ace up his sleeve. But Star-Lord soon encounters the all-powerful Titan responsible for so much mayhem in his life: Thanos! It's the battle to end all battles, but can Star-Lord possibly get out alive?! If he does, the vicious Mister Knife and the ancient cosmic artifact known as the Black Vortex are waiting. Collecting LEGENDARY STAR-LORD #1-5.
MAGNETO TP VOL 02 REVERSALS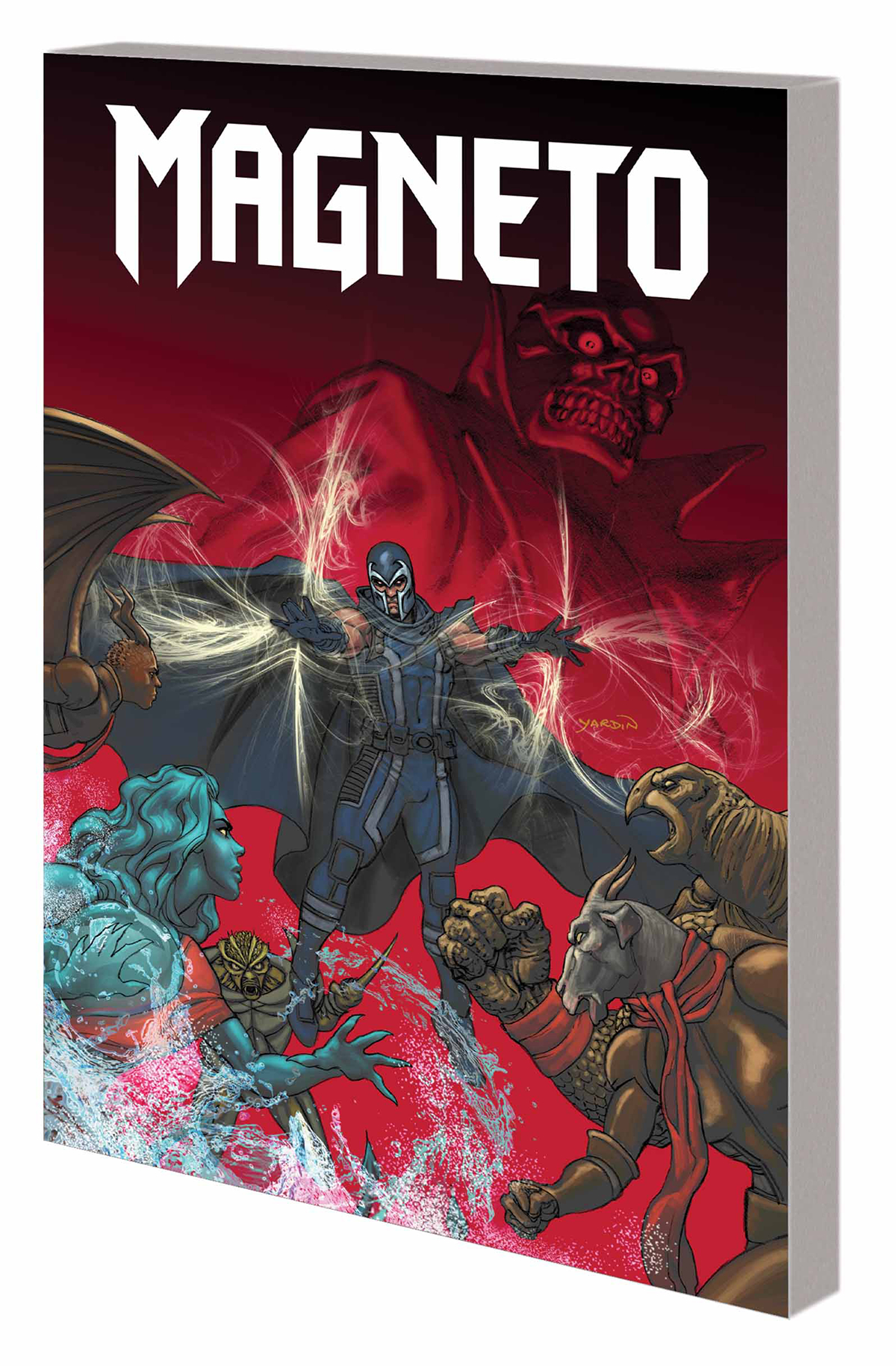 AXIS tie-in! Magneto was once arguably the most powerful mutant on the planet. But recently, his powers have been reduced to a whisper of what they once were. How far will he go to become the Master of Magnetism once more? When Magneto discovers that mutants are being hauled away to a re-education camp, he investigates - and learns that the Red Skull is behind the operation! And worse, the villain possesses the brain and powers of Magneto's deceased friend, Charles Xavier! Taking this affront personally on many levels, Magneto vows to bring down the Red Skull once and for all - but as the Skull sends the world into a spiral of destruction, will Magneto crumple before the maniac who's using Professor X's formidable telepathic powers to usher in his new, terrifying Reich Eternal?
Collecting MAGNETO (2014) #7-12.
MMW UNCANNY X-MEN HC VOL 09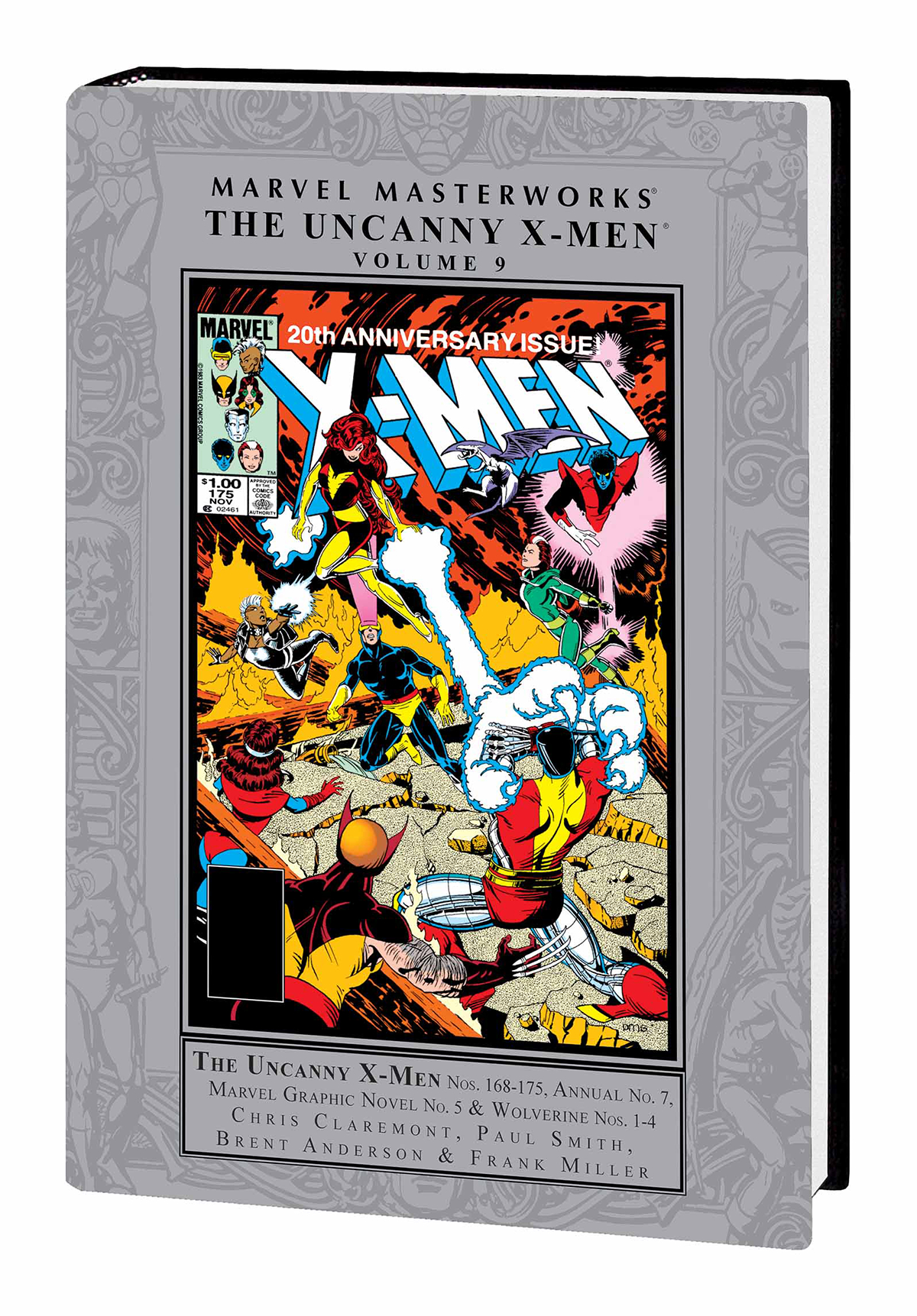 The Uncanny X-Men had become the biggest franchise in comic books by 1982. Chris Claremont's writing rose to find perhaps his most poignant and challenging expression of the mutant metaphor in "God Loves, Man Kills," while his work with Frank Miller on WOLVERINE skyrocketed the character's popularity. With culmination of Paul Smith's classic run-featuring the growing romance between Kitty Pryde and Colossus, the first appearance of Callisto and the Morlocks, Rogue's debut as an X-Man, and the wedding of Cyclops and Madelyne Pryor - this Marvel Masterworks is nothing short of a marathon of mutant milestones! Collecting UNCANNY X-MEN (1981) #168-175, UNCANNY X-MEN ANNUAL (1970) #7, MARVEL GRAPHIC NOVEL #5 and WOLVERINE (1982) #1-4.
PHANTOM COMPLETE DAILIES HC VOL 07 1946-1947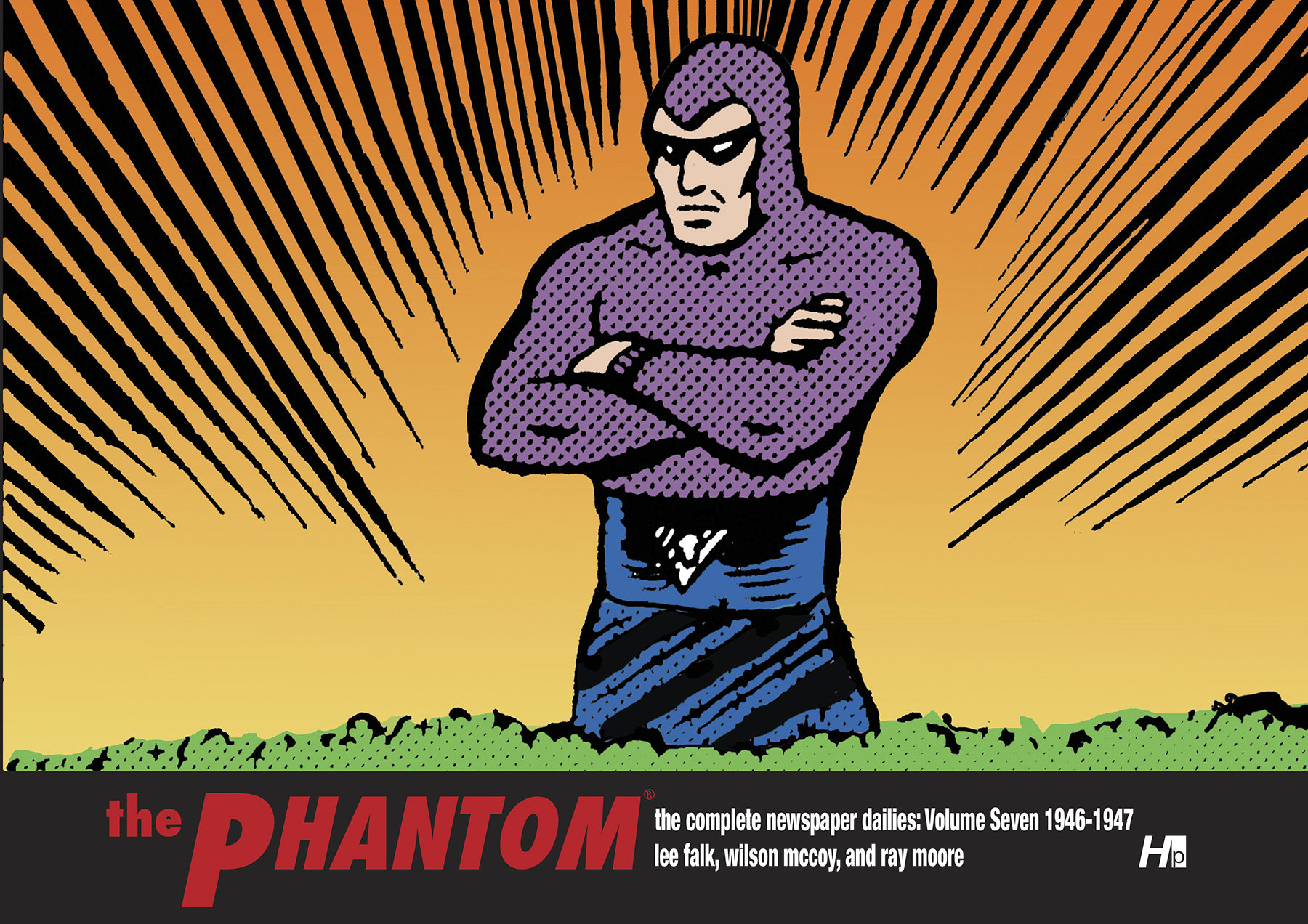 The critically acclaimed, best selling complete reprint of The Phantom dailies continues! Referred to by comic strip historian Maurice Horn as the "granddaddy of all costumed superheroes," The Phantom was created in 1936 by Lee Falk with artwork by Ray Moore. Volume Seven presents four complete continuities, reprinted for the first time in their entirety, "Princess Valerie," "Queen Asta of Trondelay," "Mister Hog," and "Romance of the Vesta Pirates." Strips from this issue are taken directly from King Feature's proofs.
SONS OF ANARCHY TP VOL 02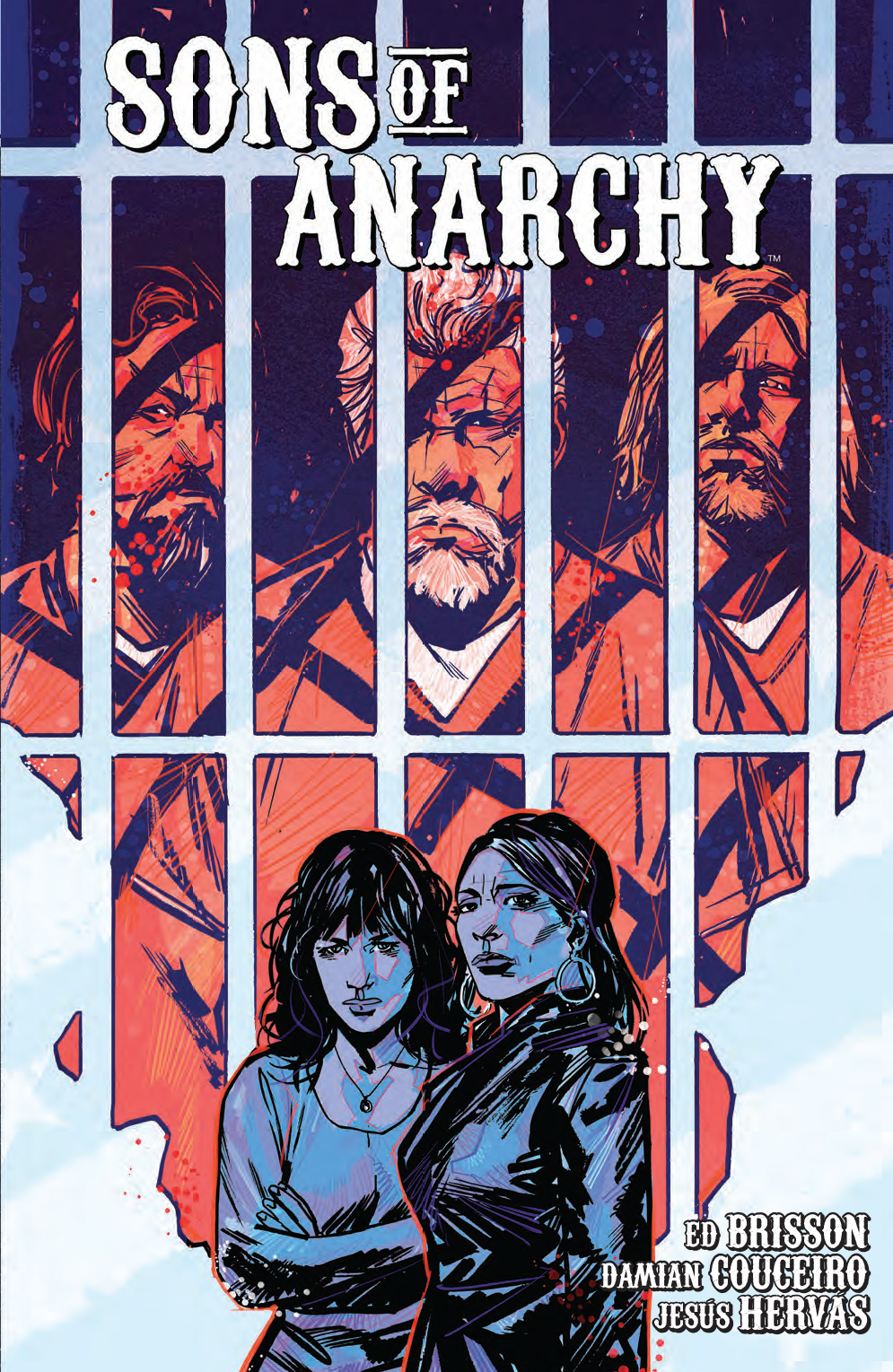 The Sons of Anarchy are behind bars and it's up to Gemma and Tara to keep the homefront
safe from rival clubs. And while Tara uses everything she's learned as a doctor and an "old
lady" to keep the MC intact during Jax's absence, Jax puts his life on the line to keep the Sons safe on the other side... Written by Ed Brisson (Sheltered) and illustrated by Damian Couceiro (Planet of the Apes), this jawdropping second volume bridges the gap between Seasons 3 and 4 of Kurt Sutter's revered television series. Also featuring a story drawn by the critically acclaimed Jesús Hervás (Hellraiser) revealing the violent origins of how Lee Toric came to Charming. Collects issues #7-10.
X-FORCE TP VOL 02 HIDE FEAR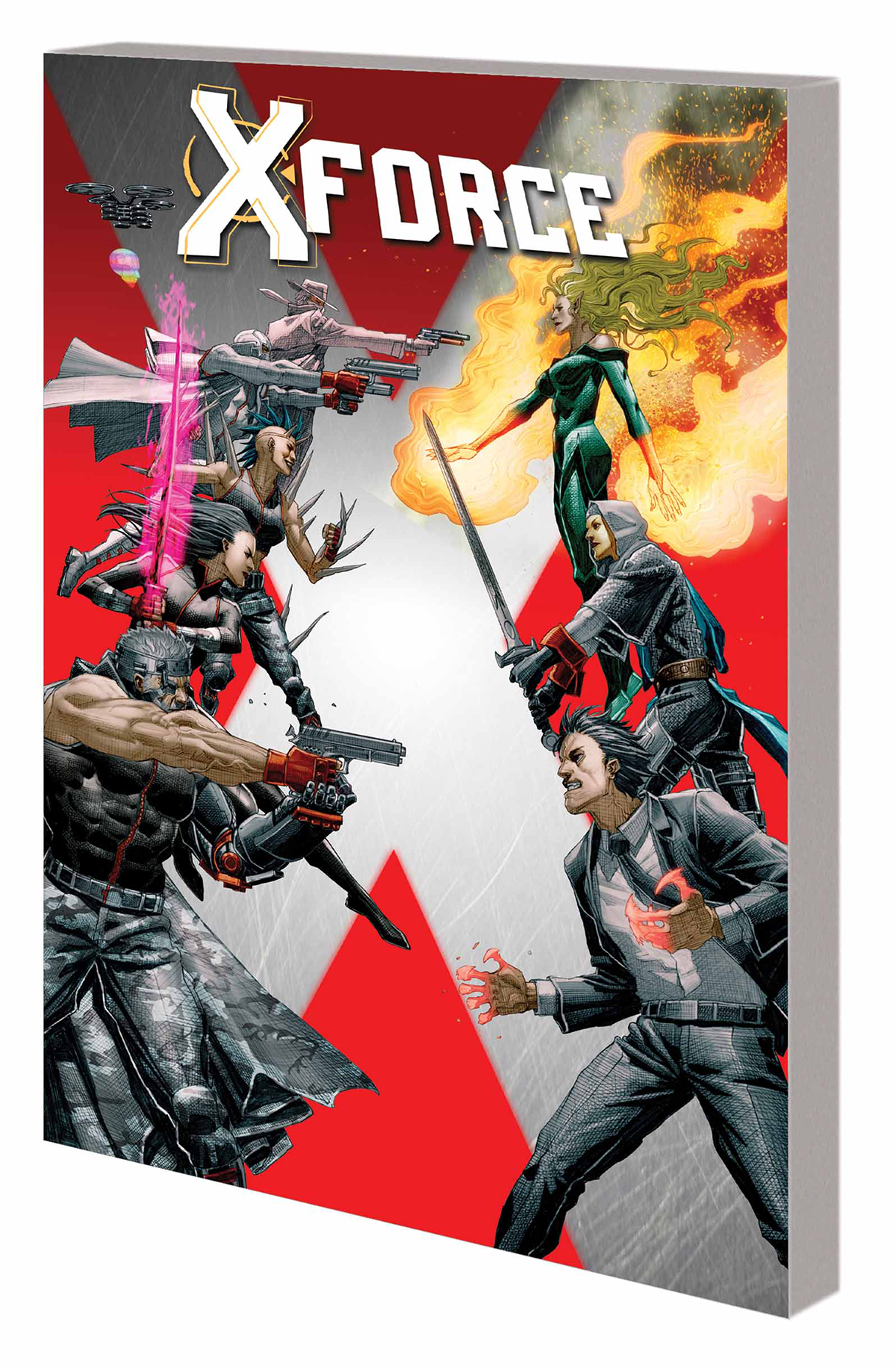 The members of X-Force barely survived superhuman arms dealer Volga - and with their secrets brought to light, they're barely surviving each other. How will Cable's team keep it together to carry out their mission? Will Domino's return help or hurt them? While pursuing the foe who killed one of their own, X-Force runs afoul of the UK's superhuman operatives: Pete Wisdom and MI13! Can X-Force out-spy the best spy there is? As the two factions come to blows, a third player secretly threatens to wipe them all off the board! X-Force targets ForgetMeNot, a mutant who may hold the key to defeating their greatest adversary. But can they convince him to join their cause? And how can they find a mutant who slips out of memory whenever he leaves their sight? Collecting X-FORCE (2014) #7-10 and X-MEN: LEGACY (2008) #300.