New Comics and Graphic Novels
for 6th May
BANK HOLIDAY DELIVERY

(again!?)
-
As usual, late delivery. Please give us time to unpack and process the order and we will be ready for about 1pm
Dark Horse Comics (release dates subject to change - list will change)

ANGEL AND FAITH SEASON 10 #14
BALTIMORE CULT OF THE RED KING
#1 (OF 5)
BRIDE OF THE WATER GOD TP VOL 17
CONCRETE PARK HC VOL 02 RESPECT
DRAGON AGE WORLD OF THEDAS HC VOL 02
EC ARCHIVES SHOCK SUSPENSTORIES HC VOL 03
NEVERBOY #3
RAT GOD #4
STRAIN TP VOL 05 NIGHT ETERNAL
USAGI YOJIMBO SENSO HC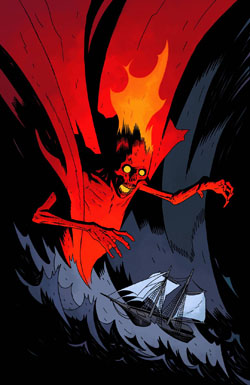 WITCHER FOX CHILDREN #2
Baltimore The Cult Of The Red King #1 (Of 5)

Dark Horse Comics

(W) Mike Mignola (A) Peter Bergting (CA) Ben Stenbeck

The Red King is legendary. But is he the stuff of myth-or the ultimate adversary of the human race? In this series, Lord Baltimore discovers the truth about an ancient evil that threatens to destroy the world.




BATMAN #40
BATMAN EARTH ONE VOLUME 2 HC
BATMAN SUPERMAN VOLUME 2 GAME OVER TP
BATMAN SUPERMAN VOLUME 3 SECOND CHANCE HC
CONVERGENCE #5 (OF 8)
CONVERGENCE BATGIRL #2 (OF 2)
CONVERGENCE BATMAN AND ROBIN #2 (OF 2)
CONVERGENCE HARLEY QUINN #2 (OF 2)
CONVERGENCE JUSTICE LEAGUE #2 (OF 2)
CONVERGENCE NIGHTWING ORACLE #2 (OF 2)
CONVERGENCE SPEED FORCE #2 (OF 2)
CONVERGENCE SUPERMAN #2 (OF 2)
CONVERGENCE THE ATOM #2 (OF 2)
CONVERGENCE THE QUESTION #2 (OF 2)
CONVERGENCE TITANS #2 (OF 2)
DIAL H DELUXE EDITION HC
FLASH SEASON ZERO #8
GIRL WHO PLAYED WITH FIRE TP
HINTERKIND #18
JUSTICE LEAGUE #40
MAD MAX FURY ROAD INSPIRED ARTISTS DELUXE EDITION HC
NAMES #9 (OF 9)
SCOOBY-DOO TEAM UP #10
SMALLVILLE SEASON 11 VOLUME 6 ALIEN TP
SUPERMAN #40
SUPERMAN VS DARKSEID TP
WOLF MOON #6 (OF 6)
WONDER WOMAN '77 SPECIAL
#1
Convergence #5 (of8)
DC Comics

(W) Jeff King (A/CA) Andy Kubert

The threat to the Multiverse grows as Brainiac confronts his creation Telos, and the surviving heroes of Earth-2 are stuck in the middle! Plus: A specific moment in time signals a call to all the cities that have been battling each other! Witness the final fates of the winners and losers of Convergence!

More info on the Convergence page
Wonder Woman 77 Special #1
DC Comics

(W) Marc Andreyko (A) Drew Johnson (CA) Nicola Scott

Don't miss this digital-first special based on the classic TV series starring Lynda Carter! Travel back to the sizzling '70s as the undercover Amazon Princess joins forces with special agent Steve Trevor to defend America against Cold War-era criminals. A search for an escaped Soviet scientist brings Wonder Woman to the hottest disco of the day, Studio 52. A live stage act might prove more of a threat to Wonder Woman than the Russian Roller Derby girls out to bring the scientist home.




IDW Comics
(release dates subject to change)
CHEW CASES OF THE FDA CARD GAME
DIRK GENTLY'S HOLISTIC DETECTIVE AGENCY
#1 (OF 5)
DON ROSA'S THE LIFE AND TIMES SCROOGE MCDUCK VOL 1 ARTIST'S EDITION HC
JUDGE DREDD CLASSICS THE DARK JUDGES #5 (OF 5)
MAXX MAXXIMIZED #19
MIAMI VICE REMIX #3 (OF 5)
MY LITTLE PONY FRIENDS FOREVER #16
RIP KIRBY VOLUME 8 HC
SAMURAI JACK #19
STAR TREK NEW VISIONS VOLUME 6 RESISTANCE
TEENAGE MUTANT NINJA TURTLES CLASSICS VOLUME 10 TP
TMNT NEW ANIMATED ADVENTURES VOL 5 TP
TRANSFORMERS #41
TRANSFORMERS MORE THAN MEETS THE EYE VOLUME 7 TP
UNCLE SCROOGE #2
V-WARS VOLUME 2 ALL OF US MONSTERS TP
WALTER SIMONSON'S STAR SLAMMERS THE COMPLETE COLLECTION HC
WINTERWORLD FROZEN FLEET
#1 (OF 3)
ZOMBIES VS ROBOTS #5
Donald Duck #1
IDW Comics
(W/A) Romano Scarpa (CA) Jan-Roman Pikula


In 'Shellfish Motives,' Donald wants to be a crimebustin' ace reporter-but can he save Uncle Scrooge's top-secret scientist from the mob?
Dirk Gentlys Holistic Detective Agency #1

IDW Comics

(W) Chris Ryall
(A) Tony Atkins (CA) Tony Atkins

An all-new comic series based on Douglas Adams' beloved holistic detective! Dirk arrives in San Diego to face a new country, new cases and new threats: reincarnation, for starters?!


Winterworld Frozen Fleet #1

IDW Comics


(W) Chuck Dixon (A) Esteve Polls (CA) Gerardo Zaffino

The Frozen Fleet begins! Scully and Wynn aren't travelling alone any more? but will secrets revealed turn tentative friends into certain enemies out on the Big Ice?
Image Comics
(release dates subject to change)
DESCENDER #3
ELEPHANTMEN #64
GOD HATES ASTRONAUTS #8
JUPITER'S CIRCLE #2
MINIMUM WAGE SO MANY BAD DECISIONS
#1 (OF 6)
NAILBITER #12
NO MERCY #2
RAT QUEENS VOLUME 2 THE FAR REACHING TENTACLES OF N'RYGOTH TP
ROCHE LIMIT CLANDESTINY
#1
ROCKET GIRL #6
SAVAGE DRAGON #203
THIEF OF THIEVES #28
WICKED + THE DIVINE #10
WITCHBLADE BORN AGAIN VOLUME 2 TP
Roche Limit Clandestiny #01

Image Comics
(W) Michael Moreci (A/CA) Kyle Charles


The breakout hit of 2014 returns with volume two of the groundbreaking sci-fi trilogy! It's 75 years after the events that left the Roche Limit colony in flames. When a crew of military and science personnel are sent to the forgotten and desolate planet on a mysterious expedition, they quickly learn its dark secrets-and that their mission is not what they thought it to be. With danger lurking all around, the crew members fight to find a way off the planet and resist the mysterious presence that haunts them all.




Artifacts Lost Tales #1

Image Comics

(W) Sean Hardy (A) Brian Rogers (CA) Linda Sejic

WITCHBLADE! HEARTSTONE! BLOODSWORD! Three short stories featuring three artifacts by three Talent Hunt-winning creative teams in this special one-shot!


Minimum Wage So Many Bad Decisions #1

Image Comics

(W/A) Bob Fingerman

It's battles, betrayals and the bizarre as only Byrne could b
Marvel Comics
ALL-NEW CAPTAIN AMERICA SPECIAL
#1
ALL-NEW X-MEN VOLUME 5 ONE DOWN TP
AMAZING SPIDER-MAN #18
ANT-MAN #5
CAPTAIN AMERICA RETURN OF THE WINTER SOLDIER OMNIBUS HC
FIGMENT HC
GEORGE ROMERO'S EMPIRE OF THE DEAD ACT THREE #2 (OF 5)
GUARDIANS OF THE GALAXY VOLUME 1 HC
GUARDIANS TEAM-UP #5
HULK #16
KANAN THE LAST PADAWAN #2
OPERATION S.I.N. #5 (OF 5)
PUNISHER #18
RETURN OF THE LIVING DEADPOOL #4 (OF 4)
ROAD TO MARVEL'S AVENGERS AGE OF ULTRON - ART OF THE MARVEL UNIVERSE HC
ROCKET RACCOON #11
SECRET WARS #1 (OF 8)
SECRET WARS PRELUDE TP
SPIDER-GWEN #4
SPIDER-WOMAN #7
STAR WARS EPISODE IV A NEW HOPE HC
UNBEATABLE SQUIRREL GIRL #5
WOLVERINES #17
All-New Captain America Special #1

Marvel Comics

(W) Jeff Loveness (A) Alec Morgan (CA) Jamal Campbell

PART 3: THE GRAND FINALE OF 'INHUMAN ERROR'! Red Raven has Spider-Man and the Inhumans right where he wants them! One bird turn deserves another, as the All-New Captain America answers the call to defend New York from the revenge-ready Red Raven!


Avengers Vs #1

Marvel Comics

(W) Joe Caramagna (A) Andrea Di Vito (CA) Tom Raney

It's the Avengers versus some of their all-time greatest foes! Powerful Asgardian artifacts are on Earth?but can the Avengers recover them before Loki? Contains four short stories featuring the villainous Red Skull, Attuma, Loki, MODOK, and more!
Inhuman Annual #1

Marvel Comics

(W) Charles Soule (A/CA) Ryan Stegman

All the threads of the first year come to a head in this epic oversized Annual! Medusa! Lash! Ennilux! Reader! Lineage! What will be left standing before Secret Wars pulls it all crashing to the floor?!?!?
Secret Wars #1 (Of 8)

Marvel Comics

(W) (A) (CA)

The incursion is happening! The Marvel Universe and Ultimate universe collide in this new 8-issue comic book series that will change everything you know about Marvel comics.
Other Publishers
(release dates subject to change)
AFTERLIFE WITH ARCHIE #8
ARCHIE 1000-PAGE COMICS BLOW-OUT TP
BATTLESTAR GALACTICA DEATH OF APOLLO #6 (OF 6) (DYNAMITE)
BLACK RIVER GN
BODIE TROLL FUZZY MEMORIES
#1
CEREBUS VOL 2 HIGH SOCIETY 30TH ANNIVERSARY REMASTERED GOLD EDITION TP
CLUSTER #4 (BOOM)
CROSSED BADLANDS #77
DAMSELS IN EXCESS #5
DAY MEN #7 (BOOM)
DEAD LETTERS #9 (BOOM)
DRONE VOLUME 1 TP
EXQUISITE CORPSE HC
FEATHERS #5 (BOOM)
FOX #2
GOD IS DEAD #35
GOD IS DEAD VOLUME 5 TP
HALOGEN #3 (OF 4) (BOOM)
IN GOD WE TRUST HC
JIM HENSON'S STORYTELLER WITCHES HC (BOOM)
JOHN CARTER WARLORD OF MARS #6 (DYNAMITE)
JUGHEAD AND ARCHIE COMICS DOUBLE DIGEST #12
LOOKING FOR GROUP #2 (DYNAMITE)
MASKS 2 #2 (OF 8) (DYNAMITE)
NUTMEG #2
PALMIOTTI AND BRADY'S THE BIG CON JOB #3 (OF 4) (BOOM)
PRINCELESS VOLUME 3 THE PIRATE PRINCESS TP
RACHEL RISING #33 (ABSTRACT)
REGULAR SHOW #23 (BOOM)
SHAHRAZAD #2
SONS OF ANARCHY LIMITED EDITION VOLUME 1 HC (BOOM)
SWORDS OF SORROW #1 (OF 6) (DYNAMITE)
UBER #24
UNCANNY SEASON 2 #2 (OF 6) (DYNAMITE)
VALIANT UNIVERSE HANDBOOK 2015 EDITION
#1
VAMPLETS THE NIGHTMARE NURSERY #2 (OF 6)
WE CAN NEVER GO HOME #2 (OF 5)
WOODS VOLUME 2 TP (BOOM)
Arcadia #1

Boom Studios Comics

(W) Alex Paknadel (A) Eric Scott (CA) Matt Taylor

When 99% of humankind is wiped out by a pandemic, four billion people are 'saved' by being digitized at the brink of death and uploaded into Arcadia, a utopian simulation in the cloud. But when Arcadia begins to rapidly deplete the energy resources upon which the handful of survivors in the real world (a.k.a. 'The Meat') depends, how long will The Meat be able - and willing - to help? Featuring the first of five connecting covers by Matt Taylor.
Bodie Troll Fuzzie Memories #1

Red 5 Comics


(W/A) Jay P. Fosgitt

Bodie thinks he's a big, scary troll, yet everyone in the village of Hagadorn knows he's cute and cuddly. But that won't stop a monster hunter from making a trophy out of Bodie!
Dead Drop #1

Valiant Entertainment

(W) Ales Kot (A) Adam Gorham (CA) Raul Allen

Four issues. Four stories. One ticking clock! Red-hot writer Ales Kot (Bucky Barnes: The Winter Soldier) and rising star Adam Gorham (Zero) start the countdown to DEAD DROP as an unlikely cast of superhuman operators fall in deep for an undercover conspiracy action thriller in the darkest corners of the Valiant Universe? There is a secret black market in New York. It is hidden in plain sight - in our streets, trains, restaurants. Those who know how to navigate it exchange secrets of extraordinary nature. But when the secret in circulation is a biological weapon derived from Vine technology, the gloves are off - and the most extraordinary agents are released to stop the disaster before it occurs. Otherwise, in less than thirty minutes, there will be no world to come back to. X-O Manowar, Archer, Neville Alcott, Detective Cejudo and Betamax are ready to save the world.
Drone Fatal Error #1

Red 5 Comics

(W) Scott Chitwood (A/CA) Randy Kintz

After being drafted into the military's drone program, David Weaver discovers that it isn't quite the video game he thought it was. But when the drones are called to investigate a sunken submarine, he finds himself on the front lines of a conflict that could start WWIII. Featured in Free Comic Book Day 2015.
Mens Feelings #1

Alternative Comics

(W/A/CA) Ted May

The first solo comic by Injury co-creator Ted May in nearly a decade. A collection of vignettes and gag strips featuring an assortment of gamblers, pizza boys, entrepreneurs, and even a magician. May gently lampoons the whimsical aspects of the modern cultural landscape. A Revival House production.
Swords Of Sorrow #1

Dynamite Comics

(W) Gail Simone (A) Sergio Fernandez Davila (CA) J. Scott Campbell


DYNAMITE'S FIERCEST FEMALES IN THEIR BIGGEST EVENT EVER! Fan-favorite GAIL SIMONE (RED SONJA, BATGIRL) and rising art star SERGIO DAVILA (LEGENDERRY) combine to tell the ultimate pulp adventure, featuring Vampirella, Dejah Thoris, Red Sonja, Kato, Jungle Girl, and many, many more! Villains and heroes from a dozen worlds and eras face off against a legendary evil that threatens all their homelands. Don't miss this thrilling epic tale, an event supported by one-shot side adventures written by the hottest writers today, like G. Willow Wilson, Marguerite Bennett, Nancy Collins and more!
Valiant Universe Handbook 2015

Valiant Comics

(W/A) various (CA) Raul Allen

The epic origins! The fearless first adventures! The ever-shifting allies and allegiances! In honor of Valiant's 25th anniversary, get everything you need to know about the most formidable heroes and villains that the Valiant Universe has to offer right here with an all-new 40-page handbook for just $2.99! From Animalia to Zephyr, get an essential briefi ng on Valiant's most important players with a highly detailed and throughly updated breakdown of the monumental characters that will be making the Valiant Universe tick in 2015 and beyond! Featuring artwork from an all-star cast of Valiant superstars - Doug Braithwaite, Clayton Crain, Trevor Hairsine, Clayton Henry, Bryan Hitch, Cary Nord, and many, many more - discover everything you need to know to jump into the world of Valiant's award-winning series right here! Plus: start at the beginning and find out what you might have missed with a brand new guide to Valiant's trade paperback collections! It all starts here in the VALIANT UNIVERSE HANDBOOK?