New in store this week: gritty futuristic crime drama THE FUSE Vol 1, award winning creator Liz Prince's new graphic novel memoir TOMBOY (which looks fantastic!), the complete DEADPOOL VS CARNAGE, a beautiful version of the myth of THESEUS AND THE MINOTAUR, the final fantasy adventure for COURTNEY CRUMRIN, new trade collections for AVENGERS UNDERCOVER, NEW WARRIORS, FANTASTIC FOUR, X-FORCE, GREEN LANTERNS NEW GUARDIANS, and catch up with former Marvel superhero Jessica Jones before she makes her tv series debut in Daredevil with her finally reprinted collection THE PULSE.
What are you looking forward to reading this week? Talk to us @DavesComics!
ARIOL SC VOL 05 BIZZBILLA HITS BULLSEYE All of Ariol's friends know that he has a big crush on Petula, but no one seems to notice that Bizzbilla has her sights on Ariol, including Ariol! While she's waited in the wings hoping Ariol will notice her, this sweet little fly has been cooking up a plan. Mister Cantharide, Bizzbilla's dad, is an ophthalmologist. An ophthalmologist is the eye doctor. Ariol wears glasses. And it seems he has an appointment coming up! Bizzbilla is all abuzz with impatience; will Ariol finally get the message? With charming artwork and hilarious vignettes, Ariol is the perfect series for anyone who started off life as a kid!
AVENGERS UNDERCOVER TP VOL 01 DESCENT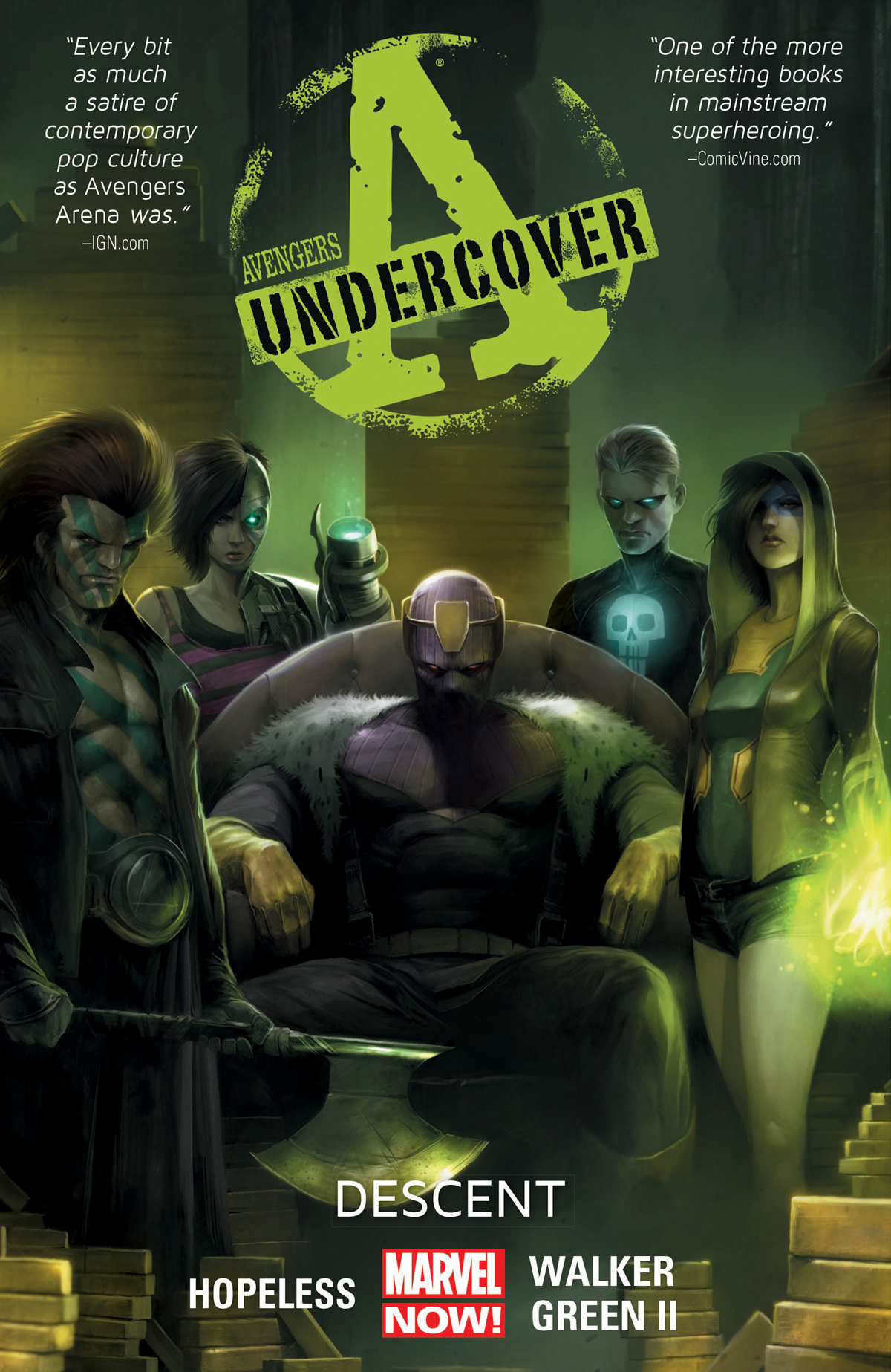 When teen heroes infiltrate the Masters of Evil, who will break bad? Damaged by their experience in Murderworld, five conflicted young superhumans go rogue and pose as villains, planning to bring the Avengers' rivals down from within. But the longer the teens spend undercover, the more they descend into darkness - and as they start to build relationships with these multi-layered criminals, the line between good and evil blurs. What will happen first: joining the Masters for real, or getting exposed and killed? What happens when the teens confront their former captor, Arcade? And what on earth do the undercover heroes do that brands them as Public Enemy No. 1? As Death Locket must choose between murdering Captain America or blowing her cover, Baron Zemo makes the teens an offer they can't - they dare not - refuse! Collecting AVENGERS UNDERCOVER #1-6.
COURTNEY CRUMRIN SPEC ED HC VOL 06 On the run from the Coven with her former teacher Calpurnia, Courtney Crumrin is quickly learning just how sinister the witches and warlocks of Hillsborough can be-but she never thought she'd see the day when Uncle Aloysius turned on her as well. It's a lot harder to fight a battle when the only family you care about is against you, and Courtney's only salvation may lie in the Twilight Kingdom-and away from the mortal world. But Aloysius won't give up his niece so easily-even if he has to fight the night creatures to do it.
DC UNIVERSE VS MASTERS OF THE UNIVERSE TP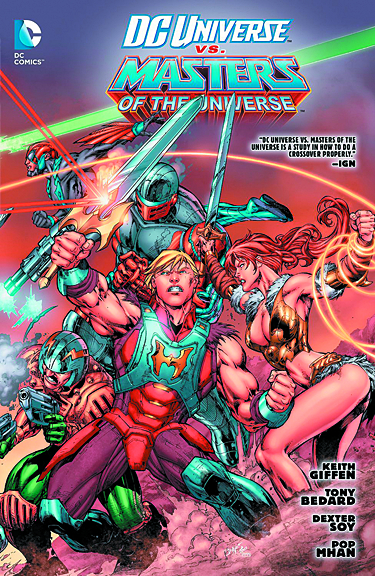 When He-Man and friends go in search of Skeletor on Earth, they find themselves at odds with the heroes of the DC Universe! Can these heroes stop Skeletor and his mysterious new master? Collects the six-issue miniseries plus DC COMICS PRESENTS #47.
DEADPOOL VS CARNAGE TP Come one, come all, for the bloodiest showdown the Marvel Universe has ever seen! It's two red-suited madmen for the price of one when Deadpool takes on Carnage in the ultimate battle of good-crazy vs. bad-crazy! Will Carnage spread Deadpool all over the landscape? Or will Deadpool talk the scarlet sociopath's ear off? Find out in this blood-soaked brouhaha for the ages! Plus: Cletus Kasady is behind bars, and the Carnage symbiote is in quarantine! But we all know that's never going to last, right? Cletus has been evaluated, imprisoned and even lobotomized. Carnage has been sampled, cloned, poked and prodded. But they've had enough! It's time to get the band back together! It's a return to bloody, murderous form for the deadliest killer in the Marvel Universe! Collecting DEADPOOL VS. CARNAGE #1-4 and SUPERIOR CARNAGE ANNUAL #1.
FABLES TP VOL 20 CAMELOT Rose Red takes the mantle of Paladin of Hope to rally the Fables in the tragic aftermath of "Snow White." A new dark age calls for a new Round Table, with modern knights willing to take on a sacred quest to reassemble the shattered pieces of Fabletown. This new volume collects issues #131-136 of this multiple Eisner-Award-winning series.
FANTASTIC FOUR TP VOL 01 FALL OF FANTASTIC FOUR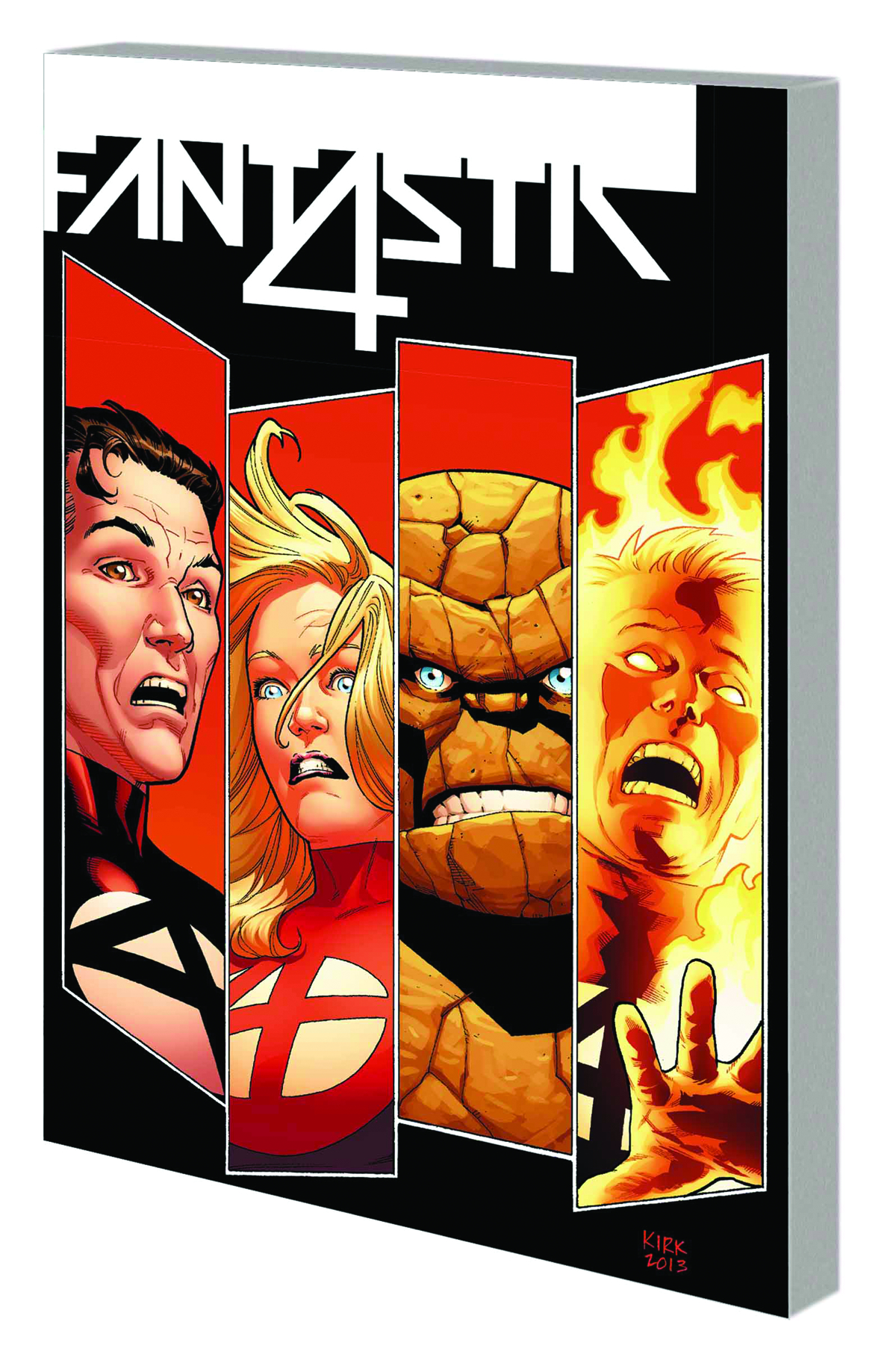 The World's Greatest Comics Magazine begins anew! But as the Fantastic Four embark on a strange mission, they aren't met with new beginnings - they face an untimely end! Marvel's First Family heads toward its darkest hour, but who's behind the FF's downfall? Manhattan is under attack by a killer swarm from a corrupted pocket universe; to defeat it, the Human Torch must make a terrible sacrifice! And with one member down, a new menace emerges: the Wrecking Crew, their powers mysteriously elevated! As Ben and Alicia's romance rekindles, the threats of Fin Fang Foom, the Wizard and the Puppet Master loom; the Baxter Building is quarantined; and the Fantastic Four are held accountable for the destruction in Manhattan! It's the trial of the century and a major turning point for the FF!
Collecting FANTASTIC FOUR (2014) #1-5.
FUSE TP VOL 01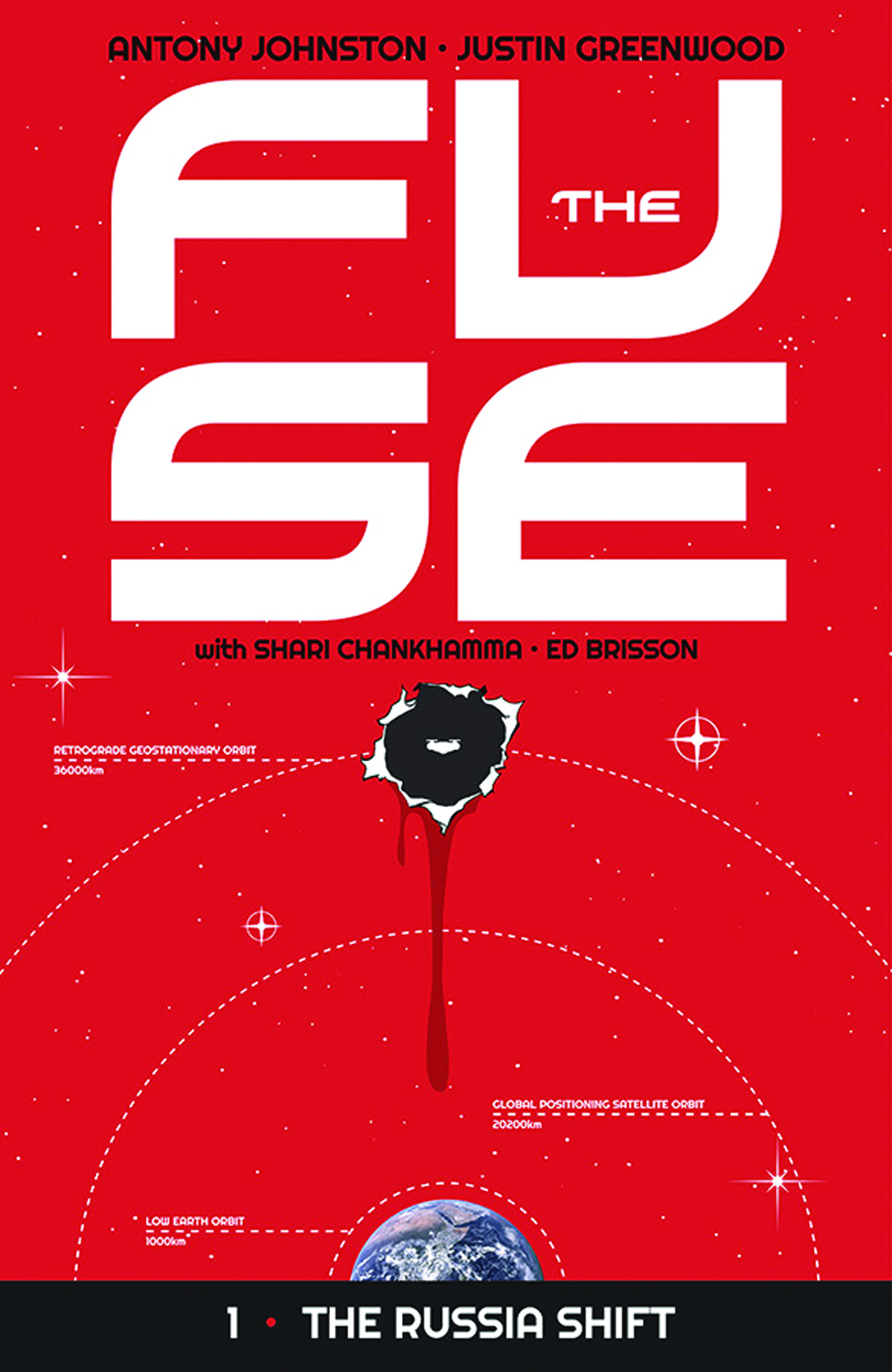 22,000 MILES UP, THERE IS NO BACKUP.
Working homicide on an orbiting energy platform, in a five mile long jury-rigged steel city stuffed with a half million people, and no help from your so-called colleagues back on earth, is more than tough...it's murder.
Cynical, foul-mouthed veteran ANTONY JOHNSTON (UMBRAL, Wasteland) gets partnered with fresh-faced idealist JUSTIN GREENWOOD (Wasteland, Resurrection) for a new crime series with serious attitude!
GREEN LANTERN NEW GUARDIANS TP VOL 04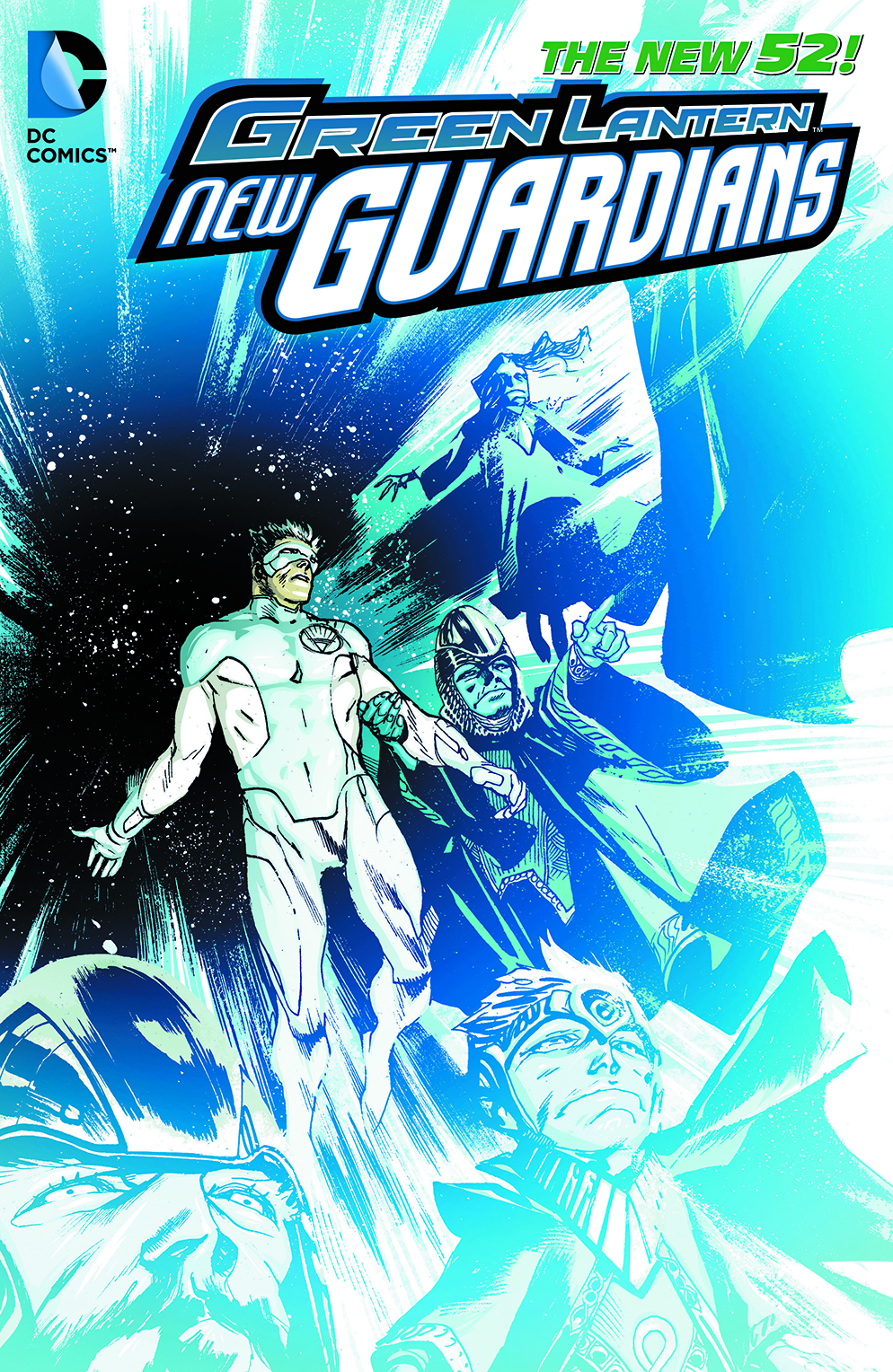 The Templar Guardians have been locked away for millennia and now, they need Kyle Rayner's help. But once he sees the strange anomaly lurking at the edge of known space, he may have no choice but to get on board with their mission. Don't miss these tales from GREEN LANTERN: NEW GUARDIANS #21-27 and GREEN LANTERN ANNUAL #2.
HATSUNE MIKU UNOFFICIAL HATSUNE MIX TP Who's that girl with the long green ponytails you've been seeing everywhere? It's Hatsune Miku, the Vocaloid-the synthesizer superstar who's singing your song! She's a global cyber celebrity and a cosplay favorite at conventions. Now Miku's original illustrator, KEI, brings you Hatsune Miku: Unofficial Hatsune Mix-an omnibus manga of the musical adventures (and misadventures!) of Miku and her fellow Vocaloids Rin, Len, Luka, and more-in both beautiful black-and-white and charming color!
JESSICA JONES PULSE COMPLETE COLLECTION TP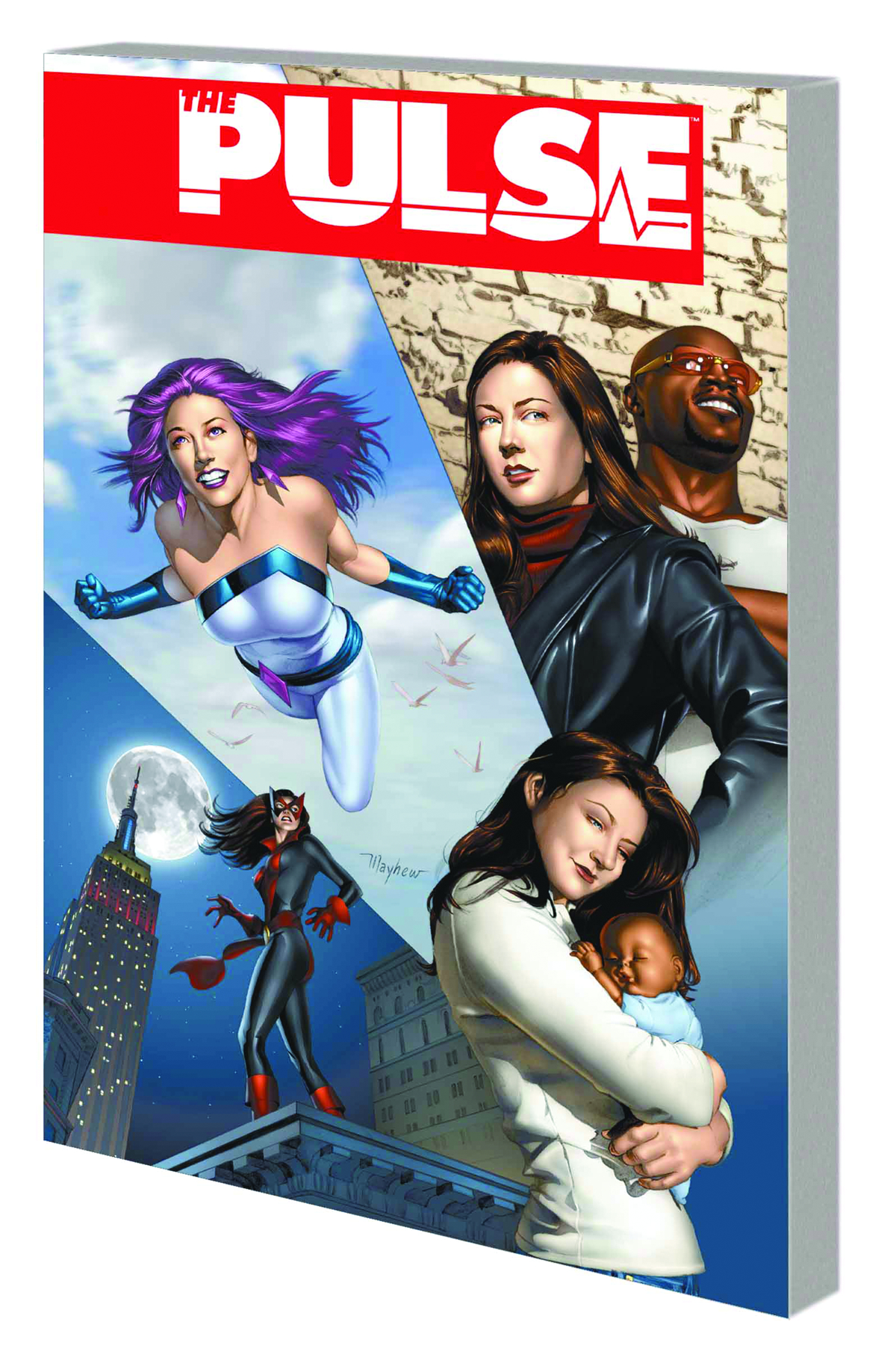 Jessica Jones, breakout star of Brian Michael Bendis' hit series ALIAS, is back! And the ex-Avenger-turned-private investigator is starting a new chapter in her life - working for The Daily Bugle's new super-hero section, The Pulse! Jessica's first assignment: to uncover the identity of a former Bugle reporter's super-powered murderer! How is Norman Osborn involved? And how will Jessica's shocking discovery affect the entire Marvel Universe? And when Nick Fury's Secret War spills over into the streets, it hits Jessica and Luke Cage right where they live! With their lives in shambles, Jessica decides to fight back! Finally, it's the moment you've been waiting for: the birth of Jessica and Luke's baby, and their wedding day! Guest-starring Spider-Man, Captain America, the New Avengers and more! Collecting PULSE #1-9 and #11-14, and NEW AVENGERS ANNUAL (2006) #1.
MAGIC THE GATHERING COMP COLL HC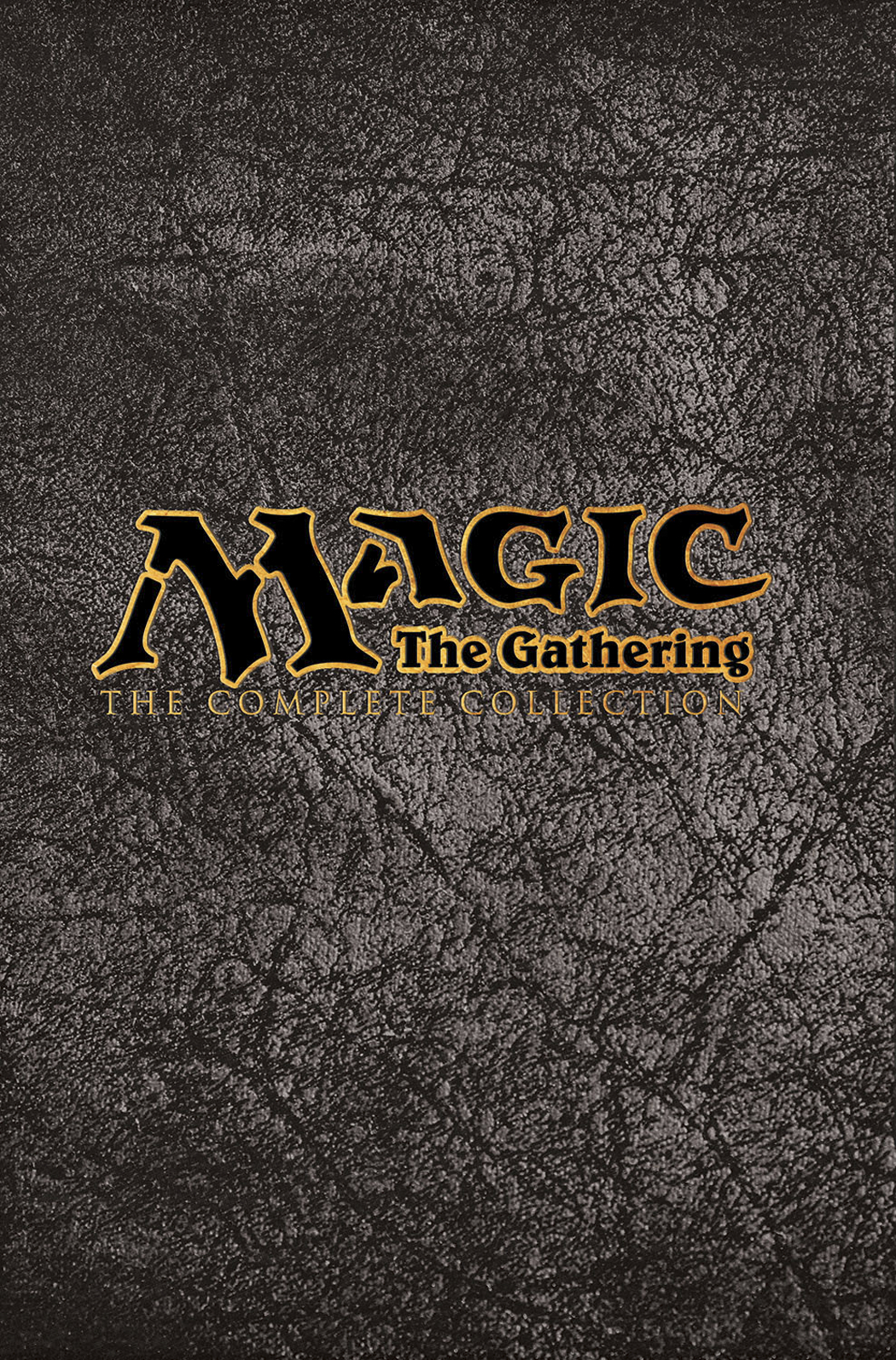 In search of greater knowledge and on the hunt for the people who destroyed his town, Dack Fayden is the greatest thief in the Multiverse. When he gets his hands on his latest prize though, he has no idea where it will lead him-or to whom!
MMW ATLAS ERA TALES OF SUSPENSE TP VOL 01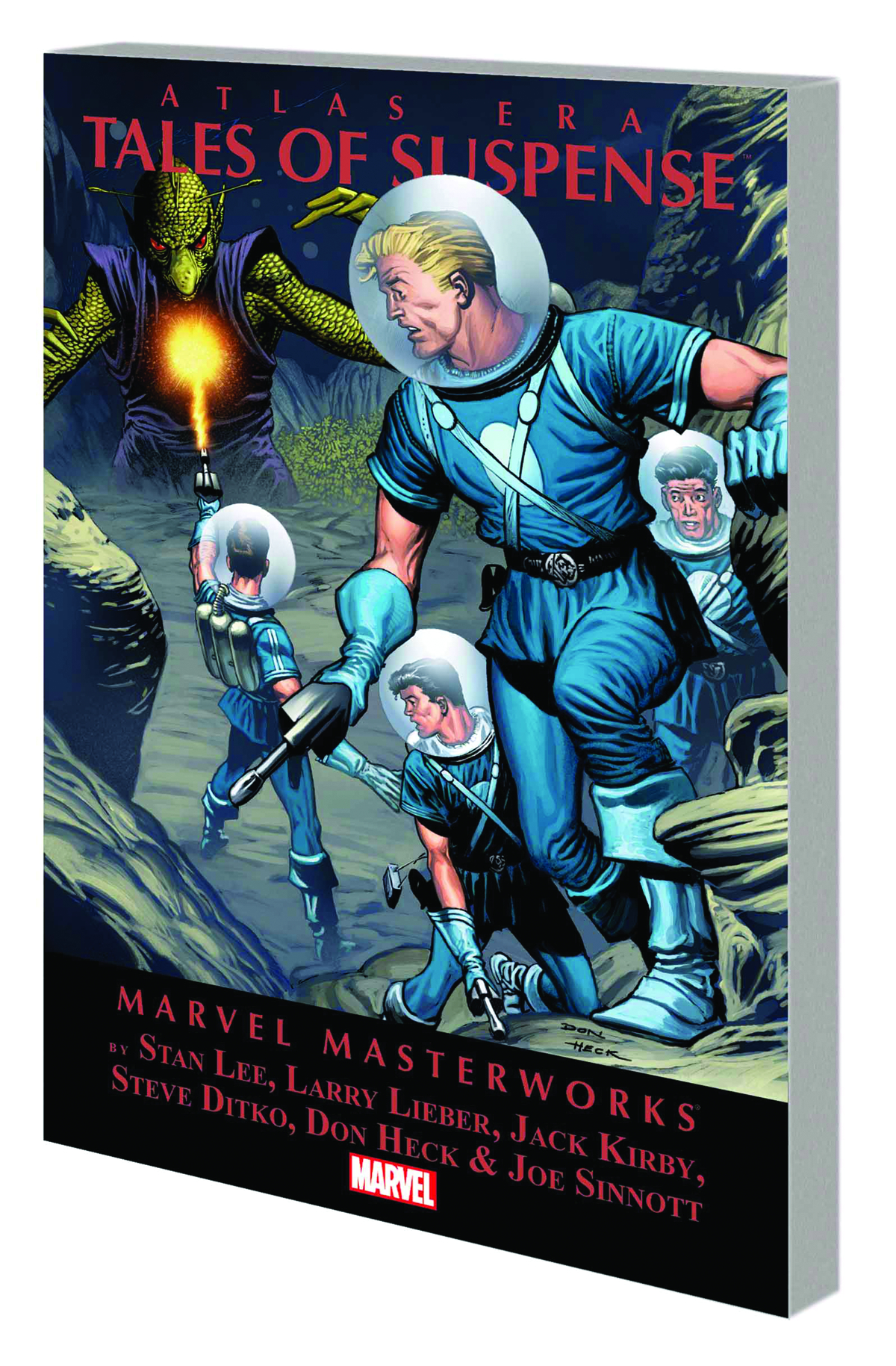 In 1958, Stan Lee stood before the decimated Atlas line. Having gone from editor of a line of dozens of titles to just eight, Stan refocused his efforts on only biggest and best: enter TALES OF SUSPENSE! Anchored by the visual talents Jack Kirby, Steve Ditko and Don Heck, this new "big monster" book became part of a creative revival that would change comics forever. Their twist-ending tales featuring Martians, killer robots and massive monsters were the very foundation for what would become Marvel's super-hero House of Ideas. So strap on your tin-foil hat, grab your ray gun, and get ready to dive into one of the most amazing eras of comics' history! Collecting TALES OF SUSPENSE (1959) #1-10.
MMW MARVEL RARITIES HC VOL 01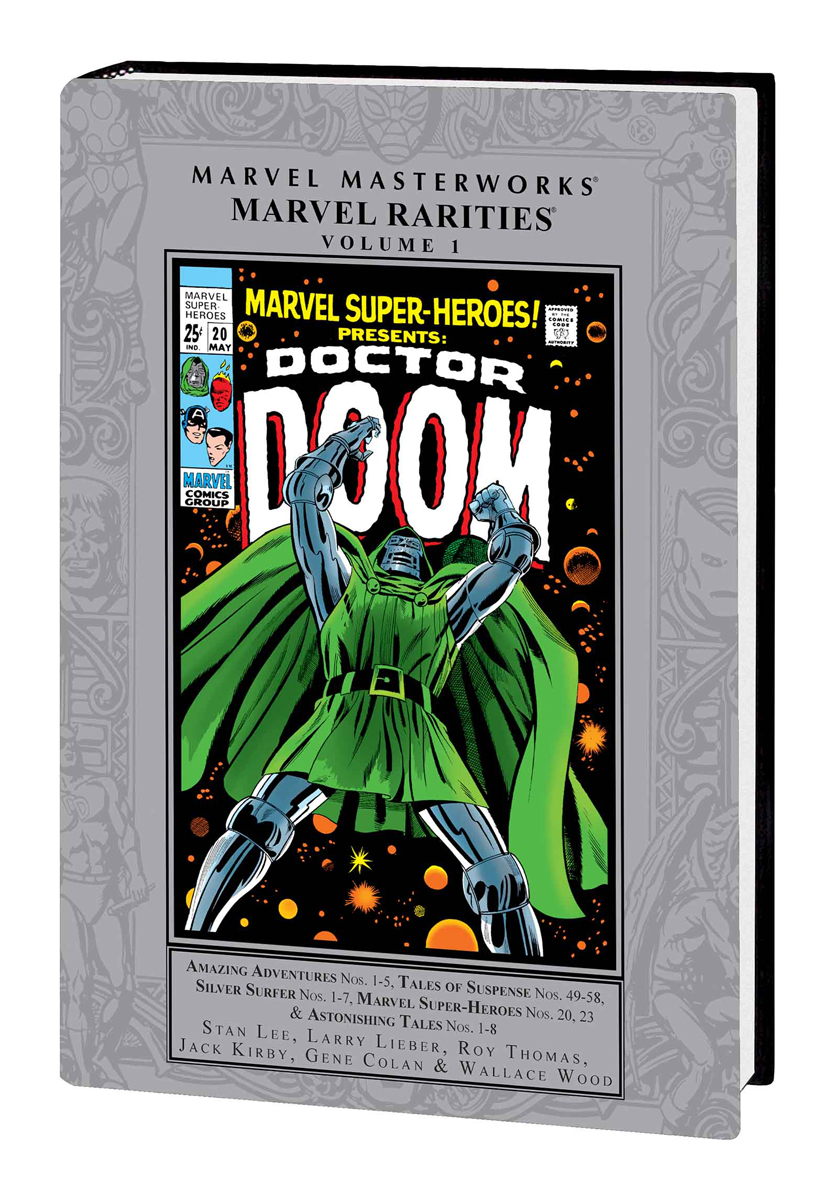 That's right, True Believer! Because you demanded it, the Marvel Masterworks proudly bring you a collection of the rarest stories from the Marvel Age of Comics! Experience classic tales featuring mystic hero Dr. Droom, arch-villain Dr. Doom and the cosmic Watcher in one must-have Masterworks collection! Featuring some of the era's greatest talents - Stan Lee, Jack Kirby, Roy Thomas and Gene Colan - it's a perfect Masterworks pedigree! This volume will also include a host of amazing extras from the 1960s peak of the Marvel Age - original Marvel Merry Marching Society memorabilia; rare pinups, posters and prints; and more! It's the volume you've dreamed of, so reserve your copy today! Collecting material from AMAZING ADVENTURES (1961) #1-5, TALES OF SUSPENSE #49-58, SILVER SURFER (1968) #1-7, MARVEL SUPER-HEROES (1967) #20 and #23, and ASTONISHING TALES (1970) #1-8.
NEW WARRIORS TP VOL 01 KIDS ARE ALL FIGHT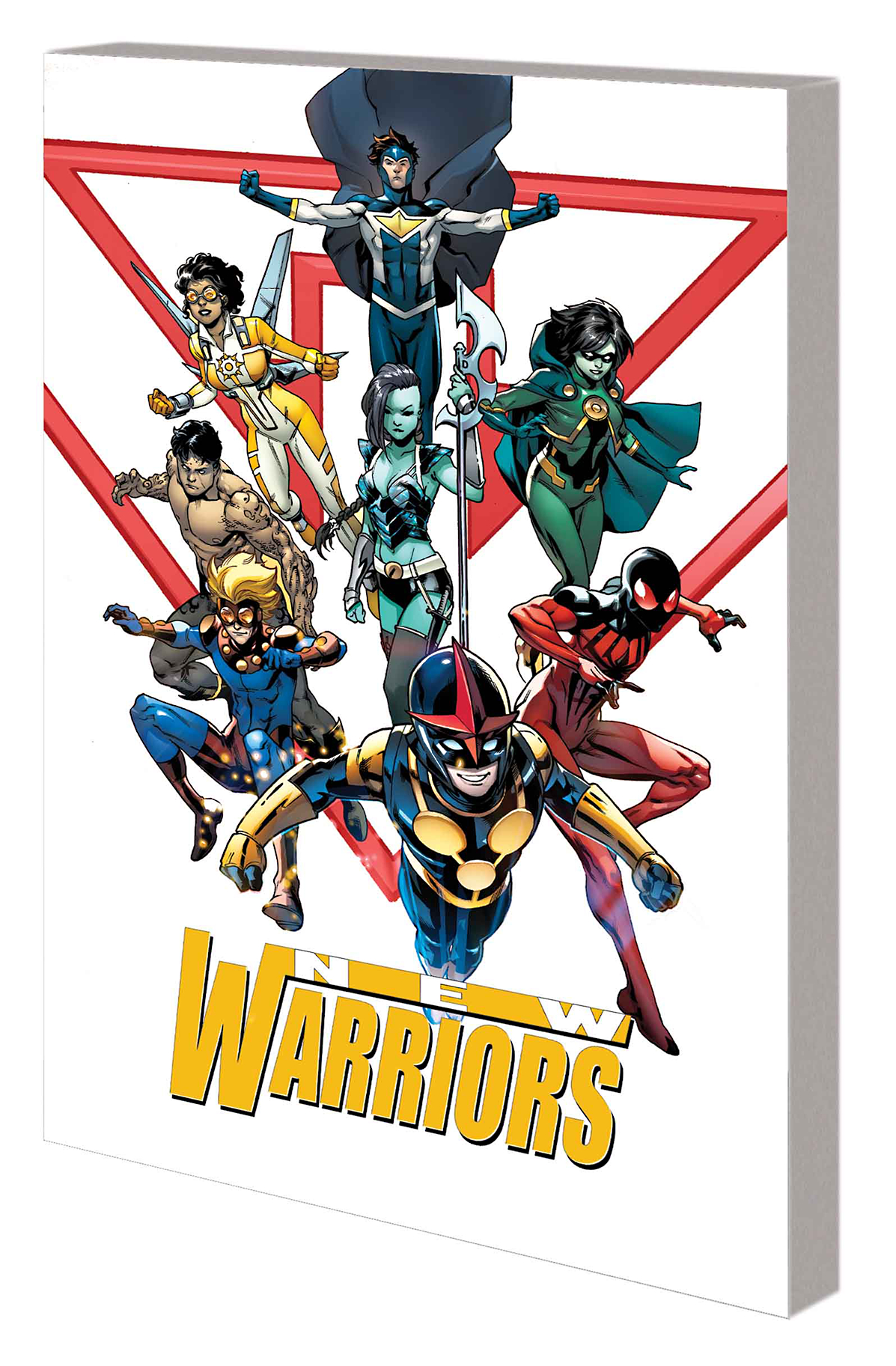 Warriors reborn! Speedball and Justice gather a group of young heroes including Sun Girl, Hummingbird, the new Nova and a couple of fresh faces to stop the latest threat to the Marvel Universe! Atlanteans, Inhumans, Morlocks, clones and hundreds of other so-called "superior" beings are living among normal humans - but not everyone is pleased about that. The High Evolutionary has raised an army to combat the evolution of humanity - and the New Warriors are locked in his deadly sights! If it's not human, it dies - but why? And what do the mighty Evolutionaries want with Nova? As worldwide genocide approaches and Nova encounters the captive Scarlet Spider, the Second Evolutionary War begins! Can the Warriors stop worldwide genocide? Should they? How many lives would you sacrifice to save all of humanity? Guest-starring the Avengers!
Collecting NEW WARRIORS (2014) #1-6.
PEANUTS WAITING FOR GREAT PUMPKIN HC Linus and his wait for the Great Pumpkin have been a pop culture touchstone for nearly 50 years thanks to the animated television special, and it all started in the classic Peanuts strips from 1959-1962 collected in this affordable, fun-sized gift book. Charles M. Schulz's homage to the power of idealism and belief makes these some of the most beloved comic strips of all time.
STEAM ENGINES OF OZ COMP COLL HC VOL 01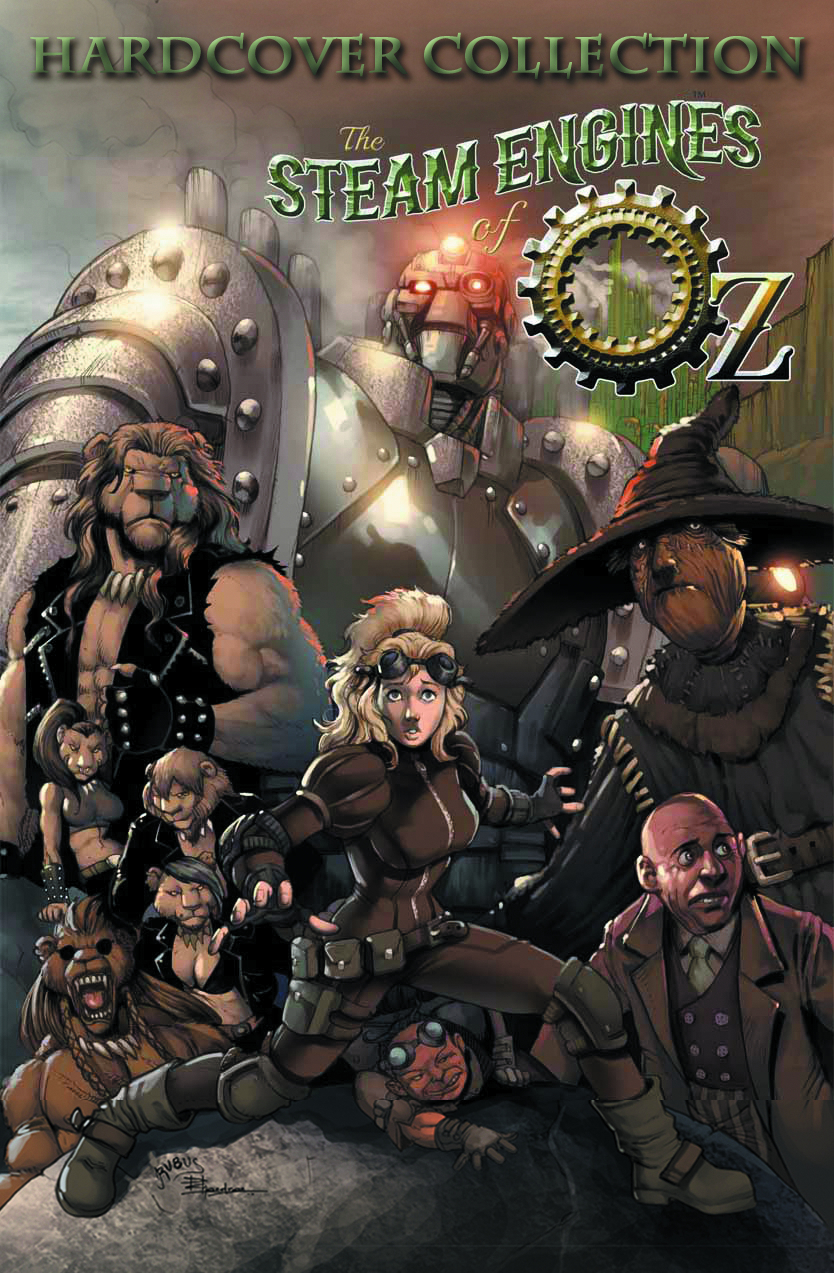 Collecting the complete, two-volume SteamPunk epic future of the World of Oz! A century after the Wicked Witch was killed, The Emerald City is ruled by a once-revered hero, an ice-witch rules over the north, the Lions overrun the forests, evil twins approach from the West, and secrets hide in every shadow. Salvation for Oz comes from the unlikely young Victoria Wright. She comes to find that the smallest of actions can have much larger implications, and the most insignificant of us can change the world. Collects The Steam Engines of Oz FCBD, The Steam Engines of Oz #1-3, and The Steam Engines of Oz: The Geared Leviathan #1-3.
THESEUS AND THE MINOTAUR GN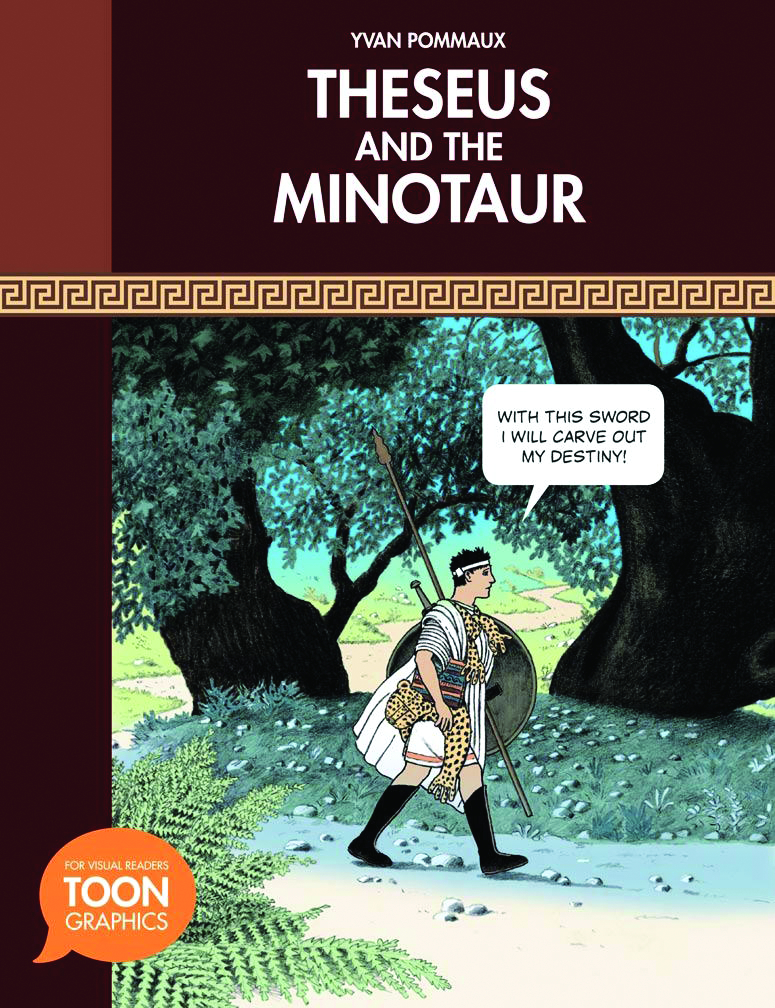 Master French cartoonist Yvan Pommaux introduces a wealth of historically accurate details that immerse readers in the context and culture of ancient Greece. The story is supplemented with character cards, maps, mazes, and an index of cited names that will keep readers coming back for more! The literary quality of this book will appeal to readers young and old, making it an excellent addition to every classroom and library.
TOMBOY GRAPHIC MEMOIR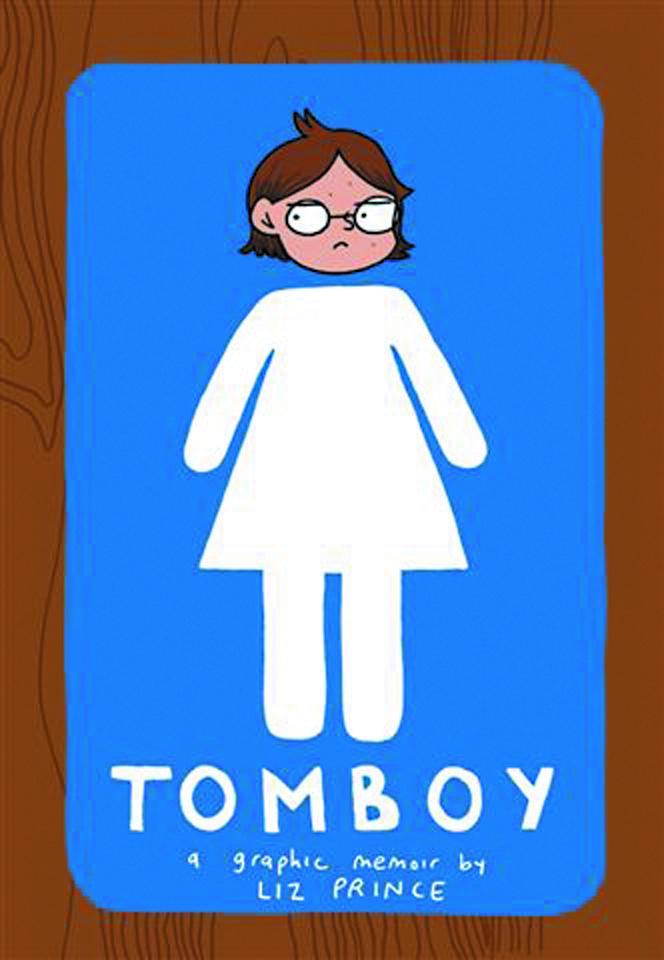 Growing up, Liz Prince wasn't a girly girl, dressing in pink tutus or playing Pretty Pretty princess like the other girls in her neighborhood. But she wasn't exactly one of the guys either, as she quickly learned when her Little League baseball coach exiled her to the outfield instead of letting her take the pitcher's mound. Liz was somewhere in the middle, and Tomboy is the story of her struggle to find the place where she belonged. A memoir told anecdotally, Tomboy follows author and zine artist Liz Prince through her early childhood into adulthood and explores her ever-evolving struggles and wishes regarding what it means to "be a girl."
WALKING DEAD HC VOL 10 Rick's treaty with Negan and the Saviors is pushed to the limit, as both sides march toward ALL OUT WAR.
X-FORCE BY KYLE AND YOST COMPLETE COLLECTION TP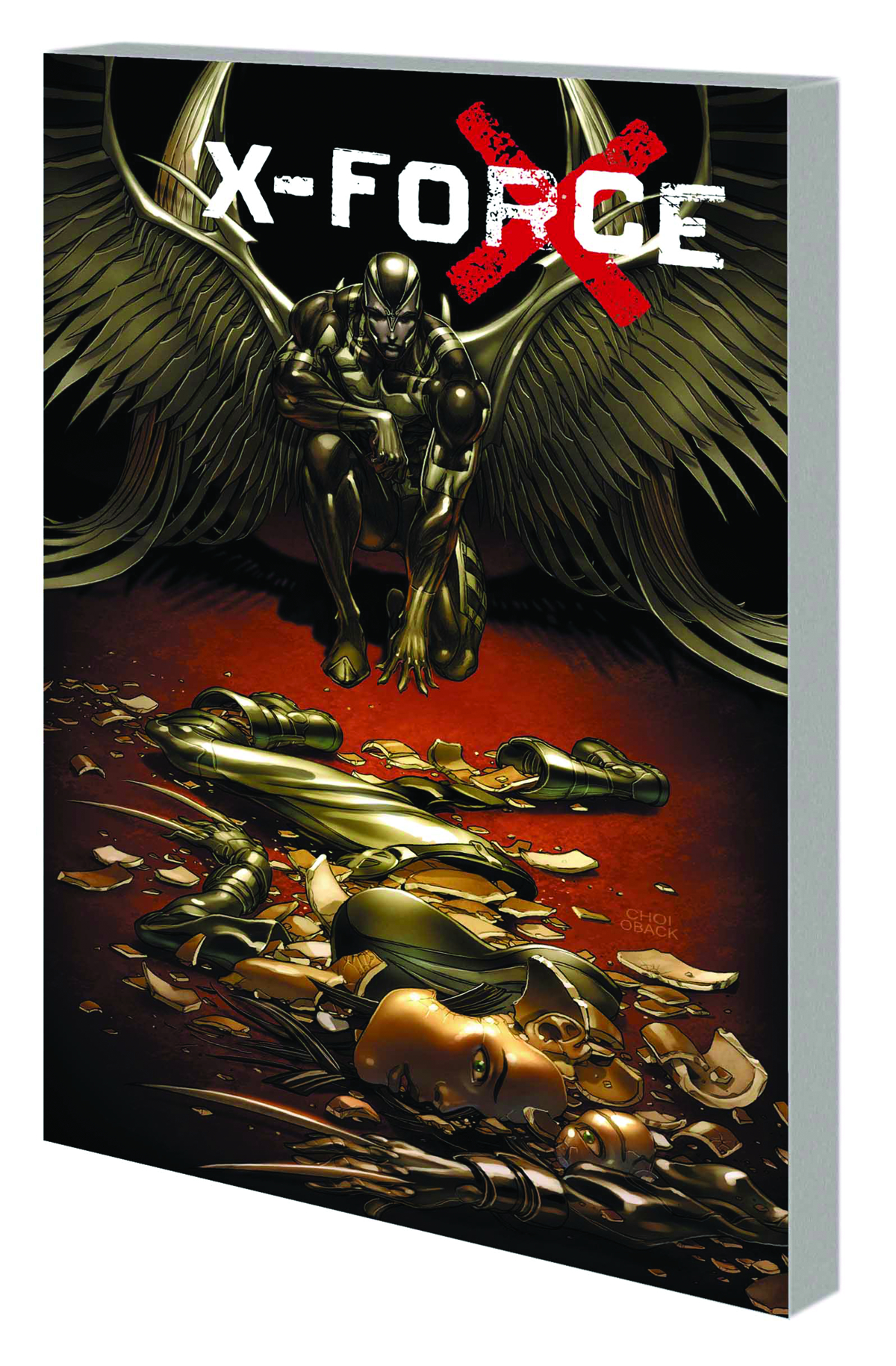 X-Force returns from the future, but as they race to defuse the Leper Queen and the Sapien League's plot, X-23 is captured by the Facility! Now, her only hope is S.H.I.E.L.D. agent Morales - but can either of them survive against Kimura, the one foe X-23 has never beaten? Meanwhile, Wolfsbane is reunited with X-Force - just as Selene's forces descend on Utopia! X-Force fights an unsettling battle against Selene's army of undead mutants, including former teammate Caliban and Warpath's brother, Thunderbird! Can the team obtain the one weapon capable of stopping Selene in time? And when the Assassin's Guild targets Wolverine and Domino, the two heroes must face a murderer's row of villains - while insanely distracted by each other! Collecting X-FORCE (2008) #17-25, X-NECROSHA: THE GATHERING, X-FORCE: SEX & VIOLENCE #1-3 and material from X-NECROSHA and X-FORCE ANNUAL (2010) #1.
X-FORCE TP VOL 01 DIRTY TRICKS
Almost every sovereign state in the Marvel Universe uses superhumans to covertly protect national interests. The United States has the Secret Avengers. The United Kingdom has MI13. And mutantkind has X-Force! Cable. Psylocke. Fantomex. Marrow. Mutantkind's protectors, spies, assassins and torturers - but what drove them to join this new, deadly incarnation of X-Force? How has Marrow regained her powers - and how is it connected to X-Force's first target, ruthless arms dealer Volga? X-Force races Volga through the Brazilian jungle and battles France's superhuman black-ops team. But when they finally face Volga directly, one member of the team may meet an untimely end! In this dirty, deadly, no-holds-barred game of superhuman black ops, X-Force will spy, torture and kill to ensure that mutantkind not only has a place in the world - but also a stake in it!
Collecting X-FORCE (2014) #1-6.