New in store this week: the complete, award-nominated post-apocalyptic drama THE WAKE, official comic sequel to the film Serenity LEAVES ON THE WIND, Neil Gaiman's dark retelling of HANSEL AND GRETEL, sumptuously illustrated tales of assassin ELEKTRA Vol 1, vampire tale DAY MEN Vol 1, remastered anniversary edition for must-have Batman classic ARKHAM ASYLUM, the final graphic novel sequel to AVATAR: THE LAST AIRBENDER, surreal historical adventure THE LEG, two art books by legendary artist Yoshitaka Amano for FINAL FANTASY, and new collections for WALKING DEAD, MILES MORALES: ULTIMATE SPIDER-MAN, GOD IS DEAD, TRIGUN, ANIMAL MAN, AVENGERS, NEW AVENGERS and THOR.
What are you excited to read this week? Talk to us @DavesComics!
ANIMAL MAN TP VOL 05 EVOLVE OR DIE (N52)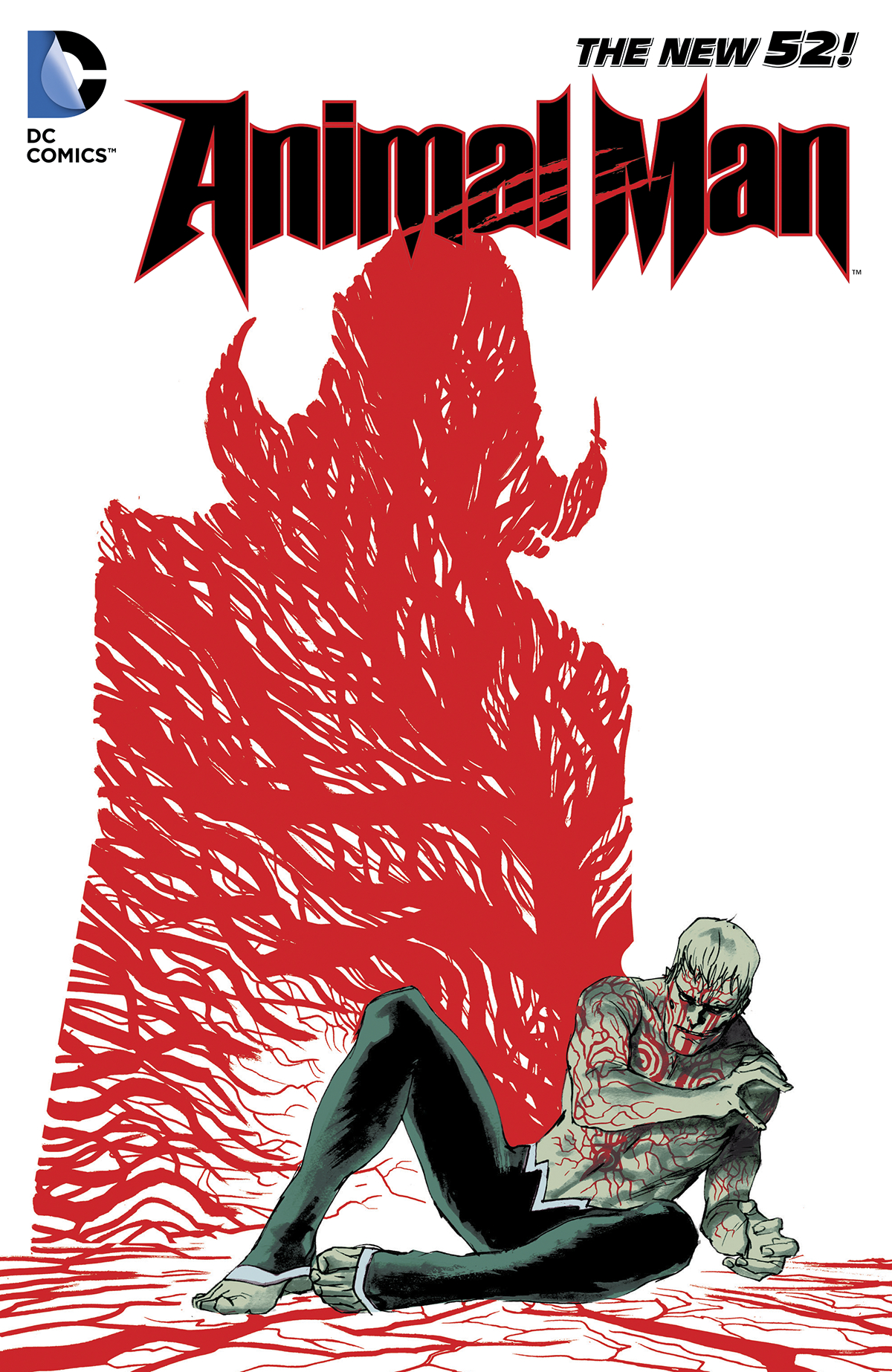 The final battle for The Red begins here! Brother Blood has come to claim the mantle of avatar from Animal Man's daughter Maxine, murdering and plundering his way to power. Now Buddy Baker must defeat this evil...no matter what the cost. Collecting issues #24-29
AVATAR LAST AIRBENDER TP VOL 09 RIFT PART 3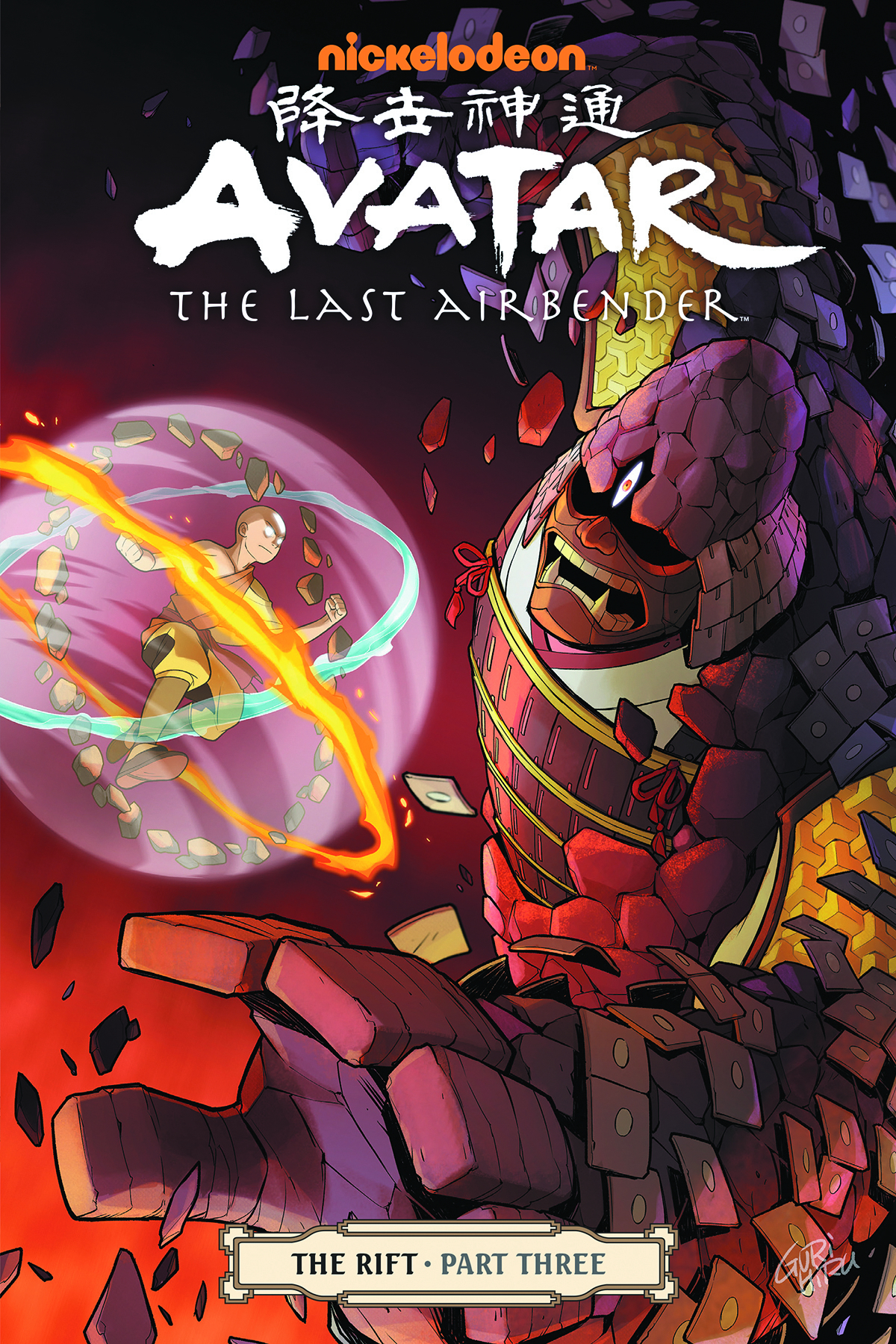 Written and drawn by the creative team behind the best-selling The Promise and The Search, in collaboration with the creators of Avatar: The Last Airbender and The Legend of Korra, this is the ultimate continuation of Avatar and the perfect companion to Korra!
AVENGERS PREM HC VOL 06 INFINITE AVENGERS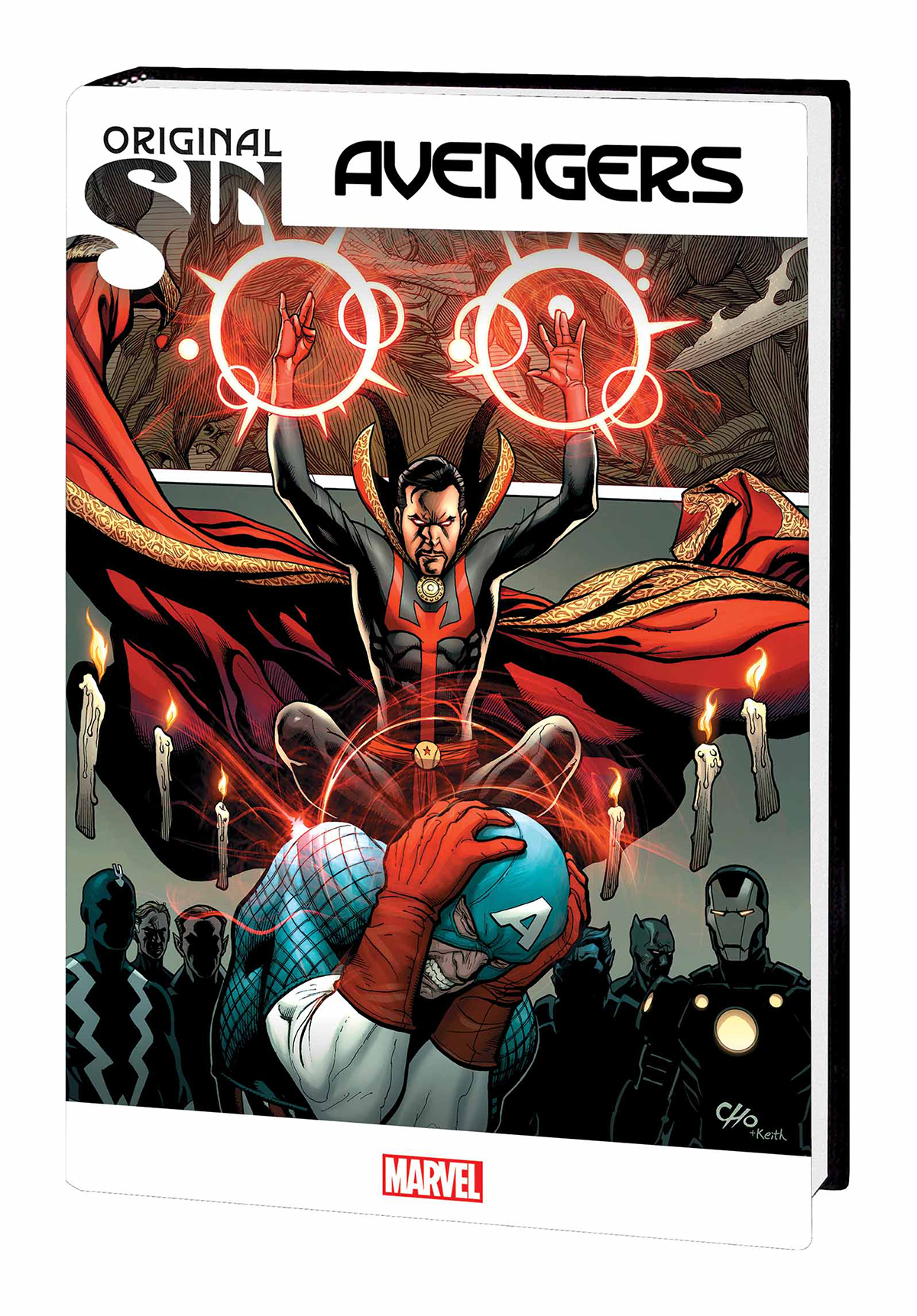 The Time Gem has reappeared, ushering the Avengers into a peril-filled journey forward into days-to-come! Propelled 50 years into the future, the Avengers come face-to-face with the legacy of their actions! Then, 5,000 years into the future, the mysterious origin of the rogue planet is finally revealed! And finally, 50,000 years into the future, Earth's Mightiest Heroes find themselves on Holoworld, captured in conceptual space. But as they try to figure out how to defeat an idea, the first Avenger meets the last Avenger, the Avengers World crumbles, and you won't believe what comes next. And back in the present day, ORIGINAL SIN comes crashing into Avengers Mansion. Remember back when the Illuminati erased Captain America's knowledge of their existence? So does Captain America! Collecting AVENGERS (2012) #29-34.
BATMAN ARKHAM ASYLUM 25TH ANNIV DLX ED HC One of the greatest Batman stories ever told, BATMAN: ARKHAM ASYLUM is celebrated in this 25th Anniversary Deluxe Edition, offered simultaneously as both a Deluxe Edition hardcover and a new edition trade paperback at DC's standard trim with a new cover by Dave McKean!
The inmates of Arkham Asylum have taken over and are demanding Batman in exchange for their hostages. Accepting their demented challenge, Batman is forced to endure the personal hells of The Joker, Scarecrow, Poison Ivy, Two-Face and many other sworn enemies in order to save the innocents and retake the prison. During his run through this absurd gauntlet, the Dark Knight's must face down both his most dangerous foes and his inner demons.
BATMAN BEYOND 2.0 TP REWIRED It's a new direction for Terry McGinnis as Commissioner Barbara Gordon enlists Terry's help while investigating the death of Neo-Gotham's Mayor in the new Arkham Institute. Was it really only a heart attack? Or was one of Arkham's infamous inmates responsible? Don't miss these stories from BATMAN BEYOND UNIVERSE 2.0 #1-16!
BOB POWELL'S COMPLETE CAVE GIRL HC
A lost masterpiece by cult artist Bob Powell! This deluxe hardcover collects early fifties Thun'Da and Cave Girl stories, featuring campy and sexy "jungle girl" genre material at its leopard-skinned finest! Mark Schultz (Xenozoic Tales) provides an introduction. Includes an essay by Eisner-winning author James Vance (Kings in Disguise) and John Wooley (Fangoria).
Complete collection of cult favourite Cave Girl!
DAY MEN TP VOL 01 WHY WE LOVE IT: Not only did we trip over ourselves to have the first ongoing comic book work from industry legend Brian Stelfreeze since 2005, but Matt Gagnon (FREELANCERS) and Michael Alan Nelson (SUPERGIRL, HEXED) have created a nuanced, action-packed piece of genre fiction that is core to BOOM!'s DNA.
WHY YOU'LL LOVE IT: Any fan of smart, sexy vampire fiction will love the juxtaposition of classic crime noir elements in DAY MEN. The world of DAY MEN is utterly unique and completely engrossing.
WHAT IT'S ABOUT: For thousands of years, the world has been controlled by the "50 Families," a secret network of vampire covens engaged in a timeless struggle for power. But when the sun rises, the vampires are forced to employ the services of a human who acts as their daytime fixer and protector. Trained for centuries to be the mortal soldiers of their vampire employers, the Day Men go forth at sunrise, alone into the world, to do the bidding of their sleeping benefactors.
ELEKTRA TP VOL 01 BLOODLINES The beautifully violent return of the world's deadliest assassin! As Elektra prepares to shed her past and change her future, she braves the dangers of Monster Island - and the psychotic killer Bloody Lips - in her search for the elusive assassin known as Cape Crow! But the hunt becomes murkier when the hit is revealed as more than it seems. This might be one quest for which Elektra is ill-prepared. Will Marvel's deadliest femme fatale defeat Cape Crow and collect the biggest bounty of her career? Or will she do what she's never done before - protect the mark, and help the hardened killer and his son escape? Legendary assassins go head-to-head at the edge of the world, but it looks like Elektra's soul is right at Death's door. Collecting ELEKTRA (2014) #1-5.
GOD IS DEAD TP VOL 03 Mankind prayed for salvation. As the gods of mythology fought and destroyed around them, they hoped and spoke in hushed tones of the return of the Christian God. Now Jesus Christ has risen and once again walks among mortals. But thousands of years of recounting the stories of the Bible won't prepare people for the truth about the All Powerful. They believed that Jesus was the saviour of the human race and that he would return to do so again. Now the Son of God has come back but his salvation comes as the most horrific of prices. The most audacious arc of God Is Dead has arrived as MIKE COSTA delivers the intensity and darkness in a world of divine wrath. God is Dead Vol 3 TP collects issues #13 - 18 of the ongoing comic book series.
I REMEMBER BEIRUT GN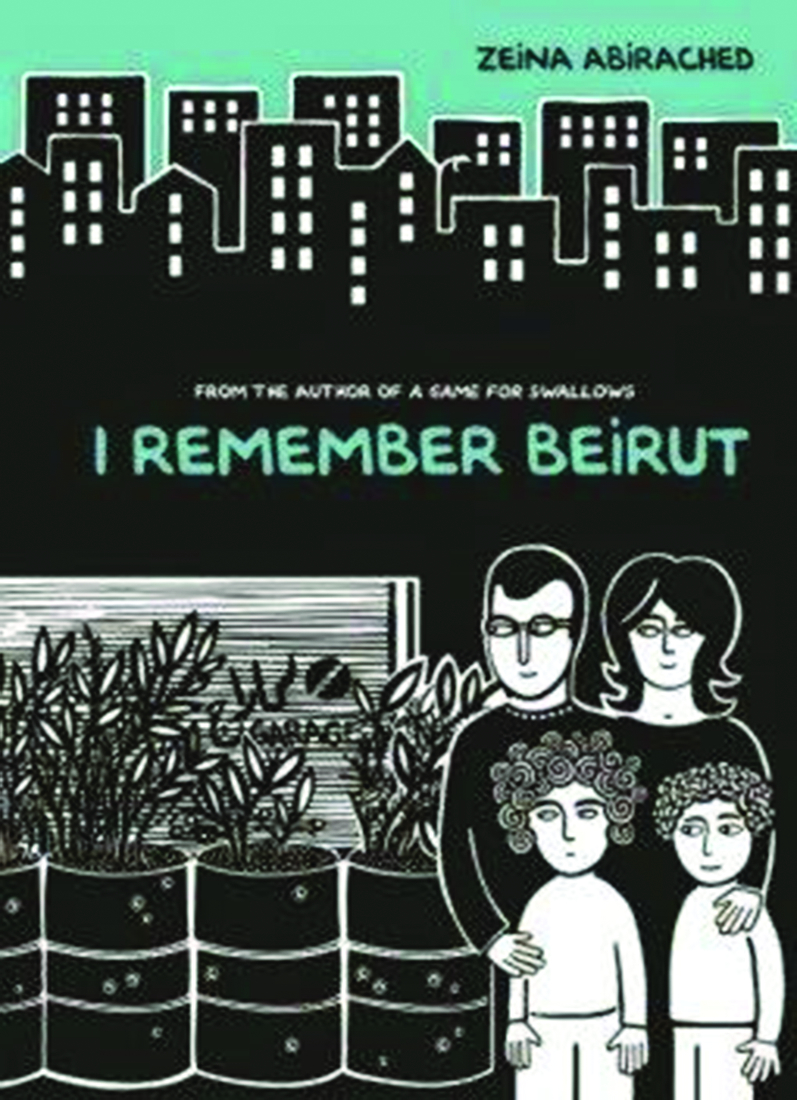 Zeina Abirached, author of the award-winning graphic novel A Game for Swallows, returns with a powerful collection of wartime memories. Abirached was born in Lebanon in 1981. She grew up in Beirut as fighting between Christians and Muslims divided the city streets. Follow her past cars riddled with bullet holes, into taxi cabs that travel where buses refuse to go, and n outings to collect shrapnel from the sidewalk. With striking black-and-white artwork, Abirached recalls the details of ordinary life inside a war zone.
ILLUSTRATION NOW SC VOL 05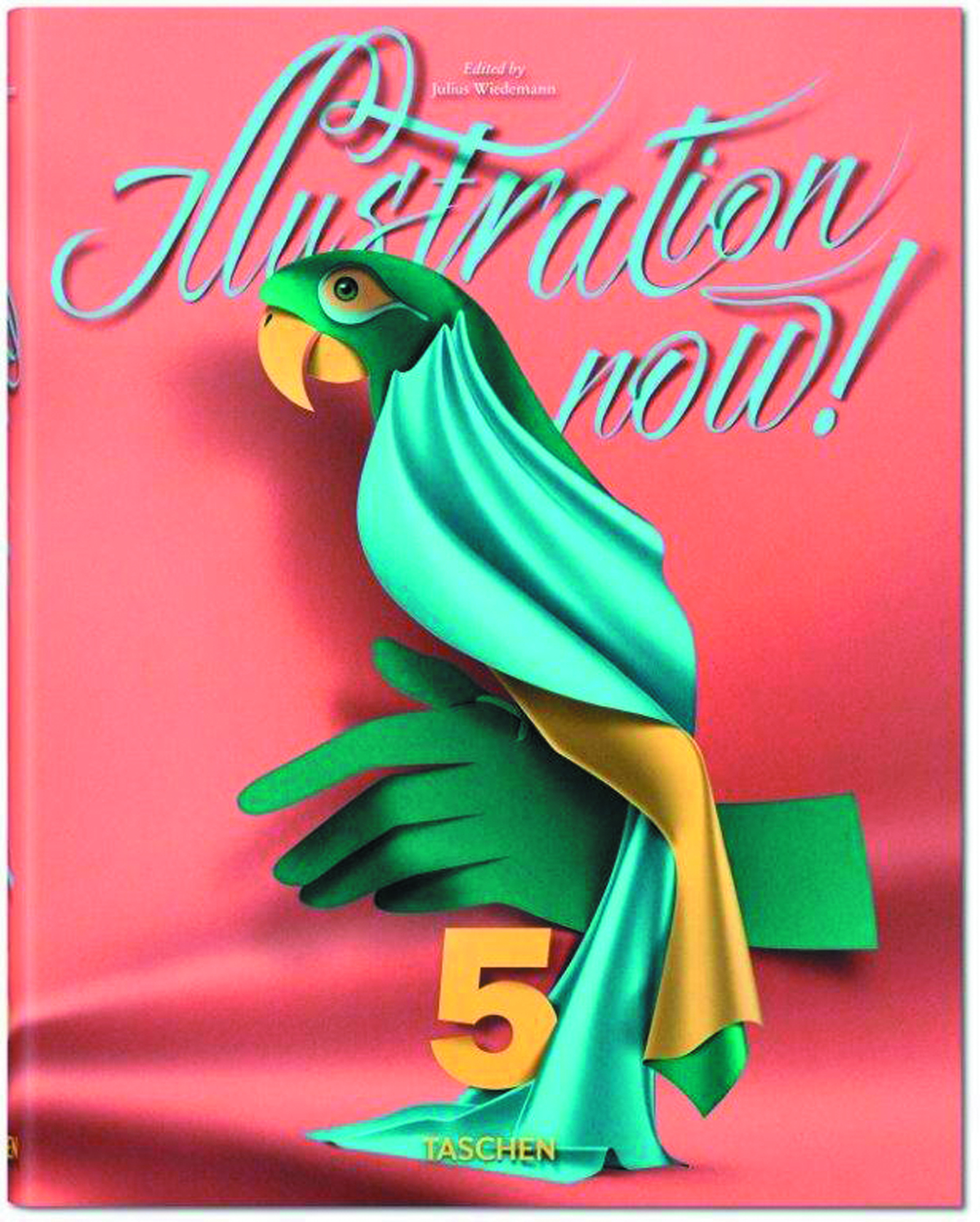 TASCHEN's regular Illustration Now! series brings you the latest, groundbreaking work from the world's most exciting illustrators. A stimulating mix of established master draftsmen and neophytes, working in a vast range of techniques, this volume features 150 illustrators from over 30 countries, including illustration duo Craig & Karl, reportage artist Sue Coe, upcoming Agata Nowicka, old master James McMullan, and Syrian artist Youssef Abdelké. The spread includes personal work, as well as high-profile projects for clients such as Nike, The New Yorker, Harper's Bazaar, Google, or Time magazine.
KILL MY MOTHER GN Adding to a legendary career that includes a Pulitzer Prize, an Academy Award, Obie Awards, and Lifetime Achievement Awards from the National Cartoonist Society and the Writers Guild of America, Jules Feiffer now presents his first noir graphic novel. Kill My Mother is a loving homage to the pulp-inspired films and comic strips of his youth. Channeling Eisner's The Spirit, along with the likes of Hammett, Chandler, Cain, John Huston, and Billy Wilder, and spiced with the deft humour for which Feiffer is renowned, Kill My Mother centres on five formidable women from two unrelated families, linked fatefully and fatally by a has-been, hard-drinking private detective.
KINSKI TP A salesman's self-styled mission to save a puppy from its neglectful owners escalates into a righteous crusade in this quirky crime thriller written and drawn by GABRIEL HARDMAN (Hulk, Heathentown, Planet of the Apes).
"Hardman...creates a tense atmosphere that makes Kinski the Breaking Bad of dognapping tales." - A.V. Club
Collects KINSKI #1-6
MASS EFFECT FOUNDATION TP VOL 03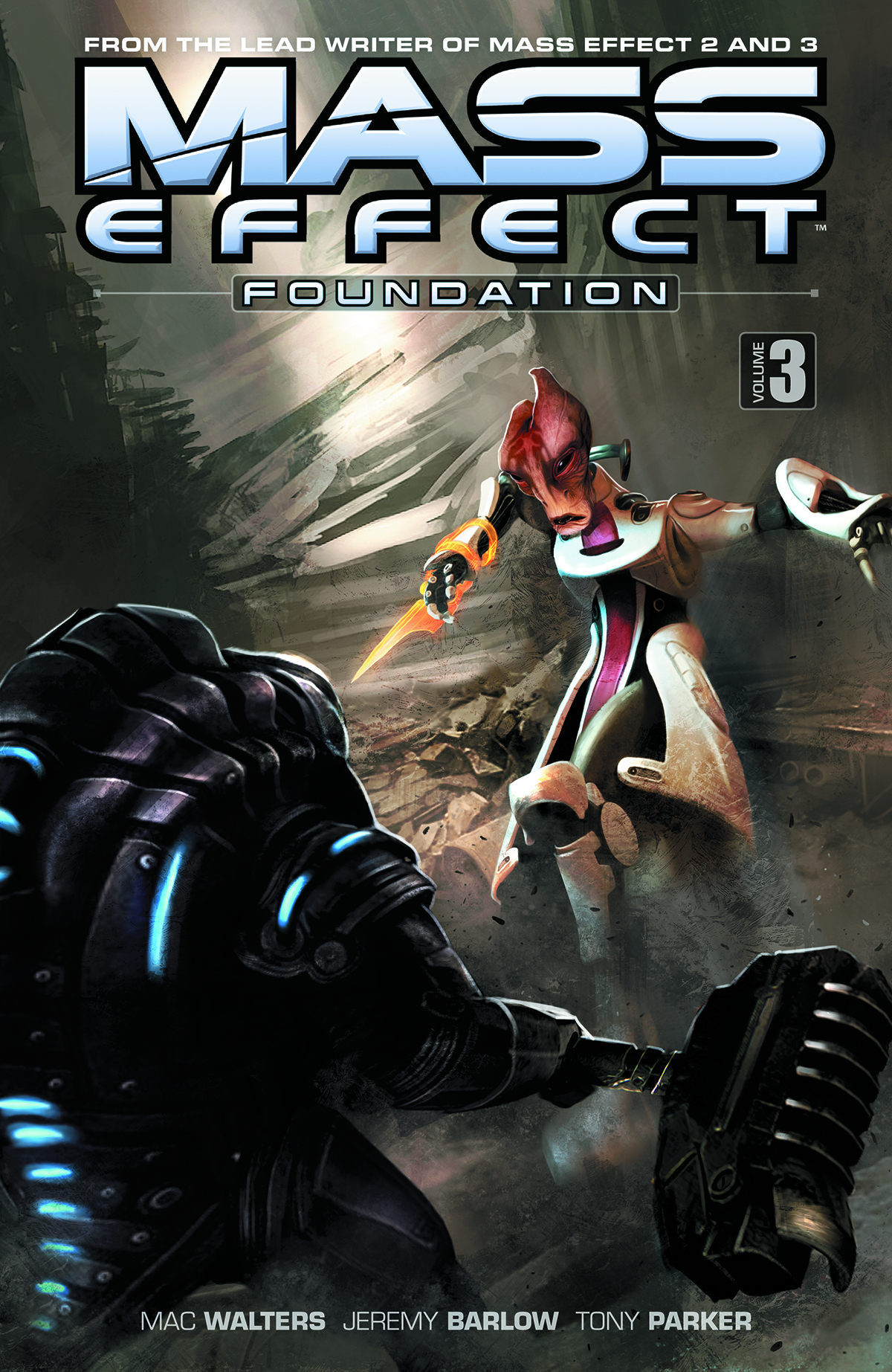 Follow scientist and secret agent Mordin Solus as he decides the fate of a species. Watch master thief Kasumi Goto lose the love of her life. Witness mercenary Zaeed Massani take down an entire ship. Learn the truth about assassin Thane Krios's tragic fall from grace. And finally, discover what the mysterious and powerful Illusive Man had to do with it all! Collects Mass Effect: Foundation #9-#13.
MILES MORALES ULTIMATE SPIDER-MAN TP VOL 01 REVIVAL Miles Morales, the Ultimate Spider-Man, is back in action with a new status quo and a new outlook on life! But a big villain from Peter Parker's past is alive and well, and about to turn New York upside down! Now, Miles must face with the worst nightmare of the Spider-Man legacy: Norman Osborn, the Green Goblin - the man who killed Peter Parker
or did he? Is Peter Parker back from the grave, or is this an amazing simulation? As events explode in a way nobody saw coming, Spidey takes on Spidey - and only one of the two Ultimate Spider-Men will rise! Plus: It's the anniversary of Peter's death - but as the world mourns the original Spider-Man, a gathering of Spidey's friends and foes reveals some shocking truths! Collecting ULTIMATE SPIDER-MAN #200 and MILES MORALES: THE ULTIMATE SPIDER-MAN #1-5.
NEIL GAIMAN HANSEL & GRETEL HC This all happened a long time ago, in your grandmother's time, or in her grandfather's. A long time ago. Back then, we all lived on the edge of the great forest. Neil Gaiman and Lorenzo Mattotti both remember the horror and fascination with which they read the Grimm Brothers' "Hansel and Gretel." The writer and the artist now join forces for a brilliant reimagining of one of humanity's most enduring tales. Be brave, be bold, and keep your wits about you - Gaiman and Mattotti are welcoming you into the woods. Available in a Regular hardcover edition and a Deluxe hardcover edition with a larger print size, die-cut cover, and additional content.
NEW AVENGERS PREM HC VOL 04 PERFECT WORLD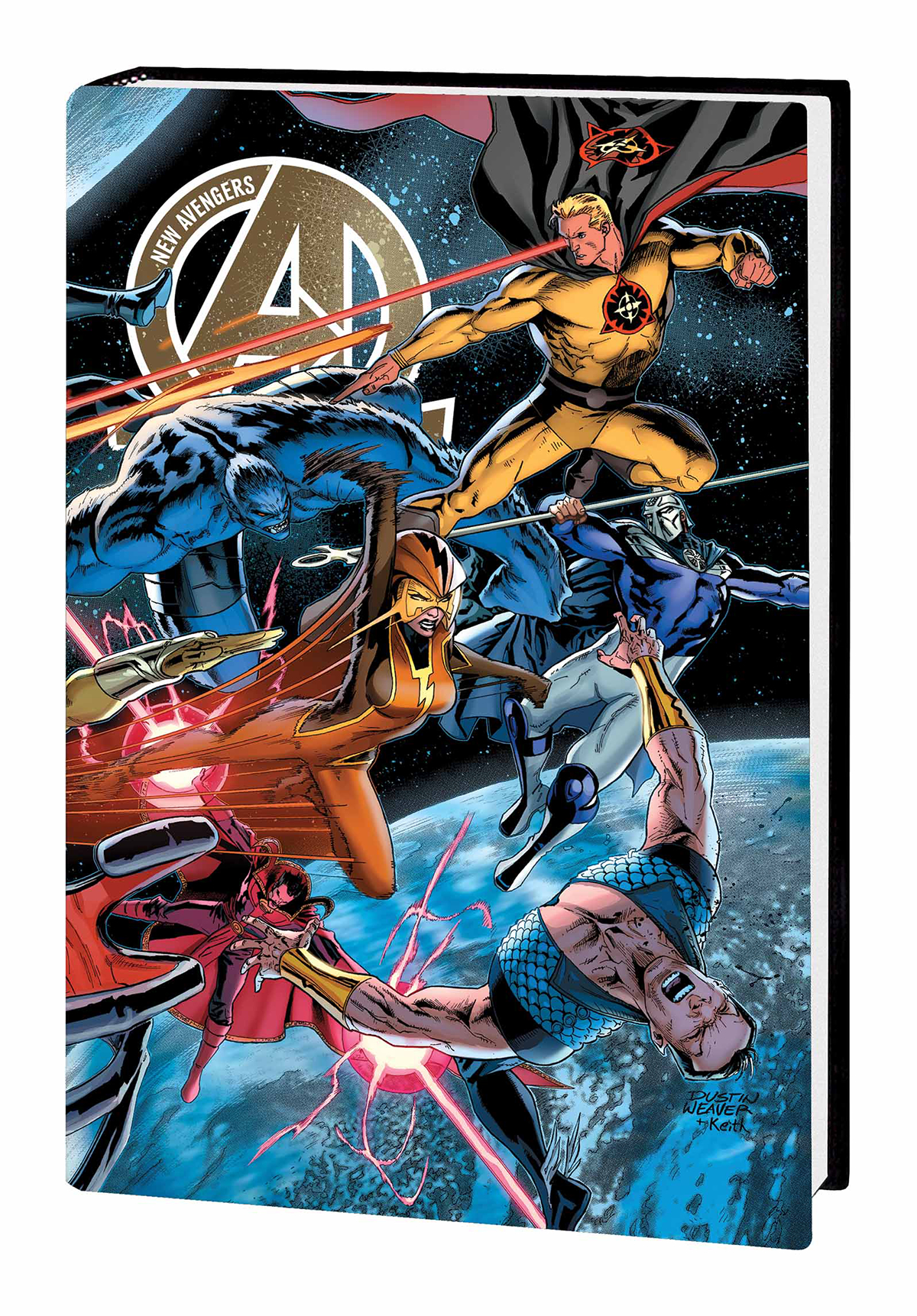 In all creation, only one Earth has successfully met and triumphed over each Incursion that has threatened it: the Earth of the heroes of the Great Society! And guess which Earth is on a collision course with ours? Now, the New Avengers must take on the combined power of the Great Society - and only one parallel Earth can survive! But how far is Dr. Strange willing to go to protect the Marvel Universe? Which New Avenger will find the strength to press the button that destroys a world? And what will come in the aftermath? It's the battle you didn't know you wanted to see - until now! And as the Illuminati shatters under the weight of an exploding planet, follow the broken would-be world-savers through their last day on Earth. Collecting NEW AVENGERS (2013) #18-23.
NEW YORK FOUR DARK HORSE ED TP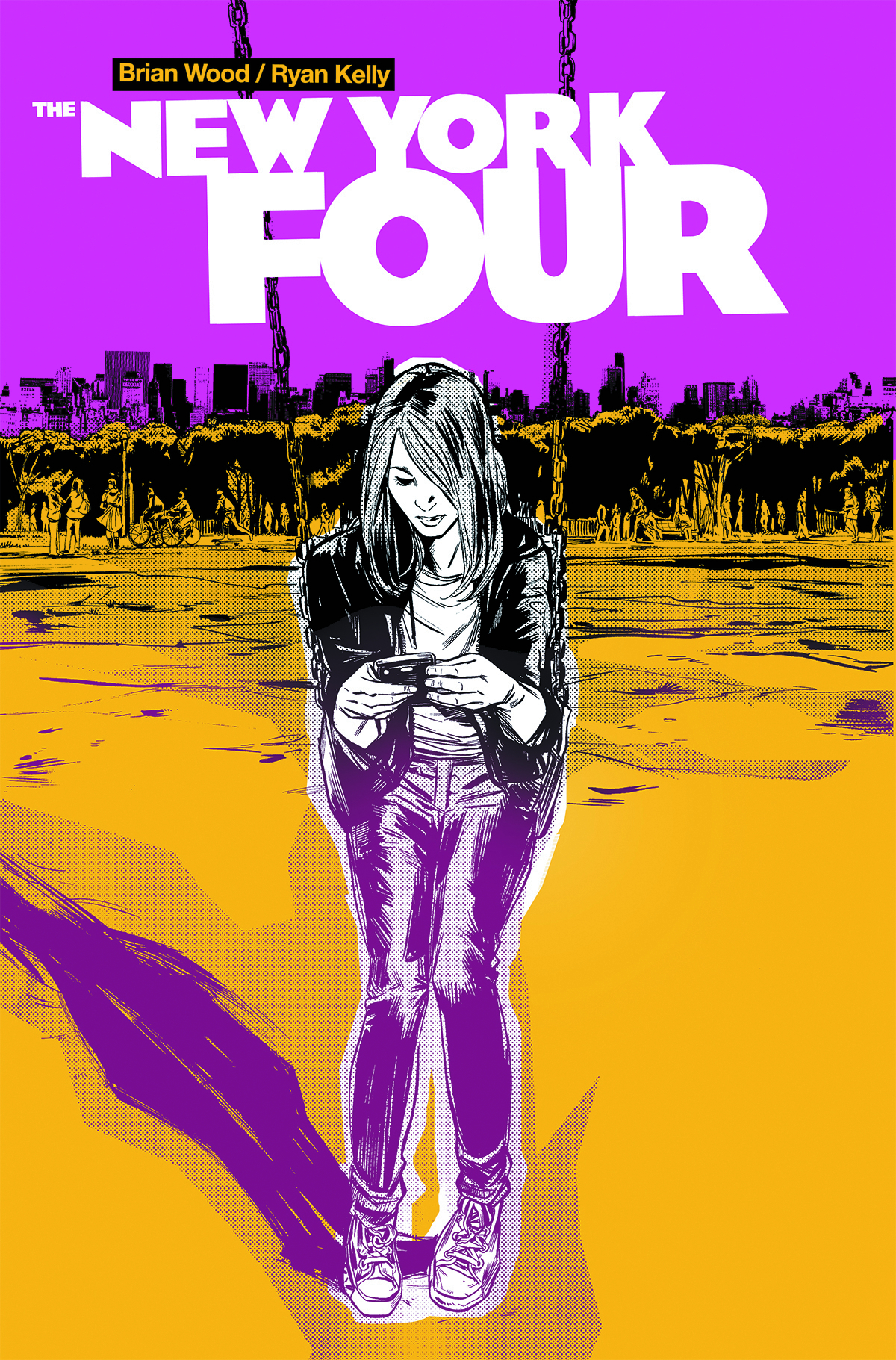 Worlds collide when four young women begin college at the prestigious New York University. Shy, literate Riley, overachieving but naive Lona, laid-back West Coaster Ren, and working-class girl Merissa claim newfound freedom living in the big city. But that freedom comes at a price: roommate drama, mysterious love interests, school troubles, and family conflicts. Welcome to adulthood! This edition collects the entire series under one cover for the first time.
SERENITY LEAVES ON WIND HC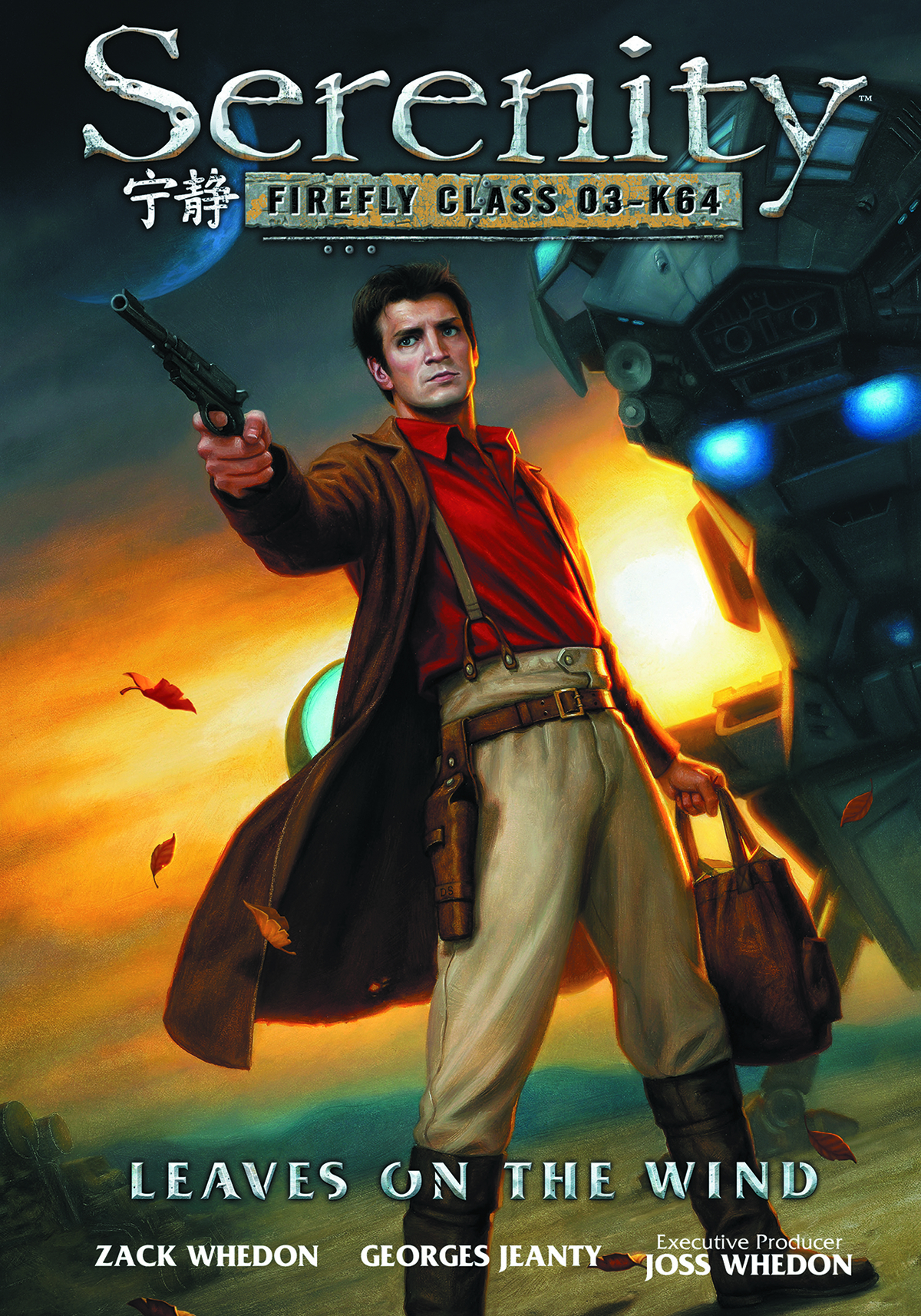 In the film Serenity, outlaw Malcolm Reynolds and his crew revealed to the entire 'verse the crimes against humanity undertaken by the sinister Alliance government. In this official follow-up, circumstances force the crew to come out of hiding, and one of their own is captured, setting them on another mission of rescue and resistance . . . Collects the six-issue miniseries and the 2012 Free Comic Book Day story.
SKY ART OF FINAL FANTASY HC VOL 01 Dark Horse is pleased to offer the stunning visions of designer Yoshitaka Amano as individual volumes previously available only as a part of the now sold-out The Sky: The Art of Final Fantasy Boxed Set or still-available The Sky: The Art of Final Fantasy Slipcased Edition. The legend begins here with The Sky Book One, containing Amano's sketches and paintings for the first three Final Fantasy games. Introduced are characters such as Princess Sarah, Firion, Cid, Maria, Sara Altney, Alus Restor, Ricard Highwind, and many others.
SKY ART OF FINAL FANTASY HC VOL 02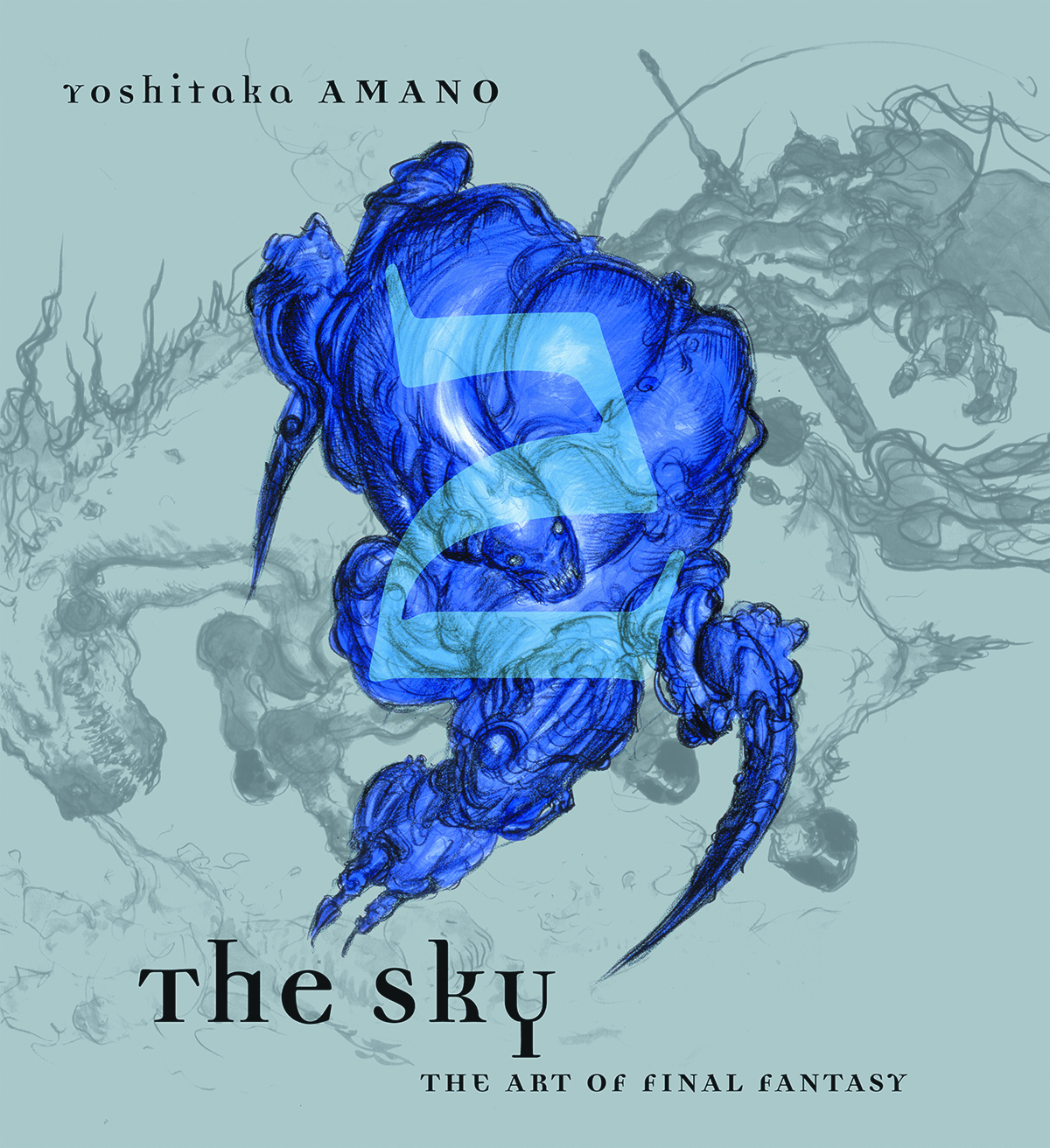 The Sky Book Two contains Amano's sketches and paintings for Final Fantasy IV (1991), V (1992), and VI (1994), depicting characters such as Cecil Harvey, Rydia, Bartz Klauser, Lenna Charlotte Tycoon, Faris Scherwiz, Terra Branford, Locke Cole, Sabin Rene Figaro, Shadow, Setzer Gabbiani, Celes Chere, and, of course, Mog (among many others!). Bonuses include Amano's art for the 1994 Final Fantasy Grand Finale CD and the 1994 Pinball Mandala series, and advertisement lithographs of the 1999 Final Fantasy Collection exclusive watch.
SUPERMAN GOLDEN AGE SUNDAYS 1946-1949 HC In a full eighteen adventures, Superman's travels take him around the globe as well as through time and space. The Man of Steel solves the case of the Curiosity Crimes, becomes a rival for Cleopatra's affections in ancient Egypt, is exposed to radiation that turns him into Superbabe, battles a prehistoric animal called a "Paleomatzoball" (!), reprises the "Superman's Service to Servicemen" series with a couple of services for veterans, encounters an ancient civilisation in the lost valley of Ru, meets up with Angus the talking dog, and to top it all off, witnesses Lois marrying Clark Kent-or does he?!
Superman was created in 1938 by two ambitious Cleveland youngsters, Joe Shuster and Jerry Siegel. Their defender of the oppressed became an enduring smash sensation in comics, radio, animation, television, and motion pictures. He remains the little guy's White Knight, battling terrestrial and extra-terrestrial menaces and standing for Truth, Justice, and the American Way.
THE LEG GN Writer Van Jensen (Pinocchio, Vampire Slayer; The Flash) and artist Jose Pimienta bring you the strangest hero that comics have ever seen! The disembodied leg of Santa Anna has returned from the grave - and with Mexico once again in peril, it's up to the Leg to save the country in this rollicking, surreal adventure story that blends Spaghetti Westerns with Mexican history and folktales. Join the Leg on his unforgettable journey.
THOR GOD OF THUNDER HC VOL 01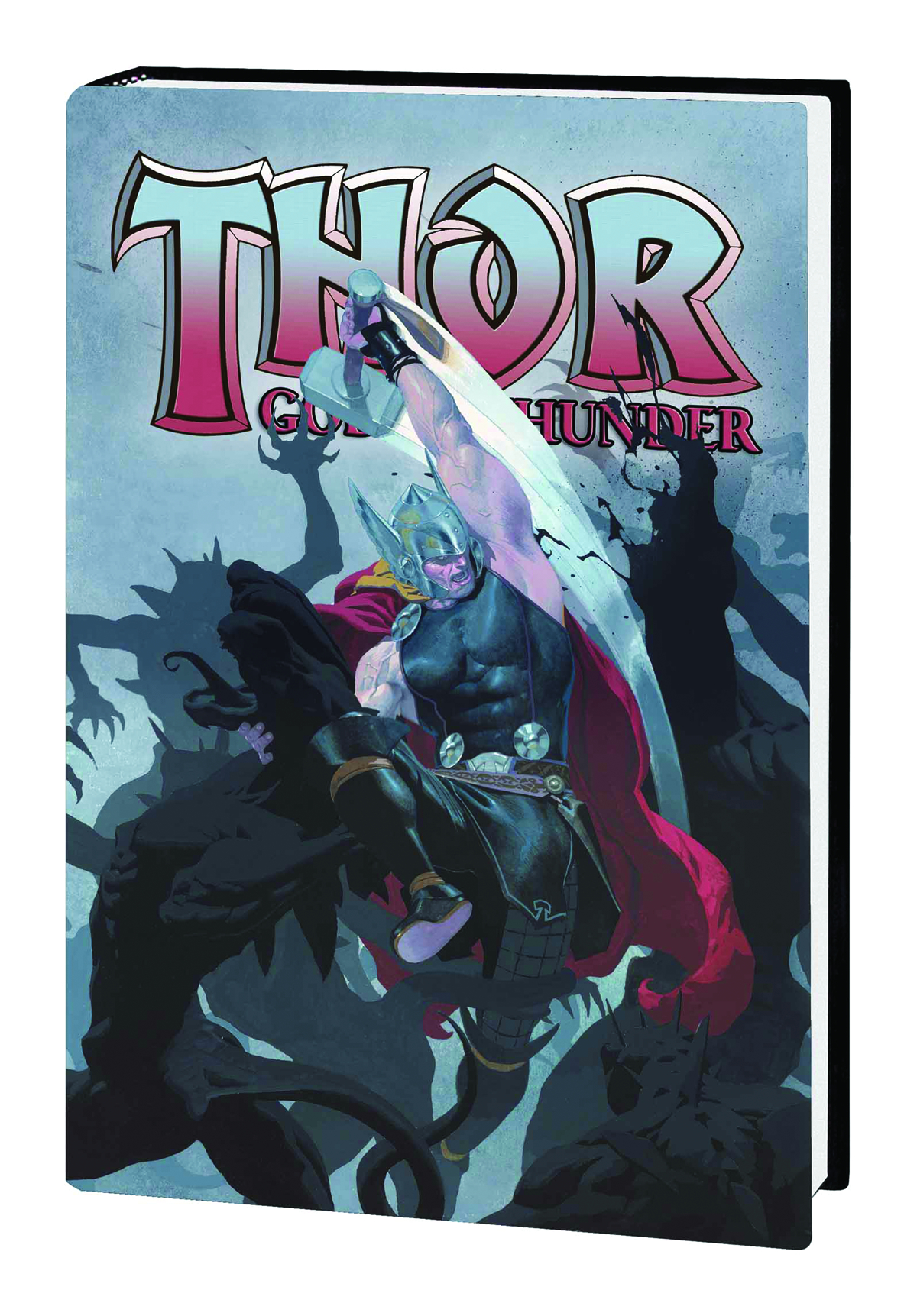 A trail of blood consumes Thor's past, present and future! Throughout the ages, gods are vanishing, and Thor must unravel the gruesome mystery of Gorr the God Butcher! In the distant past, Thor discovers a cave that echoes with the cries of tortured gods! In the present, Thor follows the bloody wake of murdered gods across the depths of space. And millennia from now, the last god-king of Asgard makes his final stand against Gorr's berserker legions. As Thors from three eras race to stop Gorr, his scheme's full extent is revealed: What is the Godbomb? At the end of time, all the universe's gods are enslaved, building a machine that will forever change the face of creation. Three time-bending Thors unite, but will it all be for naught as the massive Godbomb is triggered? Collecting THOR: GOD OF THUNDER #1-11.
TRIGUN MAXIMUM OMNIBUS TP VOL 05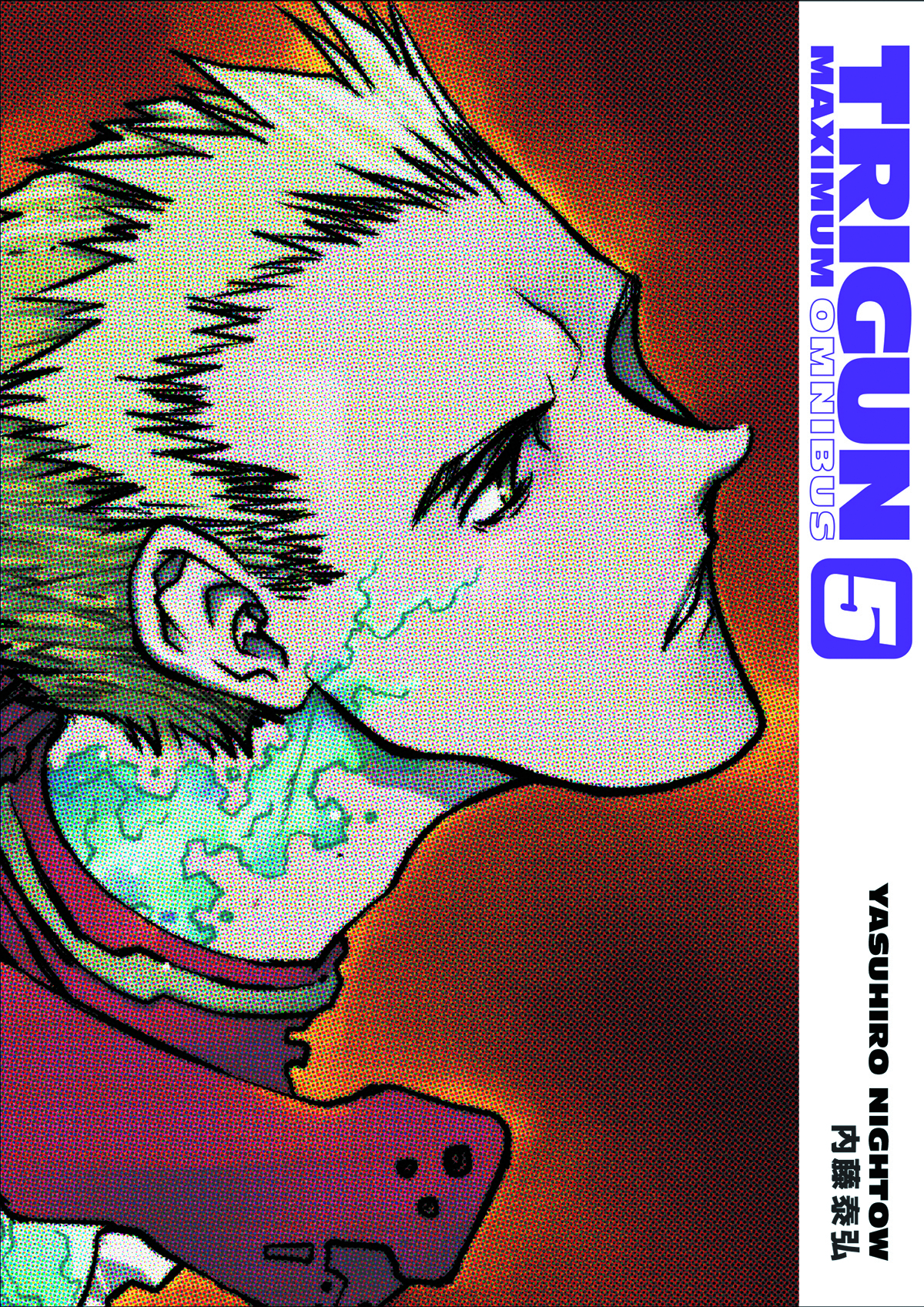 Yasuhiro Nightow's Trigun Maximum draws to a mind-warping conclusion. With Vash the Stampede's brother Knives' power growing exponentially and the shattered wreckage of Earth's space fleet littering the planet Gunsmoke, Vash must lay everything on the line to prevent the apocalypse his crazed brother is determined to deliver! Collects Trigun Maximum Volumes 13-14.
WAKE HC
The entire 10-issue, Eisner Award- nominated series is collected in one volume! When Marine Biologist Lee Archer is approached by the Department of Homeland Security for help with a new threat, she declines but quickly realises they won't take "no" for an answer. Soon she is plunging to the depths of the Arctic Circle to a secret, underwater oil rig filled with roughnecks and scientists on the brink of an incredible discovery. But when things go horribly wrong, this scientific safe haven will turn into a house of horrors at the bottom of the ocean!
WALKING DEAD TP VOL 22 A NEW BEGINNING In the aftermath of ALL OUT WAR we discover...A NEW BEGINNING.
Collects THE WALKING DEAD #127-132
WORST OF EERIE PUBLICATIONS HC Collected for the first time in a deluxe edition are the comics that deserve it the least: the infamous Eerie Publications' horror comics! Incredibly gory and crazy, the Eerie Pubs pushed the boundaries of good taste with blood-drenched, spine-cracking tales ripped (and redrawn) from the pages of Pre-Code horror comics. Illustrated terror by Dick Ayers, Chic Stone, Domingo Mandrafina, the Iger Shop, and many other unsung masters of the morbid, presented in glorious, carefully re-mastered black and white. And who can forget those nausea-inducing covers? A dirty dozen of deadly, full-colour covers are reproduced for your discomfort and revulsion. Gratuitous gore! Multi-Monster Madness! Bound Beauties!