Hey bloggers! Amidst our revival we are hitting you with new books from this week. Check it out!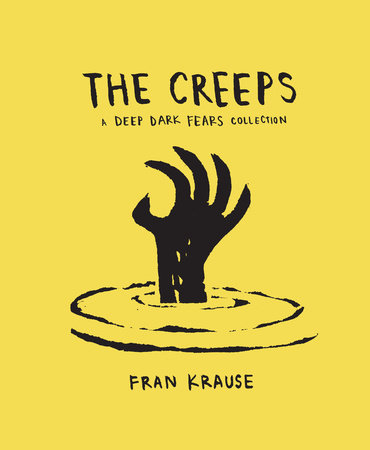 THE CREEPS -
Fran Krause
A new book from the best-selling
DEEP DARK FEARS
collection. Great Stuff.
UNQUOTABLE TRUMP -
DRAWN & QUARTERLY
A Christmas present for someone you like? Or maybe someone you don't like...? 😉
VOICES IN THE DARK
- Ulli Lust
New book from the creator of
TODAY IS THE LAST DAY OF YOUR LIFE.
THE SMELL OF STARVING BOYS -
Loo Hui Phang and Frederik Peeters
"
an intense Western about the clash of two worlds: one old, one new
"
POPPIES OF IRAQ
-
"Poppies of Iraq
is Brigitte Findakly's nuanced tender chronicle of her relationship with her homeland Iraq, co-written and drawn by her husband, the acclaimed cartoonist Lewis Trondheim. In spare and elegant detail, they share memories of her middle class childhood touching on cultural practices, the education system, Saddam Hussein's state control, and her family's history as Orthodox Christians in the arab world." DECONSTRUCTING THE INCAL
-
(W) Christophe Quillien, Jean Annestay, Alejandro Jodorowsky (A) Moebius
"
The essential reference guide to
The Incal
, the bestselling sci-fi graphic novel of all time"
THE GIRL FROM THE OTHER SIDE VOL 3
- NAGABE
*RECOMMENDED*
Third in the beautiful series from Japanese artist NAGABE. We're big fans here at Dave's. Swoon!
ART OF JAMIE HEWLETT
- TASCHEN
The much awaited Jamie Hewlett artbook is finally here! Over 600 pages of gorgeous art and Juicy Jamie Facts. Get it while it's hot.
THE GOOD TIMES ARE KILLING ME -
Lynda Barry
"Young Edna Arkins lives in a neighborhood that is rapidly changing, thanks to white flight from urban Seattle in the late 1960s. As the world changes around her, Edna is exposed to the callous racism of adults—sometimes subtle and other times blatant, but always stinging. By weaving the importance of music in adolescence with the forbidden friendship between Edna, who is white, and Bonna Willis, who is Black, Lynda Barry captures the earnest, awkward, yet always honest adolescent voice as perfectly in prose as she does in comics."
SEVEN TO ETERNITY VOL 2
- by
RICK REMENDER & JEROME OPEÑA's dark fantasy smash hit series returns for its second chapter!
GEIS VOL 2 A GAME WITHOUT RULES
- Alexis Deacon
*RECOMMENDED*
Maybe not quite new enough to be on this list (1st October) but we love it so much we wanted to chuck it on here. Some of the most stunning work we've seen all year. Do check it out! Swoon!
PIECE OF SH*T
- Pierre Paquet & Jesús Alonno
"A young man struggles to build a publishing company, find love, and discover who he really is, with his one true trusted companion being the dog who truly seems to understand him. In the end, he realizes that for far too long he has been a self-absorbed piece of sh*t. A touching autobiographical story by Swiss BD publisher Pierre Paquet, the spiritual sequel to Paquet's Eisner-nominated A Glance Backward, which recounted his experience dealing with the death of his father at age 11."
RUN FOR IT -
Marcelo D'Salete
Run For It
― a stunning graphic novel by internationally acclaimed illustrator Marcelo d'Salete ― is one of the first literary and artistic efforts to face up to Brazil's hidden history of slavery.
BATMAN: THE DARK PRINCE CHARMING
- MARINI
Yeah! New original graphic novel. Sweet.
GRANDEVILLE FORCE MAJEURE -
Bryan Talbot
The fifth and final book in Bryan's longest stand-alone volume of his Eisner and Hugo award-nominated series. Wonderful stuff. Already flying off the shelves.
REGRESSION VOL 1 WAY DOWN DEEP -
Cullen Bunn, Danny Luckert, Marie Enger
CULLEN BUNN (Harrow County, The Sixth Gun, The Empty Man), DANNY LUCKERT (Haunted), and MARIE ENGER (Pistolwhip, 2 Sisters), present a tale of supernatural terror and intrigue unlike any horror comic you've ever experienced.
ROSE VOL 1 THE LAST LIGHT -
Meredith Finch, Ig Guara
A classic fantasy tale about a girl trying to restore balance to a broken world. Rose must connect with her Khat—Thorne—to become the Guardian the world needs. But things aren't easy for Rose and Thorne, the powerful sorcerous Drucilla has many powerful and demonic allies—all of them focused on stopping one scared little girl who's desperately trying to stay alive and do what's right.
ETERNAL EMPIRE VOL 1 -
Sarah Vaughn and Jonathan Luna
JONATHAN LUNA (ALEX + ADA, THE SWORD, Spider-Woman: Origin) and SARAH VAUGHN (ALEX + ADA, Deadman: Dark Mansion of Forbidden Love, Ruined) return with ETERNAL EMPIRE, a fantasy epic!
WINNEBAGO GRAVEYARD
-
An American family: Mom, Dad and their son are on a cross-country trip in their Winnebago. They stop to visit a carnival where they first encounter some strange locals, only to discover their Winnebago has been stolen. Now stranded, things quickly turn from bad to worse as the family realizes they've landed in a nightmare. As the eerie townspeople hunt them for a sinister purpose, the family must use their wits to stay alive.
That's all for now! Stay tuned!